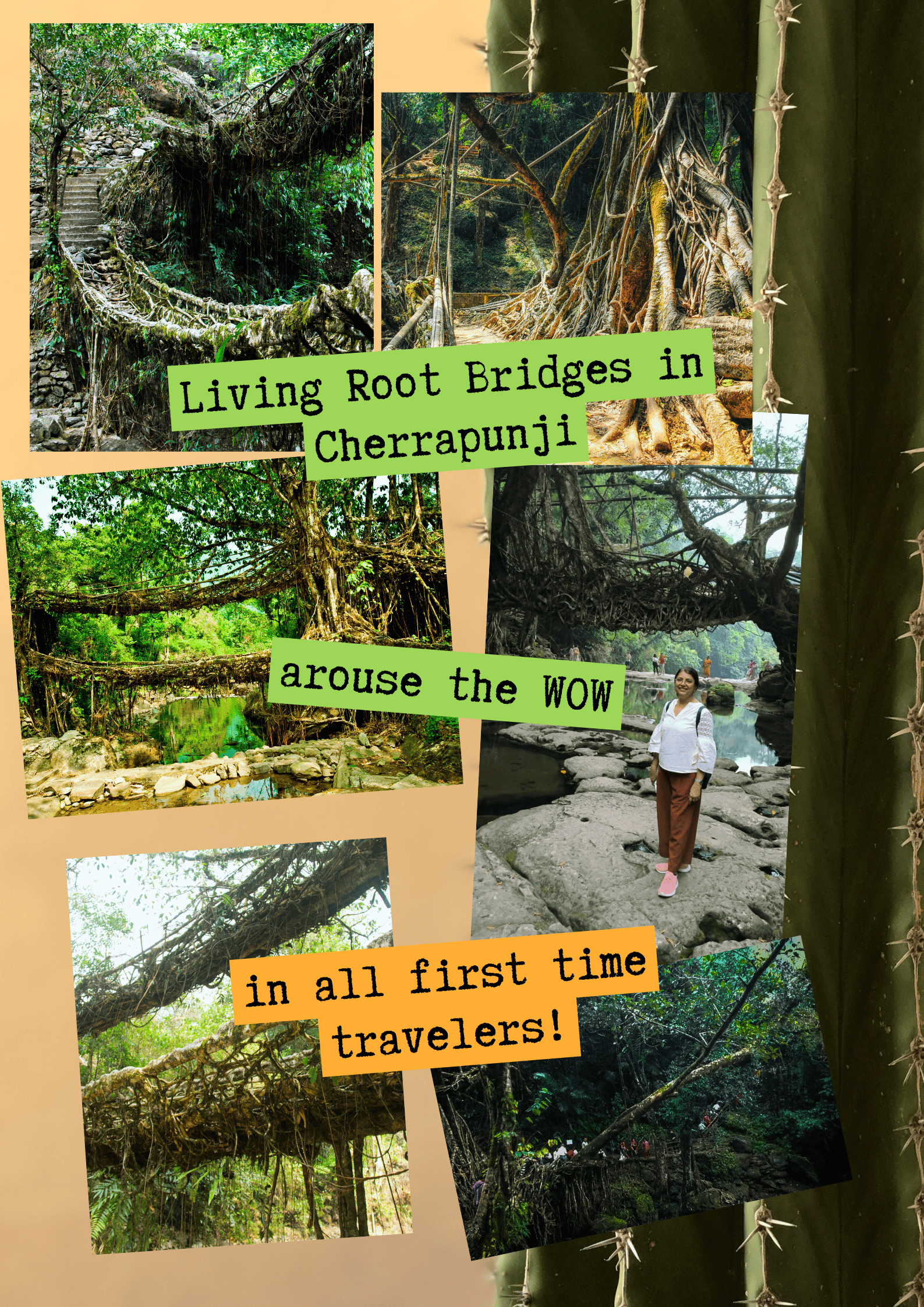 Around 11 living root bridges in Cherrapunji are functional.  But only a few out of these natural root bridges in Cherrapunji are accessible to first time travelers like you and me.
5 Unique Living Root Bridges in Cherrapunji
Here we go –
1.
Experience the Majestic Umshiang Double Decker Root Bridge 
The best root bridge in Cherrapunji is the 'Umshiang Double-Decker Root Bridge' located in 'Nongrait' village.
Around 3 hrs. trekking for this amazing and 200 years old root bridge begins from 'Tyrna' village close to Sohra. Hire a local guide to be on the right tracks through the dense forest full of amazing natural surprises.   
2.
Take a Sneak Peak in the Making of Root Bridge at Nongthymmai village
From Nongriat' village you can take short hikes to nearby villages to see natural living root bridges in Cherrapunji.
There is a classic living root bridge located in the village of 'Mynteng'. Some spectacular small living root bridges can be seen around 'Nongthymmai' village. These bridges give you an insight of the process of building bridges from the roots of rubber trees because they are still growing.
3.
Enjoy Hiking to the Pynursla Root Bridge through the Khasi Hills
A large number of living root bridges in Cherrapunji are known to exist in the jungles around the town of 'Pynursla'.
Take a taxi to 'Pynursla' which is about 1 hr 45 minutes away from the main town of Sohra. Make sure you hire a local guide as root bridges are deep in the jungle and require several hours of tough hiking. Also, make sure you have the right hiking pole or stick to walk comfortably.
4.
Witness  the Unique Kongthong Root Bridge amongst Untamed Nature
Another option for visiting living root bridges is the beautiful village of 'Kongthong', located at 1:30 hrs distance from Sohra.
Local guide will help you reach the two less famous and unvisited root bridges of 'Kongthong' village. The first root bridge is developing upstream and appears like a ladder making it unique. Second root bridge is small and not very developed.
5.
Get Away to an Easily Accessible Classic Living Root Bridge at Riwari
At a distance of 3 hrs from Sohra, a beautiful natural living root bridge is located in the 'Riwari' village.
This root bridge is just 30 minutes' unguided walk from the parking area. Therefore, it is becoming one of the popular root bridges in Cherrapunji. If you don't want to take tough trekking, then this one is perfect for you.
Hope my suggestions help you trek to some of the popular living root bridges in Cherrapunji. Do not forget to maintain the sanctity of these hills which are home to innumerable living species. Also, do visit the caves in Cherrapunji as well along with the marvellous living root bridges.