BUDGET WAYFARERS
A scoop for travelers by travelers
Become a Traveler and not a Tourist
The world needs more aware travelers and not just tourists. We are here to help you be the latter and to spread the message across. Learn to respect the locales you visit. Connect with the native culture and people. Dedicate yourself to causes that will enhance the places that you tour and not rob them of their existing beauty. Remember, the more mindful travelers there are on our beloved planet, the more magnificent it will remain for all times to come. Dedicate yourself to 'Mindful Travel'
Traveling to new destinations doesn't need you to spend big bucks. What is needed is an open, uninhibited mind that knows no boundaries. Budget travel does not mean skipping out on exotic locations or scrumptious meals. It means to plan the best possible trip without creating holes in your pocket. 
Remember, the world's most successful travelers are mavericks and not billionaires. The world doesn't need tourists. It needs travelers. We are here to help you be the latter and to spread the message across. Start exploring our platform now .
What does Budget Wayfarers offer you?
Read Travel Tales from around the world!
Find hundreds of travel accounts narrated by budget travelers who're exploring the world on their own. Get inspired.
Get free access to first hand travelogues and stories by solo trippers, backpackers and resourceful travelers. Use their content as a reference point for your own trips.
The land of diversity
Explore the majestic civilization known as India in all its grace and vitality.
The compact travel destination
Discover Europe in all its beauty, rustic locales, nightife and mouthwatering food.
The hidden alluring gem
Find about the most untouched and stunning African locales, culture and people.
The destination down under
Seek the island region along with nearby territories and unexampled landscape.
The awe inspiring region
Delve into the perfect balance of tradition and modernity along with a spiritual milieu.
The fabulous outdoors haven
Savour North America's some of most fascinating locales along with rich experiences.
What is Budget Wayfarers all about?
TRAVEL BLOGGING
Get on-boarded as a Travel Blogger with us. Add to our rich repository of global locales.
BUDGET TRIPS
Plan budget trips after reading first-hand traveler accounts from across the world.
LEARNING AND EARNING
With us, learn and earn. Grow as a legit travel writer and get paid per travel blog or project.
Trending Blog
BACKPACKING TO CAT BA ISLAND, VIETNAM
How can I become a legit paid Travel Blogger at Budget Wayfarers?
By undergoing our stringent evaluation process. Our team will evaluate you as a potential Travel Blogger. If you manage to sail through our evaluation process, we will have you on-board immediately.
What if I want to contribute only a Guest Post and skip the evaluation?
Sure, go ahead and write to us. However makes sure that your travelogue is 100% original and is not previously published anywhere else. 
Can I submit blogs that have already been written or published by me?
No. The bench mark of Budget Wayfarers is original content. No blogger is allowed to either use a previously published blog on our platform or use blogs from our platform elsewhere. We will allocate you topics based on your recent trips and you will submit only brand new blogs to us.
What other opportunities does Budget Wayfarers provide its bloggers?
If a blogger performs extraordinarily, we make them a part of our creative projects. We work with a lot of travel brands and they need talented folks. So we recommend our own bloggers there. Not only do they get to earn more but are also recognized as able travel professionals.
Opportunity to work from anywhere
Become a legit Travel Blogger on our platform. Document your travel stories and experiences of far and wide places. Apply for our Travel Blogging internships. Grow professionally as a blogger on our platform. With us learn and earn. Once on board, work for us from anywhere in the world. Blog for us from a country abroad, a coffee shop, a beach, a trek – just anywhere.
What do travelers say about us?
"
I never was a "travel blogger" per say until I came across Budget Wayfarers and found myself going all gaga over the heartfelt and genuinely written articles. I thought that this was something I could do too. Writing needs not just a good vocabulary and creative thinking, but also a passion for the subject.
I cannot thank Budget Wayfarers enough for having provided me with the opportunity to exercise my writing skills, and for having amplified my already immense love for travelling.
The best part about the platform is that they're super flexible, and that they will be okay to new ideas and that they will always instill their complete trust in you. I cannot wait to write more & more for BW, for I'm sure that it is going to make me happy.
– TARANG MOHNOT
Travel Blogger, Mumbai
"
I recently came across Budget Wayfarers and thought of sharing travel experiences with people through them.
Right from the beginning till the date of publishing my blogs, it was indeed a pleasant experience to work with them.
Their work is methodical. I loved the fact that they always encourage me. And above all, it is an immensely learning experience for me.
I hope to continue writing with them, and I am sure that this platform will help me grow as a travel writer.
I highly recommend Budget Wayfarers for travelers all round the globe as it can act as a helpful guide; also it is highly recommended for writers who want to share experiences of travelling.
Thanks to team.
– SOUNAK DUTTA
Travel Blogger, Kolkata
"
As a blogger, I really enjoyed writing for Budget Wayfarers because it helps really cool destinations gain exposure from people who love to travel.
The platform is easy to browse and well organized, and the clever hyperlinks between the texts will allow you to explore other hidden places all day!
– ISAAC LIU
Travel Blogger, Minnesota
"
A great guide to traveling, ideal for first time backpackers and seasoned travelers alike.
It covers common concerns for solo travelers and great insights that could have been missed had you not come across the site.
– EILIDH WILSON, Ho Chi Minh City
"
Having ticked off over a hundred cities across the globe, I have been wanting to share my travel experiences with the world. I came across Budget Wayfarers, and I immediately knew that this was going to be it.
The platform has been sharing extremely valuable information to travel aspirants and those who are really passionate about travel.
have been in touch with Akriti since the very first day I started writing for Budget Wayfarers and it has been wonderful to talk to her. She has been guiding me throughout and I already feel I have started learning. Hoping to learn much more in the days to come and contribute better. Cheers!
– SHREYA DOSHI
Travel Blogger, Mumbai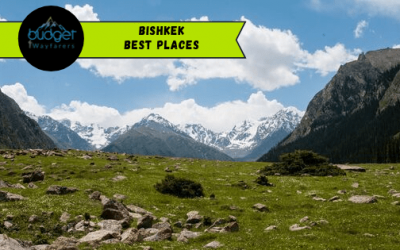 Bishkek best places are frequently seen in recent times on the itineraries of backpackers. They form the points of interest for travellers who want to explore new territories. It is an extraordinary travel destination of the Central Asian region.  Bishkek best places...