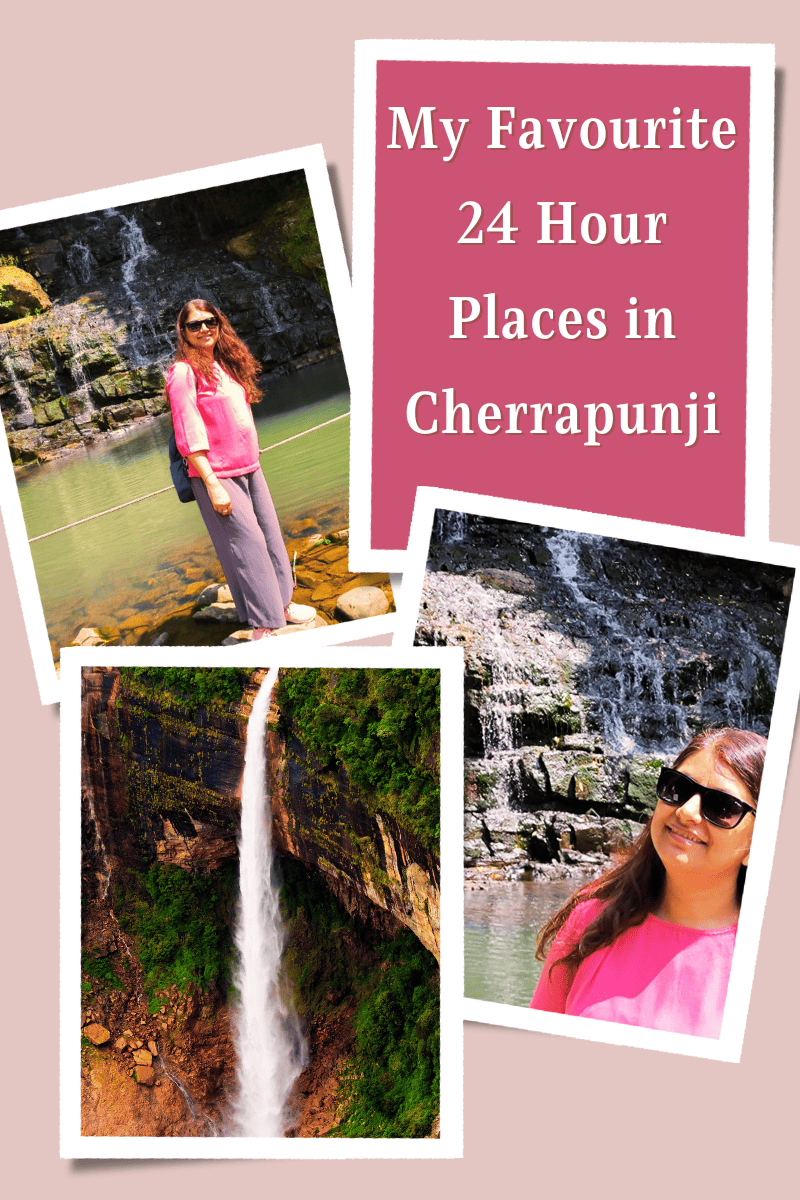 Stop worrying about what places to visit in Cherrapunji in one day?
Pre-book a cab and I will suggest to you what places can be covered in Cherrapunji within 24 hours.
7 Captivating Places to Visit in Cherrapunji in One day
It's time to set sails –
1.
Discover the Spectacular Seven Sisters Fall
The journey of places to visit in Cherrapunji in one day begins with 'Nohsngithiang Fall'. The majestic waterfall popularly known as 'Seven Sisters Fall' seems like a curtain of seven streams covering lush and picturesque limestone cliffs.
Try capturing the serene and untamed nature through your lens and enjoy the breath-taking views.
30 minutes will be sufficient to explore the place.
2.
Trace the Sacred Stones of Cherrapunji
To maximize your experience of Cherrapunji within 24 hours trip, don't miss the cluster of large single stone structures enroute to Mawsmai Caves.
These are 'Monoliths', a unique Khasi heritage structure raised by tribals in memory of their warrior ancestors. Vertical stones are for male ancestors and horizontal for females.
Sadly, locals are unable to talk much about these Monoliths. But you can take a few quick pictures and show respect to Khasi warriors.
3.
Admire Nature's Artistry at Mawsmai's Caves
A must-see destination of Cherrapunji within 24 hours itinerary is Mawsmai caves. After taking an entry ticket you are good to squeeze and crawl to spot some fossils in the incredible and unique lime stone depositions on the cave walls and ceilings.
Take pictures and enjoy the lush forest around. You can also buy some fresh fruits and souvenirs from the local shops.
After spending 1hour to 1:30 hours you can start for your next destination. By the way, you can plan an entire day's itineray just for exploring the caves in Cherrapunji.
4.
Capture the Glimpse of Heaven at Mawsmai Nongthymmai Eco Park 
 'Mawsmai Nongthymmai Eco Park' is the next destination on your list of Cherrapunji within 24 hours. Graced by alluring flora and fauna, enchanting waterfalls and tranquil surroundings, 'Mawsmai Nongthymmai Eco Park' is nothing less than paradise.
The extreme south east edge of the eco park is surrounded by 'Seven sisters fall' making it the most gripping spot of the park.
You can spend around 1:30 to 2 hours. Take pictures, walk around, relax and rejuvenate your senses.
5.
Explore Nature's Delight at Dainthlen Falls
Dainthlen falls is around an hour's travel. But it can be easily included amongst places that can be covered in Cherrapunji within 24 hours. Legendary story of a python or 'thlen' in Khasi language adds flavour to this popular picnic spot with a huge waterfall and scenic landscapes.  
Pack some extra clothes to enjoy a cool dip in the pools created in the huge rocks around. 
After spending an hour or so you can proceed towards the last spot of the day.
6.
Embrace Serenity at Nohkalikai Falls
Proceed to the Nohkalikai falls, one of the top-ranking places to visit in Cherrapunji within 24 hours. 'Likai' a local woman jumped to end her life and so the name "Noh Ka Likai ". 
The turquiose-coloured reflection of the water collected in the pool below the fall is unique & will stay in your memories forever. Walk till the farthest end of the view point to take the best pictures. 
30 to 45 minutes will be good to take photos, buy some souvenirs and enjoy tea from the local shops.
7.
Seek Divine Blessings at Nongsawlia Presbyterian Church
Nongsawlia Presbyterian Church can be covered in Cherrapunji within 24 hours if you want to explore a unique exhibition of culture.
It is the first church built by Welsh Missionaries in Meghalaya. Attend the prayers and end your day by seeking Lord's blessings.
If Church is not your place, then head towards Wah-Kaba falls. Enjoy the tranquility of sunset and end your day with positive vibes.
 Hope you spend a fantastic time with my itinerary for places to visit in Cherrapunji in one day. Do write back in the comment section.