Yumthang Valley is the hidden paradise of natural beauty in the mountains of North Sikkim. Also known as Himalayan Valley of Flowers, the gorgeous Yumthang Valley houses a unique fusion of flora, fauna and nature's various spectacles. 
The Valley changes in geographic character every season. Its beauty transforms constantly with the passing months. No wonder its terrain is capable of forming some of the most splendid backdrops for professional photographers and artists.
If Yumthang Valley is to be described in one word, I'd say – Breathtaking!! Rolling meadows, the mighty Himalayas, grazing yaks a river flowing through and the blooming rhododendrons (between March and May) make this place nothing less than a paradise.
Travelling to Yumthang Valley: An Overview
If you are travelling to Sikkim, make sure you have put Yumthang Valley in your Sikkim itinerary. This mountainous region is rare and exotic in nature. It is one of the favourite spots for travellers who prefer a serene surrounding in the lap of snow-clad mountains and serenity. 
Visiting the valley will be an experience to cherish forever. Before I proceed into the details, here are a few things that will help you understand the destination better:
Location
North Sikkim, North East India 
Elevation
11,800 ft above sea level 
Climate
Cold
Summer Temperature: 14 to 20 degree Celsius
Winter Temperature: -15 to 10 degree Celsius
Famous For
Rhododendron Flowers
Mode of Travel
By road from Gangtok or Lachung
Best Time to Visit
March to June
Nearby Place
Lachung
Nearest Airport
Bagdogra Airport, West Bengal
How to Reach Himalayan Valley of flowers?
The only way to reach Yumthang is via road. The nearest airport is Bagdogra Airport in West Bengal. You need to reach Gangtok from the airport which is around 150 km away from Yumthang. After reaching, you can rent a vehicle to Gangtok for 1500-2000 INR.
The cheaper way to reach is by train. You can also reach via train till New Jalpaiguri railway station and continue to Gangtok by taking a taxi which is available outside the railway station.
You need to take another taxi from Gangtok, which is available on sharing basis, to reach the valley. It is advisable to contact a local travel agency in Gangtok for your travel & stay in Yumthang as they know the roads better and the roads are quite narrow and meandering.
I would suggest you start early from Gangtok, reach Lachung early, explore the place and stay here for a night. The next day you could explore the Yumthang Valley. 
Sikkim is a gorgeous mountain destination in North East India. Picture credits: Alok
 Best Time to Visit the Yumthang Valley
The Valley sees the highest number of visitors during the months of March to June. This also happens to be the time when the rhododendrons in the valley are in full bloom.
I visited the place in the month of April when the temperature was not very low and I was lucky enough to see the valley painted in colourful rhododendrons.
The valley is closed from December to February due to snowfall and road blockage. So make sure you don't plan a trip during that time of the year. Else, a beautiful chance to witness nature will be lost.
Best time to visit the Valley of flowers is between March to June. Photography by Naveen M.S.
Accommodation Options in Yumthang Valley
Hotels and accommodation are not available in Yumthang. The nearest place for accommodation is Lachung which is 26 km and a 2-hour drive from Yumthang. It is a small village in the grand valley and lies between Gangtok and Yumthang.
Homestays and hotels are available in Lachung where both food and accommodation is provided along with decent facilities. Some famous names include Le Coxy Hotel, Yarlum Resort etc. Le Coxy is a good place to be with a home-like environment and a community gathering of the guests around the bonfire happens every evening.
Yumthang Valley is a 2 hour run from Lachung. Photography by Meena Gurung
Exploring Yumthang Valley: A Personal Experience 
The Valley is nature's splendour. The natural beauty of the place is unmatched with anything that I have ever witnessed. The two main attractions of Yumthang  are:
Shingba Rhododendron Sanctuary
A nature park with over 40 species of rhododendrons.
Zero Point
Also called Yume Samdong, the zero point is the place where three rivers meet. With little to no vegetation, this place is perfect for enjoying scenic views.
 I started from Lachung to Yumthang early in the morning and the breathtaking Rhododendron forests on both sides of the road is so exhilarating that for a moment I felt like I never want to go back. 
 After the Rhododendron trail, I proceeded towards the Zero point beyond which vehicles are not allowed and you have to continue on foot. Trekking up the snow-clad mountain at 14,562 feet is one experience which one shouldn't miss while at Zero Point.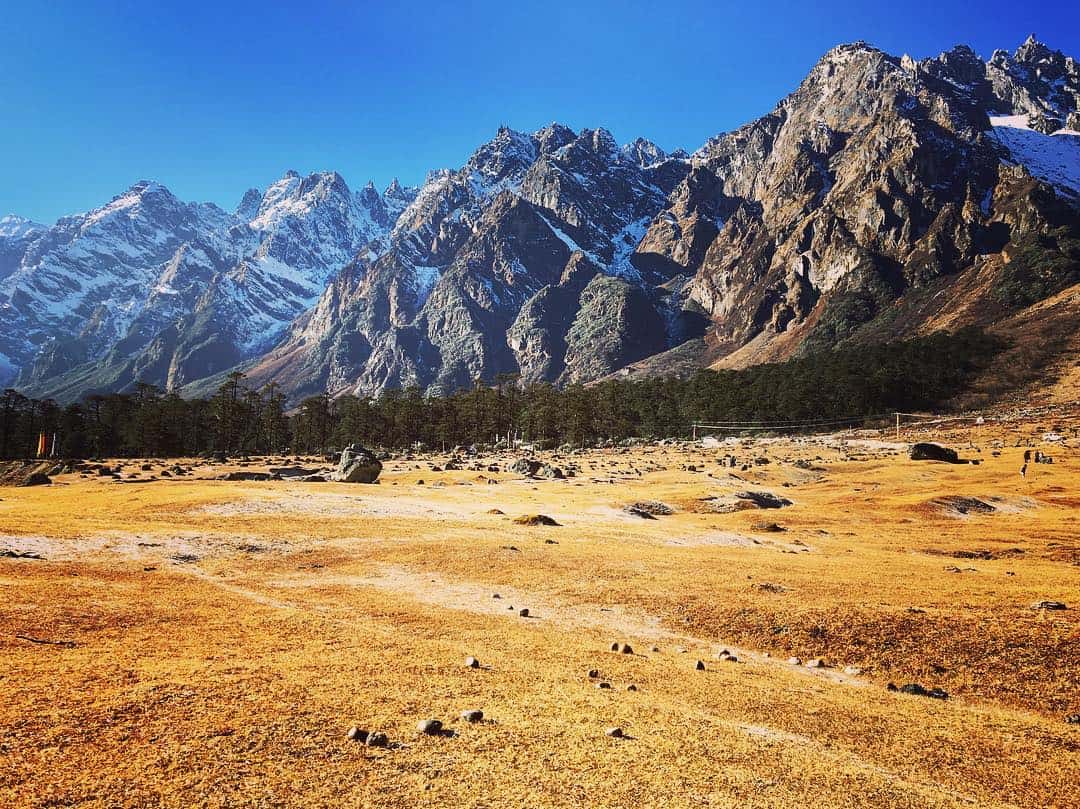 The entire terrain in and around Yumthang Valley is awe-inspiring. Photography by Abu Yusuf
Shingba Rhododendron Sanctuary of 24 Species
Shingba Rhododendron Sanctuary lies within the Valley. It is extremely rich in natural vegetation and consists of various species of plants. The chief attraction, however, is the Rhododendron trees that are found here in plenty.

There are around twenty-four different species of Rhododendrons here. Due to these rhododendrons, the entire valley looks absolutely stunning. There are also trees like Potentillas, Saxifrages, Primulas, Aconites, Poppies, Gentians etc.
Valley of Flowers comprises of many varieties of flora, especially rhododendrons. Photography by Rohan Chaudhary
Zero Point
Zero Point, in the Valley, is the last region before the beginning of the snowline. It is located at an altitude of 17500 feet and is a 6-hour journey from Gangtok.
From Yumthang valley it is another 1-1.5 hour away and from Lachung it is about 3 hours away. So it is recommended that you acclimatize yourself before getting here. Else, you might feel a shortness of breath as well as altitude sickness.
The journey to the zero points is enriching with a lovely view. Zero Point point itself doesn't have much landscape views except small frozen pieces of the stream but the overall journey definitely beautiful.
Zero Point has little to no vegetation. It is where the snow line begins. Photography by Sreshti Verma
Why Should Every Traveller Visit the Valley at least Once?
The snow-covered peaks and the greenery itself is reason enough to be in Yumthang. The region is spectacular when it comes to landscapes.
On one side there is partially snow-covered mountains while on the other side a river is flowing with lush green pine trees growing on its banks. The locals say that it is one of the tributaries of the mighty Teesta river. Go there as there is nothing like Yumthang! This place has its own unique essence and aura.
Before I visited the valley, I thought only Uttarakhand has the famous Valley of Flowers. But, I would suggest you make your travel plan to Yumthang too if you want to witness a valley full of blooming Rhododendrons of around 24  species and other varieties of exquisite wildflowers.
The snow-covered peaks and the greenery itself is reason enough to be in Yumthang Valley. Photography by Hari Prasad Nayak
Eating Options Near Yumthang Valley
Once you reach Yumthang, eating at the local dhabas on the parking junction is a must. I took thukpa and momos, then went on to explore the souvenir shops around and bought some take-back-home gifts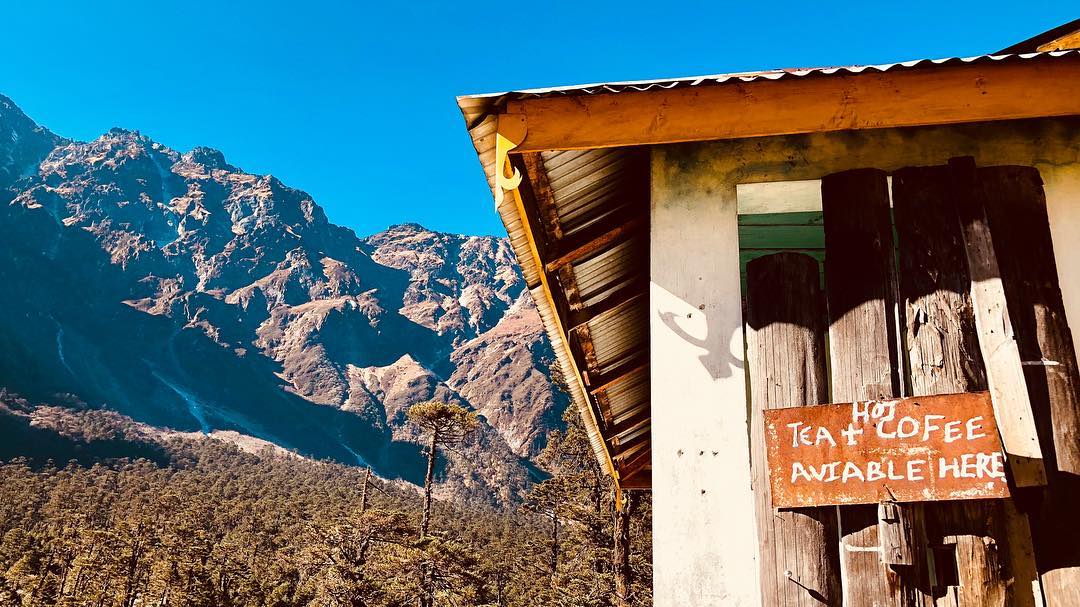 Eating near the snowline is an experience in itself. Photography by Atharva Vaidya
Important Things to Carry on your Yumthang Valley Trip
You need to carry some important things when visiting the Valley. Here's
Warm Clothes
The Valley remains partially covered with snow throughout the year. therefore, remember to carry warm clothing in the form of jackets, hoodies, pullovers
Warm Boots
You also need to carry snow boots and gloves to stay warm.
Clean Water
Make sure to keep yourself hydrated at all times. Carry water with you which has previously been boiled.
Carry Cash
Do not forget to carry plenty of cash as there are no ATMs around.
All these things will help you make your visit to the valley more comfortable.
Dress up warm and keep yourself hydrated at all times. Photography by Anurag Aggarwal
Travel Advice for First Time Visitors to Yumthang Valley
Reaching Yumthang will require break journeys and you might encounter bad road condition during the rainy season but then to witness such heavenly beauty, such endurance is worth it.
Try planning a trip for at least 2 nights to explore the place throughout. Depending on your budget you can plan the stay duration. If you like you can also get packages for 2 nights including food starting from 7000 rupees from Gangtok.
 Do not plan a trip during winter if you are not accustomed to extreme cold conditions. The temperature during this time is very low, sometimes below zero degrees centigrade. 
Icicles on the way to Yumthang Valley. Photography by Adam
Yumthang: What to expect in different seasons?
Yumthang valley is different in different seasons. Although the best time to visit would be during April and May, here is what you can expect at Yumthang at a different time of the year.
Yum

thang Valley in Winters
Winters in Sikkim start around November up till February. It is a great time to witness the winter wonderland at Yumthang valley in December.
Although you won't be able to see any flowers in Yumthang valley in November till March-end, the place is still a must-visit. 
Also, the Valley is usually closed during peak winter due to heavy snowfall.
Yumthang Valley in Summers
The best time to visit Yumthang valley is between March and June. It is here when the rhododendrons start blooming. The flowering can be seen up till May in Yumthang valley.
Yumthang valley in Rainy season
If you visit the valley during the rainy season (July- September), expect muddy roads and roadblocks at some places. I would suggest you avoid it during the rainy season.
Although the flowering season adds to the beauty of the whole valley,  Yumthang valley is worth a visit no matter when you are going.
Safety & Travel Tips for First Time Visitors to Yumthang Valley
Visiting Yumthang Valley comes with its own set of challenges, here are some important safety tips that will help you during your visit to the valley.
Footwear
Wear comfortable shoes. If you are visiting Zero Point you can rent gumboots from small shops on the way. 
Altitude Sickness
Yumthang Valley is located at a height of over 11000 ft, therefore the chances of Acute Mountain Sickness increase. Make sure you acclimatise properly. Keep your body hydrated and prevent excess exertion. You can also take a Diamox the previous night. 
If you encounter any breathing problems, decent immediately.
Stay Warm
Staying warm should be a priority. Make sure you carry warm clothes even in summer. It is going to be chilly.
The journey to Yumthang Valley can get a little bumpy. Also, it can get really cold especially when visiting zero point and other higher reaches.  I would suggest not to bring infants on the journey.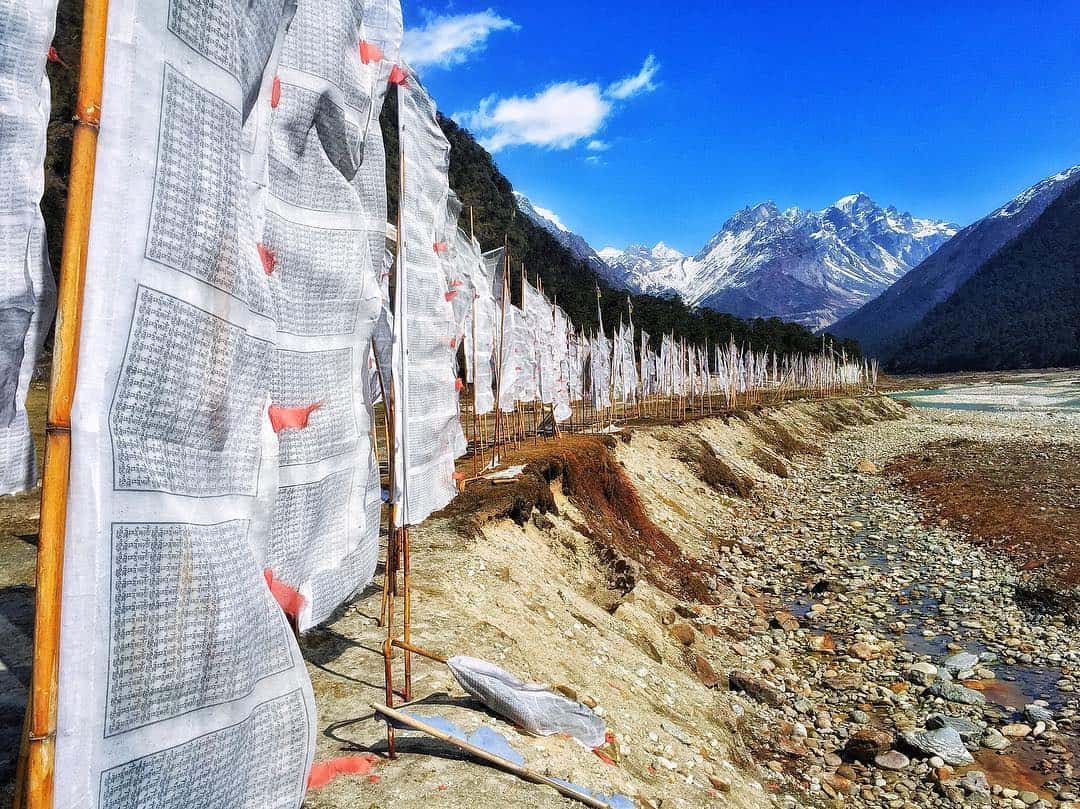 Visit Yumthang Valley once and this place will own you forever. Photography by Neha Bhambhurdekar
So, if you are planning a visit to Sikkim, you should definitely add Yumthang Valley to your itinerary. The sheer natural beauty of the place is enough to make up for a bumpy ride. The valley is the perfect epitome of natural beauty untouched by mankind.
Happy Wayfaring 🙂