Xochimilco day trip simply cannot be excluded from your trip to Mexico City. It is the perfect way to step closer to the festive, and local life of Mexico.
On a Xochimilco day trip, you will traverse through canals in a traditional Mexican boat. Brace yourselves, because this will be no ordinary boating experience. There's a reason why Xochimilco is a tourist hotspot and a UNESCO World Heritage Site.
In case you're wondering, the name Xochimilco is a combination of the Nahuatl (Aztec) words xochitl and milli, meaning "where the flowers grow."

Xochimilcan Day Trip Planner: Essential Facts to Know 
After spending a couple of days exploring Mexico City, I was excited to see more places nearby. Xochimilco was one of the places that were suggested to me by some locals, so I decided to head out here for a day trip.
A Xochimilco day trip is the perfect way of spending a day on the outskirts of Mexico City. Following is a quick crash course on the things you must know before heading there:
Distance from Mexico City
25 kilometres from Mexico City Centre
Currency Used
The currency used in Mexico is the Mexican Peso (written as MXN or M$ or Mex$)
I'll put down the conversion rates in terms of 3 currencies: The Mexican Peso (MXN), American Dollar (USD), and INR (Indian Rupee) since India is my home country.
1 USD = 19.04 MXN and 1 MXN = 3.62 INR
Pronunciation
Xochimilco is pronounced as "zosheemilco"
Best time of the year to visit Xochimilco
Throughout the year except from June to September
Best day of the week to visit
Weekends if you want a real taste of the local life and the frenzy,
Weekdays if you prefer the quiet and the calm.
Getting there
By Metro, or with a group tour
Travel time
One hour by metro, longer by car – depending on the traffic
Things to do in Xochimilco day trip
Enjoy a ride through the canals on a trajinera
Visit the churches and Museums in Xochimilco
Price of a boat ride
Roughly 500 MXN per boat
Xochimilco is known for its canals. A ride through these canals was one of the favourite experiences of my Mexico Trip. However, other than canals, there are also a few other things that can be experienced on a day trip to Xochimilco.
5 Unmissable Xochimilco Day Trip Experiences on a ride through the Canals
Xochimilco is one hell of a place. A number of people claim that it's highly touristy, commercialized, and overrated. However, I did not think so. You simply need to know the nitty-gritty of visiting this town, and you'll have a great day.
When in Xochimilco, I recommend you don't miss out on these 6 wonderful experiences  on your ride through the Canals:
Navigate through Canals and Chinampas
Snack on some wonderful Mexican food items
Try the locally made alcoholic beverages
Get chills down your spine while passing through the 'Haunted' Island of Dolls
Enjoy music and dance at a boat party
Capture the essence of local culture
Although you just have a day here, I assure you it is going to become the highlight of your Mexico visit. Let me now delve deeper into each of the Xochimilco experiences
Navigate through the Canals and Chinampas on a Trajinera on Xochimilco Day Trip
In case you're wondering what all these Spanish words mean, I'm here to help you out.
A chinampa is a Mesoamerican form of agriculture, which used small pieces of land on shallow lakes for growing crops.
A trajinera is a boat that was born in the 19th Century. In Spanish, the verb 'trajinar' means 'to carry goods from one side to another.' Fortunately, this trajineras are still found in Mexico, and it doesn't just end there. You can take your own sweet time, and explore the canals of Xochimilco in one.
Interestingly, every boat has a unique feminine name written on floral arches. On asking, I found out that these are traditional Mexican names, generally written to honour one of the owner's family members.
However, in recent times, some of these trajineras have celebrity names. I assumed that's to cater to the tourists.
These boats have a roof and are made entirely of wood. They're hand-painted with bright neon colours and are extensively decorated with flowers.
Enjoying your ride on a Trajinera
Now, you really don't need a guidebook for once you're on a trajinera. Simply sit back, pop open a bottle of beer or two, and keep snacking away.
You will row past other parked trajineras that are equally eye-catching. It's almost amazing how it is close to impossible to find two boats with the same name.
Coming to my boatman – I must say he was really adorable. He kept trying to converse with me in broken English, and I couldn't help but smile. He wanted to know everything – where I was from, what I love about Mexico, what I do and so on.
Snack at Trajinera on your day visit to Xochimilco
What's a good party without good food and good drinks?
Now, there are two options when it comes to catering to your hunger pangs:
Buying food on the ride – While you're traversing through the canals, plenty of boats and canoes will pass you by. They're filled with vendors selling all sorts of local Mexican snacks. Now, obviously, these are way overpriced – you're being served fresh food in the comforts of your boat.
Stocking up before your ride – If you want to enjoy a Xochimilco day trip with a tighter budget, stock up in advance. A number of convenience shops mark the town, and they sell quite literally all sorts of snacks and drinks. Additionally, you'll find plenty of street food being sold at the stalls around Embarcadero Nuevo Nativitas. You could also visit Xochimilco Market and pick from a wide variety of local delicacies.
Personally, I stuck to buying food beforehand. However, it might get a little difficult to control your temptations if you spend a considerable amount of time on the boat.
Try some local drinks on your Trajinera Ride at Xochimilco
You could stock up on a few beers before you get going with the Mexican party on a trajinera. Do not worry about your beers warming up – the trajineras are well-equipped. You can store all your drinks in the cooler and get the party started.
I mean, imagine watching life passing by on the canal while enjoying a cold beer or two.
Must try: Whether you choose to stock up or buy on the spot, do not miss trying the pulque or mezcal. They're local alcoholic beverages, and you must give them a shot if you don't mind some alcohol in your system.
Note: In case you were planning to drive down to Mexico, remember that Xochimilco offers some really delicious and innovative alcoholic beverages. If you're going to want to try them, stick to coming by metro, or Uber.
Get ready for an Eerie Experience in Xochimilco at the Island of Dolls
Would it be weird if I told you that on my Xochimilco day trip, there were also things that were plain spooky, mysterious, and just a little creepy?
The Island of Dolls is just that!
Just when you are settled into the rhythm of the boat ride and think all are going well, something creepy will come your way. It's almost like you're part of a dramatic horror movie.
A sudden appearance of severed dolls hanging creepily on trees will send chills down your spine. This island is called Isla de las Muñecas (a.k.a. The Island of the Dolls). This creepy sight will more than awaken your senses, despite it being seen in broad daylight.
The Legend Behind the Island of Dolls
Legend has it that once upon a time there was a little girl, who drowned here under mysterious circumstances. A man by the name of Don Julian Santana Barrera found the dead body and a doll next to her.
Apparently, he believed that he was haunted by her spirits. To get rid of them, he hung the doll on a tree and started adding more and more dolls.
This is certainly not a sight I anticipated in a vibrant and cheerful place like Xochimilco. It suddenly made sense as to why people think this place is haunted.
Enjoy some Music & Dance on Xochimilco Day Trip at a Boat Party
As your trajinera slowly passes this creepy island, you move towards the central area of the canal system. Here, the energy levels begin to rise and a true festive spirit dominates.
You will definitely notice three sights here
Vendors selling a myriad of things on their little boat row closer to your trajinera. It could be anything – tacos, roasted corn cobs, boiled corn, beer, fruit salad and even souvenirs.
Amidst floating vendors, the band of mariachi singers dressed traditionally in gold, silver, yellow or purple hues is picturesque.
There are also Xylophonists and brass bands playing classic Mexican tunes, as well as modern chart numbers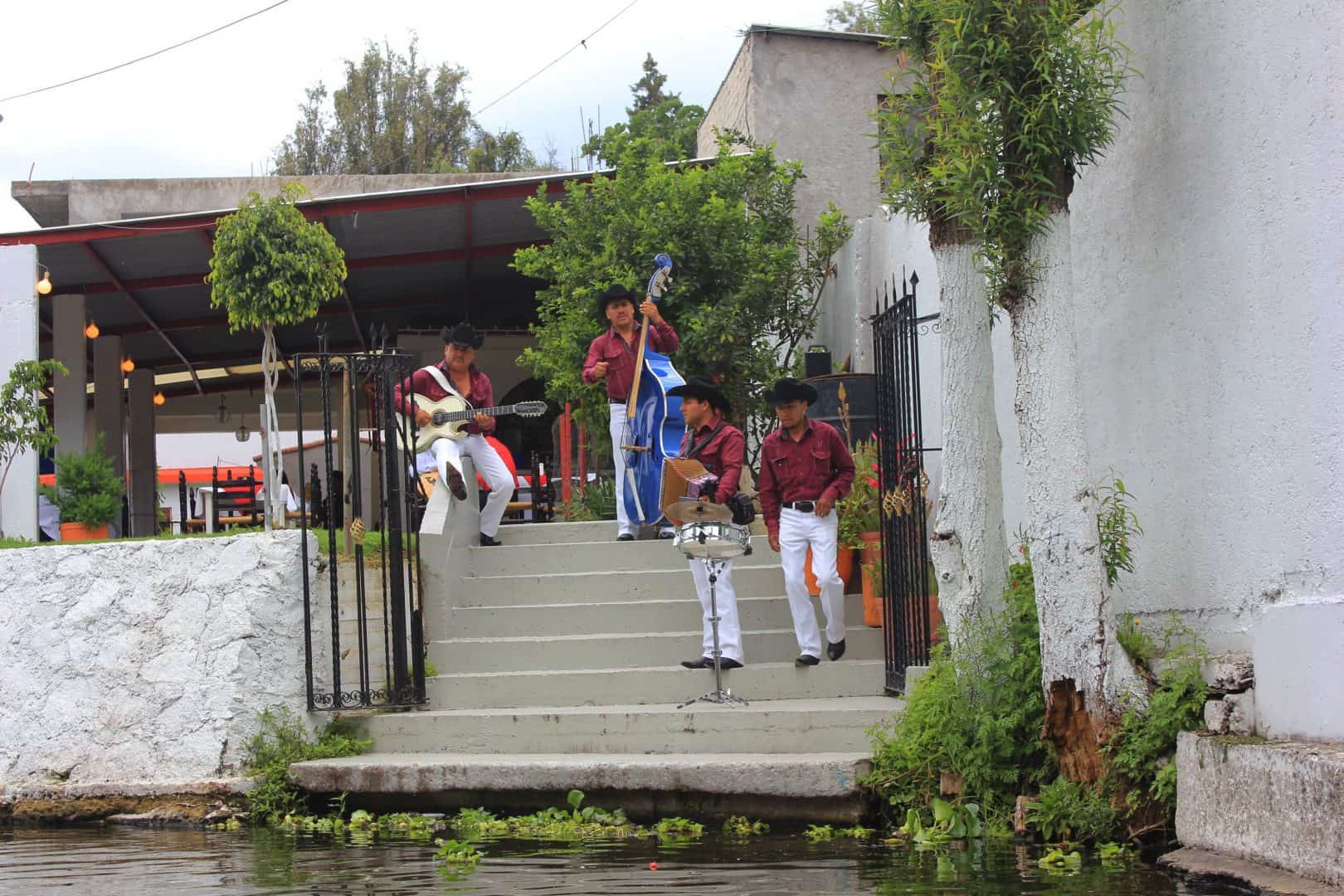 This is one of the Mariachi bands pleasing visitors with their mind-blowing music. To be honest, it's a treat to simply watch them do their thing in their coordinated outfits.
These musicians and singers charge anywhere around MXN 300 (INR 1000) to treat you to a few songs. Without any doubt, it is tempting to hire them for a live concert where they will hop onto your boat and sing personally for you.
If you're a music and dance buff, you can dance to the tunes of the Mariachi singers on the boat's open platform.
However, it is up to you if want to pay that amount. If you are on a budget, you can hear their loud and energetic music from neighbouring boats as you row past them.
All this raucousness at a point in the canal where the business is at its peak is a sight to behold.
Lastly, your boatman will stop near a chinampa selling a variety of native and decorative plants.
Capture the Locale on your day trip to Xochimilco 
Now, if you think riding on a trajinera only entails watching chinampas and other canoes pass by, you're fortunately mistaken. A Xochimilco day trip is truly a multi-sensory experience.
Local families picnicking, rowdy teenagers dancing their way through the ride, fragrant Mexican snacks, lively Mariachi singers, and a curious bunch of travellers light up the scene at Xochimilco every single day.
As you must know by now, this place is a visual delight. You can generously click as many pictures as you want.
However, if you want to click a picture of a vendor or a boatman, it would be respectful to ask for their permission. Sometimes, they expect you to buy something from them in exchange for a picture. So, to avoid being stuck in an unpleasant situation, clarify in advance.
Also, your boatman would be more than happy to click a few pictures of you. Do so without hesitance, for it's great to have some photographs of yourself from this utopian, happy place.
Once you near the end of your trajinera trip, thank your boatmen. Your Xochimilco boat party is, unfortunately, coming to an end.
Later, you can head outside and wander around to see what a typical Mexican town looks like.
3 Wonderful Places to Visit on your Xochimilco Day trip (Outside the Canals)
You can continue your Xochimilco day trip by exploring the rest of the town. Contrary to what a lot of people think, Xochimilco is much more than canals.
1.  Don't miss out on the Museums on your Xochimilco Day Trip
Take a short cab ride from the canals to this area in a town called La Noria. If museums interest you, visit the Dolores Olmedo Patiño Museum. It houses one of the finest collections of artwork by Diego Rivera and Frida Kahlo – two of Mexico's finest artists.
Timings
Tuesday-Sunday, 10 AM-6 PM
Entrance fees
Mexican citizens: 20 MXN
Foreign visitors: 75 MXN
Beautiful peacocks mark the green law on the outside of the museum. Also, a wide variety of plants and flowers grow in the spacious gardens. I loved my visit to the Dolores Olmedo Patiño Museum, not just for the beautiful artwork, but for how pretty the setting was.
2.  Visit a 'Pulqueria' on your day trip to Mexico
Pulquerias are basically a Mexican joint serving a variety of cocktails, with snacks and nibbles to munch on. However, they're most popular for selling 'Pulque,' an iconic and traditional Mexican alcoholic beverage made from fermented agave.
You can visit Pulqueria el Templo de Diana in Xochimilco. It is mostly visited by locals after a few hours spent at the canal, but travellers are equally welcome.
Pulque is definitely not the most aesthetically pleasing beverage, but it's still worth a try.
Tip: It's quite strong in terms of its effects, so do not overdo it especially if it's your first time.
3.  Churches of Xochimilco
Later, you can head to the 16th-century San Bernardino de Siena church, about 3 kilometres from the museum. It is a church that features simple architecture – a high roof and a courtyard within the church complex.
Timings
Open through the week, from 7 AM-8 PM.
Best time to visit
Try visiting on a Sunday. You will see lots of families praying to baby Jesus, popularly called 'Niñopa' in Xochimilco. The atmosphere is generally lively around the church. Dances, musical performances, fairs, rides, and food stalls flock in large numbers.
Truly, Xochimilco on weekends is an absolute treat.
Fun Fact: Back in time, part of this church complex was used to educate Indians for about two whole centuries.
How to Choose a Trajinera for your Xochimilco Day Trip and What's a Good Price?
Now, as you might have guessed, there are many boats to choose from at the Embarcadero. Before settling for one, try to bargain as much as possible. However, there's generally a set rate by the local government body, and you won't pay anywhere less than that.
The current rate is 500 MXN for a one-hour ride in the boat. (as of July 2019)
Note:
This price is per boat, and not per person. If you're with a group, and they insist on charging per person, don't hesitate to move on. There are many options to choose from.
By the way, you can save a lot of money if you team up with other people. You do not have to miss out on a trajinera ride if you're travelling solo and cannot afford it all by yourself. Remember that there are going to be many like you, and they'd be more than willing to share the ride.
Tip: Try and befriend another group outside the entrance and not in front of the boatmen.
Taking Private Day Tours to Xochimilco- Is it worth it?
A number of companies offer day tours to Xochimilco. If private tours that have it all organised for you are something you want, you can certainly opt for them. Most of them start from Mexico City, and you will also be offered pick-up and drop services.
Although this is generally more expensive than going independently, it does have its perks. They are generally coupled with a visit to Coyoacan. A live guided tour (offered both in Spanish and English) will offer you insights into the history, culture and life of Xochimilco. Additionally, it's an easy way to meet like-minded travellers and make some new friends.
Tip: Instead of simply making a booking for a tour online, inquire about your place of stay in Mexico City. Also, clarify what's included in the plan.
Taking a Day trip to Xochimilco from Mexico City- 2 Travel Options
Most non-Mexicans visit Xochimilco on a guided tour. Many of these tours also include visits to other attractions in the canal-town. If this works for you, go for it.
However, I personally believe it's super easy to visit Xochimilco by yourself. Also, the perks of independent travel are many – most importantly, you have the freedom and leeway to do whatever you want, whenever you want.
So, if this type of travel pleases you, the best way to reach Xochimilco would be by metro.
1.   The Most Affordable Commute Option from Mexico to Xochimilco– Metro
To start with, head to the closest local metro station. Then, take the blue metro line to the last station called Tasqueña. At Tasqueña, you'll find a train (Tren Ligero) that exclusively takes you to Xochimilco. The journey is about an hour long and quite crowded on weekends.
Tip: Download 'Mexico City Metro App & Route Planner' on your smartphone. It will help ease your metro trips in the city.
Tren Ligero (light Train)
Timings
Throughout the week; 5 AM to 11:30 PM on weekdays, 6 AM to 11:30 PM on Saturdays, and 7 AM to 11:30 PM on Sundays.
Requirement
A CDMX re-loadable card. In case you don't have a card, get one made for just MXN 10. You can do so at any of the metro stations, including Tasqueña. Also, it can be used in all forms of public transport in Mexico City.
Fare
If you do not wish to use the card again, simply load it with MX$ 3 per person one-way. This will suffice for your Xochimilco day trip.
The last station on the Tren Ligero is Xochimilco, so that's pretty convenient. Once you're off the train, you can either walk or take a 10-minute taxi ride to Embarcadero Nuevo Nativitas. An embarcadero basically means a pier in Spanish.
Remember that there are thousands of signs and boards scattered around the station. All of these will try to direct you to different embarcaderos. However, the smaller ones are generally quieter (not the good quiet), and more expensive.
2.  Take a comfortable Uber ride from Mexico City to Xochimilco
Although this is not a frequently chosen option, I'll lay down the details. If you're someone that simply cannot handle public transit, you might want to explore the taxi scene. The thing is, road travel in Mexico City is highly unpredictable in terms of both traffic and fares.
Be prepared to shell out at least 300 pesos one-way. Chances are that fares will be even higher on your way back – thanks to the unending traffic.
So, as advice, try stepping out of your comfort zone. Hop on to a metro – it really isn't all the scary.
When's the Best Time to take a Xochimilco Day Tour?
Xochimilco is completely different on weekends and weekdays. As per me, the best day for Xochimilco is Sunday, but it depends on your preferences. Here's how Xochimilco on weekends and weekdays is different:
Weekends
A number of dwellers from Mexico City head out for a Xochimilco day trip on weekends. You could visit Xochimilco on a Sunday when it is swarming with people. Although these are the busiest days of the week, they're also the liveliest.
Hundreds of colourful boats go up and down the canals. This is also when you come in really close contact with the culture, and lifestyle of Mexicans. Families picnicking in boats, and singing to the tunes of the Mariachi singers is a common sight. It's crowded, but a good kind of crowded.
Weekdays
In case you want a quieter experience away from the frenzy, visit on a weekday. You can spend the day relaxing in a trajinera, while appreciating the beauty of the canal. Stock up on a few snacks and some beers, and you'll be good to go.
Note: Xochimilco hours of operation are from 9 AM-6 PM every day.
A Xochimilco Day Trip During Easter
If you visit during Easter celebrations in the month of March, you can witness the annual Fiesta de la Flor Mas Bella del Ejido (Festival of the most beautiful flower of the land).
This festival is considered to be a Cultural Heritage of Humanity and can be dated back to pre-Hispanic times. Girls dressed in traditional attires and floral headgear worship Xochiquetzal, the goddess of flower, love and beauty.
Every year, a young woman is crowned La Flor Mas Bella del Ejido (the most beautiful flower in the land). She then presides over colourful parades on flower-decorated barges along Xochimilco's famed canals.
Know a little about Xochimilco's Mind-Boggling History before your visit
When I visited Xochimilco, I was faced with a lot of questions. Some of them were "how?" and "why?" After doing some asking around and some reading up, I found out about the interesting past of Xochimilco.
In case you did not know, all of Mexico City is built on a vast lake. As you might have guessed by now, so is Xochimilco. Xochimilco was originally set up on the southern shore of Lake Xochimilco during the days of the Aztecs.
How was Xochimilco built?
Back in time, the Aztecs introduced a large-scale traditional cultivation method called chinampa. This technique involved artificially interweaving reeds to form islands.
Next, soil and vegetation that was to be grown, were added on top of these reeds to form tiny floating islands. So, although these islands are man-made, they're built from 100% natural resources.
Finally, channels were created between these chinampas to form canals wide enough for canoes to pass. As time passed, the water level in the lake receded. With further pumping of underground water in the 20th century, all that is left of this glorious lake now, are the canals that we see in Xochimilco today.
Returning from Xochimilco Day Trip with Memories
At the end of this memorable day, you can walk back from the church to Terminal Xochimilco at San Pedro, and take the TrenLigero back to Mexico City. I spent my time on the train reminiscing about my colourful day and going through the endless stream of photographs. It was almost like I could still hear the Mariachi bands, still, taste the crispy tortilla chips, and still feel the gentle breeze against my face. What a day.
I hope this Xochimilco day trip guide provides all the necessary guidance for you to have a hassle-free experience. Feel free to drop in the comments below if you have any questions.
Happy wayfaring 🙂