A Xochimilco day trip is the perfect reason to have a festive experience on a boat ride through canals flanked by lush greenery and some unique people.
Xochimilco is located at a distance of 16 km from Mexico City and hence quite easy to visit. You can enjoy the boat ride, have a fantastic Xochimilco day trip and return. It is a unique holiday experience as you traverse through these canals floating on a traditional boat called trajinera between floating islands called chinampas.
Xochimilco is a tourist hotspot and a UNESCO World Heritage Site. The name Xochimilco is a combination of the Nahuatl words xochitl and milli and means "where the flowers grow." 
Also Useful:
Two Day Itinerary for Exploring the Ancient Aztec Capital – Mexico City
Complete guide to paragliding in the lakeside town of Valle de Bravo
Travel Tips for a First Time Visitor to Teotihuacan & its Pyramids
Xochimilco Day Trip Planner: Important Travel Information
A Xochimilco day trip is the perfect way of spending one day in the outskirts of Mexico City. Before going into the details, here are a few quick things that you must know.
Location
Xochimilco, Mexico  
Distance
25 kms from Mexico City centre
Best time of the year to visit
All year except June to September
How to get there
Take the metro blue line to the last station called Tasqueña
Exit the Tasqueña station to walk towards Tren Ligero station
The last station is Xochimilco station at San Pedro
Take a cab from this station to Embarcadero Cuemanco Xochimilco
Cost of a to and fro journey
Overall MXN 30 per head (INR 100)
Travel time
One hour – one way
Cost of boat ride
350-450 MXN per boat depending on the size of the boat
(Please try to bargain if you know Spanish)
Duration of the boat ride
1 -2 hours, please negotiate before boarding
Things to do nearby
Visit the 16th-century San Bernardino de Siena church.
Visit Museo Dolores Olmedo, an art museum
History of Xochimilco
Xochimilco is a borough within present-day Mexico City on the southeastern side.
Xochimilco was originally set up on the southern shore of Lake Xochimilco during the days of the Aztecs. The Aztecs introduced a large scale traditional cultivation method called chinampa.
This technique involved artificially interweaving reeds to form artificial islands. Soil and vegetation that was to be grown were added on top of these reeds to form tiny floating islands.  
Channels were created between these chinampas to form canals wide enough for canoes to pass.
With the passage of time, the level of water in the lake receded and further pumping of underground water in the 20th century, all that is left of this glorious lake are the canals that we see in Xochimilco today.
Trajineras of Xochimilco. Photography by Supriya A.N.
How to Reach Xochimilco?
Take the metro blue line to the last station called Tasqueña. Here walk past the turnstiles to reach the Tren Ligero station. This Xochimilco Light Rail is direct between Tasqueña and Xochimilco. The journey is about an hour long and very crowded during weekends.
Buy a CDMX re-loadable card for MXN 10 for the train ticket. You can use the same for your to and fro journey per head. The Tren Ligero or TR1 ply throughout the day all through the week.
Get off at the last station is Xochimilco station at San Pedro. Take a cab from this station to Embarcadero Cuemanco Xochimilco which is the starting point of your boat ride.
Also Useful:
Get Picked up from Benito Juarez International Airport
Xochimilco Boat Riding Guide
A lot of city dwellers from Mexico City head out for a Xochimilco day trip during weekends. You can visit Xochimilco on Sundays when it is teeming with people and the canals are full of colourful boats that you can hardly see the water in the canal itself.
This is great fun as you will observe families picnicking in boats, singing in chorus to the tunes of the Mariachi singers and eating together.
In case you want a quieter experience away from the frenzy, then a weekday would be a wiser option. You can relax in the slow boat ride, appreciate the beauty of the canal and the flora of this place, munch on snacks and hop off on the floating islands and have a pleasant time without the crowds.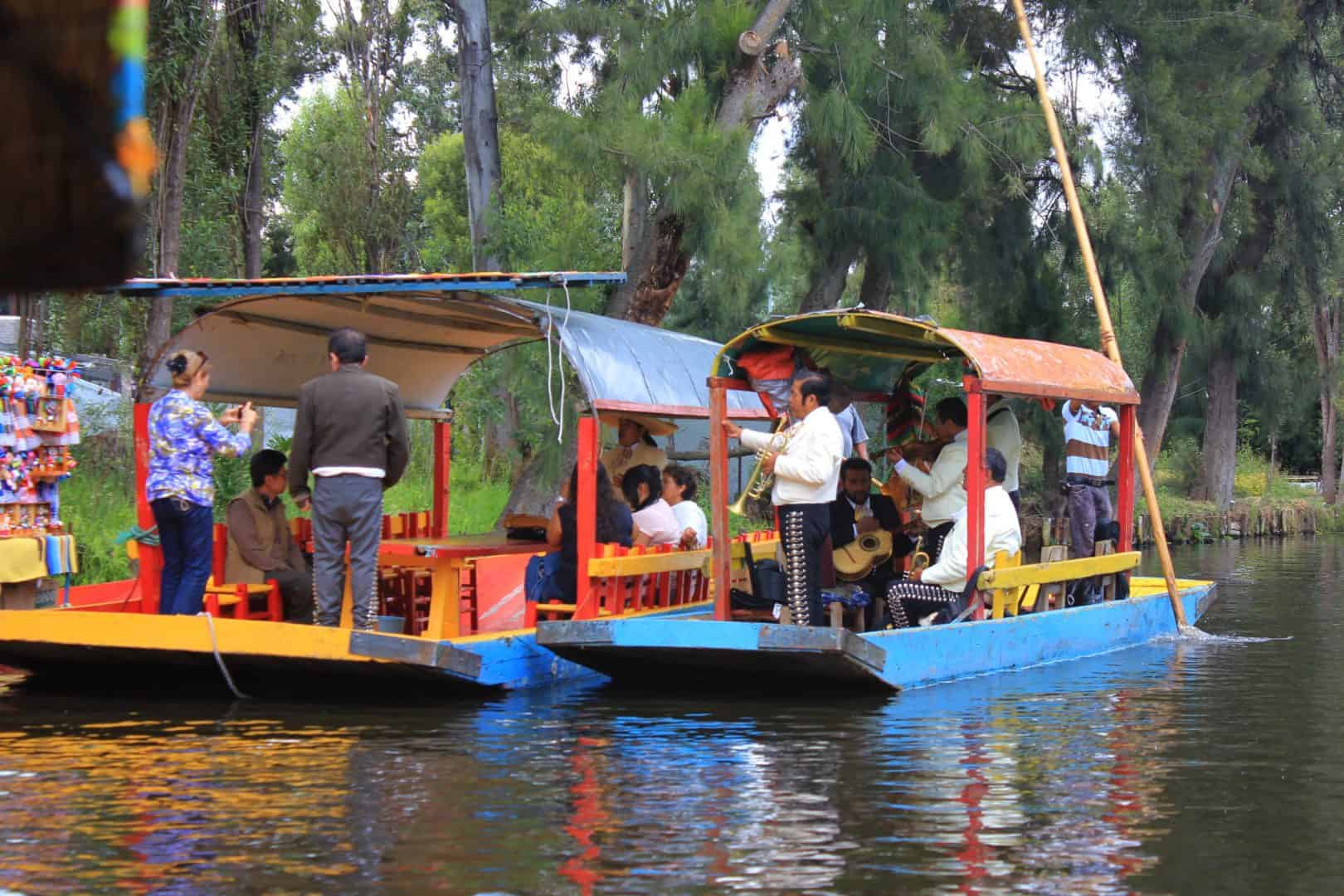 Mariachi singers performing on boats. Photography by Supriya A.N.
How to choose a Xochimilco trajinera?
The main theme of your Xochimilco day trip is the boat ride. These boats are hand painted with bright neon colors and are extensively decorated with flowers.
These boats area called 'trajineras' and every boat has a unique feminine name written on floral arches. These boats have a roof and are made entirely of wood. There is an open platform on the boat where you can dance with your partner when the mariachis will sing for you.
There are many boats to choose from at the Embarcadero. Before choosing the boat, try to bargain as much as possible. Always remember to pay 350-450 MXN per boat and not per head.
You can save a lot of money if you can join another small group, as it will benefit all of them and hence the ride is comparatively cheaper. Try and befriend another group outside the entrance and not in front of the boatmen.
Every trajinera has a unique feminine name written on floral arches. Photography by Supriya A.N.
Where to eat in Xochimilco?
To make the most of your Xochimilco day trip on a tighter budget, shop for snacks and beverages in one of the many shops before reaching the entrance of the boat rides at the Embarcadero Cuemanco Xochimilco.
You can buy from a whole range of traditional snacks like tacos, meat-filled gorditas, quesadillas, roasted corn cobs and more. You can also grab some beer and keep in the cooler which is on the boat itself.
Do not miss to try the pulque or mezcal which are local alcoholic beverages.
It is good to buy these before and then go for the boat ride as the food and beverage sold on other boats by vendors are overpriced.
Embarcadero Cuemanco Xochimilco. Photography by Supriya A.N.
 Xochimilco Day Trip on a Trajinera: Navigating Canals and Chinampas
Hop on the boat, keep the beer or any other beverage that you bought in the cooler on the trajinera itself and begin this memorable journey on your own trajinera.
Your boatman will try to converse with you in broken English keen to know from where you are travelling and the curious chit chat. Your boatman will propel the rainbow coloured trajinera in calm waters using a wooden pole.
You will row past other parked trajineras which are equally eye-catching for the colours and design on display. You will be amazed to notice that it is close to impossible to find two boats of the same name.
The canals are all interconnected and wide enough for a three-lane boat way. The water in the canal is bottle green and you will row past verdant chinampas.
Excited Mariachi band on a chinampa. Photography by Supriya A.N.
Every now and then you will find gardens and a few houses on these chinampas with little kids playing beside their houses. Their dogs will bark at your trajinera and walk along the border of the chinampas in the direction your trajinera is going. Most of the canal is under the shadow of the large trees that grow on both sides.
This experience is calming as you hear the birds chirping and the sound of water as your boatman rows the trajinera. Sit back, snack on the tasty savouries that you had packed, sip on beer and relax as the trajinera meanders through verdant canals.
Continuing Xochimilco Day Trip through the Island of Dolls – Scary Feeling
Just when you are settled into the rhythm of the boat ride, appreciating and excited about this one of a kind Xochimilco day trip, the sudden appearance of many severed dolls hanging creepily on trees on an island will send the chills down your spine.
This island is called Isla de las Muñecas (a.k.a. The Island of the Dolls). Though you are on the trajinera in broad daylight, this creepy sight will definitely awaken your senses.
Riding through the Island of Dolls. Photography by Supriya A.N
The Legend Behind the Island of Dolls
Legend has it that once upon a time there was a little girl who drowned here under mysterious circumstances. A man by the name Don Julian Santana Barrera found the dead body and a doll beside her.
He hung this doll on the tree and started adding more dolls on these trees to please her spirit as he felt he was being haunted by the spirit.
Apparently, even local travellers have started hanging hundreds of old and spooky dolls with severed hands and heads with gouged out eyes. Truly not a sight you can ever anticipate in such a cheerful place.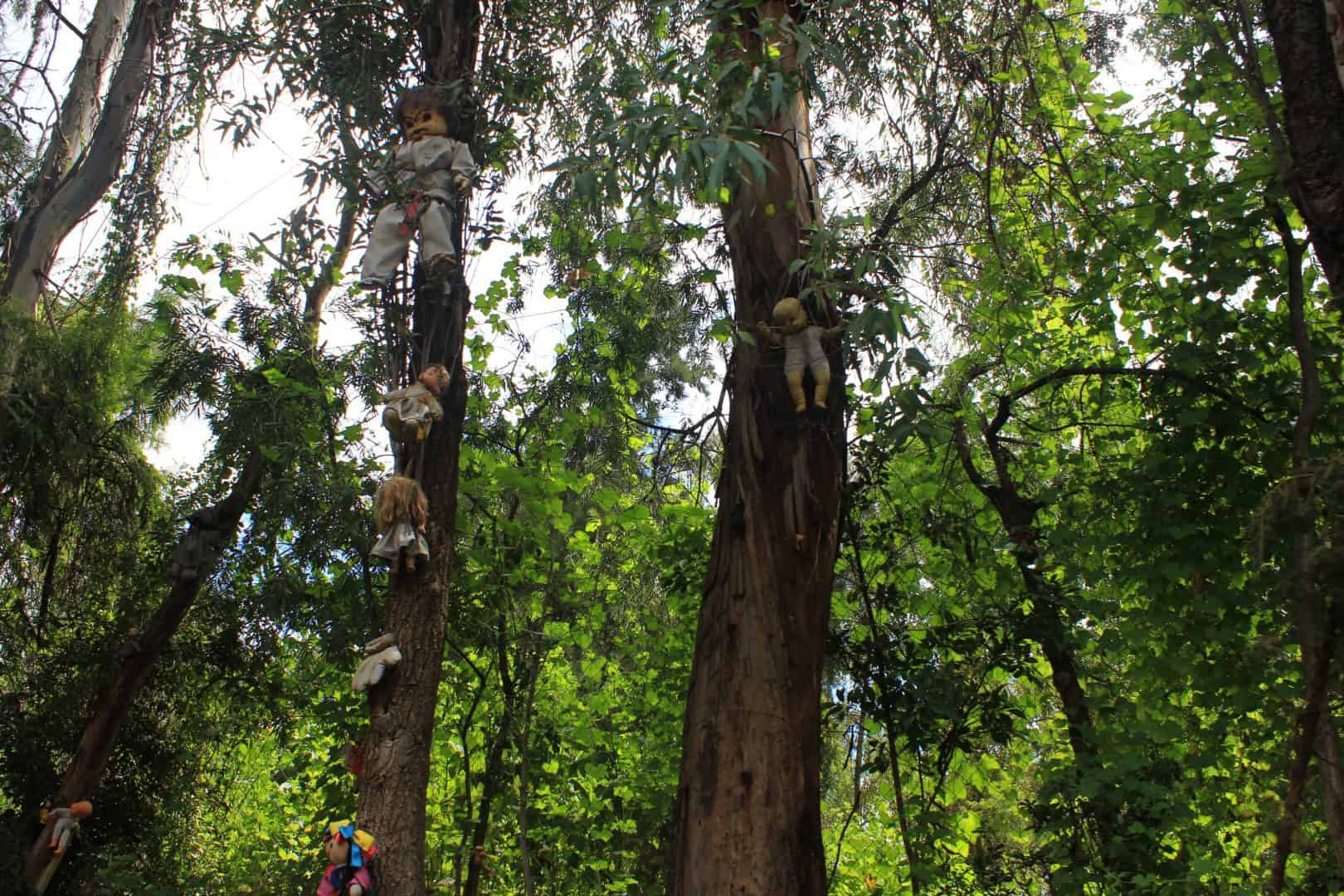 In recent times, local travellers have started hanging spooky dolls from trees. Photography by Supriya A.N.
Experience the Festivity of your  Xochimilco Day Trip on a Trajinera
As your trajinera slowly passes this island, you move towards the central area of this whole canal system where there is more activity. The energy levels begin to rise and the true festive spirit of this place is evident here.
It is surprising to find vendors selling a myriad of things on their little boats rowing closer to your trajinera. It could be tacos, roasted corn cobs, boiled corn, beer, fruit salad and even souvenirs.
These are overpriced for the obvious reason that the vendor is offering snacks and essentials at the comfort of your boat.
A vendor selling corn on a Trajinera. Photography by Supriya A.N.
As you reach further inside, you will find more trajineras in the canals. This wide stretch on Sundays is jam-packed with trajineras.
You will witness people singing along with the mariachi bands, families chatting, people negotiating with the floating vendors and the boatmen communicating with each other. All this raucousness in the canal where business is at its peak on trajineras is a sight to behold.
Among all the floating vendors, the band of mariachi singers, dressed traditionally in gold, silver, yellow or purple hues and the distinct mariachi hats are a delight to behold.
They charge anywhere around MXN 300 (INR 1000) to sing a few songs. Without any denial, it is, of course, tempting to hire them for a lively concert where they will hop onto your boat and sing personally for you.
It is up to you if want to pay that amount. If you are on a budget you can hear their loud and energetic music from neighbouring boats as you row past them.
Your boatman will stop near one such chinampa where they sell a variety of native and decorative plants. It is a visual delight to walk into this place and as an international traveller, not really relevant for us to shop for these plants.
Flower garden to shop on a chinampa. Photography by Supriya A.N.
Capturing the Locale on your Xochimilco Day Trip 
This place is a visual delight and hence you can generously click as many pictures as you want. If you want to click a picture of a vendor or a boatman, please ask their permission beforehand.
Sometimes they expect you to buy something from them in exchange for the picture.
After you return from the chinampa, hop back on the boat and soak in the views as you are nearing the end of this boat ride.  As you reach the exit, thank you boatmen and head outside and wander around on foot to see how a typical Mexican town looks like.



Other Places to Visit on your Xochimilco Day trip
Continue your Xochimilco day trip by taking a cab to the Dolores Olmedo Patiño Museum. The museum contains one of the finest collections of artwork by Diego Rivera and Frida Kahlo, two of the finest artists from Mexico.
Later, head to the 16th-century San Bernardino de Siena church, 3 kms away from the museum. It is a church with a simple architecture with a high roof and a courtyard within the church complex.
You can observe a lot of families here praying on Sundays to baby Jesus, popularly called as Niñopa in Xochimilco.
How Does Xochimilco Day Trip Feel Like During Easter?
If you visit during Easter celebrations in the month of March then you can witness the annual Fiesta de la Flor Mas Bella del Ejido (Festival of the most beautiful flower of the land).
This festival is considered as a Cultural Heritage of Humanity and can be dated back to pre-Hispanic times. Girls dressed in traditional attire and floral headgear worship Xochiquetzal, the goddess of flower, love and beauty.
Every year, a young woman is crowned La Flor Mas Bella del Ejido (the most beautiful flower of the land) who presides over colorful parades on flower-decorated barges along Xochimilco's famed canals.
Return from Xochimilco to Mexico City
At the end of this memorable day, you can walk back from the church to Terminal Xochimilco at San Pedro and take the TrenLigero back to Mexico City.
I hope this Xochimilco day trip guide provides all the necessary guidance for you to have a hassle-free experience. Feel free to drop in comments below if you have any questions.
Happy wayfaring.
About the Author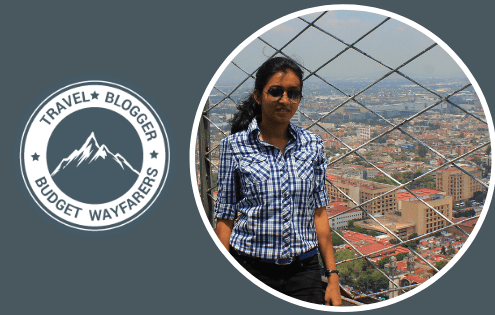 Supriya A.N.
Supriya hails from the garden city of Bangalore in southern India and is always on the look out for fun experiences across the globe. After scuba diving in the Mediterranean, counted shooting stars in the Sahara, flying in a helicopter over Barcelona, she now aims at horse riding in the Mongolian steppe, pet whales off the coast of Baja California and more. She narrates her travel experiences on her travel blog called Inking Miles. She loves salad over pizza, non-fiction over fantasy, movies over sitcoms. She constantly flips pages of travel books, hugely inspired by Michael Palin and Pico Iyer. She also keen on the arduous journey the snow geese make every year from the Canadian Artic to the Gulf of Mexico every winter.
BUDGET WAYFARERS
https://www.budgetwayfarers.com/wp-content/uploads/2019/02/Xochimilco-Day-Trip-min.png
315
560
Budget Wayfarers
https://www.budgetwayfarers.com/wp-content/uploads/2018/04/1200X800.png
Budget Wayfarers
2019-02-08 10:20:08
2019-02-08 18:31:13
Spending a Fun Day at Xochimilco on a Boat - The Trajinera