White Town Pondicherry is a hip, french dominated, travel friendly, near the sea place for sightseers who wish to take a break from their hectic city lives and hit this coastal retreat.
The best part about White Town Pondicherry lies in its food culture. There is an abundance of quaint cafes, creative eateries and nominal feeding places where one can enjoy both a hearty meal as well as the ambiance.
Back in the day, this locale of Pondicherry was reserved only for the French folks. That is where the place gets it's name – White Town. Today in an independent India, each and every person is allowed to visit here.
Most of the buildings here are bright yellow in colour. They have a very exotic French like architecture and appear as dainty. The streets are innately European and make for excellent Instagram locales.
White Town Pondicherry
Location
Pondicherry, South India
Best time to visit
End of November to beginning of January
Availability of cafes
Yes. They are in plenty here
Nearest beach
Rocky beach by the Seaside Promenade
Safety for solo travelers
Very high
Good places to visit nearby
Rocky beach, Seaside Promenade and Aurobindo Ashram
If you're visiting White Town for the first time, you'll absolutely love the ambiance around. The architecture is lovely and the streets are super clean.
Even if you're on your own, you'll have one hell of a time.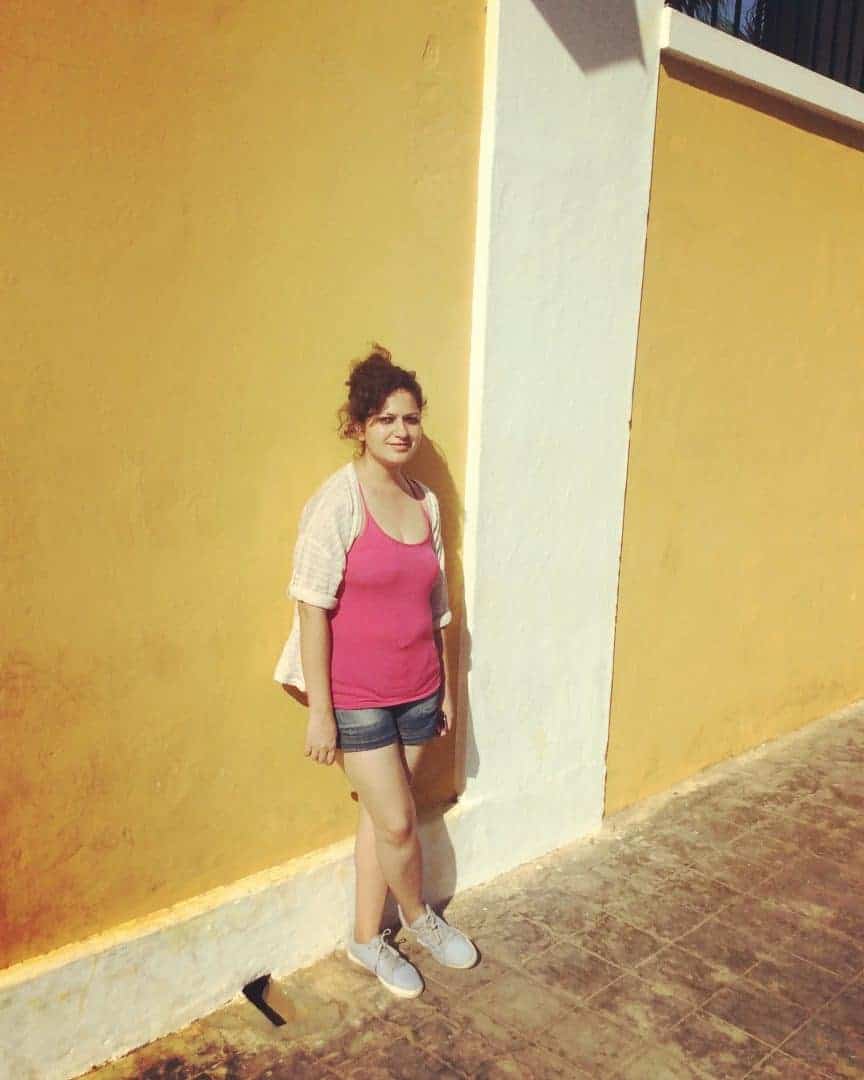 This is me basking in the sun at White Town Pondicherry. Most of the buildings here are bright yellow in colour. Picture credits:  Akriti Mattu
Food Culture in White Town Pondicherry
White Town Pondicherry has an abundance of eating places that are well kept and serve savoury food. The French influence is quite obvious here and is reflected in the meals served, the architectonics and the overall setting.
Most of the owners are third generation French folks who have been living in White Town Pondicherry ever since the spice merchants from the West visited India. Over the years, they have amalgamated Indianess in themselves and feel Indian at heart.
Almost every cafe of White Town Pondicherry has a good number of Indian food items on their menu that are original in their recipes. 



Must Visit Eating Places at White Town Pondicherry
White Town is Pondicherry's super cool hangout zone. It is for this reason that this place is sprawling with hip eating places as well.
Right from a tiny eatery serving fish curry to a flamboyant lounge serving the finest of wine, White Town Pondicherry has every kind of eating place.
Since I've had the opportunity to visit this part of the world numerous times now, there are some eateries that have become my favourite. Let me share them with you.
Zuka Choco La
Zuka Choco La is a dessert place where you can literally immerse yourself in chocolate.
Remember Grimm's Fairy Tale of Hansel and Gretel ? Well at Zuka Choco La, you can eat moulds, forks and even spoons made of chocolate. 
They have a Rajnikanth (one of India's iconic figures) statue inside which is fascinating to Rajni fans.
Average Cost for one
270 INR
Must Try Items 
Chocolate Pakora, Chocolate Mousse, Chocolate Truffle, Red Velvet Cake, Rainbow Cake, Blueberry Cheese Cake, Hot Chocolate, Strawberry Milkshake, Chocolate Spoons, Chocolate Boxes
You may or may not get a place to sit here so be patient and wait for your turn. Else eat standing. But eat.  Make sure you buy a handful of cookies to eat later.
Cafe Des Arts
Cafe Des Arts is essentially an ancient french villa that has now been converted to a buzzing cafe. Cafe Des Arts is one of those places where you can spend hours on a stretch together without getting bored.  
Average Cost for one
380 INR
Must Try Items 
Freshly baked Croissants, Cheese Omelette, Crepes, Waffles, Pancakes, Banana Caramel Smoothie, Madame Croque
It is one of the best places to savour breakfast. If you're looking for authentic french cuisine in White Town Pondicherry, this is your one stop destination. 
Kasha ki Asha
Kasha ki Asha is an innovative place as made obvious by its name. The roof top is made of straws, the shoes of visitors are meant to be taken off at the entrance.
LIVE performances are showcased occasionally. The owner is agile enough to deliver orders fast and the food is absolutely mouth watering. 
Average Cost for one
350 INR
Must Try Items 
Black Bean Burger, Indian Enchilada, European Thali (ya you read that right), fruit and cake, idlis and seasonal fresh fruit juices. 
The closing hour of the cafe is 7 pm so make sure you pay a visit to Kasha ki Asha while it's open. By the way, cafe owners throughout White Town Pondicherry are strict with the timings.
Cream Affair
Cream affair will literally make you fall in love with anything that is sweet, colourful and creamy.
Indulge yourself in an affair with chocolate here. The name is pretty appropriate for this seductive place in White Town Pondicherry. The place even draws inspiration from some Thai desserts and serves its customers with Ice cream.
Average Cost for one
150 INR
Must Try Items 
Bubble Waffle Cone, Ice cream roll, Cranberry Ice cream, Gems Bond, Apple Remix, Awesome '3' some, Go Cheesy, Litchi Mischief
If you don't mind putting on a little holiday weight during your trip to White Town Pondicherry, this is your ideal hangout spot. Good part about the place is the magnanimity in quantity of desserts. 
The Indian Kaffe Xpress
Tucked in the quiet by lanes of White Town Pondicherry, Indian Kaffe Xpress is a decent place to enjoy a meal.  It serves both Indian and French cuisine.
Their pancakes are quite good and fluffy and go well with fresh Lime juice. 
Average Cost for one
300 INR
Must try items 
Mushroom Cheese Parantha, Mushroom and Corn Sandwich, Chicken Masala and Rice, Bombay Sandwich, Choco Frappe, Strawberry Pancake, Blueberry Shake, Oreo Shake.
The service is slower than usual but that is because they prepare fresh meals. So even if you have to wait for sometime, it is absolutely alright. Their pancakes are quite good and fluffy.
Shopping in White Town Pondicherry
Since White Town lies in the heart of Pondicherry, the shops and boutiques here are quite expensive. The French influence is quite apparent in both the ambiance of shops as well as in the cost.
If you don't mind spending a few extra bucks, sure you can shop your heart out here. There are numerous reputable shopping places in White Town. To name a few –  La Maison Rose, Casablanca and  Living Art Lifestyles. A few of these places are run by French folks till date.
Even if you don't want to buy anything at White Town Pondicherry, just stroll your way across the streets for some fun window shopping.
Budget Places to Stay in White Town Pondicherry
A lot of travelers prefer to stay in and around White Town and not on the outskirts of Pondicherry. Personally, I prefer the same. Reason being that White Town is centrally located and so the other sightseeing places are accessible here easily.
Accommodation in and around Pondicherry is of five kinds – Home stays, apartments, fancy hotels, budget lodges and budget hotels. Depending on what suits you, make your bookings. Just ensure you book in advance. It'll save you a reasonable amount of money.
A lot of travelers feel that White Town Pondicherry is expensive when it comes to hotels. However that isn't true. If you do your research and book in advance, the accommodation places here will not cost you much.
Based on my trips to White Town, there are two places to stay that I prefer and trust.
Let me share them with you.
Chaplin Hotel
Chaplin Hotel is my most preferred place of stay in White Town Pondicherry. It's very hygienic, well ventilated and has an extremely hospitable staff.
You can avail a room here for 1000 INR to 12oo INR. If you visit here off season, the cost will be way lesser.
You can view more details about Chaplin Hotel here.
Heritage Apartment
This is my second most preferred places to stay in White Town Pondicherry. Heritage Apartment has always provided me with a home like feeling. Also, my privacy as a solo woman traveler has never been invaded.
You can get a 1 BHK appartment for anywhere between 950 INR to 1100 INR. I've always booked early. So I've availed the accommodation here for under 1000 INR.
You can view more details about Heritage Apartment here.
Plan a trip to White Town Pondicherry soon and experience the richness. 
Happy Wayfaring 
https://www.budgetwayfarers.com/wp-content/uploads/2018/02/White-town-pondicherry-min.png
315
560
Budget Wayfarers
http://34.67.82.155/wp-content/uploads/2019/07/Logo-135X90.png
Budget Wayfarers
2018-02-22 10:00:36
2019-03-06 19:48:23
White Town Pondicherry