Top cafes in Pondicherry lie indisputably in the White Town area. It is a hip, french dominated, travel friendly, near the sea place for sightseers who wish to take a break from their hectic city lives and hit this coastal retreat. A number of these cafes happen to be French in origin.
White Town is known for its food culture. And therefore some of Pondicherry's best cafes and eateries lie here. There is an abundance of quaint eating places, creative eateries and nominal feeding places where one can enjoy both a hearty meal as well as the ambience.
Back in the day, eating places in White Town were reserved only for the French folks. Hence, the cafes have a very exotic French like architecture and appear as dainty. The streets where they are located seem innately European and make for excellent Instagram locales.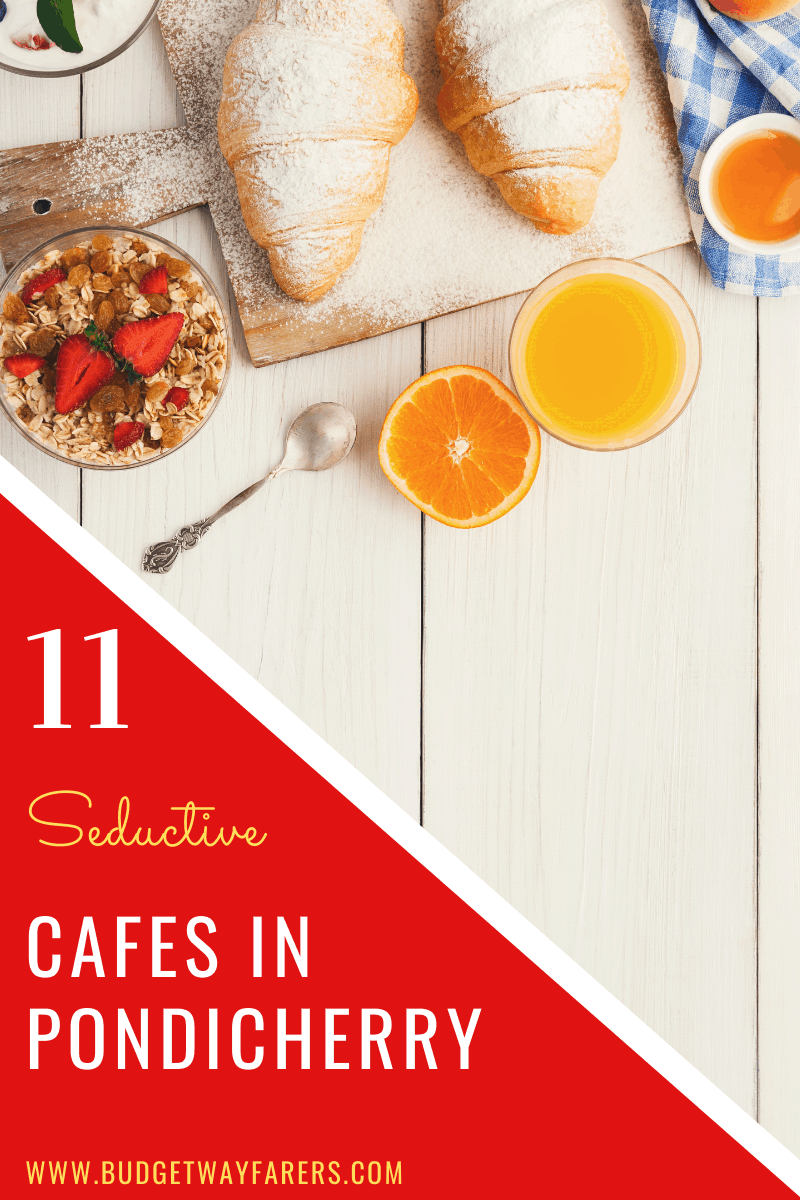 11 Top Cafes in Pondicherry | Every Foodie's Delight
If you're visiting Pondicherry for the first time, you'll absolutely love the ambience around. The architecture is lovely and the streets are super clean. Even if you're on your own, you'll have one heck of a time as a solo traveller. I surely did.
White Town is one locale in Pondicherry that has an abundance of eating places that are well kept and serve savoury food. The French influence is quite obvious here and is reflected in the meals served, the architectonics and the overall setting.
Most of the owners are third-generation French folks who have been living in White Town Pondicherry ever since the spice merchants from the West visited India. Over the years, they have amalgamated Indianess in themselves and feel Indian at heart.
Almost every cafe in White Town Pondicherry has a good number of Indian food items on their menu that are original in their recipes. So let me share with you my favourite ones of the lot.
1. Cafe Des Arts
2. Zuka Choco La
3. Hope Cafe Pondicherry
4. Cream Affair
5. The Indian Kafe Xpress
6. New Banana Cafe
7. Baker Street
8. Artika Cafe Gallery
9. Crepe in Touch
10. Appachi
11. Bon Bakes
1. Cafe Des Arts
Cafe Des Arts is essentially an ancient french villa that has now been converted to a buzzing cafe. Cafe Des Arts is one of those places where you can spend hours on a stretch together without getting bored.
It is one of the best places to savour breakfast. If you're looking for authentic French cuisine in White Town Pondicherry, this is your one-stop destination. 
Average Cost for one
380 INR
Must-Try Items 
Freshly baked Croissants, Cheese Omelette, Crepes, Waffles, Pancakes, Banana Caramel Smoothie, Madame Croque
2. Zuka Choco La
Zuka Choco La is a dessert place where you can literally immerse yourself in chocolate.  Remember Grimm's Fairy Tale of Hansel and Gretel? Well at Zuka Choco La, you can eat moulds, forks and even spoons made of chocolate. 
They have a Rajnikanth (one of India's iconic figures) statue inside which is fascinating to Rajni fans. You may or may not get a place to sit here so be patient and wait for your turn. Else eat standing. But eat. Make sure you buy a handful of cookies to eat later.
Average Cost for one
270 INR
Must Try Items 
Chocolate Pakora, Chocolate Mousse, Chocolate Truffle, Red Velvet Cake, Rainbow Cake, Blueberry Cheese Cake, Hot Chocolate, Strawberry Milkshake, Chocolate Spoons, Chocolate Boxes

3. Hope Cafe
Hope Cafe is an innovative place as made obvious by its name. LIVE performances are showcased occasionally. The owner is agile enough to deliver orders fast and the food is absolutely mouth-watering. 
The closing hour of the cafe is 7 pm so make sure you pay a visit to Hope Cafe while it's open. By the way, cafe owners throughout White Town Pondicherry are strict with the timings.
Average Cost for one
350 INR
Must-Try Items 
Black Bean Burger, Indian Enchilada, European Thali (ya you read that right), fruit and cake, idlis and seasonal fresh fruit juices. 
4. Cream Affair
Cream affair will literally make you fall in love with anything that is sweet, colourful and creamy.
Indulge yourself in an affair with chocolate here. The name is pretty appropriate for this seductive place in White Town Pondicherry. The place even draws inspiration from some Thai desserts and serves its customers with Ice cream.
If you don't mind putting on a little holiday weight during your trip to cafes in Pondicherry, this is your ideal hangout spot. The good part about the place is the magnanimity in the quantity of desserts. 
Average Cost for one
150 INR
Must Try Items 
Bubble Waffle Cone, Ice cream roll, Cranberry Ice cream, Gems Bond, Apple Remix, Awesome '3' some, Go Cheesy, Litchi Mischief

5. The Indian Kaffe Xpress
Tucked in the quiet by lanes of White Town Pondicherry, Indian Kaffe Xpress is a decent place to enjoy a meal.  It serves both Indian and French cuisine.
Their pancakes are quite good and fluffy and go well with fresh Lime juice. This place makes for one of the yummilicious cafes in Pondicherry.
The service is slower than usual but that is because they prepare fresh meals. So even if you have to wait for sometime, it is absolutely alright. Their pancakes are quite good and fluffy.
Average Cost for one
300 INR
Must try items 
Mushroom Cheese Parantha, Mushroom and Corn Sandwich, Chicken Masala and Rice, Bombay Sandwich, Choco Frappe, Strawberry Pancake, Blueberry Shake, Oreo Shake.
6. New Banana Cafe
A hidden café in a quaint, laid-back street full of houses. Offering primarily vegetarian fare, this café serves appetising salads and flavourful home-made jams. No matter what route I take to Pondicherry from my current city Bangalore, I always almost land up at this place.
The shredded beetroot and carrot salad with a pinch of olive oil on top is a perfect starter. So is toast with homemade apple jam, bursting with fresh flavours.
Quiches are their speciality, especially the one with the mushroom filling. Coupled with a mint or peach cooler, it makes for a wholesome, filling snack. They also offer crepes, and the egg and cheese crepe is among the best savoury crepes on offer.
Average Cost for one
200 INR
Must try items 
Quiches
7. Baker Street
Located right in the heart of White Town, Baker Street makes for an ideal dessert place. The dessert platter with its assortment of cakes, candies, pastries and coffees is highly recommended.
If you don't have a sweet tooth, dig straight into the toasts and sandwiches on offer, especially the crispy, oregano-seasoned French fries.
Since Baker Street is run by a French gentleman, the food here has authentic French flavours.
Average Cost for one
250 INR
Must try items 
Chocolatine, Butter Croissant, Toasts.
8. Artika Cafe Gallery
An excellent place for breakfast platters which typically consist of mashed potatoes, grilled tomatoes, half fried eggs or potato wedges for vegetarians, and chicken sausages.
 Croque monsieur (a French sandwich) is a hit here and will make for a good start for first time French food tasters. Quench your thirst with some fresh iced strawberry shake without sugar.
They also serve fresh fruit juices and their watermelon juice is especially recommended. There is an in-house boutique for designer clothes. It is one of the best cafes in Pondicherry.
Average Cost for one
350 INR
Must try items 
Croque monsieur, Tuna Salad, Cheese Sandwich, Fried Eggs

9. Crepe in Touch
The place has a unique name and so is its food. This is a must try eatery for lovers of French cuisine. A wide variety of crepes are available here, including healthy organic options.
The blueberry crepe was really tasty and made for a scrumptious filling breakfast. There are various other crepes to choose from.
Among the desserts, Far au Breton, a special kind of cake, with whole prunes and raisins, is perfect with tea. The café has an attached antique shop which makes for interesting browsing.
Average Cost for one
300 INR
Must try items 
Far au Breton, Nutella crepes with almonds, Caramel Crepe
10. Appachi
Nobody should return from Pondicherry without having tasted Chettinad cuisine. Appachi serves the best Chettinad cuisine in Pondicherry and has a homely ambience.
A good eatery to try some very unique south Indian flavours. The sea food served here is fresh and the variety is good from normal fish fry to prawns, oysters and even sharks.
Do try prawns here. They are quite sumptuous.
Average Cost for one
200 INR
Must try items 
Mutton pepper fry, Podai Dosai, Prawn Masala
11. Bon Bakes
Located at a walking distance from the sea-side promenade in the heart of White Town, is a quaint café that goes by the name of Bon Bakes. A varied menu, light music and a heartwarming ambience is what this little eatery offers.
A personal favourite here was the Spinach Pasta. Served with four slices of garlic toast and butter, it was a delightfully delicious twist to the regular pasta.
Coupled with a cup of Hazelnut coffee and some hot cross buns, it made for a filling meal that left me completely satiated. The show stopper though was the double chocolate croissant. 
Average Cost for one
250 INR
Must try items 
Garlic bread toast, Veg milan pasta, Grilled chicken sandwich
Plan a trip to one or all of these cafes in Pondicherry soon and experience the richness. 
Cafes in Pondicherry are super cool hangout zones. It is for this reason that this place is sprawling with hip eating places. Right from a tiny eatery serving fish curry to a flamboyant lounge serving the finest of wine, Pondicherry has every kind of eating place.
Since I've had the opportunity to visit this part of the world numerous times now, all the above listed cafes in Pondicherry have become my favourites. Feels like home each time I get in here. I hope you guys go and make a connect too.
Happy Wayfaring 🙂