Weekend getaways from Bangkok make for lovely short trips, romantic locales and adventurous destinations. Bangkok is certainly one of the most wonderful cities I have been to as a traveler. After spending close to 7 months, I've been able to explore the place inside out.
I have been fortunate enough to pursue trips to numerous weekend getaways from Bangkok. In times when the capital city drained me down with its traffic, bustling streets, pollution and all the noise, these offbeat places came to my rescue.
Bangkok is surrounded by some of the most beautiful places ever. Not only can you spend quality time there but also connect with nature better. You can choose to travel as a solo wanderer or along with family and friends.
In my current blog, I genuinely intend to amaze you with all that the weekend getaways from Bangkok have in store for you. Anybody passionate about exploring the real Thailand should visit these lesser known places.
Also useful:
Top travel tips for visiting Thailand for the first time
A fun visit to Thailand's Krabi Island 
Weekend Getaways from Bangkok
Imagine treading on a trail no one has set foot on before. Imagine watching the stars lying on a cliff no one has climbed before. Imagine discovering a waterfall that has met no man before. Imagine visiting a place Google Search offers no results for – one with no name.
Imagine yourself venturing to such spell binding locales.  Well the weekend getaways from Bangkok comprise of such locales.
Some of the offbeat places that also make for lovely weekend getaways from Bangkok are being mentioned below.
Koh Si Chang
Khao Yai National Park
Saraburi
Ayutthaya
Koh Larn
Kanchanaburi
Hua Hin
The list mentioned in the table above should be a part of the weekend getaway tour from Bangkok on every wanderlust lover's itinerary. These places will bring out the best of travel experiences.



You know they say, that it is always thrilling to explore the unknown and the untouched. My experience in and around Bangkok holds this stance true.
The lesser visited locales always make for lovely getaways. The embracing vibe of such places is comforting.
In all of the months that I spent in Bangkok, I connected with the region really well. I've been able to travel beyond the obvious places. I've observed sunsets on deserted beaches. I've camped in the wilderness. I've also pursued mini adventure trips on islands. 
Some of the weekend getaways have been covered by me alone. The others with a group of close friends. But either way, I've had a time of my life on all of these places.
Now it is time to share my experience with you so that you too benefit.
I've spent 7 months in Thailand and have explored weekend getaways from Bangkok, taken short trips and have understood the region inside out. Bangkok has so much to offer in terms of travel. So just go for all its less popular places and trust me, you will return as a more happy person like I am in this photograph. Picture credits: Tarang Mohnot
Right at the beginning of this blog, I had created a table that mentioned places that make for excellent getaways from Bangkok. Now let me elaborate on the additional details that will help you as a first time visitor to these places.
I'd like to provide all the travel details that will help you to explore the weekend getaways from Bangkok.
Koh Si Chang 
Koh Si Chang comprises of an atmosphere that is serene and tranquil. Its a lovely place to spend time with one self and be in sync with nature.  The island is picturesque and has a vibe that is welcoming. Visit here to discover your inner self.
Hang out by the Haad Tham Phang Beach for some fun and frolic.
Koh Sichang does have 7-Eleven's (24-hour convenience stores across Thailand) and you could resort to them if you don't wish to spend a huge chunk of your money on food.
Ideal visit duration of Koh Si Chang from Bangkok
1-2 days
Best time to visit
October-March
Getting to Koh Si Chang from Bangkok
Shared Van from Ekkamai Bus Station –-> scooter taxi to the pier at SriRacha –-> Ferry to Koh Si Chang
Budget
Bike rental: 250-300 THB
Shared van: 100 THB each way
Ferry: 40-50 THB each way
My Recommended Activity
Rent a local scooter and go touring around the Koh Si Chang area. Spend some time by yourself and make a connect with your surroundings.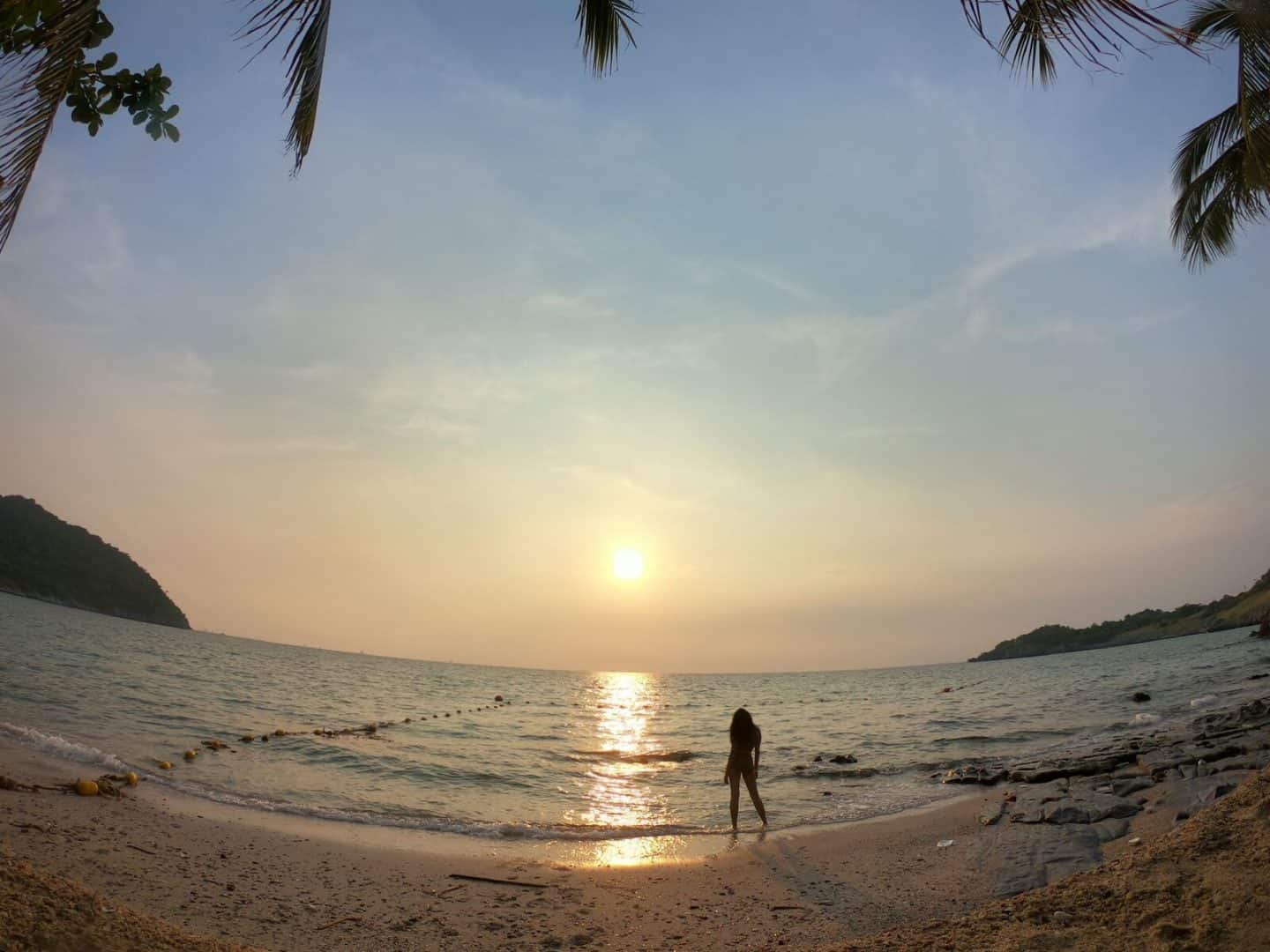 Watching the sun go down at Haad Tham Phang Beach at Koh Si Chang. Less crowded beaches make for the best getaway destinations. While you're here, make sure to observe the sunset. Picture credits: Tarang Mohnot
Khao Yai National Park
Saying Khao Yai National Park is huge is an understatement. A wide range of wineries to choose from, a multitude of great cafes offering a great continental spread, miles and miles of sunflower fields (November-January), whooshing waterfalls that are ever-inviting, and safari tours that take you close to its rich wildlife – that are all the things Khao Yai stands for as a destination.
Additionally, you cannot miss out on the Nong Phak Chi Watchtower that offers a 360-degree view of nothing but green fields and a little lake.
If you have the opportunity to visit early in the morning, you might be lucky to witness some wildlife in the open –horn bills, deers, and sometimes elephants.
Ideal visit duration
2 nights, 3 days
Best time to visit
October-February
Getting to Khao Yai National Park from Bangkok
Shared vans from Ekkamai Bus Station to Pak Chong or a train to Pak Chong –-> drive to Khao Yai in rented vehicle or local buses to Khao Yai
Budget
National Park entrance fee: 400 THB for adults
Bike rental: 300 THB per day
Camping equipment: 200-300 THB
Shared van: 100-150 THB one way
Train: 30 THB one way for third class
My Recommended Activity
Khao Yai National Park is such a majestic place that only a full day tour will justify your visit. Additionally, the tour organizers will take you to a Thai Market and make you a part of a fun cooking class.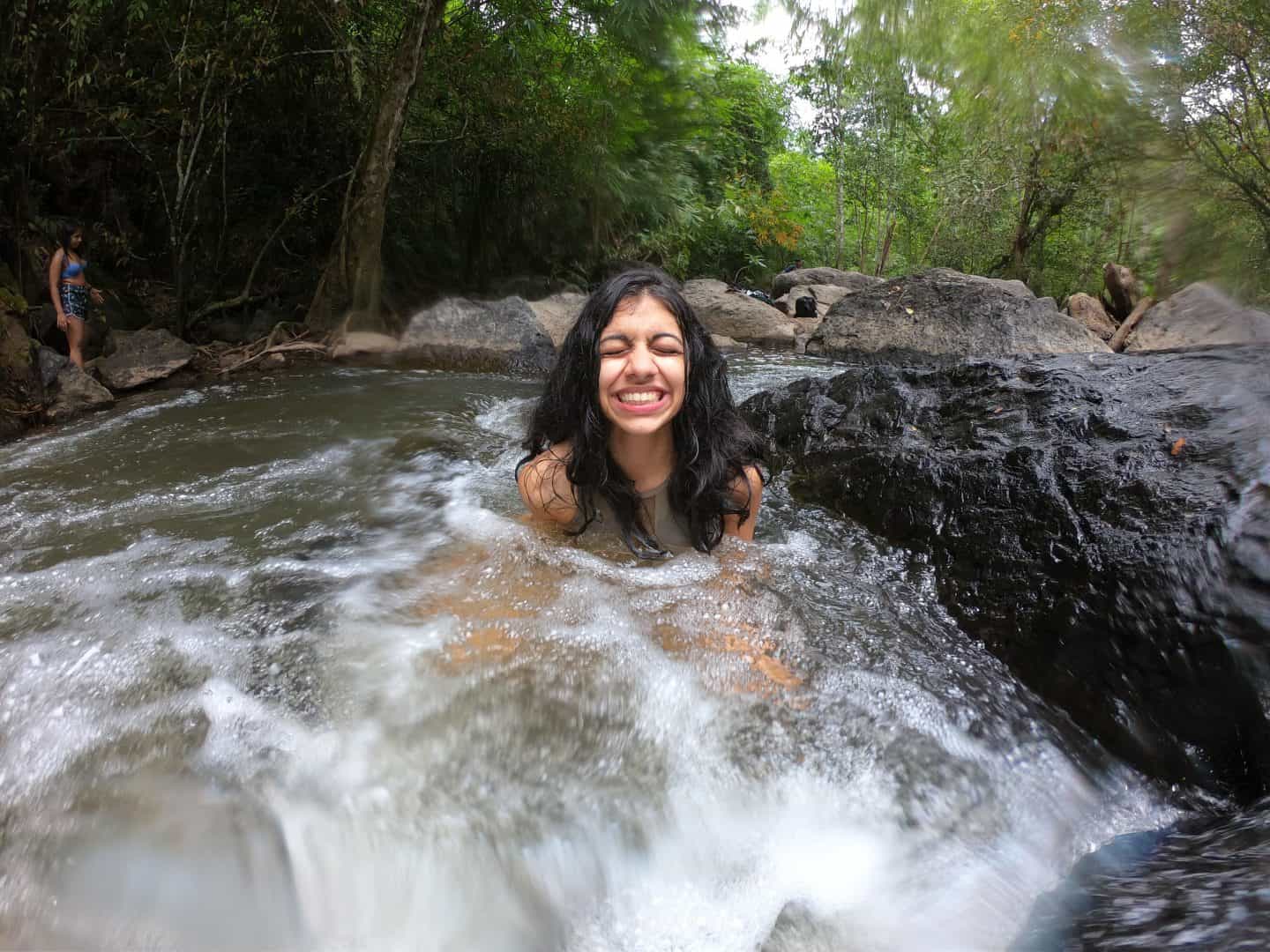 Look at my face here. Its covered with naturally flowing water inside the Khao Yai National Park. It's like I managed to discover my own private Jacuzzi out in the wilderness. So much fun. Picture credits: Tarang Mohnot
Saraburi
Just about 40-50 kilometers from Khao Yai National Park, lies one of the less known weekend getaways from Bangkok – Saraburi.
Now if you have some time to spare and are on the lookout for a place that offers not much "to do," head to Saraburi.
What makes this weekend getaway from Bangkok splendid is that it's not famous for much, and hasn't made it to the "popular destination list" yet. Therefore, it is untouched and will be perfect for restoring your peace of mind.
If you're a seafood lover, you must try the fish out here – wrapped in Thai sauces and condiments. These fish are then grilled and served with soy sauce.
Ideal visit duration
2 nights, 3 days
Best time to visit
October-February
Getting to Saraburi from Bangkok
Minibus from MoChit Bus Station or train from Hua Lamphong Railway Station
Budget
Accommodation: 400-500 THB for a room
Shared van: Under 100 THB one way
Train: 30 THB one way for third class
My Recommended Activity
Try the food prepared in this region. You will savour it for a long time to come. The sauces cooked here are all native and their recipe is just not revealed by the local cooks.
When nature creates a movie set for you, diving in is the best option. Does it look like a movie set to you ? It did to me. This is at Saraburi – just a few kms away from Khao Yai National Park. Picture credits: Tarang Mohnot
Ayutthaya
Ayutthaya is one of Thailand's most historic and culturally rich destination. This place was one of the biggest cities in Southeast Asia and a regional power for more than 400 years. 
Ayutthaya comprises of some of Thailand's most well preserved natural treasures. Therefore, this place is not to be missed. You will find yourself in another era while you walk past the ruins here.
You do not want to offend the locals at any of the places of worship. Make sure your knees and shoulders are covered at all points.
Ideal visit duration
2 nights, 3 days
Best time to visit
November to February
Getting to Ayutthaya from Bangkok
Train from Hua Lamphong station (most economical) or mini bus from Mo Chit Bus Station
Budget
Entrance fees: 50 THB per temple
Temple pass: 220 THB
Bicycle rental: 50 THB per day
Mini bus: 100-200 THB one way
Train: 30-40 THB for third class
My Recommended Activity
Ayutthaya was once Asia's most magnificent capital and therefore an historic trip around all of its ruins should certainly be a part of your itinerary. Tripping around the city of Ayutthaya will take you through the wonders of the old Siamese kingdom.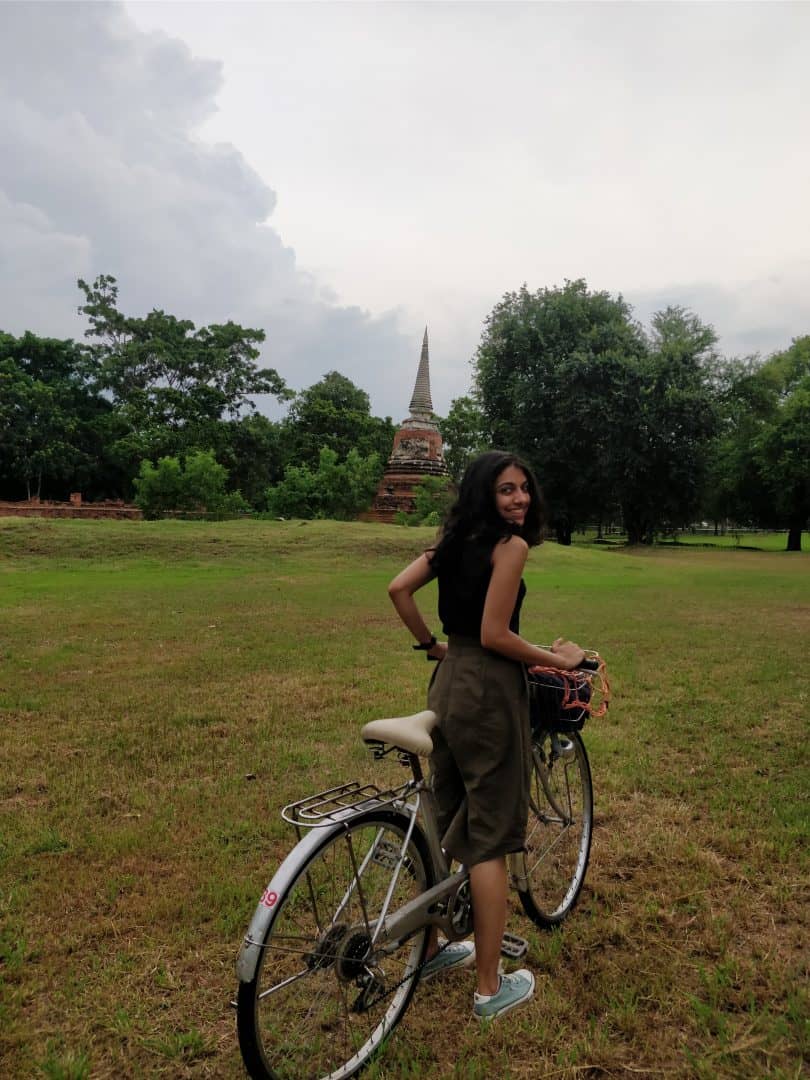 The city of ruins makes almost everything look artsy. This is me taking a cycling tour around the temples and many ruins of Ayutthaya. If you visit here, do cycle your way through this place. Picture credits: Tarang Mohnot
Koh Larn
Koh Larn lies about 7.5 kilometers offshore from Pattaya. It is an island that comprises of white sandy beaches and coral reefs on the other side of the island.
Koh Larn will be swamped with tourists of all ages and from all over the world. However, have patience and hang around. The beach here will keep losing visitors post 4 pm. In fact, it will appear as a private beach then. So just wait.
You can opt to go on a banana boat-ride, or gain some adrenaline rush from a parasailing experience. However, do not fall for the heavily advertised and commercialized scuba diving . Reason being, there are diving spots in Thailand that offer way better experience.
Ideal visit duration
1 night, 2 days
Best time to visit
November-March
Getting to Koh Larn from Bangkok
Mini bus from Ekkamai Bus Station to Pattaya –-> Ferry or boat ride from Bali Hai Pier to Koh Larn.
Budget
Ferry to Koh Larn: 30 THB one way
Mini bus: 250-300 THB one way
My Recommended Activity
Since Koh Larn is located so close to Pattaya, you should opt for a full day tour between the two places. Most tour companies provide an English speaking guide for the tour along with a delectable lunch at a fancy place.
 Sun-bathing while waiting for the sun to go down. Also, playing some self composed music. One of the best things about Koh Larn is its accessible beaches. You can easily spend an entire day here without getting bored. Picture credits: Tarang Mohnot
Kanchanaburi
Kanchanaburi is a historic place that has long witnessed some of the darkest things of Thailand.
The popular trios of Death Railway, Bridge over the River Kwae (Kwai) and the Allied War Cemetery are the most famous things in Kanchanaburi.
In addition to the history, this place also offers some delightful activities like bamboo rafting river Kwae, Khmer temple ruins tour, or a day out shopping at the gemstone village. 
If you have spare time, head to Erawan waterfalls. They're delightful and comprise of various levels.
Ideal visit duration
2 nights, 3 days
Best time to visit
November-February
Getting there from Bangkok
A 3-4 mini bus ride from Mo Chit Bus station.
Budget
Museum Entrance Fee: 30 THB for foreigners
Tents: 150-200 THB for 2 people
Erawan Entry Fee: 300 THB
Bus to Kanchanaburi: 150 THB one way; bus from Kanchanaburi to Erawan: 50 THB one way
My Recommended Activity
Since the bridge at Kanchanaburi is so important historically, you should take a short train ride over the bridge. Most customized trips over the bridge include lunch in the train itself.
 Father and son trying to bond with each other in the waters of Kanchanaburi. They even tried their hand, err, foot at the natural pedicure. It was a lovely sight to behold. Picture credits: Tarang Mohnot
Hua Hin
Originally a fish market, Hua Hin is a weekend getaway from Bangkok often spoken about by Thai couples and families. Charmingly old-fashioned bars and exceptionally contemporary cafes serving delicious food are scattered all across the sleepy town of Hua Hin.
The Hua Hin beach makes for a good chilling out stop. You can even go hiking from the southern most point of the beach. It will lead you to the Wat Khao Lad Temple.
Hua Hin also happens to be home to the best night market. This market is only open from Fridays to Saturdays.
Ideal visit duration
2 nights, 3 days
Best time to visit
October-February
Getting to Hua Hin from Bangkok
Mini bus from Ekkamai Bus Station
Train from Hua Lamphong Railway Station
Budget
Mini bus to Hua Hin: 150-200 THB one way
Train to Hua Hin: 30-40 THB for third class
My Recommended Activity
At Hua Hin, make sure to undertake a bike tour around the place. The tour should last at least 2 to 3 hours for you to fully explore the terrain.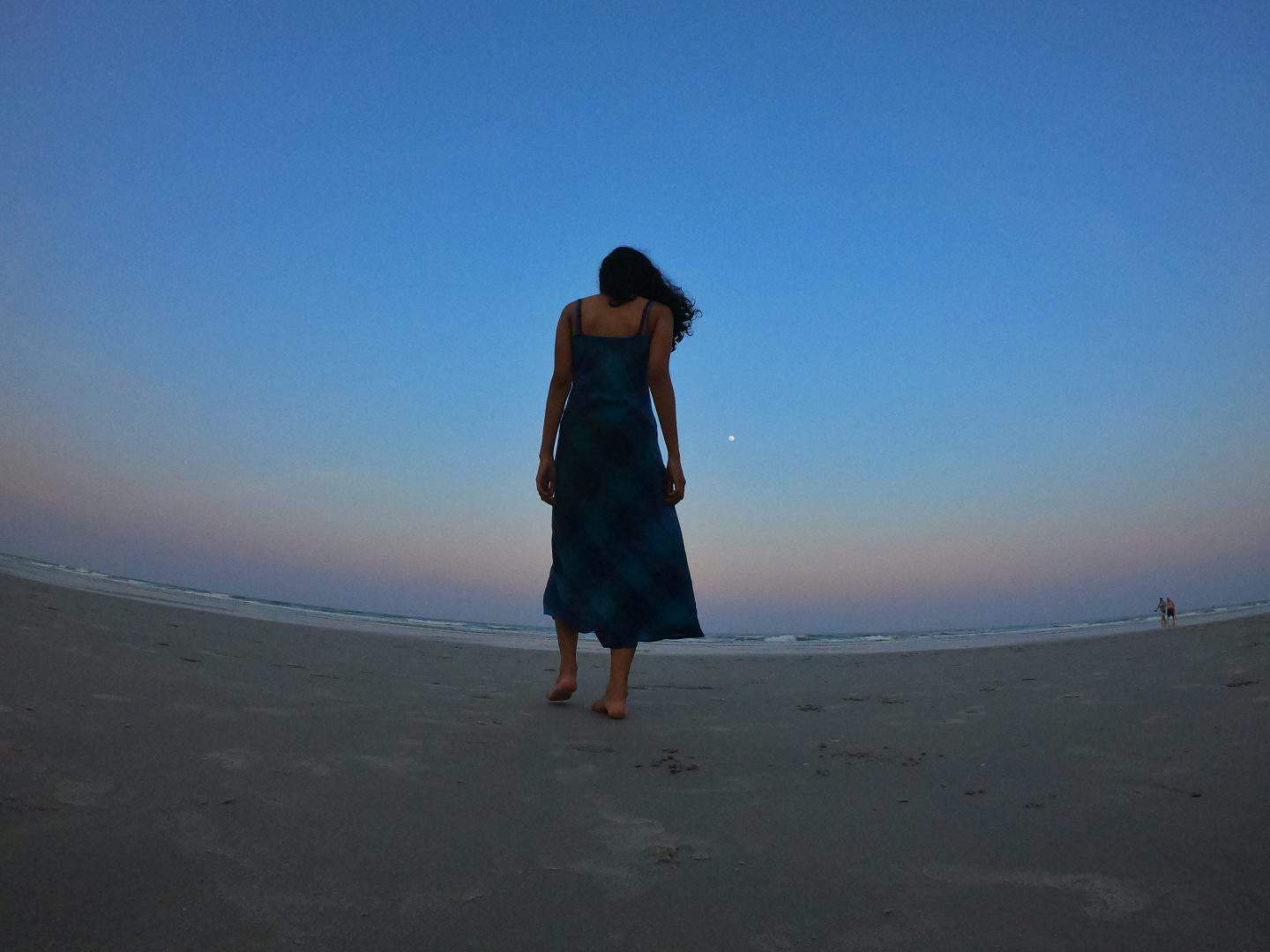 Watching the sunset on a full moon day was a bliss at Hua Hin. Moon rise here is even better. If you have some extra time to spare, do observe the moon rise and the reflecting moonlight. Picture credits: Tarang Mohnot
As somebody who would like to explore Bangkok beyond the ordinary, I highly insist you go for short trips, day trips, romantic getaways and nature retreats. I cannot begin to tell you as to how much Bangkok has to offer for wanderlust lovers.
The places around Bangkok have very few people visiting them. Therefore, they make for extremely tranquil locales. Then there are other places that might witness more travelers but are still less crowded than the capital city. Also, they make for delightful excursions.
The three distinct kind of activities that will make for excellent weekend getaways from Bangkok are being mentioned below.
Short Trips from Bangkok to Beautiful Weekend Getaways
Romantic Weekend Getaways from Bangkok
Weekend Getaways from Bangkok that are Nature Retreats
Short Trips from Bangkok to Beautiful Weekend Getaways
Before landing in Bangkok, I could have never imagined that this region will be more than just narrow streets, cheap shopping lanes, floating markets, pubs and sex tourism.
If truth be told, Bangkok isn't just a sum of all these things. Instead, it is a beautiful place that is surrounded by rustic locales, offbeat beaches, charming forests and a very optimistic ambiance.
Since I've spent close to 7 months in Thailand, especially in Bangkok, let me share a few short day trips with you that can be undertaken easily.
Historic Day Trip from Bangkok to Kanchanaburi
Kanchanaburi is home to both beauty and a mind-blowing history. It is most often frequented by travelers eager to see the Bridge on the River Kwai. It is also popular by the name "Death Railway."
This bridge was constructed by the Japanese. They used prisoners and forced labourers to construct it. The bridge connects Thailand and Burma. If you decide to visit this wonder, make it a point to read its enchanting past. Else,it will seem like just any other ordinary bridge.
If reading up on it seems tedious, there exists an alternative. Visit the Jeath War Museum in Kanchanaburi. In just 40 THB, you will be informed about Death Railway's history in detail.
Cultural Day Trip from Bangkok to Ayutthaya
Ayutthaya is an UNESCO World Heritage site. It is one of the lovely weekend getaways from Bangkok. It finds itself on the frequently visited Bangkok to Chiang Mai route.
An archaeological gem and a treasure mine for history lovers, Ayutthaya dates back to the 14th century. This place houses a series of ruined Buddhist temples, monasteries and stone structures.
Picture this – Life going as usual – tuk-tuks being driven around, chaotic markets and endless stalls selling varieties of food. All of this, against a backdrop that resembles a time before industrialization took over.
Most of the temples require you to pay an entrance fee of around 50 THB. Alternatively, you could purchase a temple pass that grants you access to about 6 temples in Ayutthaya.
The latter would make more sense if you plan on visiting at least 5 of the 6 temples. Apart from the temples, you could also hop on to a boat and go around the town.  Gazing at the ruins, feed the fish or watch the sun go down in this lovely place.
Adventurous Day Trip from Bangkok to Khao Yai National Park
Khao Yai National Park is home to hundreds of gushing waterfalls, lush green scenery, roads with no potholes, endless hikes, lovely trails, and trees with dangling roots. It took me less than a minute to picture myself as Mowgli from Jungle Book, happily wandering around the vast, dense jungles.
While this particular weekend getaway from Bangkok offers a few guesthouses and hostels to choose from, what it is most recommended for is camping. Khao Yai  has a number of campsites. It would be a good idea to check them all out before finalizing on one.
My friends and I carried our own tents and sleeping bags, and made a lovely camping trip out of it. However, if you don't have your own camping equipment, most campsites are more than willing to rent them out at very nominal charges.
Taking a morning selfie after spending a night amidst the wilderness is refreshing. This is me at Khao Yai National Park – one of the most beautiful and rustic places near Bangkok. Picture credits: Tarang Mohnot
The getaways from Bangkok are so lovely that most of them can easily spring out romantic vibes. Sure, some places are more romantic than others.
You can either choose to spend your time with a special someone in the streets of Bangkok or travel away to a more peaceful destination.
Romantic Weekend Getaways from Bangkok
Going by personal experience, some places score high when it comes to romance while others fair average. I need you to know that romance doesn't just imply being with someone. It can also mean making a connect with nature.
Taking a walk on a deserted beach, bathing under the flowing water of a river, dancing to the tunes of sounds of the jungle, soaking yourself in spiritual ambiance – all of this is you romancing yourself.
Therefore, whether you are with somebody or your lone 'self,' try to make a connect at one of the following places.
Spending an Evening at Haad Tham Phang Beach 
Haad Tham Phang Beach is a tiny beach with colourful corals and clear waters. Its beautiful to be out here during evenings. You can take a stroll on the shore or just sit on a beach chair.
By the way, if you choose to sit on one of the beach chairs on the shore, order a glass of juice, coffee or simply water. This will be expected out of you.
There are changing rooms around the beach. You can change or shower and freshen up here. It costs around 20 THB for adults and 10 THB for children to use these changing rooms.
Driving a Scooter Around Koh Si Chang
Often confused with the popular Koh Chang in Trat province, Koh Si Chang is a name that doesn't often mark the list of non-locals. If you're looking for a getaway free from loud parties, brimming bars and traffic, you must head to this little paradise at a stone throw's distance from Pattaya.
There are no cars allowed on this tiny but beautiful island. However, you can rent out scooters as I did. In fact, I stepped my foot down on the island, I was ushered to a scooter stand by about 10 locals who barely spoke my language.
I asked one of them if there were any other models were available – ones that would be easier to ride, following which she offered to give me a ride (not sure where).
She happily drove me to a spot about 2 kilometer away, and offered me the same scooter in another colour – Pink (oh, stereotypes). I couldn't say no to the lady who was almost gleaming with excitement.
Finally, I set out on a pink scooter, that stood out against the blue skies and the blue seas.
Adventurous Day T

rip from Bangkok to Khao Yai National Park
Being the closest island to Bangkok, Koh Larn is one of the popular weekend getaways from Bangkok. In a nutshell, going to Koh Larn equates going to Pattaya. It is probably Pattaya with relatively lesser crowd.
It is located about 10 kilometers from the coast of Pattaya and is connected by an efficient ferry service and a number of speed boats run by multiple operators.
If spending a day sun-bathing, binging on some coconut ice-cream and sipping on fresh coconut water pleases you, this place will make for a lovely weekend getaway from Bangkok.
There are also a variety of beaches you get to choose from, depending on whether you wish to enjoy the sunrise or the sunset.
My travel companion for the day for touring around Koh Si Chang was a pink scooter. Loved the ride and the trails. I had never though a scooter ride could be so much fun. You should try it when you visit here. Picture credits: Tarang Mohnot
Weekend getaways from Bangkok comprise of some of the finest nature retreat places. At locales like these, you can either choose to spend time amidst the wilderness or trek your way out to even more remote places.
You can also choose to go hiking by a tranquil beach or simply bathe under the cascade of a waterfall. Whatever interests you, go for it. 
The weekend getaways from Bangkok will leave you awe struck.
Weekend Getaways from Bangkok that are Nature Retreats
No trip to an offbeat place is complete until one comes across a nature retreat. Luckily, most weekend getaways from Bangkok make for excellent nature retreats.
Be it the Erawan waterfalls with seven levels or the majestic Khao Yai National Park with expansive wilderness, the places close to nature will prove to be travel havens for you.
Night Camping Trip from Bangkok to Khao Yai National Park
I went to Khao Yai National Park with a bunch of friends. A little daring and the adventure in us made us want to sleep outside of our tents in the jungle, under the stars. Therefore, we went for it. 
At about 3 am, I woke up to a creature almost leaping over me. It was only a few minutes later that we found out what it was – a Porcupine. While this made for a fun story to tell the rest once we got back, what I'm trying to say is that it would be a good idea to be on guard at all points.
Adventure is fun but make sure that's done with caution. Additionally, do your part in making sure the place remains animal-friendly. To avoid animals lingering around your tent at night, light up a few candles.
It is highly advisable to rent out your own car or scooter at Pak Chong. Traveling internally is almost impossible otherwise.  At any rental service, you would be required to either keep a lot of cash (5000 THB or more) or your passport as deposit.
Hiking Trip to Erawan National Park from Bangkok
Situated at about an hour's drive from Kanchanaburi is one of the most beautiful waterfalls I have ever witnessed in my life. Erawan National Park is famous for its waterfalls that cascade down seven tiers. Entrance fee for foreign tourists is 300 THB. 
While the first 3-4 levels are easy to get to, the final 3 require strong determination and even stronger shoes. The waters are blueish-green and you simply cannot not take a dip. You can also avail of an absolutely free of cost and organic pedicure offered by the countless skin-eating fish.
In addition to the waterfalls, Erawan National Park also houses a number of unexplored caves that not many people know about. Most of them can be accessed by taking some of the many popular trails and hikes.
You could also choose to camp in Erawan. Tents come at extremely economical prices. Kanchanburi comes across as a perfect package – a little bit history, a little bit adventure, lots of nature and inexplicable beauty.
Plodding Trip at Hua Hin Beach from Bangkok
If you're at the Hua Hin beach, make sure you take a plodding trip to an ancient temple located close by. I remember that during the time I was there it was about 7 pm with deafening silence all around. The sound of the waves occasionally broke the silence.
As I walked aimlessly, I reached what I figured was the southern-most point of Hua Hin beach. A short plod up about 100 stairs led us to a temple – Wat Khao Lad. While the darkness did not allow me to admire the temple well, what I saw on the other side was absolutely gorgeous.
I stood on top of a little cliff – one that offered breath-taking views of Hua Hin's skyline and of course, the beach.
Happy wayfaring.
About the Author
Tarang Mohnot
Tarang Mohnot is an innate traveler. Constantly trying to quench her thirst for travel, Tarang's goal in life is to keep on getting her passport stamped over and over again.his implies that she wants to explore new destinations each year. Resorting to a local inhabitant's advice over Google searches, to physical maps over Google maps, to haversacks over suitcases, and to exploration over planning, Tarang hopes to visit places no one has ever been and to share her travel experiences with thousands all over the world – something her CV won't ever tell. Academically, Tarang has a background in economics and sociology. She is an alumni of the prestigious St. Xavier's College in Mumbai, India.
BUDGET WAYFARERS
https://www.budgetwayfarers.com/wp-content/uploads/2019/05/Backpacking-to-Gili-Trawangan-1-min.png
315
560
Budget Wayfarers
http://34.67.82.155/wp-content/uploads/2019/07/Logo-135X90.png
Budget Wayfarers
2019-05-14 18:39:44
2019-05-16 12:12:34
Weekend Getaways from Bangkok: Short Trips, Romantic Places & Nature Retreats