Weekend getaways from Bangkok make for lovely short trips, romantic locales and adventurous destinations. Bangkok is certainly one of the most wonderful cities I have been to as a traveler. After spending close to 7 months, I've been able to explore the place inside out.
I have been fortunate enough to pursue trips to numerous weekend getaways from Bangkok. In times when the capital city drained me down with its traffic, bustling streets, pollution and noise, these offbeat places came to my rescue.
In my current blog, I intend to amaze you with all that these overnight trips from Bangkok have in store for you. Anybody passionate about exploring real Thailand should visit these lesser-known places.
Weekend Getaways from Bangkok: An Overview
In all of the months that I spent in Bangkok, I connected with the region really well. I've been able to travel beyond the obvious places. I've observed sunsets on deserted beaches, camped in the wilderness, and pursued mini-adventure trips on islands. Now it is time to share my experience with you so that you too benefit.
Before I get to that, I'd like to give you a brief overview of exploring weekend getaways from Bangkok.
Location
Around Bangkok, Thailand
Currency
The currency used in Thailand is the Thai Baht (THB). Conversion rates in terms of the THB, the American dollar (USD) and the Indian Rupee (INR) are as follows:
1 THB = 2.35 INR; 1 USD = 30 THB
Note that these rates are those prevalent as in September 2019, and are subject to change.
Accommodation
Thailand is a tourism-oriented country. Mostly, you'll find a wide variety of accommodation options – hostels, BnBs, guesthouses, resorts, and in some places, camping.
Recommended duration
If you wish to explore most getaways around Bangkok, you'd require at least 8-10 days.
Affordability
Generally pretty cheap if done right
Accommodation
Thailand is a tourism-oriented country. Mostly, you'll find a wide variety of accommodation options – hostels, BnB's, guesthouses, resorts, and in some places, camping.
Best time to go
This will vary from place to place. Read on to find out more.
Unmissable Best Short Trips from Bangkok
Treading on a trail no one has set foot on before, watching the stars lying on a cliff no one has climbed before, bathing in a waterfall that has met no man before – the weekend getaways from Bangkok comprise of such exotic locales.
Some of the offbeat places that also make for lovely weekend getaways from Bangkok are mentioned below.
Koh Si Chang
Koh Larn
Hua Hin
Khao Yai National Park
Saraburi
Erawan National Park
Ayutthaya
Kanchanaburi
Now, let me elaborate on the additional details that will help you as a first-time visitor to these places. I've divided the destinations into 3 key categories viz. beaches, adventure trips, and cultural or historical locales.
Beaches Around Bangkok: Is it Worth Ditching Phuket?
Beaches in Thailand go beyond Pattaya, Phuket and Phi Phi. I was pleased to discover that a hoard of beautiful, and unexplored beaches can be visited as weekend getaways from Bangkok. The best time to visit beaches in Thailand is from October to February.
Here's a list of my favourite beaches that are easy to visit in Bangkok.
Koh Si Chang
Often confused with the popular Koh Chang in Trat province (in the southeast of Thailand), Koh Si Chang is a name that doesn't very often mark the list of non-locals. If you're looking for a getaway free from loud parties and brimming bars, you must head to this little paradise at a stone throw's distance from Pattaya.
What's best is that you can visit Koh Si Chang and return to Bangkok on the very same day. Also, it's one of the very few islands accessible from Bangkok.
Getting There
I set out at 6 AM, boarded the public bus to Ekkamai Bus Station (roughly 100 THB), bought myself a seat on one of the shared vans, and was dropped at Sriracha. After haggling (characterized by hand gestures and vivid expressions) with an old lady who spoke no English, I made it to the pier on a scooter taxi. And that's it – a 45 minutes ferry ride then took me to the beautiful island of Koh Si Chang.
Remember: There are no private cars allowed on this island. You'll see how wonderful it is to not be bothered by a constant flow of vehicles.
Riding Around the Island: Renting a Scooter
As soon as I stepped my foot down on the island, I was ushered to a scooter stand by about 10 Thais who barely spoke my language. While the pestering could be frustrating, understand that other than trying to sell you a thing or two for not more than 2 minutes, these locals won't bother you at all.
I asked one of them if there were any other models available – ones that would be easier to ride (250 THB for a day). Following that, she offered to give me a ride. (not sure where?)
She happily drove me to a spot about 2 kilometers away, and offered me the same scooter in another colour – PINK! (oh, stereotypes). I couldn't say no to the lady who was almost gleaming with excitement. And then, I set out on a pink scooter, that stood out against the blue skies and the blue seas.
Things to Do in Koh Si Chang
While Koh Si Chang lacks "tourist infrastructure," there are not very few things to do on this weekend getaway from Bangkok.
A 45-minute hike up the mountain led me to the Buddha's Footprint – a gazebo that offers unbelievable views of the harbour.
At around noon, in an attempt to escape the harsh sun, I made my way to Paree Hut Resort – a spot recommended by a local friend. I guess it is in times like these that I truly understand what they say about listening to locals' advice.
Now I was craving the sands and the sunset, and a short drive took me to Haad Tham Phang Beach – a tiny beach with colorful corals and clear waters. If you choose to sit on one of the beach chairs on the shore, order a glass of juice, coffee or simply water. This will be expected out of you.
There are changing rooms around the beach. You can change, shower and freshen up here. It costs around 20 THB for adults and 10 THB for children to use these changing rooms.
While I did not have much time in hand, you could opt to visit the Summer Palace which the locals boast too much of, the Khao Noi viewpoint, etc. (ask the locals)
Koh Larn
Being the closest island to Bangkok, Koh Larn is a weekend getaway from Bangkok frequented the most. In a nutshell, going to Koh Larn equates to going to Pattaya – a Pattaya with relatively lesser crowds.
It is located about 10 kilometers from the coast of Pattaya and is connected by an efficient ferry service and a number of speed boats. Thus, it makes for one of the most convenient island day trips from Bangkok.
Tip: Do not fall for the heavily advertised and commercialized scuba diving in and around Pattaya. There are spots in Thailand that offer way better experiences when it comes to these water sports.
Getting there from Bangkok
Minibus from Ekkamai Bus Station to Pattaya, followed by a ferry/boat ride from Bali Hai Pier to Koh Larn.
Accommodation
Koh Larn offers very few options for stay, and it would be more economical to stay the night in Pattaya instead.
Who Must Go?
Now let me be honest: there's nothing extraordinary or unique about this island. However, if spending a day sunbathing, binging on coconut ice cream (that's a must-try), and sipping on fresh coconut water pleases you, you must go.
Furthermore, there's a variety of beaches you get to choose from – depending on whether you wish to enjoy the sunrise or the sunset. When I visited Koh Larn, it was swamped with tourists of all ages, from all over the world.
Tip: You could also choose to explore the nightlife of Pattaya along with the world-famous Walking Street, and head to Koh Larn the next day early morning.
Hua Hin
Originally a fish market, Hua Hin is a weekend getaway from Bangkok often spoken about by Thai couples and families. Charmingly old-fashioned bars and contemporary cafes are scattered all across the sleepy town.
Getting to Hua Hin is easy. Vans depart from Ekkamai Bus station in Bangkok on a daily basis. It takes roughly 3-3.5 hours. You could also take a train from Hua Lamphong Railway Station. However, booking tickets online is dicey, which subjects you to the risk of not getting a seat.
This beachy town has not much to do per se. Here are the things I saw and did on my trip to Hua Hin:
Wat Khao Lad: Of Views and Worships
On our first evening in Hua Hin, we changed into shorts and tee shirts and headed to the beach for a walk. As we roamed, we reached what we assumed was the southernmost point of Hua Hin Beach. A short hike up about 100 stairs led us to a temple – Wat Khao Lad.
While the darkness did not allow us to admire the temple too well, what we saw on the other side was absolutely gorgeous. We were on top of a little cliff – one that offered a breathtaking view of Hua Hin's skyline and of course, the beach. Tip: Beware of monkeys!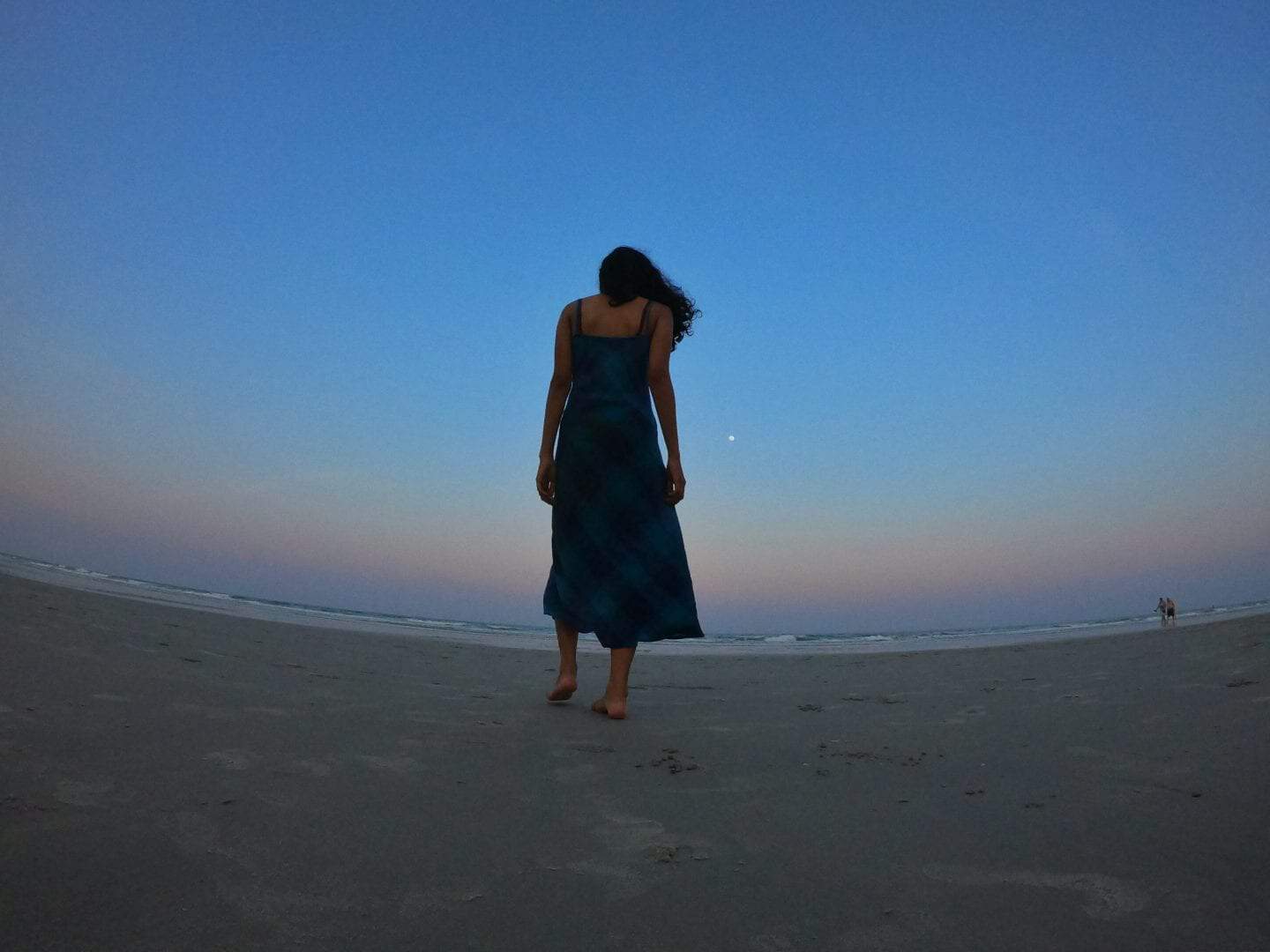 Cicada Night Market: A Complete Package
Hua Hin also happens to be home to the best night market that I visited over my 7 month stay in Thailand. It goes by the name of "Cicada market" and legit has something for everybody.
Pretty fairy lights set the vibe of the market – one where local artisans together, showcase and sell their art. Colorful bands, vintage posters, leather bags, indigo garments, quirky stationery, and unthinkable knick-knacks are sold at reasonable prices. What enhances this market is its large open-air auditorium that showcases real, genuine art.
You will also be sure to find all kinds of food out here – from wood-fire pizzas, yoghurt smoothies and potato fries with cheese, to the good old pad thai, khao pad and som tam. Tip: This market is only open from Fridays to Sundays.
Beaches: Sit Back, Relax
Last but not least, simply chill out on the beach. Grab a pint of beer, or some fresh coconut water and enjoy the privilege of doing nothing.
Weekend Getaways from Bangkok – Adventure Trips
I'm always on the lookout for adventure on my travels. This could come in the form of treks, camping, or simply venturing into the unknown. I was pleased when my Thai friends told me about places of the sort around Bangkok.
Most of them are not just budget-friendly but also bring you really close to nature – something you'd miss in Bangkok.
Khao Yai National Park
Saying Khao Yai National Park is huge is an understatement. It is home to hundreds of gushing waterfalls, lush green sceneries, roads with no potholes, endless hikes and trails, and trees with dangling roots.
This UNESCO World Heritage Site is one of my favourite weekend getaways from Bangkok.
Getting There and Getting Around
You can hop on to a shared van from Ekkamai Bus station, and be dropped at Pak Chong. Note that very few or no vans will take you straight to Khao Yai.
It is highly advisable to rent out your own car or scooter at Pak Chong, for travelling internally is almost impossible otherwise.
Note: At any rental service, you would be required to either keep a lot of cash (5000 THB or more) or your passport as a deposit.
Camping in Khao Yai
While this particular weekend getaway from Bangkok offers a few guesthouses and Airbnb's to choose from, what it is most recommended for is camping!
Tip: it has a number of campsites, and it would be a good idea to check them all out before finalizing on one.
My friends and I carried our own tents and sleeping bags and made a lovely camping trip out of it. However, if you don't have your own camping equipment, most campsites are more than willing to rent them out at nominal charges (200-250 THB).
Here's a short anecdote: A little daring and the adventure in us made us want to sleep outside of our tents, under the sky, under the stars. At about 3 AM, I woke up to a creature almost leaping over me. I couldn't really tell what it was, for it was pitch dark. It was only a few minutes later that we found out what it was – A PORCUPINE!
While this made for a fun story to tell the rest once we returned, it would be a good idea to be on guard at all points. Adventure is fun, but make sure that's done with caution.
Additionally, do your part in making sure the place remains animal-friendly.
Tip: To avoid animals lingering around your tent at night, have a few candles lit up.
Other Things to Do
Khao Yai offers a wide range of wineries to choose from, a multitude of great cafes offering a great continental spread, miles and miles of sunflower fields (November-January), whooshing waterfalls that are ever-inviting, and safari tours that bring you close to its rich wildlife.
Additionally, you cannot miss out on the Nong Phak Chi Watchtower which offers a 360-degree view of nothing but green fields and a little lake. If you have the opportunity to visit early in the morning, you might be lucky to witness some wildlife in the open – hornbills, deer, and sometimes elephants even.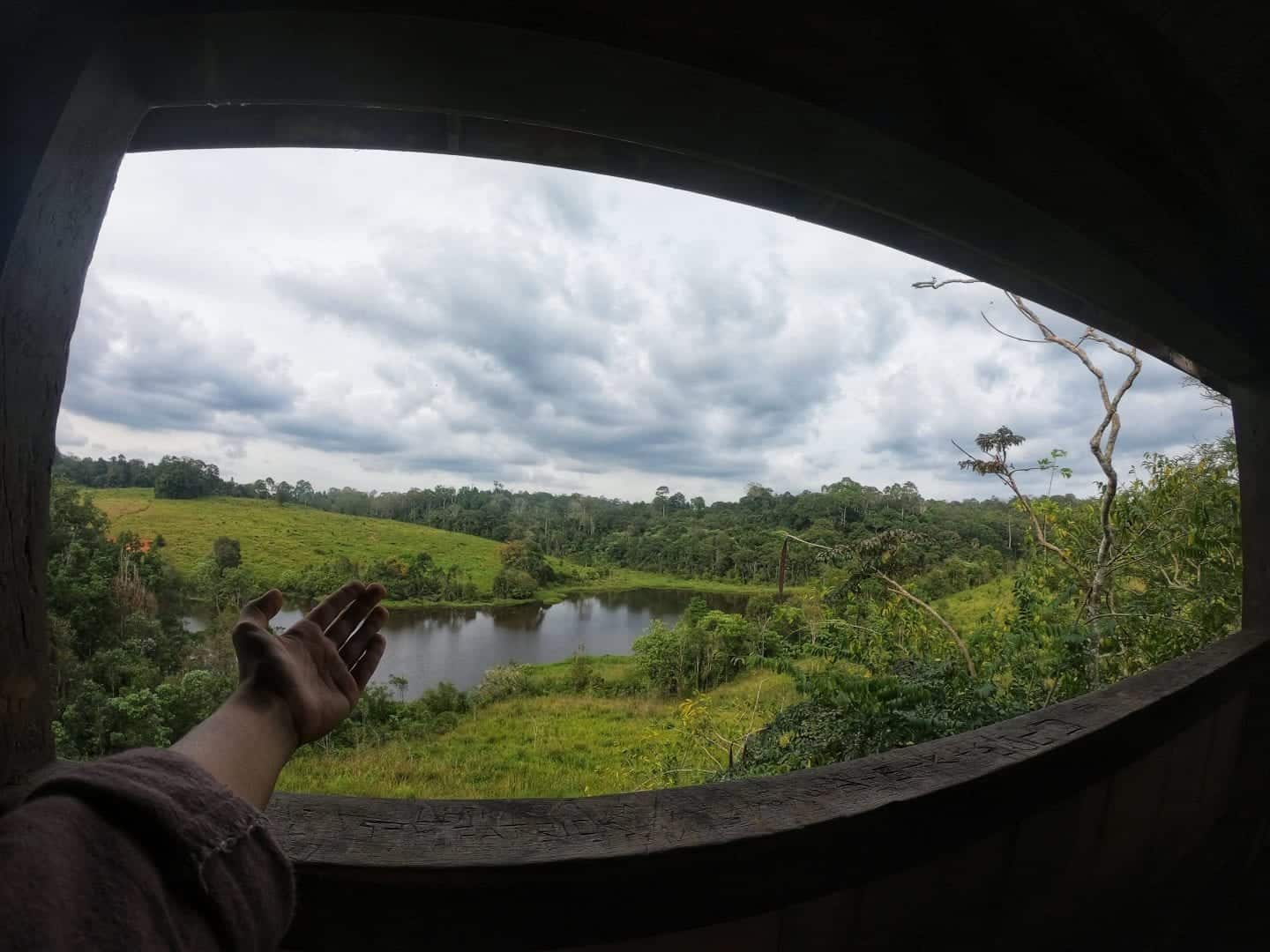 Remember: You'd be charged a 400 THB entry fee while entering the national park.
Saraburi
Just about 40-50 kilometers from Khao Yai National Park, lies another weekend getaway from Bangkok – Saraburi. Getting here involves boarding a van from Mochit Bus Station, or a train from Hua Lamphong Railway Station.
Now, if you have some time to spare and are on the lookout for a place that offers not much to do, head to Saraburi. We spent most of our time here sipping on a beer, savouring delicious local food, and taking cold dips in a few of the many waterfalls spread across Saraburi. Since Saraburi is a tiny place with fewer crowds, meagre

commercialization and scanty lights, you will most likely witness a starry sky provided the weather Gods are on your side.
What makes this weekend getaway from Bangkok splendid is that it's not famous for much, and hasn't made it to the "popular destination list" yet.
Must-Try Delicacies
If you're a seafood lover, you must try the fish out here. Wrapped in Thai sauces and condiments, these fish are then grilled and served with soy sauce. If you're lucky, some sort of local spicy sauce will accompany it.
Vegetarians, although the options are few, you could find some great food if you're determined too! All you need to do is make sure you get your point across somehow (trust me, they're all used to tourists and are very friendly).
Getting Around Saraburi: An Ordeal
Options for commuting within Saraburi are very few. Apart from a few tuk-tuk's that you can't predict the frequency of, there's not much.
Thus, we decided to try our hand at hitch-hiking and our minds were blown. We managed to hitch ourselves about 3-4 rides. Although the locals blabbered and laughed amongst themselves (we had no idea what they were talking about), that was something we could deal with.
Erawan National Park
Erawan National Park is a little far from Bangkok, but I'd recommend it undoubtedly. It's situated about 50 kilometers from Kanchanaburi, and buses run between the two on a daily basis. This was one of the most scenic weekend getaways from Bangkok that I visited over 6 months.
Erawan is famous for its waterfalls that cascade down seven tiers. (P.S: Entrance fee for foreign tourists is 300 THB. Know that if you're paying as much as 10 dollars to visit a national park in a country as cheap as Thailand, it has to be worth it.)
Hiking Up the Falls
While the first 3-4 levels are easy to get to, the final 3 require a strong determination and even stronger shoes. The waters are blueish-green and you simply cannot take a dip. You can also avail of an absolutely free of cost and organic pedicure offered by the countless skin-eating fish.
Other Hikes
In addition to the waterfalls, Erawan National Park also houses a number of unexplored caves that not many people know of. Most of them can be accessed by taking some of the many popular trails and hikes.
Tip: You could also choose to camp in Erawan – tents come at extremely economical prices.
Weekend Getaways from Bangkok – History and Culture
The history and culture of Thailand is composed of some interesting elements. While the internet is a rich source of information on the same, physically visiting historically and culturally rich destinations brings abundant joy.
Here are some weekend getaways from Bangkok that temporarily turns everyone into a historian.
Ayutthaya
Ayutthaya dates back to the 14th century and houses a series of ruined Buddhist temples, monasteries and other stone structures. It's an archaeological gem and a treasure mine for history lovers.
For me, it almost felt like I was in a completely different world. Picture this: Life going on the way that it does in Thailand – tuk-tuks being driven around, chaotic markets that sell almost everything under the sun, and endless stalls selling endless varieties of food. ALL of this, against a backdrop that resembles a time before industrialization took over.
Getting Around the Historic Town
Now, you could either book an all-day tuk-tuk to take you around the little town (make sure you do some haggling) or rent a bicycle that comes cheaper (50 THB a day) and with more flexibility.
It would be a good idea to pick up a city map, which is offered at a number of points across the city.
Temple Hopping
There are more than 5 temple ruins in Ayutthaya. Tripping around the city of Ayutthaya will take you through these wonders of the old Siamese kingdom.
Clothing
You do not want to offend the locals at any of these places of worship – make sure your knees and shoulders are covered at all points. Furthermore, wear comfortable clothes because Ayutthaya will involve lots of physical exercise in terms of cycling/walking or both.
Most of the temples require you to pay an entrance fee of around 50THB. Alternatively, you could purchase a temple pass that grants you access to about 6 temples in Ayutthaya. The latter would make more sense if you plan on visiting at least 5 of the 6 temples.
Apart from the temples, you could also hop on to a boat and go around the town, gazing at the ruins, feeding the fish or watching the sun go down.
Kanchanaburi
Known since the times of World War II, Kanchanaburi is home to both beauty and mind-blowing history.
Death Railway: A Travelers' Magnet
Kanchanaburi is most often frequented by travelers eager to see the Bridge on the River Kwai – also popular by the name "Death Railway."
If you decide to visit this wonder, make it a point to read up on its enchanting past. Otherwise, it's going to seem like just any other ordinary bridge, while this one's far from ordinary.
Death War Museum
Visit the Death War Museum in Kanchanaburi, and in just 40THB, you will be informed about the A to Z of the Death Railway's history.
The War Cemetery: An Emotional Affair
A number of prisoners that sacrificed their lives during the construction of the Death Railway have been buried here. Taking a stroll around the cemetery can be a rather emotional and moving experience.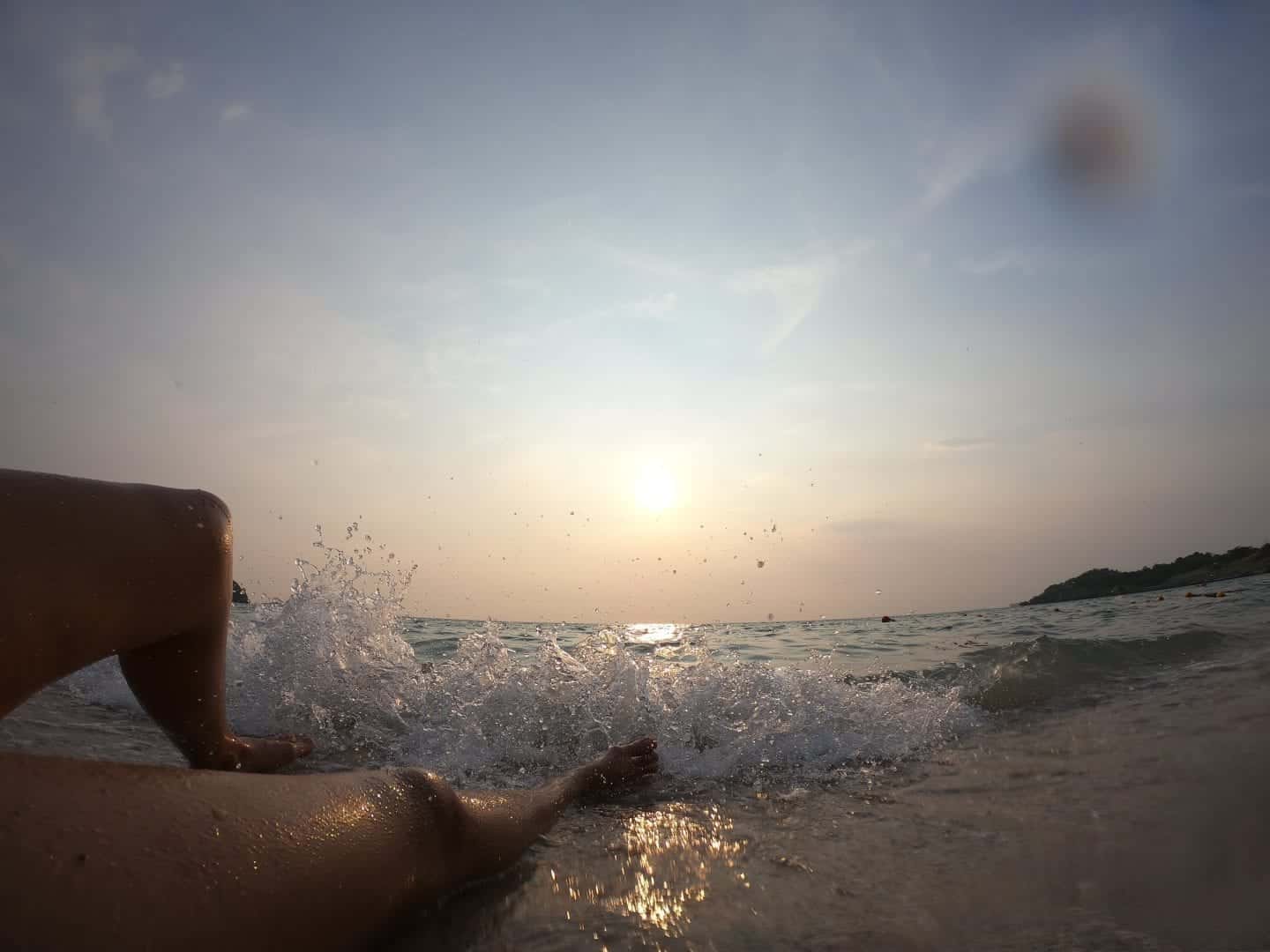 So, this is my list of gorgeous weekend getaways from Bangkok. Keeping in mind how beautiful Thailand is, I can say with sheer confidence that there's a lot more to see, a lot more that's unexplored, and a lot more that almost no blog has covered yet.
While I would love for you to make your way to all of the places mentioned in this article, it would be beautiful if you could take one step forward and add to this list of mine.