Valle de Bravo paragliding guide for first-time travellers will help a newbie ease into the process. The lakeside town of Valle de Bravo makes for a perfect weekend getaway or a short one day trip for those travelling in Mexico City. With Lake Avándaro as its theme combined with the surrounding verdant hills and red roof topped buildings, this town is the perfect place for paragliding.
Valle de Bravo is considered not only as a trusted paragliding destination within Mexico but also among the most successful gliders in the world over. One of the top reasons for this are the ideal flying conditions that the region provides.
Valle de Bravo makes for an ideal destination when it comes to exploring Mexican culture. In fact, the region is often considered to be a part of the "Pueblos Magicos" initiative started by the Government of the country.
In my current article on Valley de Bravo paragliding guide, I will be elaborating on every detail that an individual interested in paragliding should know. Also, common questions and concerns will be addressed.
Also Useful:
Two Day Itinerary for Exploring the Ancient Aztec Capital – Mexico City
Travel Tips for a First Time Visitor to Teotihuacan & its Pyramids
Spending a Fun Day at Xochimilco on a Boat – The Trajinera
Valle de Bravo Paragliding Guide: An Overview
Before venturing deep into the Valle de Bravo paragliding guide, it is important you understand the place. This becomes even more important if you're a first-time traveller to Mexico.
Location
Valle de Bravo
160 km Southwest of Mexico City
Best time to visit
January, February, and March
Getting to Valle de Bravo
Book a ticket in advance from Zina-bus
The bus station in Mexico City
Terminal Poniente
(also called Terminal de Observatorio)
Cost of bus travel to and fro
MXN 350 (1200 INR)
Travel time
2.5 hours one way
Paragliding organizer
Cost of tandem paragliding
MXN 1895 (6500 INR)
Restaurants to eat
Breakfast at El Punto
Lunch at Los Pericos or Los Veleros
Other Things to do in Valle De Bravo
San Francisco de Asis church
Monarch Butterfly Biosphere Reserve
Monte Alto Reserve



Valle de Bravo Paragliding Guide: Important Details for First Time Flyers
If you are a first-time flyer, you need to know the following things:
Flyable Days
295-310 days a year
Best time to paraglide
December end to May end
Flying zones
Two – La Torre & El Peon
Difficulty level
Moderate
Safety Tip
Acclimate yourself to low oxygen levels
Valle de Bravo Paragliding Guide: Month Wise Flying Conditions
In the subsequent table, the flying conditions for all the 12 months of the year are being mentioned. Also, wherever necessary, the ideal time of the day for paragliding is being provided.
January: Good (especially during the afternoon)
February: Normal
March: Normal
April: Good
May: Normal
June: Favourable (only without rains)
July: Favourable (only without rains)
August: Favourable (only without rains)
September: Favourable (only without rains)
October: Normal
November: Normal
December: Normal (best season for beginners)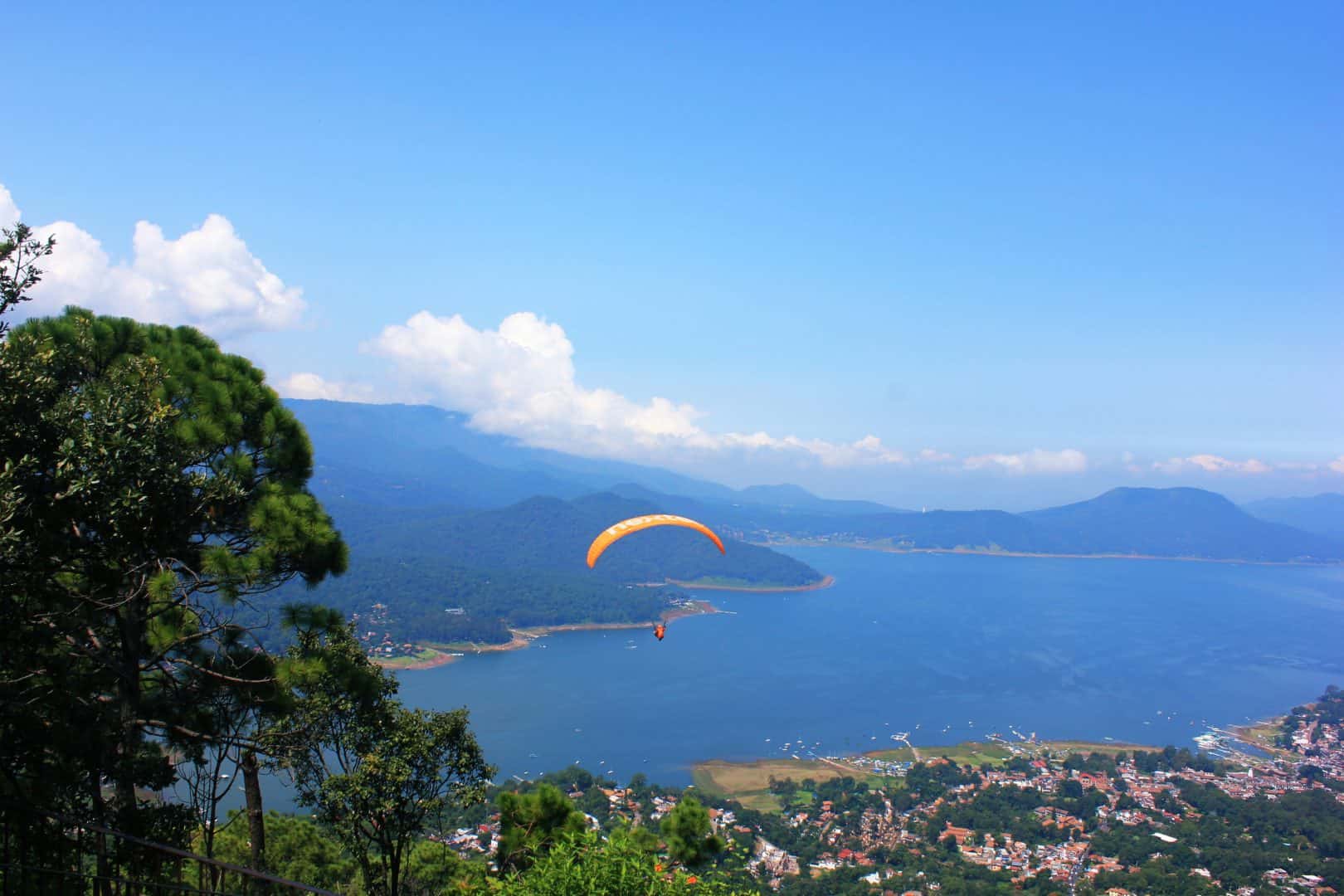 Flying in circles over the lakefront as we descend slowly. Photography by Supriya A.N.
Important Travel Information for Travelers
Before venturing deep into the Valle de Bravo paragliding guide, it is important you understand the place. This becomes even more important if you're a first-time traveller to Mexico.
Valle de Bravo Paragliding Guide: Top 2 Flying Sites
As mentioned earlier, the top 2 sites for paragliding in Valle de Bravo are –El Peon and La Torre.
El Peon is a much better paragliding site than La Torre. The flying conditions are ideal in El Peon. At La Torre, the winds are heavy.
Getting to Valle de Bravo
Take the pink line on the subway to reach Terminal Poniente. It is a bus station from where your bus to Valle de Bravo will leave. Board the subway anywhere in Salto de Agua station or Pino Suárez station. Both these stations are a few blocks away from the city centre, near Zocalo.
Take the early morning bus around 6 am as there will be less traffic on the road. Enjoy the bus ride and soak in the views as the landscape changes from buildings to the quiet countryside. You will see street vendors along the road as you pass through small towns and villages on the way.
After 2.5 hours, you will reach the bus station in Valle de Bravo on Calle 16 de Septiembre. Get down from the bus, stretch yourself and take a deep breath.
You are now in the aptly called Pueblo Mágico. Valle de Bravo is termed a magical town by Mexico's tourism departmental. It offers an exceptional experience to travellers with its natural beauty, heritage, culture, history, tradition, hospitality and more.
Red roofed buildings surrounded by greenery and the sapphire blue Lake Avándaro. Photography by Supriya A.N.
Where to Stay at Valle de Bravo?
There are many accommodation options in Valle de Bravo. If you plan to stay longer, you can choose some of these recommended stays.
Hotel Valle de Bravo
This place offers a 24-hour front desk. Also, there is an availability of free wifi. Lastly, each room has been provided with private washroom and shower.
Chalet Valle de Bravo 
This place offers free wifi. There is an availability of a common kitchen and pool area. Extra room can be provided as well.
Hotel Bugambilias
This place offers free wifi and common parking for guests. Wardrobes and television sets as well. The location is quite good if you're a foodie. There are lots of eateries around.
El Arrayan
This place has extremely friendly staff. The owner himself is quite trustworthy and hospitable. TV sets are available in each room. Wifi is not provided here.
Pre-Book with Alas del Hombre
It is best advised that you book a slot to para-glide with Alas del Hombre. They are very professional in their service and have won many laurels in Mexico.
Book a slot with them online with the exact date and time that you would be choosing to paraglide. Choose the 10 am the slot in the morning. This is the perfect time for the drive up-hill and also the sun is not too harsh.
Walk towards Alas del Hombre
Walk on cobblestoned streets lined with trees and observe how life goes by here. It is the beginning of the day and you will find people setting up their shops or restaurants. Start from Calle 16 de Septiembre until the intersection with Fray Gregorio Jiménez de La Cuenca street.
Take right here and walk down Fray Gregorio Jiménez street as this leads to Lake Avándaro. As you walk down, you will notice the shimmering blue lake in the distance. As you continue walking, this same road is along the perimeter of the lake and you will appreciate the true charm of this little town.
The splendid blue lake on your right and buildings, cafes, restaurants on your left as you walk towards the paragliding centre at Valle de Bravo is the perfect holiday you can ask for.
If you are late by any chance, you can always take a taxi from the bus station to reach Alas del Hombre office. The ride is a mere 10 minutes long and for less than MXN 10.
Register at Alas del Hombre
The Alas del Hombre office is right on this main street and it is not hard to miss. You will find after 20 minutes or 2 kilometres of walking.
If you are hungry, grab a quick breakfast at El Punto on P. Archundia street right, just a 5-minute walk away from Alas del Hombre. They serve an amazing breakfast Mexican style or continental at a very cheap price.
The platform on top of the tallest hill from where we paraglide. Photography by Supriya A.N.
Paragliding with Alas del Hombre
Fellow travellers will start pouring in, jump into the jeep and you will be driven uphill. You will drive past winding roads flanked by pine trees. As you reach the top of the hill, the view of Valle de Bravo, the calm wind blowing and the perfect sunshine makes this trip so much worth it.
The instructors will provide the mandatory safety instructions and you will be assigned a guide and provided a helmet. Your guide will be strapped to you and this moment can be very exciting as you are so high above a beautiful town and you want to have the perfect paragliding experience. It feels as if you are about to unwrap a much-awaited gift.
You will wait for a few minutes for the wind to blow in the right direction. When the perfect wind current blows, your guide will ask you to run on the cemented platform which helps in getting 'lifted' off from the ground and in a split second, you are in the air!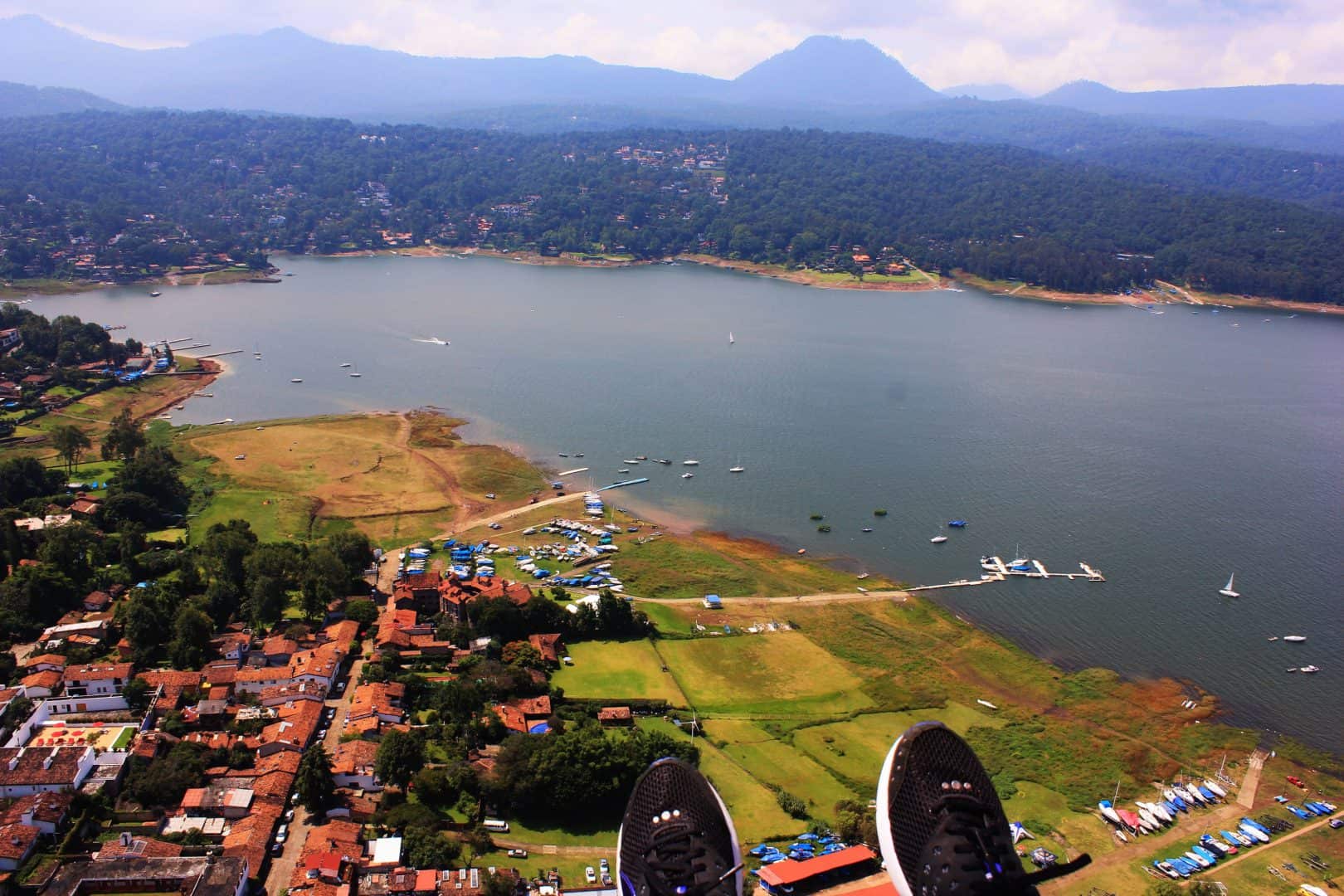 Panoramic view of the town and Lake Avándaro. Photography by Supriya A.N.
Your Flying Moment
The moment you are in the air, the feeling of weightlessness is amazing. Marvel at the picturesque town beneath you, as your guide, navigates the canopy. It is a fantastic experience as you will see the sapphire blue waters of the lake glittering in the sun peppered with white yachts.
Your guide will try to give an adrenaline rush as he glides close to the trees to add some thrill to the slow descent. It is safe to carry a camera around your neck to click pictures the way I did. You will be so immersed in this spectacular display of colours that you will forget how quickly you are descending.
After 5 minutes of flight time, it is time to land. We go in circles to lose height for a slow and smooth descent. You will land on soft grass on your feet, like a cat right beside the lake.
As you look above, you will notice the sky is dotted with colourful canopies drifting in the sky like feathers in the air. Thank your instructor for a great time and spend some time around the lake.
Exploring Valle de Bravo on foot
Have lunch at a lakefront restaurant and you will still have half a day left in your hands and you can go exploring the town by foot. Walk on narrow cobble-stoned streets flanked by old colonial buildings up to the San Francisco de Asis church. This a beautiful town square with a lot of vendors selling street food, souvenirs, and clothes on the street. You will find ladies brightly dressed in traditional wear with a hat.
Pass some time here, grab a snack and take the taxi to the bus terminal in Valle de Bravo to head back to Mexico City. If you intend to stay longer, you can go on a hike in the hills or take part in water sports.
A pleasant afternoon near the San Francisco de Asis church. Photography by Supriya A.N.
Other Things to do in Valle De Bravo
Other than paragliding, there are many other exciting things to do in Valle de Bravo. Here's a quick overview of the main attractions in Valle de Bravo
Historic Downtown
You will find historic buildings such as the Parish of St. Francis of Assisi, the Portals, Alameda and the kiosk, which presents local bands on Sunday afternoon. 
The Monarch Butterfly Sanctuary
The Sanctuary is the best place to spot the beautiful monarch butterflies. They migrate from Canada every year and can been seen here from August to October
Waterfalls
You must visit the waterfalls Rio de Molino and Velo de Novia that present a beautiful sight.
The Temple of Saint Mary of Ahuacatlan (Black Christ)
This the oldest church in Valle de Bravo, and is located in the old part of the town. The church houses the image of a Black Christ which is believed to have miraculous powers.
La Pena
La Pena is a rocky cliff that is host to many adventure activities. It can be reached partly by a vehicle and partly walking. The cliff offers panoramic view of the town.
Monte Alto Reserve
Another place for adventure activities in Valle de Bravo is the Monte Alto Reserve or Water Mountain. Perfect place for hiking and hand gliding.
Water Sports at
Lake Avandaro
The lake is the central attraction of the town and offers many water sports activities.
This whole one-day trip is worth the distance travelled as this town mesmerizes you. Hope this Valle de Bravo paragliding guide gives you the required details to embark on this adventure trip in this quaint town.
Happy wayfaring.
About the Author
Supriya A.N.
Supriya hails from the garden city of Bangalore in southern India and is always on the lookout for fun experiences across the globe. After scuba diving in the Mediterranean, counted shooting stars in the Sahara, flying in a helicopter over Barcelona, she now aims at horse riding in the Mongolian steppe, pet whales off the coast of Baja California and more. She narrates her travel experiences on her travel blog called Inking Miles. She loves salad over pizza, non-fiction over fantasy, movies over sitcoms. She constantly flips pages of travel books, hugely inspired by Michael Palin and Pico Iyer. She is also keen on the arduous journey the snow geese make every year from the Canadian Arctic to the Gulf of Mexico every winter.
BUDGET WAYFARERS
https://www.budgetwayfarers.com/wp-content/uploads/2018/06/Valle-de-Bravo-Paragliding-Guide-min-1.png
315
560
Budget Wayfarers
https://www.budgetwayfarers.com/wp-content/uploads/2018/04/1200X800.png
Budget Wayfarers
2019-02-11 10:56:20
2019-02-23 18:41:46
Paragliding Amidst Valle de Bravo's Natural Artistry: A Complete Guide