Travelling solo to Uzbekistan has proven to be one of my fondest life decisions. Exploring the glorified silk road region was on my mind for a long.
Therefore when my solo trip to Uzbekistan finally became a reality, I was overwhelmed with joy. The experience embarked by me as a solo traveller has transformed my life forever.
Uzbekistan is a wonderful country with heartwarming people, delectable food, colourful markets and culturally rich places. I highly recommend this region to any solo traveller ready to take a plunge.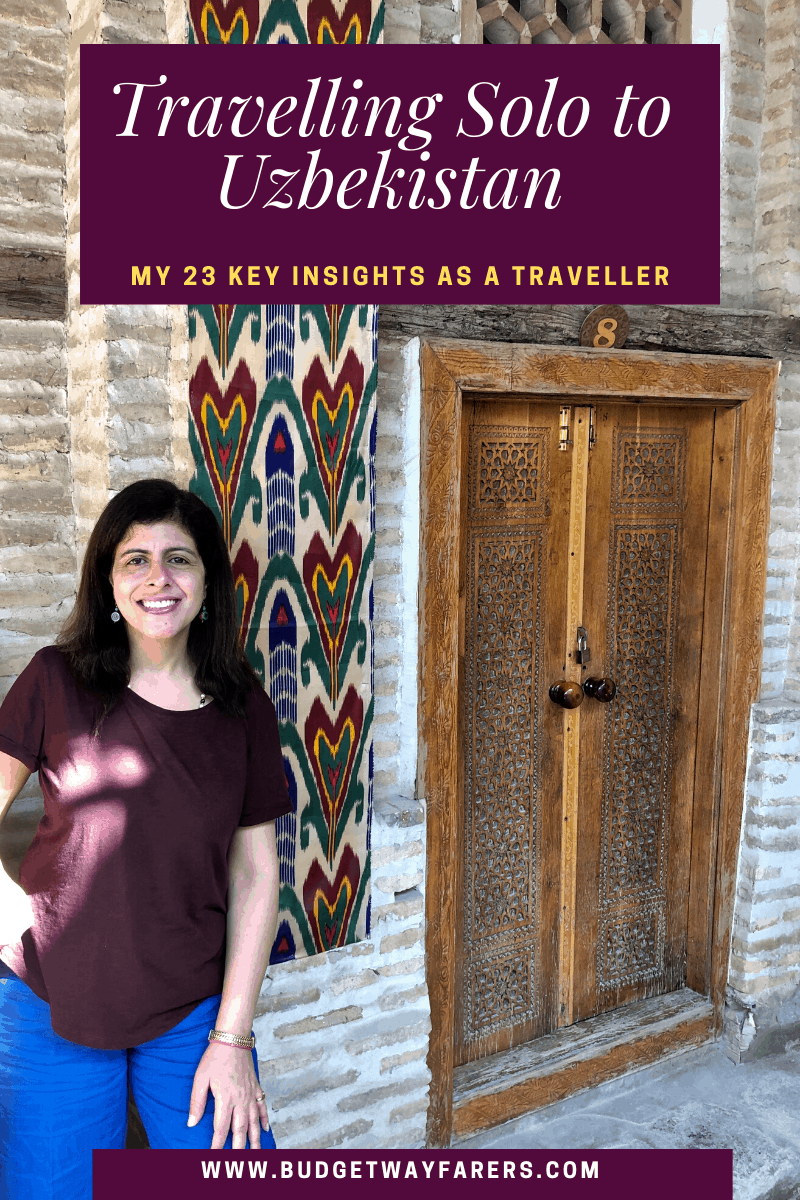 Travelling Solo to Uzbekistan | 23 Crucial Insights
If you are a first-time independent traveller to Uzbekistan, the following key insights will most certainly help you in planning your trip well. It makes me happy to share my learning with all of you.
In case you have any follow up questions to ask before travelling solo to Uzbekistan, feel free to post them in the comments section at the end of the article.

1. Location familiarity of Uzbekistan for solo travellers
Uzbekistan is a doubly landlocked country lying in the Central Asian region. A large part of it is a desert. Hence, it is important to stay aware of the extreme cold and hot weather conditions of the region.
2. Ideal time for travelling solo to Uzbekistan
Spring and Autumn are two ideal times to visit Uzbekistan all by yourself. The reason being, that the desert region at these two times of the year won't be as harsh on you as it would be during summers or winters.
3. Decent places for exchanging your currency in Uzbekistan
The official currency of Uzbekistan is the Som. 
You can get your native currency exchanged either at the airport itself or at exchange centres around various Uzbek cities or at automatic currency exchange machines or even at your hotel (assuming they have that facility).
It needs to be mentioned here that the Uzbeks are quite irksome when it comes to marked or stained notes. Hence, make sure that the notes you provide of your native currency are crisp and clear.
During the tenure of my trip, the currency exchange rate was as follows for the US Dollar – $1= 9520 Soms. For the Euro, it was as follows – 1 EUR=10640 Soms.
I was travelling solo to Uzbekistan from my beloved country India and the exchange rate at that time between the two countries was as follows – 1 INR=133 Soms.
4. Cost of taking a 7-day solo trip to Uzbekistan
The budget of your trip will depend on a lot of factors. Also, on the country from which you're travelling since the airfares will vary according to distance.
If you're a hardcore backpacker and also a member of frequent flyer miles,  travelling solo to Uzbekistan for a week will cost you anywhere around $350 to $451.
If you're a budget traveller but have no credit points earned on flights, then the cost of travelling solo to Uzbekistan for 7 days will shoot up to around $1260.
If you're a luxury traveller and would like exquisite stays, food and flights, then the cost of travelling solo to Uzbekistan for 7 days will spike ever higher to about $1509.
5. Visa requirements for people travelling solo to Uzbekistan
There are a lot of countries whose citizens can avail of a VOA (Visa on arrival) in order to visit Uzbekistan for about 30 days.
In case your home country isn't listed under the VOA nations, apply through the traditional way of the Uzbek Embassy. 
6. Getting access to affordable flights for Uzbekistan
Solo travel can be expensive. Hence, getting affordable flights is super important for people taking a trip independently.
I would urge all of you to please book early and constantly be on the lookout for flight companies to avail discounts. Also, if you are a frequent flyer and a traveller, you have got to be a part of the Frequent Flyer Miles Program.
Aeroflot, Uzbekistan Airlines and Air Astana are trusted airlines flying in and out of Uzbekistan. You can book them from any popular flight booking site or aggregator site.
7. Crossing the Language Barrier in Uzbekistan
The language might be a challenge for solo travellers in Uzbekistan. Reason being, most people speak only Uzbeki or Russian.
Very few would be able to converse in English. However, they get quite curious to know where you are from as a traveller judging you by the accent. Hence, they try their best to reciprocate accordingly. By the way, I absolutely fell in love with the people of Uzbekistan.
A Salam Waleikum (hello) and Rehmat or Spaseeba would be nice from your end. It'll help get some kind of communication started.
8. Dress code to be followed while travelling solo to Uzbekistan
Uzbekistan doesn't expect its travellers to dress a certain way. However, being comfortable in that weather is what you should prioritise as a solo traveller.
Despite having a bulk Muslim population, Uzbekistan is one of the most liberal countries when it comes to religion. Reason being, most people don't even practice Islam anymore. Therefore, you have absolutely nothing to worry about as a solo traveller in Uzbekistan.
9. Religious practices followed in Uzbekistan that you must know as a solo traveller
Uzbekistan as a country is quite interesting when it comes to religion. Despite constant efforts by some vile nations to introduce radical religion in the region, the Uzbek Government has time and again struck their efforts.
This is a very good thing for solo travellers because they are not at all forced to dress up or follow rituals of a certain kind. This is in complete opposition to countries like Saudi Arabia where even travellers are not barred from the state's extreme set of rules. 
In my interaction with the local people, I found out that how they have completely dissented against wearing any kind of religious clothing, especially burkas. In fact, burkas now hang as antiques in front of shops.
10. Most practical way to travel internally in Uzbekistan as solo travellers
All the major cities in Uzbekistan are well connected by a railway network. Hence, within Uzbekistan, the most convenient and practical way to travel is by train. You need to choose carefully as all trains do not ply on all days.
As a solo traveller in Uzbekistan, you'll have to carefully check the kind of connection you want. There are slow (Sharq) and fast trains (Afrosiyob), overnight trains and so on.
Try and book early as some trains, especially the fast ones between Tashkent and Samarkand or Bukhara get full very quickly, more so in the peak season.
There are private tour operators available online where you can book your tickets at a commission. I, however, booked all my tickets from the Uzbekistan Railways government website well before leaving for my trip.
If it's the peak season that you are travelling in, then do make sure you book beforehand as availability could become an issue later, especially for the fast trains. 
11. Convenient transport options to travel within the same city in Uzbekistan
For travelling to various locales within the same city, taxis are comfortable transport options. You'll need to spend about $0.5 to $2 per ride.
You can accordingly negotiate a taxi for the entire day depending on how many places you would want to do on a certain day.
12. Places that should be a part of your itinerary as an independent traveller
As an independent traveller exploring Uzbekistan for the first time, I highly recommend that you include the following four places as part of your travel plan.
Tashkent
Khiva
Bukhara
Samarkand
I covered all of these places in my week-long itinerary and had a time of my life.
13. Native food to try out in Uzbekistan for solo travellers
Dishes to taste in Uzbekistan should be on your bucket list as a traveller to this wonderful nation. They certainly were on my list of priorities as an Indian traveller.
As somebody travelling solo to Uzbekistan, you have got to savour 11 of the most delectable dishes in this wonderful country.
Both vegetarians and non-vegetarians can happily eat good food in Uzbekistan without having to starve themselves. In fact, if there's one nation that is an absolute foodie's delight, it is Uzbekistan.
14. Safety of solo travellers in Uzbekistan
As surprising as this may sound but Uzbekistan is way safer than a lot of European countries as well. The Uzbeks are nice and pleasing people. Find out why I am truly in love with the Uzbek people as a solo traveller.
So, you don't need to worry about your safety at all. Also, no need to be suspicious or apprehensive about the locals you get to deal with. 
Nobody harasses you or pushes you to your annoyance. There seems to be no pick-pocketing or thievery in general.
Not once, during my stay, did I feel fear or any uncertainty while dealing with random people. Nobody bothers you or hounds you, although you do get noticed as a tourist.
15. Comfortable accommodation in Uzbekistan for solo travellers
Other than the city of Tashkent, you would mostly find homestays and B&Bs as nice places of stay. I would recommend staying in a small Madrassa hotel or a B&B. They give you a warm and personalised experience as compared to bigger hotels.
There are many hostels too for budget travellers and backpackers.
16. Souvenir shopping in Uzbekistan for solo travellers
Souvenirs to buy in Uzbekistan are so extraordinary that they will keep reminding you of this lovely nation each time you adore them.
Do you love to shop in medieval-looking Bazaars as I do? If yes, you will go gaga over these 19 souvenirs that solo travellers should surely know about. Every city here has at least one main Bazaar to buy beautiful and long-lasting souvenirs.
If I could go on shopping till I literally dropped in Uzbekistan, I would buy so many things. But the fact that I couldn't possibly carry so much stuff back home, I stopped at a few. But made sure that each penny spent counted.
17. Health risks to watch out for in Uzbekistan by solo travellers
There aren't any specific health risks to watch out for in Uzbekistan. However, if there is any special health advisory, you can always check it out at the official website of the Uzbekistan Government.
Follow the standard norms as an individual travelling solo to Uzbekistan – drink bottled water, don't eat cut vegetables before washing, use sanitised wipes for cleaning and so on and so forth.
18. Getting clicked on camera by the local Uzbeks 
While strolling in a bazaar or visiting a popular place, someone would just request you for a picture, impromptu. Young and old, all alike.
Don't freak out if that happens to you as a solo traveller. It is quite alright.
Talking about myself, I posed in quite a few, becoming a part of the memories of the local lovely folks as they have become a part of mine.
19 Public washroom usage in Uzbekistan for solo travellers
As a solo traveller in a new region, it is quite common to disrupt your washroom schedules. So it is ok if you feel the need to use a public washroom across cities in Uzbekistan. Just make sure to use a paid one. 
Alternatively, you can use the washrooms of hotels, restaurants, bars and cafes you visit. It's always better to use a clean washroom than an infested one. So use strictly clean washrooms only.
The last thing you want to happen to you in a foreign country is any kind of UTI.
20. Packing list for Uzbekistan for solo travellers
As somebody travelling solo to Uzbekistan, please pack light and ensure that you have outfits and footwear that will keep you super comfortable throughout your trip.
You want clothes and footwear that don't stick to you during scorching hot days. And you also don't want clothes that make you freeze during cold nights. 
Hence pack the stuff that will help your solo trip become a success.

21. Accessible travel for solo trippers in Uzbekistan
Even though Uzbekistan is a lovely country for travellers in general, it isn't the ideal choice when it comes to accessible travel. The terrain is rough in places and not every hotel is made wheelchair friendly.
I hope in the near future Uzbekistan becomes more wheelchair friendly so that more and more travellers can visit this lovely country.
22. Travelling solo to Uzbekistan as a student
Certain public sightseeing places offer discounts to student travellers. Hence, you should avail yourself of them if travelling solo to Uzbekistan.
The Uzbekistan Government also runs a couple of volunteer programs where you can get more than 50% of your trip sponsored in exchange for your quality contribution to the country.
By the way, if you feel like clubbing a budget European nation along with Uzbekistan, do check out this list of 19 secret tricks to travel cheap to Europe. Nothing better than availing discounts in Uzbekistan as well as in Europe. Right?
23. Countries that can be clubbed together along with Uzbekistan 
If you're one of those passionate travellers who would like to cover more countries in the same trip and also save the overall travel cost, then I would insist you club pretty nations like Kyrgyzstan and Kazakhstan along with Uzbekistan.
Both these nations can be commuted to while trains from Uzbekistan and have visa norms that will allow you to go multi-country travelling. So if you feel like it, give all of these countries a shot.
I hope my 23 insights for a lovely solo travel experience to Uzbekistan will come in handy for your trip as well. Enjoy the beautiful nation and make it your own forever.
Happy wayfaring.