Travelling Solo to Tirthan valley was actually my first solo trip. In the past year or so I had been to many scenic places and remote places in Himachal. But the Tirthan valley had a different charm altogether.
If you ask me, travelling solo to Tirthan valley will be an amazing experience for you.  As the place is less touristy compared to its counterparts, you can closely interact with locals and experience the daily hard lives of Himalayan people.
Sleepy hamlets, ancient temples, immaculate hiking trails, beautiful forests, exquisite landscapes are some of the reasons why I completely fell in love with the Tirthan valley. In this blog, I will help you plan your solo trip to Tirthan.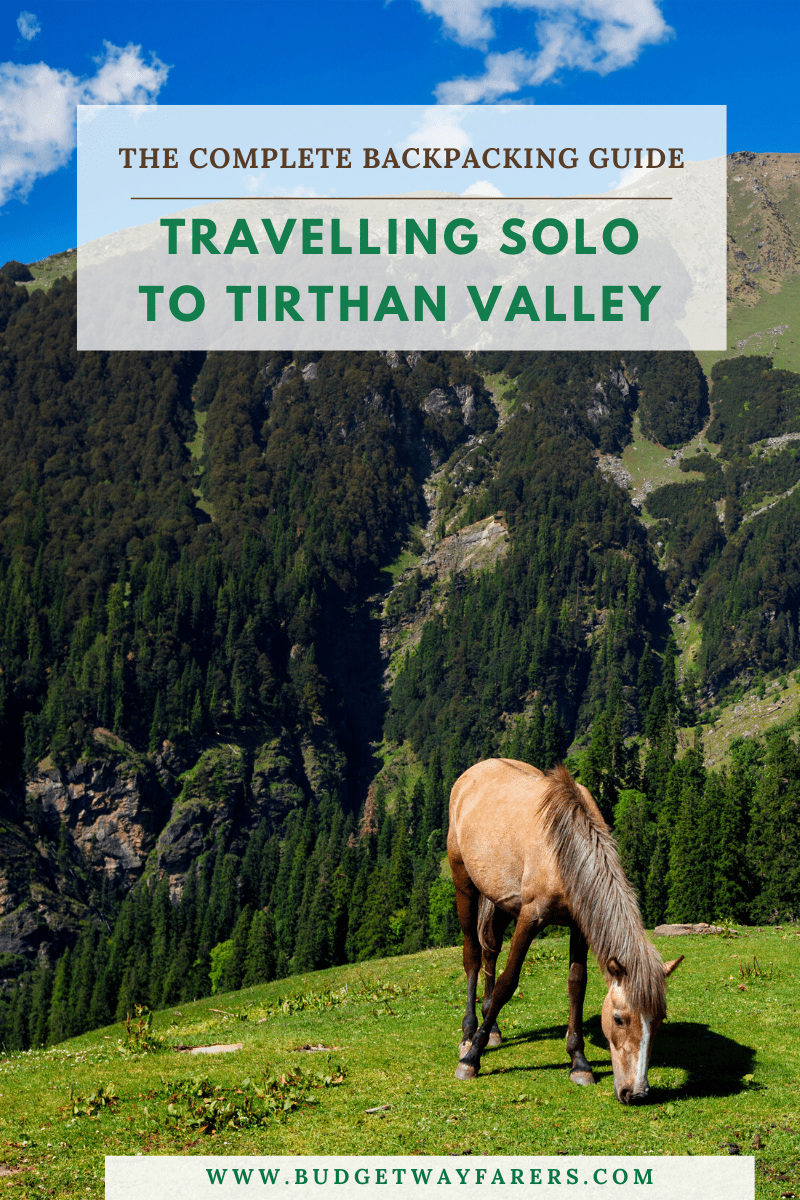 Travelling Solo to Tirthan Valley: My Travel Itinerary, Budget & Tips
A place so close to touristy Parvati valley or Manali, yet so far away from being touristy. If you are looking for some quietude, then without any reluctance head straight to Tirthan valley.
Before visiting the region, I had some misconceptions which were cleared by the locals. Here are a few things that will help you understand Tirthan Valley better if you are travelling solo:
What & Where is Tirthan Valley?
There is no valley named Tirthan. The entire region is known as Seraj. Tirthan is the name of the river. To make things easier for tourists it is known as Tirthan Valley.
Seraj valley is divided into three parts Inner Seraj, Outer Seraj, and Mandi Seraj. Inner and Outer Seraj are part of Kullu district of Himachal Pradesh including the Tirthan valley.
Weather Conditions & Accessibility
Pleasant in Summers, monsoon, Slightly cold in Autumn and Spring, Very cold in winter. The valley also receives snow during winters.
The Valley is accessible all year round, even in winters.
 Budget of the Trip
INR 8000 for 5 days including Volvo from Delhi to Delhi.
Minimum number of days needed to explore the valley
At least 3 days. In my opinion, 7-10 days should be spared to explore this beautiful valley.
Trekking and Hiking Opportunities nearby
Bashleo pass, Rolla GHNP entry gate, Lambhari top, Serolsar lake, Raghupur fort, Tirath trek, Rakhundi Top, Rangthar Top
How to Reach Tirthan Valley when Travelling Solo?
Tirthan valley can be reached in multiple ways and through multiple routes. I feel that travelling to Tirthan via the Aut route is the most convenient.
Reaching Tirthan Valley Solo by Using Public Transport
If you are travelling solo, I would recommend you use public transport. There are three possible ways:
Reaching Tirthan Valley From Delhi
From Delhi, board any bus going towards Manali. A lot of HRTC and private Volvo buses depart in the evening from Delhi and Chandigarh.
Get down at Aut. From Aut you get a lot of buses going towards Banjar on an hourly basis. From Banjar, one can get local buses to almost every place in the valley.
Reaching Tirthan Valley  from Shimla
You can reach Tirthan valley from Shimla via Jalori Jot. This route is also known as the Old Britishers route. The local buses run on this route. The exact timings can be confirmed at the bus station.
Reaching Tirthan Valley From Rampur Bushahr
This route is frequented by a lot of locals who want to get from Kullu to Kinnaur. There a few buses daily to Rampur to Banjar via Jalori pass.
Reaching Tirthan Valley Solo By Self–driven or Private car
Travelling by your own vehicle is much faster when compared to public transport. Reaching Tirthan on in your vehicle is fairly easy. The roads are in decent shape for most of the part.
Here are the three commonly used routes:
Reaching This is the route from Delhi
Delhi – Karnal – Chandigarh – Bilaspur – Sundernagar – Mandi – Aut – Bali chowki – Banjar
Reaching Tirthan Valley  from Shimla
Delhi – Karnal – Ambala – Chandigarh – Kandaghat – Shimla – Narkanda – Anni – Khanag – Jalori
Reaching Tirthan Valley From Rampur Bushahr
Rampur Bushahr – Anni – Khanag – Jalori
Reaching Tirthan Valley Solo By Air
Bhuntar is the nearest Airport. But the flights here are quite infrequent so flying directly what be an expensive affair. Once you reach Bhuntar you can either local board buses going towards Banjar, or you can hire a cab. Banjar is around 45 km from Bhuntar.
My Tirthan Valley Solo Trip Itinerary
There are a lot of picturesque places in and around the valley, hence, it is impossible to cover all of them. In my personal opinion, at least 5-6 days are needed to explore a bit of the valley. To cover the entire valley, at least 10 days are needed.
Many don't have that luxury of spending these many days,  therefore, I have curated a 5-day Itinerary. This will cover all the popular places.
Day 1: Reach Banjar or Jibhi & Hike to Chehni Kothi
From Delhi/ Chandigarh reach Aut in the morning, board buses going towards Banjar. Stay at Jibhi or Banjar. Visit Chehni Kothi which is a short hike near Jibhi and Banjar. If you don't want to hike, then there is a pretty waterfall which you can visit in Jibhi. Or laze around, explore Jibhi and Cafes
Day 2: Travel to Jalori Pass
Take an exhilarating journey through the narrow serpentine roads to Jalori pass. Hike to Serolsar lake or Raghupur fort. Check out Jalori pass blog for more details. Back to Jibhi or Banjar before the dark.
Day 3: Travel to Gushaini & Explore Places Nearby
Head to Gushaini today. Explore villages beautiful hamlets like Sarchi, Bathad, Pekhri. They are nearby Gushaini.
Day 4: Visit the Great Himalayan National Park (GHNP)
Head to the entry gate of GHNP Rolla today. It is an easy hike of around 8 km from Gushaini.
Day 5: Go Trout Fishing & Relax
Just relax today. If you want, you can go for trout fishing or else you can explore some more traditional hamlets
If you have more than 5-day, then I would certainly encourage you to visit less frequented places as well.
Budget Breakdown for 5-Day Solo Trip to Tirthan Valley 
Tirthan valley is a budget travellers dream. The stays are cheap and for internal transport, local buses are easily available.I have given below a cost breakdown for travelling solo to Tirthan Valley for 5 days:
 Accommodation
Except for Jibhi, Gushaini, expensive Hotels almost remain elusive in the valley. That being said, budget accommodation options are readily available in Jibhi, Banjar, Gushaini. You can easily get accommodation at 500-700 INR per day.
 Total Accommodation Cost for 4 Nights =  2000 INR
Food
Food is also fairly inexpensive in Tirthan valley. Food would cost you around INR 500 per day.
Total food costs incurred on food = 2500 INR
 Local Transport
All the places are close to each other. Therefore, you will spend around 80-100 INR per day on local buses. Private cab cost will be relatively higher.
Total Cost incurred on Buses = 500 INR
External Transport 
Volvo from and to Delhi will cost INR 2000
Total Cost of 5 Day Solo Trip to Tirthan Valley = 7000-8000 INR
Here I have not considered guide fees. Tirthan valley falls in the core zone of GHNP. It is a haven for trekking connoisseurs. Of course, for short day hikes, you don't need guides as such.
10 Incredible Places to Visit on Your Solo Trip to Tirthan Valley
There are plenty of things to do and places to explore in Tirthan Valley. Some of the best places I would recommend for solo visitors are:
1. Banjar: It is the biggest town in the valley. It is an excellent choice to stay if you are going to use local transport for the commute.
2. Chehni Kothi: It Chehni Kothi is one of the popular villages which has famous Katha-Kuni styled tower temples. It can only be reached on foot. Shringa Rishi temple is the start point of the trek.
3. Jalori pass : It is a motorable mountain pass connecting Kullu district from Shimla district. The pass offers excellent panoramic views of Pir-Panjal, Dhauladhars, Kinnaur ranges. Just the sheer drive to Jalori is spellbinding. For more details please check out this blog.
4. Shoja: It offers excellent panoramic views of different mountain ranges. Owing to the altitude, Shoja is one of the best places for experiencing snow. Jalori pass is just 5km from Shoja.
5. Jibhi: This place is the dictionary definition of a doing nothing place. Jibhi is surrounded by beautiful deodar forests. Soothing sound Jibhi Nala will just make you want to relax and walk amongst huge deodar forests.
6. Gushaini: It is a small little hamlet that offers excellent vistas with Tirthan river flowing alongside. Gushaini is also a starting point for many villages and treks into the eco-zone of GHNP.
7. Batahad: It is a traditional hamlet which can be reached from Gushaini. A dirt track from Gushaini goes up to the village. Even local buses go all the way up to Batahad.  It also acts as a base for Bashleo pass.
8. Pekhri: Another village that can be accessed from Gushaini by a dirt road. It is around 9-10 km from Gushaini. Local buses do ply to Pekhri from Banjar. Pekhri is the starting point of the Rangthar top.
9. Serolsar lake: It is a beautiful lake which can be reached on foot from Jalori top. It is an easy hike of around 1.5 hours. There is a small temple of Budhi Nagin which is one of the important deities revered by the locals.
10. Great Himalayan National Park (GHNP): With a wide range of animal and plant life, the Great Himalayan National Park is one of the most beautiful regions in Himachal Pradesh. I  would suggest you keep one day
Where to Stay in Tirthan Valley for Solo Travellers and Backpackers? 
There is no dearth of accommodation options in Tirthan valley. Popular places like Jibhi, Banjar, Gushaini have a variety of options. Homestays are also popping up in the traditional hamlets. Therefore, finding a good budget stay is pretty simple.
Banjar is the biggest town in the valley. You'll find a lot of hotels, guesthouses, homestays here. Buses are easily available from Banjar to other places in the valley
While travelling solo to Tirthan Valley, I stayed at Blueesheep Tirthan the whole time. The hosts are very welcoming and amiable. They are a Himachali family who are locals to the valley. They will make you feel like home with their incredible hospitality.
Gushaini of the prettiest hamlets in the valley. There variety of accommodation options available in Gushaini including luxury homestays.
Raju's homestay in Gushaini is quite famous. Gone fishing cottages is also pretty little luxury homestay near Gushaini. The above-mentioned places may not be viable in terms of budget for people on a strict budget. Therefore, I would recommend reaching Gushaini and then search for stay options.
Jibhi is one most of the picturesque places in the valley. Jibhi has it all be it hotels, guesthouses, hostels, Luxury homestays. For budget travellers, there are currently quite a few hostels in Jibhi.
Hosteller, Treesoul hostel, Hostalgic, Mudhouse are the finest hostels in Jibhi. Mudhouse is slightly on the expensive side. While the rest of the hostels offer dorm bed at around INR 350-500.
Stay in the Traditional hamlets
To truly experience the culture of the valley one should stay in traditional hamlets. There are lots of such hamlets which now host travellers. Locals have realized the tourism potential and have constructed homestays.
Villages like Bathad, Pekhri, Sharchi, Ghiyagi offer such homestays. Of course, these villages tend to be a little trickier to reach. Most of these homestays are economical. Staying in homestays is a win-win for everyone. You contribute to the local economy while practising sustainable tourism.
Is Tirthan valley Safe for Solo Travellers?
Tirthan valley is very safe irrespective of gender. This is one of the very reasons why people love to travel to Himachal. Solo travellers irrespective of gender can freely explore Tirthan valley. Therefore, you'll find a lot of digital nomads, slow travellers here.
The locals here are extremely helpful and approachable. They will go out of the way to help you if you are stuck in any kind of problem. So, don't be loath to take help from the locals. Tirthan valley is well- connected by public transport and is the safest mode of transport.
Please be cautious while hiking, especially in the forests. Please complete your hikes before the dark. The bears lurk in the dense forests of Tirthan valley. Though, they tend to stay away from Humans but can attack you if they feel threatened.
My Heartfelt Experience with Locals While Travelling Solo in Tirthan Valley
I'll share a wonderful experience I had with the locals. I visited Chehni Kothi during my visit. The bus dropped me some 4 km before the trek starts. I walked all the way to the start point of the trek.
Unfortunately, I took a steep trail. This made the hike more taxing for me. I reached a point where I could see the fort. The sheer sight of the fort was enough for me as I was very enervated. I decided to turn back and return.
While I was resting a local, Pritam Singh Ji saw me visibly tired. He encouraged me to continue as the fort was very near. We stopped at his house and his wife offered me apples. Such is the goodness of strangers in the valley.
6 Handy Travel Tips for Travelling Solo to Tirthan Valley
If you are travelling to Tirthan Valley all by yourself, these tips might come in handy:
1. Pack light whenever Backpacking
This is one of the most essential things as you might need to hike with your Backpack and if you have unnecessarily stuffed a lot of things then you will have to Hike with it which may tire you out.
2. Travel by public transport
Tirthan valley is well connected by public transport from Banjar. And it goes without saying that If you are travelling solo public transport will be your best bet. It is lighter on a pocket and reduces the carbon footprint as well.
3. Stay at homestays or hostels
Homestays and hostels are the best bet for solo travellers. While hostels are very cheap as they offer dorm beds. But homestays are quite economical as well. Homestays makes you interact with locals while in hostels you can interact with people from all across the globe.
4.  Complete your hikes before dark
Bears roam in the dense forests of Tirthab valley. So completely your hike before dark. If you are alone or in a small group, then make animals aware of your presence. They may attack you if they are caught by surprise.
5. Inform about your schedule
While travelling solo, please inform somebody at the place you are staying about your schedule so that they know where to look for you in case of any unfortunate event.
6. Stay in touch with your family and loved ones
I know it can be quite overwhelming at first while travelling solo. But trust me it's very safe to travel solo in Tirthan. Stay in constant touch with your family always.
I hope that this Tirthan valley blog was of great help to you. Tirthan valley, though now popular still remains pretty much under-explored apart from Jibhi and Gushaini.
So, pack your bags and head to Tirthan valley to experience the amazing culture and hospitality Himachal has to offer and remember to travel responsibly.