Travelling solo to Ningbo will be one of the most off-beat trips you've taken in a while. Ningbo happens to be East China's thriving seaport city. It is a culturally beautiful and historic site for travelers. Also, it is a food haven for individuals who like to munch their hearts out.
I asked myself if I really wanted to do it – travelling solo to Ningbo. A city as small and unpopular as Ningbo comes with its own set of risks and challenges. What made it worse was my being vegetarian. However, I decided to take the leap, and it was certainly one of the best decisions I had ever made.
The start of my trip was somewhat unpleasant. My phone wouldn't connect to the airport's Wi-Fi, I had no track of where the friend I was supposed to meet was, and I was oblivious of the fact that Google doesn't work in China – meaning, the only translator I had was abstruse. Yet, I managed to figure it out somehow. So, in my current blog, I'll offer smart details that will make solo travel in Ningbo easier for future travelers.
Travelling Solo to Ningbo: An Overview
It wouldn't be uncommon for one to never have heard about this city. Its relative unpopularity is what made it all the more beautiful to me.
Here's a brief overview of my trip, and it will offer more insights into planning a solo trip to Ningbo.
Location
China's eastern coastline, in Zhejiang Province
Currency
The currency used in China is Yuan (written as CNY, and symbolised as ¥). The conversion rates between CNY, the American Dollar (USD) and the Indian Rupee (INR) are as follows:
1 USD = 7.1 CNY; 1 CNY = 10 INR
Note that I've mentioned the conversion rates between CNY and INR because India is my homeland.
Accessibility
Throughout the year
Best time to visit
April-June
Getting there
Consider flying to Shanghai and then taking the train while travelling solo to Ningbo. This will certainly save you a couple of bucks.
Transport
Cabs, buses, subway, bicycles
Budget accommodation
Hostels, Airbnb, Couchsurfing
Must have
A translator/an app that translates
Must remember
Google doesn't work in China
China can be a bit of a hassle for vegetarians (I've written an entire blog on surviving China as a vegetarian)
Safety level for solo travelers
Very high
While the idea of travelling solo to Ningbo might not be as popularized, I will give you a million reasons why you should do it.
Perks of Travelling Solo to Ningbo
In case you're wondering why one would want to venture out all alone to a place as unfamiliar as Ningbo, let me tell you.
A Wonderful Transport System
Ningbo has a highly developed public transport system, making it cheap for solo travelers to get around the city. Alternatively, you can also cycle around at almost no cost.
It's Absolutely Safe
Whether it was 1 pm or 1 am, there was no point in Ningbo that I felt unsafe. Furthermore, crime rates are extremely low in this town.
A Pocket-Friendly Destination
Travelling in Ningbo on a shoestring budget is very much possible. Your per day expenses in Ningbo will be minimal if you exercise just a little caution.
It's Beautiful
How can I not mention how beautiful Ningbo and its surroundings are? It is certainly one of the most culturally-rich, and scenic towns I have ever set foot in.
What's the Best Time to Visit Ningbo?
Overall, Ningbo boasts of warm and humid weather owing to the subtropical monsoon climate. The annual mean temperature is as low as 16.2 degrees Celsius. So, be sure to carry at least one jacket even if you're visiting during summers.
Although most of the year is favourable for visiting Ningbo, April to October is said to be perfect.
Tip: Be prepared for rains throughout the year in the light of its unpredictable nature.
Getting to the Chinese Town
Ningbo is an ancient harbour city which finds itself about 200 kilometres from Shanghai. The 2 ways of getting here are:
By Air – The Ningbo Lishe International Airport is located around 30 kilometres away from Ningbo downtown area. The airport also runs a shuttle bus that connects the airport and the Ningbo city center. Tickets are priced at 12-15 CNY (1.7-2.1 USD).
By Train – Ningbo Railway Station is way closer to the city centre – about 3 kilometres away from Tian Yi Square. It runs a number of trains to cities around Ningbo, and the tickets are reasonably priced. I remember taking a train to Shanghai and the journey was as comfortable as it could get.
Flying to Shanghai, and taking the train to Ningbo subsequently would probably be cheaper. Do explore your options well before booking.
Backpacking Ningbo: Getting Around on a Budget
What makes travelling solo to Ningbo convenient and economical is the endless number of transport options.
By Bus
Ningbo is well-connected by bus and has an elaborate network of about 260 bus lines. Most of the tickets are inexpensive – approximately 1-2 CNY (0.15-0.3 USD). The frequency for a majority of them is pretty decent with buses running at intervals of 4-20 minutes.
Tip: Keep in mind that the earliest departure time of these buses is 5-7 AM, while the latest is 5-11 PM. It would be advisable to check the timings of the particular bus you're planning to take beforehand.
By Subway
Parts of Ningbo are also linked with the all-new Subway, with currently 3 lines in service. Once again, tickets are reasonably priced at around 2-6 CNY (0.3-0.8 USD). Soon, there are going to be a total of 7-8 subway lines operating in Ningbo.
Tip: You could download the app "Ningbo Metro" for easy navigation.
By Cab
Getting a cab is no big deal while travelling solo to Ningbo. As many as 4,000 taxis or more serve the city on a daily basis.
The starting price is generally 11 CNY (1.5 USD) for the first 3 kilometres, followed by 2.6 CNY (0.4 USD) for every additional kilometre.
Uber also operates in Ningbo. So, in case you're sceptical about being charged too much, you could opt for these services instead.
Tip: Keep in mind that you're going to have to communicate where to go to the driver who'll probably know no or very little English. Have a translator/dictionary handy.
By Bicycle
In case you're someone who likes to go eco-friendly, Ningbo also has dedicated cycling lanes and a public bicycle mechanism to offer. You can even go for e-bikes.
Tip: If you're spending a decent amount of time in Ningbo, getting a card made for availing of the public bicycle services would make a lot of sense.
Lodging and Boarding for Solo Travelers in Ningbo
Looking out for budget accommodation or hostels while travelling solo is almost natural. Since Ningbo is relatively unpopular as a tourist destination, options are certainly limited. However, you could choose to stay in one of the following:
Weike Hostel (100 CNY/14 USD per bed per night)
This makes for a great option for solo backpackers because you can choose to stay in dorms. This not only makes it easy on the pocket but is also a great opportunity to meet like-minded travelers. Here, you can also experience staying in a capsule room.
Book via Airbnb
Per me, this is the best bet when travelling solo to Ningbo. Here, you'll find more than a thousand options that cost less than 100-130 CNY (14-18.3 USD) per person per night. Furthermore, in most cases, you'll have the entire house to yourself.
Although Ningbo isn't like bigger Chinese cities where the accommodation scene is highly evolved, a little hunting will do the job.
Couchsurfing your Way Through Ningbo
If you're travelling on a tighter budget, or wish to live with a local, try your hand at Couchsurfing. In case you don't know what this is, let me explain. Couchsurfing basically aims to make traveling more budget-friendly. In layman's words, it involves temporarily staying in a local's home – hosts are not supposed to charge you for your stay. This form of accommodation is often relied on by those traveling solo or on a budget, or both.
So, what's in it for the hosts, you might ask? Well, Couchsurfing is generally done out of pure goodness. Additionally, it is a great way to bring the world closer and expand your friend's circle to people from all across the world.
Tip: Even if you're Couchsurfing, do offer to pay for groceries, electricity, etc.
Where's the Food? Must-Visit Eateries in Ningbo
As mentioned before, Ningbo is an absolute treat for foodies. Despite being a vegetarian, I had a wonderful time feasting on some great Chinese delicacies. However, Ningbo is not all about Chinese food. Read on to know more:
Grandma's Kitchen
There's a high possibility of you being on a tight budget while travelling solo to Ningbo. Fortunately, one doesn't need to spend a bomb to enjoy good food here.
Head to Grandma's Kitchen if you're looking to feast on some authentic Chinese food. Did I mention generous portions?
Location
Zhongshan Road, Haishu District
Points to remember
This restaurant attracts big crowds; make sure you visit during non-peak hours to visit long queues.
Additionally, consider going in a group keeping in mind the huge portions.
Ganesha Indian Restaurant
While Chinese food is delicious, I found my taste buds craving some Indian flavours starting my third week while travelling solo to Ningbo.
To my relief, I ran into Ganesha Restaurant. Everything about this place was Indian – its name, seating, staff, vessels, decor and of course, its food. The curry was flavoursome and the naan, fluffy. The cherry on the cake was spicy masala papad and to end it all with, mouth-watering gulab jamuns.
ZaoZiShu Vegetarian Restaurant
As the name suggests, this restaurant offers an extensive menu that caters to vegetarians like me. While travelling solo to Ningbo, I found myself frustrated looking for vegetarian food every single day. If you're someone who relates to me, don't hesitate and visit ZaoZiShu.
Tip: Although termed vegetarian, some dishes might still consist of fish sauce as the base or dried shrimps as toppings. Clear the same out if it's an issue for you.
O'Reilly's Pub
While travelling solo to Ningbo, I felt the desperate need to meet new people and befriend some of them. What's regular at O'Reilly's is great beer, happy hours, finger food, pleasing aesthetics, and plenty of people willing to socialize with you.
Location
Caihong North Road
Speciality
Pool tables and dart boards to help you make some friends
O'Reilly's bright red doors and classy bricked entrance is what make it inviting right on the outside.
Nantang Old Street
Taking a walk on Nantang Street will make you envisage what the city of Ningbo looked like a hundred years ago. Lined with traditional buildings with wooden doors and tiled roofs, this street is pretty short. However, it is certainly the best place to go if you wish to sample authentic cuisine while travelling solo to Ningbo.
Various reputed stores on this street are frequented by locals over the weekends. With a million aromas and smells intertwined, Nantang Old Street will leave you spoilt for choice.
Backpacking Ningbo: Shopping and Splurging
No matter which part of the world I travel to, shopping is almost mandatory. After all, what's a trip without taking back a part of the place you visited with you? Ningbo is home to all sorts of markets – clothing, shoes, antiques, accessories, food and souvenirs.
Chenguang Temple Market
Although a statue of the town god marks the entrance, Chenguang Temple Market is about shopping all the way. The Gods of this market are certainly the shopkeepers who maintain their calm amidst the tumultuous chaos created by hordes of young women on Sundays.
Home to cheap clothes and accessories, it is hard to not get lost in the four-floor high topsy-turvy market. Visit the Chenguang Market while travelling solo to Ningbo if you're someone who likes to shop cheap.
Things you can buy
Clothing, handbags, accessories, traditional Chinese outfits, lingerie, etc.
Timings
8:30-20:30 on all days of the week
Tip: Do haggle with the shopkeepers; they will certainly pitch higher prices if you're not a local.
Tian Yi Square
One of the liveliest vicinity of Ningbo, Tian Yi Square is divided into 10 broad sections – souvenirs, electronics, supermarkets, restaurants, entertainment, food, etc. Basically, there's nothing you won't find out here.
Visiting Tian Yi at night will be sure to lift your spirits up – a musical fountain in the very centre of the square, cafes and bars fluttering with crowds from all over the world, and the most vibrant lights.
Tian Yi was a place I'd visit every single time I had absolutely no plans while travelling solo to Ningbo. The jolting energy of the place never failed to entertain me.
Cost of Solo Trip to Ningbo
On the whole, traveling in China is really cheap and budget-friendly. Offbeat travel in China, and especially in Ningbo, is even cheaper. Following are the general costs in the town that you must be aware of. This will help you plan and allocate your budget better.
Accommodation
A decent Airbnb or hostel: 100 CNY (14 USD) per night
Couchsurfing: Free
Food
This really depends on where and what you choose to eat.
Meal in an inexpensive restaurant: 20-25 CNY (2.8-3.5 USD)
Meal on the streets: 10 CNY (1.4 USD)
Local Commute
A bus ticket to most places in the city will cost 1-2 CNY (0.14-0.3 USD). If you plan on traveling by cab, you'll end up spending much more. Fares generally start at 11 CNY (1.55 USD) for the first 3 kilometers, and 2.6 CNY (0.37 USD) for every additional kilometer.
Getting to Ningbo
Flight fares would completely depend on where you're travelling from, and when you're travelling.
A second-class ticket on a train from Shanghai to Ningbo will set you back 140-150 CNY (19.6-21 USD).
Local Commute
A bus ticket to most places in the city will cost 1-2 CNY (0.14-0.3 USD). If you plan on traveling by cabs, you'll end up spending much more. Fares generally start at 11 CNY (1.55 USD) for the first 3 kilometers, and 2.6 CNY (0.37 USD) for every additional kilometer.
Travelling Solo to Ningbo: Top Travel Tips
Now that you're aware of all the nitty-gritties to be kept in mind while travelling solo to Ningbo, here are a few handy tips that will make your trip even smoother:
In order to ensure easier and better communication while travelling solo to Ningbo, you could download the app "Pleco" on your smartphone – best for those travelling to China with zero or little knowledge of Mandarin.

While having dinner with the locals, always keep yourself last. Let the hosts start eating before you do.

Finding toilet paper in washrooms is rare in China. Stock up.

Although there are a number of stereotypes associated with the rudeness and safety of China, there's nothing to worry about. China is one of the safest countries in the world for solo and women travellers even.

If you need help with directions or anything else of the sort, look for a high school student. People under the age of 25 will be way more likely to know at least basic English.

It is possible that a number of restaurants/homes might not have any spoons at all. If you do not know how to use a pair of chopsticks, make sure you're open to learning the art.

The app "Waygo" is a virtual translator that can scan foreign text and automatically translate it to English – a blessing when using public transport or ordering food in a restaurant while travelling solo to Ningbo.
Places to See While Solo Tripping in Ningbo
Now that you have a rough overview of the city of Ningbo, let's move to the vast possibilities of sightseeing while travelling solo to Ningbo. You will be surprised to read about the endless travel attractions, that attract backpackers from far and wide. Truly, offbeat travel in China is incredibly good.
Moon Lake
Looking for a momentary escape from the hustle and bustle of the city? There's no place in Ningbo that would do it better than Moon Lake. Back when I was looking at the map of Ningbo, it took me less than a minute to spot this crescent-shaped lake right in the heart of the city.
Moon Lake also boasts some of the best restaurants in Ningbo. It would be a sin not to visit at least one of them while travelling solo to Ningbo.
Da Bossi
This restaurant offers lip-smacking Italian food that brags of authentic wine amidst classy interiors.
LangqiaoXinjing
This venue is characterized by Chinese paintings and calligraphy – a gold mine for art lovers. You will be sure to find delicious western and Asian food.
Another great option is the Haosheng Western restaurant, set amidst lush greenery.
The Old Bund
If you wish to be transported to Europe while travelling solo to Ningbo, make your way to the Old Bund located in the downtown area of Ningbo. The Bund can be defined as the most beautiful blend of ancient and modern.
Must see
The Ningbo City Exhibition Hall, Ningbo Art Museum, Huaishu Leisure Street
Must carry
A camera and your high spirits
Transport
You could either book a cab, or board one of the many buses that go to the Old Bund Station.
The streets here are so aesthetic, that all you'll want to do is walk. Carry a camera, photograph the mesmerizing architecture, window-shop, bump into new people, or simply grab a drink.
Dongqian Lake
The most concrete memory I have from my two months of travelling solo to Ningbo is cycling around the beautiful Dongqian Lake. Pitched against picturesque mountains, this is the largest freshwater lake in the Zhejiang province.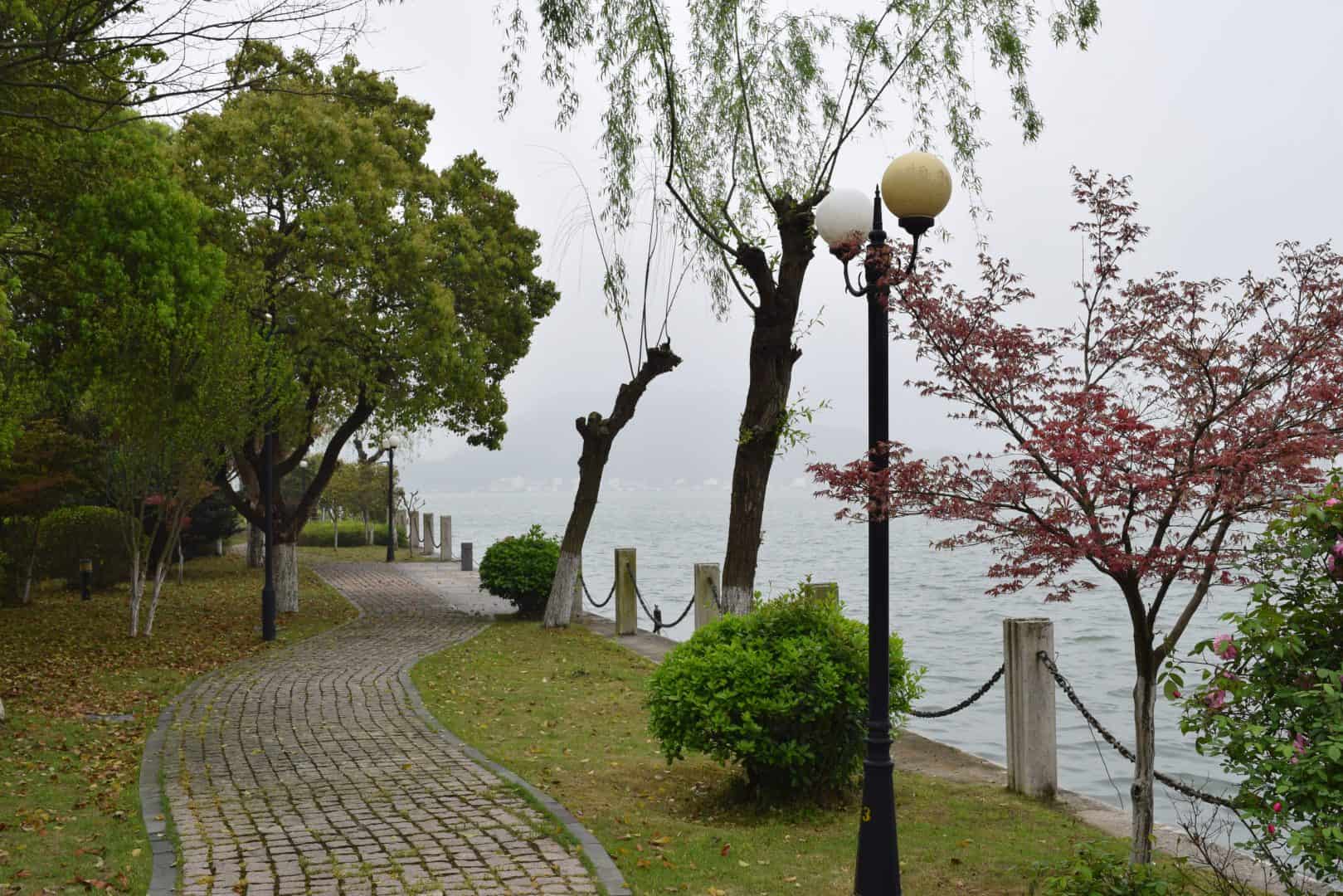 Also, make sure you visit Handling Street – a thousand-year-old village, when in Dongqian.
Tian Yi Library
In today's mechanical and ever-modernizing world, kindles have replaced books. The value of libraries is ever-dwindling. However, take some time out, and pay a visit to the Tian Yi Library while travelling solo to Ningbo.
I remember doing so on a rainy day. It was freezing outside, and while we only went to the library for shelter at first, we ended up falling absolutely in love with it. This library is not only China's but also Asia's oldest library.
How to reach?
You could take a bus (number 371, 512) and get off at Tianyige Station
Entry Fee
CNY 30 (4.2 USD) for adults, CNY 15 (2.1 USD) for kids
We cosied up amongst the ageing books, and it was certainly the best way to spend a rainy day in Ningbo.
Ningbo Museum
The Ningbo Museum not only houses spectacular pieces of art but is a piece of art in itself. I couldn't stop admiring the architecture – an enormous mountain of structural concrete. It almost felt like the building would collapse at any moment.
The building resembles a mountain, and also a boat – the former characterizing Ningbo's landform and the latter signifying the importance of maritime trade in Ningbo's history. I frantically tried to capture the beauty of it all on my camera, but all in vain.
So, even if art and history are something that doesn't interest you, this Museum must be visited while travelling solo to Ningbo.
Entrance to the museum is free, and a number of buses make their way here. You must get off at the Ningbo Bund bus station.
Gems Worth Exploring Around Ningbo
While travelling solo to Ningbo, make sure you have enough days in hand. There are a number of gems waiting to be explored around Ningbo.
Tengtou Village
Tengtou Village is a major step towards showing just a little care for our ever-deteriorating environment. With locals engaged in promoting agricultural production, the woods perpetually echo chirping birds and rustling winds.
How to reach?
A bus can be boarded at the Ningbo South Bus station, one that'll pass through the Tengtou Village.
Best time to visit
March-October
If you're wanting to live the primitive life while travelling solo to Ningbo just for a day, you could engage in grinding grains and forking fish – an experience I will forget never.
Zhoushan Islands
Regarded as the "Buddhist paradise on the sea", Zhoushan Islands are said to be the largest set of islands along the coastline of China. A narrow road with vibrant greens on either side, coupled with the bright blue waters is what makes Zhoushan Islands a must-visit while travelling solo to Ningbo.
These islands, however, are steep and rugged in parts and the highest peak of these islands rockets as high as 1,640 feet. It's absolutely incredible.
Five Dragon Pool
Just about 35 kilometers from the center of Ningbo, lies a magical land where one can relish creeks, waterfalls and rocks while hiking their way around five natural pond formations.
How to reach?
There are buses that will take you to Wulongtan Bus Station, in close proximity to the five dragon pool.
Entry fee
50 RMB
The five dragon pool is ideal for those who like wearing their trekking shoes every once in a while.
Ancient and Rustic Water Towns
Travelling solo to Ningbo and not visiting one of the many quaint water towns, is like going to Paris and not visiting the Eiffel Tower. If the idea of getting around by hand-controlled boats while the captain hums a Chinese folk song fascinates you, make your way to one of these water towns.
Some of the many you can visit are Nanxun, Xitang and Luzhi.
While the concept of travelling solo has been the in thing lately, travelling solo to Ningbo certainly hasn't. Mention China and the Chinese, and what comes to head are the endless number of stereotypes associated with their behaviour, culture & lifestyle. 
However, things are changing with changing times. China is no longer all about hordes of people desperately clicking selfies on the latest models of iPhones. It is not about shrewdness, rudeness & or unpleasant behaviours – never has been. Truth is, a lot many wonders in China are waiting to be explored. If you want to truly undertake offbeat travel in China, do visit Ningbo.
Happy wayfaring.