Traveling solo to Japan was not on my immediate to-do list. However, there is an indescribable sense of fascination that I have with Japan. Growing up as an avid anime geek only served to enhance this feeling.
Therefore, as soon as I realized that I had a bit of time to spare in the coming summer, I put a halt to my European crusade. I packed my bags for a week-long Japanese escapade and set out.
In my current piece, I will share my travel experience as an Indian traveling solo to Japan. I hope this blog post assists you in case you plan traveling solo to Japan in the near future.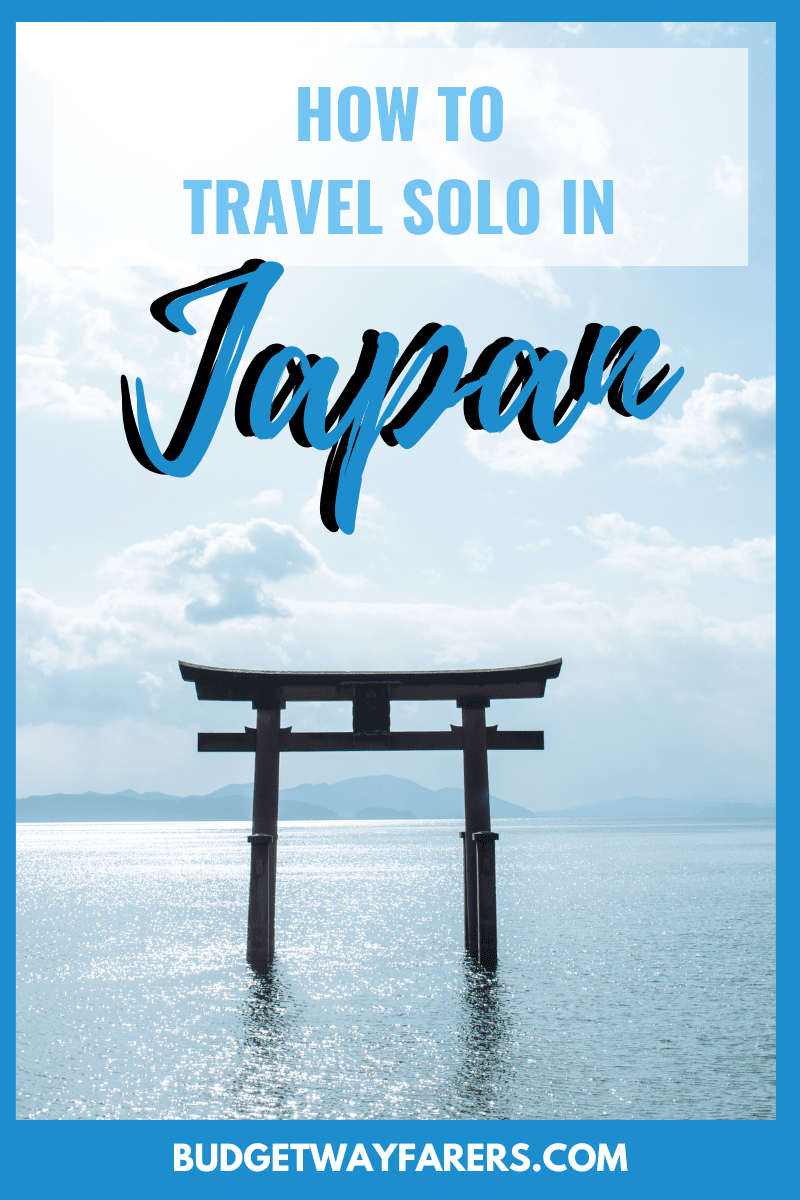 | TRAVELERS ALSO READ |
Things to Do in Japan as a Responsible Traveler
Traveling Solo to Japan for First Timers!
Traveling solo to Japan can prove to be an experience of a lifetime. As soon as I landed at Tokyo Narita Airport (this is the major international transportation hub in the city), I knew that my anticipation was certainly warranted. Be it the spick and span layout of the terminal, the fantastically organized subway stations, or the amazingly colourful vending machines, I knew that I was in for a treat.
Important Tidbits for Individuals Traveling Solo to Japan
Before I continue talking about my personal travel experience, here is some essential information on Japan. These tidbits will assist you in your pursuit of traveling solo to Japan.
Getting there
Take a Flight to Tokyo Narita International Airport.
Both Japan Airlines and ANA travel direct from New Delhi (or any other place on the globe) to Tokyo. 45000 INR is the average cost of a return flight (New Delhi-Tokyo). 
While travelling solo, the cheapest flights aren't always a good idea. We should also check for suitable landing or departure times as well. It's always beneficial to check for a suitable time and airfare.
Weather
Generally pleasant.
Average summer temperature of 28°C in July and an average winter temperature of 5°C in January.
Best time to visit
March for the picturesque Sakura (cherry blossom) season.
May for warm weather and the traditional Sanja festival in Tokyo.
Currency
Japanese Yen
100 INR = 158 Yen, 100 Euro = 12852 Yen, 100 US Dollars = 11348 Yen
Time zone 
GMT+9 
Country code
+81
Major travel cities
Tokyo, Kyoto, Osaka, Yokohama
Official language
Japanese.
Learn the basics of the Japanese language. It's always better to have basic knowledge of the native language. I personally took the course Essential Japanese for Travel for Beginners from Udemy. The course taught me basic phrases and vocabulary that helped me a lot during my trip.
I hope that this section gives you a rough idea about traveling to Japan. Now, I'm going to move on to the other nitty- grities of traveling to Japan. Most importantly, I'll tell you what my itinerary in the land of the rising sun looked like.
Essential Phrases/Words to know for Traveling Solo to Japan
Traveling solo to Japan will become a more joyous and a simplified experience if you manage to learn and understand some of the most commonly used Japenese words and phrases:
Konnichiwa – Hello
Sayonara – Goodbye
Arigato – Thank you
Hai – Yes
Iie – No
Onegai shimasu – Please
Sumimassen – Excuse Me
Wakarimasen – I don't understand
Ikura desu ka? – How much is it?
–wa doko desu ka? – Where is _____ ?
Kouban – Police Station
Konbini – Convenience Store
Hoteru – Hotel
Toire – Bathroom / Toilet
Intānetto – Internet
Travel-Friendly Guide App from Lonely Planet
In order to filter the must-see travel attractions in Tokyo and the rest of Japan, I used the incredibly useful Guides by Lonely Planet app. The app is free to download from both the Android Play Store as well as the Apple App Store.
The Guides app lets you download full-fledged travel guides for 100+ cities across the globe. This will be of huge assistance to you while travelling solo to Japan. You can bookmark your favourite places for ready reference and check the location of every major spot in the city through offline maps.
Traveling Solo to Japan: My Journey
My solo trip started in Tokyo – the capital of Japan.
Reaching the city centre from the airport is a fairly easy task. The Narita Express train takes you to the city centre of Tokyo in less than 1 hour, stopping at Tokyo Station, as well as Shinjuku and Shibuya stations, located in the most popular districts in Tokyo.
The train runs daily from early morning till late at night, and a single ticket costs 3190 Yen.
Accommodation in Tokyo
In terms of accommodation for individuals travelling solo to Japan, I would personally recommend staying around the Shinjuku district in the heart of Tokyo.
Most importantly, the language barrier is not much of an issue in Shinjuku, since this is arguably the most multicultural region in Tokyo.
Some of the most famous Tokyo attractions, including the Samurai Museum and the Robot Restaurant are situated in Shinjuku. Moreover, Shinjuku station is one of the most well-designed subway stations in the city, with numerous connections to Tokyo station. This is the spot from where you can board a Shinkansen bullet train and travel to other parts of Japan.
Imano Tokyo Hostel is a great option for solo travellers. It is located right in the centre of Shinjuku, barely a 5-minute walk from the shopping streets and the local Shinjuku-Sanchome subway station.
Clean, functional dorm rooms cost between 2500 to 3000 INR per night and private rooms with shared bathroom facilities are also available on site (Rs. 5000+ per night). Shower rooms and bathrooms are shared but are plenty in number, located right outside the dorm rooms.
Nine Hours Shinjuku-North is also a good option for solo travellers. It is also located in the heart of Shinjuku city. It's very near to Shinjuku Gyoen Park, Meiji Shrine, Tokyo Tower and Tsukiji Outer Market. 
It has extremely clean dorms that cost between 2000 to 3000 INR per night with a remarkably clean shared bathroom. 
The staff is friendly and proficient in English. A breakfast containing ham & cheese or tuna panini (alternates every day), and milk with granola is served daily and can be purchased for 600 Yen.
Breakfast is served at the trendy cafe and bar, located adjacent to the reception on the ground floor. Laundry facilities are available and a communal kitchen is open 24/7.
The Japan Rail Pass
The Japan Rail Pass is a fantastic option for exploring various parts while travelling solo to Japan. A 7-day pass costs 29110 Yen and gives you the benefit of unlimited train travel across Japan.
The Tokyo to Kyoto Shinkansen (bullet train) return ticket costs almost as much. Hence, with the JR Pass, you can not only travel from Tokyo to Kyoto with the venerable bullet train but you can also make day trips to Yokohama from Tokyo and to Osaka from Kyoto, at no extra cost.
Before you can receive a JR Pass, you have to obtain your Japanese tourist visa.
Take a copy of the Japanese Visa and the first & last pages of your passport to the KTC office in New Delhi (I did it from here). They will issue the exchange order within 30 minutes. This is a voucher/receipt that needs to be exchanged in Japan to obtain the rail pass.
You can also get the JR Pass here:
KTC GRAND TOURS UNIT OF KTC (INDIA) PVT. LTD.
ADDRESS
RZ-A/96, Road NO-6,
Street NO-9, Mahipalpur
Extension, New Delhi –
110037
PHONE NUMBER
011-47125200
Now that the basic aspects of Japan travel have been covered, I will start discussing the day-wise itinerary to ensure that you have a wonderful time while travelling solo to Japan.
Day wise Itinerary Break up if you're Traveling Solo to Japan
If you want to have a successful trip to Japan, it is recommended that you create and stick to your pre-planned travel itinerary. It will help you make the most of your time while traveling solo to Japan.
 Day 1
Arrive in Tokyo and arrange essential items for the rest of your trip
 Day 2
Discover the Various Districts of Tokyo
 Day 3
Osanbashi Pier and Cruise to Yamashita Park
 Day 4
Travel to Kyoto from Tokyo
 Day 5
Explore various Kyoto attractions
 Day 6
A Day Trip to Osaka
 Day 7
Return to Tokyo and board the Return Flight to Delhi (or your city of stay)
This was what my itinerary in Japan was like. Feel free to make changes in it, as per your whims and fancies. Furthermore, do try to visit for a longer time. Japan is so beautiful that I regretted going for just 7 days. 
Day 1: Arrive in Tokyo and arrange essential items for the rest of your trip
Take the Narita express train from Narita Airport to the city centre. Check in at your hostel/hotel, connect to the wi-fi and get a basic understanding of the city via Google Maps.
The first day while travelling solo to Japan should be spent resting and refreshing after a long flight. However, try to get a grip on the city as soon as you can.
Tokyo is a massive city with an enormous number of people. Therefore, grasping the important details of the city, such as transport options, walking districts and attractions, would make the rest of your trip more comfortable.
Two Public Transport Tips to Follow
Tip 1
Firstly, if you bought a Japan Rail Pass in your home country, go to Shinjuku Station (or any other train station in Tokyo) and hand in your exchange order to receive your JR Pass.
At the train station, look for the JR East Travel Service Centre. Here, you talk to an official who asks to check your passport and submit your exchange order.
You have the option to activate your JR Pass from a specific start date. From that start date, the pass will be valid for a week or more, depending on the duration that you purchased the JR Pass.
Tip 2
Secondly, a refillable Pasmo or Suica card should be purchased for convenient travel on the Tokyo metro. The card can be bought using an automatic ticket machine at any train station.
Both cards can also be used at most vending machines across the city. The cards offer virtually the same benefits, the only difference is that the Suica card can be bought at the government-run JR (Japan Rail) stations while the Pasmo card can only be purchased from private non-JR stations.
Moreover, the Pasmo or Suica card can also be used in other Japanese cities such as Kyoto, Osaka or Yokohama, thus offering a one-stop solution for all your regional travel needs in Japan.
Day 2: Discovering the Various Districts of Tokyo
After resting and overcoming jet lag on your first day in Tokyo, you're all set to explore the spectacular sights of the Japanese capital. 
I woke up early at 7 am, ate a quick breakfast and left the hostel by 8 am. My plan was to rush to Senso-ji temple as soon as possible since it is arguably the most visited attraction in Tokyo and perhaps even in Japan.
I took the Tokyo metro from Shinjuku Sanchome station to Asakusa station, eventually making my way to the magnificent yet crowded gates of the Senso-ji by 9 am.
Before I start describing each of the must-visit attractions in Tokyo, here are the different districts in the city, each worthy in its own right.
Things to do in Various Districts of Tokyo:
Shinjuku
Samurai Museum
Robot Restaurant
Shinjuku Gyoen
National Garden
Shinjuku Golden Gai
Shibuya
Meiji-Jingu Shrine
Yoyogi Park
Harajuku
Takeshita Street
Asakusa
Senso-ji Temple
Akihabara
Akihabara Electric Town
Roppongi
Roppongi Hills
My favourite district out of all of these was Shibuya. I believe that it truly depicted the fast-paced, ever-hustling life of Japan.
Now, let's look at the attractions in all of these districts in detail. 
Senso-ji Temple (Asakusa, Tokyo)
The Senso-ji is the oldest temple in Tokyo, dating back to 645 AD. The temple holds particular cultural significance amongst the local Buddhists since it became independent after World War II. It was built to honour Kannon, the goddess of mercy in Japanese mythology.
The bright red and orange entry gates lead to a jam-packed shopping street, aflush with clothes, souvenirs, and local sweets & snacks.
The Hozomon gate of Senso-ji contains a wide staircase that ascends to the main prayer hall of the temple.
The Senso-ji temple is free to enter and the grounds of the temple remain open 24×7. However, the main hall is open from 6 am to 5 pm every day.
Samurai Museum (Shinjuku, Tokyo)
After discovering the majestic Senso-ji Temple in Asakusa district, I decided to head back to Shinjuku. After some rest, I made my way to the Samurai Museum.
The Samurai Museum in Shinjuku throws light on the incredible history of the samurai in Japan. If you are a fan of Japanese anime like me, I would highly recommend this small yet highly informational museum.
An entry ticket costs 1800 Yen and includes a guided group tour around the premises. The tour ends with a truly unique photo opportunity: you can pose for the camera while yielding an attractive replica of a Katana sword!
Meiji-Jingu Shrine (Shibuya, Tokyo)
After Shinjuku, I headed to Shibuya, one of the busiest areas in Tokyo. In fact, the Shibuya crossing is often referred to as the most crowded pedestrian junction in the world.
During peak morning and evening hours, almost 1000 people cross at the same time. The Shibuya Scramble is an experience not to be missed while travelling solo to Japan. It symbolizes the 'method to the madness' mantle prescribed to this metropolis.
The urban sprawl of downtown Shibuya can swiftly be counteracted by a walk through Yoyogi Park, on the outskirts of the district. The greenery and large open spaces of the park soothe the senses while directly leading to the Meiji-Jingu Shrine, one of the most impressive places of worship in Japan.
The Meiji shrine opened in 1920, is devoted to the spirits of influential Japanese Emperor Meiji. The Shinto Shrine is surrounded by lush forest and numerous gates. Enormous volumes of sake and wine have been preserved in large barrels for numerous decades.
The exit to the Meiji Shrine extends to Harajuku station. Harajuku is the trendiest and most happening district in the city.
Apart from shopping, Harajuku is renowned for its delectable food. Throughout my time in Japan, I ate the best ramen here. For those with a sweet tooth, the district is famous for its crepes and waffles, catering to the desires of a massive foreign crowd.
Electric Town (Akihabara, Tokyo)
Finally, after a long morning and afternoon of sightseeing, shopping and feasting, I made my way to Akihabara. This district is immensely popular amongst tourists for being the consummate home of the Electric Town. The number of electronic stores in this district is scarcely believable.
Akihabara is a top choice for tech geeks and anime buffs alike. The place offers a myriad of products ranging from smartphones and tablets to laptops and cameras. It also offers a galore of home appliances such as ACs, refrigerators and TVs, being the icing on the cake.
Such a long day of sightseeing is likely to take a toll on your body. Therefore, I would recommend that before you enjoy the night, you take some well-deserved rest back at the hostel. After a power nap, you have a few options to experience the best of Tokyo nightlife: Shinjuku Golden Gai or Roppongi Hills.
Shinjuku Golden Gai & Roppongi Hills
The Golden Gai is an awesome street of tiny bars and pubs in Shinjuku, with the small size and traditionally-styled buildings promoting constant social interaction amongst people.
Roppongi Hills is a much more contemporary street of bars and clubs located in the Minato ward of Tokyo. If you are after a multicultural approach to enjoying the nightlife in Tokyo, you should choose Roppongi.
I personally decided to experience the traditional culture of pubs in Shinjuku Golden Gai, but the choice is up to you. Roppongi Hills is also a great option for solo travellers, appealing more to dancers and clubbing enthusiasts.
Day 3: Day trip to Yokohama
After having a long and fun night at the lovely bars in Shinjuku Golden Gai, I spent most of the next morning recuperating. After consuming a hearty breakfast, I left the hostel at noon. The plan for today was to make a short day trip to Yokohama.
Yokohama
Yokohama is famous for being one of the most beautiful maritime cities in Japan. Travelling to Yokohama is fairly easy from Tokyo. A direct 30-minute train ride on the Shonan Shinjuku line is the ideal transport option for Yokohama.
All regional travel is included with the Japan Rail Pass, making Yokohama a convenient choice for a day trip from Tokyo. Even without a JR Pass, a trip to Yokohama is affordable – with a return journey costing only 1100 yen.
Apart from being the birthplace of the globally recognized Yokohama Tyres, the city plays host to a range of attractions.
Cosmo Clock 21 Ferris Wheel
The Cosmo Clock 21 is a spectacular Ferris wheel situated inside the Cosmo World amusement park in Yokohama. The Ferris wheel is a great way to get a bird's eye view over the city of Yokohama.
The wheel is well-lit and brightly coloured at night. A single ride costs 800 Yen and lasts roughly 15-20 minutes.
Cup Noodles Museum
The Yokohama Cup Noodles Museum has been built as a tribute to the inventor Momofuku Ando. The museum contains informational exhibits tracking the history of the world-famous snack.
Admission tickets cost 500 Yen each. The most famous part of the museum is undoubtedly the ramen noodle creator, an area where you can design your own bowl of cup noodles to take home as a souvenir (costs 300 Yen extra).
Ōsanbashi Pier and Cruise to Yamashita Park
The Ōsanbashi Pier is located close to Yokohama station and acts as a popular ferry terminal in the city.
A direct 20-minute ferry ride takes you to Yamashita Park, an expansive public garden that offers waterfront views over the Port of Yokohama. On a pleasant summer's day in Japan, the park is the perfect location for a stroll.
Chinatown
Yokohama Chinatown is located adjacent to Yamashita Park. A fusion of Chinese and Japanese cultures has transformed this part of town into a unique destination.
The food in Chinatown is the best you can find in Yokohama – wonderfully diverse in palette, texture and taste.
Day 4: Travel to Kyoto from Tokyo
While Tokyo is the cosmopolitan and commercial heart of Japan, the country's second city Kyoto is the essence of old-world Japanese charm.
As the former capital of the nation, Kyoto has earned its thoroughly deserved claim to fame, thanks to a plethora of Buddhist temples, gardens, imperial palaces and Shinto shrines. The sumptuous food in Kyoto is fresh, organic and sustainable.
Travelling to Kyoto from Tokyo is covered under the Japan Rail Pass (as mentioned at the start of the article). The journey takes approximately 2.5 hours on the Shinkansen bullet train. Even with a JR Pass, it is recommended to book a free seat reservation before the journey, as the train tends to become extremely crowded.
Reserving a seat is simple: just go to the ticket office at any major train station in Tokyo, show your JR Pass, and finally book your preferred choice of seat.
Accommodation in Kyoto
Kyoto Station is located in the centre of the city, well connected by both the Kyoto Subway as well as the city bus network. Kyoto houses Piece Hostel Sanjo, rated the second-best large hostel in the world. As soon as I found out the lofty stature of this hostel, the decision of where to stay in Kyoto was simple.
My expectations were more than satisfied upon check-in. The friendly Japanese staff greeted me with a warm welcome and showed me around the various areas of the hostel. The contemporarily stylish communal space of the hostel is a real charm.
The Piece Hostel Sanjo is a functional, modern kitchen decked out with comfortable furniture and tableware in the dining areas. The kitchen gives way to the serene outdoor courtyard – the perfect place to catch some rays, get some downtime or socialize.
The rooms are basic, yet comfortable. Dorm rooms contain either 10 beds or 4 beds and cost approximately Rs. 1800 and Rs. 2000 respectively. Twin rooms with shared bathroom facilities are also available for a nightly rate of around Rs. 4000.
Bathroom and shower facilities are shared but both amenities are present in abundance. A wholesome breakfast is provided daily, at no additional charge.
The property is within walking distance of Sanjo train station and Karasuma subway station.
Nine Hours Kyoto
Neo Future Capsule also offers many facilities to enrich your stay in Kyoto. Free Wi-Fi in all rooms,  facilities for disabled guests, and luggage storage are just a few of the facilities that set Nine Hours Kyoto – Neo Future Capsule apart from other hotels in the city.
After checking in to the plush facilities of Piece Hostel Sanjo, I decided to utilize the rest of the day as best as I could. First, I headed to the picturesque Kiyomizu-Dera temple in the eastern part of the city.
Kiyomizu-Dera Temple
This iconic Buddhist temple was opened in 778 AD and today commands a hillside position over the idyllic parts of the city. A long, uphill walk leads to the main temple but the approach is also worth mentioning. Although crowded, the streets are filled with elegant Japanese stores and restaurants.
After embarking on the mini hike, you are greeted by a jaw-dropping view of Kyoto. The exquisite architecture of the temple dates back to the ancient Japanese Buddhist era.
The bright vermilion gates are offset by the neutral shades of black on the roofs of the building. The three-storied pagoda is another charming component of the Kiyomizu-Dera temple.
Ginkaku-ji Temple
The Ginkaku-ji or Jishō-ji is a Zen temple in Kyoto, commonly referred to as the Silver Pavilion. The golden pavilion or Kinkaku-ji (more on that in Day 5) might be the more glamorous counterpart, but Ginkaku-ji is still worth visiting.
The complex is open daily between 8:30 am and 5 pm, with admission costing 500 yen per person.
Day 5: Explore various Kyoto Attractions
Your first day in Kyoto is likely to be a laid-back warm-up session in the eternal city. The second day is where the adventure begins and exploration awaits. I would strongly recommend waking up as early as possible to skip the gargantuan crowds in most major Kyoto attractions.
Arashiyama Bamboo Grove
After an early rise, I headed to the Instagram-famous Arashiyama bamboo grove.
The morning sunshine casts an ethereal glow on the towering bamboo trees. Apart from the bamboo forest, Arashiyama is also home to a large monkey park and the tranquil Okochi Sanso Garden.
These gardens are a peaceful escape away from the crowds of the bamboo forest. Entry costs 1000 Yen and includes a cup of traditional Matcha tea and a Japanese sweet.
Kinkaku-ji Temple
The Kinkaku-ji or Rokuon-ji is a Buddhist Zen Temple in Kyoto, commonly described as the golden pavilion. The serene aura of this temple soothes the senses. Furthermore, the breathtaking gold facade of the temple casts a dazzling silhouette on the surrounding lake and gardens.
As one of Japan's most-visited sights, Kinkaku-ji receives a tremendous influx of tourists every day of the year. Thus, I would suggest getting there just in time for the opening – at 9 am or just before the closing at 5 pm. Admission costs 400 yen.
Fushimi Inari Taisha Shrine
In popular opinion, the spellbinding Fushimi Inari Taisha shrine is the greatest Shinto shrine in Japan. It is easy to see why – the striking orange and red torii gates, more than a thousand in number, guard the main shrine.
Fushimi Inari Taisha is the head shrine amongst over 30,000 smaller shrines across the country, all dedicated to the Shinto god of rice Inari. An expansive labyrinth of trails leads up to the shrine atop Mount Inari.
Dating back to 711 AD, the shrine consists of five symbolic pillars, in conjunction with a network of fox statues. It is believed that Inari sent messages through foxes.
Due to its mountainous location, the walking route can be challenging for some people. However, the awe-inspiring view from the summit of Mount Inari is well worth the estimated 2-hour hike to the top, This is especially true around sunset time.
Day 6: Day Trip to Osaka
Barely an hour away from Kyoto, lies the wonderful port city of Osaka. It's famous for its delectable street food and commercial trade and is a contemporary paradise.
After the peaceful retreat of Kyoto, Osaka offers the bustling attraction of a major Japanese city, in a similar vein to the more illustrious Tokyo.
There are plenty of sightseeing options in Osaka. While traveling solo to Japan, visit them all.
Shinsekai Street and Tsūtenkaku Tower
Shinsekai Street in downtown Osaka is the embodiment of quirky Japanese pop culture. With the northern half being modelled on the Parisian architectural style and the southern end taking inspiration from the glitzy skyscrapers of New York, Shinsekai is a glorious fusion of global culture in a Japanese setting.
The street food here is amongst the cheapest yet the most delicious in Japan. Pop-up, in-your-face art is applied to portray traditional Japanese cuisine including Gyoza (fried pork dumplings), Ramen (pork/egg noodles served in a thick broth), Sushi, and an array of seafood including octopus, lobster, mackerel, salmon, tuna and cod.
Bang in the centre of Shinsekai street, lies the Tsūtenkaku Tower. As a popular landmark in Osaka, the tower provides access to an elevated observation deck. It offers panoramic views reaching as far out as the neighbouring city of Kobe. The observatory of the tower is open for admission from 9 am to 9 pm, and tickets cost 700 Yen each.
Umeda Sky Building
The Umeda Sky Building is a spectacular skyscraper in Osaka. Located north of Osaka station in the city centre, the high-tech architecture of the tower is a sight to behold.
40 floors extend to a height of 173 m in this striking structure that was constructed in 1993 using a reinforced mixture of glass and steel.
The Umeda Sky Building is at its best at night, when the vivid neon lights of the concrete jungle yield an amazing spectacle. The observatory is open every day from 09:30 am to 10:30 pm and entry cost 1000 yen. While traveling solo to Japan, do visit here.
Dōtonbori Canal and Street
The Dōtonbori area is often termed as the bright beating heart of Osaka. The Dōtonbori canal runs through downtown Osaka, surrounding which lies the lively entertainment district of the city. 
Short boat cruises pass through the canal, and a limitless frenzy of tourists run amok on the streets adjacent to the canal. Despite being jampacked, Dōtonbori symbolizes Japan at its very best.
Therefore while traveling solo to Japan, you have got to pay this place a visit.
Day 7: Return to Tokyo and board the Return Flight to Delhi
After one of the best weeks of my life, it was time to bid farewell to the 'Land of the Rising Sun.' Japan has been an incredible host to me, and I felt grateful to have been embraced with open arms.
Before visiting, I thought that the language barrier was going to be a challenge that would hamper my trip. However, this hurdle was merely an unnecessary mental construct rather than a real worry.
Food in Japan
Japanese cuisine is unanimously regarded as one of the tastiest and healthiest in the world. However, apart from Sushi which has seeped through global markets and become a culinary phenomenon, the country of Japan is home to many more traditional dishes that have not yet received the attention that they deserve.
While traveling solo to Japan, you have got to invest time in eating the various Japanese delicacies. 
The flavourful broth of Ramen noodles tastes delicious with succulent slices of pork, topped with a soft boiled egg. Deep-fried Gyoza pork dumplings are a delectable and wholesome evening snack. Finally, battered seafood dishes constitute the appetizing tempura style of Japanese cooking.
Sashimi refers to slices of raw meat and fish, whereas Nigiri is the most common type of sushi cooked with rolled rice, seaweed and fish.
Tofu is cooked in numerous styles and sauces, offering a savoury vegetarian alternative to the general meat and fish-heavy Japanese cuisine.
What Eating Places to Stop by While Traveling Solo to Japan?
You are likely to find delicious Japanese dishes wherever you go but some of my favourite restaurants are being listed below city wise –
Tokyo
Smoke Dining Shinjuku
Kyushu Jangara Ramen Harajuku
Shinjuku-Sakaezushi
Kyoto
Kairikiya Kawaramachi Sanjo
Ramen Miyako Gion
Osaka
Yokozuna Tsutenkaku
Gyozaoh Dotonbori
Frequently Asked Questions by Folks Traveling Solo to Japan
There are a few more questions that first-time travelers to Japan are curious about. I have tried to answer these questions based on my experience.
1. While traveling solo to Japan, should I carry cash?
Yes. Don't rely on digital payments. While many places do accept international credit cards, most places accept only cash. Carry the estimated cash you would require for the day, along with a buffer amount for unexpected circumstances.
2. While traveling solo to Japan, can I trust locker services?
Absolutely. In Japan, you can store your luggage at the locker services available at bus, train and metro stations. If you don't somehow find space there, visit a department store. They sometimes offer similar services.
Alternatively, you could try storing your luggage for a short while at the lockers in the attraction you're headed to.
3. Do I need to learn the Japanese language before traveling solo to Japan?
Not required. But you should try to learn some basic phrases if you can (the ones I mentioned above).
4. Is getting a Rail Pass recommended while traveling solo to Japan?
Surely yes! The Japan Rail Pass is the most cost-effective way of traveling throughout Japan. With the JR pass, you can travel on all JR national trains in Japan, including the Shinkansen bullet trains and Narita Express.
The pass also allows you to travel for free on the Yamanote Line in Tokyo and the Loop Line in Osaka.
5. As a woman, should I avoid public transport during peak hours?
Yes. However, some cities do offer women-only carriages during peak travel hours. Check for them before you board the train.
6. While traveling solo to Japan, what things should I take care of if I have Tattoos?
Tattoos are traditionally associated with criminals in Japan. Certain places like spas and public pools do not allow anyone with tattoos in such places. However, if you have a smaller tattoo, there might not be any problem. So, to avoid an unpleasant experience, check with the staff before you go in.
7. Should I be aware of any dangerous groups while traveling solo to Japan?
Night club gangs operate in certain bars and pubs. Some people might lure you into buying alcohol and food, and hand you a gigantic bill at the end. If you refuse to pay, they threaten you with dire consequences.
8. If I visit a native household traveling solo to Japan, should I take off my shoes?
Always. Japanese households generally have separate slippers for indoors and for the restroom. Never wear outdoor shoes inside the house, or indoor slippers into the restroom.
9. Do I need to offer something special while traveling solo to Japan temples?
Coins would do.
10. How much do I need to tip waiters at eating places while traveling solo to Japan?
None. Tipping is offensive in Japan.
11. While traveling solo to Japan, should I stick to an itinerary?
Yes. It makes traveling solo in Japan fairly easy.
12. Any emergency numbers for people traveling solo to Japan?
110
13. Is traveling solo to Japan expensive?
Yes
14. How to save money on accommodation while traveling solo to Japan?
Stay in Hostels
15. What is the best budget tip for a visitor traveling solo to Japan?
Travel off-season
16. When traveling solo to Japan, can I ask for help?
Yes. Japanese people are really approachable. They won't mind helping you if you are a little lost.
17. When traveling solo to Japan, what taboos should I be aware of?
1.      Avoid loud and unpleasant behaviour in public.
2.      Don't blow your nose in public
3.      Don' break the lines
4.      Don't eat while you walk.
18. Is smoking allowed in public places?
Smoke only at the designated smoking points to avoid being fined.
19. Is traveling solo to Japan safe?
Japan is one of the safest countries for travelers – both solo and groups. However, it doesn't mean that there is no crime. Just be careful and try to stay out of trouble.
20. Where to shop when traveling solo to Japan?
Train stations like Tokyo, Shinjuku, Kyoto and Osaka, are great places to shop. There are a variety of goods available here that you might not find elsewhere.
Solo travel is not only a tour of regional exploration, but it is also an experiential journey of self-discovery. It is, for this reason, I would like to end the article with a tribute to my recently-deceased idol Anthony Bourdain.
"If I'm an advocate for anything, it's to move. As far as you can, as much as you can. Across the ocean, or simply across the river. The extent to which you can walk in someone else's shoes or at least eat their food, it's a plus for everybody. Open your mind, get up off the couch, move".
Happy wayfaring. 🙂