Traveling in a wheelchair has helped me explore the world on my own. It has made me let go of all fear and allowed me to fulfil my innate desire of wanderlust. Today, when I look back, I can proudly say that traveling on my own has been one of the best life decisions that I've ever made.
In this blog, I share my journey of travelling in a wheelchair with you all. I hope this inspires people in similar situations to get out there and explore the world.
Traveling in a Wheelchair – My Story
I was diagnosed with Rheumatoid Arthritis at the young age of 15. I didn't think it to be serious back then. However, it got worse with time and when I hit college; my limbs gave up on me. I was bedridden for two years straight. Thankfully, I did manage to earn a college degree.
The fact that I was struck with a serious limb condition for life did not hamper my mental faculties. Instead, it made me more determined as a person. I did not allow a biological condition to interfere with my dreams.
The travel bug was present in me from the beginning. I just had to find a way to get it out. That is when I first thought of traveling in a wheelchair. It all happened during a trip to the Vaishno Devi Shrine in northern India. Back then, I traveled with my friends. In fact, they were the ones who motivated me to get out and go on that trip with them.
Perhaps, they felt that by taking me along, they would be doing seva (a noble act done for improving one's karma) or maybe they just loved me too much. Whatever it was, the Goddess in that shrine surely blessed me that day. When I returned home, I had made up my mind about traveling in a wheelchair around the globe.

It might have sounded crazy to most people when I declared back then that it was my heart's desire to get a visa stamp of almost every country on my passport. Well, now about two decades later, my wish is on its way to coming true.
I started traveling in my early 30s. Very soon, I will enter my 50s. The good thing is that I will enter my 50s after covering countries spanning 6 continents. The 7th continent is Antarctica and that too will be covered soon. I have been planning to go there for a while. So I will make sure I end up there soon.
In my current blog, I will be sharing my 'travelling in a wheelchair' experience with you. Also, I will try my best to offer some quality travel advice for differently-abled individuals.
If my travel insights, challenges and ways to overcome them can make a difference to even one person, that will surely make my journey worthwhile. My intent is to encourage more and more individuals to travel despite their biological disability.
Traveling in a wheelchair comes with its own set of challenges. For somebody who needs a wheelchair even to move around one's own house, traveling far and wide can seem like a distant dream. Actually, more like an impossibility. 
However, do not ever allow that to demotivate you in any way. You can surely travel in a wheelchair around the world. All you need to do is to let go of all fear. Trust me; it is bigger in your head. The world isn't that bad a place. 
I say this because somebody with a severe rheumatoid Arthritis condition like me was successfully able to go paragliding in Taiwan, zip-lining in Ecuador, snorkelling in Australia, solo traveling in Alaska, sailing in Galapagos, lake camping in Alberta, island hopping in the Bahamas, indulging in luxury in Switzerland and the list goes on and on.
If I can accomplish all of these adventurous things, so can you. It wasn't easy for me and it won't be easy for you as well. But it will be worth it for sure. That much I can promise.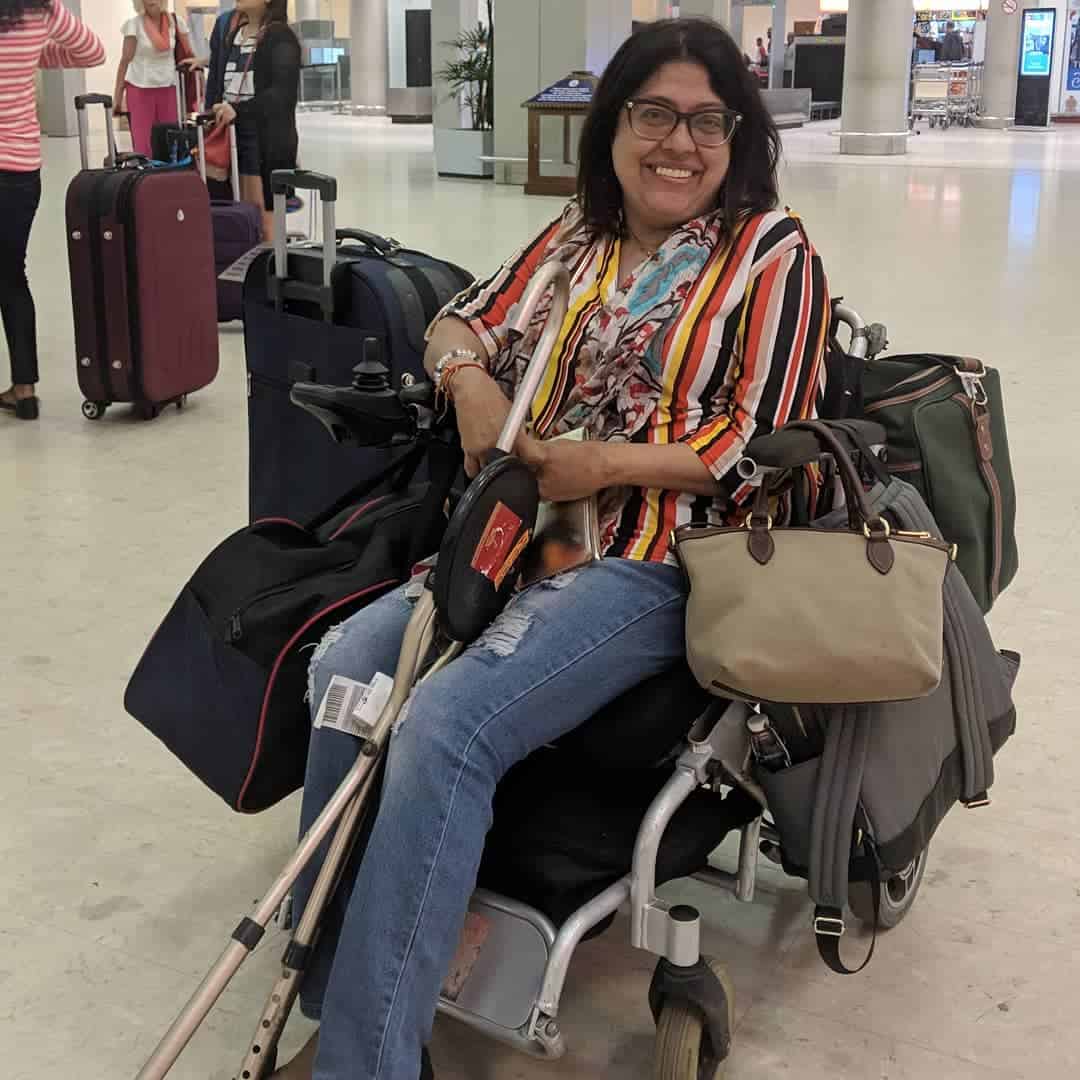 The travel bug was present in me from the beginning. I just had to find a way to get it out and I'm glad that I did. The fact that I was struck with a serious limb condition for life did not hamper my mental faculties. Instead, it made me more determined as a person. I did not allow a biological condition to interfere with my dreams. 
This is me at St. Moritz, Schweiz in the magnificent country of Switzerland. I believe that every once a while, everyone should pamper themselves in some luxury. St. Moritz provided that perfect luxury to me. A fine alpine resort town in Switzerland's Engadin Valley, St. Moritz is beauty personified.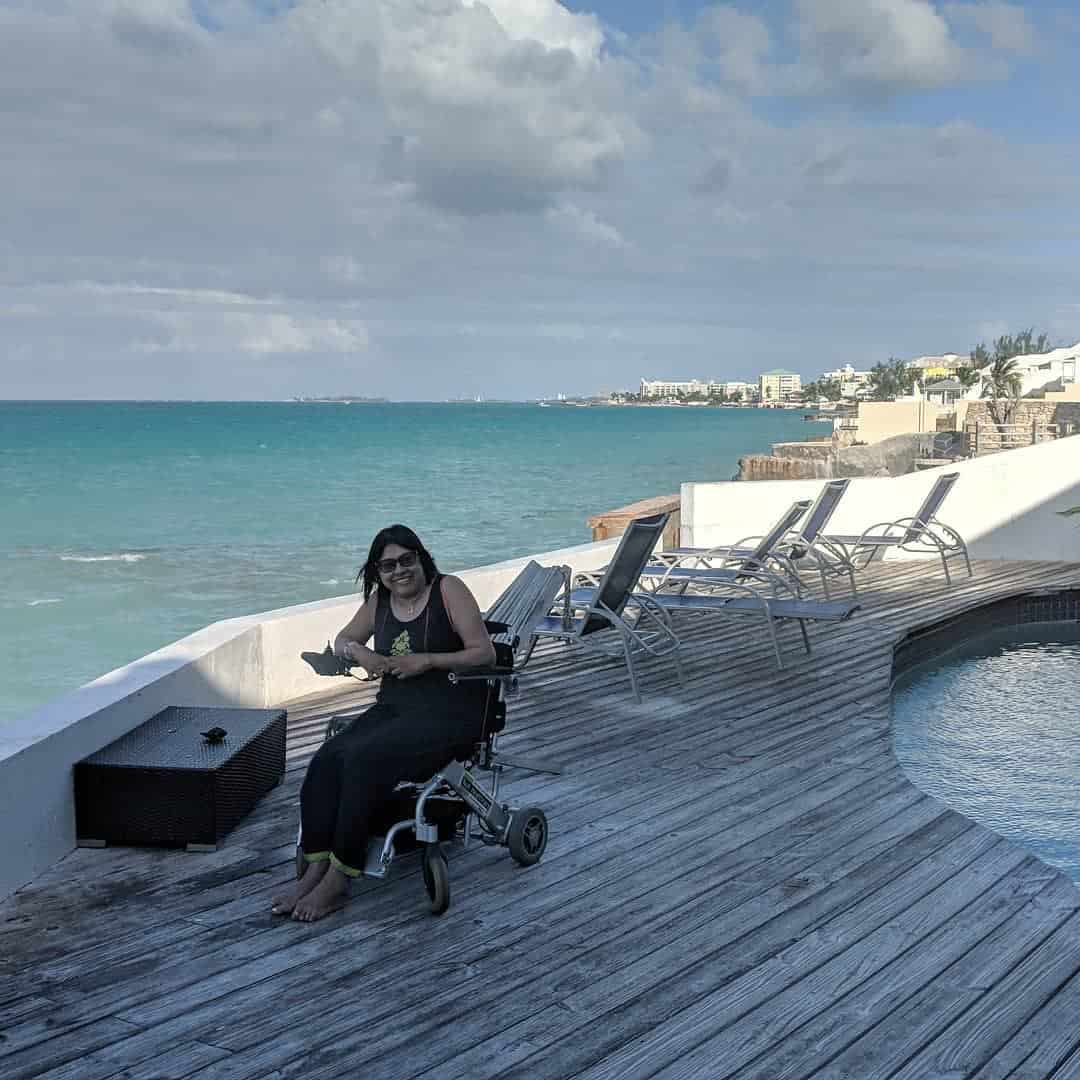 Sitting by the tranquil sea waters of the Bahamas has been one of my most serene experiences. Gazing at the waves, sipping some ice tea and feeling thankful to nature for being so wonderful are the things that describe my trip. 
Getting Started as a Wheelchair Traveler
Attempting anything new is often scary. After all, you are making an effort to get out of your comfort zone. This holds true for wheelchair travel as well.
There are certain aspects that every wheelchair traveler ought to know. Since nothing feels better than sharing knowledge with people who need it most, let me highlight those aspects with you below.
Key Points that Every Wheel Chair Traveler Ought to Know
I have been traveling in a wheelchair for over two decades now.
So based on my own personal experience, I'd like to share some key points regarding planning and pursuing wheelchair travel.
Conducting ample research online is paramount before making travel plans
It is extremely important that you get started by conducting ample research online. This will not only help you in being aware of the destinations that are wheelchair friendly but also make you more confident as a traveler.
You should either be doing the research yourself or somebody you trust should be doing it for you. Even if someone else is doing the research you must participate in it because only you are the one who knows your abilities and requirements.
In my case, a dear friend of mine – Priya Chandrasekhar who was also my travelling partner for most of the trips in India did most of the research for me in India. I am extremely thankful to her for guiding me through all my religious trips of India especially with such detailing.
Try being a part of a credible travel forum or an online group
 Travel forums and online groups make for some of the most credible sources of wheelchair travel information.
Individuals who have been traveling in a wheelchair themselves will guide you much better than any travel agency. So reach out to those travelers online.
The best part about these forums is that not only can you get your concerns addressed here but also help others get their queries answered.
Accessible Travel Forum and Disability Travel Forum by Flyer Talk are two such platforms. Be a part of either or both of them and connect with fellow wheelchair travelers.
Let your airlines know about your condition in advance
If you choose to travel by air, it is important that your airline knows about your biological condition. Therefore, either mention this at the time of booking itself or call the airline at least 48 hours before departure.
Inform them about your wheelchair requirements and they will arrange it for you. In major airports around the world, there are wheelchair and handling staff available in the passenger drop area to assist passengers with special needs.
If you've booked your flight through a travel agent or tour operator, they should report their disabilities directly to the airline.
For some reason, if you haven't let the airline know about your condition then reach out to the staff at the check-in counter or any other individual on ground duty. You can get wheelchair assistance at the airport just by asking for it at the counter.
However, I highly insist that you make your condition known to the airline beforehand. This is to avoid any last-minute hassle. Also, your 'special needs wheelchair' must be available before your flight.
Understand the batteries of your wheelchair
Airlines around the world have different safety policies for how batteries are handled or stored. This is based on the type of batteries – wet, dry, lithium etc.
If your wheelchair is battery-operated, you have to know the kind of batteries being used. You will be asked for specific information about the battery size, battery type, model etc. by the airport authorities before check-in.
Policies and procedures are different from airline to airline and they must be complied with. You might be required to fill in proper documentation prior to checking in your mobility scooter or power wheelchair.
Ask for real proof from accommodation owners
While booking a hotel or a homestay, please ensure that the room you will be staying in will be wheelchair friendly. 
You should know what kind of bed you will be sleeping in, what kind of washroom you will be using, what the height of the bed – so on and so forth.
Before you make the booking, reach out to the hotel staff or the owner of the home stay and ask them to send you few pictures of the room. Do this even if there are pictures online.
You need to ensure that you have a comfortable stay. Also, the staff needs to be accommodating. If they can't even send a picture, it isn't worth staying in their property.
Stay in parts of a locale that are easily accessible
Travelling in a wheelchair will require you to not just book a hotel that suits your needs but also its location. Location matters because it will determine the level of ease or difficulty of sightseeing around for you.
For instance, you should know the kind of road that leads from the main entrance of your hotel. You should know if your place of stay has good restaurants in its vicinity. You should know if the street of your hotel is rough or smooth. Things like this make a difference.
So my point is that it is crucial to research the hotel's neighborhood. An easy way to do this is by using Google Maps Street View to get a feel of the locale.
In case you feel that the locale might be a problem, reach out to your hotel and ask questions that concern you. If you are not satisfied, book your stay elsewhere.
Prioritize places that have transport options for wheelchair travelers
One of the greatest hardships that you might face while traveling in a wheelchair is the lack of transportation options for you. This especially includes internal transport modes like buses, trains, metros, cruises etc.
Now in many places around the world, there are buses, trains, and cabs that are wheelchair friendly. However, in a lot of other places, wheelchair-accessible modes don't even exist.
Therefore, before planning a trip, you should know about places that will provide you with wheelchair-friendly transport and places that will not provide you with any such thing.
Do not travel to destinations that you are not sure about. Otherwise, you will end up sitting back in your hotel room and not be able to go for any sightseeing.
Understand your routes in advance
Understanding routes in advance will help you stay at ease during your trip. When you go around sightseeing, there is a possibility that there is more than just one possible route to help you reach the desired location.
Now you should know about the route that is wheelchair-friendly. A route built for wheelchair pavements will be of help.
Again, research done online will help you with this. I suggest that you research the accessibility of sidewalks, bus routes, subway stations, and the location of accessible building entrances before your trip.
Always make a prior list of the medical supplies that you might need
Medical supplies can be crucial to any traveler. So it is of utmost importance to stock them up in your bag and then pursue the trip.
Travel with complete packages of essential medication in case of emergency. Store all medications and other necessary medical supplies in your carry-on bag.  Bring all extra medication along.
Know about the legit perks that you may be able to avail
Many times, sightseeing places offer individuals traveling in a wheelchair certain perks.
This can include skipping lines at the entrance of places, getting an assistant, availing special wheelchair spots at music fests or big events, using private washrooms etc.
Know the perks that are in store with you.
Carry the complete set of wheelchair documents
Carry all the documents related to your wheelchair. Having proper documentation will serve as legitimate proof of your condition. Hence, it will help you immensely at airports, sightseeing places, music concerts etc.
Also, in case you fall ill at a new location, the doctors there will understand your condition and be able to offer proper treatment.
Ask questions before hiring a tour guide
During your trip, if you plan to hire a tour guide, ask him/her all the questions that bother you. After all, your safety matters.
Feel free to ask about the routes being taken, about his/her prior experience with wheelchair travelers and most importantly about his license.
Be aware of your rights as a differently-abled traveler
Most countries around the world have framed a set of guidelines, even civil rights. These are meant to protect travelers with special needs.
Whether you are travelling with an airline or are staying at a hotel or dining at a restaurant, you have rights to equal access in most parts of the world.
Please be aware of your rights. If you are treated unfairly, protest and ensure that you are given your fair share.
Never shy away from seeking help
Human beings are social animals. We are the Earth's dominating species because, over the years, we have sought help from our kind.
Therefore, do not ever hesitate to seek help in case you need it. Trust me, you will find strangers who will help you out.
No matter how well you plan your trip or how aware you are as a traveler, there can be unforeseen situations. In times like that, reach out to people.
Remember that being hesitant won't help. Communication will help you out of a situation.
My Quest to Explore the World
Travel is something that always fascinated me. The urge to travel and explore the world did not end by my biological condition. On the contrary, the feeling grew even stronger.
I knew I had to fight the odds and overcome all hidden fear. It wasn't easy at first but once the travel bug hit me, there surely was no looking back.
Today, I have been able to cover  33 countries spanning across 6 continents. All of this has been done with me travelling in a wheelchair.
I make it a point to take one international trip and one religious trip each year. This has helped me grow as a person tremendously.
I've been to the coldest of places during the winter season like Alaska and England. I was told to not visit colder regions owing to my condition. But I did it anyway and I'm just fine.
I've been to tropical havens like Bali and Malaysia and basked in the sun. I've made my way through a not very wheelchair-friendly China and a very generous Dubai.
I've traveled by local buses in New York Melbourne and used the Euro Rail in Europe.
I've witnessed the most intriguing species on Galapagos Island. I've traveled my way in a boat there and thoroughly enjoyed the waves splashing against my face.
I didn't fear for my life in situations like this. Instead, I felt grateful to the creator for making this beautiful world.
In all of my trips, the only thing I've learnt is that in life the philosophy that makes us win is,"to each their own." Only you can stand up for yourself. Only you can fight fears. Only you can be 'you.'
Traveling Solo in a Wheelchair
When I first started traveling, I wasn't quite sure about heading out solo. It took me a couple of trips with close pals to build that kind of confidence.
I guess this is common to all solo travelers. My case however was extreme in the sense that I wasn't just supposed to travel but do so confined to a wheelchair.
I didn't realize that time that my wheelchair would become like a companion. Back then, I traveled in a manual wheelchair. As the years passed, I was gifted the automatic wheelchair by my cousin brother in law. It was a blessing and turned out to be my travelling partner which gave me life and made me a confident traveler
I took a trip with a few friends in Malaysia and allowed myself to be there on my own for 2 complete days. However, I did not stay there for 2 days. I booked my flight to Bali. That was the first time that I was actually traveling solo.
On returning to India, I was sure that I wanted to do this again. Hence, I reached out to a few travel companies to arrange tours. But they did not allow me to wander out solo fearing for my life.
So I knew that I had to travel completely on my own. I had to do my own research and plan my own trips. My friends and family became my moral support once they saw my confidence and urge to travel. My brother especially would tell me to go to countries where he had his friends and call them to accommodate me if possible and look after me if I needed help. 
This is me posing for the camera outside a winery in Queensland, Australia. This region is not only one of the most wheelchair travel friendly in the world but also quite safe for solo women nomads like me. 
At a bridge in Ohio trying to power my way ahead. In recent times, various states across the United States of America have become flag bearers of 'accessible travel.' This makes these locales a delightful experience to visit. 
Taking a night stroll in Istanbul, which by the way is adorned with rich heritage and historic architecture at every nook and corner. Istanbul has deep influences from Rome, Greece, and even Venice. 
Why is Traveling Solo Important for Me?
Traveling solo gives me the feeling of being free. It emancipates me. It empowers me.
I do not prefer asking people to travel with me. They have a life of their own and so do I. Being on my own and exploring newer territories is something that inspires me.
My battery-driven wheelchair provided me with the flexibility of traveling long distances without draining myself out. It has become a substitute for my legs and in turn walking.
Most of the time, I am not able to bend down. In those times, I carry a scratch hand with me that helps me pick stuff from the floor.
There are times when I cannot stand for long but I still have to bathe. Carrying a wheelchair isn't always possible to the washroom. So, I have this tripod stick that I use to sit and then take a bath.
I am sharing this because traveling on my own has helped me find solutions for all of these things over time. They have made me more independent and able. I have discovered ways to tackle my problems which in turn have helped me cope with my disability.
The Significance of My Homeland – India
India is a place that is most dear to me. It was here where my tale of wanderlust first began. The Goddess Vaishno Devi has been most kind to me.
She has blessed me with grace and the strength to live life in my own conditions. She made the trip so convenient that I was taken like a flower and brought back like a flower.
I have been traveling in my wheelchair across the length and breadth of India. I have been thrilled to enjoy the diversity of my land and its people. It's overwhelming at times.
Indian Locales that Inspire Me
There have been places that have made an impact on me.
Foremost among them are the Golden Temple at Amritsar, the trekking route to Hemkund Sahib, snow clad Himalayas of Kullu and Manali, beaches of Goa, forts of Jodhpur and Jaisalmer, tea estates of Ooty and Coonoor, interiors of Rajadmundry in Telangana and the tiger sightings of Jim Corbet National Park.
My cousin sister is a top actress in southern India – Bhoomika Chawla. I have to thank her for making me visit a lot of these places during her shoots.
There were times that whenever I wasn't traveling solo, I was traveling with her.
In a palki (palanquin) on my way to Gurudwara Shri Hemkund Sahib Ji. This is a pilgrimage site for Sikhs from all over the world. I am thankful to the almighty for helping me reach the holy site. As a wheelchair traveler, I try reaching out to people for help. I've realized that the world is full of noble souls. 
This is me seeking blessings from a priest at a Goddess's shrine in India. My faith in the celestial powers is increasing with every single trip that I undertake. After all,  my journey to travel across the world began with the blessings of the supreme Goddess.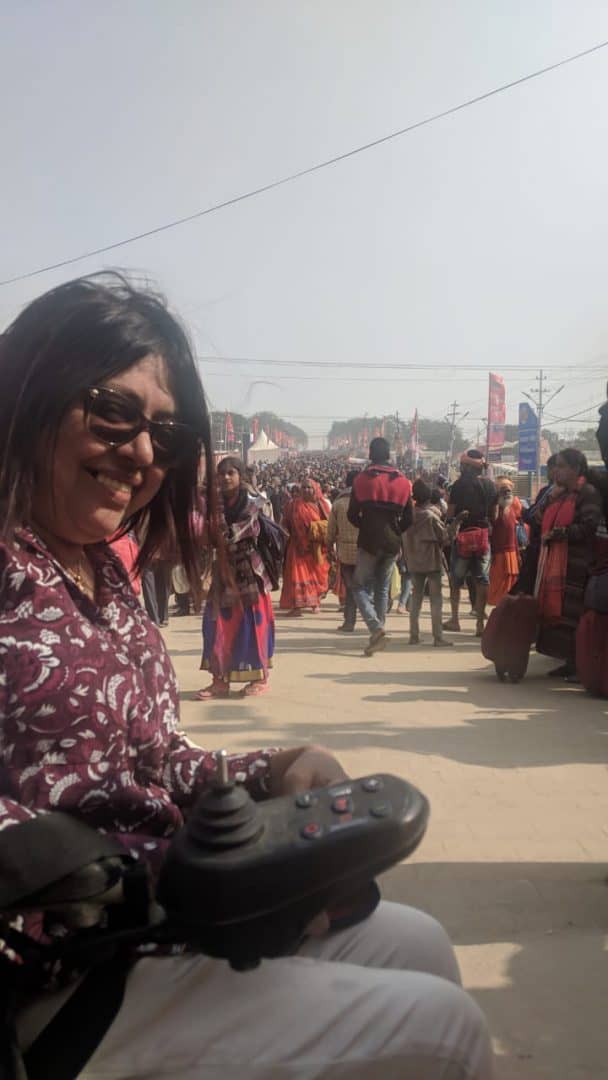 I made it to the Kumbh Mela at Allahabad. The Kumbh is a mass Hindu pilgrimage of faith in which lakhs of people, especially Hindus gather to bathe in the sacred Ganges river. I feel happy that I made it here despite the huge rush. 
Feeling the Almighty's Grace
I have been to shrines where I have literally felt the Almighty's grace on me. One such experience happened at this place known as Ukhimath.
Ukhimath is a sacred place where the idols of Badrinath Temple are kept after Diwali for Darshan (the opportunity to visit an idol or a deity). During that time of the year, Badrinath is surrounded by snow. Hence the idols are brought to Ukhimath which lies at a lower elevation.
On my visit to Ukhimath, I rode in my manual wheelchair. Once I reached the first step that led to the temple, I was able to climb 13 steps on foot. My God, I was thrilled that I made it halfway on my own feet.
After that, I sat in the wheelchair again as I was on the temple premises. Once the pooja (an act of worship) was done, I wanted to climb down on my own but my body didn't allow it. At that moment I prayed in my heart that a miracle would happen and somebody would come and offer help.
At that very instant, the chief priest came himself and offered to lift my chair along with 3 other priests. I will never forget their help and the fact that my prayers were answered indeed.
Pursuing Adventure
I couldn't even imagine a few years back that somebody like me would not only travel to the most extreme parts of India but also pursue adventure there.
Speaking of adventure, I must share with you how I landed in the snow in Gulmarg of Kashmir Valley. Gulmarg is an extremely beautiful hill station in Kashmir Valley. One needs a cable car to reach its higher regions filled with snow.
I traveled to Gulmarg with a couple of friends. We were a little late and by the time we reached the top of the summit in a cable car, the authorities there told us that it was closing time. I couldn't miss my chance to view and feel snow and so I asked them to spare some more time.
My persistence made them listen and I finally did the impossible – I touched snow at the highest point there. But I did not do so alone. I hired a man who helped me reach on top. He skillfully moved my wheelchair and made it land on the highest point in snow. I won't ever forget that experience.
Exploring Extreme Places
Besides Gulmarg (which attracts a lot of tourists), I've been to the most extreme places like Yamunotri and Gangotri glaciers (where very few people travel). Also, to Shiva shrines like Kedarnath and Badrinath.
These places lie up in the mountains. I guess my faith in the almighty and in myself have helped me reach there. "Jai Guruji" (praise for my spiritual master) are words that ring in me strong.
A picture from my trip to Gulmarg. Nobody and I mean nobody had expected that I would make it to the top of the ice-clad summit but I did with the help of a helping man. I firmly believe that faith moves mountains.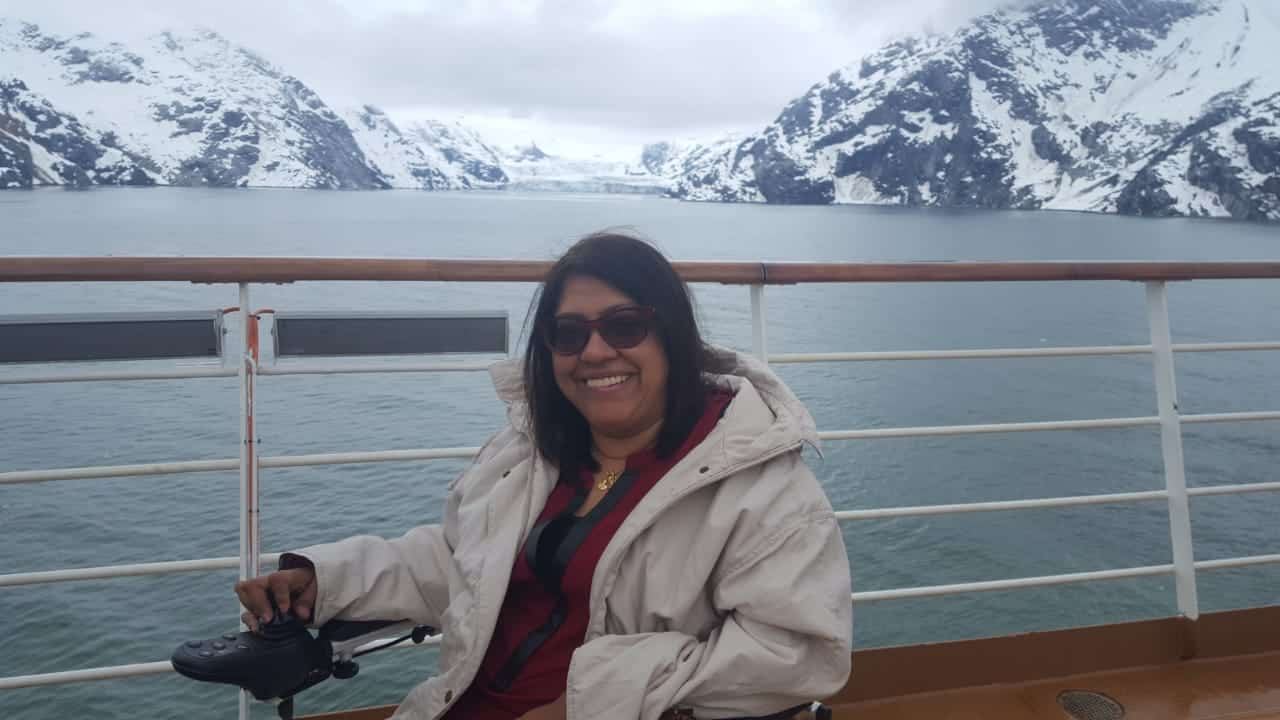 Amidst the snow clad peaks in Alaska. This was an extreme location and yet I made sure I travelled here with full zeal. A lot of people advise me against visiting extreme places but I guess where there is a will, there always is a way. 
Check out the pretty rainbow behind me in this picture. This is me in Fiji by the deep blue waters of the Pacific Ocean. Who would have thought I'll travel here someday but I'm ecstatic that I made a decision and saw this part of the world. 
Wheelchair Friendly Nations
Since I have managed to travel to more than 33 countries, I know for a fact that some are more wheelchair friendly than others. So I want to share about them with you.
I found Dubai, Australia and the United States to be the most wheelchair friendly nations. It is nice to see the government there working towards a more inclusive nation for travelers like me.
Not so Wheelchair Friendly Nations
China surely isn't wheelchair friendly. This is surprising because it has developed a lot on other parameters.
My own homeland – India isn't wheelchair friendly either. This makes me sad because there are so many other people like me who are waiting to delve into its diversity and rich heritage.
If we make our country friendly for wheelchair travel, we won't just make it accessible to thousands of tourists but also earn a good amount of revenue for the tourism sector.
The silver lining, however, is that in recent times, a few cities around India are making themselves more accessible to wheelchair travelers.
We still have a long way to go but I am sure we will be there soon.
Language Barrier
Even though I've traveled far and wide, there are still times when language becomes an issue for me.
I've faced two such instances to date. One in China and the other in South Korea. I guess the fault was mine because I should have thought this through. But then again, these two were my earliest countries of travel. So, I had no idea back then how much can not knowing a language cost me.
It did occur to me that language could be an issue here. Bit didn't realize the repercussions until I faced it. I had downloaded some translator apps before leaving India. But I had no idea that Google doesn't work in China. 
The next few days I had to converse with people with a sign language of my own. Sure, this was a hard experience but I surely had my learning. Also, I ended up exploring most places in China and South Korea along with the language barrier. So I see that as a personal victory.
Looking back in hindsight, I feel that learning a few words of the country that you are going to visit will help you.  The local people feel very happy when you talk to them in their language even if they are just a few words like hello and thank you.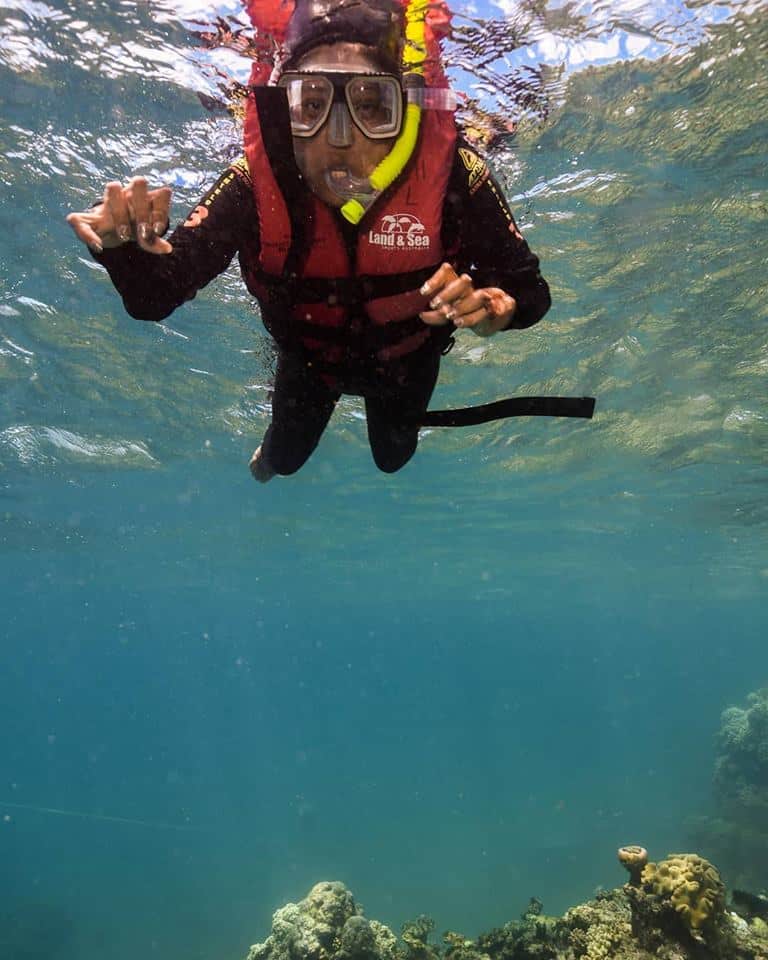 An individual like me who could barely walk straight into her own house recently attempted snorkelling at the Great Barrier Reef in Australia. I am amazed at myself and at how the universe helps us achieve things if we really feel passionate about them.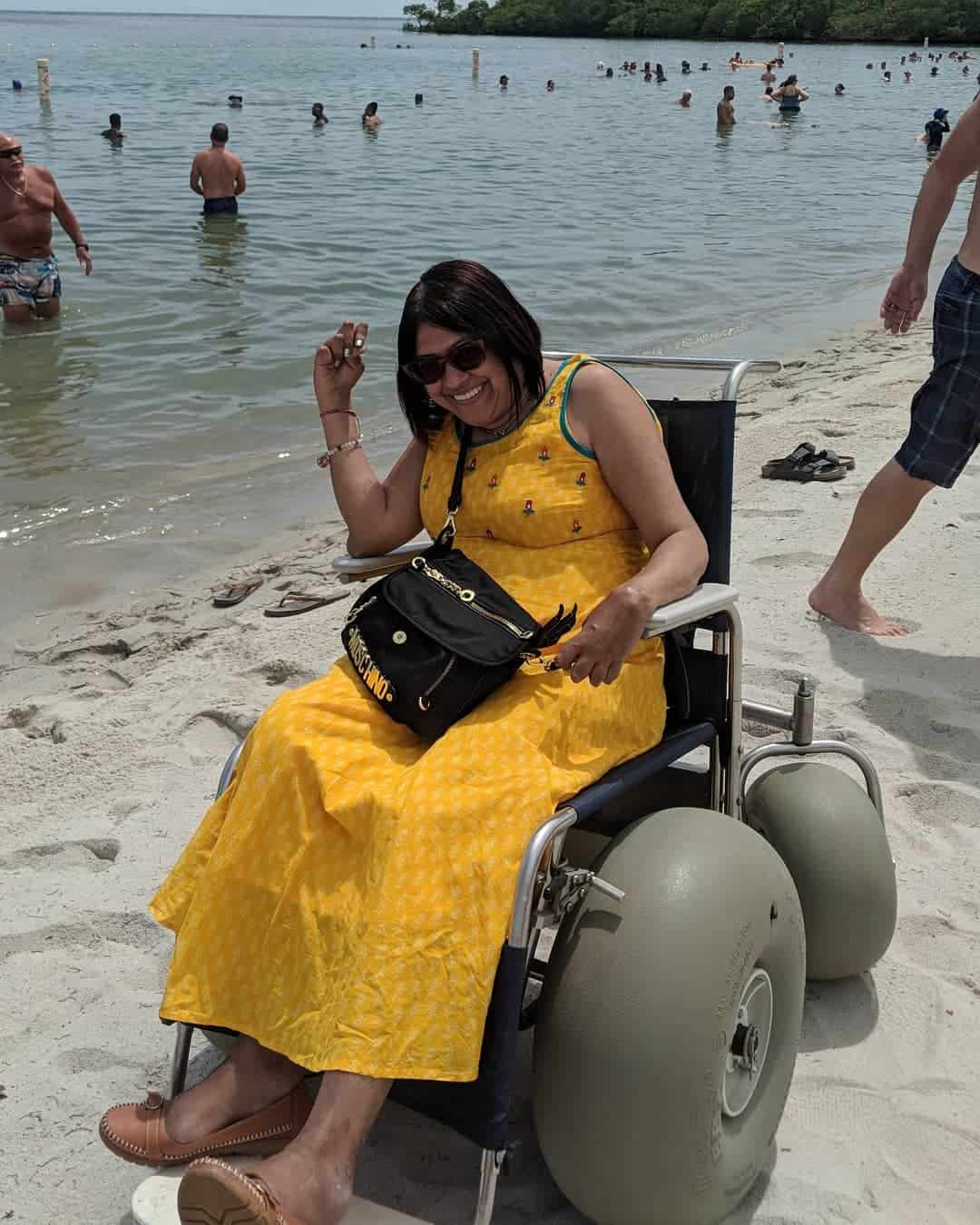 Hanging out by the beach at Harves Caye in Belize. This place not only has some kickass beaches but also wonderful cabanas. I made sure I leisured my way through here. Spent some wonderful moments all by myself. 
Sun basking at a pier in Dubai. Out of the many trips I've taken, Dubai will always hold a special place in my heart for welcoming wheelchair travelers like me with such warmth. Dubai has made sure to put 'accessible travel' on its priority list. There is no shortage of exciting wheelchair accessible activities in  Dubai. 
Funding My Travels
When I began traveling, I took my family's support. They were worried about me at that time and naturally so. But over time, they realized that travel made me happy and I realized that I needed to support myself more financially.
So I've done everything it took to fund my travel expenses – worked at a BPO, did babysitting, ran a catering service and whatnot.
I have collaborated with Airbnb and made my own house in Mumbai into a homestay. I have started earning a decent amount of money with it.
Recently, I've launched my own venture along with a friend. I've named it TejPari and its tagline is 'twist in clothing. It's essentially a new kind of clothesline. 
Managing My Travel Budget
I feel when a person wants to travel the world; he/she needs to be a budget traveler. This becomes even more important in the case of wheelchair travelers because we are charged more for services everywhere. This is sad but true.
I have a very different way to manage my budget. It's like hitting two stones at the same time – managing my budget and staying healthy.
While travelling, I carry all the healthy stuff from India like nuts, dates, muesli bars and other healthy stuff. So my breakfast or my in-between knick-knacks whatever you may call it are these things.
Being a foodie, I do occasionally indulge in a heavy meal at an exotic location every once in a while. But I prefer the local food more especially if it is healthy. Also, my own snacks come in handy.
This way I don't spend much on food and also when I come back I have lost some weight in a healthy way.
During my solo trip across Europe, I would buy one Big Bowl of soup that was the only good heavy meal I used to have. It kept me alert and fit.
Whenever my place of stay offers free breakfast, I surely savour it. I indulge in a heavy breakfast and go early exploring the city.
I also stay in hostels a lot of times. I save a great deal of money by accommodating myself there. Also, I meet people from so many nationalities there.
Essential Things that Every Wheelchair Traveler Should Pack
I feel that there are a few things that are crucial to my journey. I insist that all wheelchair travelers should carry them whenever they go on trips.
Wheelchair related documents
Carry all the documents related to your wheelchair on all of your trips. They might be needed by the airline staff, hotel management, or authorities at sightseeing places.
Wheelchair Battery Charger
If you travel in a battery-powered wheelchair, make sure to carry the battery charger. You don't need to carry the heavy and massive chargers. The latest ones come in smaller sizes.
Portable Ramp                                                    
Take a portable ramp with you in case of places that might be inaccessible for you. Portable can be transported easily in most vehicles. Also, in a building with 2 to 4 steps.
Power Bank
Power Bank is very helpful because when you are using your mobile phone along with apps, the battery gets used really fast.  So to help you charge the mobile quickly during emergency situations, a power bank is needed.
A SIM card of the visiting country
Carrying a SIM card for the country you are travelling to is very important. It will be your only connection to the outside world. Also, try using an unlimited data plan with a good network.
Diary with important numbers
This may sound old school but carrying a small diary with you along with the most important contact numbers can be of great help.  Sure, you have these numbers in your cell phone as well. But carry the diary as a backup in case you need to call back home if you have a wheelchair situation.
Safety of Women Traveling in a Wheelchair
When you travel solo as a woman, always make sure that you spend more time in public spaces. Also, stay in places that are credible.
Doing prior research and hearing from fellow travelers on this will surely help. I find hostels really safe and fun. In India, I've found Government Guest Houses to be really safe. Just book them in advance and you will get a reservation.
I want to mention here that if you want to travel to difficult terrains, try traveling with a trusted friend. This is because he/she will help you manoeuvre the wheelchair in trying conditions.
My Advice to New Wheelchair Travelers
The first and foremost thing that I would like to stress is to never allow any kind of pessimism to get to you. Whatever your condition, if you are passionate about travelling, just do it.
Try to find means and ways to do it because nothing is impossible. Don't allow the world to make it seem impossible. Sure, ask for help if needed but move ahead in your journey.
Do your research and please read reviews on Trip Advisor and Google by people with a similar condition as yours. You will be amazed at the commonality of questions. You can check my reviews under @wheelchairandeye on most of such portals
Try to book budget accommodation. Also, stay aware of low-cost but good airlines. I have been lately been using Skyscanner. I think it gives you a good idea of the cheapest airfares. I have a Hostel World app and also I look on booking.com for my Stays.
Once I have shortlisted the places I want to stay in, I always check the reviews on TripAdvisor and Google Maps.
Download the Moovit app to know about the public transport links in the place where you are going.
My Biggest Learning as a Wheelchair Traveler
My biggest learning as a traveler is that the world is full of noble and warm-hearted people. Just go out there and mingle. Connect with them and learn about their culture, lifestyle, food and everything else. Also, tell them about yourself.
You will be surprised to learn that no matter how much people are different from each other, they are still similar deep inside. Being noble is not culture or location specific.
I will be turning 50 soon and yet I will keep traveling. So if anyone ever tells you that age is a factor in traveling, understand that they are misinformed. Don't accept their fears as your own.
You will feel much better by conquering your fears than by submitting to them.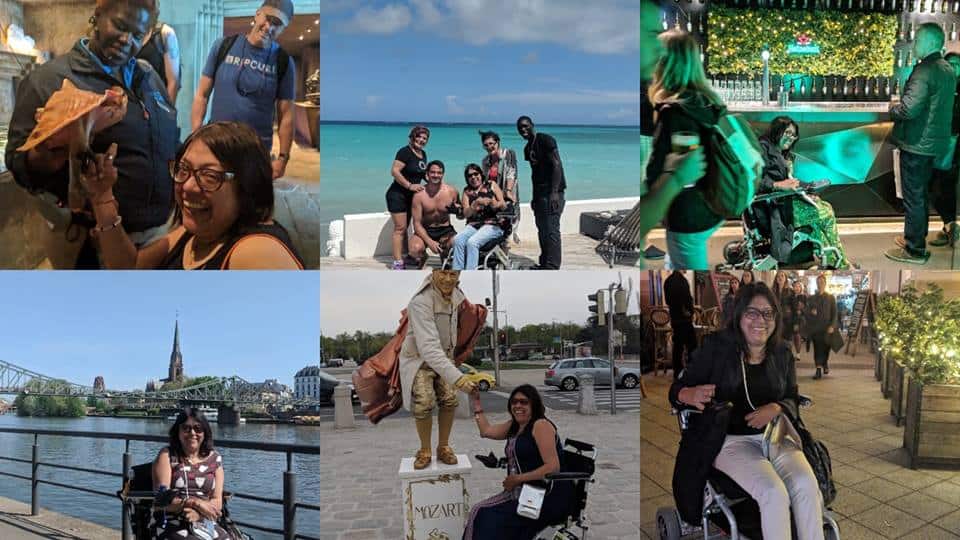 Life is short so don't allow any moment to get wasted. Don't fret over what is lost. Feel thankful for whatever you have and make the most of it. Gratitude and passion are two key qualities that will take you further in life despite all odds. Live each day like it's your last. 
Each morning when I wake up, I become even more determined to explore a new part of the world. I know for a fact that I have just one life. So it is important that I live it to the fullest with a smile on my face and a song in my heart.
I really hope that all the individuals who will be traveling in a wheelchair in the near future feel the same way. The world is waiting for you to discover it and make a connect with it. Go, make it your own.
Happy wayfaring 🙂