What if you find yourself in Pune for one day? What places should you see and explore? A Pune one day trip itinerary will help you discover the best of Pune city in 24 hours. In a limited amount of time, you should be able to experience the essence of the city.
Once the seat of the Maratha Empire, Pune is the perfect blend of history, culture, spirituality and modernity., the city has numerous places that are of interest to all kinds of travellers. 
In this Pune one day travel blog, I will be sharing with you three different itineraries for travellers who have different ideas for a fun day in Pune.
3 Options for your Pune One Day Trip Itinerary
Situated at a close distance from Mumbai, Pune has become extremely popular over the last 10 years. Known as the "Oxford of the East," Pune is a city of young people.
A Pune one day trip itinerary is a perfect wayto explore the city. You can do some local sightseeing, explore the historical and spiritual side of Pune. If that is not what you are looking for, you can spend the day tasting some delicious food or just shop around the vibrant local markets in Pune. The choice is yours!
So, whether you are on a one day trip in Pune with family and friends or you have a day to spare on your business trip, the three itineraries I will be sharing with you will ensure that your one day in Pune is utilised to the fullest. 
Pune one day trip itinerary for history lovers: Option 1
Invoke the spiritual and historical interests in you. Experience Pune's oldest temples and historical icons.
Pune one day trip itinerary for foodies: Option 2
Explore the best food in the city – from street stalls to classic joints, cafes and pubs.
Pune one day trip itinerary for shopaholics: Option 3
Shop till you drop at the pocket-friendly markets around Pune.
Pune One Day Trip Itinerary for Spirituality Seekers & History Lovers: Option 1
If you are a person who loves history and has a spiritual bent, Pune has a lot to offer. The first option for a Pune one day trip itinerary is to go sightseeing around the spiritual and historical places.
The city has some of the most amazing temples. Pune also stands witness to some of the very important events in the history of India. 
Here are the 5 must-visit places in an ideal Pune one day Itinerary for history lovers:
Aga Khan Palace
Visit the palace for its historical significance and architecture
Dagaduseth Ganesh Temple
Pay homage to one of the most popular temples in Maharashtra
Shaniwar Wada
Marvel at the brilliance of Indian architecture
Pataleshwar Cave Temple
Experience tranquillity within the bustling city
Parvati Hill
Take a short hike for a hilltop view of Pune 
Depending on which part of the city you are staying, you can cover all these places. I would suggest you follow the order I have given above. It will help you explore more within a limited time frame.
Aga Khan Palace
This is one of the most important attractions in Pune city. The palace was built by Sir Sultan Muhammed Shah, Aga Khan III in 1892 to provide employment to famine-hit natives.  
The palace has significant historical value as it acted a prison where Mahatma Gandhi along with wife Kasturba Gandhi, his secretary Mahadev Desai and Sarojini Naidu were imprisoned post the Quit India Movement. 
It was in 1969, that Aga Khan IV donated this palace to the people of India as a mark of respect for the Mahatma. Portraits and photos of Mahatma's life are kept here for public view.
It was really interesting to see the personal items of Gandhiji on display at the museum here. Some utensils, rare pictures, clothes, chappals (slippers) and a letter written by him on the death of his aide, Mahadeobhai Desai are all open for the visitors to see.
Note: At the ticket counter, they don't accept card payments, especially form foreign nationals, so, carry cash.
What makes this palace all the more interesting are its marvellous Italian architecture and well-kept lawns.  I suggest you take 30 mins guided tour of the palace to learn more about its historical significance.
Here is some important information regarding visiting the palace:
Timings
9 am – 5.30 pm
Open Days
Monday- Sunday (except national holidays)
Entry Fee
Indians: 25 INR/person
Foreigners: 300 INR/ person
Main Attractions
Museums and Memorials
Architecture and Lawns
The palace is not that grand and only one floor is open to the visitors. I would recommend a minimum of 1 hour to visit the palace, although you could spend more time if you like.
Do check out the small outlet selling Khadi items such as clothes, notebooks, pickles and chutney, in case you want to buy something.
The annoying part was that I wasn't allowed to click pictures with my camera, although phones were allowed. 
Aga Khan Palace contains pictures and memorabilia related to the life of Mahatma Gandhi and his wife Kasturba Gandhi. It is also was one of the filming locations of Richard Attenborough's biopic 'Gandhi'. Picture Credits: Shashank Singh
Dagaduseth Ganesh Temple
Pune one day trip itinerary will be incomplete without a visit to the famous Hindu temple of Dagaduseth Ganesh. This Lord Ganesh temple is the second most popular temple in Maharashtra after Mumbai's Siddivinayak Temple. The size of the Ganesha idol here is similar to that of its Mumbai counterpart.  
There is an interesting story associated with the temple. A sweet trader by the name of Dagaduseth Halwai built this popular temple. He was a businessman and a close friend of a famous freedom fighter, Bal Gangadhar Tilak. It is believed that as an inspiration from this temple, Tilak called for a 10-day public festival (Ganeshotsav) on Lord Ganesh.
This temple also has a connection with Bollywood. It is believed that the family of Bollywood superstar Amitabh Bachchan offered prayers here when he was facing life-threatening health problems. Coincidently, Dagaduseth Halwai built this temple in order to relieve him from the trauma of his son's death.
Note: The temple is located in a busy part of the city so avoid taking your personal vehicle. It might be difficult to find parking in the area.
The temple is revered by people from all over the state so be prepared to stand in the line for Ganesh Darshan (paying homage). However, the temple administration does a fine job at maintaining and moving these lines.
Despite the rush, it took me only about 15 minutes to reach the Ganesh Idol. 
A few things you may find useful when visiting the temple:
Timings
6 am- 10 pm
Nearby Places
Shaniwar Wada
Lal Mahal
Vishrambag Wada
Tulsi Baug and Laxmi Road for Shopping
This temple is centrally located in a busy area of Pune.  Some of the city's major attractions such as Shaniwar Wada are only a walking distance away.
The Ganesh idol at Dagduseth Ganesh Temple is 2.2 metres tall and 1 metre wide. It is ornamented with nearly 40 kilos of gold. Picture Credits: Venu Reddy
Shaniwar Wada
This is another significant monument in Pune. If you have watched Ranveer Singh's Bollywood Movie, Bajirao Mastani, then this place will seem familiar.  
An architectural masterpiece, Shaniwar Wada was built in 1732, under the Peshwas of the Maratha Empire. The seven-storey capital building came under the Britsh post their defeat in the Third War of Panipat in 1818. 
However, most of the parts of the palace were destroyed by several military attacks and a major fire in 1828. Despite being in ruins, Shaniwar Wada to this date continues to be an exquisite display of the brilliance of Indian architecture.
Below is some information that would aid you during your visit to Shaniwar Wada:
Timings
8.00 am – 6.30 pm
Entry Fees
Indians: 25 INR/ person
Foreigners: 300 INR/ person.
Major Attractions
The 5 Gates:  Dili gate, Mastani gate, Khidki Darwaza, Ganpati gate and the Narayan Gate. Each gate faces a different direction.
The Lotus Shaped Fountain: See the remains of the Hazari Karanje, the fountain shaped like a 16-petal lotus.
Paintings: The ruined marble Palace walls having the painting of Mahabharata and Ramayana.
Gardens: The gardens are beautifully maintained
Light Show: Daily light shows 
You can also enjoy some street shopping near Shaniwar Wada at Tulsi Baug and Fashion Street. Both these markets are located nearby.
Shaniwar Wada is believed to be the centre of supernatural activities on the full-moon night. According to the locals, the fort is haunted by the ghost of Bajirao's grandson Narayanrao, who was brutally killed on orders of his relatives. Picture Credits: Sourav Agarwal
Pataleshwar Cave Temple
The rock-cut temple was built in the 8th Century and is dedicated to the Hindu deity Lord Shiva. The temple is carved out of a single rock which is what makes this temple extraordinary. 
Unlike Ajanta and Ellora Caves, Pataleshwar Cave temple is located within the city limits and is much easier to reach. It is added in the list of protected monuments by the Indian Government.    
The temple is located on the Jangli Maharaj Road area and is around 1 km from Shaniwar Wada. Despite being within the city limits,  I was amazed by the quietude around the temple. I could see a few people meditating as well.
Note: The temple is very close to another famous temple of Jangli Maharaj, so you can visit that too.
Here are a few things that you must know about visiting this temple:
Timing
8.30 am – 5.30 pm
What to Try?
Hear an echo inside the cave temple
Feel the vibrations caused by the sound of bats inside the cave
Caution
Since it is dark inside, walk carefully in order to prevent an injury
The circular Nandi mandap (temple porch) is one of the most unique features of this temple complex. You can spend some quiet time here before heading to your next destination.
Despite being located next to the hustle-bustle of the busy JM road, the site of Pataleshwar Cave Temple is surprisingly peaceful. The light decoration on Kartik Purnima day is a special highlight. Picture Credits: Prathamesh Dalvi
Parvati Hill
If you want to see the view of Pune from a mountain, then Parvati hill is the perfect place to do so. Situated at a height of  2100 ft above sea level, this hillock has 5 temples and a museum.
The most important of them, the Parvati Temple is the oldest heritage structure in Pune and was built by the Peshwa Rulers of Maratha Empire. Devdeveshwara (Shiva and Parvati) are the deities of this temple.
This temple also provides Water Supply to half of Pune through their Water Tank. 
Here is some quick information you may find useful when visiting the hill:
Major Attractions
Devdeveshwar temple (Shiva and Parvati)
Kartikeya Temple
Vishnu Temple
Vitthal Temple
Rama Temple
Peshwa Museum
Samadhi of Balaji Baji Rao
Tips
Walk slowly and carefully as the steps are flat
Watch the view of the city from the top
You should visit the hill either in the morning or in the evening. Sunrise and sunsets are the best time to visit the hill.
There are around 100 widely spaced steps along the way to Parvati Hill. The hike takes around 15 minutes to complete. Picture Credits: Ankesh Gupta
Pune One Day trip Itinerary for Foodies: Option 2
Pune is a great place for foodies. So, if you are a foodie like me, you should spend your one day in Pune tasting the best food around the city. Pune has some of the most wonderful cafes, street food and classic eateries. 
There is a wide variety of options for food in Pune. From Irani cafes to South Indian places and Maharashtrian eateries, you will find all the flavours here. A Pune One day trip itinerary for foodies must include a visit to some of these wonderful eateries.
Trust me, chasing all that food around the city will totally be worth your while. 
Top 5 Budget Breakfast Places In Pune
If you want to experience the best of Pune's food, I suggest you start early with a wonderful breakfast.
Although in recent years, a number of uptown cafes have come up, nothing has been able to beat the charm of the classic food outlets. These are a must-try!
These are a few places that I would recommend for a wholesome breakfast:
Vohuman Café, Dhole Patil Road
Established in 1978, this place serves the best Iranian food in Pune. The menu is limited, consisting mainly of egg-based dishes. 
This place is always crowded, be prepared to wait for a table.  
What to Eat: Cheese Omelette, Irani Chai, Bun Maska
Cost for Two: 200 INR
Places to explore nearby: Darshan Museum, Osho Garden, MG Road for Shopping
Flour Works, Kalyani Nagar
Flour Works opens at 7.00 am and serves a European-American breakfast menu. They have a wide variety of eggs, waffles, pancakes along with healthy foods like muesli, granola, scrambled tofu, etc.
What to Eat: Pancakes, Ouellette, Iced Coffee
Cost for Two: 800 INR
Places to explore nearby: Aga Khan Palace, Koregaon Park
Café GoodLuck, Deccan Gymkhana
Cafe Goodluck is another famous Irani cafe-restaurant on the Fergusson College Road, in the Deccan Gymkhana area of Pune. It was established in 1935 and is one of the oldest in the city.
What to Eat: Chicken Biryani, Cheese Omelette
Cost for Two: 300 INR
Places to explore nearby:  Buddhist Pagoda, Hong Kong Lane for shopping, Fergusson College Road for shopping
Vaishali, Fergusson College Road
This is one of the most famous eating joints in Pune. It serves wonderful south Indian food. It opens up at 7.00 am, so if you like an early breakfast, this is the place to be. 
What to Eat: Dosa, coffee
Cost for Two: 200 INR
Places to explore nearby: Buddhist Pagoda, Fergusson College Road for shopping
Cafe One O Eight, Koregaon Park
Koregaon Park or KP is one of the most happening places in Pune. There are plenty of food joints here and this is one of the best in the area. 
What to Eat: Stuffed Pancakes, smoothies, bruschetta
Cost for Two: 600 INR
Places to explore nearby: Osho Garden
Depending on where you are staying in the city, you can choose the breakfast place that is the closest to you. Once you are done with your breakfast, enjoy some local sightseeing or shopping.
The iconic Vohuman Cafe is one of the few places in Pune that opens early morning. Ditch your calorie counter and dig into its fresh bun maska, cheese omelettes and Irani chai at nominal prices. Picture Credits: Jithan Purushothaman
T

op 5 Budget Places to have Lunch in Pune
After an amazing breakfast and some nearby sightseeing, head for a wholesome lunch. Again, there are plenty of options for lunch in Pune. You can find amazing fine dining restaurants as well as affordable eateries that serve delicious food.
Based on experience, here are my top 5 picks to grab a hearty lunch in Pune:
Durvankur Dining Hall, Sadashiv Peth
If you wish to try traditional Maharashtrian food, Durvankur is the place that you need to go visit. I tried this place on my first visit to Pune and have fallen in love with the place since then.
If you finish your thali, you get a discount on the total bill! I couldn't 🙁
What to Eat: Maharashtrian Thali, Masala Bhaat, Aamras (mango juice)
Cost for Two: 600 INR
Places to explore nearby: Dagduseth Ganesh Temple, TulsiBaug Market for Shopping
Darshan Restaurant, Deccan Gymkhana
A purely vegetarian place, Darshan is one of the most famous restaurants in Pune. They serve a wide variety of cuisine including Mexican, Chinese and Continental.
What to Eat: Chole Bature, Lasagna, Baked Beans
Cost for Two: 700 INR
Places to explore nearby: Parvati Hill, Hong Kong Lane for Shopping
Sukanta, Deccan Gymkhana
If you are in the mood for some Rajasthani and Gujarati food in Pune, Sukanta can provide you just that. Serving North Indian, Gujarati and Rajasthani food, Sukanta is a great place to have a hearty lunch.
What to Eat: Rajasthani Thali, Gujarati Thali
Cost for Two: 700 INR
Places to explore nearby: Parvati Hill
Onesta, Kalyani Nagar
If  Italian food is on your mind, head to Onesta in Kalyani Nagar. Onesta serves some great Italian food and their Pizzas are the best in town.
What to Eat: Pasta, Ricotta Ravioli, Roasted Chicken Pizza, Mocktails
Cost for Two: 700 INR
Places to explore nearby: Aga Khan Palace
Umber, Karve Nagar
This place is crowded during weekends but all that wait is absolutely worth it. Umber is a must-visit place for non-vegetarians serving mainly Maharashtrian food.
What to Eat: Pandhra Rassa, Chicken Masala, Mutton Biryani
Cost for Two: 400 INR
Places to explore nearby: Pune-Okayama Friendship Garden, Natskies Observatory Office
Post lunch, take a walk around and prepare yourself for the next quick meal. A food tour of the city is incomplete without trying the famous Maharashtrian snacks.
Try the amazing Maharashtrian Thali at Durvaankur Dining Hall. It consists of Kharvas, Shrikhand, Aamba Rabdi, Dahi Vada, Aloo Sukhi, Paneer Matar, Chawali Rassa, Dhokla, Alu Vadi, Mirchi Thecha, Tadka Mirchi, Poli and Poori, Masala Bhat. Picture Credits: Amey Muddeshwar
5 Must-Try Snacks on your Pune One Day Trip
A Pune food tour is incomplete without eating the local snacks. Pune has great options for quick snacks.
You will find many small and quirky cafes, street-side eateries in the city offering a wide variety of Indian and International snacks. While it may not be possible to eat all the things, I suggest you try as many as you can. These snacks truly reflect the food spirit of the city.
These are some must-try snacks on your Pune one day trip:
Misal Pav
A popular dish in Maharashtra, Misal Pav contains Misal (spicy lentil curry) and Pav (Indian Bread Roll) served with onion and potato.
It is easily available at every nook and corner of the city. 
Best places to try: Kata Kirr, Shri Krishna Bhuvan,  Vaidya Upahar Gruha
Sabudana Vada
Sabudana Vada is a traditional Marathi (from Maharashtra) deep-fried snack made from Sago. Crispy on the outside and soft on the inside, the vada is often served with spicy green chutney.
Best place to try: Stall opposite to Jangli Maharaj temple on JM road 
Bhakarvadis
Bakarwadi is a traditional Marathi (from Maharashtra) dish. It is a sweet and spicy snack and is widely available all over Pune. It is made from gram flour dough coconut, poppy seeds and sesame seeds. Get some packed for later if you are full.
Best places to try: Chitale Bandhu, Kaka Halai, Karachi Mart
Shrewsbury Biscuits
A Shrewsbury biscuit is actually a classic English dessert, made from sugar, flour, egg, butter, lemon zest and dried fruit (optional). These crispy cookies are a must-try in Pune. Again, if you feel full, get some packed for later but do try these.
Best place to try: Kayani Bakery
Mastani
Mastani is a thick mango milkshake topped with fresh fruit, dry fruit and whipped cream or ice cream. It is a must-try in Pune.
Best places to try: Gujjar Cold Drinks, Sujata Mastani
Apart from these, there are plenty of other local foods that you can try in Pune including Vada Pav, Pohe, Chirote etc. Trust me, you will love snacks of the city.
Bakarwadi was popularized by a Marathi businessman, Raghunathrao Chitale, through the brand Chitale Bandhu. This popular crispy snack is sweet and spicy. They can be stored for weeks so make sure you take some home. Picture Credits: Shreyas Shetty
Known for its Shrewsbury biscuits, Kayani bakery is one of the oldest and most famous bakeries in Pune. If you want a taste, make sure you reach early. Their baked goods literally disappear from the shelves within minutes. Picture Credits: Kimberley Fernandes
Top 5 Budget Restaurants for Dinner in Pune
After spending a fun day, end it with a savoury dinner.  Pune has amazing restaurants, bars and pubs that make nights more happening.
Baner and Koregaon Park areas are filled with the most amazing nightclubs and bars. If you are interested, you can head out to these places to get a taste of the nightlife of Pune.
However, if you wish to end your day with  a delightful meal, here are some places I would suggest:
Surve's Pure Non-Veg Restaurant, Fergusson College Road
If you love non-vegetarian food, this is the place to go. The place mainly serves Maharashtrian food.
What to Eat: Surve's Special Thali, Chicken Rassa
Cost for Two: 500 INR
Places to explore nearby: Chem Garden, Botanical Garden, Fergusson College Road for shopping
Aaoji Khaoji, JM Road
If you are looking for North Indian vegetarian meal Aaoji Khhaoji is a great place that serves delicious food. This place is literally a paradise for vegetarians.
What to Eat: Dal Makhani, Veg Mushroom Fry
Cost for Two: 600 INR
Places to explore nearby: Darshan Museum, JJ Garden, Hong Kong Lane for Shopping
Kimling, Wanowrie
If you are in the mood for some Chinese food, this is a pretty decent place to get it. Try their Chinese delicacies at nominal prices.
What to Eat: Pan Fried Noodles,  Sweet Corn Soup
Cost for Two: 600 INR
Places to explore nearby: Garden Brahma Avenue
The Hungry Mogambo, Baner
This place serves Bihari, Tibetan and Nepali cuisines. The colourful décor and helpful staff are the highlights of the place, other than the great food.
What to Eat: Litti Chokha, Black Rice Kheer
Cost for Two: 600 INR
Places to explore nearby: Late Sanjay Mahadeo Nimhan Gram Sanskruti Udyan
Spice Culture, Salunkhe Vihar Road
This is a relatively new place in Pune and provides a great dining experience. The food is great and the service is decent too.
What to Eat: Talwar Chicken Cheese Kabab, Chicken Kung Pao
Cost for Two: 700 INR
Places to explore nearby: Anand Van, Aqua World
All these places serve amazing food. In case you do not agree with the list or would like to suggest another place, make sure to comment below.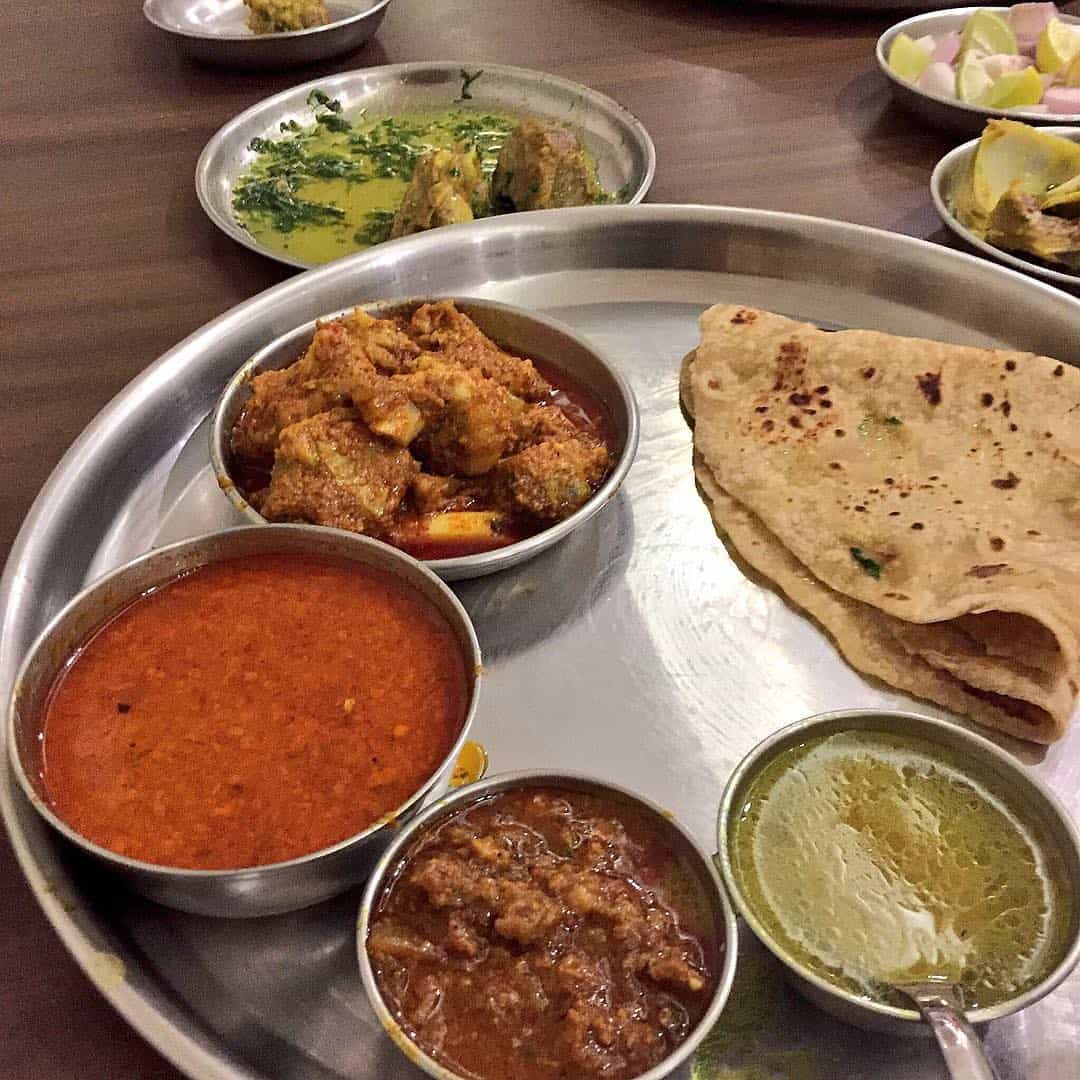 Satisfy your meat cravings with a flavoursome meal at Surve's Non-Veg. In the picture, you can see Mutton Alani fry, mutton fry and mutton kheema. Picture Credits: Priyanka
Pune One Day Trip Itinerary for Shopaholics: Option 3
The third option for Pune one day trip itinerary is for travellers who love shopping. Pune is the perfect place for shopaholics. The city fulfils the needs of both luxurious as well as budget shoppers.
Note: All these are street markets, therefore, bargaining is a skill you need to use the most here.
Since my current blog is all about travelling to Pune on a budget, the best option is street shopping. Street shopping in Pune is a great experience. There are a number of local and markets all across the city that will keep you busy on your one day Pune trip.
Here are my favourite budget markets that you can include in your Pune one day trip itinerary:
Hong Kong Lane 
Shop for Quirky and affordable Accessories
Fergusson College Road
Pick up some trendy Clothes, Bags and Footwear
Laxmi Road
Best place to buy sarees
Tulsi Baug
Sells all the things you need
Fashion Street
Buy some fashionable clothes at rock bottom prices
Other than these, there are several other pocket-friendly and high-end markets to explore in Pune. If time and budget allows, you could explore them too.
Hong Kong Lane
Hong Kong Lane is a narrow lane connecting JM Road to FC road. At its one end is Citypride R Deccan cinema and the other end is Kaka Halwai's shop.
This is a great place if you wish to buy mobile phone accessories, women's shoes, jewellery, sunglasses, and handbags.
I bought a pretty cool Batman phone cover for just 100 INR!
Location:  Deccan Gymkhana (Near Garware Bridge)
Timings: 10:00 AM – 7:30 PM
Nearby Places to Eat: Darshan Restaurant

, Café Goodluck,  Wadeshwar FC, Aoji Khaoji
Nearby Attractions: Shaniwar Wada, Dagduseth Ganpati Temple, Fergusson College Road
The Hong Kong Lane is not very long and it will take you only about an hour to shop in this place.
Hong Kong Lane is a must-visit if you're near the Fergusson College road area. This small lane is the perfect spot to buy some quirky phone covers, affordable accessories and more. Picture Credits: Khampu
Fergusson College Road
Also called FC Road, this is one of the most sought-after budget shopping destinations in Pune.  The road is mostly frequented by students and youngsters. You can shop for several things including footwear, clothes and accessories. 
The quality of things is good too if you shop carefully. I used the slippers bought (Cost: 200 INR) from this market for almost a year.
Location: Shivajinagar
Timings: 10:00 AM – 10:00 PM
Nearby Places to Eat: Surve's Pure Non-Veg Restaurant, Café Goodluck, Vaishali, Wadeshwar FC
Nearby Attractions: Botanical Gardens, Hong Kong Lane, Chhatrapati Sambhaji Gardens
Fergusson College Road place also happens to have some of the best eating joints in Pune City. So, you can enjoy some delicious meals while you shop around the place. 
Fergusson College Road is famous for two things – food and fashion. Known for its cheap and reasonable items, this place is a dream come true for shopaholics. Picture Credits: Anku
Laxmi Road
Laxmi Road Market is one of the oldest markets in Pune. If you are looking to buy sarees in Pune, this is the place to be. You can also shop for jewellery, footwear etc. while munching at some street-side eateries.
You can buy jeans for as low as 600 INR, dresses for around 250 INR, junk jewellery for 100 INR and more. This place is a shopper's paradise.
Location: Laxmi Road, Sadashiv Peth
Timings: 10:00 AM – 11 PM (Except Mondays)
Nearby Places to Eat: Srikrishna Bhuvan, Supreme Sandwich corner, Street Food
Nearby Attractions: Dagduseth Ganpati Temple, Shaniwar Wada
Some of the shops on Laxmi Road may remain closed during the afternoon, so, avoid visiting between 1:00 PM to 4:00 PM.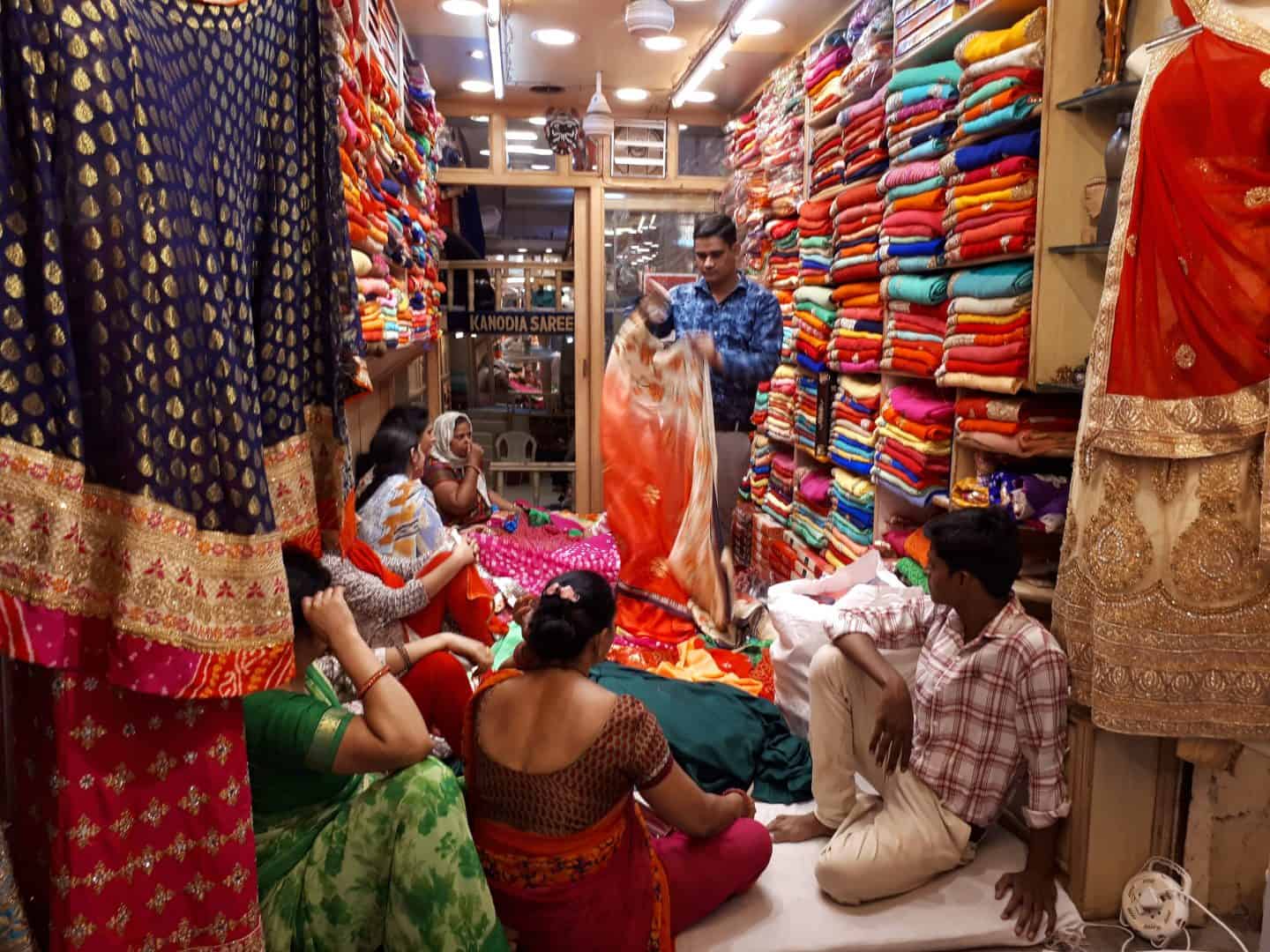 Laxmi road runs with different shops on both sides for almost 4km. Known for its textile and garments shops, this is a great place to buy some sarees. Picture Credits: David Gambier
Tulsi Baug
Tulsi Baugh is another old and famous street shopping destination in Pune. It is located near the Dagduseth Ganesh Temple and is generally very crowded over the weekends. You can buy many things at affordable prices including home decor items, jewellery, footwear and clothing.
This is a great place to buy souvenirs. I bought Ittars for 50 INR  (mini chemical-free perfumes), miniature antiques for 100-200 INR and saree pins for 50 INR. I don't think it can get cheaper than this!  
Location: 93, Laxmi Rd, Tulshibaug, Budhwar Peth
Timings: 11:00 AM – 10:00 PM
Nearby Places to Eat: Sri Krishna Bhuvan, Old Kavre Cold drink, Street food
Nearby Attractions: Dagduseth Ganpati Temple
There are many eateries around the Tulsi Baug market that make the place even more interesting.
Tulsi Baug is the go-to place for all your needs in Pune. Apart from being the hub of affordable shoes and clothes. this old street is also a paradise for unique home decor pieces and accessories. Picture Credits: Pal Jhaveri
Fashion Street
There are two markets in Pune named Fashion Street. One is located near Shaniwar Wada Kasab Peth and the other one is located near MG Road Camp. Both these markets are great options for buying fashionable clothing, footwear and accessories in Pune. You will find all the latest trends at rock bottom prices in these markets.
You can choose between any one of these depending on what is easily accessible.
Just like the one in Mumbai, Fashion Street is also full of the latest designs and fashion clothing. No wonder this place is packed with college students.
I am sharing the details regarding the Fashion street near Camp in Pune below:
Location: Near East Street, Camp, Pune
Timings: 10:00 AM – 10:00 PM
Nearby Places to Eat: George Restaurant, Marz- o- Rin, Kayani Bakery
Nearby Attractions: JJ Garden, ISKCON, Darshan Museum
There are hundreds of stalls at Fashion Street, make sure you compare the prices and designs. Also, haggling really works here! 
Much like the Fashion street in Mumbai, the one in Pune offers you all the latest trendy styles. This is the place where you put your bargaining skills to test. Picture Credits: Moerschy
Budget Saving Tips for Pune One Day Trip 
Accommodation and transport form a major chunk of travel costs. However, you can cut the costs by planning wisely. Here are several recommendations that will help you cut costs on your Pune one day trip.
Budget Accommodation Options in Pune
There are many accommodation options in Pune. The best budget options for backpackers and budget travellers are guesthouses and hostels.
However, when choosing the stay, try to choose the stay that is accessible through transport facilities and restaurants, in order to avoid spending an extra amount on transport.
Try and stay near the Deccan area, since it is centrally located. If not that, Koregaon is also a great option too.
Important Tip: User reviews on websites can be very helpful when deciding between hotel/

hostel choices

.
Based on my personal experience, I can suggest you the following budget accommodations in Pune:
Backpackers Hive
Location: 63-A, Lane C, Ragvilas Society, Koregaon Park
Suitable For: Backpackers
Prices start at 399 INR
Hotel Staywel Pune
Location: Deccan Gymkhana, Near HP Petrol Pump Behind Sai Service Pune, Pune Central
Suitable For: Backpackers, Friends, Families, Couples
Prices start at 1100 INR
Hotel Pathik
Location: 1263/3, Anand Bhuman, J.M. Road, Pune Central
Suitable For: Backpackers, Friends, Families, Couples
Prices start at 1100 INR
Budget Transport Options inside Pune City 
The public transportation system is not that great in Pune. Although local buses run regularly between stations, they are super crowded and it is almost impossible to get inside them.
The Metro is not completely functional in the city. This leaves us with only one budget option- the Auto Rickshaws.
Auto Rickshaws are readily available and are the best option for travelling to shorter distances within the city. The best way to book an autorickshaw is to do it through the App-based aggregators such as Ola and Uber. You can download these apps on your phone and book autos or taxis at relatively lower prices.
Pune City: Important Travel Information
With the above travel itineraries, you can explore the city of Pune in a proper manner in 24 hours.
Here is some important travel information that you need to know before heading out for a great time in Pune:
Location
Maharashtra, West India  
Topography
Western Ghats Mountain Range
Nearest City
Mumbai (3 Hours)
Best Time to Visit
October- February
Modes of External Transport
Road, Rail and Air
Popular Food Items
Misal Pav and Poha
Other places to visit near Pune
Lonavala, Sinhagad, Lavasa
Safety Level
Moderate to high
Pune is a young, fun and vibrant city that also has a great spiritual and historical side. So, if you are in Pune for a day, make sure you experience at least one aspect of the city.
You can choose to explore its spirituality and historicity, taste its flavours or just indulge in some good old shopping. Follow any of the three Pune one day trip itineraries from above and I ensure you that this will surely be a visit to cherish.
Happy Wayfaring 🙂
ABOUT THE AUTHOR