Recording your travel memories is a beautiful thing. But you should also make them catchy with some feel-good travel diary captions.
Use my beautifully penned travel journal quotes with your pictures on IG and see them connect with people.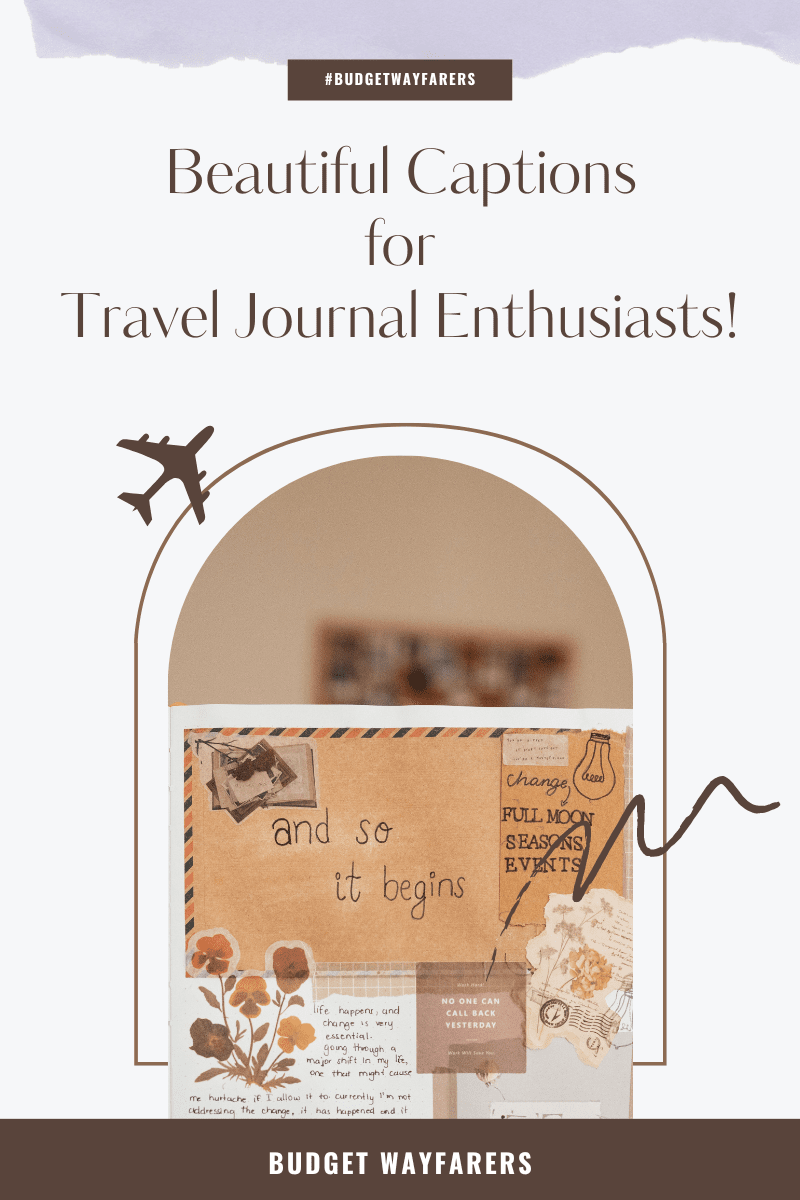 117 Touching Travel Diary Captions For Instagram
Let's start scrolling some wonderful travel journal captions –
How to fix your broken fuse? Go trekking!
Basically, I am wild, thankfully, travel makes me a child!
Every step I drew, got me a step closer to being true!
I was upset, but the sunset taught me how to reset!
 I remained confined, till I realized the world is infinite!
Seated on the park bench, I sensed an inner punch!
I was enraged, but now duly a sage!
Isn't it a charm that I got calm, on the farm?
Engage, you will be out of your cage!
Go to the top view, everything will look new!
 Be like the tree, you will incline to the passing wind!
I was misaligned, but now completely defined!
A break, to celebrate!
From minding to owning my mind, everything just turned out fine!
A long walk and I realized it wasn't my fault!
Involve, evolve, and revolve!
Everything was new, nevertheless, I was renewed!
It looks like I have awakened after a really long time. Can someone tell me how long a human being can sleep?
This day should be my birthday because I got my life back!
The tree said, "Bow, but ever stay tall"
Be like birds, without any curbs!
I thought I should be a nerd, but nature said, "Better be a herb"
I told the peacock, "You are beautiful". It replied, "Talk less, you will be as vibrant"
It keeps giving but never takes pride. Can I ever become as humble as nature?
New place. New Culture. New ME!
The journey was long. But I felt belonged!
The wind kept testing the patience of the tree. But it didn't give in!
Sad and scared to leave a familiar place? Do it, you never know how empowering it is!
Carrying loads of love and memories, is it possible to hard disk them?
Don't prioritize comfort, if you want to experience the majestic Rockford!
Strange, I know. But it is all about change!
Don't be pissed off soon. You have a long way to go!
Inside the park, I saw a beautiful rock that broke my mental block!
Lark into the dark, to feel the spark!
First, it was dazing, but then amazing!
Quiet trails, soft music, I was melting and so will you! 
Bruised? You need to cruise!
I hope every Monday becomes a travel day, so it sparks amazing views, not blues!
I never worried about the time, because it was all mine!
If mountains can have peak points, why not life?
It isn't about reaching the peak, it is the journey that speaks!
Look at these Vibrant flowers. They are sending me heartwarming showers!
Flanked by greens, I was all sheens, why not grow more trees?
"I quench your thirst and you, mine", the amazed sky told the river!
Keep sailing, even if you keep failing
"I gleam even as I steam under the sunbeam", said the stream!
Dream to be like neem, that has great esteem!
Trimmed grass, becomes a class!
To succeed, you need to proceed
The seed you feed becomes your deed!
When raindrops,  my worries drop!
Once on the ground, my scars unwound!
At the height, I understood what was right!
The sky appeared all white, bright, and light. Can I become one like its sight?
The air entangled my hair, but untangled my thoughts!
Look at nature. It shares, spares, and is still fair. Rare, isn't it?
Nature is so sweet. It told me, "You tear, but ensure to get back here"
Do you know why I found nature adorable? Because it does not makeup!
It was all glitter, so I did not want to litter, and make it bitter!
I don't miss my mother when I am in her company. Is that why she is called, "Mother Nature"?
If you ever suffer, go to her, because she is our mother nature!
This Summer, I decided to be undercover, but it happened to open my inner cover!
When I saw it all in pink, I did not sink, instead, I began to rethink!
I was able to pour, my sour heart out, by the shore!
Get off the door, for more!
Start exploring, you will see joy outpouring!
Don't snore, because out, there is a lot in store!
I was sore, but not anymore!
Travel services for your broken heart
Book your flight, your sorrow will take its flight! 
Can a human become pure? Travel is the easy cure!
I fell on the mud, with a thud, that gave me a nudge to drop my grudge!
Well, I dwelled on a seashell, and I got well!
Gag, pack your bag, to fix your snag!
I was on a lag, now I am back!
Life is an Ocean, you need to transverse with a notion!
Look, what I found? A mine of dopamine!
Love isn't only about humans!
I left the house confused. But I never dreamt I would end up finding my lighthouse!
I used to have only toast, now I also have oats!
Every step I took outside, I felt something move inside!
Same sky, but different vibes!
Journal, it will make you marvel, at your travel
Rock and Sea, the best pair you will ever see!
Resort to the wild, you will smile!
It was all moist, and I pleasantly found my voice!
It was Misty, and I turned feisty
The waterfall broke my inner wall!
In the middle of the water, I retrieved my laughter!
The clouded terrain unblocked my mind!
A water pool makes life cool
Under the drizzle, my problems fizzled!
Black clouds got me aroused!
So many shades of green, why can't everybody be a queen?
Rains lead to grains, and trails, to sails
On the ship, I gained a potential tip!
Slip during the trip, to gain the grip!
The trip left a memorable snip!
Don't weep, it is time to travel deep!
At the crest, I realized I was blessed!
Rest, take west, you will find the best!
Depressed? You need to go on a quest!
Unsure? Go on a tour!
Cross the ridge, you will find your bridge!
Make expeditions your mission, you will launch your new edition.
Dive, you will learn to thrive
Drive, you will feel more alive
Climb the heights, you will know what it means to strive!
Trek and you will know, you are just a speck!
Travel, you will start marvelling at the verses!
Transition gives you an expression!
Take charge of your heart, and make your march!
The peak is not all, it is just the beginning!
In transport, you will find your forte!
In motion, you will convert your emotion into devotion!
Parched? Get past the arch!
Pose to create memories in crores!
Use and let me know how these travel diary quotes worked on your Instagram.
SUGGESTED
Inspiring Short Travel Quotes & Captions
Happy Wayfaring!