Want to flaunt your hip bag with a picture on social media? Looking for attractive travel bag captions that match your personal style statement?
From my current blog, pick up the most classy, funny and cool bag captions to make your post stand out.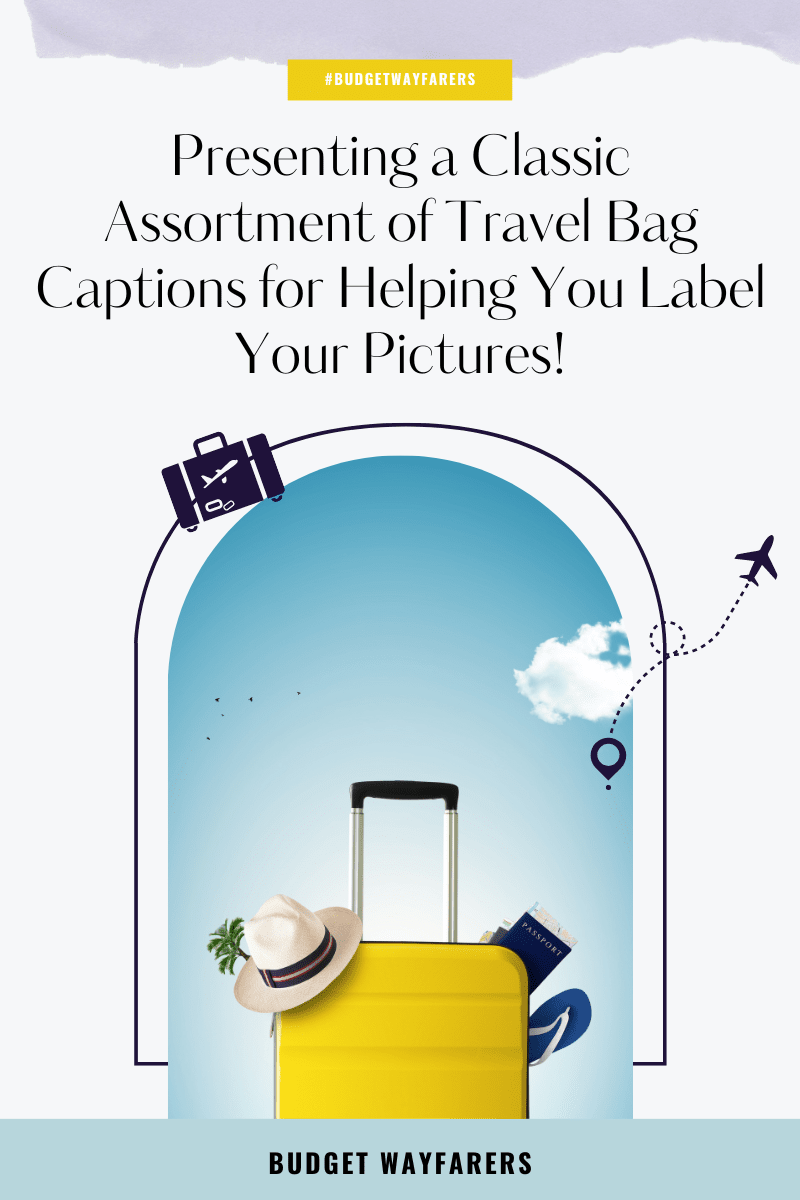 101 Grand Travel Bag Captions for Perfecting Your Pictures!
Let's start scrolling demanding and classy bag captions for Instagram –
 Wheels, heels and reels

Light bag, bright journey

Travel bag with my swag

Backpack, snack and travel hack

Travel buff, packing stuff

 With my travel pouch I quit my couch

I brag my bag 

Trolley bag, jolly swag

Pack up, wheels up

Backpack and chase your track

One day pack for Sunday 

Two straps and the maps

Zips are closing their lips, now I'm on my trips

Packing, snacking, trekking

Crack the knack of backpack

Is he carrying my bag? Nope, carrying my swag!

Bagful of clothes, fulfilling my travel oaths

Lollygag with my glam bag

Bagful of hope, I'm on my way to explore every slope

Bag is filled with a dream; traveling is my mainstream

Backpacking on a weekend; my new trend

I'm a travel greedy, my backpack is always ready

Ouch, for a longer time my hiking pouch is on a couch, it's high time for a travel vouch

Bag on my bum, am I looking like a drum?

Voyage without baggage

Duffle and muffle

Packing light for hiking hight

Chewing gum, big bag on my bum

Feeling bag, reeling drag

On my track, with haversack

Sighing zips; bagful of snacks and chips

Bag on the bum, I'm high on rum

With my bag I have an obsession, It makes my travel succession

Bag+Passion= Travel obsession

Small size bag, king size swag

Backpack for weekender, feeling the thunder

Two straps, nature's laps

Hey bag blue, you are my glue

Packing my pink, wink wink wink 😉

Green backpack for a travel queen

Blue is not for mondays, it is for my fundays

Drink, think, finally pack my pink

Carrying green, ready to explore the world unseen

Blue bag, ready to seduce blue sea

With my blue, it's travel clue

Packed lingerie, for reverie

Is my bag bulky? Nope, it's very perky

Swollen suitcase

Bubbly me, doubly you

T-shirts, skirts, shorts; All set for resorts

Don't forget the condom pack while you backpack 😉

Backpack is freedom; Backpack with condom pack is wisdom

Zipper locks, My travel rocks

Sit back and relax; Backpack and chillax

Packing two-piece for my inner peace

Oh dear!! I'm packing my swimwear

It's that time of year when I pack my swimwear

Then she whispered in my ear, "You've forgotten to pack your underwear".

In rush, don't forget to pack your toothbrush

Road and Load

Knickers, sneakers, backpackers

Rolling luggage, mind free of baggage

I miss my backpack, it's time for travel hack

Packing of 'she' gang, ready for travel bang bang!

Closing zips; exposing trips

Happy zips, making hissing sound; my travel plan is around

Zips of my backpack are sighing; Should I unpack some underwear without worrying?

Dear zip please grip

Hey zip, close your lip 

Zips, chips, trips

Zip with grip, ready for trip
Catchy Tote Bag Captions for Your Elegant Pictures
I'm remote with my travel tote

 I've my travel tote and currency note; All I need is a dreamy island which is remote

 A travel tote is my antidote

 I emote with my new tote

 I'm ready with my travel tote; Nature embracing me with its musical note
Attractive Sling Bag captions
Slings are my travel wings

Travel swing with my sling

In the nature, I sing with my sling

Travel king with my sling

Sling to keep my thing

In the mountain I upswing with my sling

Slings are my travel strings

With my sling of leather, I'm experiencing new weather

Sing with sling

Enjoying spring with a stylish sling

Far away from a phone ring, enjoying with sling

On my way, sling and sway

Bring your sling, let's travel and fling

No bling only a sling

️

Sling style with my smile

Sling is king

️
New Bag Captions to Make Your IG Post Attractive
New bag, travel mag, flaunting my swag

New bag, new journey

Knitted bag with twisted tag

Mini bag, minimal travel

The new bag adds new swag

I don't check the tag when I buy a bag

I love all the new bags that are without price tags

Big bag on my bum, looking like a drum

I never lag when it comes to a new bag
I hope you enjoyed reading all the bag captions for Instagram. Let me know which bag caption did you like the most from my list? 
SUGGESTED
Inspiring Short Travel Quotes & Captions
Happy Wayfaring!