Teotihuacan travel tips will prove essential for individuals who want to explore one of the ancient world's largest cities. A visit to Mexico City is not complete without exploring this UNESCO World Heritage Site.
Thanks to the travel-friendly vibe of Mexico, travelling to Teotihuacan (Pronounced as Tay-oh-tee-wah-kahn) isn't all that difficult. However, having a list of Teotihuacan travel tips will ensure you visit this wonder stress-free, and return to Mexico City with beautiful memories.
Situated about 50 kilometres from Mexico City, Teotihuacan offers more than just the world-famous pyramids. Its beautiful landscape, ever-puzzling history, and photogenic backdrops attract travellers from across the world.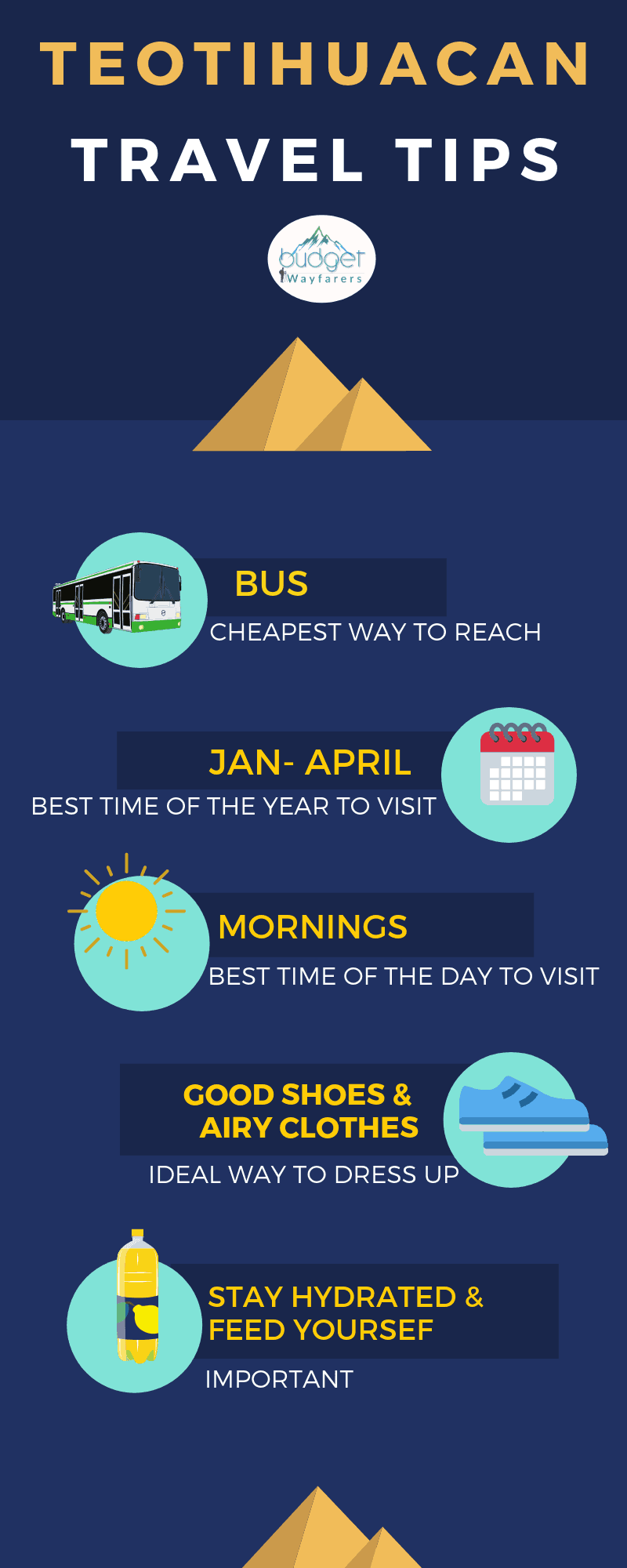 11 Crucial Teotihuacan Travel Tips
After exploring Mexico City for 2 days, I planned to move a little further out of the city and see places nearby the city. Lying at A visit to the Teotihuacan pyramids makes for a perfect day tour from the capital city.
In my current blog, I will be elaborating on a number of Teotihuacan travel tips. They will not only assist curious explorers, but also the needs of first-time travellers.
Here is a quick overview of some of the many tips in the post ahead:
1. Take a bus to Teotihuacan as it is the cheapest travel option for independent travel.
2. If you wish to take a budget guided tour, a small group Teotihuacan Pyramid Tour can be booked in advance. It starts and ends in Mexico City. Other than transportation, the tour also includes the services of a guide.
3. Although temperatures in Teotihuacan do not vary much throughout the year, January to April is considered the best time to visit
4. Teotihuacan can be visited on all days of the week, from 9 AM to 5 PM. However, avoid Sundays as they are the most crowded.
5. Keep yourself sun protected at all times by using sunscreen and wearing the appropriate clothing & footwear
6. When visiting Teotihuacan, carry a small bag/ backpack containing essentials including sun protection.
7. Make sure to stay hydrated at all times while exploring Teotihuacan ruins
8. Grab something to eat at stalls around the Pyramid of the Sun. You can also experience, cave dining at La Gruta
9. Know the layout of the complex. Visit this monument in stages to not miss out on anything important.
10.  If travelling independently, check thoroughly before hiring a tour guide.
11. Teotihuacan doesn't simply end with exploring the ruins in the archaeological complex. Explore some adventurous activities near the complex.
Teotihuacan was the highlight of my trip to Mexico. Whether you are a history lover or not, it simply cannot be missed. But, before jumping straight into it, make sure you're well prepared. What follows is my detailed insights on the above Teotihuacan travel tips.
Tips for getting to Teotihuacan independently
As is the case with most places in Mexico, there are multiple ways of getting to Teotihuacan. If you are travelling independently, these are the cheapest ones
1. The Cheapest Option for reaching Teotihuacan by Bus
Reaching Teotihuacan by bus is easy even for those who are not used to public transport. A large number of buses ply from Mexico City to this ancient town.
For starters, you need to get to the bus station. Take a metro from wherever in Mexico City you are, to reach the Terminal Central del Norte station. Then, get out of the metro station and you'll spot the Autobuses del Norte station right across the street.
Bonus Tip: Most people will warn you about pickpockets in the metro since it gets extremely busy at times. But really, all you need to do is be careful like you would in any other city.
At the bus station, walk towards Puerta 8 (Gate 8). You will easily find display boards for Teotihuacan, that read 'Pyramides' or 'Zona Arqueologico.' Buy a ticket at the ticket window and board the bus. The ride is extremely affordable at a round-trip cost of just 104 pesos (5.4 USD) per person. By bus, it will take about an hour to reach Teotihuacan from Mexico City.
Note: The first bus to Teotihuacan departs at 6 AM, but the site only opens at 9 AM. So, plan on taking a bus around 7:30-8 AM. Buses run at intervals of 20 minutes throughout the day.
After roughly an hour, you will be dropped near Puerta 1 at the bus station in Teotihuacan.
Return from Teotihuacan to Mexico City
Once you're done exploring Teotihuacan, exit the ruins at Puerta 2 (Gate 2) and walk through the parking lot to the main road (pickup is also available at Gate 3). The bus will pick you up at that main intersection, on the far side of the road. You shouldn't have to wait more than 20 minutes. Finally, you will be dropped at Autobuses del Norte station in Mexico City.
Note: The site closes at 5 pm but buses will continue to ply until 6 pm. Bus bookings do not need to be made in advance.
Taking a Taxi to Teotihuacan for a more comfortable ride
If independent travel suits you, but bus travel doesn't, an uber to Teotihuacan would be the only alternative. Just like in any other city, the fare would depend on the demand for taxis at the moment. However, the cost would roughly be around 500 MXN (26 USD) each way.
Mexico uses the Mexican Peso (written as MXN, M$ or Mex$)
The conversion rate in terms of three currencies – Mexican Peso (MXN), American Dollar (USD), and INR (Indian Rupee) is as follows. This was back when I visited Mexico:
1 USD = 19.04 MXN and 1 MXN = 3.62 INR
Make sure that you enter the right location on the app. As advice put in 'Teotihuacan Pyramid of the Sun' or 'Teotihuacan Avenue of the Dead.' With this, the chances of reaching the wrong location will be nullified.

Insights into choosing the best & Cheapest Tours for Teotihuacan 
If both the options seem a bit of a hassle, I recommend going in for group tours to Teotihuacan. These tours offer the complete tour of Teotihuacan from Mexico City.
This is also a great way to meet fellow travellers and make some friends. A lot of travellers miss out on really good customized Teotihuacan tours simply because they are unaware. You should not be missing out on the fun.
According to my Teotihuacan travel tips, the following budget tours are worth taking:
Insights on Choosing the Best Time of the Year to Visit Teotihuacan  
Truthfully, there's no such thing as a bad time to visit Teotihuacan. However, January to April is considered to be the best time of the year to visit. These are also the months that Teotihuacan receives the highest number of tourists.
I personally visited in the month of August. Now, this is the least visited month because it's said to be rainy.
Luckily, it was a bright sunny day when I went. In any case, it should be okay since Teotihuacan doesn't receive very high rainfall. Also, since it's a dusty city, a little rain might just prove to be a blessing in disguise.
Temperatures in Teotihuacan
March to May: 12-25°C
June to August: 13-25°C
September to November: 10-22°C
December to January: 7-21°C
Temperatures in Teotihuacan do not vary much throughout the year. This is the reason why it is deemed to be favourable no matter what month you visit in.
Suggestions on the Best Time of the Week and Day to Visit Teotihuacan
Unlike what most websites claim, Teotihuacan is open on all days of the week, and from 9 AM to 5 PM. There seems to be a lot of uncertainty about whether Teotihuacan is open on Mondays. Fortunately, Teotihuacan is one of the very few tourist sites in Mexico that's open on a Monday.
There's no day of the week and no time of the day that you won't find visitors at this magnificent site. However, there certainly are days you can avoid staying away from the crowds.
Remember that Sundays offer free entry to Mexican residents. So, this is the most crowded day of the week. Additionally, on any day, 12 PM to 5 PM is a peak time. Hence, visiting in the morning would not only be peaceful but also pleasant.
Dressing Tips for a day trip to Teotihuacan 
Visiting Teotihuacan involves exposing yourself to the scorching sun, and lots of walking and climbing. Thus, it is very important for you to dress accordingly. As per my Teotihuacan travel tips, stick to the following:
Sun Protective Clothing
It is necessary for both men and women to wear loose, airy and comfortable clothes on their trip to Teotihuacan. Shorts are a good option but be prepared for tanned legs. If that's something you want to avoid, simply wear loose cargo pants. They also come with a lot of pockets that come in handy.
Comfortable Shoes
Wear comfortable hiking shoes. Women, DO NOT wear heels despite all the wonderful plans for photographs you have. None of those photographs will look good if you don't feel well and fit. So, shoes are an absolute must.
Accessorize for further protection
In addition to suitable clothing and shoes, you could carry a scarf, a hat, and a pair of sunglasses for further protection from the sun.
Sunscreen's a must
Although temperatures are not too high in Teotihuacan, the sun is extremely strong. The last thing you want is sunburns, tans, and rashes, So, make sure your skin is covered with sunscreen at all points.
Bonus Tip: In order to know which sunscreen is best for you, refer to a sun protection factor (SPF) guide online.
Essential things to carry for Teotihuacan Visit
In addition to being appropriately dressed, ensure that you carry the following things on your trip to Teotihuacan:
Lots of water
Sunscreen
A mini first aid kit
Umbrella
Windcheater/Raincoat
Dust Mask
Cash
Portable Charger
Bonus Tip: There are a few baggage holding locations in Teotihuacan. This is for people who might be visiting from the airport or have a bag or two they want to deposit. Bags that are not too big could be deposited at these spots for about 30-35 MXN.

Staying hydrated is super important when exploring Teotihuacan
It is no joke getting dehydrated in the middle of a trip to Teotihuacan. Trust me, you really do not want to feel weak, drained and giddy when you're in one of the world's most beautiful historic sites.
Essential
Always make sure you have water on you. In case you run out of it, you can always pick some up at one of the stalls around the Pyramid of the Sun.
Protection
In addition to drinking enough water, try to cover your body as much as possible. Carry a scarf and a pair of sunglasses. It will act as a shield against the strong sunlight.
Bonus Tip
As a precaution, carry packets of ORS (Oral Re-hydration Salts). In case you feel dehydrated, mix it with water and drink it. You can buy it at any pharmacy without a prescription.
Finally, make sure you are alert and considerate at all points. If you notice someone else feeling sick or dehydrated, offer what you have.
Suggestions for Where to Eat in Teotihuacan?
Spending a day at Teotihuacan is going to involve a lot of walking, and tiring yourself out. None of this is possible if you do not feed yourself well.
Fortunately, a large number of stalls selling chips, sandwiches, and other snacks can be found around the Pyramid of the Sun.
La Gruta – A Cave-Dining Experience
If you want to experience lunching inside a natural cave, visit La Gruta, a popular restaurant in Teotihuacan. The waiting lines will most certainly belong, but it's worth it. The food here is priced on the higher side by Mexican standards, but it's absolutely delicious.
I mean, good food, and good visuals. What else do you really need? My Teotihuacan travel tips would urge you to visit La Gruta for a wholesome meal.
Must try: Nopal based dishes. Nopal is the pad of the prickly cactus which grows commonly in Mexico. This cactus is also seen on the Mexican National Flag.
If you are light on the budget, you'll find plenty of options for food at Gate 2 (across from Pyramid of the Sun). The best part about visiting Teotihuacan is that you can exit and enter as many times as you want – on the same day, of course. So, feel free to make your way out to grab some lunch. You will not only have more options to choose from but will also save some bucks.
Key Pointers to Understanding the Teotihuacan

Archaeological

Site
Teotihuacan is a vast complex and its layout comprises of a number of sites. Therefore, visit this monument in stages to not miss out on anything important.
Avenue of the Dead
The Avenue of the Dead is 40 meters wide and 4 km long. The entrance is perpendicular to the stretch of this avenue and from where you enter, it is 2.5 km long to the left.
La Ciudadela
The first thing that you will find on the Avenue of the Dead is La Ciudadela.
It is a large square courtyard with high walls where religious activities were conducted. It is so large that it could hold most of the city's inhabitants within these walls during ceremonies.
Temple of the Feathered Serpent
In the centre but at the far end of the Ciudadela, is the famous Temple of the Feathered Serpent. It is also a pyramid with six levels. The outer edges of the pyramid are decorated with carved heads of a feathered serpent on all four sides. The serpent heads that can be seen in the picture represent the Aztec god, Quetzalcoatl.
Pyramid of the Sun
The pyramid of the Sun is the third-largest pyramid in the world. Climb all the way to the top for panoramic views of Teotihuacan. The pyramid is 75 meters tall and there are 248 stairs which are large and steep. So, be careful to not lose your balance here.
Pyramid of the Moon
The Pyramid of the Moon is at the far end of the Avenue of the Dead. Visitors are only allowed to climb up to a certain point. Additionally, this pyramid is not as high as the Pyramid of the Sun, but equally beautiful.
Palace of Quetzlpapalotl
The Palace of Quetzlpapalotl was built around 450 to 500 AD. This is a courtyard made of stones and each pillar has colourful motifs depicting birds. This palace was supposedly built for ceremonial purposes, or as a meeting spot for emperors.
Teotihuacan Travel Tips for choosing the right Tour Guide
Hiring a tour guide in Teotihuacan is a great idea. You will find out a lot about its mind-boggling and mysterious history.
For example, in the year 2003, a sinkhole appeared at the foot of the temple after heavy rains. Archaeologists of Mexico's National Institute of Anthropology and History over the next six years dug tunnels to find a rich array of objects like seashells, pottery, wooden masks inlaid with gems and jewellery.
While such locations are not open to visitors, these historic details are best described and shown around by a guide. A number of tour guides sell their services right at the entrance of the archaeological site.
Cost of Hiring a Tour Guide
Now, there's no set price when it comes to paying a tour guide. Roughly, they can charge around 400 MXN for a day or more.
Prices might also depend on the day of the week you visit, and thus, the demand.
Must Remember
1.     Come what may be sure to haggle. Most of the guides would quote exorbitant prices at first. Do not hesitate to walk away.
2.     Always ensure they have a license to ensure they're legit.
If you're travelling alone, hiring a tour guide might turn out to be expensive. You could instead opt for a group tour.
Contrary to popular belief, guided tours are not always very expensive. Most Teotihuacan tours would cost anywhere between 300 to 700 MXN. The price you pay will depend on facilities offered, duration, inclusivity of meals, etc.
Suggested Activities to enjoy in Teotihuacan, the City of Ruins
A trip to Teotihuacan doesn't simply end with exploring the ruins in the archaeological complex. Following are two ways of seeing Teotihuacan in a different light:
1. Hot Air Balloon Ride
The hot air balloon ride over Teotihuacan will ensure that you will get fantastic panoramic views of the pyramids. Floating over the gigantic pyramids with a lovely view of the layout is a lifetime experience. However, note that this is an expensive affair. Be prepared to shell out at least 200 USD per person for one flight.
2. Spring Equinox Festival
Spring Equinox (between 20th and 21st March) is that time when the earth witnesses a day with the same length of day and night.
During the Spring Equinox Festival in Teotihuacan, thousands of people dress up in white clothes and a red scarf. The ritual includes praying to the Sun God where people climb the Pyramid of the Sun. They burn incense sticks and pray for good health and positive energy. Trust me, it's a sight to witness.
A place that looks like a ruin throughout the year has a festive look during Spring Equinox.
6 Additional Teotihuacan Travel Tips
In addition to all the Teotihuacan travel tips mentioned in this blog, the following are just a few more that will further ease your trip:
Money – Make sure you carry enough cash. Chances are that most of the tour guides, stalls, and restaurants won't accept card payments.
Washrooms – There's a washroom near the on-site museum.
Safety – Overall, Teotihuacan is really safe. You simply need to exercise caution as you would at any other place in the world, and you'll be fine.
Dusk Masks – In case you're allergic to dust, carry a dust mask. You can find it at any pharmacy. Teotihuacan can get really dusty especially if winds are blowing.
Vendors – You'll find a number of vendors selling souvenirs on the site. Make sure you do not entertain them unless you really want to buy something. Otherwise, be prepared to be nagged around.
Tickets – Tickets to the site cost 70 MXN, and you can purchase them right at the entrance. Unless you are on a group tour, there is no need to book Teotihuacan tickets online.
What we see at Teotihuacan today, is what remains of this ancient city. On the other hand, what lies beneath the ground, hidden from plain sight are residential complexes.
Why was such a thriving city, which has shown evidence of a thriving lifestyle of people, living in large residential complexes abandoned?
Though there is no conclusive evidence, it is said that there could have been an unforgiving drought leading to a famine. This could have compelled people to abandon Teotihuacan. Or maybe, there was an internal revolt. Maybe, we won't ever know.
Keep these Teotihuacan travel tips in mind, and you won't return to Mexico City disappointed.  Now, get ready. The City of Gods is calling out to you.
Happy Wayfaring