If you are travelling to East Java, for the first time, Surabaya is the place I would strongly recommend. In this blog, I will share with you a detailed Surabaya travel guide to help you with your first ever visit to this less explored city.
Only a 2.5 hours flight from Singapore, Surabaya is a beautiful capital city located in East Java, Indonesia. It is Indonesia's second-largest city and for which the primary language they use is Bahasa Indonesia (a.k.a. Indonesian).
One of the best parts about visiting Surabaya is its proximity to one of the most exciting and adventurous places. If you are a person who likes to be in nature, this is the place to be.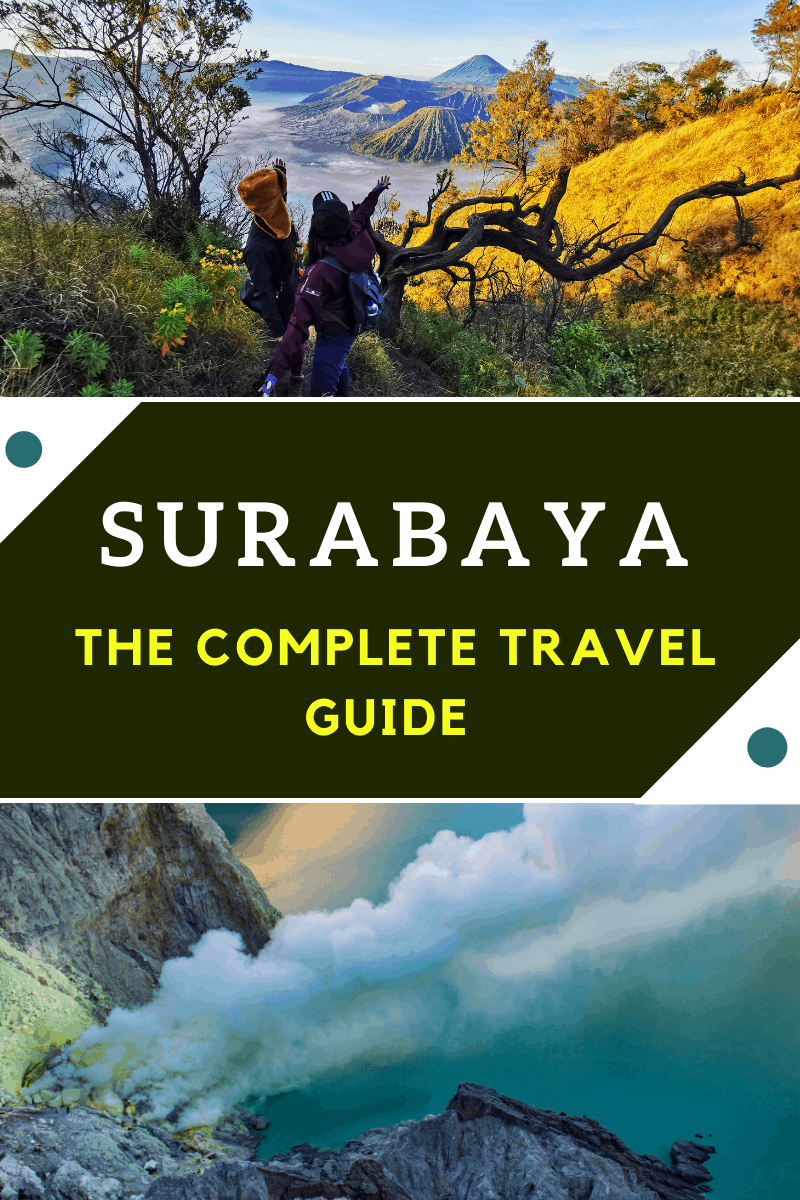 Surabaya Travel Guide & Itinerary 
East Java is dominated by a series of picturesque and spectacular volcanic peaks. There are four volcanic peaks higher than 3,000 m in the region, of which the most prominent are Mount Bromo and Mount Ijen. This volcanic activity has fueled the fertility of the area and verdant agriculture is a prominent feature of the area.
My Surabaya travel guide will help you explore these volcanic peaks near Surabaya and some other spectacular natural wonders in the region.
4 Days 3 Nights Itinerary in Surabaya, East Java
Although there are plenty of places to explore in and around Surabaya, I was looking for some adrenaline rush in Surabaya. Therefore, my itinerary and Surabaya trip was mostly centred around exploring the adventurous side of the region.
Day 1: Take a Scenic Drive Down to Mount Ijen  
–  Arrive in the afternoon at Surabaya International Airport
– Have a hearty lunch at any of the local restaurants or shophouses
– Stock up on some snacks and food at convenience stores or the supermarket to prepare for the long drive and the rest of the trip
– Enjoy the scenic drive down to Mount Ijen
– Have a good dinner and prepare for the early morning next day for Hiking at Mount Ijen which starts at 2 am
Day 2:   Mount Ijen – The Blue Flames, Tumpak Sewu Waterfall – The Exhilarating Downward Hike
– Leave the hotel at 2 am to prepare for the hike at Mount Ijen
– Drive to the starting point of the hike
– Complete the hike in approximately 5 hours or less, gaining a first-hand experience up close with the legendary blue flames
– Head back to the hotel to wash up and rest before checking out
– Drive towards the Tumpak Sewu Waterfall and experience an exhilarating descending hike towards the base of the waterfall
– End your day by checking in at the next hotel near Mount Bromo
Day 3: Mount Bromo – Stargazing and to the Smoking Crater
– Wake up in the wee hours of the morning to get to the viewing point at the peak of Mount Bromo
– Immerse in the starry night in the cold temperatures on the mountain peak
– Enjoy the jaw-dropping sunrise that would unveil the beauty of Mount Bromo
– Take a jeep ride downwards to the base of the volcano
– Walk across the plain of volcanic ash toward the smoking Crater of Mount Bromo
– Spend the afternoon however you want it. Buy some souvenirs from the local markets or supermarket or enjoy some playtime at a local arcade
Day 4: Dip in the Madakaripura Waterfall – Freezing Showers
– Be amazed by the Madakaripura Waterfall and be surprised by the unexpectedly freezing showers
– Enjoy a warm drink and lunch at a local food hut
– Take a scenic drive back to the Airport while enjoying the sunset
– Have a safe flight back!
Iconic Places to be Covered in Surabaya Travel Guide 
A Surabaya travel guide is incomplete without a description of all the exciting places that you will be covering on your trip. Below I have shared with you a brief overview of the places that were part of my itinerary.
1. Mount Ijen, East Java – The Blue Flames
Mount Ijen is a place you wouldn't want to miss here in East Java! Here lies the world's largest acidic lake, the legendary blue flames and also one of the best views of nature you can ever get in Asia!
Legendary blue flames
The hike towards these beautiful views takes about 1.5hours, but it starts at around 2 am in order to see the blue flames. It includes a sharp descent down rocky beds till you are close enough to see the blue flames.
This blue fire is created from ignited sulphuric gas, which emerges from cracks at temperatures up to 600 °C. You can even feel the heat from way above. The smell of sulphur was so strong there too that we had to put on the face masks. Even so, it was difficult to breathe without choking on that unpleasant smell.
World's Largest Acidic Lake
At about 5 am, we left the blue flame and headed upwards to catch the sunrise from above the clouds and a view of the world's largest acidic lake. The view was spectacular with the clouds on one side, and the volcano on the other!
2. Tumpak Sewu Waterfall – The Exhilarating Downward Hike
Tumpak Sewu Waterfall (also known as Coban Sewu) is arguably Indonesia's best waterfall. It is by far one of the most impressive waterfalls I've ever seen!
I absolutely adore the hike downwards because of how "natural" it was. The track was made up mainly of wooden sticks, planks, bamboo, ropes and rubber tyres. Hence, my best advice to you is to wear comfortable stretchy clothing that allows you to manoeuvre around easily. Once you conquered this part of the hike, what awaits you is that beautiful view of the waterfall!
3.  Mount Bromo – Stargazing and to the Smoking Crater
Mount Bromo, is an active volcano and part of the Tengger mountain range in East Java, Indonesia. At 2,329 meters, it is not the highest peak of the mountain range, but definitely, the best known among its brothers. A must-visit when you're here in Surabaya!
Plan to watch the sunrise and stargaze at Mount Bromo. It is possible to even see the Milky Way on clear days! However, do remember to dress in really warm clothes as it can be as cold as 5 degrees Celsius then as you wait for the sunrise.
Right after that, head down to the base of Mount Bromo where you can get close to the smoking crater of this active volcano. The temperature there would have risen to a comfortable range from 18 to 22 degrees Celsius. This is a huge contrast to when at the peak of Mount Bromo, so layering of clothes is really important here! You will walk past long plains of volcanic ashes before getting to the smoking crater. Those views are just jaw-dropping because of how unreal it is. It made me feel like I was literally walking into a postcard!
4. Madakaripura Waterfall – Freezing Showers
Located not too far from Mount Bromo in the Lombang district, Madakaripura Waterfall is about a three hours drive from the capital of East Java, Surabaya. This spectacular waterfall is well hidden at the end of a deep valley of the Tengger mountain range and is definitely worth the visit!
The trail towards the Madakaripura waterfall was, again, very natural. We stepped into little rock pools, with continuous showers of water splattering on our faces, and also had the option to have a little swim in the clear waters! It was especially relaxing and refreshing as we took a little dip in the clear waters before ending our 4D3N trip!
How to Get to Surabaya, East Java?
1. By an international flight to Surabaya, Indonesia
An International flight to Surabaya, Indonesia from Singapore takes around 2.5 hours. There are many budget airlines that fly to Surabaya and my direct round trip flight from Singapore costs about INR9,000 (S$160).
2. Take a ferry from Bali to Surabaya
I'm sure Bali is no stranger to anyone who's heard of Indonesia. It is another popular tourist destination that is, fortunately, really close to the beautiful East Java. If you're planning for a trip to Bali already, why not extend it for a few more days to explore East Java too? From western Bali, travel by a 45-minutes ferry to the eastern tip of Java before driving west towards Surabaya. It costs around INR35 (RP6,500). You can choose to return from Surabaya or otherwise, from Bali if that's where you booked your return flight from!
Best Time to Visit Surabaya, East Java
The best time to visit Surabaya is from May till September. It is the dry season then as compared to October to April when there will be heavy rainfall and high temperature.
How to Get Around Surabaya, East Java?
The best way to get around Surabaya in my opinion is to hire a local driver who can bring you around. Especially because of the long drives and the difference in languages, I think this is the best option to enjoy a relaxed trip.
Locals would know where to bring you to get the best local experiences, and at the same time, drive you around safely on the busy roads.
However, do take note to read reviews and sign up for the right guides as some are really just there to profit. I signed up for a private tour package with one of the local tour groups in Surabaya. It was recommended by one of my friends and we ended up being really great friends even after the trip ended years ago!
Surabaya also does have an extensive city bus network, with normal buses and patas buses (express). Although it is very affordable at around INR 30 (6,000 RP) per trip, I feel that it may not be ideal for a tourist because of the early mornings you need to get to places. Public transport may not be available at that time to cater to your itinerary. Also, you would need to be on your guard for pickpockets as buses can get really crowded.
8 Things to Pack for Surabaya, East Java
An important element of the Surabaya travel guide is the information regarding what to pack. I would advise you to carry along the 8 things mentioned below.
Layered clothes for the diverse weather changes and for getting wet in

A lightweight down jacket to keep you warm during the morning hikes

Hiking shoes

Slippers or waterproof shoes

Sunglasses or Eye Masks (to protect yourself against the windy mountains)

A poncho or a raincoat if you prefer to remain dry

A waterproof pouch for your mobile phone

A great camera to capture the awesome views, and probably a tripod to get a full group shot of you and your travel mates!
Budgeting for Surabaya, East Java
A trip to Surabaya can be very cost-effective in my opinion. Being from and travelling from Singapore, I found the entire region to be quite reasonably priced.
Flights (from Singapore)
INR 9,000 (122 USD)
Accommodation/ Sightseeing/ Local Transportation (per person for a 4D3N itinerary)
INR 10,000 (136 USD)
Food
INR 500 to INR 1,000 (7-14 USD)
Total
INR 20,000 (270 USD)
The tour package I signed up for was a 2-pax 4D3N private tour package that costs my friend and I approximately INR 20,000 (S$350) in total. It includes:
Airport pick-up and drop-off

A specially curated itinerary recommended by the local tour guide catered to the amount of time we had in Surabaya. Our time was really well spent to the last minute!

Accommodations for the next 3 nights

Transport and a local driver that took great care of us for the next 4 days

Tour guides for each of the hikes
Take note that the package does not cover international flight costs and food expenses. The costs of International flights really depend on where you take off from. I personally would recommend combining your trip with a few days trip to Singapore as flights in and out of Singapore to Surabaya are really affordable!
Food is really affordable in Indonesia as well. I recommend preparing around INR500 to INR1,000 (S$10 to S$15) per person and that should be enough for a great local meal!
Visa requirements for Indian Nationals Visiting Surabaya
Indian citizens do not require a visa to enter Indonesia for a short stay (less than 30 days). Hence, you must make sure that you don't engage in any form of paid activities like employment or work.
I hope you found my Surabaya travel guide useful. If you have any questions regarding visiting this amazing destination, drop your questions in the comment section below.