Taking a Sundarban weekend tour to the world's most dense mangrove forests can be an experience to cherish for a lifetime. The region is rich in flora, wildlife and landscapes. It is also home to the mighty Royal Bengal Tiger and the Saltwater Crocodile.
Imagine being immersed in a faraway captivated silence interrupted only by the hoarse sound of the boat engine. Imagine being intimate with a diverse array of flora and fauna, literally absorbing all its essence. Imagine, being in the land of someone hundred endangered Bengal tigers, declining in number but still the undisputed kings of the mangrove territory.
This is what Sundarban – the world's largest delta entails for its visitors. A Sundarban weekend tour can be a good way to detoxify your body and mind from the mundane city spaces. It can also be an excellent way to enrich yourself about 'life on a delta.'
The world's most grand delta – Sundarbans is formed by the confluence of three rivers Ganges, Brahmaputra and Meghna. It is a complex network of islands connected by rivulets and rivers spread across the eastern Indian state of West Bengal and the western region of Bangladesh.
The rich alluvial deposits of the delta islands and thick mangrove forests have shadowed the region making it the abode to hundreds of wildlife species and plants.
In my current blog, I will share my insights as a frequent traveller to the Sundarbans region. Also, I will highlight all the things that a good weekend Sundarban tour has in store for its first-time visitors.
Sundarban Weekend Tour
While some people like the adventure of a wildlife safari, others like to mingle with the indigenous culture of a region's native folks.
So as it stands, the Sundarban weekend tour has something to offer for every kind of traveler.
When the sun sets, the region in and around Sundarbans lights up and the fauna becomes more active. This river might look serene but in actuality, agile wildlife might be waiting to pop out here. 
Before I share more about the region, there are a few aspects that you should know about Sundarbans.
An Overview of Sundarbans as a Travel Destination
 If you're a first time visitor in the land of mangroves or are planning a Sundarban weekend tour, you should be aware of the following travel information.
Location
The southern part of West Bengal
Best time to visit Sundarbans
September to March is the best time to visit Sundarbans.
However, a lot of people travel to Sundarbans during the Monsoon season i.e July to August. Reason being, that they want to spot specific species of animals and plants.
Worst time to visit Sundarbans
The Summer season from April to June.
Avoid the forest in summers due to humid conditions and tropical storms.
Easiest mode of travel within Sundarbans
Motor Boats are the easiest mode of internal transport.
Please note that you are not allowed to hike on foot during a Sundrabans tour. The terrain is dangerous and so is the wildlife. There are man eating tigers here. Only a few locations within Sundarbans are open for hiking and trekking.
Staying options
Numerous accommodation options are available around Sundarbans. The cheapest, however, would be to stay in the launch (staying in the boat with the boat anchored in the mid river) itself.
Nowadays homestays are also available in different islands.
In case you want to stay in hotels nearest to Sundarbans, book them in Pakhiralay, Bali or Sajnekhali island. The location of all these three places is close to the mangrove forests.
There are also pricey and touristic resorts but if you're a budget traveller, avoid them.
Ideal duration of a trip to Sundarbans
Depends on your travel purpose.
Ideally, a Sundarban weekend tour would be perfect. However, if you have more time to spare, plan a longer trip for the purpose of wildlife exploration.
Cost of taking a Sundarban weekend tour
For a weekend trip to Sundarbans, an average cost of 3000 to 7000 INR ($42.90 -100) per head can be expected. But again it depends on the luxury and the purpose of your trip.
Budget saving tip
Travel in a group of 5 to 6 people or even more for cost-sharing.
My Love for Sundarbans
Late, I have visited Sundarbans quite a few times. I generally like to travel along with a group and we do the booking through a wildlife guide who makes all the other arrangements.
I am truly enthralled by the wildlife of the region. Then there is also the magical charm that keeps attracting me to the delta island.
They say, in the mangroves, even if you do not see a tiger, it is always spotting you. But, I would say, a Sundarban tour is not solely about tigers, it is about an ecosystem surviving against all odds. The safety of travelers here depends on them.
On one hand, the Tigers are fighting for survival in a versatile atmosphere, with saline water all around, deficiency of food and growing human pressure.
On the other, humans are also doing well to exist in a desolate complex string of islands, where life is punctuated with issues like soil erosion, floods, tropical storms and tiger attacks.
It is a tale of survival, a tale of coexistence! Visit Sundarbans to understand this mind-boggling tale of nature.
A good trip often has a good itinerary. So why should Sundarbans as a region be any different? Therefore, try planning an itinerary that serves your travel purpose and is light in your pocket.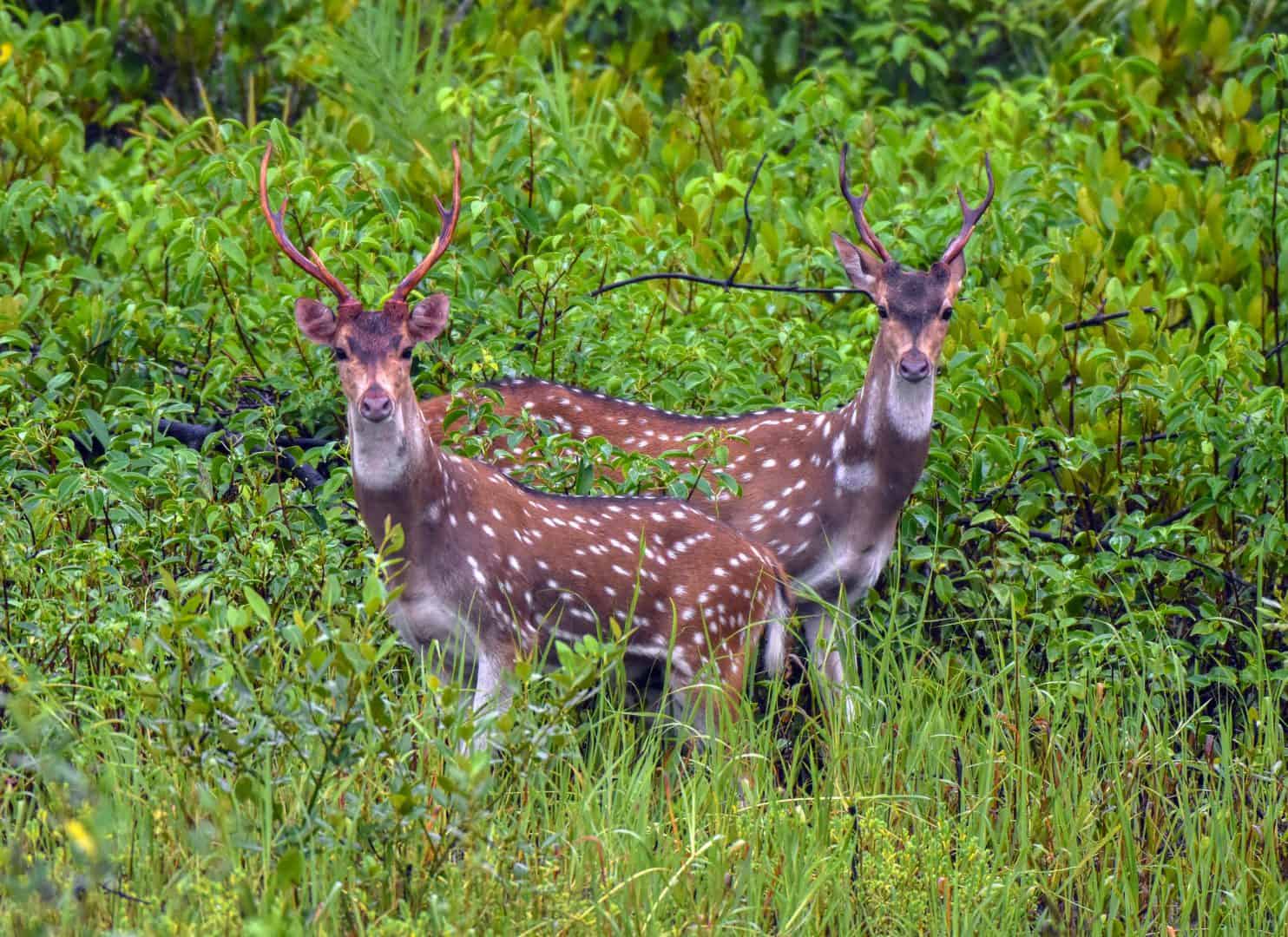 Sundarbans is home to various wildlife species. This is a picture of the Spotted Deer. These are the easiest observable animals here. Make sure to click their pictures from a distance. 
What is a Good Itinerary for Sundarban Eco-Tourism Tour?
One of the most common questions that pop up in travelers' minds is," How much time to spend enjoying the Sundarban eco tourism?" Well, I'd say it depends on what you want from your visit.
Although a day trip or one-night trip for visiting Sundarbans from Kolkata is possible, the ideal time frame for exploring the mangroves is a weekend (2N/3D).
That way, one has enough time to cultivate the wildlife as well as get along with the native culture.
Photography Trip to Sundarbans – the Latest Fad
Nowadays going for a complete photography trip to Sundarbans is possible with a specialist guide for tracking and spotting the wildlife species of the forest. In this case, there is no bound time.
It all depends on the concerned photographers (or nature lovers). These types of trips are a bit costlier.
I've undertaken one of them recently. It was a pleasure capturing pictures in this beautiful delta region.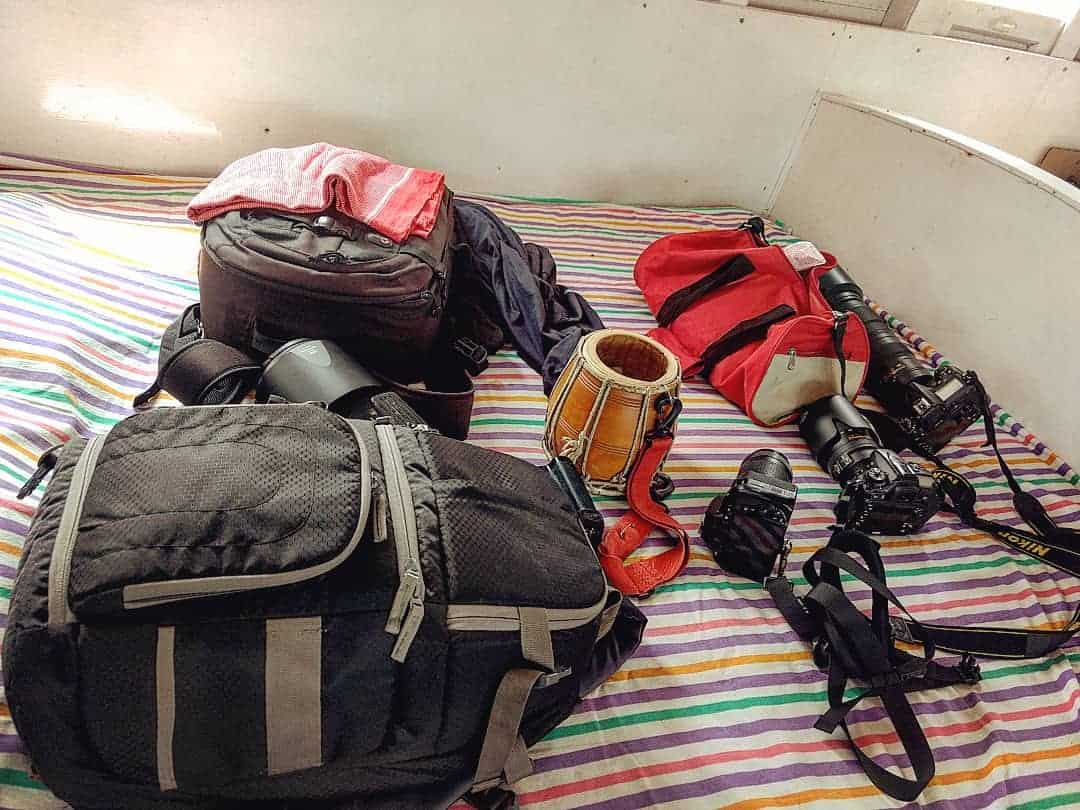 Photography is a big part of my tours and so I set out to explore Sundarbans and capture its memories permanently in my lens. You should do the same. 
What was My 3 Day Sundarban Weekend Tour Plan?
If you are heading for a Sundarban weekend tour or a 2-3 day tour,  you can follow the plan that I followed on my maiden trip. It'll help you.
I will be putting the highlights of my weekend Sundarban tour plan below and will elaborate it in detail.
Day 1 of Sundarban Weekend Tour
On the first day of my Sundarban weekend tour, I basically traveled from my base city Kolkata to Godkhali and further acquired permits and bookings. Also, some exploration of the islands was done.
Places covered and activities pursued on day 1
Reaching Canning
Heading to Godkhali
Reaching Godkhali
Booking and Acquiring Permit at Sajnekhali Island
Traveling to Pakhiralaya Island
It is ideal to start your Sundarban weekend tour from Kolkata early morning. Heading out early will ensure that you reach Sundarbans by 10.00 am.
The one-hour train journey from Kolkata to Canning should be a fun ride. As you move further away from the streets of Kolkata, the view transforms from cluttered buildings to more soothing lush green farm fields.
Reaching Canning
As you de-board the train at Canning station, the hustle-bustle around the station is notable. Just outside the station, there are a number of tours and travel outlets offering a range of Sundarban tours.
It is often a good idea to refuel yourself with a cup of tea from any local vendor here. The ambience of the local bazaar is not perfect but it is one of its own kind.
Heading to Godkhali
The bus stand is a somewhat chaotic area with dozens of vehicles and drivers screaming out at the destinations. It is at this point you take a vehicle to Godkhali (or Jhorkhali). You might have to negotiate a bit with them about the price.
If you book a full vehicle, which can accommodate 8-10 people, 700 INR ($10) is a reasonable quote. In a while, you will cross the Matla river, and thereafter sights change fast, and you will feel you have entered the interiors of Bengal. In an hour you reach Godkhali.
Landing in Godkhali
The mini-port of Godkhali is again a special place hectic with lots of local business. Enjoying the setting you get the first sight of the river, and after you meet your guide, hop on to your boat.
In general, the boats have a sitting area on the top deck and a resting area beneath. Most have modern toilets. Food and drinking water are stored onboard for the next three days.
I still can well memorize the moment I stepped onto the boat, on my first Sundarban tour; the feeling that for the next three days, I will be on board made me ecstatic and nervous at the same time.
The journey begins along the waterways, and you are all set to experience the unique ecosystem of Sundarbans. The boat sails through the vast Raymangala river and gradually the village scenes start disappearing.
During this time of the day, it's high tide and you might see water levels touching the topmost branches. A few turns through the river and you enter Sundarban, a large hoarding welcomes you to the mangroves.
Booking and Acquiring Permit at Sajnekhali Island 
You will need to take the official permit for entrance to the forest at Sajnekhali Island.  You can also take a walk along the protected area on the island.
There is a huge pond, with lots of red-faced monkeys playing around. There is a mangrove interpretation centre and the Sajnekhali tourist lodge.
Many people book this place for accommodation, but it needs to be done well in advance.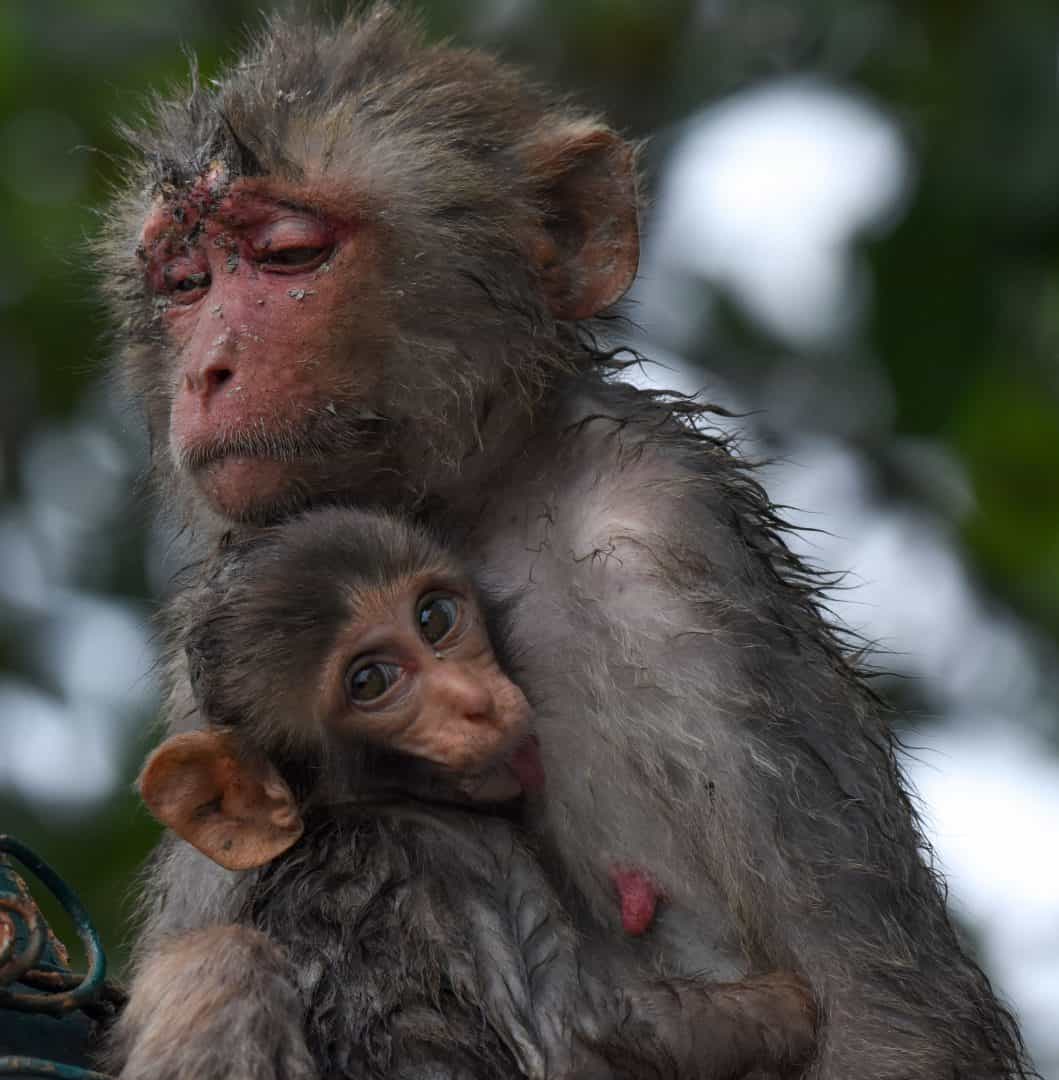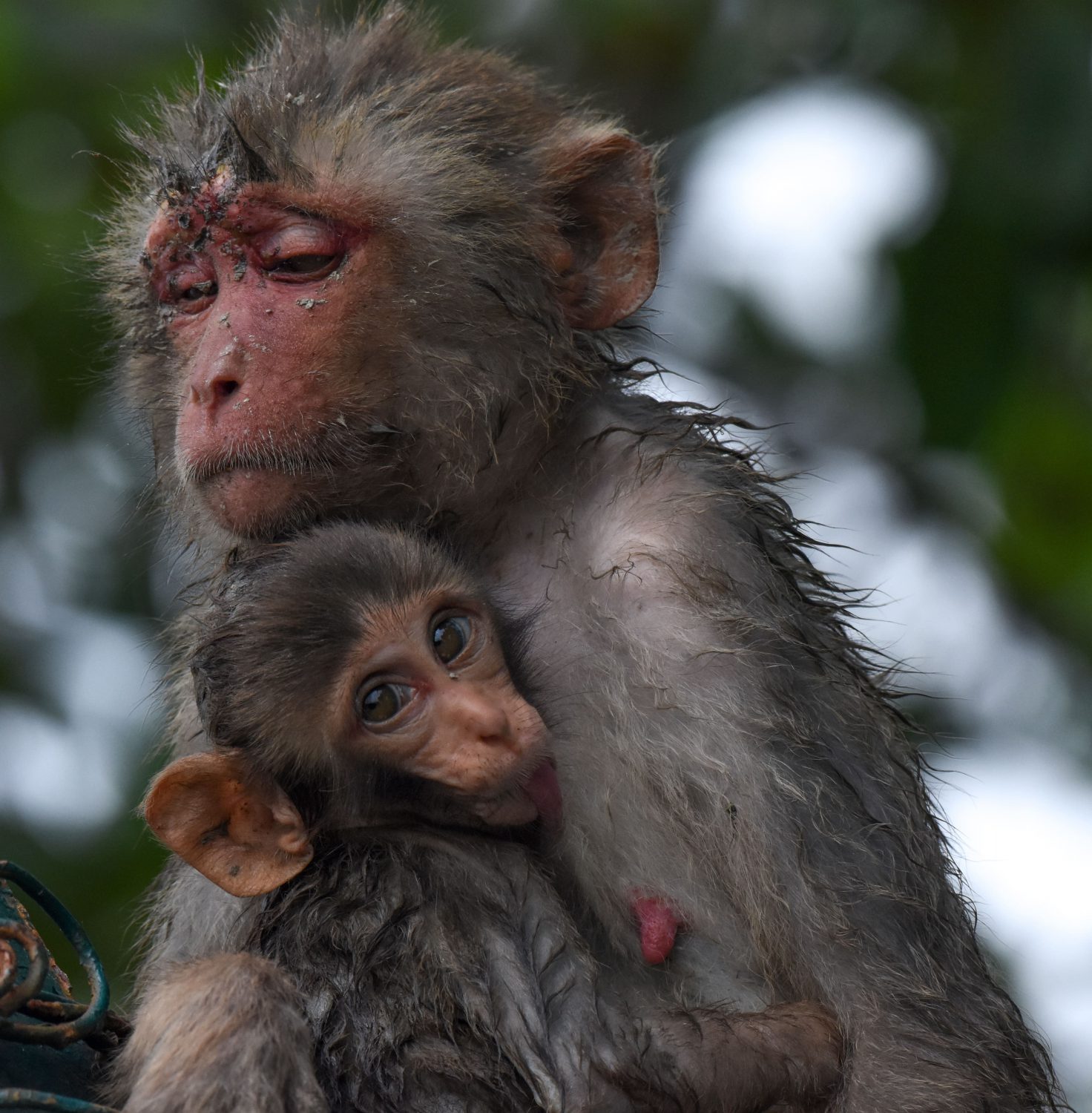 Red-faced Rhesus monkeys are a common sight in and around the Sundarban mangrove forests. Click their pictures but never disturb them. They might be your best chance to know if there's a tiger around. 
Traveling to Pakhiralaya Island 
The boat sails through the mangroves and your next destination is Pakhiralaya Island. In the native Bengali language, the word Pakhiralaya means 'abode of the bird.' But again, it is symbolic.
Pakhiralaya Island is a good place to enjoy local life, markets and to see a village thrive inside the mangroves. Along with local business, this place also hosts a number of hotels.
If you are not staying at the boat, this is a good place to book your accommodation.
According to the pre-assigned plan, you either stay on this island in your guesthouse or return to the boat to cruise through the river, where the boatman wants to anchor.
Note: It is not at all unsafe to stay in the boat overnight. It might not be luxurious. But the experience of spending a night in the middle of the river is special and memorable. Ensure that you carry anti-mosquito creams here.
Day 2 of Sundarban Weekend Tour
On the second day of your Sundarban weekend tour, you should spend all the time inside the jungle. Do not expect to have good connectivity with the outside world as you are in the interior of a very thick forest.
Make sure to start early, if you want to catch good wildlife sighting.
Places covered and activities pursued on day 2
Observing wildlife closely
Making an effort to catch a glimpse of the Royal Bengal Tiger
Heading to Sudhanyakhali Watch Tower
Experiencing the tall Dobanki watchtower
I still remember that during my first Sundarban weekend tour, while I was staying overnight on the boat, the morning started with a heavy downpour. The surrounding villages became invisible with the shower.
Fortunately, during the day, the rain faded and our safari was not spoiled.
Observing wildlife closely
Morning time is the best time for observing some tiger activity. The tigers generally rest during the day or night and move from one island to the other in the morning or evening (during low tide).
The morning low tides also allow you to see much of the shore and activities thereon. Birds like herons and egrets can be seen fishing. You can catch sight of the mangrove heron or striated heron specific to this place.
Kingfisher activities are also significant here. If you are attentive, you can catch them feeding themselves with a crab, fish or mud skipper. It is also a good time to see estuarine crocodiles relaxing in the morning sun.
Your guide will take you through this tour.
The brutal Saltwater Crocodile spotted in Sundarbans. In recent years, there have been reports of this specie attacking children from nearby villages.  
 

Making an effort to catch a glimpse of the Royal Bengal Tiger
The guide and the boatman know well which places to sail through inside the forest. Sometimes, if there is news of activities happening somewhere, the boatman will take the boat along that prediction.
Otherwise, there are well-planned routes, through the creeks, although not all are accessible.
It is in these creeks and muddy flats that you can sight a tiger or other animals.
An often asked question by most travelers is whether it is possible to spot a Tiger in Sundarbans? Well, there is no guarantee, to be honest. In fact, chances are feeble.
Imagine only 120 tigers remaining in the whole forest, and you sight them only when they come close to the river or cross from one island to another. So the probability is very less.
However, there are several calculations that photographers and guides make if they really want to spot a tiger. A good guide with good knowledge is an extremely profitable asset on your Sundarbans weekend tour.
The more time you spend in the forest, the better it is for sighting a tiger. It will be worthier if there is some news and the guide works on it for the whole day or even two days (or even more).
For a good tiger sighting, it is not a bad idea to travel during the monsoons. In the jungle, a splash of rain increases tiger activities.
For tiger sighting, one should travel on or after the sixth day of a full moon or no moon. It is during these days of the fortnight that low tides remain for more hours, and tiger activities or for that matter other forest activities will be higher.
Having said this, I must warn you to not visit Sundarban just to see a tiger. Else,  you might be disheartened!
Heading to Sudhanyakhali Watch Tower
One of your stops in the jungle will be the Sudhanyakhali watchtower. You might encounter a gang of red-faced monkeys again and you should be careful not to carry any food, or you might be robbed.
The guides will take you to the watchtower beside the pond of fresh water. You will see the jungle fading on the horizon. Near the pond you might see herds of deer, red jungle fowls and monitor lizards.
Theoretically, tigers might come to have freshwater, but it's a distant possibility.
Experiencing the Dobanki watchtower
Dobanki is another popular place to visit. It also hosts a tower and protected canopy walk. It is here you will walk through the jungle at a reasonable height.
You might see kingfishers really close. Do not miss the crabs that cling high in the branches of the trees.
Wonder, how they are here, thanks to the high tide some hours ago! Dobanki is also known for reasonably more tiger sighting for the presence of a freshwater pond.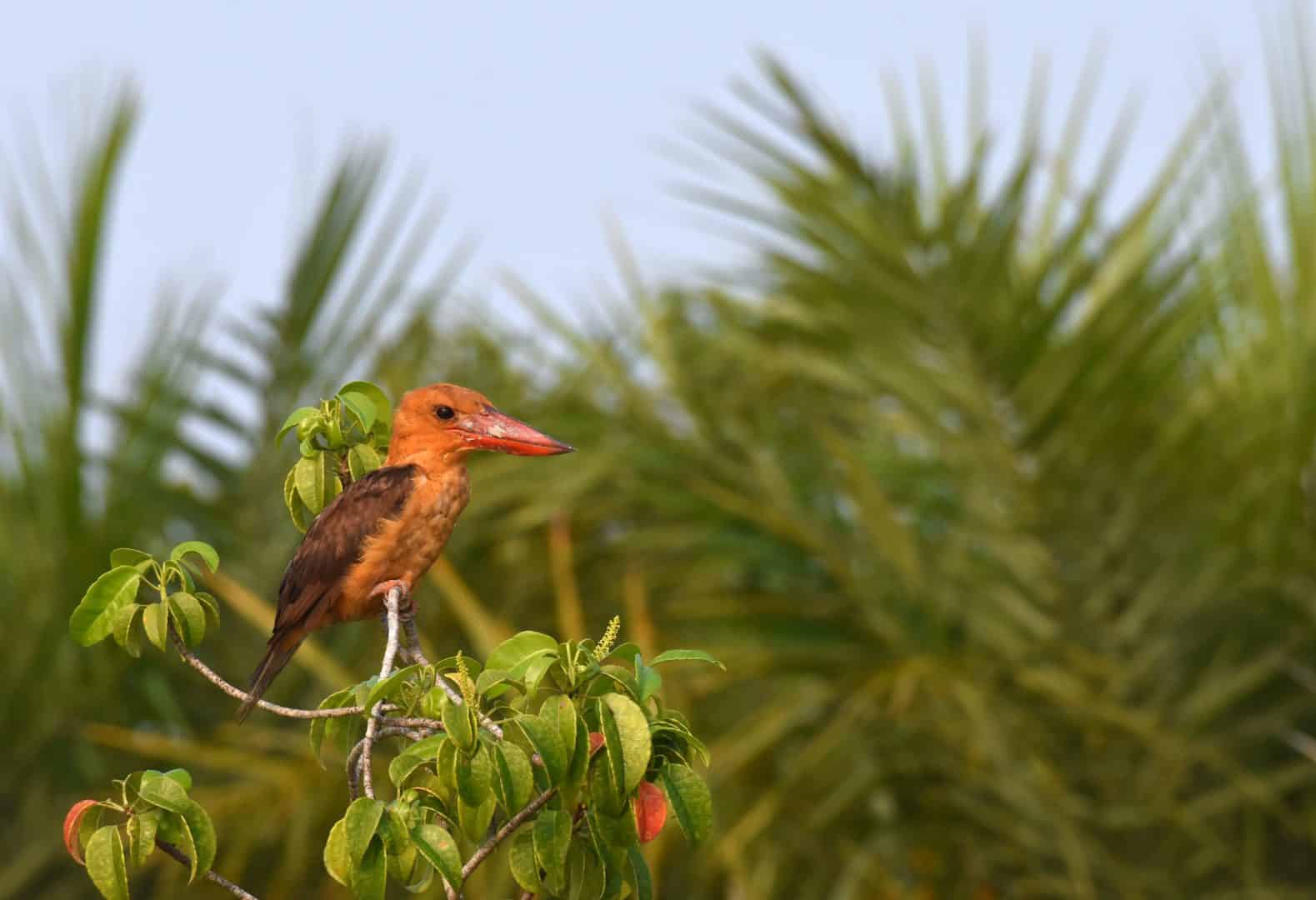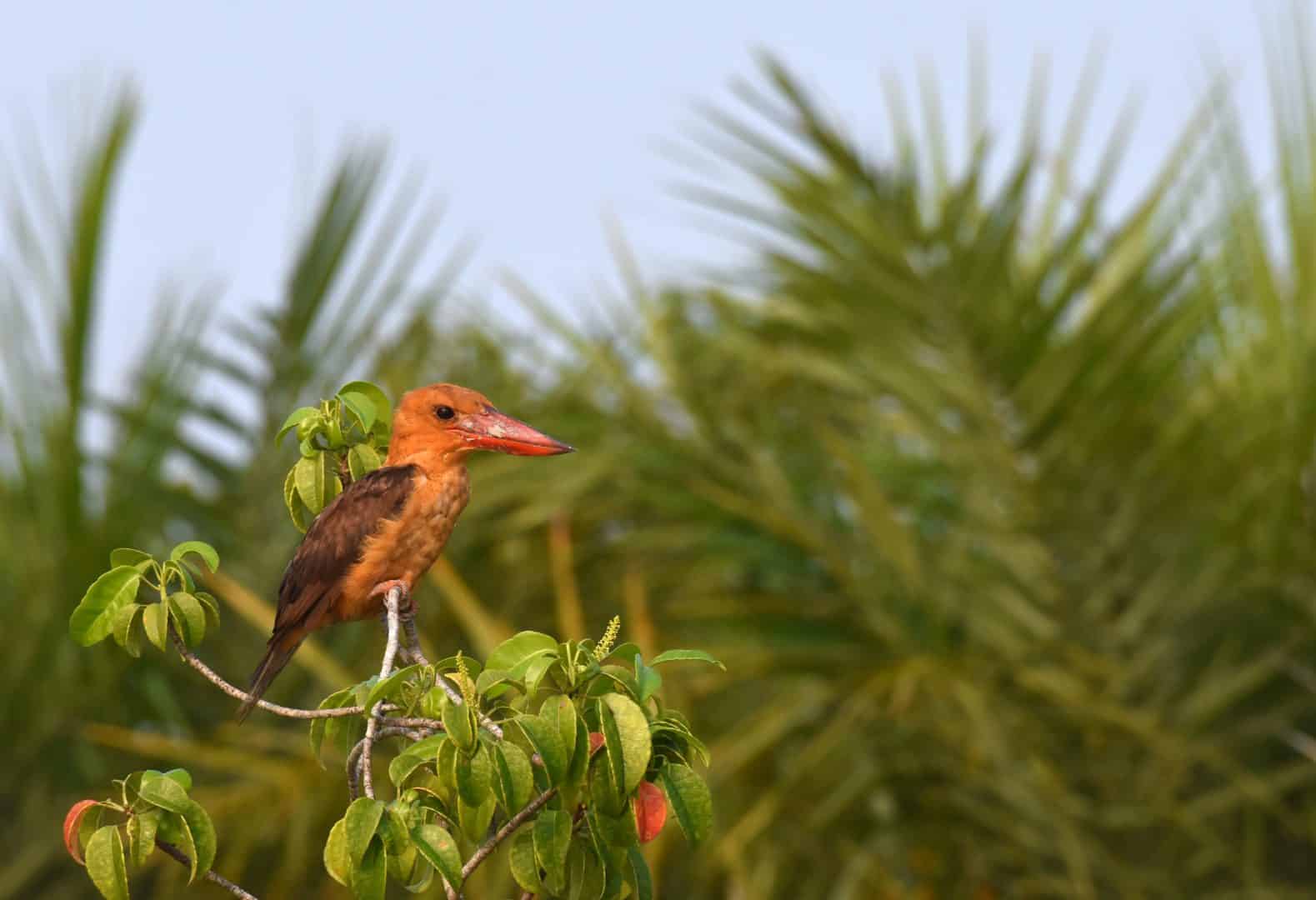 The Dobanki Watch Tower is an excellent place to observe Kingfishers. This is a picture of the lovely Brown Wing Kingfisher. If you stay patient, you will find more birds here. 
Day 3 of Sundarban Weekend Tour
The third day will start again like the previous day with an early morning cruise. Sundarbans is famous for various mammals other than tiger like spotted deer and wild boar. Activities of spotted deer can often be sighted along the banks of the river.
The place also happens to be the land of raptors like Crested Serpent Eagle, Oriental Honey Buzzard, Shikra, Goshawks and Brahminy kites. You will feel lucky if you suddenly encounter one of them flying through the creek with the mangrove at the backdrop.
In the winters, Peregrine Falcons, (the fastest bird in the world), migrates in and you might catch sight of one.
Places covered and activities pursued on day 3
A visit to the nearby villages
Observing the hard but intriguing village life
Attend  a village fair if lucky
Apart from wildlife, the flora of the land might also interest you. Sundari tree, which is one of the endangered species endemic to this region is one you will see often (Sundarban derives its name from this tree).
The roots of these trees are seen protruding out of the soil. Besides, you will also see Goran, Dhundul and Keora trees among many.
A Crested Serpent Eagle spotted on a native tree in Sundarbans. These are phenomenal beasts. Perhaps, the rarest ones to not be afraid of the tigers in here. 
A visit to the nearby villages
After the morning safari, your boatman will leave you at the starting point. You can of course plan for a visit to one of the nearby villages like Bali or Jharkhali before the end of the trip.
You can take leisure walks in the village and according to your convenience return the same way boarding a local train from Canning to Sealdah.
Observing the hard but intriguing village life
Life in Sundarbans is tough because commuting to the main cities in South Bengal is not easy. Daily life of people depends on the availability of boats because it mostly involves crossing the river. Villagers risk their lives for their occupation.
Fishermen and honey collectors have to make a long way into the forest for fish, crabs and honey which is fatal.
Tiger attacks are not uncommon at the villages fringing the forest; and due to ignorance and illiteracy, people do not know how to react. The forest also hosts venomous snakes and hence snakebites are common in villages.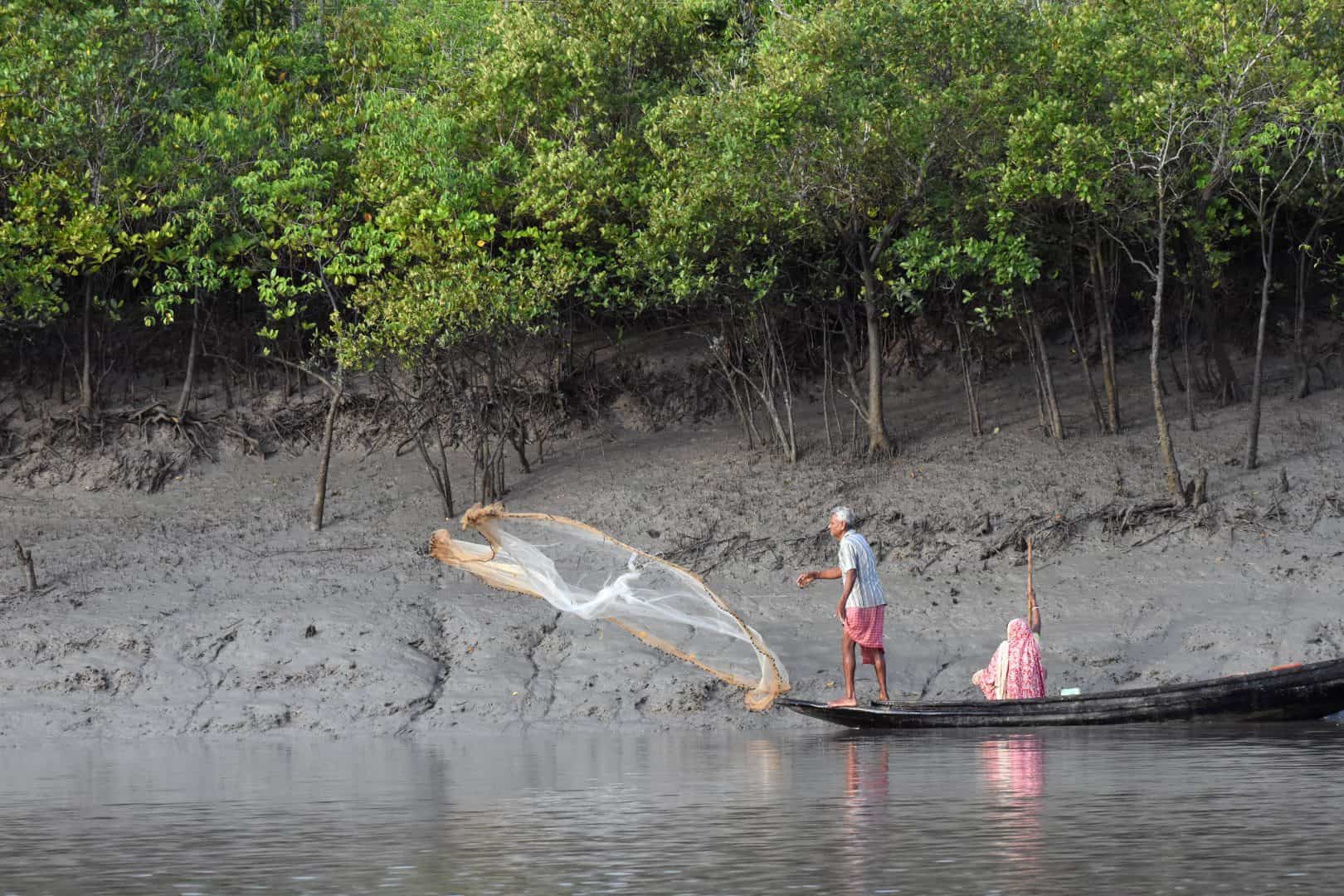 A fisherman following his morning routine. See his net for catching fish. His life, just like those of his fellows is extremely hard. Each day is a new tale for survival. 
Attend  a village fair if lucky
If you happen to visit a village during the time of a village fair, you will be able to witness cultural programs and village-art. You will also get introduced to the famous folklore about the Goddess of Bonobibi, the protector of Sundarban.
The creation of such a character is unique since Bonobibi is understood to be Muslim (by the later part of the name 'bibi'). However, Islam doesn't encourage idol worship. Hence it depicts a clear frame, that Sundarban has its own taste, life and culture. Since it is separated from the modern world, the exclusivity of life is clearly depicted.
My Personal Budget Breakdown for a Weekend Trip to Sundarbans
When I first undertook the Sundarban weekend tour, I spent money on the following things. I'm sharing them with you below so that you have a rough idea.
Conveyance from Kolkata to Godkhali
100 INR ($1) each way
Food
600 to 800 ($8 to 11) per day 
Boat charges
1000 INR ($14) per day if you hire a personal boat
(Tip: Travel in a group of 5-6)
Guide charges
200 INR ($2.86) per day
Entry to the Sundarbans
30 INR ($ 0.43)for Indians)
150 INR ($2.15) for foreigners)
The fee is subject to change from season to season.
Night stay
In the boat: 400 INR ($5.72) per head per day
In a reasonable hotel: 500 to 800 INR ($ 7.15 to 11.44) per head per day.
Note: It should be remembered that most guides and boatmen like to give a total quote for the period including everything. Hence it would be like a customized package on a boat.
A package with staying and food options should cost 3000 to 4000 INR ($ 42 to 57) per head for a trip of 3D/2N.
 The other alternative would be you can book your own hotel and your guide will look after your day-cruises and visits to the mangroves, along with all the major food options. This is a cost-effective option.
So be wise and then choose your options.
Must Carry Items on your Sundarban Weekend Tour
Sundarbans is a delta region with mangroves. It is a place where freshwater and saline water combine giving birth to a different kind of ecosystem.
Hence, it is very important that on your trip to Sundarbans, you carry the following items.
Comfortable clothing (not too bright coloured)
Bag-packs that can be carried easily carried
Anti-mosquito creams or roll-ons
Basic medicines
LED torch lights
Valid Photo Id
Carrying all the essential items is crucial for a good Sundarban weekend tour. The region is humid and tropical in nature so stay protected.
How to Book a Weekend Sundarban Tour?
A number of tour operators conduct weekend round trips for visiting Sundarbans from Kolkata.
Now the advantage of such package trips is that once you book such a tour, you do not have to keep in mind every minute detail.
However, there is a huge disadvantage as well. Under such package trips, you do not have time or space for exploring on your own. Moreover, the package tours can be quite expensive.
Weekend Sundarban Tour by West Bengal Government
The West Bengal government conducts several weekend Sundarban tour or tours from Kolkata. You can do your own research beforehand or dig deep in the official website of Bengal Tourism.
In addition to the tourism department of Government of West Bengal, numerous private agencies and operators also conduct Sundarban weekend tour or tours.
Before undertaking my first ever trip to Sundarbans, I had done a lot of research. So, I am sharing below the names of all the operators that I found to be credible.
I insist you make an informed decision while choosing a customized Sundarban weekend tour. Suit your travel needs and your budget. Only then proceed further.
Planning a Budget Friendly Trip to Sundarbans
Budget friendly tours to Sundarbans can be planned from places like Godkhali or Jhorkhali through guides, boatmen and locals. These are mini-ports that are entry points to the Sundarban.
For this, you can either pre-book a guide or boatman or negotiate at the point of boarding the boat.
If you are ready to mingle with the local crowd and transport, you can work out an economic budget for your Sundarban weekend tour with little help.
The nearest railway station is Canning, which is about 70 minutes train ride from Sealdah. Sealdah is a major railway station in the heart of Kolkata and can be accessed from anywhere nearby. After you reach Canning, you can take a one-hour 'toto' ride to Godkhali or Jhorkhali.
Once you reach one of these places you can meet your guide/boatman for your onward trip.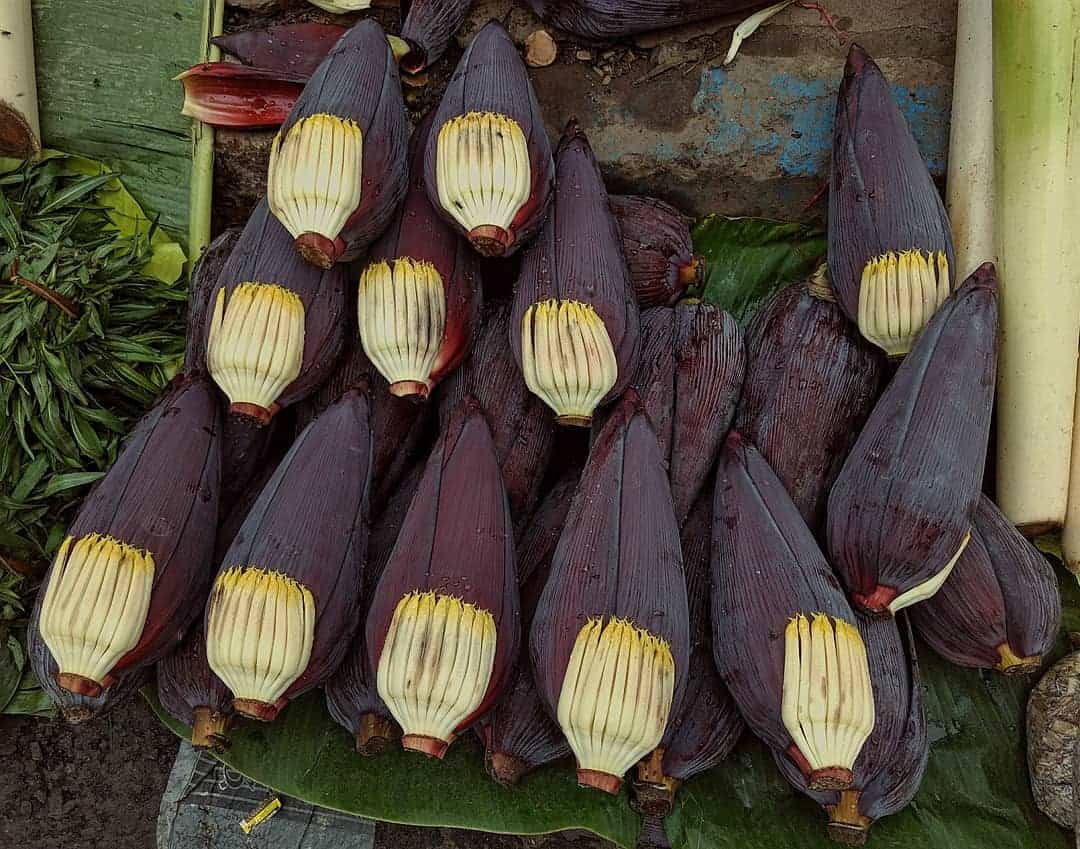 Natively cultivated bananas being sold at Sealdah. While here, try them. 
Packages for Touring Sundarbans
Since there are numerous operators offering packages for tripping around Sundarbans on weekends, I suggest you choose from the following three choices.
A luxurious 3-day package
(Kolkata-to-Kolkata package)
7000 INR ($100)per head
A reasonable 3-day package
(Kolkata-to-Kolkata package)
5000 INR ($71.50) per head
A cost-effective 3-day package
(Self travel from Kolkata to Godkhali (and return) and then Godkhali to Godkhali in package)
3500 INR ($50.05) per head
Suit your needs and your pocket and then choose your Sundarban weekend tour package. Try to go for more exploration within a limited cost. Trust me, it is possible. All you need to do is plan in advance and do your research.
Food in Sundarbans
I always feel that each place is unique in the way it provides flavours.  Sundarban has a typical Bengali cuisine with a local touch.
If you are staying on the boat, you can ask your boatman to fetch some fresh crabs from fishermen.
The crabs curry with rice along with other side dishes can be a sumptuous meal for lunch.
Sometimes on request, the boatman also fetches prawn which is famous in local markets.
A Vegetarian-friendly meal is available on request.
Tip: Pure honey is available in the villages, so if you want to purchase honey, you should inform your boatman beforehand.
Meals on the Boat
(Just to give the readers an idea of the food, I am citing an example of one whole day meal during my boat cruise).
Early morning
Tea with biscuit
Morning breakfast
Puri, vegetables, boiled egg and sweet
or
Toast with omelette and sweet
Lunch
Fish meal, normally includes rice, dal (lentils), fry, vegetables, fish curry, chatni (dip)
Evening snacks
Tea and pakora (fried Indian snack).
Dinner
Roti (round flatbread) with vegetable/chicken curry
While on your Sundarbans weekend tour, try the native Bengali food. It is delicious.
Myths, Mysteries and Practical Issues
Sundarbans is a land of myths and mysteries. This is one place wherein spite of constant friction between human and wildlife, they coexist. Sustainability is huge issue and lots of NGOs are coming up to make villages self-sufficient and simultaneously protecting the wildlife that spills out of the forest.
One more problem is soil erosion. From historic facts, it is understood some islands that once existed with human life have completely disappeared. The tropical storms don't help the cause, destroying both animal and human life.
You might see places inside the forest with bits of red torn cloth tied on the tree. These are places where there has been a human casualty by a tiger. Nearly all villages bordering the area have had their own share of brutal scars from the king of the jungle.
Yet life goes on, perhaps with the blessing of Bonobibi!
Happy wayfaring 🙂