Spiti Valley budget trip is a dream come true for every backpacker. This part of the world is one of the most surreal places that you'll ever visit in your lifetime. It will leave a permanent imprint in your mind as a traveler.
Since Spiti is located remotely in the mountains, it is extremely important that you plan your trip well. Not only should you be aware of the rugged terrain but also of the daily cost throughout your Spiti Valley budget trip.
Regions in the mountains are often expensive owing to limited local resources and the overall difficult lifestyle of the natives. Not to forget emergency travel budget situations arising due to unpredictable weather.
Taking a trip to Spiti and maintaining a pre-defined budget has been quite an achievement for me as a traveler. Therefore, through my current blog, I'd like to share my travel experience in Spiti with anybody seeking a decent plan, itinerary and an effective budget.
Also useful:
The complete travel itinerary for bikers heading to Spiti
Trekking and camping at Chandrataal Lake in Spiti
Spiti Valley Budget Trip
Let me start this blog by addressing a common question asked by most travelers -"is a Spiti Valley budget trip even possible?" Well, with the right planning, it surely is possible.
If you happen to be one of those travelers who wants too much to see but doesn't have enough funds, do not worry. You are not the only one having this concern. I had the same when I first started my journey. However, I did manage well and so will you.
It needs to be mentioned here that on my first trip to Spiti, I traveled along with two more friends. Therefore, all the prices mentioned throughout this blog have been calculated accordingly.
As a first time traveler, you should visit Spiti with at least one or two more persons. That way, you will have no problem managing your expenses.
If you want to travel solo to Spiti, then I'd urge you to do so after your first trip. That way you will understand the locale well and will be able to plan your budget accordingly. Traveling solo on your maiden visit to Spiti will prove to be hugely expensive.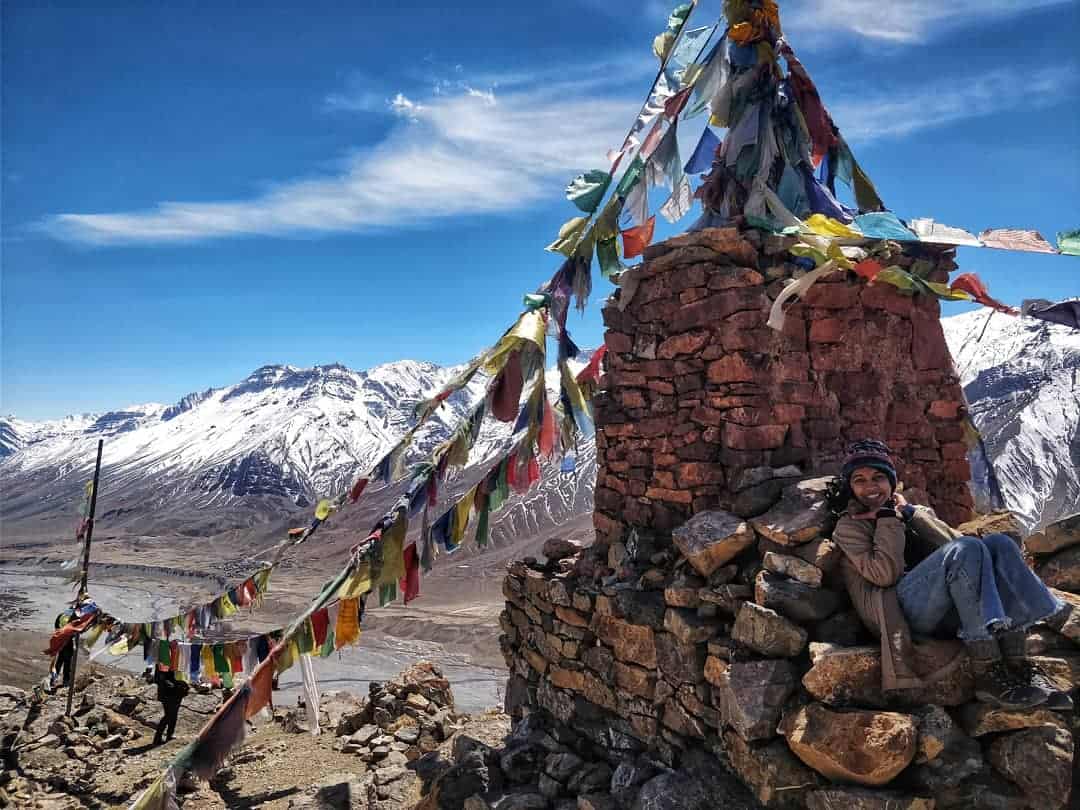 Spiti Valley is home to enchanting monasteries, snow-capped mountains, the pristine Spiti River and clear skies that boast countless stars. It is also home to Moon Lake or Chandratal Lake as the locals call it. 
Also, this region has the world's highest and old-fashioned petrol pump at Kaza, the world's highest motorable village Komik and the world's highest post office at Hikkim.
In addition to the natural beauty of the place, your Spiti Valley budget trip will turn out to be memorable because of the heartwarming people of the region. They will welcome you with open arms and make you feel at peace.
Let me sum up my overall experience in Spiti by pouring my heart through the following words –
"We held our breaths with our bodies stiffened, as our bus found itself on the very edge of the hazardous road. On the other side, there were just a few centimetres between our wheels and the cliff from which the road had been carved. It was dangerous and scary but totally worth it"
Thus, Spiti Valley is not for the faint-hearted. This needed to be set right at the outset.
It is important to be aware of the overall budget when you plan to take a trip anywhere. Without the right kind of budget allocation, you will end up spending much more than required without exploring much.
Now this should be avoided at all costs.
Your goal as a traveler pursuing a Spiti Valley budget trip should be to explore much more by spending less.
Spiti Valley Budget Trip – A Brief Overview for Travelers
Here's a brief overview of how your Spiti Valley budget trip should like. There are things on which you shouldn't mind spending but on others, you should certainly save. I'm sharing all of the points below based on my own personal experience.
Estimated budget for 8 to 10 day trip
18,000 to 20,000 INR
Most expensive commodities
Accommodation and transportation
Reasonable commodities
Food and sightseeing
Top money saving tips
Book homestays and guest houses instead of hotels wherever possible
Budget tips for adventure seeking travelers
If you travel during summers, carry your own tent and camp amidst the mountains for free
Suggestions for group travelers
Divide your budget equally amongst yourselves and let one person handle all the money
Suggestions for solo travelers
Stick to grabbing most of your meals in local homes instead of restaurants and carry fruits with you
A cold and remote desert valley in the state of Himachal Pradesh, Spiti is almost cut off from the rest of the world. A lot of people don't even know if Spiti is safe or dangerous for travelers ? However, even then, hundreds of travelers visit Spiti each year.
Despite the rough terrain, harsh environment, unpredictable weather, and tough living standards, Spiti Valley marks the list of almost every traveler today.
If you ask me the reason, I'd say – It's a dazzling beauty that also happens to pump out your Adrenalin. Not to forget the honesty of the people there and their simplicity.
10 Day Itinerary for a Good Spiti Valley Budget Trip
As travelers, my friends and I had planned a trip to Spiti Valley via the Shimla side and not Manali. The reason is, the roads from the Shimla side are better. Also, that route is open throughout the year, unlike the Manali route.
If you're struggling with the question of how to reach Spiti Valley and which route to take to reach there, do not worry. Spend some time knowing all the routes. Make a final call depending on the timing of your trip and the duration of your stay.
Anyway, here is the itinerary that we three friends followed on our first ever trip to Spiti –
Day 1
Reaching Reckong Peo from Shimla
Day 2
Reaching Kaza in a bumpy bus
Day 3
Visiting Langza, Komik & Demul Khas
Day 4
Traveling to Key Monastery and offbeat villages
Day 5
Trekking in Dhankar & staying overnight within Pin Valley National Park
Day 6
Mailing Postcards at Hikkim & Shopping at Kaza
Day 7
Visiting Losar, Kunzum Pass and Returning to Kaza
Day 8
Leaving Kaza and reaching Kalpa
Day 9
Exploring Sangla & Chitkul
Day 10
Bidding adieu to the region
Let me now share the day-wise itinerary of my Spiti Valley budget trip in detail. I will also be sharing daily costs for each day.
Day 1 of Spiti Valley Budget Trip: Reaching Reckong Peo from Shimla
After getting a good night's sleep and resting our bodies tired from the long journey to Shimla from Mumbai (our home city), we were finally heading towards Spiti Valley.
In case you have additional days, feel free to stay for at least 3 days in Himachal Pradesh's capital – Shimla. There are so many reasons to visit Shimla. Trust me, you will love the pretty town.
Covering a distance of 230 kms till Reckong Peo
We grabbed breakfast along with our haversacks and hopped onto a local bus that would cover a distance of 230 kilometres and take us to a place known as Reckong Peo. The locals call it just Peo.
Now you do have the option of booking a cab instead-but believe it or not, the bumps, the stares, and the cramps that accompany the economical bus rides will make your journey memorable. Therefore, travel by bus. Also, travelling by bus is the best option to genuinely pursue your Spiti Valley budget trip.
Checking in our homestay at Reckong Peo
We made it to Reckong Peo at around 4 pm and were almost desperate to have a room to ourselves, to rest our backs, and to devour some steamy momos. Reckong Peo finds itself at about 2290 meters above sea level, in the Kinnaur district of Himachal.
It is a bustling town as per Himachal standards but nevertheless pretty with its breathtaking views of the snow-capped Himalayas. While the options were many, we finally checked in to Hotel Jeevan Jyoti. This place turned out to be clean, hospitable, and affordable.
We made sure that we slept early so as to take complete rest before starting the next day. As it turned out, the next day was way tougher than we thought it would be as first-time mountain travelers.
Money spent on day 1
Bus ticket from Shimla to Rekong Peo
340 INR per person
Staying at Hotel Jeevan Jyoti
600 INR for a room in total. Therefore, it cost us 200 INR per person
Food (Breakfast, lunch, dinner, snacks)
300 INR per person in total for all four meals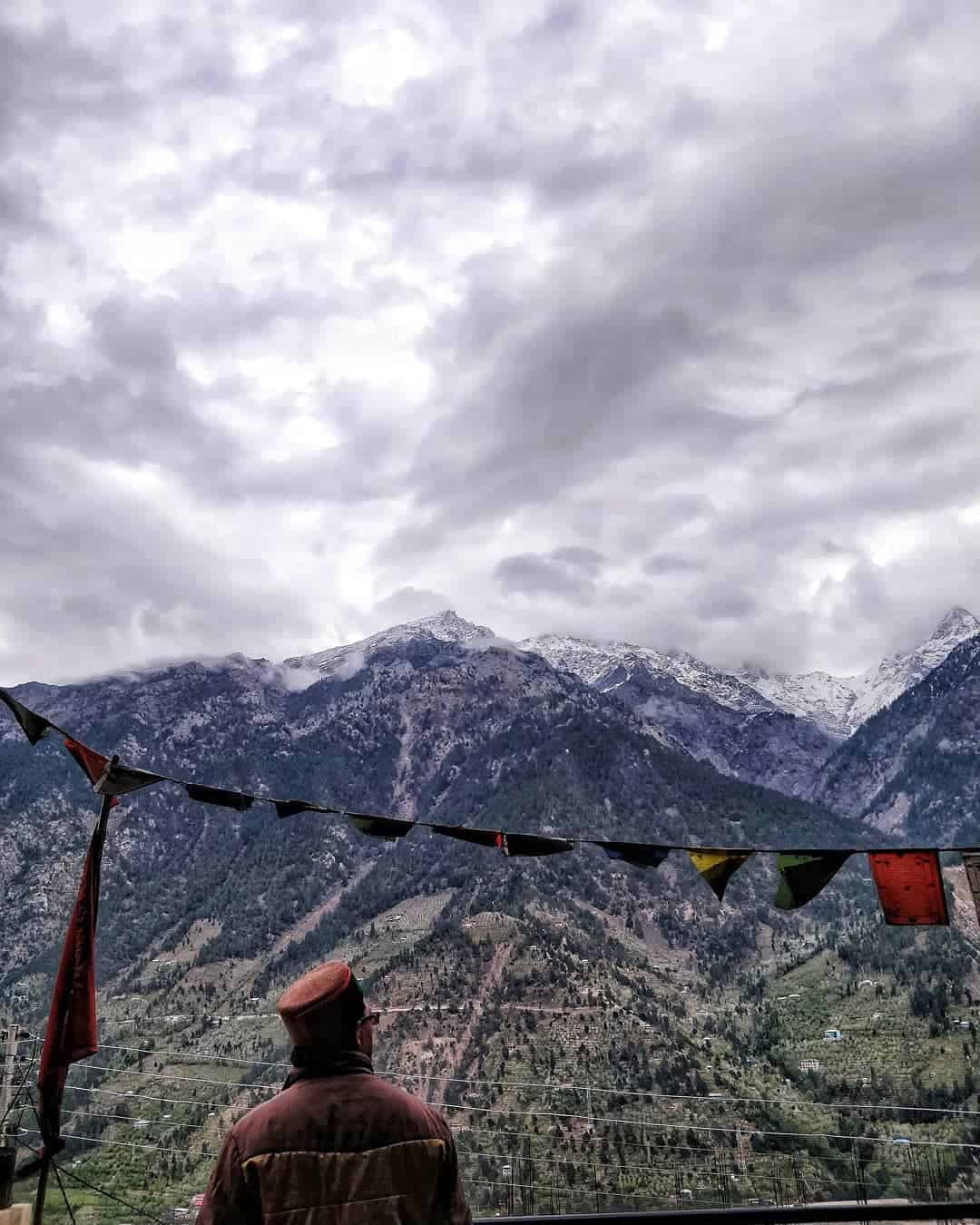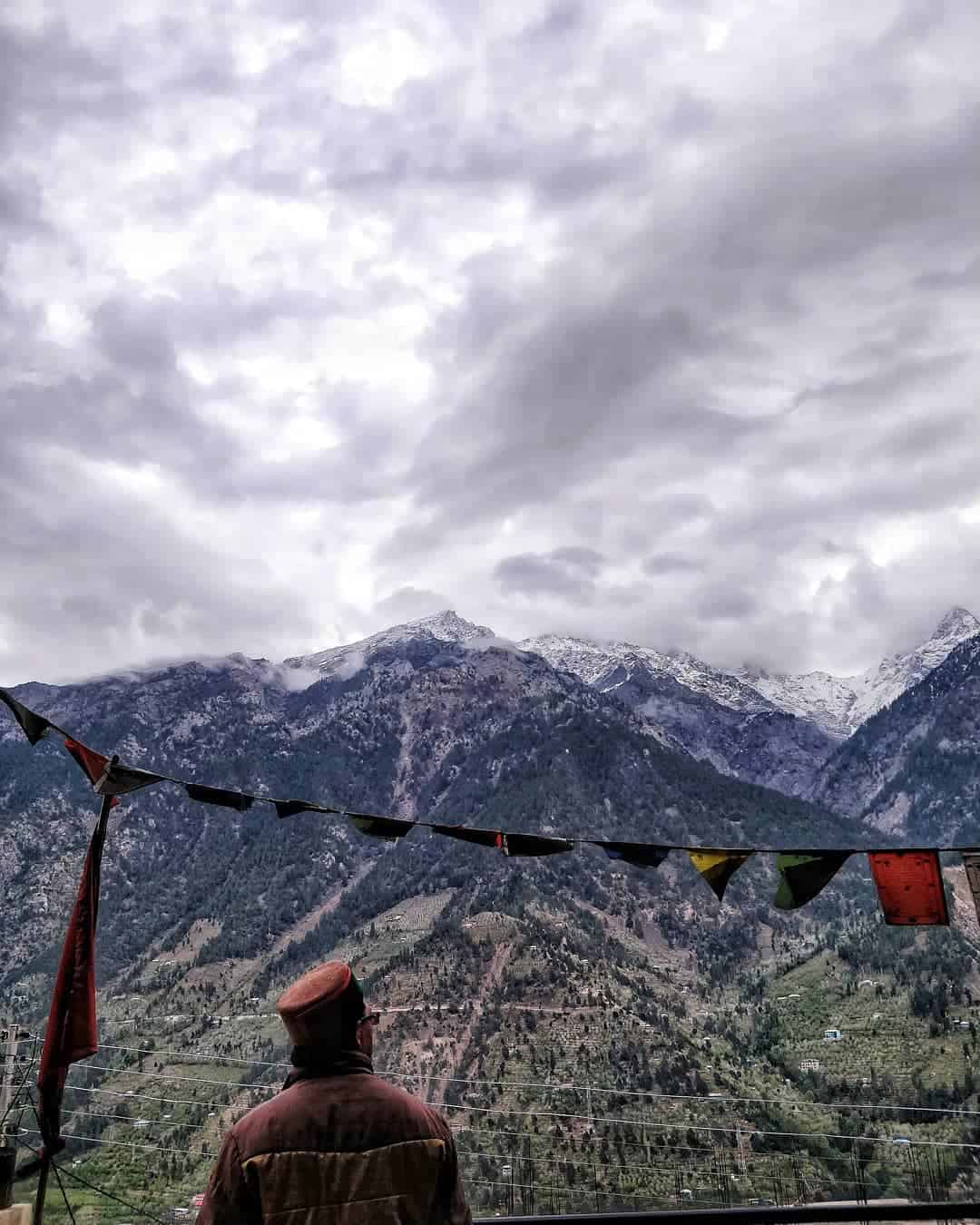 Day 2 of Spiti Valley Budget Trip: Reaching Kaza in a Bumpy Bus
We started our second day waiting for a bus. It was supposed to carry us from Reckong Peo till Kaza. To our horror, a crowded bus with almost no space approached us at 7:15 am in the morning.
After somehow stuffing our haversacks in the dusty back of the bus, we squeezed in where we almost felt like foreigners.
Bagging a seat on a public bus 
We managed to bag just one seat even though we were three friends. This was us being lucky (yes that is correct because in buses here bagging even one seat is getting lucky). We tiresomely alternated this one seat amongst the three of us almost till the very end.
This had probably been the most tiring journey of my life. However, what made it special were the little things – steaming hot rajma chawal (broad beans and rice) for lunch at our halt at a place called Nako, driving through gorgeous mountain views, holding tight as we made it through steep roads, landslides, and unpredictable weather conditions, and gaping at the ever-changing terrain.
Reaching beautiful Kaza and checking in our place of stay
We reached Kaza at about 5 pm, and we couldn't believe where we were. It was almost like time stood still. Vast stretches of nothing but barren mountains capped with snow and chilled winds, and the three of us almost forgot how tired we really were.
We headed to what was going to be home for the next days – Pema Homestay, where we were greeted by the cutest of kids, hot chai (tea) and a cosy room warmed by Achaktap (indoor furnace).
Money spent on Day 2 
Bus ticket from Reckong Peo to Kaza
250 INR per person
Pema Homestay
800 INR per person (inclusive of all meals)
Additional Food
200 INR per person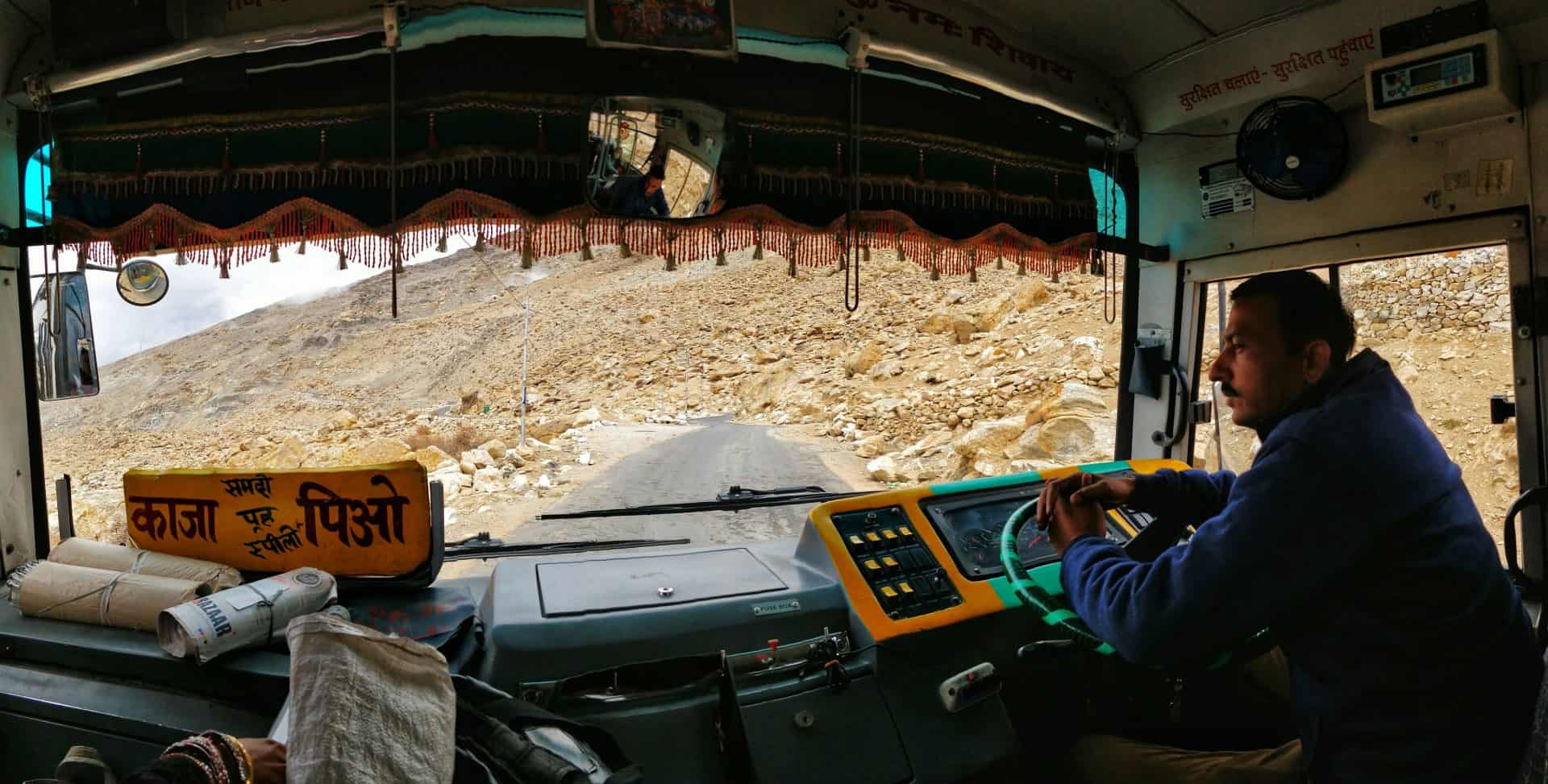 Day 3 of Spiti Valley Budget Trip: Visiting Langza, Komik & Demul Khas
This was our very first morning in mainland Spiti Valley. We were super excited. An early morning walk around the place exposed us to happy puppies and locals jetting water out of pumps.
We were served delicious aloo parathas (Indian bread stuffed with potatoes) for breakfast at our place of stay.
Heading to the fossil village of Langza
We headed to a remote village known as Langza right after breakfast. It is essentially a place filled with ancient fossils.
What we noticed within a millisecond was a towering Golden Buddha statue pitched against clear blue skies. Numberless prayer flags signifying a strong Buddhist presence marked the already charming Langza.
Reaching Demul Khas and witnessing fresh snowfall
Our final destination for the day was Demul Khas. This is a place not as visited as Langza but it is splendid.  A good 2-hour drive made us all witnesses to blue sheep and turbulent weather.
Our whims and fancies got catered to as we reached Demul around 4:30 pm and it started snowing. We then headed to an unknown house, one that felt homely, one that warmed us up with chai (tea) and food.
Making it to the highest motorable village in the world
Our next stop was Komik.  This place is situated at a lofty 4,587 meters above sea level and is known as the "world's highest motorable village." It is for this reason that Komik attracts travelers from far and wide.
Known for the Tsemo Gompa Buddhist Monastery, Komik is a lovely place.
Back to Kaza
Our Spiti Valley budget trip was turning out to be exemplary. We got back to Kaza at 7 pm and witnessed a power cut. Our cold bodies craved the electric heaters placed in our rooms.
But we warmed ourselves up in a room made cosy with people and a chaktap (indoor furnace).
All in all, life was good.
Money spent on Day 3 
Pema Homestay
800 INR per person (including meals)
Cab for covering Langza, Demul Khas and Komik
2200 INR in total. 550 INR per person (We made a deal with a local cab driver and he charged us the same amount throughout our stay in Spiti).
Day 4 of Spiti Valley Budget Trip: Visiting Key Monastery and Offbeat Villages
Day four started with a fresh zeal. After all, we were about to visit the most photographed places in Spiti. These places are all over travel websites on the internet.
Visiting the magical Key Monastery and Gete Village
A 15-kilometre drive from Kaza took us to the very prominent Key Monastery – one that features in a number of master photographs from Spiti.
Key looks almost magical, straight out of a fantasy book. When we reached the monastery, the monks at Key were performing Badipooja (prayer) which we were lucky enough to witness.
Picture this – 30 monks dressed in bright maroonish-red colour in a mystic architecture, and vast stretches of land of nothingness. You know you can stay in Key Monastery itself and even become a volunteer.
We then proceeded to the not very popular Gate Village, which offers you a top view of the enchanting Key Monastery. Rely a little on locals' advice over Google in the region.
Reaching the villages of Tashigang, Chicham and Kibber
Driving a little further, we reached Tashigang. This was apparently the highest village in Spiti Valley – 2,650 meters above sea level. This place barely had 5 to 6 homes. It was a little village, indeed.
We then moved on to Chicham. There, we got lucky and saw about a hundred yaks being tamed for agriculture.
We then boarded our cab which drove on vast stretches of nothing but ice. We trusted the driver because he was a local inmate and was familiar with driving on ice.
We finally made our way to Kibber. It is a large village by Spitian standards. It is also popular for snow leopard spotting. We checked in to our homestay here.
20 km drive till La Darcha
What made Day 4 the best day of my Spiti Valley budget trip was a 20-kilometre drive to a place no blog will tell you of – La Darcha. An invisible moon and electricity cut led us to see about a million stars, comets and shooting stars in the sky.
Right after checking in Kibber, we took this lovely drive.
The temperature dropped to a freezing -18 degrees Celsius, our hands were numb, and all we had to keep ourselves warm was a flask of chai (tea), a bonfire, and our high spirits.
Money spent on Day 4 
Cab for covering all sightseeing places
2200 INR in total. 550 INR per person
Homestay at Kibber
800 INR per person
Day 5 of Spiti Valley Budget Trip: Trekking at Dhankar & Staying Overnight within Pin Valley National Park
Day five began with a long 50 kilometre drive that took us to Dhankar. Home to about 150 monks, Dhankar Monastery is the newest of all in Spiti Valley.
What makes it even prettier is the breathtaking view it withholds – that of the beautiful confluence of Spiti and Pin Rivers.
Trek till Dhankar Lake
In spite of being worn out, we made up our minds to trek to Dhankar Lake. The trail of this short trek was 3 km.  Although 3 kilometres might sound easy, the high altitude leaves you breathless at multiple points. Reconsider the trek if you have any serious health conditions.
After spending a happy 2 hours with dogs that voluntarily accompanied us on the trek, we commenced our descent. The best thing to do for a successful Spiti Valley budget trip would be to choose trekking over driving. 
Spending the night at Mudh in Pin Valley National Park
Next on our list was Pin Valley National Park. We chose to spend a night in the park at a place called Mudh hidden deep within Pin. We reached the top in an hour and were amazed to see a lake that was 80% frozen and 20% water.
Once again, to ensure a Spiti Valley budget trip in all its ingenuity, make sure you scan through all the options available for accommodation before finalizing one. Tired from the long day, we spent the night watching a movie indoors.
Money spent on Day 5 
Cab
2200 INR in total. 550 INR per person
Homestay at Mudh
500 INR per person (inclusive of meals)
Day 6 of Spiti Valley Budget Trip: Mailing Postcards at Hikkim & Shopping at Kaza
We finally headed to the destination we'd read the most about and that is Hikkim. It is the nearest major town from Kaza and is at a distance of about 45 km from there.
Getting postcards stamped at the highest post office in the world
Since the very start of our trip, we'd dreamed about getting postcards stamped at the highest post office of the world, which happens to be in Hikkim.
A beautiful mud structure painted in white, with a cute little postbox right by the door totally stood out. We received a warm welcome from Rinchen Cherring, the postmaster, who has been doing this very job for the past several decades.
Cherring successfully ensures that amidst no cell phone reception, the residents of Hikkim have at least some connection with the rest of the world. With no other employees to assist him, he indeed is an unsung hero.
If you leave Hikkim without sending out postcards to your loved ones, your Spiti Valley trip won't be complete.
Shopping in Kaza
We spent the evening strolling around the markets of Kaza and relishing the best momos we'd eaten in a while.
We also shopped for warmer woollens than we owned already. The reason being, the next day i.e. Day 7 was going to be the coldest of all.
To make your Spiti Valley budget trip even more economical, do try your hand at bargaining.
Washing our car
What we did after our spending hours at Kaza was not on our itinerary at all. We drove our car plastered in mud and snow into the Spiti River and washed all the dirt away.
This is definitely not something we would get to do back at home, and we were thrilled by the sheer experience.
Money spent day 6
Mailing postcards from the post office at Hikkim
20 INR each
Pema Homestay
800 INR per person (inclusive of all meals)
Delicious momos at Kaza
60 INR a plate (10 veg momos)
Woollen
200 INR for a monkey cap, 150 INR for a pair of socks, 150 INR for a pair of gloves
Day 7 of Spiti Valley Budget Trip: Visiting Losar, Kunzum Pass and Returning to Kaza
This was to be our last day in Spiti per say. The remaining 3 days were meant for exploring sights beyond mainland Spiti in other districts of Himachal on our way back to Shimla and finally to our home city – Mumbai.
Visiting the last inhabited village on the Indo-China border – Losar
We were told by the locals that our Spiti Valley budget trip would be wholesome if we spared a day to visit Losar and Kunzum Pass.
Losar is a scenic hamlet, known to be the last inhabited village on the Indo-China border. There isn't much to do out there, but that's where the beauty lies oftentimes – in doing nothing.
Another 20 kilometers ahead of Losar, lies Kunzum Pass.
Enjoying the mystical Kunzum Pass
After being reassured about the roads by locals, we proceeded to Kunzum as planned. The mountains, the roads and the trees were all covered with a thick blanket of pitch white snow.
With our car's windshield covered with mud, we finally made it to Kunzum. We had snow up to our knees, but we sure did not mind it.
After glaring at the stark beauty of Kunzum, after failed attempts at building a snowman, after hiking up to the temple, and after bringing back to life a car stuck in mucky snow, we made our way back.
Our Spiti Valley budget trip was coming to an end, but we'd never been happier. Our journey back to Kaza had in store for us sightings of Himalayan Drifters and Red Foxes. We were elated.
Money spent on Day 7 
Cab
2200 INR in total. 550 INR per person
Pema Homestay
800 INR per person (inclusive of all meals)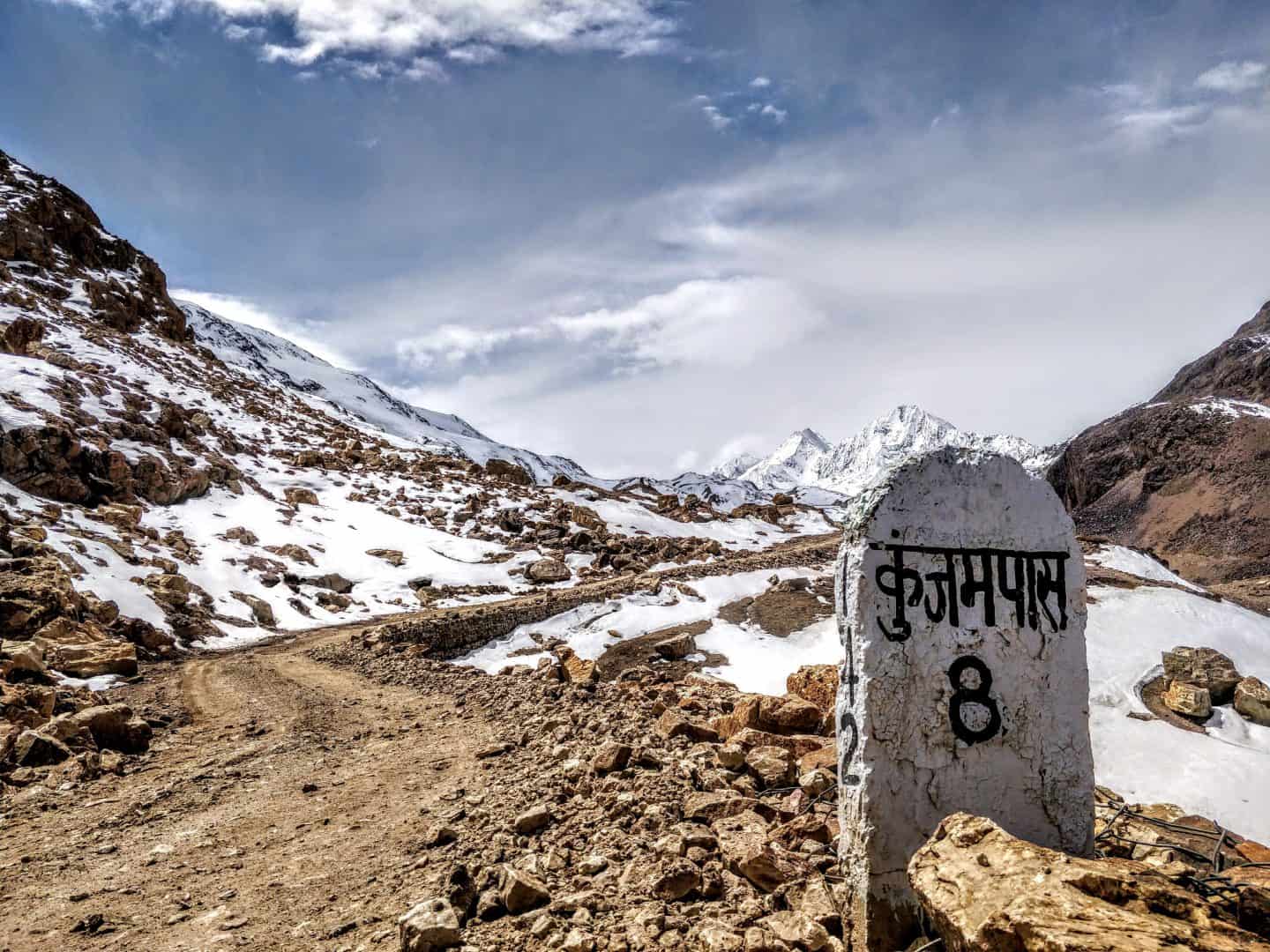 Day 8 of Spiti Valley Budget Trip: Leaving Kaza and Reaching Kalpa
With heavy hearts, we bid goodbye to Kaza. It almost felt like we were completely disconnected from the world outside, and that we had nothing to do with it. That feeling, by the way, was most beautiful.
Bus journey till Kalpa
There's just one bus that leaves for Reckong Peo from Kaza on a daily basis at about 7 am. We boarded it.
A comfortable bus journey, one where we constantly found ourselves mulling over photographs from the trip, was all we needed. We reached Reckong Peo at about 4:30 pm but we decided to stay the night at Kalpa instead.
Kalpa finds itself at a distance of about 6-8 kilometres from Reckong Peo and is much colder, greener and quieter. Reckong Peo and Kalpa are connected by a number of daily local buses.
Enjoying the greenery of Kalpa
We made it to our accommodation at about 6 pm and were flattered by the greenery – something we missed back in Spiti. An economical option for your stay at Kalpa, as part of the Spiti Valley budget trip, would be the Alpine Nest Stay. This place is affordable, clean and safe.
Money spent on Day 8 
Bus ticket from Kaza to Reckong Peo
250 INR per person
Food (Breakfast, lunch, snacks)
200 INR per person approximately
Bus ticket from Reckong Peo to Kalpa
15 INR per person
Alpine Nest
1200 INR in total. 400 INR per person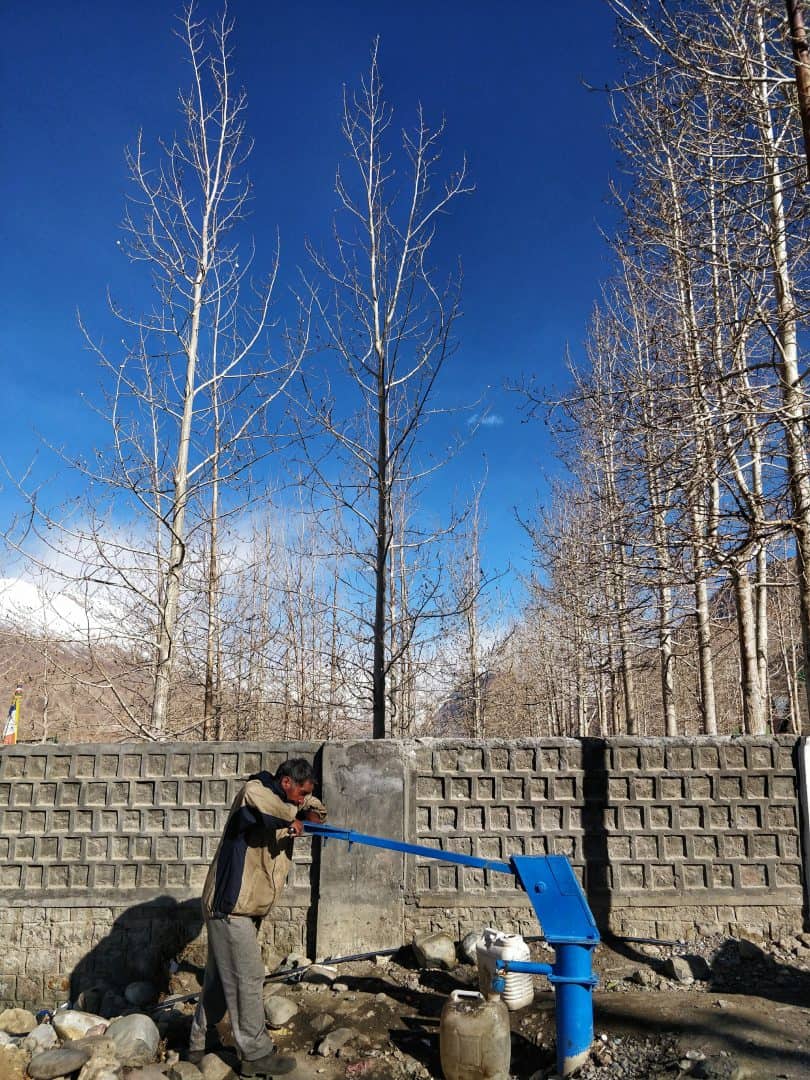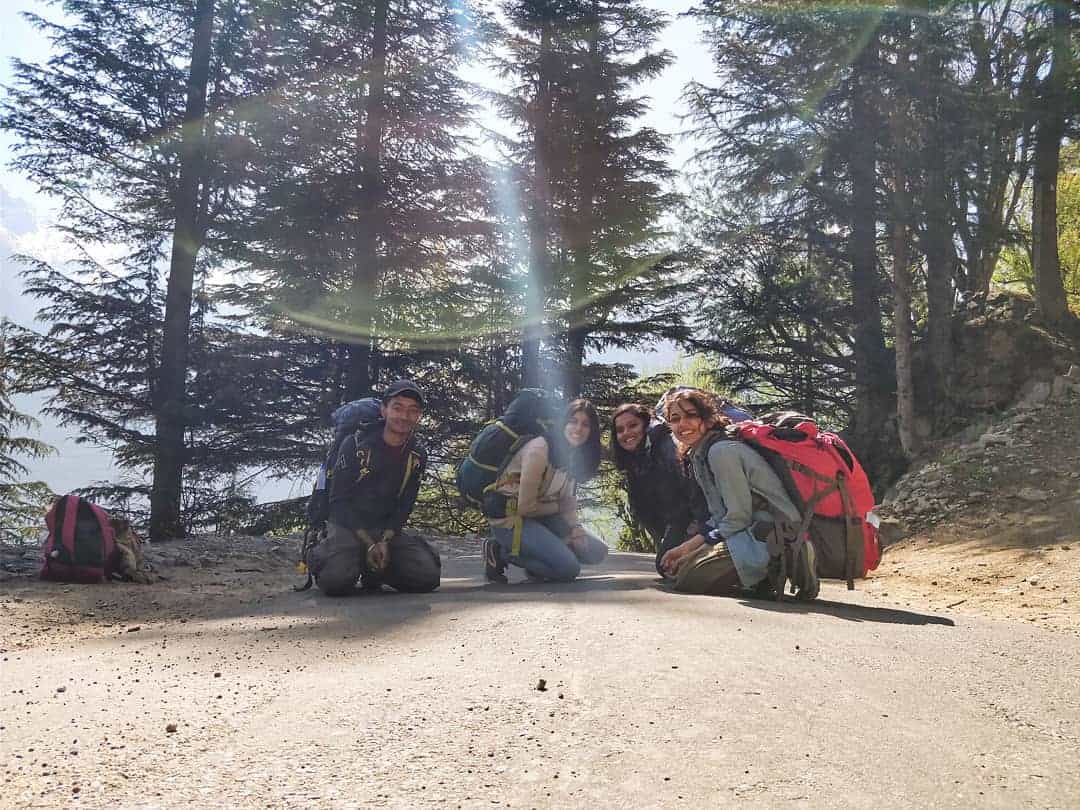 Day 9 of Spiti Valley Budget Trip: Exploring Sangla & Chitkul
Although not a part of Spiti Valley, it would be worth making a visit to Sangla and Chitkul in Kinnaur District at either the beginning or towards the end of your Spiti Valley budget trip, just as we did.
If you want, you can even visit Batseri – a beautiful village nestled high in the mountains.
Your eyes would definitely be craving some greenery after witnessing the cold desert of Spiti. You can easily get local buses starting from Kalpa and Rekong Peo to both Sangla and Chitkul.
Clarify the timings of these buses beforehand, to avoid further confusion.
Traveling to Sangla in an open jeep
We made ourselves comfortable on a terrace-café and as we sipped on hot coffee and watched the locals farming, life seemed to be perfect.
To our horror, there were no buses back to Sangla for the day. We, however, got lucky, and made it back in an open jeep; it was windy, and the sun was setting.
Hopping onto a bus and reaching Chitkul
We finally hopped onto a bus to Chitkul that left Rekong Peo at 12 pm. Only a few kilometres away from the Indo-Tibet border, Chitkul is a majestic place.
After spending some time in Chitkul, we headed back to Sangla. There, we checked into this decent place known as Lake View Resort and spent the night. 
Money Spent on Day 9
Bus ticket from Sangla to Chitkul
120 INR per person
Food (Lunch and snacks)
150 INR per person
Jeep from Chitkul to Sangla
300 INR per person
Accommodation in Sangla
500 INR per person (including dinner)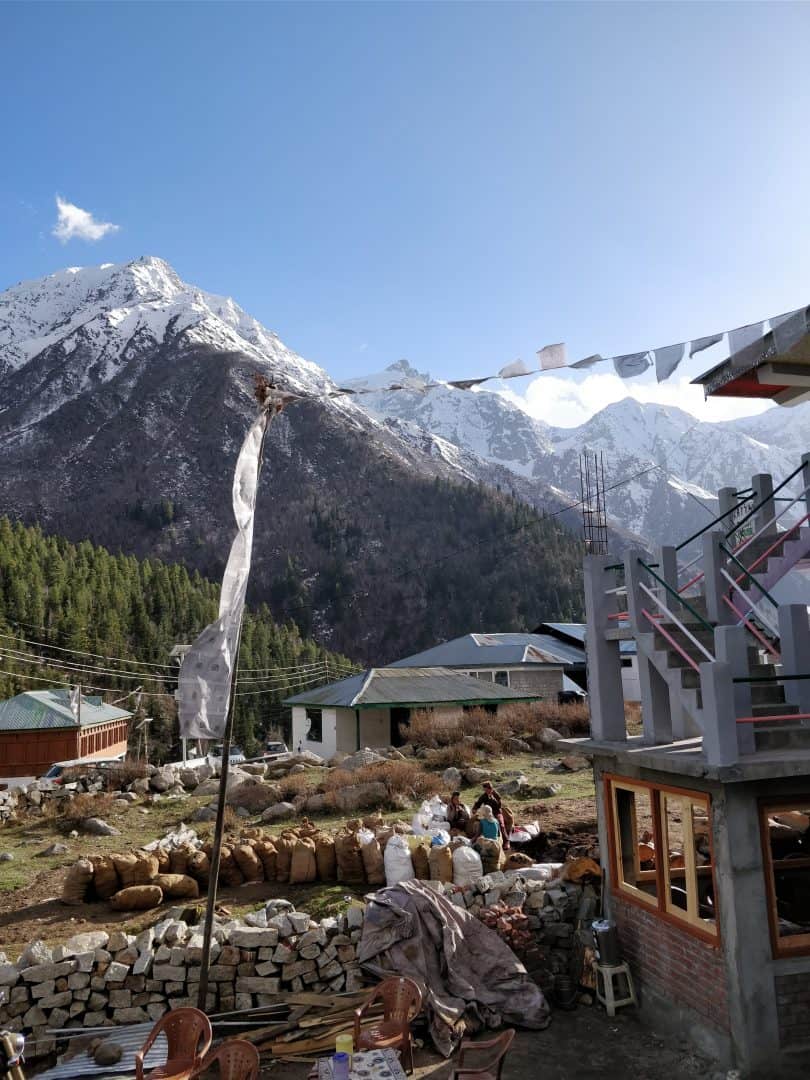 Day 10 of Spiti Valley Budget Trip: Bidding Adieu to Himachal and Returning Home
We took the bus to Shimla early in the morning, and a bus to Delhi at night from there. It was time to head home after a beautiful journey. Spiti will always remain in our hearts. Also, we will visit again.
Overall Transportation Costs to Visit and Explore Spiti
Transportation costs formed a major bulk of our Spiti Valley budget trip. Reason being, that we travelled from a faraway place like Mumbai. Hence, let me share with you the exact cost incurred from Mumbai to Spiti and back.
Train from Mumbai to Chandigarh
1800 INR per person
Bus from Chandigarh to Shimla
200 INR per person
Bus from Shimla to Reckong Peo
340 INR per person
Bus from Reckong Peo to Kaza
250 INR per person
Cab from Kaza to Langza, Demul Khas and Komik and back
550 INR per person
Cab for covering Key Monastery, Gete village, Tashigang, Chicham, Kibber and La Darcha
550 INR per person
Cab for covering Dhankar and Pin Valley National Park
550 INR per person
Cab from Kaza to Losar, Kunzum Pass and back
550 INR per person
Bus from Sangla to Shimla
300 INR per person
Bus from Shimla to Delhi
700 INR per person
Train from Delhi to Mumbai
2500 INR per person
Thinking about life on the road often brings to the fore fears of lack of money. Although money is crucial, it is fortunately not all that is required for a worthy trip. So plan well, travel with a happy heart and everything will fall in place.
Now that I've shared my Spiti Valley budget trip itinerary with you in great detail along with the cost, I'd like to throw some light on some of the other aspects.
Although Spiti Valley is being frequented by travelers now more often than ever, it doesn't change the fact that elaborate planning is required to enjoy the rugged terrains and the extreme weather conditions.
Therefore, let me share some crucial travel aspects of Spiti with you below.
Phone connectivity in Spiti
Only BSNL connection will work in Spiti Valley and has the widest coverage of connectivity. Hence, make sure to buy a SIM card beforehand. Other networks are no good here.
Washrooms in Spiti
A number of villages in Spiti offer only organic toilets. So get used to them.
Carrying cash
Make sure you have anticipated your expenses well in advance, for depending on ATMs or card payments in Spiti is risky. Cash is a safer way to proceed.
Layering of clothes
Carry clothes that can be worn in layers – this will help you adjust to fluctuating temperatures. Wear more synthetic fabrics than cotton.
Portable chargers
Spiti is a remote desert and electricity cuts aren't a rare phenomenon. Make sure you're well prepared for the same. Carry portable chargers.
Dry weather
To avoid skin problems, make sure you're well moisturized at all points. Carry Moisturizers and sunscreen lotions. Weather in Spiti tends to chaff the skin.
Medicines needed
Along with your personal medicines, make sure you carry medicines for Acute Mountain Sickness (AMS)
Biking in Spiti
Please makes sure to go biking from the Manali side in order to reach Spiti. The journey is shorter and safer than Shimla.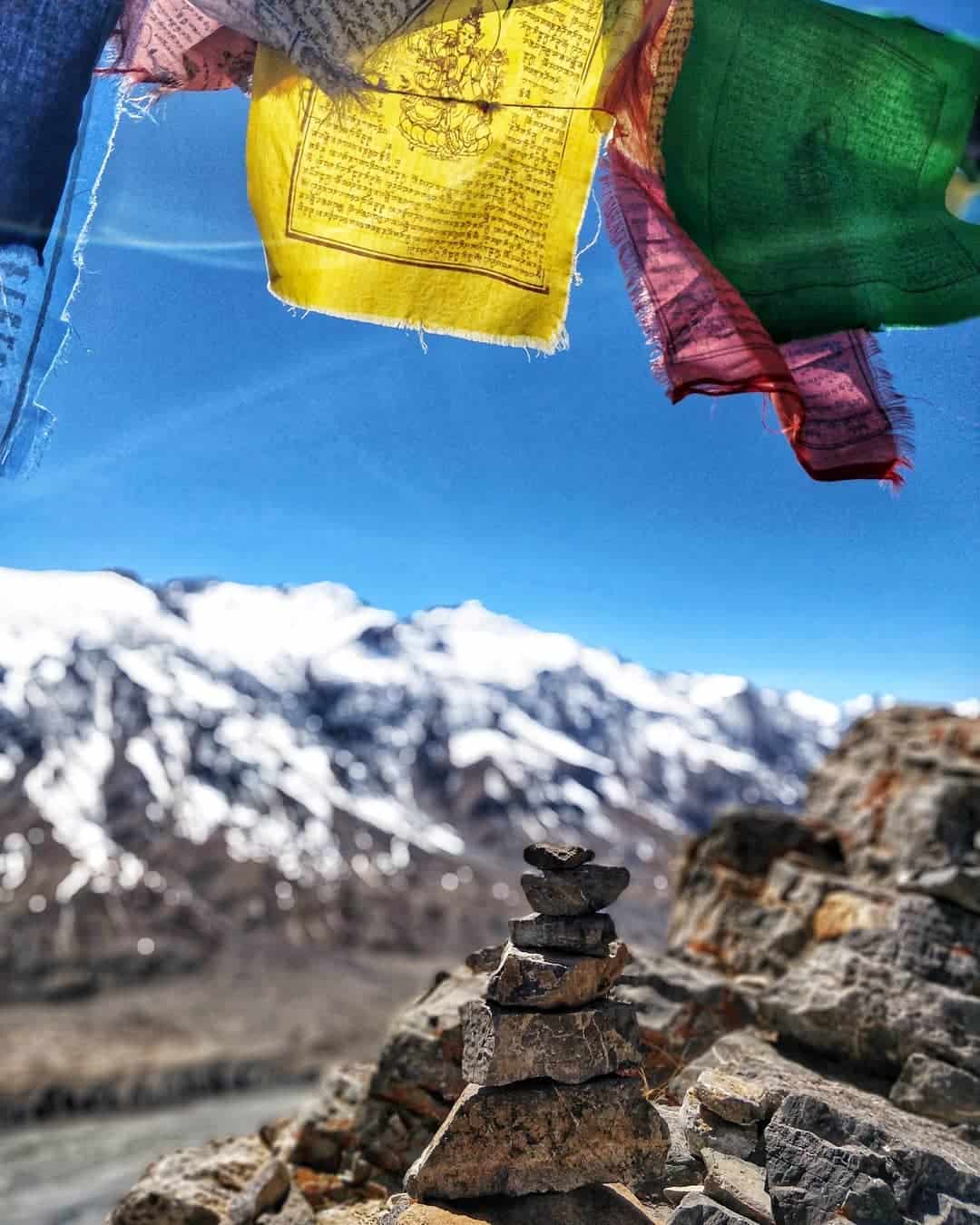 Before I end this blog, let me mention some of the most reasonable ways to save money in Spiti Valley. These might come across as strange but I can tell you for a fact that they totally work. So try them out.
6 Important Ways to Save Money in Spiti
I'm sharing with you below a few simple but crucial ways that will ensure that your trip to Spiti turns out to be as economical as it can get.
Choose the correct season to visit
Traveling to Spiti in the months of August and September will fetch you better deals. Traveling during April and May will turn out to be expensive.
Use HRTC buses wherever possible
Although it might get a little too bumpy at times, the local HRTC buses are as efficient as they can get and will make sure you have a safe and cheap journey. So at least while traveling from Shimla to Peo to Kaza, use public transport only.
Travel as a group
I've said this before and I'm saying it again that travelling in groups of 3 or more would help you save on costs when it comes to staying and cabs meant for internal exploration. There, buses won't be of any help because there aren't any.
Eat at your stay and carry food
Make sure to eat meals at your place of stay. In fact, pack lunch from there and carry it with you. The temperature is cold so it won't even rot.
Take lifts from locals
It isn't very difficult to get a free lift from one town to another in Spiti Valley, and while this will save you a few dimes, it will also give you the experience to remember always.
Book spontaneously
Although you might lean towards wanting to have a fixed plan and have advance bookings, a lot can go wrong when travelling to Spiti – landslides, roadblocks, etc. It would thus make sense to book on the spot, to avoid any cancellations
When my friends first asked me about pursuing a Spiti Valley budget trip, it took me no convincing to book my tickets. Now when I look back, I know that backpacking to Spiti was one of my best life decision.
If someone asks me to describe these 10 days of my life, I wouldn't be able to do it in less than a few hours or maybe a few days. This is how much Spiti had made me aware of it as a travel destination.
Spiti has so much to offer that there are definitely going to be certain places you'll miss out on your first trip. Nako, Tabo and Chandratal Lake were some of the many places that we couldn't cover. But isn't that where the beauty lies? Spiti will keep calling out on you. Over and over again.
When it's my turn to return, I surely will explore Spiti even more vigorously next time.
Happy Wayfaring 🙂