Souvenir Shopping in Turkey can be a fascinating experience for visitors travelling to this lovely country. The items unique to the region are prepared with a lot of embellishing and finesse. Art and craftsmanship run in the veins of the people here.
Each city and town in Turkey as something unique to offer its visitors. The more time you spend in this beautiful country, the more time you will have to explore the markets. Souvenir Shopping in Turkey was overwhelming for me. I ended up taking a lot of things back home.
Since each travel destination within Turkey is unique in nature, the markets and the items available are also different from one another. It would be unfair to list out just the popular things available here. Therefore, in my current blog, I will make an endeavour to elaborate on the complete list of places for pursuing souvenir shopping in Turkey.
Souvenir Shopping in Turkey
Buying souvenirs in a new place is an art. It doesn't come naturally to everyone. There's a difference between shopping superficially and buying after exploring the markets.
While visiting a place, always spend quality time in its markets so that you're able to carry a part of it with you in the form of exquisite souvenirs.
Turkey is one of those countries that seem to top the charts of every traveller's wanderlust bucket list. Travelling to this part of the world is futile if one doesn't know how to go souvenir shopping in Turkey.  I mean it's always good to have memories to look back to once you return home from a travel destination.
In this article, I will be talking about some of the best places for souvenir shopping in Turkey. These will most definitely include three main cities of the country namely Cappadocia, Istanbul and Eskisehir.
Here you will be able to go for some of the most exquisite souvenir shopping in Turkey.
Top 15 Souvenirs to Buy from Turkey
Based on my experience travelling to the various parts of Turkey, here are the top 15 items that I most strongly recommend that you take back home as souvenirs and gifts for loved ones.
Glass art accessories
Stone jewellery 
Herbal products
Ceramic plates
Locally grown spice packs
Locally grown teas
Sun-dried fruits
Magnets
Rugs
Pottery
Crafted bookmarks
Embroidered rings
Wooden wall hangings
Evil eye
Turkish outfits
If you want to shop successfully (i.e buying things at an affordable price) it is important that you know where and how to bargain. For that, the least you should be doing is remembering the numbers in a native language.
Turkish Translation of Some Important Numbers and Terms Useful for Shopping 
For a good souvenir shopping in Turkey, it is essential that you're aware of the numbers as well as other terms used in the local language.
1
Bir
2
Iki
3
Üç
4
Dört
5
Beş
6
Altı
7
Yedi
8
Sekiz
9
Dokuz
10
On
20
Yirmi
50
Elli
100
Yüz
1000
Bin
Half
Yarım
Less
Az
More
Çok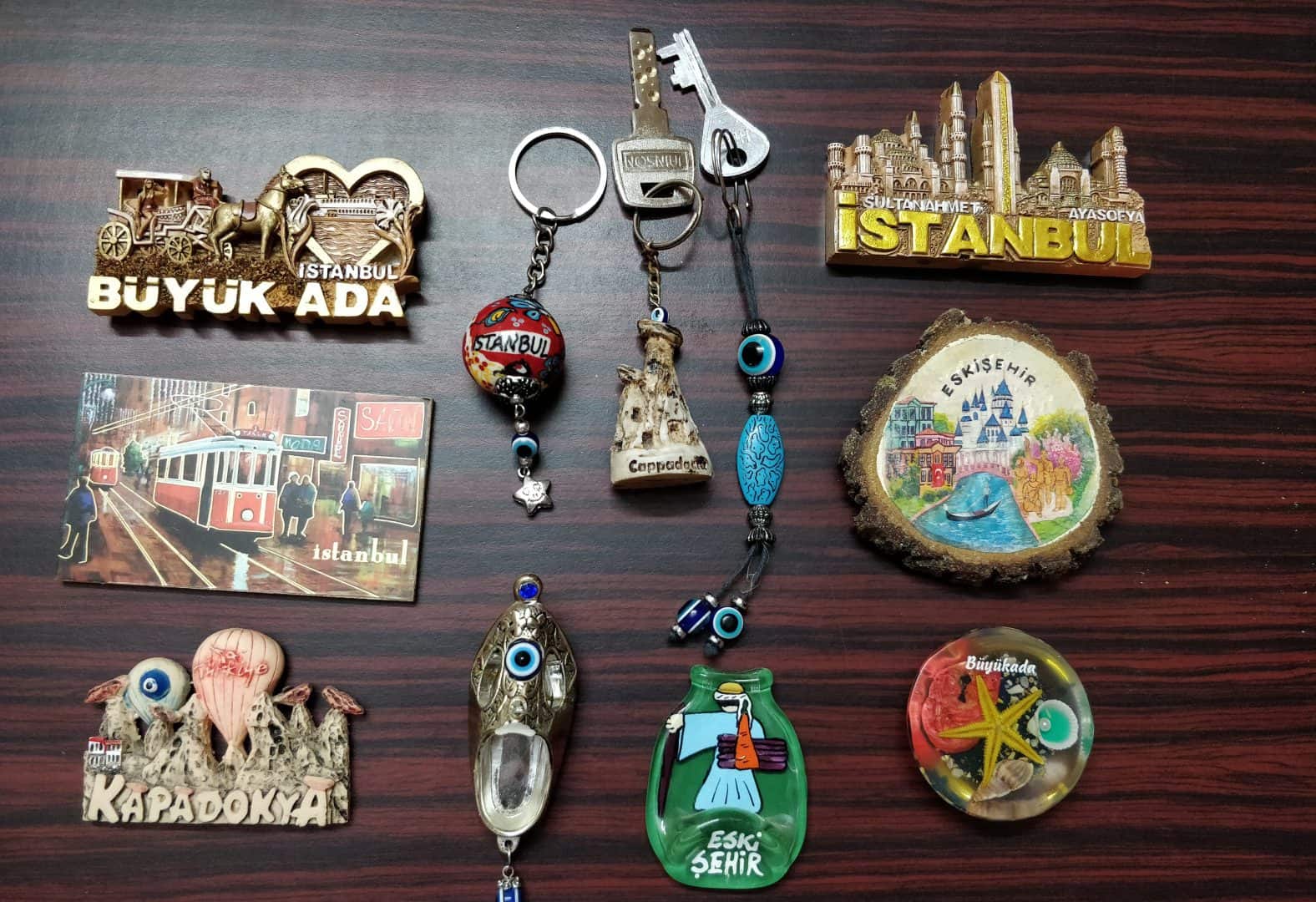 Perfect souvenirs to get from Turkey. Picture credits: Nimisha Modi
The markets of Turkey are as diverse as its culture. Each city and town for that matter has a different story behind it. The people are warm-hearted in general and it reflects in the way they treat outsiders visiting their land.
The Turkish people take a lot of pride in showcasing their cities, historic marvels, art and craftsmanship to the outer world at large. It is for this reason that many offbeat destinations in Turkey have now become mainstream.
Travellers will always prefer a place that treats them well and doesn't discriminate against them. Also, the safety should be good. Turkey performs very well as a host nation in both these parameters.
As a traveller, I had backpacked to Turkey and got the opportunity to explore three of its major cities. Not only did I visit the places of sightseeing but also the native markets. Doing souvenir shopping in Turkey was one of the highlights of my trip.
The Best Places to Go Souvenir Shopping in Turkey
Since I explored three regions in great detail, while visiting Turkey, I would love to share their names with you below.
Now that I've mentioned the names of three of my favourite places for doing souvenir shopping in Turkey, let me elaborate on the exact things and market places to but the most beautiful items.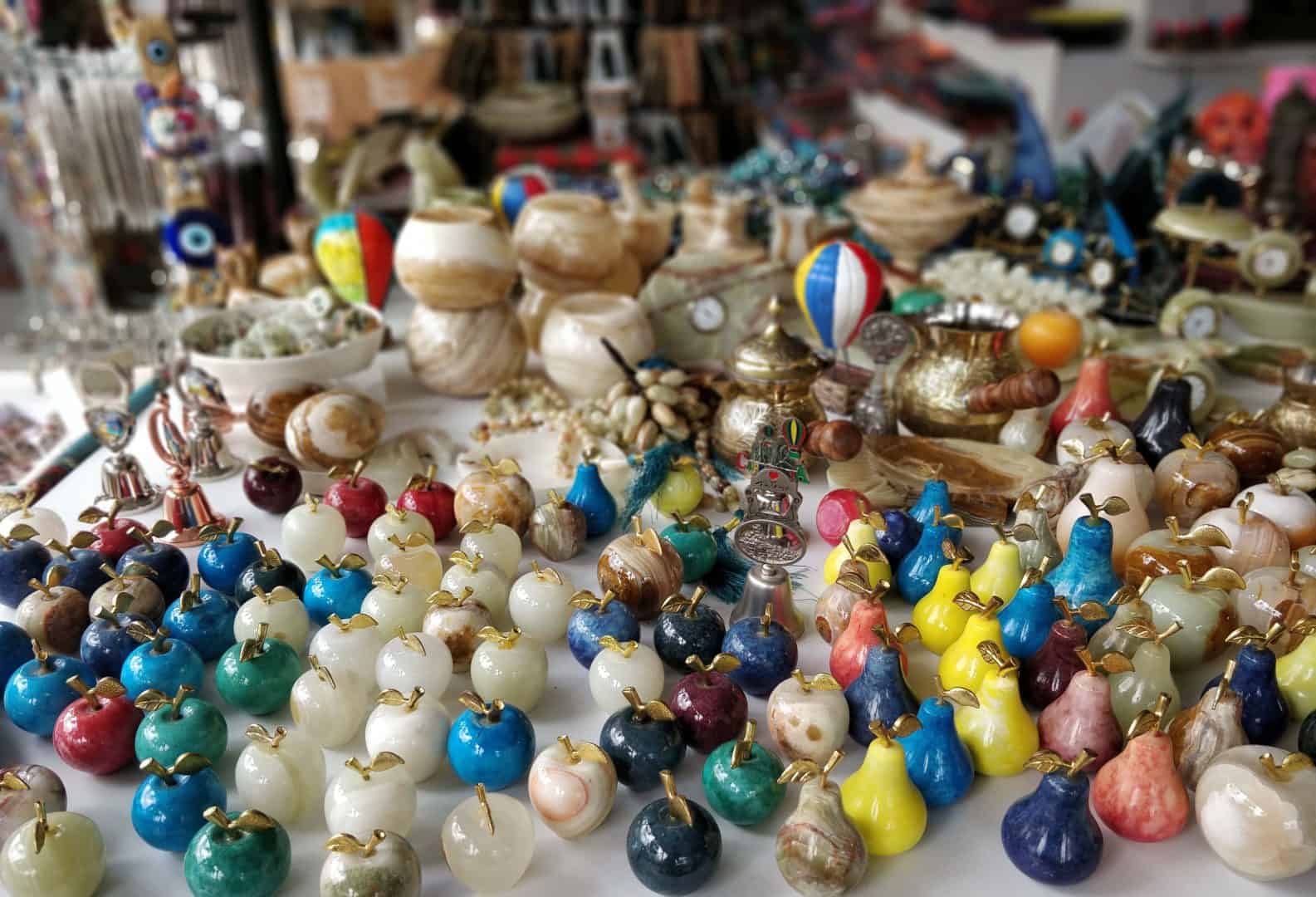 A shop in Cappadocia selling cute paperweights. Picture credits: Nimisha Modi
Souvenir Shopping in Cappadocia
Here are the exact places that you must visit for purchasing souvenirs in Cappadocia.
Also useful:
The complete shopping guide to the top buying things in Cappadocia
Uchisar Castle
Buy Cappadocian stoner lamps and other cute things at affordable prices here.
Nevsehir
Prefer buying Lokum, dry fruits, spices and seeds here
Ugrup Market
Buy magnets, wall hangings, evil eye, ceramics, bells, key chains and Cappadocian stoner lamps here.
Avanos
Go for glow in the dark ceramics here.
Deverent Valley
Magnets, wall hangings, evil eye, ceramics, bells, key chains, Cappadocian stoner lamps and other cute things are available here at affordable prices.
Pasabag (fairy chimney valley)
Do not forget to bargain for the best price. They even click your pictures without you noticing and sell them later on to you if you wish to buy them.
Kaymakli Underground City
Visit the Baykush gift shop, where a cute boy helps his father run the shop after his school hours and speaks very fluent English, also gives you great discounts if you buy in bulk.
Goreme Open Air Museum
Authentic items are sold at exorbitant prices. So if you feel this place is expensive, skip it.
Let me help you out with the modes to reach Cappadocia.
How to Reach Cappadocia?
For reaching Cappadocia, you can either take a flight, a bus or a train. All these three modes of transportation are available there. A plain will help you reach faster if you're travelling from Istanbul. There are daily flights between Istanbul and Cappadocia.
A bus can take up to 10 hours from Istanbul.
Important Tips:
If you're an adventurous person and prefer exploring Cappadocia on your own, go ahead and rent a scooter. It'll prove to be fun. You can also rent a bicycle if you want.
This is me with a cute boy selling gift items at the Baykush Concept shop at Cappadocia. Picture credits: Nimisha Modi
Miniature painting bookmarks should surely be a part of your souvenir list. Picture credits: Nimisha Modi
Souvenir Shopping in Istanbul
Out of all the markets in Istanbul, the following six places stand out when it comes to shopping of souvenirs in Istanbul.
Also useful:
The complete shopping guide to the top buying things in Istanbul
Grand Bazaar
Grand Bazaar is bustling with people from all around the world. The footfalls are quite high and so is the haggling with the shopkeepers. You will definitely find yourself captivated in a never-ending shopping spree here.
Spice Bazaar
It is also known as the Egyptian Market and has 6 entrances to it. The most amazing aspect of Spice Bazaar is the fragrance of spices and the aroma of the different varieties of tea being sold there.
Taksim Square
Taksim Square is a decent place to experience the art and culture of the city. A lot of exhibitions and concerts are held here, right next to the monument of the Republic.
Flower Market
The Flower Market is situated at Taksim Square with various small stalls selling fresh flowers and bouquets. The fragrance of this place cannot be ignored even from far.
Prince Islands
Prince Islands are a chain of nine small islands. The most famous islands out of these are four in number- Buyukada, Burgazada, Heybeliada and Kinaliada islands.
Street near the Galata Tower
Galata is home to various boutiques and hence many popular Turkish designers reside in this area. It has a lot of quaint cafes where one can shop for delicious macaroons and cupcakes.
Let me help you out with the modes to reach Istanbul.
How to Reach Istanbul?
It is important to note that Istanbul is an expensive city and can drain you out of money if you do not know how to travel on a budget.
Owing to the great amount of traffic during all hours in the city ( especially the European side where all these main attractions are located), travelling via a cab or taxi all alone will really pinch your pockets.
The best way to travel around the city of Istanbul is via metro, bus, ferries, tunnel metro and trams.  The city is well connected with all these modes of transport.
Important Tips:
Buy an Istanbul kart to use the metro, tunnel metro, tram; ferries and buses, there are machines at every metro station to issue you one just for 10 TL. Apart from this, you will have to recharge it too (4 TL is already loaded).
This is me buying Iranian saffron for my mom in Istanbul. Picture credits: Nimisha Modi
A dream catcher from the Buyukada Islands in Istanbul. Picture credits: Nimisha Modi
Moving on next to the offbeat but totally worth it city of Eskisehir.
Souvenir Shopping in Eskisehir
Some of the highly suggested market places for purchasing souvenirs in Eskisehir are as follows.
Also useful:
The complete shopping guide to the top buying things in Eskisehir
Carsi Market
Carsi is one of the most important areas in Eskisehir. There are several shops here and in the vicinity of this area including the local shops as well as the branded stores.
Ismet Inonu Market
Ismet Inonu market is at a walkable distance from the Carsi market. Here you will find more stylish outfits and accessories. Stores like Watsons, Flormar and food joints like Burger King and Starbucks can all be found here.
Espark Mall
This place can be a bit crowded at times but do not allow the rush to be a deterrent for shopping. Take your time, make your picks and look for some good deals and discounts.
Odunpazzari
Odunpazzari is an old market selling various handcrafted Turkish items in the city of Eskisehir. Varieties of items like woven Turkish loofahs, paper quilling jewellery, ceramics, glass art etc. being sold at really affordable prices.
Ataturk Bulvari Market
This market takes place right next to Ataturk Bulvari station every Wednesday.  This market keeps shifting to different parts of the city every day.
Sazova Tale Castle Stalls
Sazova Tale caste is Eskisehir's Disneyland. The shops right outside the entrance sell various souvenirs for travellers to take along with them.
Let me help you out with the modes to reach Eskisehir.
How to reach Eskisehir?
You can take the bus company named Kamil Koc either from Ankara, Istanbul or Cappadocia to the city of Eskisehir and vice versa for returning. You can also take the train that runs between Ankara and Eskisehir.
The bus tickets would cost you around 60-65 TL from Cappadocia or Istanbul (one way) and it takes about 7 hours to reach the city depending on the amount of traffic.
Important Tips:
Carry your passport to show identity proof for booking the tickets. The bus tickets are fully refundable (I got mine refunded just 5 hours ago on my journey).
There are many more bus companies offering tickets almost at the same prices, but Kamil Koc is one of the best and the safest bus company and I personally tested and tried one.
So I prefer that over any other bus company (they even have small led screens attached to every seat where I killed time playing candy crush and watching the "Harry Potter" series in Turkish).
Small packets of spices are sold at less than 5 TL in Ataturk Bulvari Market on Wednesdays. Picture credits: Nimisha Modi
Quirky brooches are being sold for 5 TL at Eskisehir. Picture credits: Nimisha Modi
Frequently Asked Questions by Travelers on Shopping Souvenirs in Turkey
When travellers visit this unique region, they have a lot of questions that are pertinent to shopping for souvenirs in Turkey. I'd like to answer them for you.
Is shopping souvenirs in Turkey expensive?
It depends totally on the area and shops you're buying the souvenirs. Doing some research beforehand will help you avail discounts?
What is the best time to go shopping souvenirs in Turkey?
Early mornings right after the markets open.
What are some unique spices to purchase from the markets at large in Turkey?
Pul Biber, Yeni Bahar and Sebzili Bahrateli Cesni.
Can items be shipped from Turkey in case they are breakable?
Some shops will provide you with that option and will charge you for it.
What are some of the best markets places in Turkey?
Grand Bazaar in Istanbul. Spice Bazaar in Istanbul. Carsi Market in Eskisehir. Odunpazzari in Eskisehir.
Is there something about antiques that I need to know before buying?
Yes. As per the law in Turkey, if you're buying an antique that is more than 100 years old, you will need a certificate from the officials.
What is the single most popular souvenir one can shop in the markets of Turkey?
The Evil Eye or Nazar Boncugu, as it is called in the Turkish language.
What are the popular beverages one can carry in raw form?
Go straight for the indigenous variety of teas. After all, Turkey is the number one consumer of tea in the world.
Is bargaining possible for shopping souvenirs in Turkey?
Definitely yes.
It is important that you stay alert of fake items in Turkey. Do not allow anyone to rob you of buying authentic items while you go souvenir shopping in Turkey.
A Note about Fake Souvenir Shopping in Turkey
While shopping souvenirs in Turkey, please be aware of any item that comes across as fake. This includes the edible and packaged items as well.
Do not think that shopping souvenirs in Turkey from the streets is a bad idea and buying them from stores isn't. There is no universal rule favouring the latter over the former.
Be it on the streets, stalls or in plush stores, always watch out for fake items being sold in the garb of souvenirs. Nobody should charge you a penny extra if non-authentic stuff is being sold to you.
While in Turkey, always look out for authentic souvenirs to shop. Picture credits: Nimisha Modi
Edible Treats in Turkey
Even though you might be unable to carry the eating stuff from Turkey, you most certainly should try it out while going souvenir shopping for Turkey.
The streets, eateries, shops and restaurants offer some of the most delectable edible treats to all its visitors.
I would like all of you to try Lokum, Baklava Pastry, Kumpir, Borek and Simit. Let me introduce all of these edible treats to you.
Lokum
A well known Turkish sweet.
Baklava Pastry
A multi layer filo pastry.
Kumpir
A filled potato that is baked.
Borek 
A filled up a pastry that can either be baked or fried.
Simit
Bread with sesame seeds in it.
To conclude it all, Turkey is heaven on Earth for all travellers when it comes to shopping. This includes both branded and local products. 
Turkey is a one-stop solution for all the shopaholics around the world seeking that one single place on planet Earth to buy products that are a mix of the modern and traditional essence and which won't hurt your pocket even a bit.
Happy wayfaring.