Singapore backpacking itinerary for couples is exactly what you need when you're travelling as companions. A backpacking trip is something every couple should embark on at least once in their lives. It offers you great memories which stay with you for a lifetime.
Singapore, an island city-state which is located off southern Malaysia, is one of the most interesting and exciting destinations when it comes to backpacking as a couple. Famously known for its spectacular colonial architecture, this part of the world is super clean. It deserves being worthy of our admiration. It is undoubtedly one of the best countries to backpack with your loved one and celebrate love.
Backpacking can be pretty challenging considering you're on a budget. But if you have a well planned Singapore backpacking itinerary for couples, you're sure to have a smooth sailing trip.
It needs to be mentioned here that decide on your budget together and accordingly exchange your currency into Singapore dollars (SGD). You can either do this at an exchange centre located in your country or even at the airport once you land into Singapore. Keep in mind that the airport exchange rates will be slightly higher so I'd recommend you avoid doing it from there which will help you save some money. 
Singapore Backpacking Itinerary for Couples
Before we go into the details of the Singapore backpacking itinerary for couples, it is essential that you understand Singapore as a travel destination.

Here's an overview of the place and your backpacking trip –
Preferable season to travel
Anytime between February and April would be a lovely time to travel to Singapore. This time of the year is pleasant. Thus escaping you from the scorching summers, harsh winters and wet rainy days.
Airfares & Visa when travelling to Singapore from India
I'd suggest you book your tickets from the airline that gives you the best and cheapest deal. Jet Airways, Air India and Singapore Airlines are highly recommended if you're travelling from India. Also, any Visa Agency will give you your Tourist Visa within 4-5 working days and it should cost 3,500INR approximately.
Backpacking to Singapore as a Couple
In Singapore, things are slightly expensive but you can save a lot of money by simply staying at either hostels or reasonable hotels. There are also many fun things to do in Singapore without having to spend a penny which makes it super budget friendly.
What to Carry as a Backpacker?
Apart from your essentials and money as a backpacker I'd recommend you carry a nice camera to capture beautiful moments and don't forget your itinerary, visa copy and a phone to travel easily with the help of Google maps.
Cost per Day
Backpacking is all about maintaining a budget. Keeping that in mind, 50-80SGD per day for the two of you, including accommodation, transportation and food is what you can roughly expect to spend.
7 Day Singapore Backpacking Itinerary for Couples from Morning to Night
I've created a week-long Singapore Backpacking Itinerary for couples. This will prove extremely useful for first-time visitors –
Day 1 of  

Singapore Backpacking Itinerary for Couples
Morning
After Breakfast head to Chinatown. Visit the Buddha Tooth Relic temple and shop for souvenirs.
Afternoon
Chinatown has a variety of street food to choose from and is budget friendly as well. Grab a snack here!
Evening
Head to Clarke quay early in the evening so you can get a great view at Riverside and some amazing pictures as well.
Day 2 of  

Singapore Backpacking Itinerary for Couples
Morning
Grab a lovely breakfast at Yaa Kun Kaya toast at Orchard Street. The Kaya butter set with poached eggs and coffee can be shared by two is approx. 4SGD
Afternoon
After breakfast, you can indulge in a bit of window shopping or if they have great sales even indulge a little all at Orchard Street. For lunch be sure to visit Din Tai Fung which has one of the best dumplings ever and is approx. 12SGD
Evening
After a lovely lunch, head to Chinese Gardens before sunset and get an insight into their culture. The entry is free which makes it super budget friendly
Day 3 of  

Singapore Backpacking Itinerary for Couples
Morning
Head to Gardens by The Bay in the morning
Afternoon
Visit the casino at Marina Bay Hotel early in the evening
Evening
Take a walk along the Marina Bay and watch the scheduled Laser light shows and Merlion for free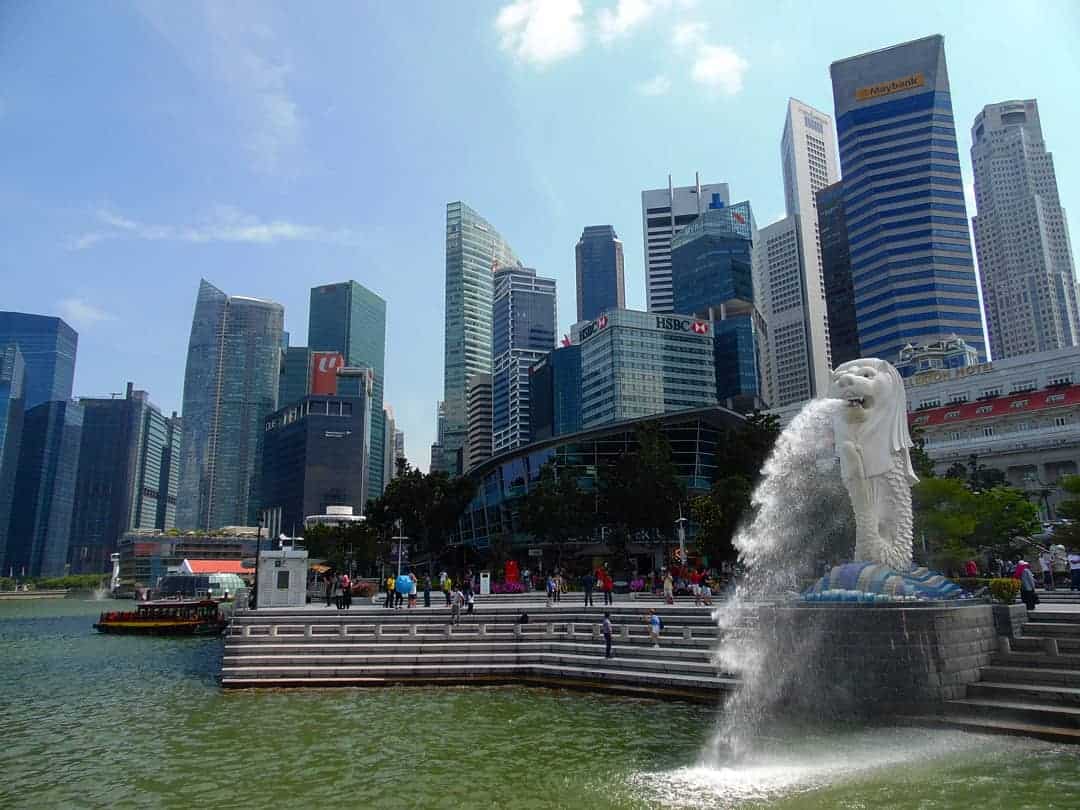 Merlion – the iconic statue of half fish, half lion. Photography by Helena Marques
Day 4 of  

Singapore Backpacking Itinerary for Couples
Morning
Visit the famous Botanical Gardens
Timings:0500hrs-0000hrs
Entry fee: NIL for all ages.
Afternoon
Head to Bugis Street by MRT. Indulge in street shopping here.
Evening
After Bugis head towards Arab street which is buzzing with tourists casually hanging around restaurants that are on the street. Grab a meal while you listen to Live music at Arab Street
Day 5 of  

Singapore Backpacking Itinerary for Couples
Morning
Visit Sri Veeramakaliannam Temple in Little India. The entry is free, however, be sure to dress modestly.
Afternoon
Head for lunch to Saravana Bhavan which is one of the best restaurants specializing in south Indian cuisine. (Recommendation: ghee roast dosa). Cost for two: Approx. 12SGD
Evening
Shop at Mustafa shopping centre which literally has everything under the sun. From electronics and all kinds of food items and snacks to apparel and cosmetics, there's nothing you can't find here.
Day 6 of  

Singapore Backpacking Itinerary for Couples
Morning
Leave for Sentosa in the morning and take the Sentosa boardwalk while you admire its scenic beauty.
Afternoon
Grab a quick lunch at Mc Donald's which is budget friendly for backpackers and head to the beach before the sunsets.
Evening
Catch the free events that take place on the beaches or simply relax on the beach and take a swim. Head back by the boardwalk which is a spectacular vision at night with all the beautiful lights.
The historical riverside quay in Singapore – Clarke Quay. Photography by Daynme
Day 7 of  

Singapore Backpacking Itinerary for Couples
Morning
Visit the Art Science Museum at Marina Bay Sands.
Afternoon
Picnic at the Marina Barrage and admire the mesmerising view of the skyline while you spend time with your loved one.
Timings: 9:00-21:00hrs
Entry: Free
Evening
Catch free events and concerts at Esplanade, and Theatres by the Bay for a truly amazing cultural experience.
Timings: 08:00-2:00 daily
Entry: Free
I hope that the Singapore backpacking itinerary for couples which was used by me will prove of value to fellow travellers.
Where to Stay when Backpacking in Singapore as a Couple?
The Inn crowd and MKS backpackers' hostel can help you save up on some money. 20-23SGD per day is what you can expect to spend on your stay. Or else if you're not looking to stay in a hostel you can also choose from a wide range of affordable hotels (that I'm mentioning as buttons below) according to your budget.
Tip: Avoid staying in areas which are slightly more expensive like Clarke Quay and Marina Bay Sands.
Recommended Accommodation Options to Include on your Singapore Backpacking Itinerary for Couples
There is no dearth of affordable accommodation for travellers in Singapore. There are many hostels that provide budget accommodations. Personally, I would recommend these two. 
The InnCrowd Backpackers' Hostel
Starting price per night is 17.54 Singapore Dollars
Located within 500 m of Kwan Im Thong Hood Cho Temple
Extremely couple friendly place
Availability of free wifi
Airport shuttle facility
24×7 front desk service
MKS Backpackers Hostel – Dalhousie Lane
Starting price of stay per night is 15 Singapore dollars 
Availability of single rooms and dorms
Free wifi available
Air conditioning available
In close proximity to public transport
Daily housekeeping facility
Fancy lights at China Town. Photography by Claudi
Singapore Travel Highlights: Things to See
Singapore has many attractions that will make you fall in love with this city-state. Here's an overview of all the things to see in Singapore.
What to look out for? & Where to See it?
Colonial buildings and incredible architecture
Marina Bay Sands, Clarke Quay
Street Markets
China Town, Bugis Street and Little India
Gardens & Nature
Chinese Gardens, Botanical Gardens and Gardens by the Bay
Famous Tourist Attractions
Merlion, Marina Bay Sands Buildings, Scenic boat ride at Riverside Clarke Quay
How to Travel Around Singapore?
Travelling around Singapore as a backpacker is the best thing ever simply because it is so convenient. Singapore boasts of a great and rather well-functioning MRT system that connects various places which makes it super easy to travel.
You can either purchase an Mrt card from the station or top it up with as much money as you'll need during your stay. Travelling around Singapore by the MRT can be as cheap as 3SGD a day for one person. You can also take an Uber or book a ride on Grab which will be much costlier than an MRT ticket (not recommended for backpackers).
Which are the Most Romantic Places you can Visit in Singapore as a Couple?
Singapore is a very romantic country. It has a number of exciting and amazing activities to do as a couple. Make sure that your Singapore backpacking itinerary for couples includes all of them.
On your Singapore backpacking itinerary for couples, Sentosa Island should be your topmost priority. It is an island located off the southern coast and is always buzzing with life. You can reach Sentosa by either taking the bus or metro to Harbourfront station (northeast line).
From there you can travel to Sentosa by –
Monorail
Buy the ticket from Vivo City Mall. The cost of the ticket is 4SGD per person both ways. (recommended for backpackers)
Cable Car
Cable car will cost you around 13 SGD per person (not recommended for backpackers)
Sentosa Boardwalk
This is the best way to get to Sentosa, especially for backpackers. It's free during certain seasons and if not comes at a cost of not more than 1SGD per person. The walk is romantic particularly in the evening with beautiful lights and makes for great pictures too (highly recommended for backpackers).
You can do so much in Sentosa. Plan a trip to Universal Studios. It can prove to be a tad bit expensive  (on an average 68SGD per person). If you purchase the tickets directly from the counters at Universal they will be a lot more expensive. However, I am enlisting customized tours as well as direct ticket links made available at more reasonable prices.
What More Budget Stuff from Sentosa to Add to your Singapore backpacking itinerary for Couples?
If you're looking to do something that is a lot cheaper at Sentosa and perfectly suits your backpacking budget head to one of the three beaches located there-
Palawan beach
Tanjong beach
Siloso beach
If you're simply looking to relax and spend quality time at the beach and not so much money you can grab a meal at McDonald's just before you can enter either of the three beaches.
There are also some free events like movie screenings that take place on certain days at the beach. So don't forget to research and catch up on some free events while indulging in some romantic stargazing nights at Sentosa
Clarke Quay has a number of amazing restaurants buzzing with life. If you want to just grab some chilled beers or maybe a glass of wine with some lovely food I'd recommend Highlander which is situated just around the performance area which makes it even better. You can also head to Clarke Quay for a romantic boat ride at Riverside or capture some amazing pictures on the bridge alongside the river with your loved one.
Oh yes, they also give you free unlimited monkey nuts to go with your drinks. Now, how great is that? Also, do not miss out on their BBQ PORK RIBS. They are absolutely to die for! The cost for two is approximately 30SGD with alcohol, however, they do have happy hours and great discounts all through the week.
Another fun activity you can do as a couple is heading to the Esplanade rooftop. You can get the finest view of Marina Bay Sands and it is the best place if you just want to spend some quality time together whilst admiring the spectacular view from the top. The entry to the rooftop is free which makes it the ideal activity to indulge in for a backpacking couple.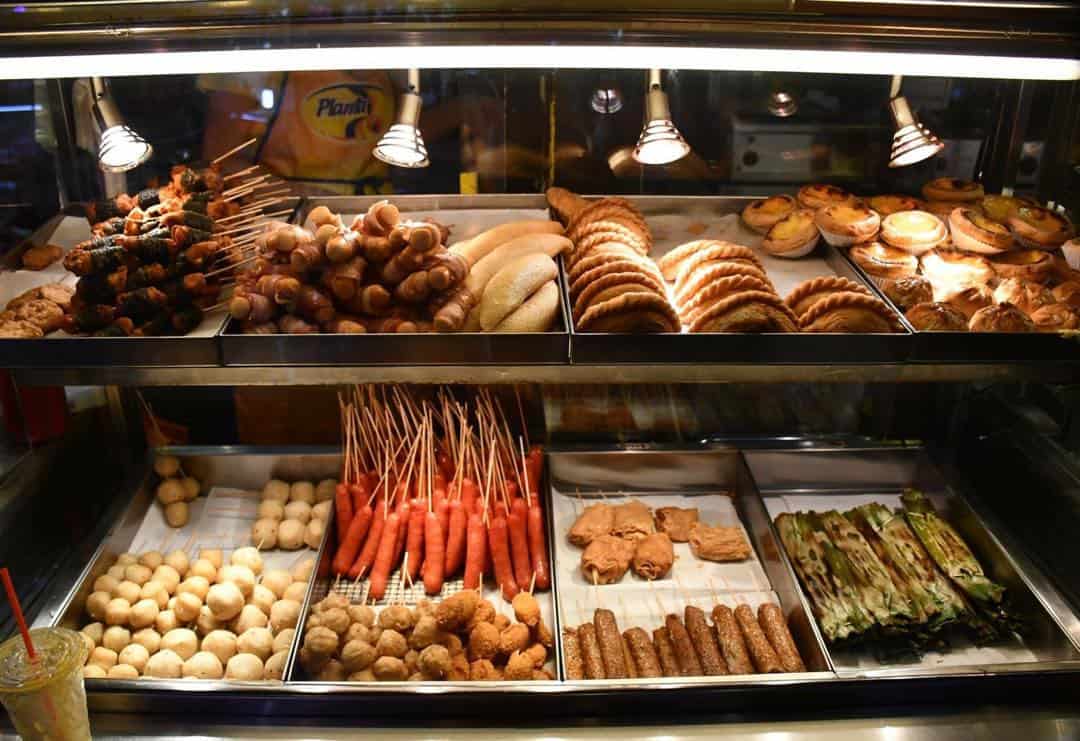 Delicious street food at Bugis Junction. Photography by Alijana Pivko Knezevic
Fun Things to do in Singapore as a Couple
Singapore backpacking itinerary for couples must include the Casino at Marina Bay Sands if you're looking to have some fun. Ever been curious about what people do in there all day how the casino machines work and simply how does it feel to be inside one? If yes, as a backpacking couple be sure to visit the casino at MBS.
Entry is free for foreigners. Remember to carry your original passport along which is the only document you need to enter. You don't need to necessarily play if you don't want to but if you want to play you will either have to buy coins or insert the required amount in the slot. By and large, it is a fun experience.
The next thing to scratch off your Singapore backpacking itinerary for couples list is watching the spectacular light shows at Marina Bay Sands is a must. There are two simple reasons behind this – one is the very fact that you do not need to pay a penny and the other is that it's beautiful.
The laser light show takes place at night so you can enquire about the timings from the help desk at MBS hotel and you'll be delighted to have not missed this one.
Chinatown is another great place to visit as a Backpacking couple. By visiting the Buddha Tooth Relic Temple which is beautiful and interesting you can also shop for cheap souvenirs all under 3SGD. Chinatown is also lovely to shop for clothes, bags and accessories as the street is full of shops and stalls with a variety to choose from.
If you want to make shopping an even more fun activity you can indulge in as a couple I would recommend you head to Bugis Street which has a number of stalls and shops selling everything from clothes and bags to watches and phone accessories, all at a reasonable price. You can shop for your partner and vice versa to make it more fun and all at a budget.
Tips to Save Money in Singapore 
While on your Singapore visit, these tips will help you save money
Visit all the Sight Seeing Attractions that don't cost a penny but are totally worth it
Head to the beautiful beaches
Find out about ongoing free events around Singapore
Take the MRT for travelling around Singapore
Happy hours are the best when it comes to restaurants especially if you want to grab a drink. Make the most of the beautiful scenic views around Singapore that are inexpensive or free
Shop at Street Markets instead of Malls
Backpacking as a couple to Singapore undoubtedly will be one of the most fun-filled experiences that you can have together. I hope with this itinerary you can have a budget-friendly and memorable trip. So be sure to add this to your bucket list.
Happy Wayfaring 🙂