It was a long weekend and I and my two other friends decided to visit Ranthambore National Park. The national park is located in near Sawai Madhopur city of Rajasthan. Based on my recent experience, this Sawai Madhopur travel guide will help you plan your visit to the tiger town.
Sawai Madhopur is most known for Ranthambore National Park. The City was the former hunting grounds for the kings of Rajasthan. Other than this park, there are several other places to visit around Ranthambore and Sawai Madhopur.
Sawai Madhopur is a small city and you can easily explore most of it in around 3 days. It can be a great weekend getaway from Delhi or nearby cities like Jaipur. 
Sawai Madhopur Travel Guide: An Overview
Here are a few details you need to know before planning a trip to Sawai Madhopur and Ranthambore National Park
Location
Rajasthan, West India 
Cheapest Mode of External Transport
Trains
Cheapest Mode of Internal Transport
Pool in Jeeps
Nearest Airport
Jaipur
Nearest railway station
Sawai Madhopur Junction
Best Time to Visit
October- March
Cost per person (3-day trip)
6000- 8000 INR
Major Attractions
Palighat Chambal Sanctuary           
Ranthambore Fort Complex
How to Reach Sawai Madhopur?
Sawai Madhopur is easily accessible from all major towns in India. If you are travelling from outside India, you can either reach the Airport in Delhi or Jaipur. From there, you can travel by train or taxi.
The cheapest way to reach Sawai Madhopur is by train.  The nearest railway station is Sawai Madhopur Junction. Trains to Sawai Madhopur are pretty frequent from Jaipur and from Delhi. From Delhi, it's a 5 to 6-hour train ride, while from Jaipur, it only takes about 2 to 2.5 hours.
Also Useful:
The must-see heritage places in Jaipur for first-timers
We travelled from Delhi to Ranthambore by train in the early morning (6 am) and reached Sawai Madhopur junction at around 12 pm.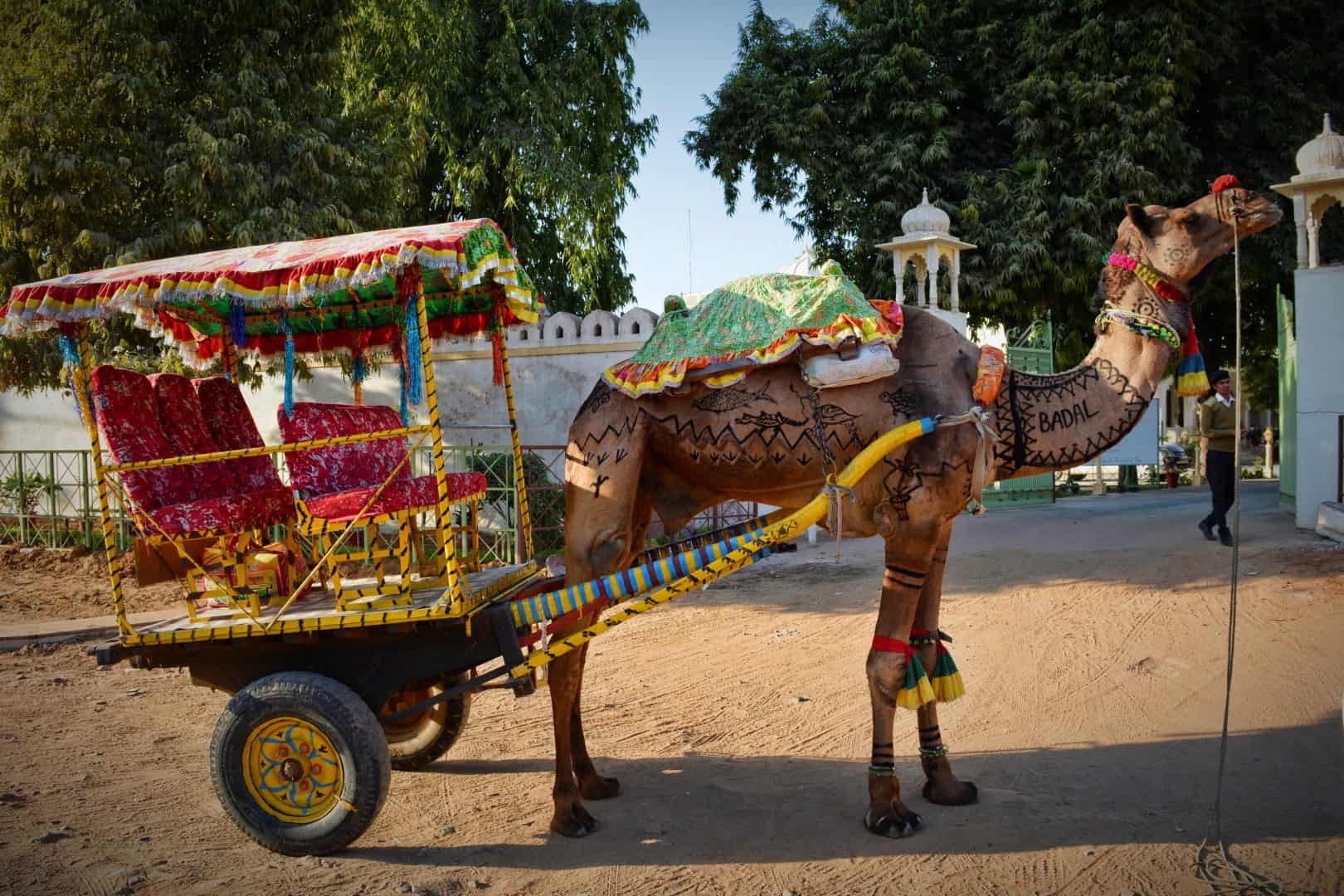 A camel cart at Sawai Madhopur. Picture Credits: Divya Sarjolta
Sawai Madhopur Travel Guide- 3 Day Itinerary
If you are planning a 3 day and 2 nights Ranthambore itinerary, here are the things that you must include in your travel plan.
Day 1
Dhonk
Shilpigram & Rajiv Gandhi Regional Museum of Natural History'
Day 2
Ranthambore National Park
Ranthambore Fort
Day 3
Palighat Chambal Sanctuary
Temples
Sawai Madhopur Travel Guide: Day 1
Try to reach Sawai Madhopur by lunch so that you have around half a day to explore the city. Check in to your hotel, get some rest and post-lunch you can head to these places:
Dhonk
It is a handicraft social initiative to rehabilitate the families of ex-poachers and village folks. They are trained in handicrafts their produce is sold here and shipped to different places. Here you can interact with the locals. It is about 4 km from the circle, next to Oberoi Vilas.
Shilpigram & Rajiv Gandhi Regional Museum of Natural History
Shilpgram is a rural arts and crafts complex. The bookings to the safari are also done here. It is about 9 km away from the city centre. Shilpigram and the Museum are close to each other and are a walkable distance from each other.
If you don't have time you can skip Shilpigram and instead shop around in the city. 
Tigress spotted at Ranthambore National Park. Picture Credits: Divya Sarjolta
Sawai Madhopur Travel Guide: Day 2
On Day 2 of your Sawai Madhopur trip, you can cover the Ranthambore National park safari and Ranthambore Fort. This is going to be a long day, so make sure you get adequate rest the previous day and wake up early. 
Ranthambore National Park Safari
Although Ranthambore National Park has plenty of flora and fauna, the main star is the Bengal Tiger. Other than the tiger, prominent fauna in the park include Leopards, Striped Hyenas, Sambar deer, Chital, Nilgai, Sloth bears, Black bucks, Indian Wild Boar, Chinkara, Indian False Vampires, Indian Flying Foxes, Indian Foxes, Marsh Crocodiles, etc.
Also Useful:
A detailed guide to Ranthambore National Park Safari   
Ranthambore National Park is a photographer's and wildlife enthusiast's dream come true. The sightings are frequent and since the animals are almost accustomed to human presence, they don't hideaway.
You can book the Ranthambore safari online (more expensive) or you can do it once you reach there. I wanted to book it online but my friends decided to reach Sawai Madhopur and then decide on it. A discussion with our Auto driver informed us that it was better to go to the booking office yourself and book the tickets.
The safari rides at Ranthambore National Park are carried out in two slots, morning and afternoon. Also, there are two options of vehicles for the safari– Canter or Jeep. You can choose whichever suits your budget.
Apart from these, there are also options for a private full day and half day tours in which you will be allotted an exclusive jeep and there are no zone restrictions. There however are very expensive.
 Tip: If you are planning to take just one safari, choose the morning one. It's a great time for animal sightings and the pictures in the morning light are just perfect!
We chose the morning safari (canter) and booked the tickets early morning at the Shilpigram booking centre.  At about 7.00 AM we were picked up by the canter at our hotel. As luck would have it, we were able to spot the big cat within the first hour of the safari.
We were also able to sight Sambar deer, Chital deer and several birds during the 3-hour long Safari. At around 10.30 our safari was over. We reached back by 11 at our hotel.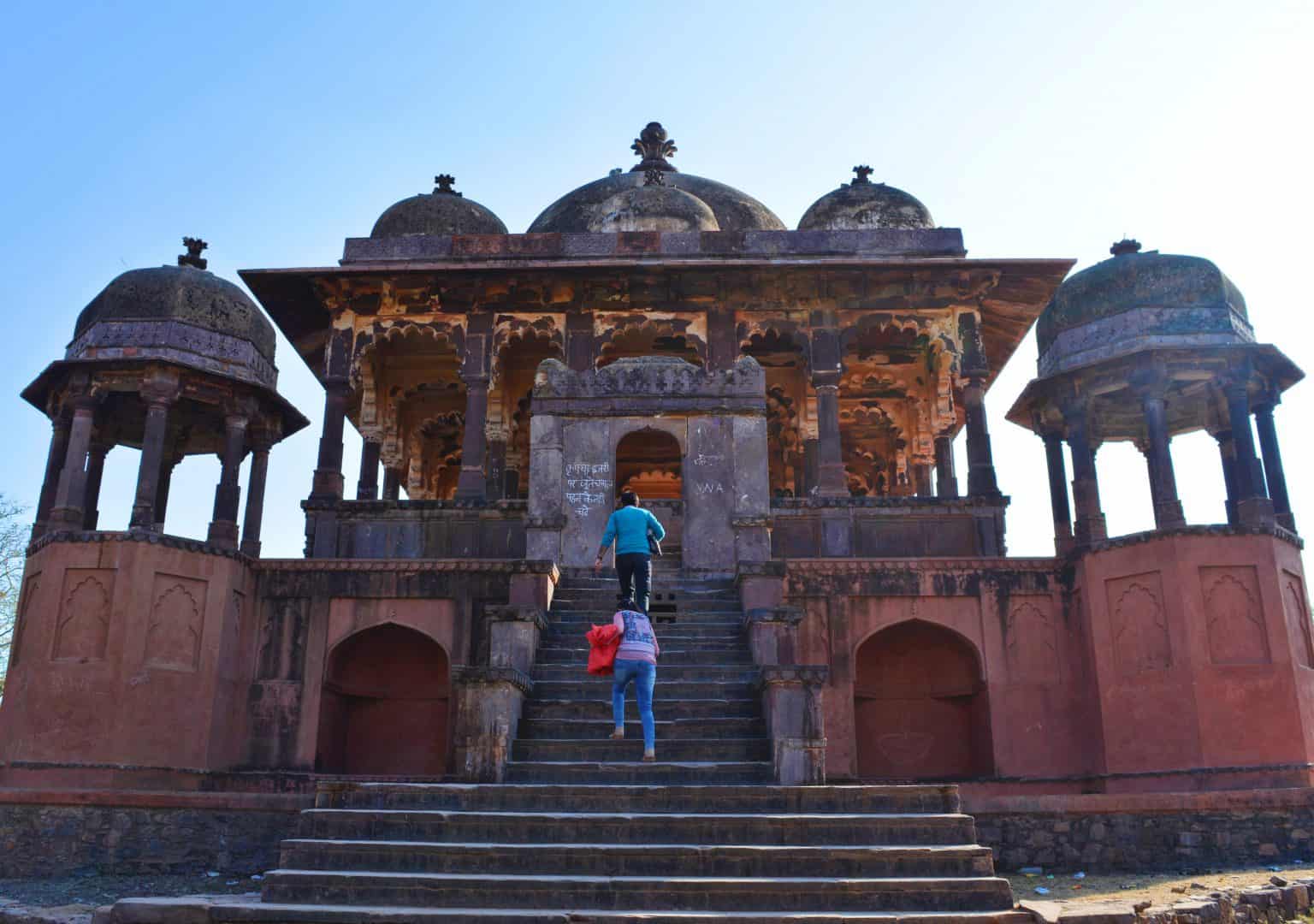 Batees Khamba at the Ranthambhore Fort Complex. Picture Credits: Divya Sarjolta
Ranthambore Fort Complex
After having an early lunch, we decided to go local sightseeing. The first place that came to mind was the Ranthambore Fort complex.
To reach the complex, you can take a pool in-cab service from Sawai Madhopur railway station which will drop you at the entrance of Ranthambore Fort. All the important places you find in your google search (including Ganesh Temple) are located within the premises.
It is a steep walk up to the fort. So, get ready for the walk! For the elderly who wish to visit the temple inside the fort, a carriage is available at the entrance of the Fort.  You can see the whole area in about 3-4 hours. Other than humans, you will also find a lot of peacocks, squirrels and langurs around.
Khandar Fort reminds you of the bygone era of the rulers. The architecture (although damaged at some places) is marvellous. The Fort was once ruled by the Sisodia kings of Mewar which later came under the Mughals.
There are seven temples within the fort including an old Jain temple, Hanuman temple, Chaturbhuja Temple, Gobind Devji Temple, Jagatpalji Temple, and Jayanti Mata Temple. 
You can also see several small ponds here. The Fort provides a bird's eye view of the Ranthambore National Park. 
Other important structures in the complex are:
Ganesh Temple attracts lots of devotees from around the state. People offer their first wedding card invitation to Lord Ganesha here. Beware of the langurs!! They try to snatch the edibles from you. Here you can find some dhabas for tea and snacks (pakoras, kachoris, samosas etc.)
Jogi Mahal and Padam Talao: It was once the hunting lodge of the Jaipur Royals, and was later converted to a forest rest house. It is currently closed to tourists but can be seen along with the lake from the Fort.
Battees Khamba which has 32 Pillars is a wonderful spot for clicking pictures.
Rani Haveli 3 day and 2 nights Ranthambore itinerary
After exploring the place, head back to your hotel and sleep early for an adventurous last day.
Chambal River Safari at Palighat. Picture Credits: Divya Sarjolta
Sawai Madhopur Travel Guide: Day 3
If you are still in the mood for some animal sighting, you can head towards Palighat Chambal Sanctuary on the last day of your visit. Post that, you could either head back to your next destination. If you are staying back in Sawai Madhopur, you could visit the temples and indulge in some souvenir shopping.
Palighat Chambal Safari
While in Sawai Madhopur, keep half a day for Palighat Chambal Sanctuary or National Chambal Sanctuary. It is around 35 km away from the city centre and is a conservation site for Gharials and crocodiles. It is situated on the banks of River Chambal and is an hour's drive away.
Also Useful: 
A complete guide to Chambal River Safari at Palighat    
The Palighat Chambal Sanctuary is home to the critically endangered Gharials, Marsh Crocodiles, Turtles and the Endangered Ganges river dolphin. The Palighat Sanctuary is also a delight for bird watchers as you can watch a lot of resident and migratory birds here.
In order to reach there, you need to hire a cab.  We hired a cab for Rs. 2000 (bargaining helps) in Sawai Madhopur and the person picked us up from the hotel and dropped us back as well.
You can spot Gharials and crocodiles basking in the sun on the banks of the river on your one-hour river safari. Palighat is great for spotting birds including the Indian Skimmer, Great stone curlew, Black-bellied Tern, Ruddy Shelduck, Black-winged stilt, Lapwings, Eurasian Wigeon and Kingfishers.
Temples
Some very famous temples near the centre are:
Chouth Mata Temple: Chauth Mata temple in Sawai Madhopur is visited by a number of devotees. However, you have to climb over 500 stairs, so go only if you are ready for that. The location of the temple is amazing.
Kala Gaura Bhairav Temple: The temple is about 4 km from the city centre. This is an ancient temple and the only temple where the Bhairav idol is placed inside the temple.
Sawai Madhopur Travel Guide: Where to Stay?
There are plenty of budget stay and luxurious stay options in Sawai Madhopur. You can book them online through portals like Agoda or Booking.com or book them once you reach there. If you're going on a weekend, expect inflated prices and crowded safaris. If you are travelling with friends, the costs would automatically come down.
From the railway station, you could hire an auto or get into one of the pool in cabs (Rs 30 per head) if your hotel is on the Ranthambore road.
We stayed at Hotel Green View, Ranthambore. The stay was decent and the staff was courteous. Some other budget accommodations are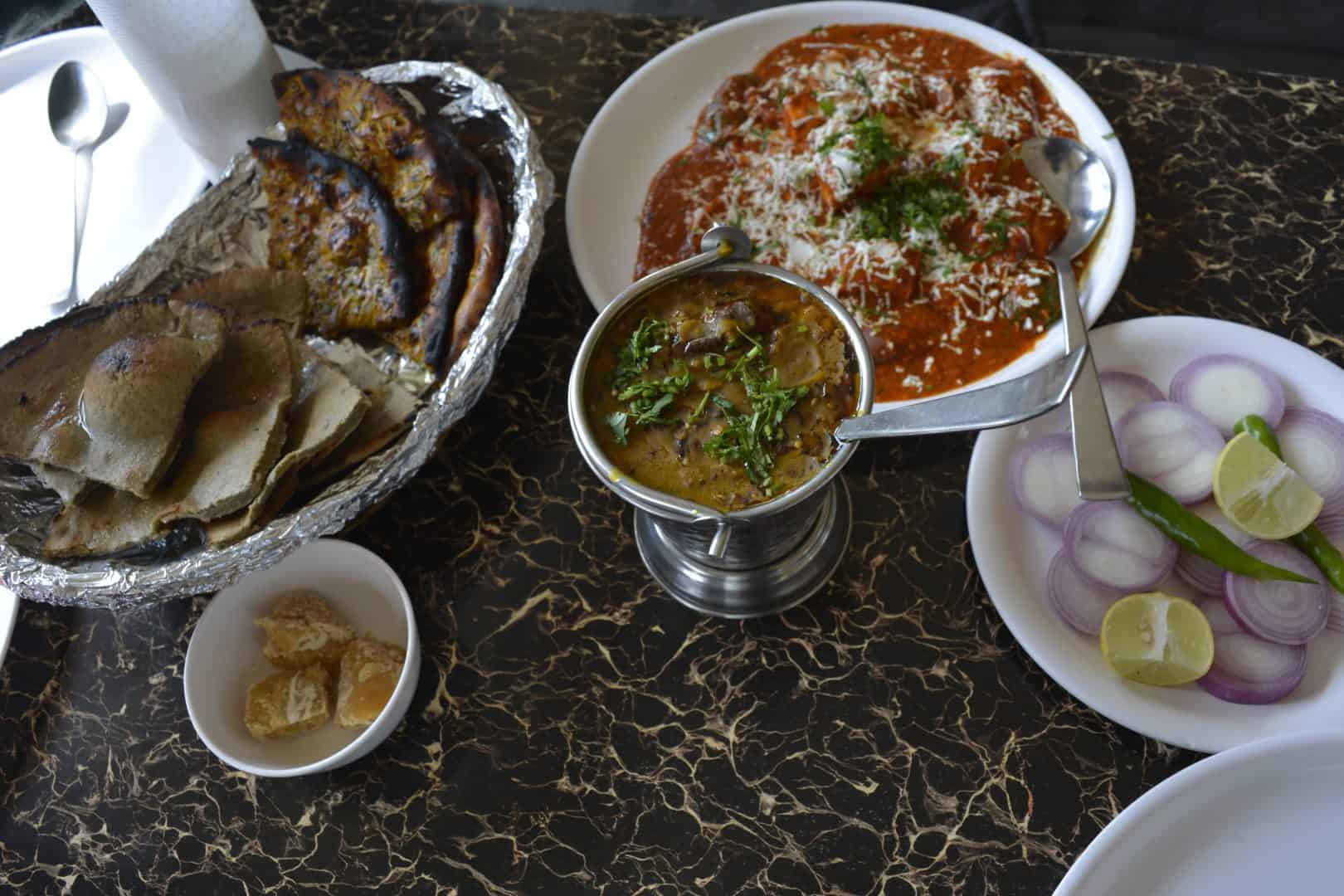 Delicious Food at Asha Restaurant. Picture Credits: Divya Sarjolta
Sawai Madhopur Travel Guide: Where and What to Eat?
Sawai Madhopur is a small town and you won't find many fancy and fine dining restaurants here. The fine dining options here are Vivanta by Taj, The Oberoi Vanyavilas and The Dining room. Also, there are very limited options for non-vegetarian food in Sawai Madhopur.
Don't miss out on the guavas here. They are freshly harvested from the orchards nearby. 
Now comes to the budget eats. Here are the top recommendations.
Restaurant and Cost for Two
Asha's Restaurant: INR 300-500
Must Try:
–          Sweet lassi
–          Bajre ki roti
–          Lehsun ki chutney
–          Paranthas
Ram Shyam  & Kanha Hotel: INR 200-400
Must Try:
Rajasthani food
Daal Baati Churma
Hotel Riddhi Siddhi: INR 300-500
Vegetarian food
Sawai Madhopur Travel Guide: Shopping
While visiting the Ranthambore National Park, you can pick up a few souvenirs along the way like Rajasthani handicraft items, Ranthambore T-shirts, caps, paintings and Rajasthani jewellery.
There are plenty of shops on the road to Ranthambore National Park. Some places are costlier than the others, so make sure you see around and compare the prices before picking up the things. 
A souvenir shop in Sawai Madhopur. Picture Credits: Divya Sarjolta
Our trip to Sawai Madhopur was extremely wonderful. This was mainly because we were able to see what we had hoped for and more.  Highly recommended for Wildlife lovers, Bird Watchers and Photography enthusiasts.
Happy Wayfaring 🙂