Salzburg 2 day itinerary will help you discover the best places in Salzburg in 48 hours. This includes some of Europe's best preserved baroque churches, splendid gardens, medieval fortresses, etc. Also, if you plan it well in advance, you could be in the city for one of its many cultural events.
An ideal Salzburg 2 day itinerary needs to be planned in a way that you make the best of your time in this Mozart's musical town. A lot of travellers visiting Europe intend to cover maximum places in minimum time. So its quite probable that you'd like to cover Salzburg in not more than 2 days. Therefore, it is important to create a travel-friendly Salzburg 2 day itinerary.
Salzburg is the home city of 'Sound of Music' and Mozart.
Remember the song – ."The Hills are alive with the Sound of Music"
Upon reaching Salzburg, this song resonates within you. 
Mozart's home welcomes you like you are one of its own while taking you back to simpler times. A quaint village residing in the bosom of the picturesque hills, its effervescent beauty makes you feel like you are part of a highly thought out movie set.
Also Useful
Things to do in the Mozart City, Salzburg in 1 Day      
How, Why and Where to get the Salzburg Card?       
Karntner Strasse: Vienna's Zone for Shopaholics
Travel Tips for Backpackers Visiting Eastern Europe                         
Salzburg as a Travel Destination: Highlights
Before elaborating on things to do in Salzburg in 48 hours, it is important that you know the basics of the city. Going through the overview below will help you understand this Austrian city better.
Location
Salzburg, Austria       
Currency
Euro
1 Euro = 1.14 USD
1 Euro = 79.87 INR
Language
German
(Most people can speak English)
Accessibility
All year round as it has moderate weather throughout
Best time to visit
July – August (for connoisseurs of the fine arts)
September – October (ideal weather)
December – January (for experiencing the delightful Christmas markets)
Speciality
Do not leave Salzburg without trying the Apple Strudel (a dessert similar to, but better than, the Apple Pie)
Also, be prepared to feel like you're constantly in movie-land, once you arrive.
Important Events (2019)
There are a number of cultural activities happening in Salzburg all year round. Some of the most renowned are:
Winterfest: 28 Nov 2018- 6 Jan 2019
Mozart Week: 24 Jan- 3 Feb
Salzburg Easter Festival: 13-22 April
Salzburg Whitsun Festival: 7-10 June
Salzburg Festival: 20 July- 31 August
Jazz & The City: 17- 20 Oct
Must Carry
Just your tickets and camera are fine.



Salzburg 2 Day Itinerary: An Overview
The ideal Salzburg 2 day itinerary should cover all the must-visit destinations and eating places. A reasonable way to do it is by dividing both the days in 3 slots – morning, noon and evening. 
As per the ideal Salzburg 2 day itinerary, it's better to start with locations of Old Town. All the major attractions in the Old town are close to each other. Therefore, it's best to explore the area on foot.
Day 1 in Salzburg
Morning
Have an early breakfast and head out to Mirabell Gardens.
Spend some time there and move to Mozart's Residence.
It is just a lane away. Next visit Makartsteg and finally Linzergasse.
Noon
Take a break and savour lunch at a nearby restaurant. There are many in the vicinity of Linzergasse.
After enjoying lunch, head to Hohensalzburg Fortress.
Evening
The last destination of the day is Hellbrunn Palace. Stop by and explore the palace and its many intricacies.
Have dinner at a good eatery and call it a day.
Day 2 in Salzburg
Morning
Have an early breakfast and head out to take the lovely 'Sound of Music Tour.'
This will take some time and will be totally worth it.
Noon
Go to some nice eatery and have a mouthful of lunch. You will need energy for your next destination – Eagle's Nest (Kehlsteinhaus).
This place will require a decent amount of time. This is because its far from the rest of the locations.
Evening
Visit the Augustiner Braustübel Brewery. It'll make for a fun way to end your day. It is an old Augustinian monastery turned brewery.
Head out and have dinner.
Which Locations on the Salzburg 2 Day Itinerary are Free to Visit?
There are a lot of free things to do in Salzburg if you procure a special card. It is known as the Salzburg Card and is inclusive for various locations. 
The locations under the Salzburg 2 day itinerary where entry is free if you own the Salzburg card are –
Mozart Residence
Hohensalzburg Fortress
Hellbrunn Palace
Note: Buy the Salzburg card only if you want to explore more places. Else, it'll prove expensive.
Benefits of the Salzburg Card
Salzburg Card ensures your free entry to various places. It even helps you travel for free within the boundaries of Salzburg. It offers you huge discounts on certain cultural events and concerts. Lastly, it provides express entrance without having to stand in line at the ticket counter.
The card is available for a duration of 24, 48 and 72 hours.
Salzburg Card allows you to visit various places and use transport for free. Photography by Nix
An Introduction to Places Mentioned in Salzburg 2 Day Itinerary 
Let us now read about all the places mentioned in the Salzburg 2 day itinerary. The explicit details will help you visit the place as a first timer.
Mirabell Gardens
Situated in the epicentre of the town, Mirabell Gardens is the first place on your Salzburg 2 day itinerary.
These gardens have soul pleasing arrangements of a myriad of flower species in an ocean of colours.
 To stand in the exact place where the momentous scenes of "Do-Re-Mi" were shot in Sound of Music, make you nostalgic and want to shake a leg as a tribute.
Timings
8am – 6pm
Entrance Fees
Free
The beautiful Mirabell Gardens. Photography by Anya Linder
Mozart's Residence
Mozart's Residence is next landmark to visit as per the Salzburg 2 day itinerary. Its just is a lane away from the Mirabell Garden.
Mozart's residence has been converted into a museum. It displays all the relics used by the great Bard himself.
Fans of his work will have a waltzing time in this shrine.
Timings
9am – 5:30pm
Entrance Fees
Adults – € 4.00
Children – € 3.50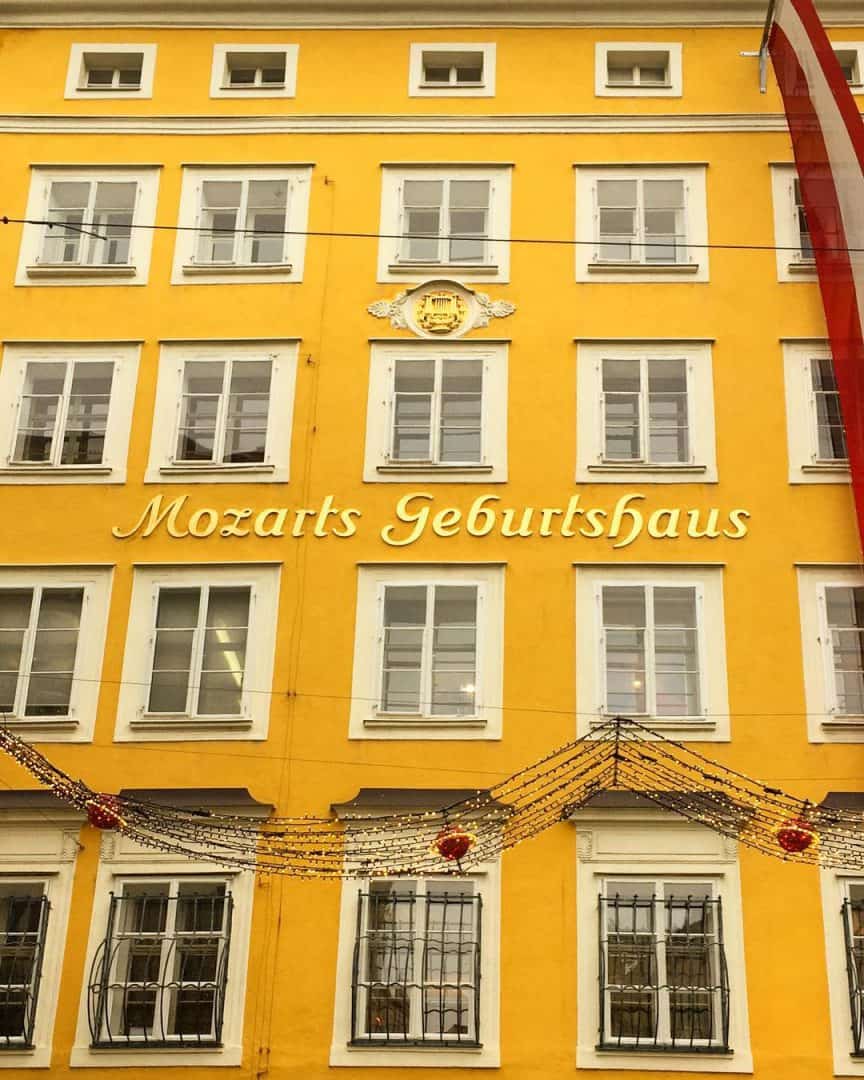 This is where the music maestro Mozart was born. Photography by Mehmet Erdugan
Makartsteg
A little way down the road, you start hearing the sound of flowing water, gently caressing the rocks as it flows over them. This is when you know you're close to the Makartsteg – the bridge of love. This is the third place on Salzburg 2 day itinerary
 The bridge on the river Salzach is lively with fresher air and pretty locks.
The view from the bridge is beautiful. With mountains visible as far as you can see and a magnificent archaic church to one side, this view is what makes paintings worth millions.
This bridge is on the way to the following attraction and hence, does not set you off your sightseeing schedule as well.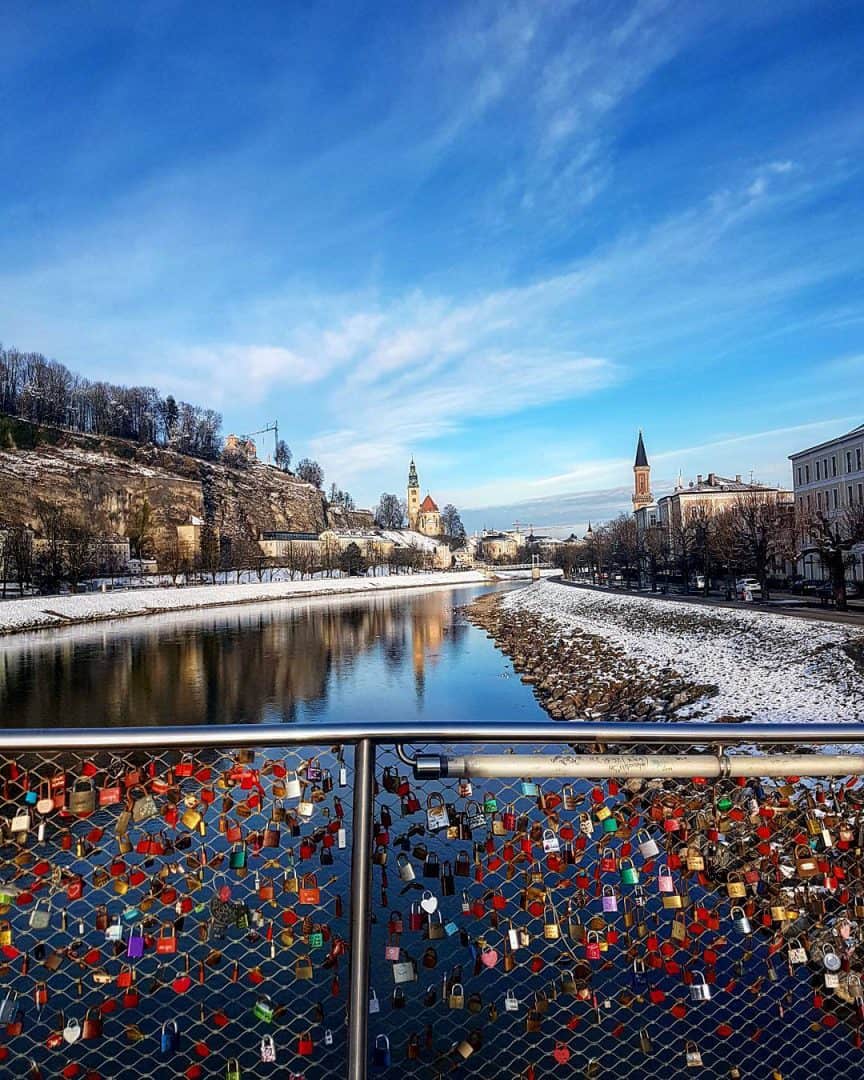 Love locks at Makartsteg. Photography by Vicky Torija
Linzergasse
Don't we all love pedestrian streets in beautiful old-world towns?
This street, just a short walk from the lock bridge, is a time machine and fourth on the Salzburg 2 day itinerary. It houses all the best eateries and shopping havens while decorated in Baroque architecture.
Also not to miss is Mozart's birthplace (Geburtshaus) that is conspicuously located on this street – a burst of yellow, this house looks like sunflowers were let loose on this building to celebrate the birth of the Maestro.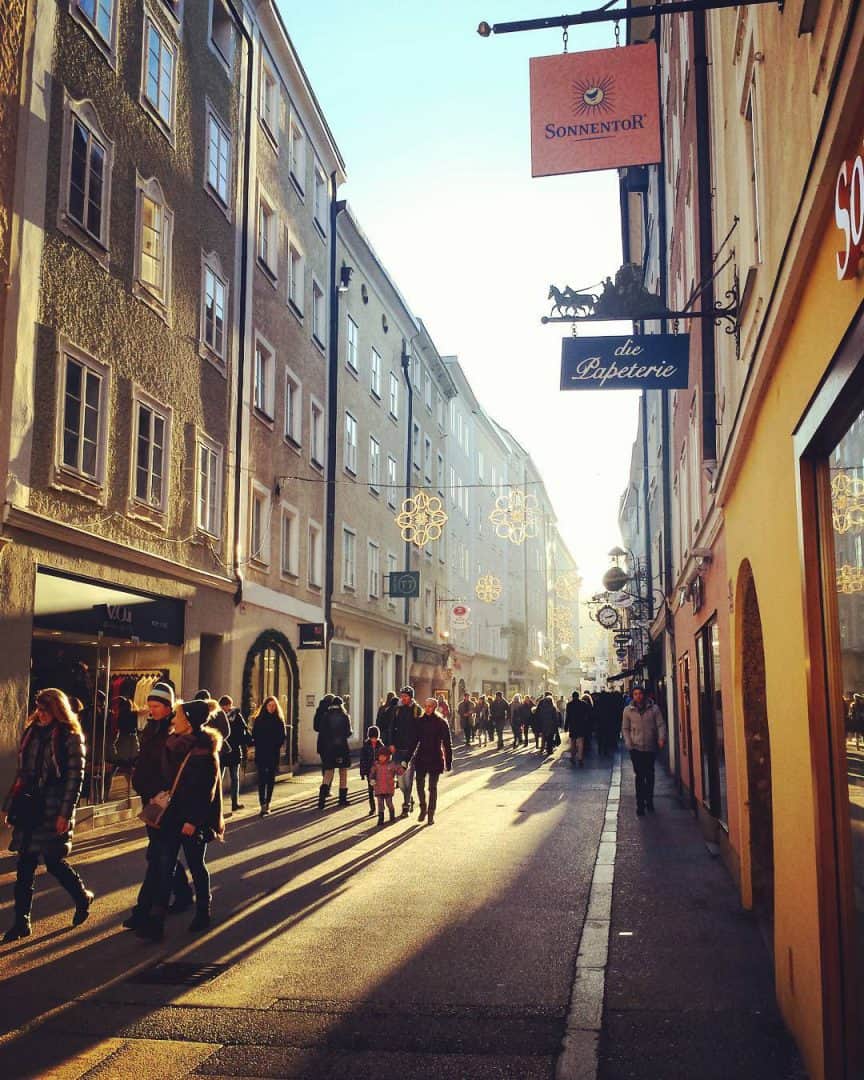 Linzergasse the magnificent Salzburg street. Photography by Lisa Ranner
Hohensalzburg Fortress 
 The funicular ride to the Hohensalzburg Fortress is an adventure on the Salzburg 2 day itinerary.
If you've dreamt of going up the Eiffel to just get a glance of the entire Parisian beauty, move on and dream of Salzburg. The Fortress has a view so pure, so untouched that you can't help but want to stop time to admire it.
It gives you a sense of serenity. A mild wind blowing, along with the view, is just the lullaby you need to transport you into a world with no problems. A mind space wherein only peace resides.
Timings
9:30am – 5pm
Entrance Fees
€11.90 (All-inclusive)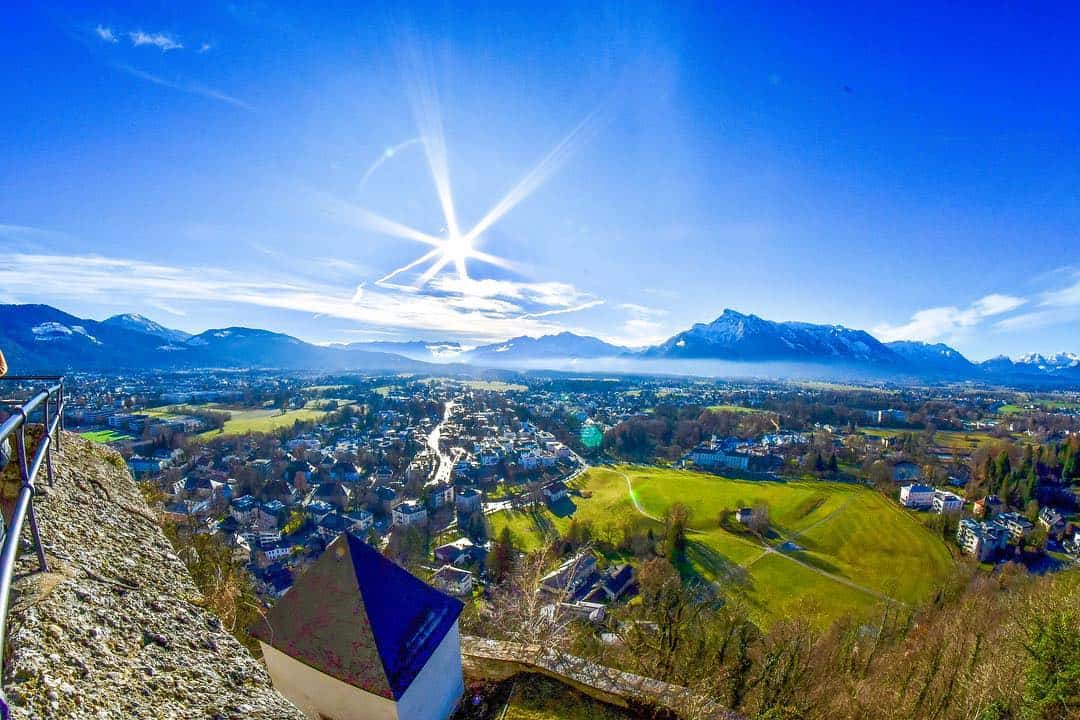 Splendid view from atop Hohensalzburg Fortress. Photography by Chris Dudley
Hellbrunn Palace 
 It may seem like Austria has only palaces to offer, but don't be mislead by this information.
This palace has its mischievous secrets that are waiting to be discovered. The fountains of the palace may seem like an architectural jewel at first but this is just a facade. There's much more to explore.
Timings
9am – 4:30pm
(However, the closing time is different for different seasons)
Entrance Fees
Adults – € 12.50 each Children – € 5.50 each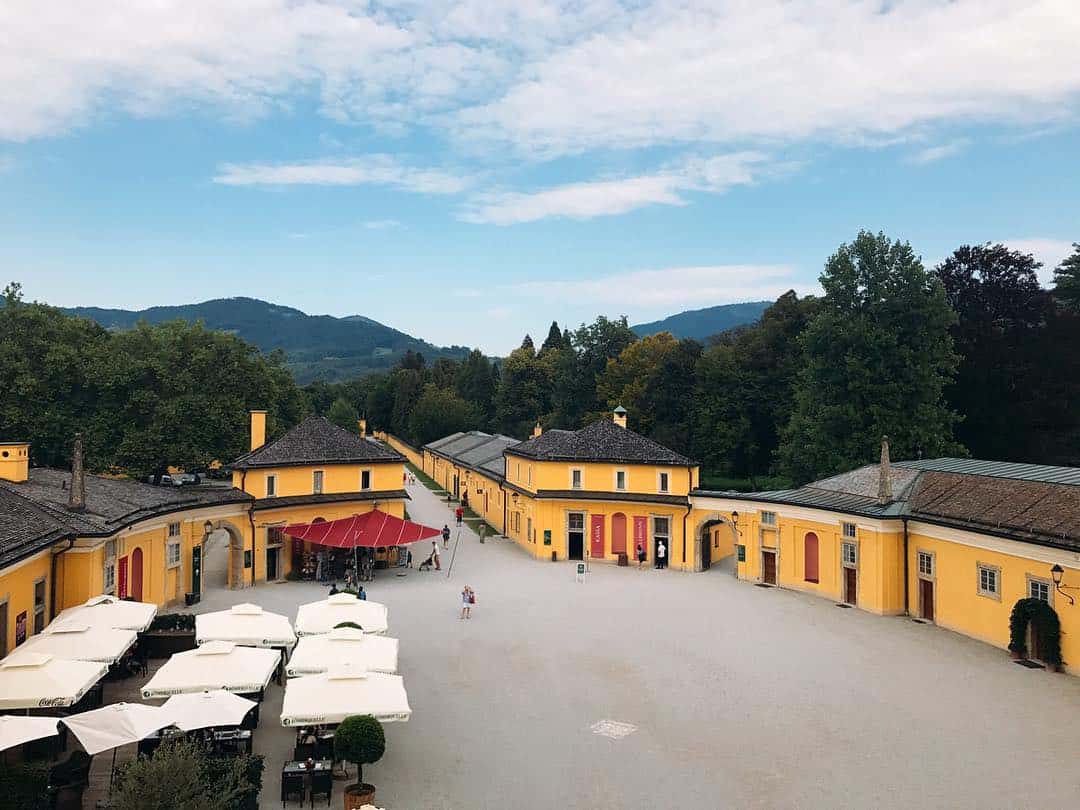 Hellbrunn Palace – Find out mischievous secrets here. Photography by NY Lee
Sound of Music Tour
The Salzburg 2 day itinerary cannot be deemed complete unless you take the Sound of Music tour. It will be once in a lifetime experience especially if you're a fan of the classic movie.
On this tour, original shooting locations can be visited. The tour can be undertaken via bus, bicycle or even by foot.
Apart from the Mirabelle Gardens, the pedestrianized Old Town provides the backdrop for all other scenes in the original movie.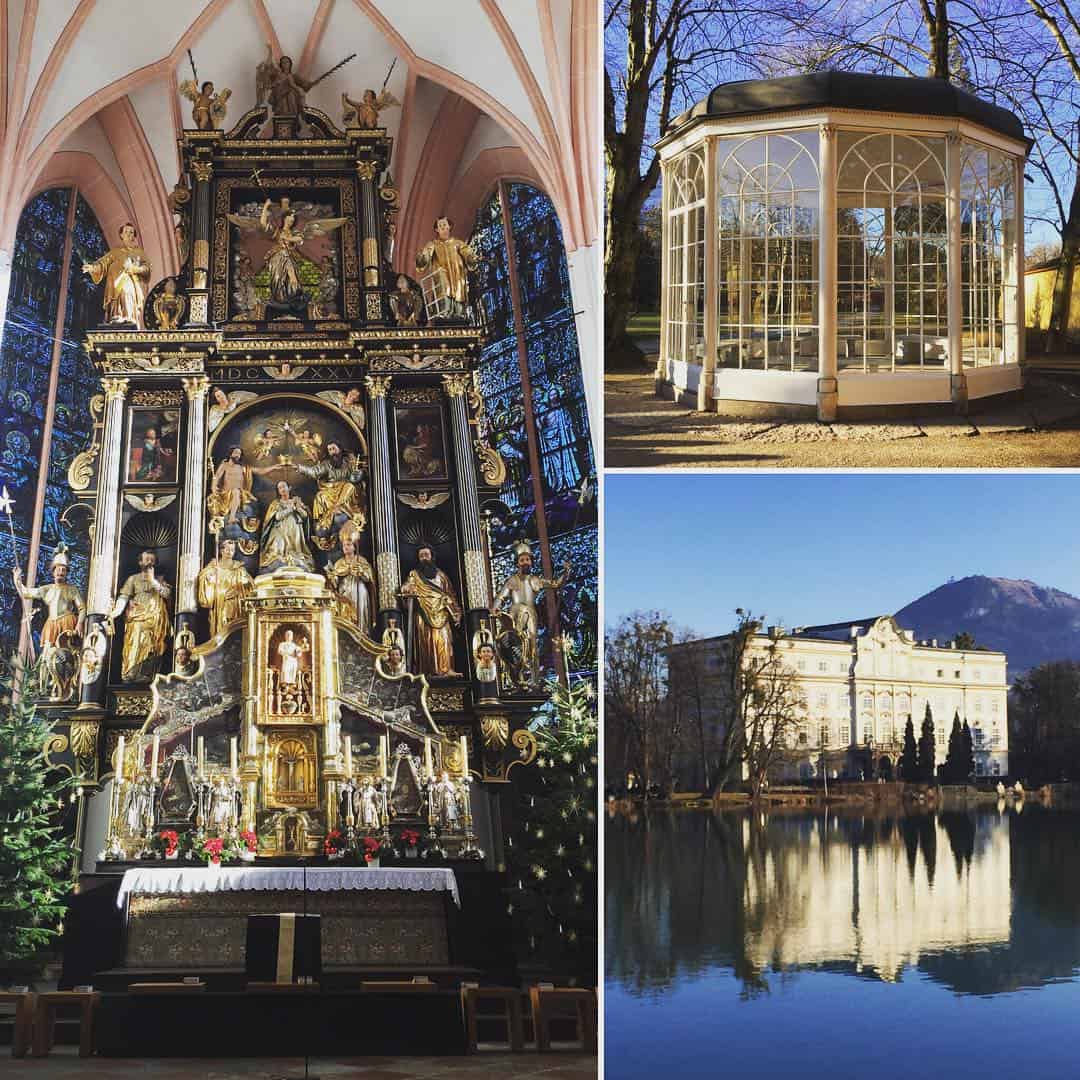 Various sets and locations on the Sound of Music Tour. Photography by Victoria
Eagle's Nest (Kehlsteinhaus) 
While the other sights and attractions are not very far from each other and can all be covered in a day, the Fuhrer's ambitious holiday home would require half a day. Believe me, it is worth it. This should be visited on the second day of Salzburg 2 day itinerary
Perched atop a rocky mountain, it is named befittingly. Tour buses are regularly available to take you to the elevator that then takes you upwards.
It is advisable to leave early morning to truly enjoy this destination. 
The view from the hill (6000 ft above sea level) might give you an insight into why Hitler felt invincible to conquer the world.
Riding in the same lift that was used by Hitler, and standing in the same conference hall used by him gives one a different thrill.
Timings
8:30am – 4:30pm
Entrance Fees
€ 16.00 each
Hike your way to Eagle's Nest. Photography by Herald Kunze
Augustiner Braustübl Brewery
Finish your Salzburg 2 day itinerary by visiting the Augustiner Braustübl Brewery and sipping some beer. The place is unique in so far as it allows to bring your own food. The only condition is that drinks should be from here.
The beer is available either for half a litre or a whole litre. This is how the system works here –  you take a mug from the shelf. Then you rinse it under the tap. You finally pay and they fill your beer mug.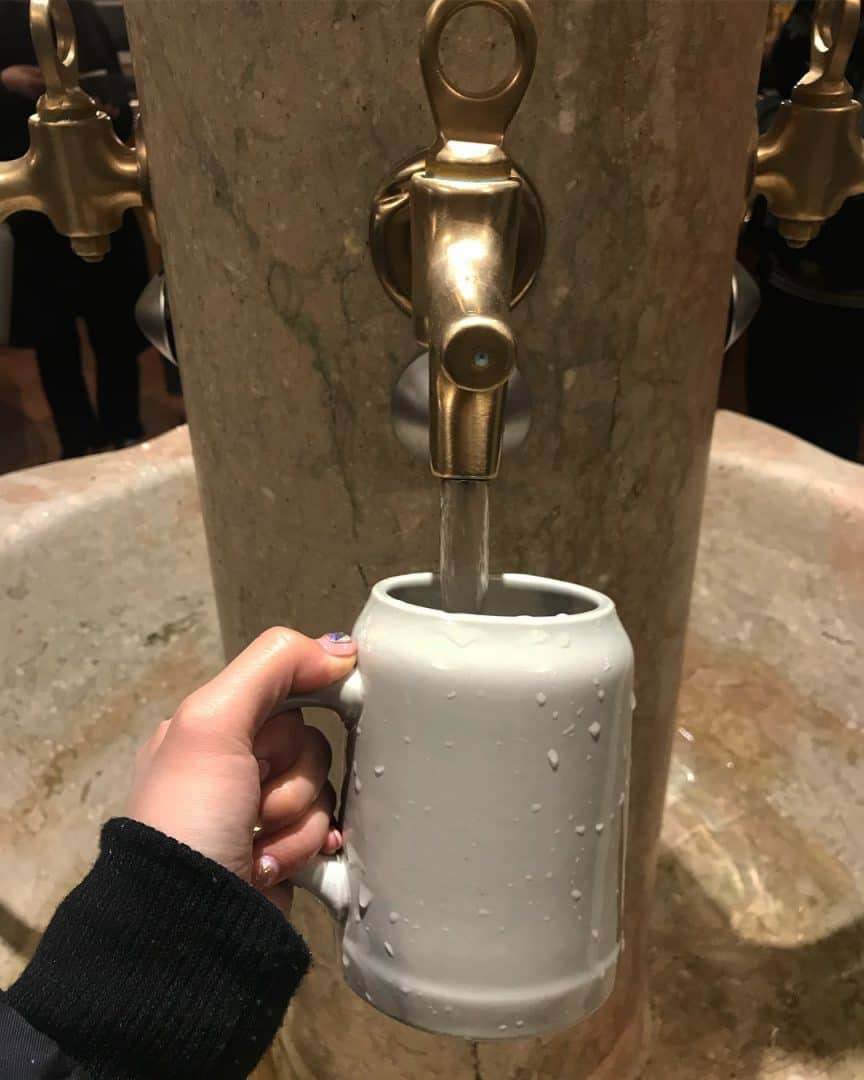 The best place to enjoy a beer in Salzburg. Photography by Hyo Kim
Budget Tips for Reasonable Implementation of Salzburg 2 Day Itinerary
Here are a few tips for first-time travellers visiting Salzburg. These will come in handy during your Salzburg visit
Get the Salzburg Card
Purchase the 24/48-hour Salzburg Card as soon as you land in the city. This provides free access to a lot of attractions.
Use Public Transport
Utilize public transport as much as possible. The Salzburg Card provides free travel on public transport too.
Wear comfortable footwear
If you do not want to use public transport, wear comfortable footwear. A lot of the sights are at walking distance from each other. The roads are very inviting, owing to the spectacular architecture and food stalls popping up everywhere.
Rent a bike
Salzburg is also a fantastic city to bike. It has over 100 km of bike paths for the riders. You can easily rent a bike. There are many bike rental places in the old town.
Use the free WiFi
Salzburg has open, free city wifi throughout the city of varying speeds. I found the best connection at the Salzburg train station.
How to Tip?
Tip about 5-10% of your bill if you like the service in a restaurant. Round up the bill, and ask your server the change you need back, including the tip.
Attend a music Concert
There are a lot of concerts happening in Salzburg. Try to attend at least one small concert if time allows.
Budget Accommodation Options for Salzburg 2 Day Itinerary
There are plenty of accommodation options in Salzburg. There are hostels, budget as well as luxury hotel options. Choose the ones that suit your pockets. The Old Town area is the best area to stay in Salzburg because of the proximity of major Salzburg attractions. 
Some of the budget accommodation options are:
Hotel Pension Jahn
A comfortable and clean place to stay at, with an extremely friendly staff and close proximity to the main station, this is all you need to get started for this wondrous town
Price/Night – 3,725 INR
Hotel Hofwirt Salzburg
Again, cosy rooms and a location in the midst of affordable restaurants, this place is the perfect stay for a 1-2 day stay over at Salzburg
Price/Night – 4,654 INR
Der Salzburger Hof
Since this was the hotel that I stayed at, I can assure you that the rooms, the staff and the breakfast spread are one of the best that I've encountered all over Austria! And it being only 15 minutes walking distance from Mirabell Gardens and 5 minutes walking distance from the station gives it an added advantage
Price/Night – 6,400 INR
Alderhof 
Also close to the station, accompanied by good food and accommodating staff, this hotel is perfect to give you old-town feels!
Price/Night -5,719 INR
Frequently Asked Questions About Salzburg 2 Day Itinerary
Here are a few commonly asked questions by travellers visiting Salzburg. If you have any further questions, drop them n the comment section. I will try to answer them at the earliest.
Should the Salzburg 2 day itinerary include all locations in Old Town?
Yes
Should the Salzburg 2 day itinerary begin by first exploring locations in Old Town?
Yes
Which location would need an extra day in addition to Salzburg 2 day itinerary?
Berchtesgaden Salt Mine
Should the Salzburg 2 day itinerary be extended?
Yes. At least 3 days should be spent in Salzburg if you wish to explore more areas.
Should Sound of Music tour be a part of Salzburg 2 day itinerary
Absolutely yes
Is it possible to hang out at good eating places as per Salzburg 2 day itinerary?
Yes
What places can be covered in Salzburg in one day?
Salzburg is the place to be at if you want the perfect blend of sight-seeing and peace. The Salzburg 2 day itinerary will ensure that your 48 hours are well spent. Visit Salzburg to find a new, refreshed you. 
Happy wayfaring 🙂
ABOUT THE AUTHOR
Sana Shah
Sana Shah is an old soul in a young world who feels she belongs to a different time. An ambivert by nature, Sana is as much of a social animal as she is a snuggled up reader. A self-proclaimed coffee addict as well, her perfect world consists of books, hot brewing coffee and travel tickets. Sana loves the green mountains and the blue skies alike. Also, lakes are her best friends. She loves to travel to quaint locations and experience their cultures, in order to expand her horizons.
BUDGET WAYFARERS
https://www.budgetwayfarers.com/wp-content/uploads/2018/12/Salzburg-2-day-itinerary-min.png
315
560
Budget Wayfarers
https://www.budgetwayfarers.com/wp-content/uploads/2018/04/1200X800.png
Budget Wayfarers
2019-01-24 10:55:04
2019-01-24 16:30:17
Exploring Mozart's Salzburg in 2 Days: The Baroque City of Austria