Ranthambore travel blog will come in handy for those of you who are planning a visit to the famous Ranthambore National Park. When I first decided to visit, I searched intensively over the web for some decent information on how, where and when to book a safari, where to stay, things to do, etc. The information was either too outdated or generic. With little to no information, I headed to Ranthambore with my friends. 
Ranthambore national park is situated near the Sawai Madhopur town of Rajasthan. It is known for its high population and hence better chances of sighting the big cat and everyone's favourite- 'the Royal Bengal Tiger'.  Other than these, Ranthambore National Park is also home to a number of other species of birds, mammals and reptiles.
Since  I wasn't able to find much credible travel information online, I decided to jot it down first thing when I was back. My Ranthambore travel blog is a culmination of all the useful and in-depth information we gathered while visiting Ranthambore National park on a budget.
Ranthambore Travel Blog: What, Where, When & How?
It was a long weekend and I for one needed a change. After roping in two of my other friends, and after several days and rounds of deliberations, it was decided that it's going to be a wildlife sighting getaway. The final pick had to be made between these three: Bharatpur Bird Sanctuary, Jim Corbett National park and Ranthambore National Park and no points for guessing who won!
As I pointed out earlier, I had a really hard time finding information on travelling to Ranthambore. Therefore, the main intention behind my Ranthambore travel blog is to provide travellers with accurate details and in-depth information about visiting this national park.
Before going deeper into the details, here are a few things that you need to know about travelling to this destination:
Location
Sawai Madhopur, Rajasthan
Cheapest Mode of External Transport
Trains
Cheapest Mode of Internal Transport
Pool in Jeeps (Rs 30/ head) from the railway station.
Nearest Airport
Nearest Railway Station
Sawai Madhopur Junction
Best Time to Visit
November- April
Safari Cost per person
500-1000 INR per person for Indian Nationals
1000-2000 INR per person for Foreign Nationals
Things to Carry
If you're visiting during winters, carry a muffler and a jacket. It gets bone-chilling in the early morning hours and at night!
Binoculars are a must if you are interested in Bird Watching 
Camera equipment
Identity Card 
4 Fascinating Facts about Ranthambhore National Park
1. Tigers were hunted here:  Spread over an area of 392 sq. km, Ranthambore National Park is situated in Sawai Madhopur district of Rajasthan. Located at the intersection of the Aravallis and Vindhyan mountain ranges, Ranthambore National park was once a royal hunting ground!
Here's the timeline of its existence:
1955:

Came into existence as the Sawai Madhopur Gaming Sanctuary

1973:

Declared one of the Project Tiger reserves

1980:

Ranthambore became a national park

1984:

Adjacent forests were declared as Sawai Mansingh Sanctuary and Keladevi Sanctuary. 

1991:

Sawai Man Singh and Keladevi sanctuaries merged into Ranthambore National Park.
2. Home To 'Machli': Although Ranthambore National Park has plenty of flora and fauna, the main star is the Bengal Tiger. In a recent census early this year, park officials have recorded 52 tigers (25 of which are cubs! *Heart melts*) This is the highest since the park was founded! This National Park was home to the star tigress "Machli" or Tigress Queen of Ranthambore or Lady of the Lakes, or Crocodile Killer. Machli if you know was the most photographed tigress in the world and was instrumental in repopulating the national park. She is the star of many featured stories &  documentaries made about her. She killed a 14 feet long crocodile, she deserves that much!
3. Not just the tigers:  Other than the tiger, prominent fauna in the park include Leopards, Striped Hyenas, Sambar deer, Chital, Nilgai, Sloth bears, Blackbucks, Indian Wild Boar, Chinkara, Indian False Vampires, Indian Flying Foxes, Indian Foxes, Marsh Crocodiles, etc.
4. A photographer's Paradise: Ranthambore National Park is a photographer's and wildlife enthusiast's dream come true. The sightings are frequent and since the animals are almost accustomed to human presence, they don't hide away. In fact, if you are lucky, I bet some of them would love to give you that perfect pose. A lot of people on a safari have also witnessed a chase and killed by a tiger!!!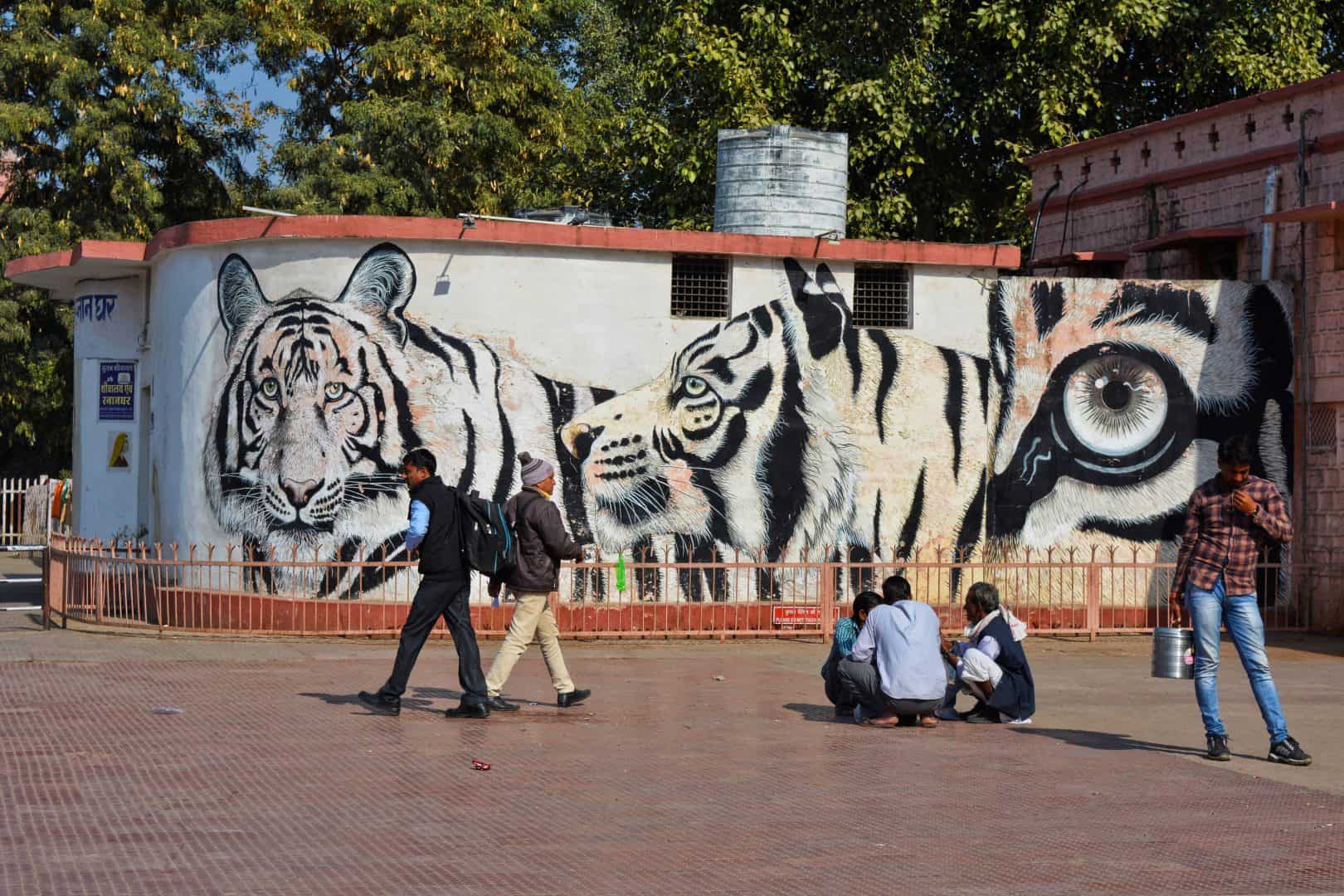 The cheapest way to reach Ranthambore is via Train. The closest railway station near Ranthambore National Park is Sawai Madhopur.
What is the cheapest & Best Way to reach Ranthambore National Park?
Ranthambore National Park is located near Sawai Madhopur in Rajasthan. The nearest airport to the park is Jaipur and the nearest railway station is Sawai Madhopur Junction. 
The cheapest way to reach Ranthambore National Park is via train. Trains to Sawai Madhopur are pretty frequent from Jaipur and from Delhi. From Delhi, it's a 5 to 6-hour train ride, while from Jaipur, it only takes about 2 to 2.5 hours.
Alternately you can also hire taxis from Delhi or Jaipur to reach Sawai Madhopur. From Jaipur, a taxi will cost you somewhere around 2200 INR. Once you are in Sawai Madhopur City, you can find plenty of cabs and autos to your hotels or guesthouses. 
Is it possible to stay inside Ranthambore National Park?
There is no option of staying inside the national park. However, there is plenty of budget stay and luxurious stay options in Sawai Madhopur, where the park is located. You can book these stays online through portals like Agoda or Booking.com or book them once you reach there. I always book my stays in advance and have been using Agoda for quite some time now.
If you're going on a weekend, expect inflated prices and crowded safaris. If you are travelling in with friends, the costs would automatically come down.
From the railway station, you could hire an auto or get into one of the pool in cabs (Rs 30 per head) if your hotel is on the Ranthambore road.
We stayed at Hotel Green View, Ranthambore. The stay was decent and the staff was courteous.
Some other budget accommodations that I would suggest are:
Tip: When choosing a hotel/ hostel for the stay, always refer to the google reviews and other reviews.
Book your Ranthambore National Park Safari without paying extra
Where to book a Ranthambore Safari? The answer to this question is what I started searching for a couple of weeks before the visit. If you google "safari booking in Ranthambore National park" the results will show you many private operators and a Government of Rajasthan portal to book the safari online (Which somehow didn't work). I trust blogs for reviews and accurate information but I could not find a single Ranthambore travel blog that answered all my questions.
What's the best way to book a Cheap Ranthambore Safari?
There were offline booking counters for Ranthambore Safari a  year back, however, now you need to register yourself and book the tickets online.
You can book Ranthambore Safari online at this government website.
The safari rides at Ranthambore National Park are carried out in two slots, morning and afternoon. You need to reach the boarding point of your safari which is located at the old safari booking centre. 
Ranthambore National Park Safari Timings
The Safari Rides that last for about 3 hours is carried out at different times in different months. Here are the timings:
Safari Timings
1st Oct to 31st Oct
Morning Trip: 7.00 A.M. to 10.30 A.M.
Evening Trip: 2.30 P.M. to 6.00 P.M.
1

st

 Nov to 31st Jan
Morning Trip: 7.00 A.M. to 10.30 A.M.
Evening Trip: 2.00 P.M. to 5.30 P.M.
1st Feb to 31st March
Morning Trip: 6.30 A.M. to 10.00 A.M.
Evening Trip: 2.30 P.M. to 6.00 P.M.
1st April to 15th May
Morning Trip: 6.00 A.M. to 9.30 A.M.
Evening Trip: 3.00 P.M. to 6.30 P.M.
15th May to 30th June
Morning Trip: 6.00 A.M. to 9.30 A.M.
Evening Trip: 3.30 P.M. to 7.00 P.M.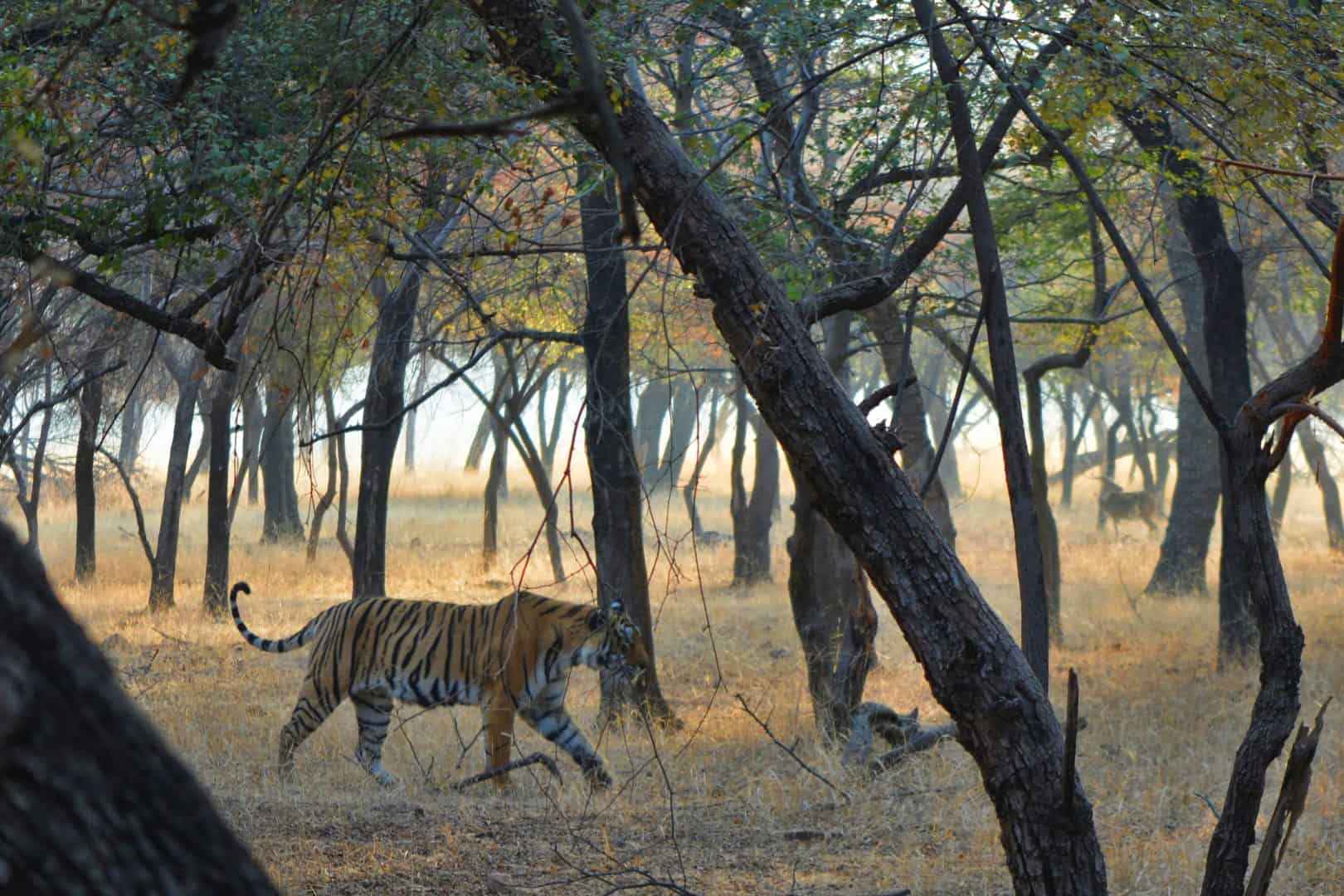 Tigers are the star attraction of safaris at Ranthambore National Park. We were lucky enough to site a tigress within the very first hour of our Safari. This tigress is named Arrowhead or T84. She looked majestic in the morning sunlight. 
Ranthambore National Park Safari- All You need to know
There are two options of vehicles for the safari. One is a jeep with a seating capacity of 6 people and the other is a 20 seater open top Canter. You can also choose between morning & evening safaris (pay per seat) and half-day and full day safaris (which are private) at Ranthambore National Park.
Morning and Evening Safaris
The morning and evening safaris usually go on for around 3 hours each. You pay per seat and during this time, the driver and guide will take you through the allocated zone. The costs are:
20-seater open top canter
Cost per person (Indian Nationals) INR: 500-600 per person
Cost per person (Foreign Nationals) INR: 1000-1200 per person
6-seater open-top gipsy
Cost per person (Indian Nationals) INR: 800-900 per person
Cost per person (Foreign Nationals) INR: 1800-2000 per person
Ranthambore National Park Safari Zones- How are these alloted?
The core of Ranthambore National Park has been divided into 10 zones and the safari vehicles go to one of those zones. While zones 1-5 are in the core area, 6-10 are in the surrounding buffer area. Tiger sightings are better in the core zones.
At the time of booking, you are allotted a zone. Within the allocated zone the vehicles can go anywhere on the grid of tracks that exist in the zone. The zone you will get is not under your control and will be allocated at the time of booking! Although booking early helps in getting the core zone. 
Private Full-Day and Half-Day Ranthambore Safaris- Are they worth it?
Apart from these, there are also options for private full-day and half-day tours. Here you will be allotted an exclusive jeep and there are no zone restrictions. (SUPER EXPENSIVE!!)
Full Day
Cost (Indian Nationals) INR: 15,000
Cost (Foreign Nationals) INR: 30,000
Half Day
Cost (Indian Nationals) INR: 20,000
Cost (Foreign Nationals) INR: 40,000
 Tip: If you are planning to take just one safari, choose the morning one. It's a great time for animal sighting and the pictures in the morning light are just perfect!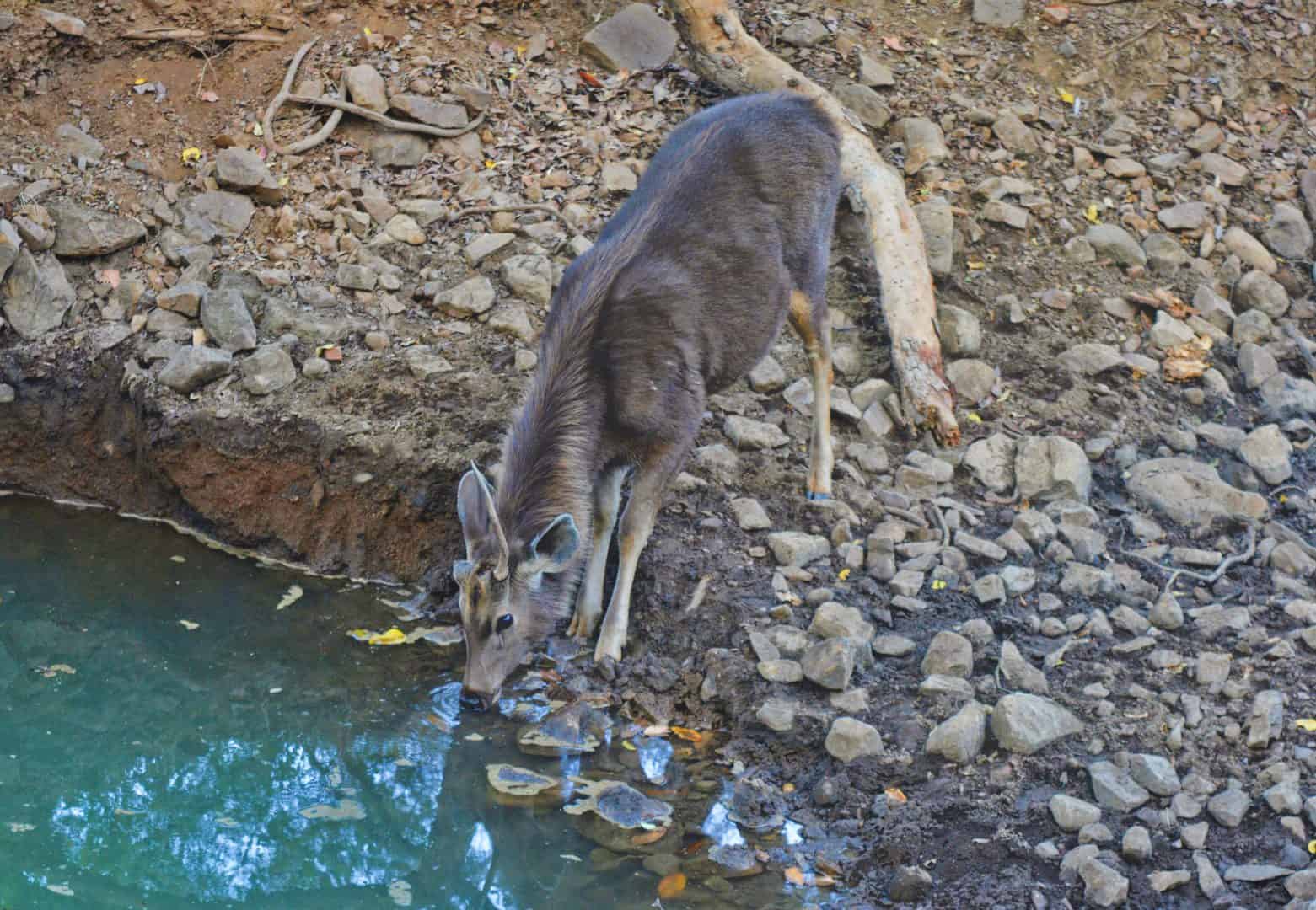 The very first sighting on our safari was that of this Sambar deer who had come to drink some water near a shallow pond. You will spot plenty of these in Ranthambore National Park.
How we managed to spot a tiger at Ranthambhore National Park?
The Ranthambore National Park remains open every year from October to June. The chances of sighting the star in Ranthambore are very bright but then again it depends on your luck. It so happens that sometimes people shell out their pockets over exclusive full and half-day safaris and are unable to sight a single big cat.
Now back to my experience, in about half an hour we reached the entrance of the safari. We were all so excited! As we moved slowly on the trail of Zone 4, our guide told us that they (him and the driver) would try their best to give us the best safari experience and a tiger sighting, rest he said, was pure luck.
As soon as we entered, we saw a large Sambar deer who had come to drink water from a small pond.  The canter stopped for a minute so that we could have a look, but the guide insisted that we don't take much time and allow ourselves sufficient time to look for a tiger.  A little further along, we saw some Chital deer grazing. As we moved forward there was another group of deer grazing. By this time the sun had started getting a little warmer.
We had just moved a little further when we found a canter had stopped and people were looking at something. The guide suddenly burst out with "There it is!" Everyone was super excited! The guide had spotted a tiger. While my friends quickly spotted it in the distance, it took me a good 30 seconds to see that something was moving between the grasses (Blind me!)
And there it was, in the distance a shadow moving in the tall grass, behind the trees. It was coming right our way, actually towards the herd of the deer I mentioned earlier. As it came nearer, the guide told us it was T 84 aka Arrowhead, a female tiger about three and a half years old. She was first sighted in March 2014. She is called arrowhead because of an arrow mark on her left cheek. She looked glorious in the morning sun. Her orange coat glistened as the morning sunlight fell on her coat and it was sheer beauty.
Look closely at the crouching position of this Tigress. She was sneaking up on a group of deer. Unfortunately for her, the deer sensed danger and ran away before she had the chance to attack. 
The tigress had spotted the deer and got ready to hunt herself a meal. She crouched slowly towards the grazing deer but unlucky for her and for us, she was spotted and the deer ran away. She didn't try any longer and moved along her way as we saw her move along, right in front of our canter! THE MAJESTIC BENGAL TIGER right in front of us (Can't describe the feeling!)
 We were happy and so was our guide. We sighted a tiger, on our first safari and in the very first hour!
 We moved along and came across several other Deer, some peacocks and different birds. We also crossed the Malik Talao or Malik Lake, which was covered with red algae and looked beautiful. On a small stretch of land, In the middle of the lake, we saw some crocodiles basking in the sun.
Ranthambore National Park has an admirable population of birds- residents as well as migrants. There are more than 200 species of birds here. The lake area is one of the best locations to watch birds. The most important birds include Indian Gray Hornbills, Woodpeckers, Bee Eaters, Cuckoos, Parakeets, Asian Palm Swift, Nightjars, Dove and Eagles. Treepie, Graylag Goose, Snipes, Sandpipers, Gulls, Terns, Great Crested Grebe, Eagles, Darters, Bulbul, Mynas, Cormorants, Egrets, Flamingos, Ibis, Pelicans, Storks, Pittas, Shrikes, Minivets, Drongos, Ioras, Pipits, Bayas, Sparrows, Finches, Wagtails, Herons, Common Kingfishers, etc.
We were also able to site several of these  birds  near the lake area including 
Crescent Serpent Eagle.
Bulbul
Sandpiper
Darte
Heron
Egret
Shrike
Common Iora
Pipit
Common Snipe
Rufous Treepie
We stood by the lake for several minutes taking pictures and admiring the beauty of the lake. On the way back, we saw other herds of chital and Sambar. We also spotted some other crocodiles at the small lake just at the start of the Safari. At around 10.30 our safari was over. The canter dropped us at our hotel and we thanked our guide. We were elated and literally jumped with joy. This for us meant that we didn't have to take another safari in the evening which gave us more time to explore the town.
What places to visit after Ranthambhore National Park?
Apart from Ranthambore National Park, other must-visit places are
After Ranthambore, go Reptile Spotting Paligh

at

Gharial Sanctuary
While in Sawai Madhopur, keep half a day for Palighat Chambal Sanctuary or National Chambal Sanctuary. It is around 35 km away from the city centre and is a conservation site for Gharials and crocodiles. It is situated on the banks of River Chambal and is an hour's drive away. You can read my complete guide to Chambal river Safari at Palighat in this blog. 
Enjoy Local Sightseeing in Sawai Madhopur
Sawai Madhopur is a small town and the whole town can be visited in just a day. Some Important places not to be missed are
Ranthambore Fort Complex: You can take a pool in can service from Sawai Madhopur railway station which will drop you at the entrance of Ranthambore Fort. All the important places you find in your google search (including Ganesh Temple) are located within the premises. 
Ganesh Temple
Jogi Mahal and Padam Talao
Battees Khamba which has 32 Pillars
Rani Haveli
Jain Temple
See ex-poachers earning a livelihood at Dhonk near Ranthambore
It is a handicraft social initiative to rehabilitate the families of ex-poachers and village folks. They are trained in handicrafts their produce is sold here and shipped to different places. Here you can interact with the locals. It is about 4 km from the circle, next to Oberoi Vilas.
Pay obeisance at the beautiful Temples of Sawai Madhopur
Some very famous temples near the centre are
Chouth Mata Temple

Kala Gaura Bhairav Temple
Pick up some Souvenirs in the Local markets in Ranthambore
While visiting the Ranthambore National Park, you can pick up a few souvenirs along the way like Rajasthani handicraft items, Ranthambore T-shirts, caps, paintings and Rajasthani jewellery. There are plenty of shops on the road to Ranthambore National Park. Make sure you see around and compare the prices before picking up the things.
One of the main 
Where to eat near Ranthambore National Park?
Sawai Madhopur is a small town and you won't find many fancy and fine dining restaurants here. The fine dining options here are Vivanta by Taj, The Oberoi Vanyavilas and The Dining room. Also, there are very limited options for non-vegetarian food in Sawai Madhopur.
Now comes to the budget eats. Here are the top recommendations.
Restaurant and Cost for Two
Asha's Restaurant: 300-500 INR
Must-Try:
–          Sweet lassi
–          Bajre ki roti
–          Lehsun ki chutney
–          Paranthas
Ram Shyam  & Kanha Hotel: 200-400 INR
Must-Try:
Rajasthani food including Daal Baati Churma
Hotel Riddhi Siddhi: 300-500 INR
-Vegetarian food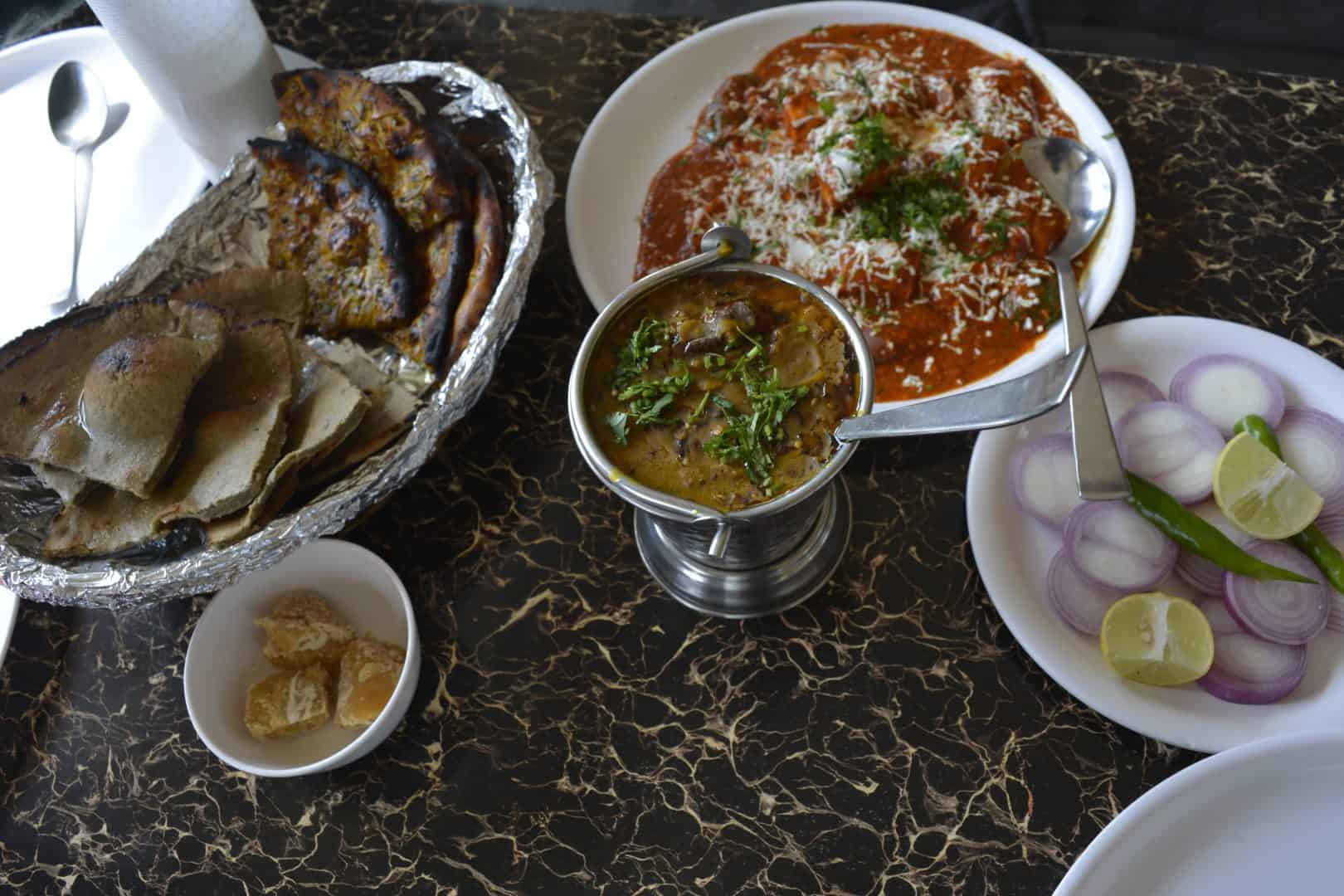 When you are in Ranthambore, make sure you visit the famous Asha restaurant. Make sure you try their delicious Indian and Rajasthani dishes especially 'Bajre ki Roti' and 'lehsun ki Chutney'. 
The visit to Ranthambore National Park was extremely wonderful. Mainly because we were able to see what we had hoped for and more. Watching the animals in their natural habitat was a very fulfilling experience. You can guess how satisfying the whole experience was by the fact that I came back with more than 1000 pictures!! Highly recommended for Wildlife lovers, Bird Watchers and Photography enthusiasts
Although I have tried to include all the necessary information in this Ranthambore travel blog, if you have any other questions, I would be happy to answer them in the comment section below.
Happy Wayfaring 🙂