Places to see between Bangalore and Pondicherry are far too many. The different routes, as well as the roads between Bangalore and Pondicherry, are in good shape.
The places to see between Bangalore and Pondicherry lie right beside the highway. It is for this reason that most travellers end up taking fun and exploratory road trips between these two places.
If you're somebody who is adventurous and wishes to ride from Bangalore to Pondicherry in a bike, self drive a car or even use public transport in the form of buses, it sure will make up for one amazing road journey.
Pretty Places to See Between Bangalore and Pondicherry
The list of places lying between Bangalore and Pondicherry is endless. However, in order to explore all of them, you'll have to take multiple road trips since not all of them lie in the same direction. One of the best ways to accomplish this by taking different routes to and fro your journey between Bangalore and Pondicherry.
If I were to start mentioning all the beautiful and worth visiting places that lie between Bangalore and Pondicherry, the following locales would complete my list –

Hosur
Krishnagiri,
Arcot
Cheyyar
Vandavasi
Tindivanam
Vaniyambadi
Ambur
Hoskote
Kolar
Mulbagal
Palamaner
Chittoor
Chennai
Mahabalipuram
Auroville
Before venturing to Pondicherry from Bangalore, I could have never imagined that so many underrated but beautiful places can be explored in this region. Now after taking multiple trips, each time with a different route, I not only enjoy my trips here but also try my best to encourage passionate travellers to explore the locales around here.

Hosur
One of the nearest weekend getaways from Bangalore, Hosur is a mini industrial hub. But comprises of various beautiful temples that should surely be visited by travellers from all over.
Krishnagiri
Krishangiri has the perfect mix of dams, temples, forts and various places of cultural value. Places like Krishnagiri are a living reminder of the rich heritage of places down south.
Arcot
A small travel town that can easily be covered in a few hours at least for people in a hurry. A lot of decent Biryani selling eateries lie around Arcot.
Cheyyar
Cheyyar is a region that is often overlooked by most travellers. But I highly insist that you stop by here and explore the locales around especially the heritage temples.
Vandavasi
Just like Cheyyar, Vandavasi too gets overlooked by most travellers. This is unfortunate because these small locales have so much to add when it comes to a good travel experience.
Tindivanam
Lying in the state of Tamil Nadu, Tindivandam boasts of mighty temples and heritage places all around it. In fact, the locals here are quite enthusiastic to help travellers in exploration.
Vaniyambadi
A place that takes pride in religious is Vaniyambadi. The entire locale is a mix of temples and mosques for visitors to see. In case you have time, do visit the nearby hill towns as well. 
Ambur
Heard of the world famous Ambur Biryani? Well it finds its origins in the mighty town of Ambur. Hence, the name. I visited here just for the Biryani but you can explore around as well.
Hoskote
Hoskote lies so close to Bangalore that most travellers visit it as a weekend getaway and not enroute Bangalore to Pondicherry. However, you cans surely visit while travelling to the coastal region of Pondicherry.
Kolar
I'm sure you must have at some point in life heard about Kolar. If you're in Kolar, you have got to visit the Gold Mines for sure. Additionally visit the temples around here.
Mulbagal
A lot of small remote villages lie in and around Mulbagal and make for terrific offbeat locales. If you share my love of offbeat places, do stop by here even if its for few hours.
Palamaner
Try visiting the pretty waterfalls in and around Palamaner especially if you're travelling towards Pondicherry from Bangalore on a hot sunny day.
Chittoor
Chittoor is one of the best locales to stop by on the way to Pondicherry from Bangalore. It has everything – waterfalls, heritage places and sumptuous eateries.
Chennai
You can possibly not miss out on the metropolitan city of Chennai if you're travelling to Pondicherry. In fact, I insist take a slight detour and stay here for at least 2 nights. Explore Chennai's food, beaches, parks and museums. 
Mahabalipuram
Mahabalipuram lies at a duration of just 1.5 hours from Pondicherry and is a must visit travel halt. Check out Krishna's Ball, Lighthouse, the nearby beach, Shore Temple and Rathas here.
Auroville
Auroville lies just at a 20 minute duration from Pondicherry and is a township of its own kind. Citizens from more than 90 countries stay here and believe in Matri or Mother Nature with all their heart.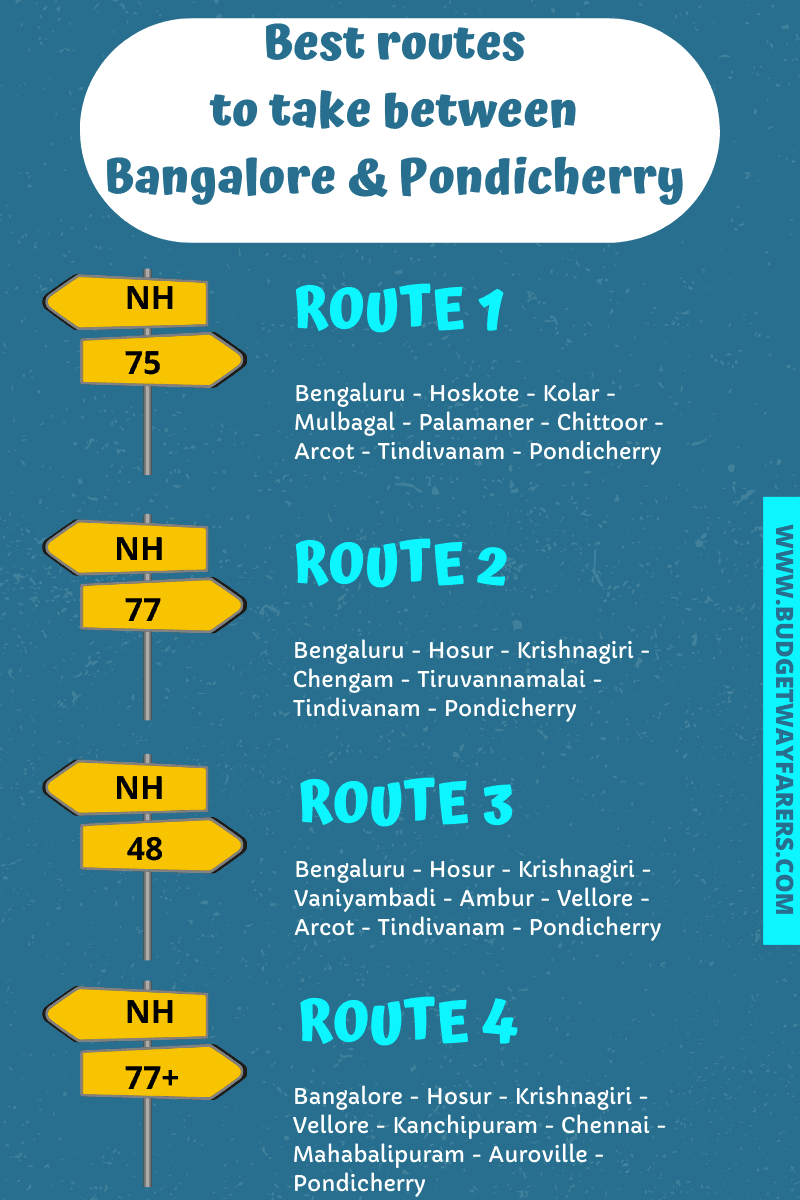 4 SAFEST ROUTES between Bangalore and Pondicherry
Depending on the kind of traveller you are and the time you have, a viable route can be picked by you for exploring the places to see between Bangalore and Pondicherry. 
I've taken the simplest to the more complex routes as well. Therefore, I would love to share the route information acquired in all of these recent years. I hope my experience assists all my fellow travellers.
The places to see between Bangalore and Pondicherry will depend on the route you take. Also, on the time you decide to invest on your trip. It will not be possible for you to cover all the places via the same route. Therefore, make your pick of places depending upon the safest route covering all those places.
If you're in a hurry and would like just a day to yourself on the highway, then the shortest route is suggested for you. If you're somebody who wishes to go at a slightly slower pace enjoying the highway and whatever lies therein, a different route is suggested for you.
Lastly, if you're somebody like me and prioritise travel and exploration over everything else, you won't mind taking a completely off beaten track, breaking your journey and discovering places that lie between Bangalore and Pondicherry in great detail. 
The four routes that I highly recommend to all my fellow bikers, roadies and backpackers are being mentioned below. Make your pick based on the places that you'd like to cover and on the level of safety.
Route 1
Bengaluru – Hoskote – Kolar – Mulbagal – Palamaner – Chittoor – Arcot – Tindivanam – Pondicherry
This route lies along NH – 75 and is quite long. However, the road conditions are good and places that lie on this route are worth visiting.
Route 2
Bengaluru – Hosur – Krishnagiri – Chengam – Tiruvannamalai – Tindivanam – Pondicherry
This route lies along NH -77 and is the fastest amidst all the four mentioned here by me. Most travellers prefer this route to visit Pondicherry from Bangalore. Unfortunately, road conditions on this route have deteriorated lately.

Route 3
Bengaluru – Hosur – Krishnagiri – Vaniyambadi – Ambur – Vellore – Arcot – Tindivanam – Pondicherry
This route lies along NH – 48 and is a tad bit longer. However, it's quite scenic and the roads are in good condition too.
Route 4
Bangalore – Hosur – Krishnagiri – Vellore – Kanchipuram – Chennai – Mahabalipuram – Auroville
The route lies along NH -77  for a while and then splits before Chennai. This route is quite long and off-beaten. Not many travellers take it. However, I have followed this route a number of times and have loved the beautiful places to see between Bangalore and Pondicherry that lie on this path. 
I can't even remember the number of times I've gone road tripping between the two places. Bangalore is my city of stay and hence Pondicherry makes for a very good weekend getaway. In case you struggle with a decent Bangalore to Pondicherry itinerary, feel free to scroll through my blog.
9 Crucial FAQs for Road Trip between Bangalore and Pondicherry
When you venture out on the road and are keen about places to see between Bangalore and Pondicherry, it is essential that you remember some important things. 
I've had a lot of fellow travellers come up to me and ask valid questions. I'm happily sharing all of those questions with you. They will help more of my fellow travellers a lot more clarity.
Q1. What is the best mode of travel between Bangalore and Pondicherry ?
The options for transport between Bangalore and Pondicherry are unlimited. You can choose to travel via train, bus, cabs, bikes – anything. However, I will suggest that at least for one side, take a road trip and that too during the daytime. Else, you'll miss out on the scenic locations that lie between the two places.
Q2. How are the road conditions between Bangalore and Pondicherry?
The road conditions are good if you take the route along NH-77 or NH -48. They are even better if you travel via Chennai. However, the route along NH -75 doesn't offer good road conditions. This is the fastest route and due to the heavy rush, the roads are deteriorating with each passing day.
Q3. What is the distance between Bangalore and Pondicherry?
If you go via the fastest route, the distance between Bangalore and Pondicherry is about 310 kms. If you choose to go via the longest route i.e via Chennai, the distance is about 470 Kms.
Q4. Which is the best place to visit between Bangalore and Pondicherry?
There are so many places that lie en route Bangalore to Pondicherry. So, it would be unfair if I pick just one. However, If I have to, I'll most certainly go with Mahabalipuram.
Q5. Which are the best eating places to stop by between Bangalore and Pondicherry?
Whatever route you pursue, small eateries will come your way while travelling from Bangalore to Pondicherry. You will also come across franchise outlets like Cafe Coffee Day and McDonald's. But those aren't my stopovers. I prefer the food prepared in eateries that are more traditional. Hence, I would suggest the same.
Since I always almost prefer the route via Chennai, I will recommend you Ananda Aahar Bhavan. Have well cooked traditional food there. You can also go for this eating place known as Saravana Bhavan in Vellore. Lastly, while in Ambur, try some Biryani at any eatery accessible to you. It's worth it.
Q6. Does a road trip between Bangalore and Pondicherry make for a good weekend getaway?
Surely yes. For people living or visiting Bangalore for a while, a good weekend getaway is surely to venture out on the road and reach Pondicherry.
By the way, once in Pondicherry, make sure to visit the most seductive cafes in White Town, Pondicherry. They are just too good.
Q7. Are sleeper buses available for people who want to return to Bangalore from Pondicherry via road?
Yes, there is no dearth of sleeper buses. Both AC, as well as non-AC buses, are available. Make sure you book them prior to your travel day especially during peak season.
Q8. What is the road condition from Bangalore to Pondicherry via Tiruvannamalai?
Unfortunately, it's bad as compared to the other routes. So if possible, avoid travelling via Tiruvannamalai.
Q9. What will be the approximate cost of taking a cab to Pondicherry?
It depends on the number of people travelling together plus the service employed. Assuming that you're traveling as two people and taking an outstation Ola cab, it'll cost you around 6000 INR.
A better way would be to rent out Zoom car in Bangalore and take friends along so that the cost splits equally. I've taken a lot of road trips between Bangalore and Pondicherry renting out Zoom car each time. Its hassle free.
Taking a road trip between Bangalore and Pondicherry will prove to be a real adventure for you. So start deciding your itinerary & route and then go ahead exploring the wonderful locale that lies between.
Plan a road trip from Bangalore to Pondicherry soon and enjoy the lovely route. Just make sure you take the route with the best roads. Rest will all be fine.
Happy wayfaring.
About the Author