Phoenix to Grand Canyon to Las Vegas itinerary should be implemented in a way so as to explore the best of the Southwest. After all, the Southwest is one of the most terrific places to visit in the USA. Whether your preferred choice is backpacking or day hiking or even road tripping, Southwest has a lot to offer.
I took a road trip with my buddies a while ago. And the entire responsibility of planning the Phoenix to Grand Canyon to Las Vegas itinerary fell on me. Well, it always does somehow. And so, I made sure that our weekend is utilised well and made each moment of the trip count.
Often cruising on the highways in the Southwest, it is not uncommon to get a feeling of driving on Planet Mars. It is for this reason that I had to make the most of the road trip I undertook with my friends. In the current blog, I will be sharing my experience with you and a complete itinerary so that you guys benefit.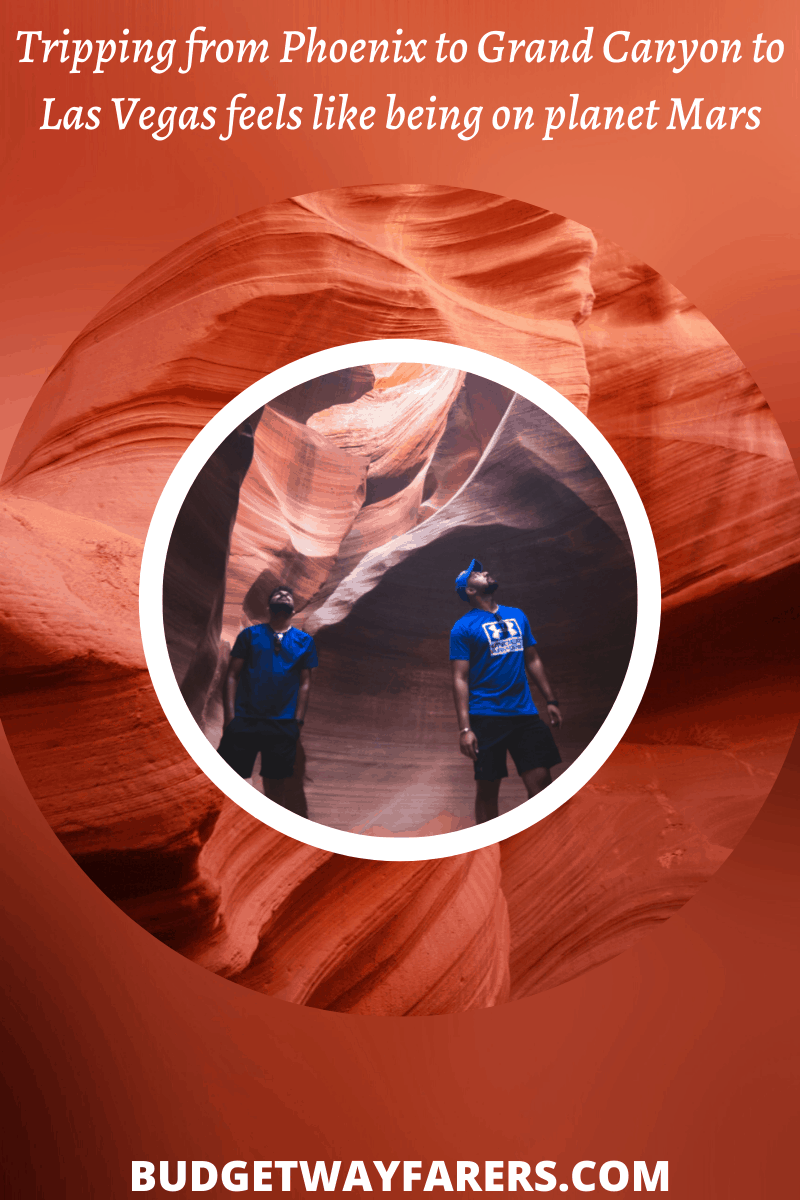 Phoenix to Grand Canyon to Las Vegas Itinerary 
The fact that the route between Phoenix and Las Vegas reminds one of planet Mars makes it thrilling to take a road trip in this part of the world.
Personally, I always look forward to the fiery sunsets, sunrises, majestic slot canyons and a varied landscape featuring unusual mesas, butte formations and vast expanses of arid land.
I took a road trip during summers (which ideally isn't the best time to visit) because I wanted to make the best use of a long affordable weekend. And so should you.
Hitting the Road from Phoenix to Grand Canyon to Las Vegas 
Every road trip ends up being way more enjoyable if you're able to explore more. And this is why having a decent itinerary in place is an absolute must.
My buddies and I spent a total of three days on the Phoenix to Grand Canyon to Las Vegas road trip. I'd love to share my itinerary with all of you.
DAY ONE
Catching the beautiful sunrise at the Grand Canyon
Exploring the Little Colorado River Gorge Tribal Park for free
Being at one of our planet's most instagrammable spots – the Horseshoe Bend 
Witnessing My Windows XP Wallpaper Coming Alive at the Lower Antelope Canyon
Driving towards Zion National Park and spending the night at a hotel nearby
Total Drive time – 9.5 hrs
(Phoenix to South rim of Grand Canyon (3.5 to 4 hours), Grand Canyon to HorseShoe Bend(2.5 hours), Horseshoe bend to Antelope Canyon to Horseshoe bend(3 hours)
DAY TWO
Canyoneering in Narrows of Zion National Park
Driving off to Las Vegas and spending a night there.
Total drive time – 2.5 hours (Zion National Park to Las Vegas)
DAY THREE
Hitting Hoover Dam
Driving back to Phoenix and wrapping up the road trip.
Drive time – 7.5 hours (Las Vegas to Hoover Dam to Phoenix)
To maximise your time travelling in the southwest, arrive at the Phoenix International Airport the night before the long weekend starts. For example, if Monday is a holiday, arriving late in the evening on Friday would facilitate more time. Rent a car from the rental car facility there.
Try to book the car beforehand to avoid any exorbitant prices on the rentals. If you have a Costco membership, you can use their car rental booking portal. Also, check out if your work organisation have any offers/discount codes to book car rentals and avail discounts.
Day 1 on the Road: Phoenix to Grand Canyon
The plan for the first day on the Phoenix to Grand Canyon to Las Vegas itinerary was to visit the Grand Canyon National park, cover some scenic views on the way and end up in Zion National park at the end of the day.
Catching the Beautiful Sunrise at Grand Canyon
As a passionate traveller, you cannot miss out on the sunrise at Grand Canyon on your way from Phoenix to Las Vegas. And hence, this was our first stop of the road trip.
By the way, we'd driven around four and a half hours in a rental car from Phoenix before reaching the Grand Canyon National Park. After entering the park, we parked our car and set off to board the shuttle for Hermit's Rest. You cannot take your private vehicles beyond this point.
The Hopi point is popular for sunrise and sunset. No matter how many times you have seen the Grand Canyon in pictures, the awe-inspiring feeling one gets after witnessing the wondrous scale of this monument is unparalleled. And so, we stayed a while at the Hopi Point.
We got some awesome pictures of the sunrise and in no time, it started getting hot. It was as early as 8'o clock then. Yes, that is Arizona for you! 
7 Pretty Viewpoints along the Hermit Road
The following are the viewpoints which come along the Hermit Road. And so, do click some pictures if you can.
1. Maricopa Point
2. Powell Point
3. Mohave Point
4. The Abyss
5. Monument Creek Vista
6. Pima Point
7. Hermit's Rest
All the points along the Hermit's road are connected via a trail "The Canyon Rim Trail" which is around 7.8 miles (12 .6 km). It can be done one way going in and coming back by shuttle.

We decided to take the shuttle to explore a few other spots, namely the –
Grand View Point
The Desert View Point
Both of these points provide panoramic views of the Grand Canyon and pictures during the blue or golden hour are spectacular. That was it for us in the Grand Canyon and we decided to take off for our next pit stop.
Exploring the Little Colorado River Gorge Tribal Park for Free
A quick detour off the Desert View leads to this gorgeous gorge formed by the Little Colorado River. Please do not judge this place by its name.
It definitely has a "Horseshoe bend" vibe to it but has a slightly different shape and scale. I highly recommend visiting it. The place is part of the Navajo Tribal Park and it has no entry fees. So yay!
Just be careful with some of the exposed parts near the viewpoint.
We spent some time here taking pictures and left for my most awaited destination by 12:30 pm – the Horse Shoe Bend.
Being at one of our planet's most Instagrammable spots – the Horseshoe Bend 
After around 2 hours of drive and often getting feelings of driving on Mars, we reached this place in the scorching heat. There is a $10-20 entry fee depending on which entrance you take to reach the spot. Make sure to navigate to the Horseshoe bend parking lot which is the right place for perfect pictures and views.
Probably one of the most Instagrammed place in the Southwest is the Horseshoe bend. I vividly remember this was the place that I first came across on social media when I moved to Arizona.  And for some reason, I believe that this place represents Arizona more than the Grand Canyon but that is my personal opinion. Of course, hikers like the grand canyon more but the visitors are fond of Horseshoe Bend in my opinion.
Since it was too hot by this time, we decided to take a couple of good pictures and set off to our next destination near Page- Lower Antelope canyon.
Witnessing My Windows XP Wallpaper Coming Alive at the Lower Antelope Canyon
The Lower Antelope Canyon is part of a tribal reservation land featuring a slot canyon a part of Antelope Canyon.
I was always fascinated by a Windows XP wallpaper in my childhood. Little did I know that I would visit it with one of my best friends ever on an epic road trip. By the way, while here you have got to keep a few crucial tips in mind. They'll help you.
Antelope Canyon has two sections – Upper Antelope Canyon and Lower Antelope Canyon. 
Cost Incurred for day 1 of My Phoenix to Grand Canyon to Las Vegas Itinerary
We were a group of three friends and the total cost incurred by us to visit the above mentioned four locales was $100. We shared this cost equally.
Now, this cost includes things like food, drinks and even gas. And so, the cost might vary slightly for you, depending on your needs. 
Visiting the Grand Canyon
$25
By the way, if you possess a National Park Annual Pass, then the $25 fee for entrance in Grand Canyon can be waived off.
Visiting the Little Colorado River Tribal Park
No fee 
Visiting the Horse Shoe Bend
$20 (not covered by annual pass)
Visiting the Lower Antelope Canyon
$55
Once we were done exploring all these magnificent places, it was time to head toward Zion National Park. We were to stay near it for the night.
By the way, if you have more time to spare, do visit the Monument Valley as well.
Our Comfortable Accommodation Near Zion National Park
The options to stay around Zion National Park are Springdale, St. George and Hurricane. We got the accommodation at a place called Comfort Inn at St. George since it was just one hour drive to the park. Again, it cost us a total of $100 and we split the cost equally.
If you are on budget travel and don't want to shell out a lot on accommodation, car camping or camping is the best option. There are many campgrounds along the way. Make sure to download the map before you head out.
If I am hiking for a sunrise, I would car camp at the trailhead itself and sleep to be ready for the hike early in the morning.
Day 2 on the Road: Phoenix to Las Vegas
After spending day one in a terrific way and getting to explore all the locales that we wanted, it was time to begin day two. We dedicated day 2 completely to Zion national park.
Long weekends in summer are the busiest in Zion national park. It has so much to offer for any outdoors enthusiast. There are some popular challenging trails like Angel's landing, observation point etc. Then there are medium trails. There also exists a plethora of opportunities for exploring wildlife, trying out canyoneering and more activities along these lines.
Canyoneering in Narrows of Zion National Park
Zion national park was the first national park that I visited in the US. I got enticed by the name of the park – Zion. Also, it is home to one of the top 10 most popular and dangerous trails in the US – Angel's landing.
However, I did not want to introduce hiking to my friends with a dangerous trail like Angel's landing. I was more interested in canyoneering in the Narrows. It is easily one of the most beautiful places I have ever been to in the southwest. I will let the pictures speak for this place.
The Zion National Park also follows the shuttle system to regulate the huge number of people visiting in Summer. Therefore, in order to beat the crowd and skip the long waiting queues, arrive early at the park and either rent a bike from Zion Outfitters or bring one of your own.
The bikes going into the canyon can be mounted on the shuttle bus so that we skip the uphill part. However, on the way back, it is all downhill which favours the bike riders. The riders do not have to wait for the Shuttle bus, especially after a long, tiring and exhausting day of hiking. This is also a great way to appreciate the natural beauty of this marvellous Zion Scenic Byway.
If you are biking, take the Parus trail. It offers some wonderful views of the mountains towering the Zion Valley. By the way, here's a tip for photographers –  Sunset overlooking the Watchman mountain is one of the most magical moments in Zion. The bridge just before the Canyon junction shuttle stop is the place to watch the sunset and take pictures.
If at all, you do have time, you can also cover Angel's landing trail, Scout's lookout in Zion national park, Bryce National park, and observe the sunset & sunrise at Valley of Fire state park.
Cost Incurred for day 2 of My Phoenix to Grand Canyon to Las Vegas Itinerary
The total cost incurred for us three friends amounted to about $95. We split the cost equally.
Zion National Park
$25
If anyone possesses a national park annual pass, the 25$ fee for entrance Zion can be waived off.
Rentals – water boots, neoprene socks, stick
$35
Bike rental
$35
Our Happy Place of Stay in Las Vegas
There is no dearth of hotels in Las Vegas. You can find any hotel for any price range. We stayed at the wonderful Alexis Park All Suite Resort.
Although it is always advisable to book beforehand for cheaper prices, especially for a long weekend, we had booked the hotel the same day and still, we did not get a bad deal.
Apps like Priceline and HotelTonight help a lot if your options are flexible and just need a place to crash for the night.
Day 3 on the Road: Back to Phoenix from Las Vegas
All thrilling things come to an end and so was our trip. However, before wrapping up and bidding Las Vegas goodbye, we hit Hoover Dam at about 11:00 a.m. in the morning.
Our actual plan was to wake up early and view sunrise at the Valley of Fire State Park. However, catching up with friends from school ensured that we lose complete track of time. And so we decided to sleep well since we had a long drive ahead and were to return to Phoenix by 11 pm.
Hoover Dam 
We started the day with some heavy breakfast and headed out for Hoover Dam by 11 am. If you're short on time just as we were, you can try out the Hoover Dam mini-tour for saving time.
This marvellous feat of engineering is worth at least one visit if you are near Vegas. The dam is massive, and it cannot be realised until one personally visits it. The Hoover Dam impounds Lake Mead which is the largest lake by volume by capacity in the United States.
The day temperature read above 100 deg F (38 deg C) and we were scorched just when we got out of the parking lot. However, once the dam was in sight, the sheer size of this architecture just overwhelmed us and we managed to hang out for a couple of minutes.
There is a guided tour for about an hour of the dam and/or the power plant which is recommended for anyone interested in the breathtaking history of this engineering marvel.
Arriving in Phoenix
The sunset on the way was spectacular and we reached Phoenix by night. Fortunately, we had some time left before we were to head out for our respective flights and we decided to celebrate our trip with some beer/drinks at the Seamus McCaffrey's Irish Pub in downtown Phoenix.
It is about 3 miles from the rental car centre at PHX airport.
By the way, there are plenty of options to explore on the drive from Vegas and Phoenix. If we had one more day we could have accommodated at least a sunset at Valley of Fire State Park, Sedona and Flagstaff.
If you're following the same route that we did, make sure to visit these places on your road trip.
Cost of visiting Hoover Dam on day 3 
It was free of cost to visit Hoover Dam. Also, we saved money on food on day three since we skipped lunch and had a heavy breakfast instead.   However, if you want to opt for a guided tour, go for it because it's worth the money.
So that was my hectic, searing, fun-filled long weekend. I hope it provided some insight into exploring the Southwest.
Please take care of yourself in the sun, hydrate, apply sunscreen and don't risk hiking if you do not feel well.
Also, practice "Leave No Trace" while outdoors.
Happy Wayfaring 🙂