PAP Leh or Protected Area Permit for Leh is a travel document issued by the Government of India to foreign nationals. This document allows them to visit the restricted or protected areas of the Leh Ladakh region for a limited period of time.
All foreign nationals and Non-Resident Indians (except for citizens of Bhutan) are required to obtain a protected area Permit or PAP Leh if they wish to explore the restricted and/or protected areas in the Leh- Ladakh region. The permit can only be issued through a registered travel agent and is for a minimum of two people.
Travellers often get confused with the term – Protected Area. It is essential to understand that the part of Jammu and Kashmir which falls between the 'Inner Line' and the International border is known as a protected area or protected region. 
Under the Foreigners (Protected Areas) Order of 1958, specific areas in India have been declared as Protected Areas. In addition to them, there are other areas that have been declared as Restricted Areas under the Foreigners (Restricted Areas) Order of 1963.
Also Useful:
How to get an Inner Line Permit (ILP)?   
What is the ideal budget Leh itinerary?    
PAP Leh: An Overview
The main purpose of a Protected Area Permit for Leh for travellers is to regulate the movement of visitors into the region. This is for security purposes as Leh Ladakh lie very close to the international border.
Here are a few important details about the PAP Leh for travellers.
Who needs it?
Foreign Nationals (except for citizens of Bhutan) or Non-Residential Indians (NRIs)
Validity
A week or 7 Days
Mode of Application
Through a registered travel agent at the District Magistrate Office, Leh
Documents Required
Restricted Area Application Form (Duly filled and signed)
Photocopy of a valid Passport
Photocopy of valid Indian visa
Passport size photos



What is PAP Leh?
Certain areas in India have been declared by law as Protected Areas or Restricted Areas. In order to enter or stay in these areas obtaining a permit called Protected Area Permit or PAP is mandatory.
The area of the Indian State of Jammu & Kashmir lying between the 'Inner-Line' and the International Border has been declared as a Protected Area. Indian nationals can visit the place with a permit called the Inner Line Permit. A group of two or more foreign nationals or NRIs can visit the region with a Protected Area Permit referred to in this article as PAP Leh.  This is possible when this group is sponsored and directed by a recognized travel agent.
At the time of procuring the PAP Leh, the group has to be accompanied by an authorized representative of a recognized travel agent who would act as the escort to the group. Along with that you also need to carry a pre-defined itinerary.
The PAP Leh is only valid for a maximum of 7 days. However, there is no limit on the number of times you visit a place within the valid period as long as you carry the necessary permits. After this period, you need to re-apply for the permit if you wish to extend your stay.
It is mandatory that the foreign nationals are accompanied by an authorized representative of the recognized travel agent. He will act as the escort to the group. It is obligatory on the part of the travellers as well as the tour operators that tourists travel on the identified tour circuits only.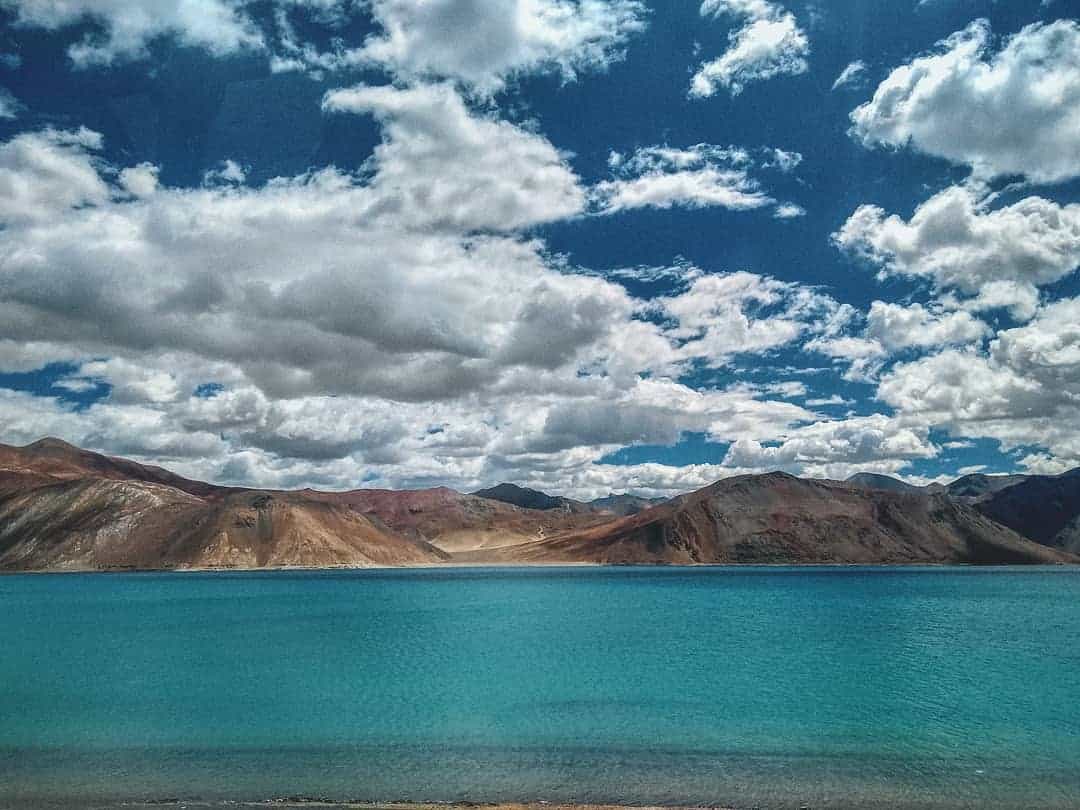 Pangong Tso Lake is the most sort after destination in Leh. Photography by Yash Ladole
Frequently Asked Questions about PAP Leh
I have tried to answer the commonly asked questions by travellers from outside India about PAP Leh. If you have any more questions, feel freee to ask them in the comment section. I will try t answer them to the best of my knowledge.
Q1. I am a solo traveller. Will I be able to get PAP Leh?
Yes, you will be able to get a PAP Leh. However, you will not be able to get it as a solo traveller. Your travel agent will group you with another group and then procure it for you.
Q2. Is it mandatory to show PAP at every checkpoint?
Whenever you'll be asked to show it, kindly go ahead and do so.
Q3. What is the maximum validity of PAP?
7 days
Q4. Do I need to make a payment for PAP Leh online?
No. It is not allowed. The sensible thing to do is to procure it via your travel agent.
Q5. Is it expensive to obtain a PAP?
Not at all. 
Q6. Are there places where PAP is not required?
Yes. If a traveller wants to indulge in some local exploration around the main town of Leh then PAP isn't required.
Q7. Is PAP needed for visiting Nubra Valley?
Yes
Q7. Is PAP needed for visiting Pangong Lake?
Yes
Important Points to Remember about PAP Leh
Here are a few quick points that you need to remember about Protected Area Permit Leh.
In

dividual tourists are not permitted to get a PAP Leh
The PAP Leh is valid only for a group of tourists, comprising of a minimum of two people.
The permit is specific only to a tourist route or area and entry or exit points of that particular region
Tourists should not enter any other area or circuit apart from the ones mentioned in the permit they already have.
After the expiry of the permit i.e. 7 days, tourists should not stay in the area.
If you wish to extend your stay, reapply for the PAP Leh after the expiry of the current permit.
Trekking in the restricted or protected areas is prohibited unless being steered by a registered travel agent in the company of a State Police Personnel
Before heading towards Leh, draw out a detailed itinerary for your visit mentioning the places you'd like to visit. This will help your travel agent to apply for the right kind of permit.
Also Useful:
Which Areas Do not Need a PAP Leh?
Not all areas require a PAP Leh. For instance, the following regions do not require you to obtain a Protected Area Permit –
Zanskar Valley
Suru Valley
Leh – local sightseeing
Local places in and around Leh town
The places that do require a PAP have been divided into subdivisions or circuits. The visit to all the places in each Sub-Division together is limited to a maximum of seven days.
Subdivisions that Require Protected Area Permit
Ladakh region is divided into subdivisions. These ae the subdivisions and areas that require PAP Leh to enter.
i) Khaltsi Sub Division (Drokpa Area)
Khaltsi – Domkhar – Skurbuchan – Hanudo – Baima – Dha
ii) Nubra Sub Division
a) Leh – Kahrdungla – Khalsar  – Tirit upto Panamik.
b) Leh – Khardungla – Khalsar – Hunder – Turtuk – Pachathang – Tyakshi.
c) Leh – Saboo – Digarla – Digar Labab – Khungru Gompa – Tangyar ( Only for trekking)
iii) Nyoma Sub Division
a) Leh – Upshi – Chumathang – Mahey – Puga – Tsomoriri Lake/ Korzok
b) Leh – Upshi – Chumathang – Mahey up to Loma Bend
c) Leh – Upshi – Debring-Puga – Tsomoriri Lake/ Korzok
d) Leh – Kharu – Changla-Durbuk – Lukung – Spangmik – Man – Merak (Pangong Lake)
Who Needs a PAP Leh and Why?
Since some areas of Leh are very close to the International Border, therefore, a PAP Leh becomes important to monitor the movement in the region.
All foreign nationals except for the citizens of Bhutan and Non-Resident Indians are required to obtain a PAP Leh before entering into the restricted areas of the region.
Note:  It is important to know that there are two routes for travelling to Leh, one from Manali to Leh and the other is from Srinagar to Leh. If you are travelling from Srinagar to Leh you don't need any other permit other than the PAP. However,  if you are travelling from Manali to Leh,  then you might be asked for an Inner Line Permit called "Beyond Rohtang" for crossing the Rohtang pass.
Also Useful: 
Obtain the Rohtang Pass Permit from here
How to Apply for a PAP Leh?
It is important to note that a PAP Leh can be obtained through a registered travel agent only. A minimum of 2 people are required to secure a PAP Leh. If you are a solo traveller there is nothing to worry about. Your travel agent will get you the permit by grouping you with some other group. Once you get your permit you don't need to tag along with the group and you are free to explore on your own. However, do carry your PAP Leh which will be checked at several checkpoints henceforth.
Tourists from Bangladesh, Pakistan, China, Afghanistan and Burma are required to procure their PAP Leh from Ministry of Home Affairs, Delhi.
Tourists on a diplomatic Visa are required to get their PAP Leh from Ministry of External Affairs in Delhi.
Note: At any point, if there is any confusion regarding the permit, it's best to contact your registered travel agent.
Official Circular Issued on PAP Leh
For the sake of your convenience, the official circular issued by the Additional District Magistrate is being uploaded below. Read it and understand the document better.
Also Useful: 
Read the Official Circular on PAP
Relaxation for Nubra Valley
Ministry of Home Affairs under the honourable Government of India after careful talks with the Jammu and Kashmir Government have recently allowed foreign nationals to visit Nubra Valley. Earlier foreign nationals were not issued permits and were not allowed to visit some parts of the beautiful region.
Among the restrictive areas were places like  Turtuk and Yarma. Both these places are highly sensitive zones. Tutuk as a territory was liberated from Pakistan Occupied Kashmir in the early 70s and Yerma falls on the way to the Siachen glacier.
After relaxing the norms, there has been a an increased inflow in the number of travelers visiting the region on a monthly basis. 
Also Useful:
Explore the splendid Nubra Valley of Leh
Visit Pangong, the lake that changes colours
While travelling, it is extremely important that you procure and produce the relevant documents and permits. Abiding by the law of the land should always be paramount.
Enjoy the trip, connect with the local people and their culture and always obey the law.
So if you are a foreign national and the beautiful region of Leh-Ladakh is on your travel bucket list, go ahead and apply for the PAP Leh and explore the splendours of the "Juleh" Land.
Happy wayfaring.
About the Author
Divya Sarjolta
Divya Sarjolta is an Economics Major and a Gold Medalist. She hails from the beautiful town of Shimla and is a Himachali by birth. She enjoys exploring life to the fullest and has pursued quite a lot of backpacking trips around the country. Two things Divya craves more than anything else is good food and travel. She leads her life on the lines of Oberyn Martell from Game of Thrones, "It is a big and beautiful world. Most of us live and die in the same corner where we were born and never get to see any of it. I don't want to be most of us." So, explore while you can!
BUDGET WAYFARERS
https://www.budgetwayfarers.com/wp-content/uploads/2018/08/PAP-Leh-3.jpg
720
1080
Budget Wayfarers
https://www.budgetwayfarers.com/wp-content/uploads/2018/04/1200X800.png
Budget Wayfarers
2019-01-28 10:16:47
2019-01-30 20:16:17
PAP Leh: How to Obtain a Protected Area Permit for Ladakh