Pangong Lake, originally known as Pangong Tso (Tso means lake in the native language of Ladakh) is an extremely gorgeous site located amidst the high grasslands of Ladakh region in North India.
The sheer beauty of Pangong Tso or more popularly known as just the Pangong Lake makes travellers visit it from far and wide. Pangong Tso is of the serene bright water that changes shades from blue, green and even reddish at times. The rugged mountains on one side of the lake add to the stunning view.
All the hype about the water being so blue and praises of its calm and composed and at times chaotic experience are all true. Though, the Pangong Lake gained fame after the climax of 3 Idiots was shot here, no pictures or videos do justice to this lakes beauty. One can only experience this endorheic lake by visiting it.
In the current piece, I will elaborate on each and every aspect of the Pangong lake that will prove useful for a traveler to this beautiful place.
Also Useful:
9 Beautiful  Lakes in Leh that you don't know about
The complete backpacking guide to Leh Ladakh
Pangong Lake: An Overview
L

ocation
150 kms North of Leh, Ladakh, India
Mode of Travel
Taxi
Bus
Budget Stay
Guest House offers budget stay and budget eating options too with clean and comfortable rooms.
Weather
Mornings are calm and peaceful. Sunrise from behind the mountains is quite a soothing scene. Evenings get quite windy.
Villages to Visit
Traveller Warnings
Little or no network connectivity. The temperature gets low enough to mildly freeze the water in bottle and buckets. Take extra layers of warm clothes even during April, May and June.
Food Specialty
Tibetan food – noodles, momos, fried rice. North Indian food – Thali, Roti and curry



Weather Conditions and Average Temperature at Pangong Lake
The weather conditions at Pangong lake vary according to the season. The best weather conditions are during summer months i.e March to May. 
During the summer months,  the temperature at Pangong Tso varies between 8°C and 30°C.  In the winter months, the temperature can drop as low as -14°C.  During monsoons, the weather conditions of Pangong lake remain slightly humid. 
How to reach from Leh to Pangong lake? – Preferred Routes
Pangong Lake can only be reached after a five – six-hour drive from Leh.  It needs to be mentioned here that each year both route 1 & 2 are constructed all over again for safe travel by the Border Road Organization. This is because, once the snow starts to melt and Shyok River is in its full strength, this road can't be accessed.
Route One
Leh via Chang La or from Nubra Valley via Shyok Villages and Tangste.
Route Two
Leh – Khardungla – Nubra Valley – Agham – Shyok Village – Durbuk – Tangtse- Pangong Tso – Chang La
Note: Route no. 2 can be accessed only in the early season when snow from mountains haven't started to melt and Shyok River is not in its best appearances. This whole stretch has various water crossing (some nasty ones), loose rocks, sharp stones, big rocks underwater crossings or standing water or sometimes even Shyok river itself on the road. However its worth your time and has some of the best landscape sitings in the complete Leh journey. Previously, this route uses to be challenging due to sharp stones and big boulders. This however, is a thing of the past. It is now 85% road and 15% uneven terrain. Make sure your driver is familiar with this route.
The first view of Pangog tso from a distance. Photography by Achin Kapoor
The shimmering Shyok river. Photography by Rishikesh Parichha
 

Leh to Pangong Lake Distance
The approximate distance between Leh and Pangong lake is about 154 kilometres. It takes 4 to 5 hours to reach Pangong Lake from Leh. Try starting early from Leh to be able to spend ample time in and around Pangong lake.  The entire journey from Leh to Pangong Tso is splendid. It will be a good option to stay overnight at Pangong lake and witness the beauty.
Pangong lake changes colours and makes its traveler wonder. Photography by Shree Lakshmi
Inner Line Permit for Visiting Pangong Lake
Inner Line Permit (ILP)  is a travel document issued by the Government of India. It allows visitors to travel to a protected area for a limited period of time. Obtaining the ILP is essential for all the citizens who do not belong to the state of Jammu and Kashmir. Foreigners traveling to Ladakh are required to obtain the Ladakh Protected Area Permit (PAP).
The PAP is required for visiting areas like Nubra valley, Khardung La, Pangong Tso, Tso Moriri, Dah, Hanu Villages, Man, Merak, Nyoma, Loma Bend, Turtuk, Tyakshi, Chusul, Hanle, Digger La etc.
Also Useful:
How & where to obtain an Inner Line Permit (ILP) – For Indian Visitors
How & where to obtain a Protected Area Permit (PAP) – For Foreign Nationals
The magnificent Nubra Valley. Photography by Pradeep Javedar
Best Time to Visit Pangong Lake
Visit Pangong lake between early May to September if harsh winters are not your cup of tea. Even during May, the temperature goes down to -9 or -10 degree. 
One should avoid visiting between November to February as Pangong lake is completely frozen and it can be enjoyed only when snow has melted. The locals told us that during this time the Indian Military Patrolling Vehicles can travel over the lake till the border. The Multi Shades of the lake start appearing from mid-April when snow starts to melt and by April end and early May it regains its beauty.
Visit Pangong Tso while the weather is pleasant. Photography by Rini
Accommodation Options Near Pangong Lake
Pangong is at a very remote location and thus the choice for accommodation is limited. Staying options include Chadar tents, cottages, guest houses, and camp sites. If you wish to spend your time near Pangong Tso, tents and cottages will prove comfortable. Try to opt for cottages with attached washrooms.
Spangmik, the nearest village from Pangong Lake has various small cottages and tent accommodation options available.  You can also opt for camps. These camps have a sleeping capacity of 2 – 4 individuals per camp and have toilets attached to them. The ones that overlook the lake can be little expensive than the ones that don't offer the exact view of Pangong lake.
The journey to Pangong lake is lovely. No matter what route you take to reach this lake, do not return in a single day. Stay a night or two in the tents or cottages and witness the life around you. Watch the lake change colors when the sun sets and enjoy a warm tea on its shores. When the sun rises again, feel the warmth of sunlight and the rays making the lake appear heavenly. Talk to the helpers and cooks and find about their lives and don't forget to wave goodbye to them when you leave.
Tents make for a good staying option on the banks of Pangong lake. Photography by Nikita Dhamija
Eating Places Near Pangong Lake
The food options easily available to travellers near Pangong lake are –
Aloo Paratha
Dal Chawal 
Rajma Chawal

Bread omelet

Maggi noodles

Momos

Thupka

Different varieties of soups
There are lots of small eateries near the lake. Photography by Shubham Jalwal
A Good Restaurant to Stop by at Pangong Lake
A restaurant by the name of P3 is a good place to sit and savour a meal, while at Pangong lake. Not only does the P3 restaurant provide delicious food but also a heartwarming ambience and a lovely view of the lake. The prices of most food items are reasonable and the staff hospitable. The speciality of this place is Tibetan food so make sure you try it.  
Spangmik Village Near Pangong Lake 
Spangmik village is located around the Pangong lake and is home to a community of people known as Changpas. They hail from Changthang Valley in Ladakh. They cultivate a few crops in summer. In winters, however, they move to more warmer places. In recent times, more and more visitors have started visiting Spangmik village. Thus, some of the families have turned their homes into 'home stays' for travellers.
The village lies between the Chang Chenmo mountains and the Pangong lake. It literally gives you a feeling of lieing at the edge of the world. An army check post bars civilians from going any further towards the border of Tibet ahead of the village. 
Also Useful:
Stay at the  rustic Spangmik Village near Pangong Tso Lake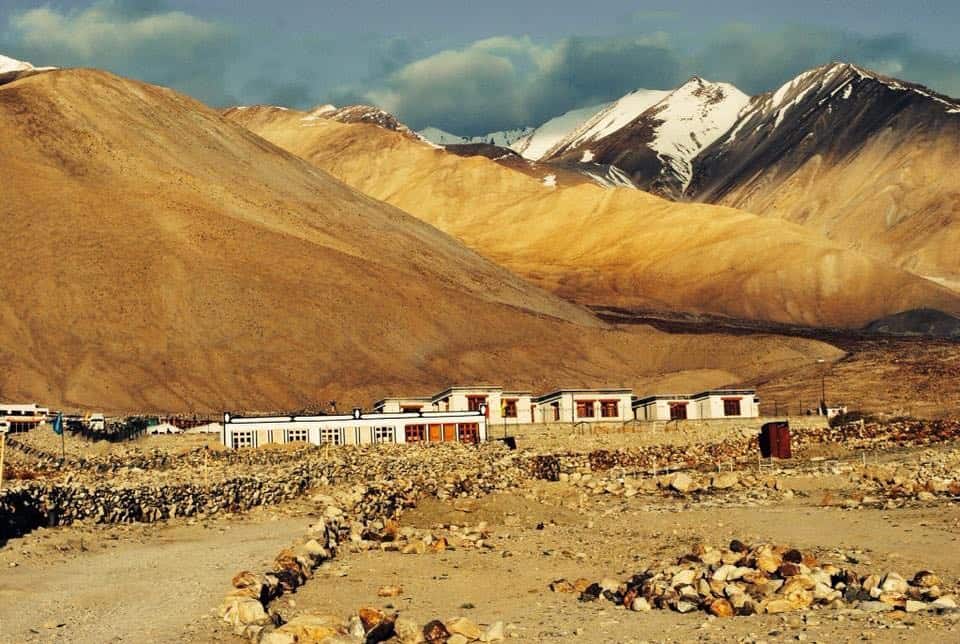 Spangmik village near Pangong Lake. Photography by Sujata Majumdar
Morning tea at one of the homestays at Spangmik village. Photography by Kunal Chavan
Chang Chenmo Mountain Range Around Pangong Lake 
The Chang Chenmo mountain range stands a tall at the Pangong Lake. Greyish brown in colour, these mountains add beauty to the lake. The entire landscape of the Chang chenmo mountains along with the Pangong lake make for one hell of natural canvas. 
The Change Chemo range is historically significant. The mountains of the range lead to the disputed Aksai Chin plateau. The dispute over the Aksai Chin plateau is the reason for the 1962 India – China war.
The Chang Chenmo mountain range standing a tall the Pangong lake. Photography by Romana
Marmot Sitings on the Way to  Pangong Lake
About 8 to 10 kilometers before the Pangong lake, a cute Himalayan creature can be found hiding in burrows or even on the side of a remote road. This animal goes by the name – Marmot. It is one of the highest elevation residing mammal in the world. Any visitor who spots a Marmot should be careful enough to not disturb the innocent animal. Due to the heavy influx of travelers on the way to Pangong lake, the marmots are decreasing in number over the past few years. 
A marmot sitting near on top of a burrow. Photography by Srini
Popular Festivals Celebrated at Pangong Lake
Pangong lake is home to a lot of festivals. If possible, time yourself around the festive seasons. 
Dosmoche Festival
Dosmoche Festival is celebrated in the month of February and is one of two festivals celebrated on the arrival of New Year (the other being Losar ).
Dosmoche Festival 2019: 2-3 February
Losar Festival
Losar festival, as per the Lunar Calendar, is celebrated for 2 weeks during the month of December and January. This festival is fervently enjoyed by Ladakhi Buddhists by offering prayers to the Gods, both in Gompas and in their native shrines.
Losar Festival 2019: 27 December
Hemis Festival
Hemis festival is held in the month of June or July and is devoted to the respected Guru Padmasambhava.
Hemis Festival 2019: 11-12 July
Tips for First Time Travellers Visiting Pangong Lake
If you are traveling to Pangong Lake for the first time, here are some useful tips to keep in mind –
Tip one 
Since Pangong lake actually changes colours, make sure you spend a night here and witness this amazing lake during morning and evening as well. Do not speedily visit the lake.
Tip two
The temperature at night goes below -10-degree C. To keep warm you should bring along your best winter wear and thermal wear.
Tip three
As Pangong Lake is situated at a remote location, luxury is not an option. Be prepared for power cuts during the day. Generators will be available during dinner time only. 
Tip four
During the peak season, it is advisable to book your accommodation in advance. Else, you'll face difficulty finding staying options both near Pangong Lake as well as Ladakh in general.
Tip five
Carry extra toilet rolls. These can be handy as at times the water freezes overnight.
Is it Possible to Budget Travel to Pangong Lake ?
Yes, it is absolutely possible to travel on a budget to Pangong Tso. Just keep the following suggestions in mind –
If traveling solo, use public transport for cheap travel options or make contact with other fellow travelers so that you can share a cab. Speak with travel agents since they can help you provide contact numbers of other solo travelers. 
Budget accommodation, camp and cottages with attached bathrooms in Spangmik can range from INR 2k to INR 3k per night. Home stays without food can be as nominal as 800INR. Though they allow maximum three people in a cottage, you can always negotiate and manage four people in a cottage with an extra bed.
Pangong Lake and Bollywood
A lot of Bollywood movies have had various scenes shot at the picturesque Pangong lake. However, the lake rose in popularity after Aamir Khan starring movie, 'The Three Idiots' was shot there. The region has witnessed a heavy increase in visitors ever since. It is our duty as travelers to keep the lake clean.
Frequently asked Questions about Pangong Lake
Here are the answers to some of the most commonly asked questions about visiting Pangong lake.
How is Pangong lake in winter?
The lake freezes during winters
What is the best time to visit Pangong lake?
May to September
Can we swim in Pangong lake?
The water temperature is very low, so it's best to stay out of the water.
What is the Pangong lake altitude?
4250 m or 13940 Ft above sea level
How much time should I Spend at Pangong lake?
It is recommended that you at least stay a night at Pangong.
What is the taxi fare from Leh to Pangong Lake?
Rs 10,000 for one night stay
Rs 8.000 for up and down
Are there any buses available from Leh to Pangong Lake?
Buses from Leh to Pangong lake run twice a week to a Spangmik Village.
They start as early as 6.30 am on Saturday and Sunday.
(confirm the previous day)
What special care should I take at Pangong Lake?
If you are planning to stay the night, make sure your body is properly acclimatised to the altitude.
Also, Himalayas have a fragile environment. Let's be responsible travellers.
The Beautiful Pangong Lake in Pictures
Pangong lake gives you a 'drop dead gorgeous' feeling. Ride on a bike to this beautiful location. Photography by Aditi Peekay
Pangong lake literally glows after dusk. Photography by Barsha Pandey
A yak sun bathing on the banks of Pangong lake. Photography by Kaeshur Kot
Prayer flags at Pangong Lake. Photography by Karan Ahuja
Sparkling turquoise waters of Pangong Tso. photography by Govind Gupta
Plan a trip to Pangong lake soon. Observe the changing colours and make sure to stay overnight.
Happy wayfaring 🙂
ABOUT THE AUTHOR
[av_team_member name='Osheen Jain' job=" src='https://www.budgetwayfarers.com/wp-content/uploads/2018/09/pangong-lake-495×315.png' attachment='11015′ attachment_size='portfolio' image_width=" description='Osheen Jain is an avid reader since her school days and has interest in dystopia, classics, science fiction, and western philosophy. Sips black coffee from beer cup. Chooses adventure and photography over snuggling in a blanket every single time (almost). She is a learner by the day and freelance writer when the sun goes down. A caffeine addict, and snapper in between, Osheen loves mountains and woods, not for escape but because they are powerful, mysterious, dangerous, and beautiful. She believes that words have the power to change the world for better. She'd love to be a part-time bartender and pizza delivery girl someday.' font_color=" custom_title=" custom_content=" admin_preview_bg="]
[av_team_icon title='Reach out to me on Instagram' link='https://www.instagram.com/_osheenjain_/' link_target='_blank' icon='ue909′ font='entypo-fontello']
[av_team_icon title='Reach out to me on Facebook' link='https://www.facebook.com/osheen.jain.3′ link_target='_blank' icon='ue8f4′ font='entypo-fontello']
[/av_team_member]
[av_notification title=" color='blue' border=" custom_bg='#444444′ custom_font='#ffffff' size='normal' icon_select='no' icon='ue800′ font='entypo-fontello' admin_preview_bg="]
THIS POST ENTITLED, "THE MESMERISING LAKE THAT CHANGES COLOURS – PANGONG TSO, LADAKH" IS AN EXCLUSIVE PROPERTY OF BUDGET WAYFARERS. ANY INDIVIDUAL OR ASSOCIATION INDULGING IN PLAGIARISM WILL BE DEALT WITH STRICTLY. IF YOU WANT TO USE INFORMATION FROM THE ARTICLE ABOVE, KINDLY QUOTE THE SOURCE.
[/av_notification]