Nubra Valley is a mysterious place tucked up in the lap of the Himalayas that is filled with an enigmatic culture, mesmerizing valleys, double-humped camel rides, captivating sand dunes and challenging roads. The Shyok River meets the Nubra River in this mesmerizing village that separates the majestic Ladakh and Karakoram mountain ranges. 
Nubra Valley is also known as a cold desert due to long stretches of Sand Dunes that offer a serene view between Hunder and Diskit. The rays of the sun bring life to the vast never-ending stretch of sand dunes that proves you are at a high altitude cold desert.
If you are planning to visit Leh Ladakh, Nubra Valley is a must see on your itinerary. In the current blog, I will be discussing how you can make the most of your visit to this surreal valley.
Also Useful:
The complete backpacking guide to Leh Ladakh
Is Leh Safe? 12 Major Concerns & How to Deal with them 
Nubra Valley: An Overview
Here some handy information for Nubra Valley, that might help a first time traveller in planning a visit to Nubra valley.
Location
150 kms North of Leh, Ladakh, North India
Mode of Travel
Taxi
Bus
Budget Stay
Guest Houses offer budget stay and budget eating options too with clean and comfortable rooms.
Weather
Pleasant and little warm during the day and gets colder and windy during the evening. Wear clothes in layers to keep warm.
Villages to Visit
Diskit, Hunder, Panamik and Turtuk
Highlights
Sand Dunes, Double Hump Camel Safari, Maitreya Buddha
Traveller Warnings
Altitude sickness, Weak mobile network, Emergency conditions
Food Specialty
Butter Tea, and Chhang
Travelling to Nubra Valley
The most accessible and common route taken by travellers for Nubra Valley is via Khardung La. This happens to be the highest motorable pass in the world and has a different charm to it during early May. Though it is not much colder up here when the sky is clear but one can suffer from sunburns due to reflection from snow when the sun is shining bright.
The distance between Nubra and Leh is 150 km and takes on average of 5 to 6 hours. Leave early for Nubra so you can enjoy a beautiful sunset from sand dunes over barren mountains in Hunder. As the route has its own beauty and charm and you might want to take many stops for pictures and need some extra time. Thus leaving as early as possible after light breakfast is highly recommended.
How to reach from Leh to Nubra valley by Taxi?
Private taxis will charge you around 10000 INR or more for a 2 day trip to Nubra Valley. This will cover Dikshit and Hunder. If you wish to cover Panamik and Turtuk Villages, it will cost about 5000 INR over and above the previous cost.
How to reach from Leh to Nubra valley by Bus
Nubra valley is fairly connected with Leh through public transport. For budget travellers, a bus is a great option to reach Nubra valley. You can take a direct bus from Leh to one of the locations and from there you can use the local bus or shared cabs to cover the others.
Tip: Do check the Bus timetable and chart at the Leh bus stand to confirm the timings as they are prone to changes.
Leh to Dikshit Bus Service
Three buses run from Leh to Dikshit every Saturday at about 6.00 am from the bus stand in Leh. The same bus returns the next day back to Leh.
Leh to Turtuk Bus Service
There is a direct bus from Leh to Turtuk. It runs every Saturday at 6.00 am from Leh bus stand. It returns to Leh the next day.
Leh to Hunder Bus Service
There is no direct bus to Hunder from Leh so you can take the bus to Skuru from Leh. It runs at 6 am from Leh, every Tuesday.
Khardunga La Pass. Photography by Akshay
Khardung La Pass is located at an altitude of 18380 feet. Photography by Anootree Nerngchamnong
Accommodation Options in and around Nubra Valley
Nubra Valley (Diskit and Hunder) can be visited in two days and Pagnimik and Turtuk might require an extra night stay. The two main villages are Diskit and Hunder where you can find guesthouse options that offer budget stay. They have well-maintained rooms and usually have a great view and small gardens to enjoy some quality time in the lap of mountains.
As these two villages are only 11 kms apart, taking accommodations in either village will not be a problem. During peak seasons, all guest houses are usually pre booked, so look up some good guest houses online, contact the person in charge, and get your room booked beforehand. You might have to pay a small amount in advance for booking. This shouldn't be a problem as people here lead a simple life far away from deceit and fraud.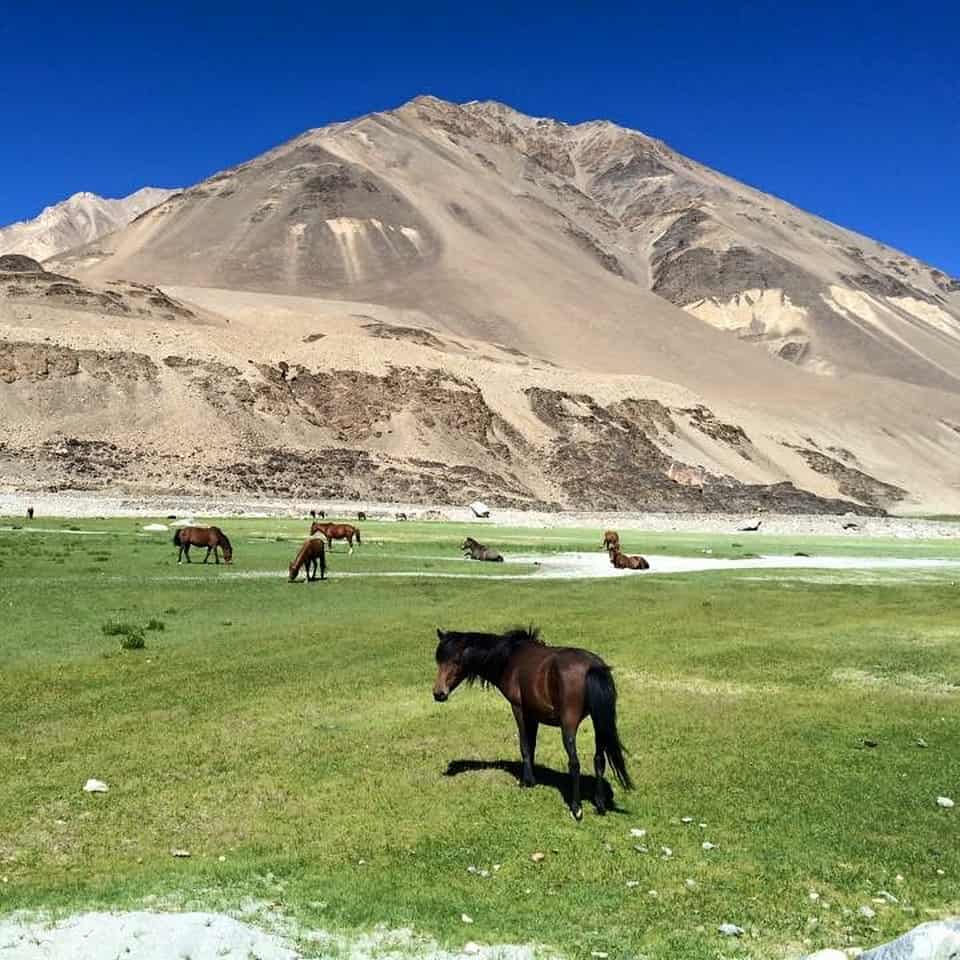 Beautiful horses grazing in Nubra Valley. Photography by Preethi Dutta
Turtuk. Photography by Jesse Vad
First Time Travelling Tips for Nubra Valley
If you are travelling to Nura valley for the first time, here are a few things that you should be aware of.
Network Coverage
The network lines are usually broken and not repaired until late May or early June and it is really difficult to get a signal or keep communication with the outside world. Though guest houses have landlines which can be used to make a call, they are chargeable.
Network Provider
Ladakh is a part of Jammu & Kashmir and it has its own rules and regulation of network providers. Only Airtel postpaid sim can get a network coverage if it's available. Buying a sim from J&K is quite difficult so it is recommended that you carry an Airtel Postpaid Sim before travelling to Leh.
Emergency
In cases of emergency during the journey, there are numerous army campsites after every few km. As army camps have their own communication network, this can be your best chance of rescue in case of emergency.
Altitude Sickness
As Nubra Valley can be reached only via Khardung La, it is advised that all tourist stays at Leh for at least 24 hours on arrival to get accustomed to an elevation of 3.5Km and chilled air. The reason behind this is: one has to pass Khardung La to get to Nubra Valley which is situated at an elevation of 5359m and can result in nausea, vomiting or other severe health conditions if one doesn't rest before starting the trip to Nubra Valley.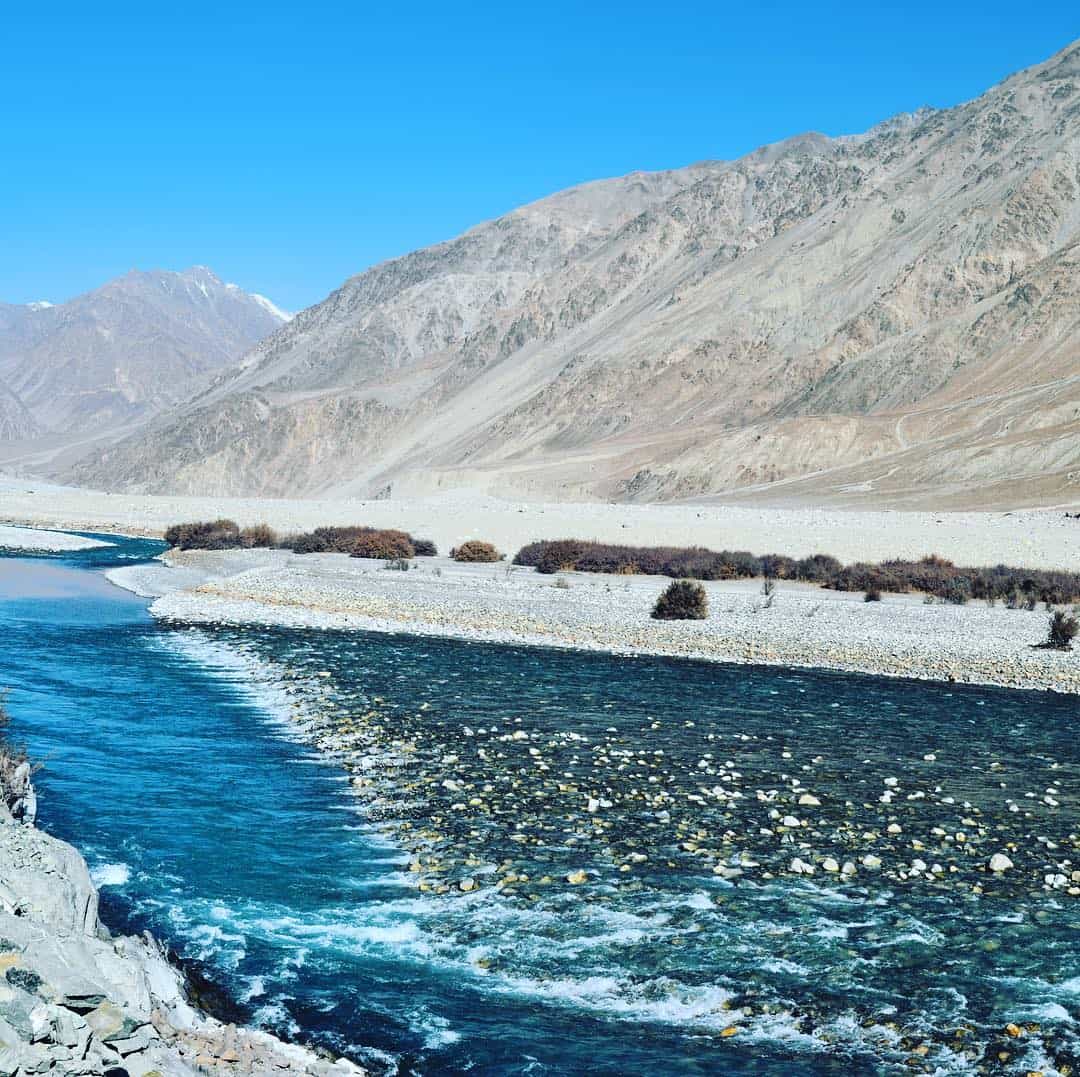 Acclimatize well in advance before heading out to Nubra Valley. Photography by Yasmin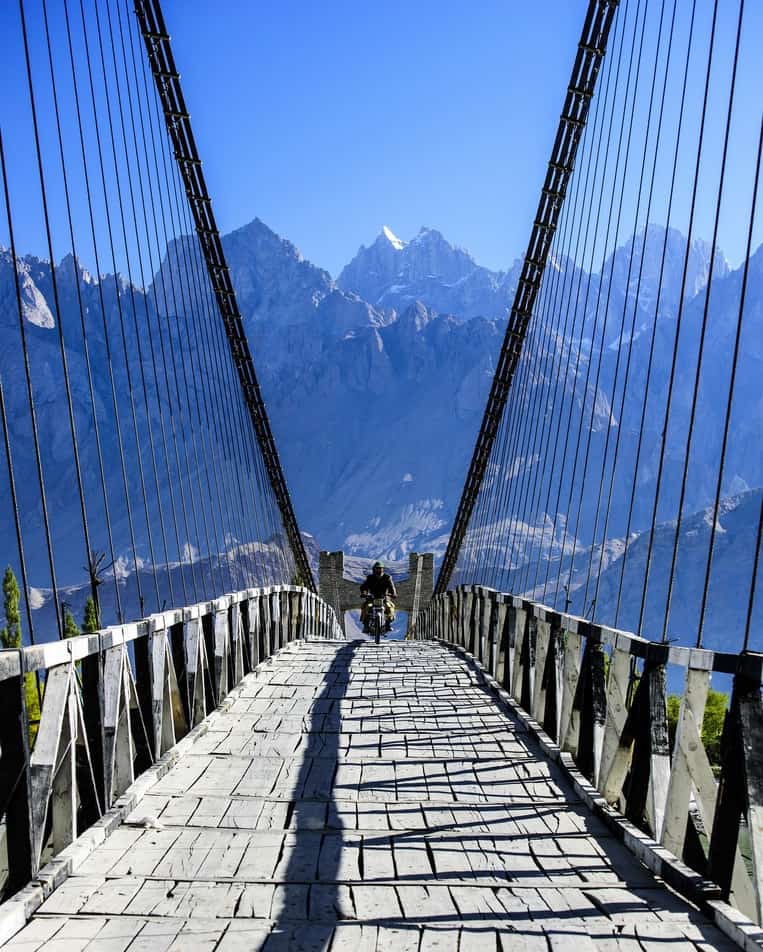 Every condition can be dealt with, once a traveler witnessed beauty. Photography by Zilli Naizi
Places to Visit in and around Nubra Valley
There are four main villages that you should cover during your stay in Nubra Valley: 
Diskit
It is the headquarters of Nubra Valley and has lots of government offices.
Hundar
It is home to sand dunes and double hump camel safari.
Panamik village
The village is famous for natural hot springs in the area. The story of the last village opens for civilians in 2010 is exciting.
Turtuk
Turtuk offers camping sites with an environmentally friendly lifestyle.
Apart from these villages, a 32-meter tall statue of Maitreya Buddha facing towards the Shyok river has been built with 8 kg of gold. White Sand Dunes amidst mountains and the Bactrian Camels (double hump) Safari is the speciality of this valley.
Among the picturesque landscape of mountains and sand dunes, one can enjoy the double hump camel safari in Nubra Valley. Charging as low as Rs 200 per person, one can really enjoy the double hump camels in Hunder village of Nubra Valley. In a conversation with a local, I found out that there are two groups that run the Bactrian Camels safari and they have turns on alternate days. People here know how to live in peace. This is one in a kind of experience as double hump camel safari over sand dunes in the lap of Himalaya is something you don't want to miss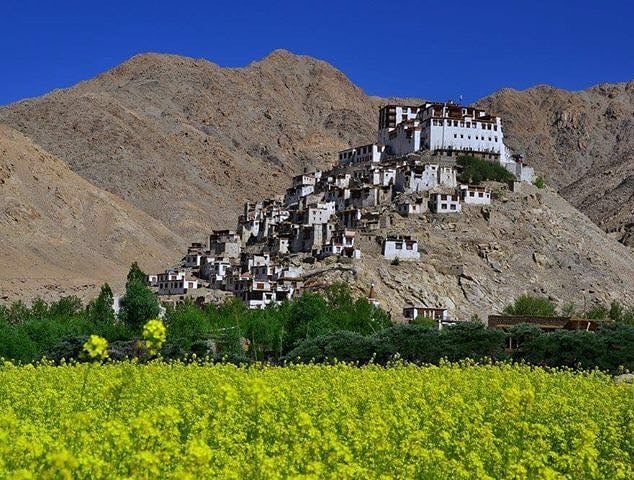 Dikshit gompa in Nubra Valley. Photography by Rashmi Badami
Enjoy the camel ride at Nubra Valley. Photography by Poonam Shah
Budget Travel to Nubra Valley
Budget Travel
Don't pre-book the complete package online if you want to keep it on Budget. Though Union rates for Taxi are fixed, they can be negotiated in person. In case of single travellers, there is always someone that is willing to share a taxi.  Don't take a public bus if you believe in it is more about the road a lot more than the destination.
Weather Conditions
The weather in Hunder can change from calm to heavy winds in few seconds. When winds start blowing and you are at sand dunes, it can get really messy with sand filling up in all your clothes. So carry an extra pair of sweaters and socks while visiting sand dunes and take extra care of your camera equipment.
Nubra Valley in Pictures
A trip to Nubra Valley during April end and early May will be quite different from a visit in peak season. This trip will be an enriching experience for its natural beauty and barren mountains that stretch for as far as your eyes can see. The trip to Nubra Valley can be stretched to 2 to 3 days depending on your length of travel as Pangong Tso, Chang La, Alchi, and Leh are also covered by most travelers in one trip. Plan for a ten to eleven days trip as Leh isn't something you want to rush about.
Happy Wayfaring 🙂
ABOUT THE AUTHOR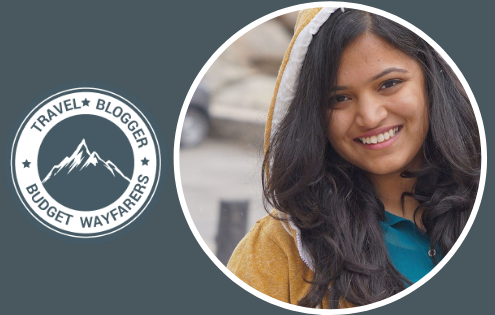 Osheen Jain
BUDGET WAYFARERS
Osheen Jain is an avid reader since her school days and has interest in dystopia, classics, science fiction, and western philosophy. Sips black coffee from beer cup. Chooses adventure and photography over snuggling in a blanket every single time (almost). She is a learner by the day and freelance writer when the sun goes down. A caffeine addict, and snapper in between, Osheen loves mountains and woods, not for escape but because they are powerful, mysterious, dangerous, and beautiful. She believes that words have the power to change the world for better. She'd love to be a part-time bartender and pizza delivery girl someday.
https://www.budgetwayfarers.com/wp-content/uploads/2017/12/Nubra-Valley-min.png
315
560
Budget Wayfarers
https://www.budgetwayfarers.com/wp-content/uploads/2018/04/1200X800.png
Budget Wayfarers
2019-01-28 11:09:10
2019-01-29 13:08:04
The Splendid Nubra Valley: Ladakh's Own Gateway to Beauty and Splendor