Nimbin is a colourful town with a small settlement and an alternative lifestyle. It is also a lush green verdant valley and an explorer's delight. Overseen by the majestic rocks, a significant cultural site to the local aboriginal people, it is situated on the legendary Pacific Coast of Australia. Often mentioned as part of the Rainbow Region of New South Wales, it has enchanting waterfalls, ecstatic nature walks and breathtaking natural beauty.
Nimbin is a small but very unique town. With brightly painted buildings, people wearing colourful clothes, art and craft shops, Nimbin will transport you to the 70s.  A hub for counterculture and alternative lifestyle, Nimbin along with its surrounding neighbourhoods is a part of the 'Rainbow Region'. This region is well known for its natural beauty and Nimbin Rocks (considered significant by the local Bundjalung tribe).
I was in Nimbin recently and would love to share the amazing experience with you. This Nimbin travel blog will help you understand the destination better so that you plan a visit to this town soon. 
Also Useful:
Discover the Himalayan village, Malana known for its Hash worldwide     
Five Underrated Places that you need to discover in New Zealand    
Nimbin: An Overview
Nimbin is a lovely travel destination for backpackers and other travellers. The place gives you a glimpse of carefree hippie culture. Here are a few things you need to know before you plan a visit.
Location
New South Wales
Country
Australia      
Nearest Airport
Gold Coast Airport (33.3 miles)
Best Time to Visit
All year round
Main Attractions
Nimbin Rocks, HEMP Embassy, Djanbung Gardens, Nature Walks, Waterfalls
Travel Tip
Do not buy anything from people selling things on roads, buy only from the shops.



History of Nimbin           
Once a logging area that later became a dairy town, Nimbin emerged as a haven for people with diverse and tolerant attitude, when it played host to the Aquarius countercultural festival in 1973. A group of Sydney University students discovered Nimbin as a perfect spot for an alternative lifestyle festival. After the festival, many people decided to stay back. New communities emerged based on their ideas of freedom, acceptability and solidarity.
The alternative lifestyle opened doors for artists, musicians, writers, environmentalists, tourists and families escaping the city life and mainstream culture. Many hippies who came to the Aquarius Festival also never left. It has ever since grown in hippie culture and came to be known as the 'Hippie capital of Australia.'
Today, the town reflects the spirit of celebrating hippie culture, taking up environmental initiatives and community spirit.  
Over the years, Nimbin emerged as a haven for people with diverse and tolerant attitude, Photography by Priyadarshini Singh
Taking  a Road Trip to Nimbin
It is worth taking a road trip to Nimbin. The spectacular drives in the countryside and the mystical hippie culture attracts many more visitors every year than nearly anywhere in New South Wales. It's a long drive from Sydney but closer to Brisbane. From nearing towns, Nimbin is half an hour drive from Lismore and an hour and a half's drive from Byron Bay.
Nimbin is a very small town and its hippie way of life can be seen in the colourful murals painted on the buildings and the shops. It is the community spirit that welcomes all cultures. It still carries the hippie vibes from over the years since its transformation after the Aquarius Festival in 1973.
People here are very friendly and welcoming. It is a commune that accepts all people. Even if you are not a hippie at heart one can still feel themselves blending in the culture because of the positive energy surrounding the place. If peace and relaxation are on your mind, this is the place to be in.
Taking a road trip to Nimbin is pure fun. Photography by Beatrice
Nimbin Mardigrass
As the hippie culture flourished in Nimbin the economy started to stabilize. On the other hand, it also came to be known as the drug capital of Australia as Cannabis was openly bought, sold and consumed in Nimbin. Drugs are illegal in Australia and so the police intervention led to arrests and violence in Nimbin. Considering it a threat to the peace of its village, the people came to streets with silent protests in 1993. Hence began the annual rally and celebration Mardigrass to protest the drug laws and educate people on various medicinal uses of cannabis. The rally is held on the first weekend of May every year.
In the year 2016, a law was passed to legalize the medicinal use of cannabis in Australia.
Date 2019:
3-5 May 2019
Main Attractions:
Protest rally and Parade
Hemp Olympix, Joint Rolling, Bong Throw and Yell and Growers Iron-person events.
Nimbin Cannabis Cup, Harvest Ball & Picker's Ball.
Dancing Ganja Faeries.
Talented dancers at the Nimbin Mardigrass celebrations. Photography by Kerry Tolson
Nimbin Roots Festival
For music lovers, Nimbin is a paradise of counter-culture festivals. People and tourists in Nimbin enjoy three days of roots music, peace, love and art every year in the annual Roots Festival. Every year the number of people attending the festival is on a rise, including a lot of hippie's.
So if you wish to escape in the land of sounds that brings different cultures on one platform, make sure to visit Nimbin when in Australia. The festival is held every year in the third week of September.
The Nimbin Roots festival does not have one venue. The festival is spread throughout the town and a ticket and wristband will give you unlimited access to all of the venues. 
Date 2019
27-29 Sep
Main Attractions
Showcasing original music from artists
Genres: Old blues, Bluegrass, Old Time, Reggae, Alt Country, folk, world and Australiana.
The Nimbin Roots Festival. Photography by Nomsiy
Other Notable Festivals and Events in Nimbin
Apart from the Roots Festival and Mardigrass, there are several other festivals celebrated in this town.
The Nimbin Performance Poetry World Cup
This annual event is community sponsored and held in the month of August or September. The weekend-long event showcases poets and performers from around Australia. So, if you are a fan of poetry you must attend this event
The Nimbin Show
The show is held in September every year since 1919.  It is a traditional style agricultural show, that showcases the very best horses, cattle, crafts, food, arts, crafts, and more from the region
Where to stay in Nimbin?
Nimbin does not have a lot of options to stay but you are sure to find some good retreats, guest houses and backpacker hostels. Depending upon your budget you can book a room for a night from anywhere between $28 AUD to $185 AUD.
During the festivals such as the Mardigrass and Roots festivals, you can also get choose to stay in tents. These are available starting from $10 AUD.
Here are a few budget accommodation options –
Nimbin Rox YHA Hostel
Cost $26 AUD to $100 AUD per night for one person (cost may vary for the room type selected), depending on the time of travel.
Croftons Retreat
Cost $125 AUD to $145 AUD per night for two people, depending upon the type of room and the time of travel.
Grey Gum Lodge
Cost $100 to $139 AUD per night for two people, depending upon the type of room and the time of travel.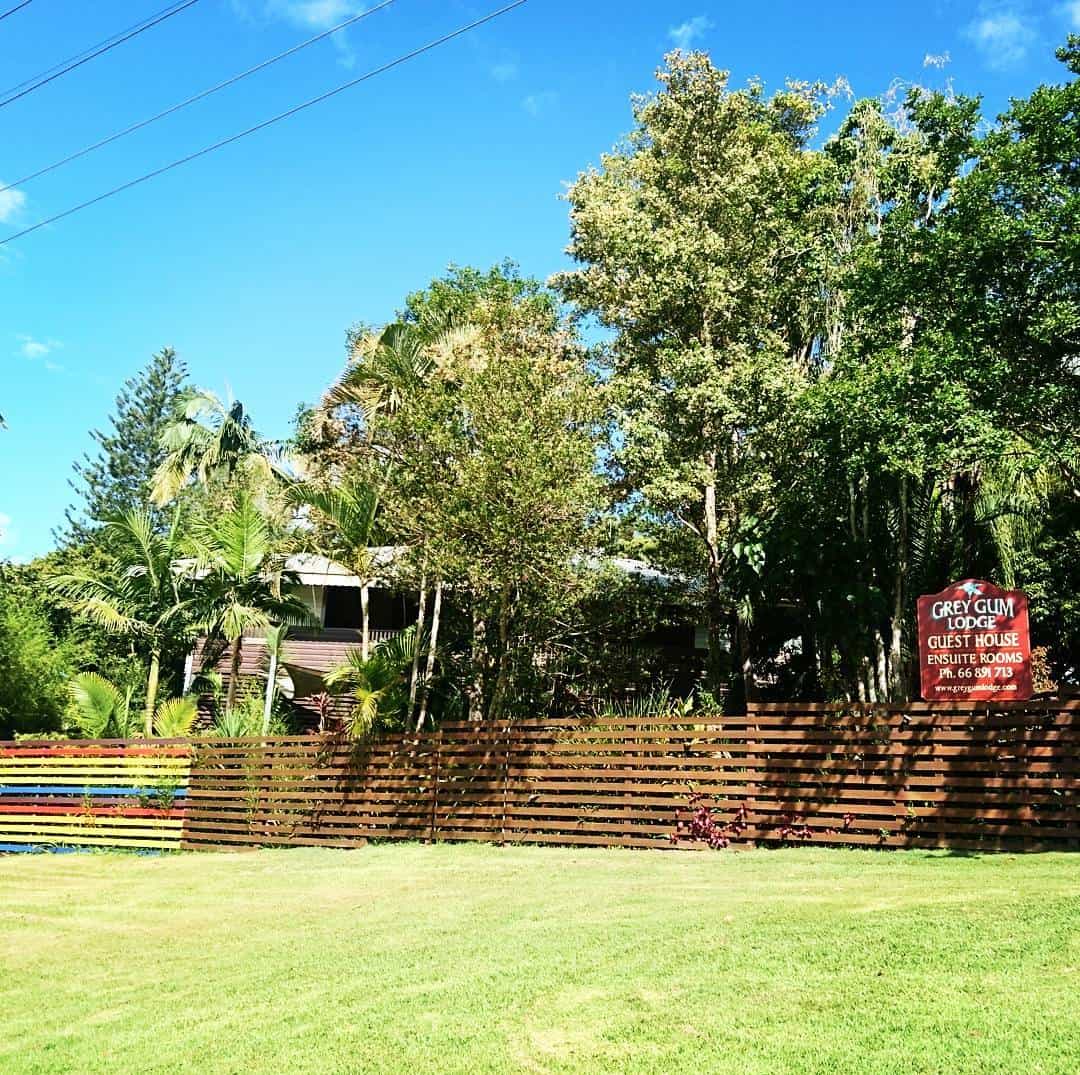 Grey Gum Lodge. Photography by Dita Farid
Places to Eat in Nimbin and What to Eat?
The cafes and restaurants in Nimbin offer wholesome foods and additional herbal remedies and vitamins. Most of the ingredients are sourced and grown locally, using organic or biodynamic methods of farming. 
Here are a few budget options –
Nimbin Pizza & Trattoria
Try out Pizza Plazza or the Four Sisters – $22 AUD & Spaghetti Bolognese – $13 AUD
Phoenix Rising Café
Do try Latte or Mocha Coffee – $4 AUD with BLT Sandwich Or try Special salad of the Day (which is by Chef's choice)-$16.50 AUD
Nimbin Bakery
Spinach Roll with Cheese, Crème Buns, Steak and Mushroom Pie are not to be missed delicacies – $3 AUD to $16 AUD
The Oasis Nimbin Café
Must Try Mango and Banana Smoothie – $7 AUD
A cute birdee cake prepared at Nimbin Bakery. Picture credits: Nimbin Bakery
Things to do in Nimbin
Nimbin is surrounded by grassy farms and the drive to Nimbin in itself is incredible. Nimbin is a small town with a one street market. Still, there are some exciting places to visit that you would not want to miss out on!
Nimbin rocks
These can be seen through the driveway to Nimbin. They are magical, powerful and mystical. The  Nimbin rocks are the leftover volcanic extrusions formed as a result of the eruption of  Mount Warning Tweed Volcano millions of years ago. These rocks form an extremely significant cultural site to the local Bundjalung tribe of indigenous Australians. They believe the rocks were home to the Nmbngee or Clever Men. 
It is not a hiking spot and cannot be visited closely without approval from local indigenous people. You must view them from the road only.
Nimbin Farmers market
Other attractions in and around the place are the weekly Farmers market where you can taste the fresh seasonal produce. The markets are generally held on Wednesday afternoons from 3pm – 6pm in the Green Bank Carpark.
Nimbin Markets 
This is a monthly event held every fourth and fifth Sunday of the month. The markets feature a variety of arts and craft stalls selling local and handmade jewellery, homewares, clothing, food, etc. The markets take place at the Nimbin Community Centre on Cullen street. 
Djanbung Gardens
You can take a lazy stroll in the botanical garden, Djanbung Gardens, situated right in the heart of Nimbin. It is famous for offering training in permaculture and holistic living. The visitors can take independent or guided tours. You can also participate in a range of workshops.
Nimbin Skate Park
The Nimbin Skate Park is one of the best outdoor skateparks.  It features a snake run, multiple bowls, mini ramp, and is pretty decent for a small town. The skate park is suitable for all levels.
Craft Gallery
Do visit the Craft Gallery for display of beautiful paintings, pottery, handcrafted jewellery and local range of organic cotton t-shirts. It sure is a feast to eyes and not too heavy on one's pockets, if you do wish to buy anything worth buying.
Nimbin Artists Gallery
The gallery is an NGO  entirely run by volunteers. You can see local artists display their work including painting, etching, photography, sculpting, woodwork, etc.
Candle Factory
A trip to Nimbin is incomplete without a visit to Candle Factory and HEMP Embassy. Staff at the Candle Factory takes the tourists for an informative tour, which is a blissful experience of colour and fragrance. The candles of all shapes and sizes are on display and for sale.
Hemp Embassy
A stopover at HEMP Embassy shop is a must if you have to buy souvenirs and gifts. You will find a range of hemp oil, hemp ropes, hemp clothing, fashion and cosmetics to choose from.
Is Nimbin Safe: Safety Tips for Backpackers 
Nimbin has lived up to its image of the flagship town for alternative culture and a very good spot to get an insight into paradigms of new living, thus attracting a lot of backpackers every year. Though considered a safe place yet women backpackers travelling alone should be more careful.
Enlisted are a few things to be careful of when travelling alone –
Where to buy in Nimbin?
When buying any eatable, cookies or drinks, do not buy it from any random person selling things on the streets. There are a few dodgy people in the little alleyways and you might end yourself in some trouble. Always try to get a tip on a reliable source by talking to the locals.
Do not wander alone
Do not wander alone into little alleyways or secluded places or dark streets after dark.
Travelling Solo
If you are backpacking, tag along with other people from your hostel, especially, if you are planning on getting high.
Nature Walks
When going for nature walks or camping try going in a group with familiar people. Do not forget to carry mosquito repellent sprays or creams.
Do Not Carry
Drugs are illegal in Australia. As a tourist do not risk carrying any drug with you when driving in and out of Nimbin. Cops can do a spot check any fine day.
Nimbin summed up in pictures. Photography by Nicole
It is said that 1960's was an era that saw a lot of free spirits and drifters roaming the world in search of places that would welcome their alternative lifestyle. In the times of limited access to technology, the drifters kept meeting on their way and a group of people was formed. This marked the revolution and birth of a new culture, now popularly known as the hippie culture. Someone who walks the world without any worldly attachment is a hippie at heart. Thus many places around the globe opened doors for these wanderers of peace and were transformed into a yet another world filled with free souls that co-existed in peace. 
In Australia, the hippies were successful in finding the ultimate peace and serenity in Nimbin. According to a recent survey of 'Hippie Destinations around the World' Nimbin hits the chart at number 4. Since the Aquarius Festival, it has evolved to become a paradise for hippies from all around the globe.  
Happy wayfaring 🙂
ABOUT THE AUTHOR
Prachi Sachdev Mendiratta
Prachi Sachdev Mendiratta is a mother of two, a blogger, a graphic designer, a video editor and a painter all by choice. A hippie at heart travelling has been her passion ever since she remembers. She has her bucketful of list of places she has traveled and the ones she seeks to travel. She aspires to embark on journeys to the roads less traveled. It gives her an opportunity to explore the unexplored!!! Her favorite quote is 'The Time is Now or Never'.
BUDGET WAYFARERS
https://www.budgetwayfarers.com/wp-content/uploads/2017/12/Nimbin-min.png
315
560
Budget Wayfarers
https://www.budgetwayfarers.com/wp-content/uploads/2018/04/1200X800.png
Budget Wayfarers
2019-01-10 10:56:37
2019-01-10 14:32:27
Nimbin: Australia's 'Getting High' Capital for 'Would Be' Hippies