Morocco budget travel guide will help curious travellers explore in detail the fascinating African region. Planning a good trip requires methodical planning, a reasonable itinerary and most importantly, a doable budget. By allocating a decent budget beforehand, you will save yourself a lot of trouble on your trip.
I have spent a good amount of time exploring the various cities of Morocco in detail. In all my quests, the one thing that I've realized is the significance of a decent budget. It helps travellers explore a large number of places without creating holes in their pocket. In my current blog on Morocco budget travel guide, I will share all the necessary travel tips for a safe and fun vacation to this African nation.
Morocco is a country that lies in the northwestern region of the African continent. This country boasts of a variety of landscapes like the Atlas and Rif mountain range, Sahara Desert, dry barren land, beaches in the north with the Mediterranean Sea and to the west with the Atlantic Ocean.
It is amazing to venture out and explore the snow-clad peaks of the Atlas mountains and the vast sand dunes of the Sahara desert on the same trip. Morocco as a travel destination offers amazing diversity to all its visitors.
Also Useful:
Fez 24 Hour Trip: What All to See and Do?
A complete guide to Merzouga Desert Safari
Morocco Budget Travel Guide
If you are planning a trip to Morocco, it is important that you plan a Morocco budget travel guide in advance. Allocating of daily budgets should always be done in advance. This way you can adjust the 'in the moment' expenses that pop up easily during most trips.
As per my Morocco budget travel guide, the following figures should suffice for travellers visiting Morocco for the first time on a 10 to 14 day long tour.
Overall Budget
3500 – 4000 MAD including accommodation, food, internal transport, and sightseeing.
Accommodation
150 – 200 MAD for a riad per night. Riads are traditional Moroccan houses and form good options of stay. In case you don't book your stay online and just show up, you have better chances to get a discount. This sounds weird but holds true.
Food
70 – 250 MAD (depending on the type of meal). Orange juice is highly sought after in Morocco as a beverage. A pint of orange juice costs about 30 to 35 MAD. A luxury meal will cost you anything between 200 to 250 MAD. However, a decent meal can also be availed at anything between 70 to 150 MAD. If you love eggs, you can boil them on your own and save a lot of money. A dozen eggs cost 13 MAD
Water
A litre of drinking water will cost you anything between 3 to 6 MAD. While in Morocco, always ensure you have enough water stocked up. This becomes even more important when you venture out on a safari amidst the great deserts.
Public Transport
Morocco is well connected by both roads as well as trains. For viewing the details of pricing as well as the availability of seats, you should visit the ONCF site. When it comes to buses, there are 2 major companies that offer their service – Supratours and CMT
Cabs
Riding 1 km in a cab will cost you 7 MAD. If you can pool with somebody, it'll cost you less. There can be surge pricing after 7:30 pm.
Group Tours
Group tours are a reasonable way of exploring Morocco with fellow travelers and saving money. For instance,a guided tour to Marrakech will cost you merely 30 to 35 dollars. A city tour of Agadir will cost you anything between 10 to 17 dollars. Like wise, there are many customized tours available for the convenience of a traveler.
Miscellaneous
This can include shopping plus emergency situations like boarding a cab at an odd hour. It is advised that you avoid such situations. Also, too much shopping will disrupt your backpacking trip.
Morocco Budget Travel Guide for Saving Money 
Morocco is not very expensive as a travel destination. Even then, it is important you save money where ever possible and use that money to explore the place well.
As per my Morocco budget travel guide, I highly insist you follow the subsequent tips at all times.
Bunk in Hostels
Bunking in hostels is one of the best ways, as per my Morocco budget travel guide to save decent amounts of money. There's no point wasting money on a luxury stay. You will be out exploring the place anyway. All you should ensure is for the place to be safe and hygienic. 
Shopping
Save yourself a lot of budget hassle by skipping shopping as per my Morocco budget travel guide. Sure, buy a souvenir every now and then but that should be about it. Use the money you plan to spend on shopping on trying new varieties of Moroccan food. 
Public Transport
Morocco has a good network of buses and trains to various cities and towns. Use them freely. Paying large amounts of money to cab drivers won't help you in maintaining your budget.
Save on Flights
In order to save money on flights, as per my Morocco budget travel guide, first of all, book early. Avail offers if any. Most of all, book flights which may not be direct. Don't mind a stopover in between. You'll really be able to budget cut your trip.
Free Food
The good thing about Morocco is that orange juice and eggs are nominal. So for eggetarinas (people who are vegetarians but eat egg), eating should not be an issue. Even for vegetarians, eating a decent meal will come in cheap. A lot of places in Morocco offer nominal meals. Sometimes, the salads and bread come in as add-ons. You don't need to pay for them. Also, the breakfast in most hotels and riads will be free.
Data
Roaming
 Internet
Instead of paying extra for International data roaming services, use the free wifi that is provided at various accommodation and eating places.
Group Tours
Group tours are always a good way of cutting the budget. More people get to see the same place or experience the same things for a split fee. Also, solo travellers don't need to miss out on places on account of safety issues.
Dress Code
Even though travellers explore Morocco freely, it is advised that you dress up decently (shoulders and knees covered). In case, somebody points out that you are inappropriately dressed, you will have to shop an outfit from the nearest shop available and trust me it'll cost you more.
Photographs
Do not click pictures (not even by mistake) of the natives of Morocco. You will end up paying for each of your captures of them. It sounds weird but holds true in the region.
How to Reach Morocco?
As per my Morocco budget travel guide, I would highly suggest flying as the best option for obvious reasons. You can reach Morocco quickly without any hitches and there is more connectivity.
For the people who are adventurous, I'd suggest a ferry ride from the southern tip of Spain. This is obviously applicable if you are already travelling to Spain and if you would like to go to Morocco after thereafter. Take the ferry to cross the Strait of Gibraltar to reach Morocco. The journey is for a maximum of 40 minutes and the views of ships passing the strait is an experience in itself.
 Transport Options Available
There are multiple ways of reaching Morocco. The most commonly used ones are:
Mode of transport

Price (depends on season)

By Flight

From Middle-East, Africa and Europe to Casablanca, Rabat, Marrakech and Fez

650 MAD onwards

By Ferry

From Tarifa (Spain) / Gibraltar to Tangier (Morocco)

270 to 540 MAD onwards
Morocco is diverse as a destination. This particular shot has been captured at Fes el Bali. Photography by Supriya A.N.
How to Travel Within Morocco?
Moroccan cities are not really large like Paris where you need to take a bus or metro to travel from one landmark to another. It is only in Casablanca, Agadir,  Fes and other large cities that you might need to hire a taxi to travel within the city. Otherwise, all tourist attractions are within walking distance at almost every city.
As per my Morocco budget travel guide, biggest recommendation is to walk. If you love walking then it's the best way to explore the streets too. This is the best way to save money and see locals going by their daily routine.
Mode of transport (Intercity) & Cost of travel for a one-way journey
Bus (Supratours or CMT)
200 – 250 MAD 
Shared or Private cab
60 – 100 MAD 
Intracity
10 – 30 MAD 
Level of Safety
The level of safety while travelling in Morocco depends on the mode of transport that you are using. Here's what my personal experience suggests:
Bus (Supratours or CMT)
Safe and convenient
Shared or Private cab
Unreliable and uncomfortable
Intracity travel
Local bus is convenient and safe. Taxi is good too.
Taking the local bus to travel from Point A to B in cities like Fes is convenient and easy. Ask for directions from fellow passengers. They will help you. Most youngsters in Fes speak English.
Taking the shared taxi to move from one city to another sounds enticing but I wouldn't recommend it as it involves changing taxis midway. They do function well but why take the chance!
The service of private bus companies like Supratours and CMT should be availed since they are very reliable. The buses are very comfortable, on time and drivers are experienced. You are safer on the bus than cabs.
The architecture of towns in Morocco is fascinating. This is a capture from AïtBenhaddou. Photography by Supriya A.N.
Best Time to Visit Morocco
Morocco is a year-round destination with travellers streaming from across the world. Morocco budget travel guide suggests the following time periods for a comfortable journey across the country.
Spring: March-May
Summer: June – August
Autumn: Sept – Nov
Winter: Dec – Feb
Season Wise Travel Conditions
Based on the information below, you can decide what season and weather suits you best. Make sure you plan in advance.
Season & Travel Conditions
Spring
Average weather
Summer
Very hot and dry. You will not be able to enjoy the desert safari
Autumn
Pleasant weather
Winter
Pleasant in the say but very cold in the night



Day and Night Temperature
It is important to stay aware of the day and night time temperatures while travelling to Morocco. You will be able to pack accordingly. Also, the other requirements like sunscreen etc. will be known to you.
Months & Daytime and Night Temperatures
March-May
+/- 20°C and +/- 11 °C
June – August
+/- 30 °C and +/- 20°C
Sept – Nov
+/- 25 °C and +/- 15 °C
Dec – Feb
+/- 18 °C and +/- 8 °C
Where to Exchange Currency in Morocco?
There are a lot of authorized shops in the airport and in the city centre of major cities like Casablanca, Rabat, Marrakech, Essaouira, Agadir, and Fez. Compare the rates between a few shops first.
When I was there, I just withdrew my cash from the ATM. I think withdrawing cash directly at the ATM had its own benefits as I was not carrying a lot of currency for the whole time. I was safe and not at the risk of losing cash.
Tip: Always use the ATM at a popular spot where there are a lot of cafes and traffic. Do not use the ATM at isolated places.
Amount of Time Required to Explore the Various Cities of Morocco
Two weeks or more is the minimum time needed to explore the main towns and cities of Morocco. There are seaside towns, imperial cities, popular filming locations, desert and mountains towns to explore. A bit of everything would take at least two weeks for sure.
There are so many beautiful places waiting to be explored. This is the Todra Gorge. Photography by Supriya A.N
Popular Moroccan Routes
Most travellers who are on a limited time span for their trip either go in for a 10-day itinerary or for a 2 week i.e 14-day itinerary. The goal here is to explore more and more places in a comparatively short span of time without going overboard on the budget.
10 Day Morocco Itinerary 
The following routes can be pursued in case you're sticking to a 10-day long Morocco itinerary.
Route 1
Tangier – Chefchaouen – Fes – Merzouga – AïtBenhaddou – Marrakech
Route 2
Marrakech – AïtBenhaddou – Tinghir – Merzouga – Chefchaouen – Fes
2 Week Morocco Itinerary 
The following routes can be pursued in case you're sticking to a 14-day long Morocco itinerary.
Route 1
Tangier – Rabat – Casablanca – Essaouira – Agadir – Marrakech – AïtBenhaddou – Tinghir – Merzouga – Chefchaouen – Fes
Route 2
Marrakech – AïtBenhaddou – Tinghir – Merzouga – Chefchaouen – Fes – Casablanca – Rabat
Extremely Important Things to do before Planning a trip to Morocco
As a traveller, it is essential you keep some things in mind before planning a trip to Morocco. I'm listing the most important ones that were on my priority list when I visited Morocco.
A

lways take printouts
Take printouts of flight tickets and hotel accommodations. Do not save them on the phone. The battery dies miraculously when you travel. Printouts help in communicating with the locals for directions.
Carry Warm Clothes
Carry warm sweater, woollen socks and a stole. Temperatures drop in the night in the Atlas Mountains and Sahara Desert. A stole is necessary as the roads can be a bit dusty sometimes and especially important in the desert.
Motion Sickness Tablets
Carry Motion sickness tablets if you need. There are a lot of winding roads when you pass through the mountains which add to the trouble.
Apply Sunscreen
It's very sunny even during winter. So save your skin from chapping off and put on sunscreen at all times.
Stay hydrated
Carry a water bottle with you at all times. You won't find shops to buy water bottles every now and then. Fill your own bottle at the hotel and use it wherever you go.
Be wary of clicking pictures
Be wary when you click pictures of people. They come to you asking for money. Seek permission first. The Berbers in Merzouga are the best set of people. They will be happy to pose to every picture of yours. 
Morocco Budget Travel Guide for Experiencing the Most Sought After Tours
Customized tours are a brilliant way of saving money on your trip. As per my Morocco budget travel guide, the following 3 tours are highly recommended.
Small Group Day Trip Amidst the Atlas Mountains from Marrakech
In this extremely nominal tour of just $29, you will be picked up from your hotel in Marrakech and taken to a typical Berber village in Ourika Valley. You can even trek the waterfalls there. Enjoy nature to the fullest amidst the Atlas Mountains. After that, you will be even provided lunch which will comprise of the rich local cuisine.
Overnight Nomadic Tour in the Desert
Spend the night in a wonderful camp with drum music in the middle of the Sahara. Enjoy a lovely camel ride in the middle of the desert. Also, a delicious dinner around the fire in a desert. Sleep in nomad tents. In the morning, ride the camels back to Merzouga where you will have breakfast.
Private Moroccan Food Tour with 10 Tastings
Discover the local and delicious dishes of Moroccan cuisine on a 4 hours private culinary tour with guidance. Try 10 of the city's most distinctive treats and immerse yourself in the ultimate food paradise. You'll also be made aware of traditional recipes, new flavours and the native food culture.
What to See in Various Cities of Morocco?
Based on my personal experience to the cities I've been to in my last Moroccan trip, below in the table are listed places that you should most certainly visit.  I was not able to cover Tangier, Chefchaouen, Casablanca, Rabat, Essaouira, and Agadir. So as of now, I will be skipping them out.
Marrakech
Jemaa el-Fna
Koutoubia Mosque
Bahia Palace
Majorelle Garden
El Badi Palace
Medina of Marrakech
AïtBenhaddou
The largest ksar in Morocco
Tinghir
Dades and Todra gorge
Merzouga
Fes
Medina Fes el Bali
Bab BouJeloud
Al-Attarine Madrasa
University of Al-Karaouine
Royal Palace of Fes
Morocco Budget Travel Guide for Exploring Marrakech
Marrakech is an old medieval city which is a major economic centre and travel destination in Africa. It is famous for the bustling famous for Jemaa el-Fnaa, Bahia Palace, mosques, maze-like medinas (narrow alleys in older towns), and innumerable souks (a market place).
Jemaa el-Fna
This is a market square where there are shops selling spices, orange juice, street performers, animal entertainers, vendors of souvenirs and more. Try not to look into the eyes of any vendor as they will approach you in a second and force you to buy. Just look away as if you don't care. Yeah, seems rude but it's ok.
The most heart-breaking part of visiting Jemaa el-Fna is the animal abuse in full view. Snakes stuffed in small baskets, squirrels and lizards tied to a thread and made to perform some weird jumping actions, and birds trapped in a cage. A lot of uninformed and ignorant travellers take pictures with these animals but I am strictly against it.
As the night grows, there are street games, musical and dance performances. They are quite interesting to observe. Most of them do not like being photographed. Pay them if you really need a picture.
If you are with your partner or in a group, you might get lost in the mayhem. So, discuss beforehand where you would be waiting in case you miss your group.
Koutoubia Mosque
This mosque is less than a kilometre away from Jemaa el-Fna. A pleasant place to spend some time here. You can see devout Muslims praying and you can hear the prayers. The minaret is a tall structure and you can see it from Jemaa el-Fna. When the sun sets, the silhouette of the mosque looks very nice from the market square.
The enchanting Koutoubia Mosque makes for a lovely place to spend some quality time. Photography by Supriya A.N.
Bahia Palace
The Bahia Palace and gardens are a must visit. It is 1.3 km away from Jemaa el-Fna on the opposite side of the Koutoubia Mosque. The architecture is stunning especially the colourful inlaid work on the walls. They are intricate and the craftsmanship has to be appreciated. Go as soon as it opens at 9 am or close to shutting at 5 pm to avoid long crowds.
Majorelle Garden
This is a botanical garden designed by French painter Jacques Majorelle in 1950. You will walk under the shade of trees and it is a pleasant experience indeed.
El Badi Palace
This is a palace in ruins right now which was built in the 16th century. It is extremely well preserved and gives you a sneak peak into the lives of royalty and history of Morocco. There is a movie that is played inside the palace which shows the past grandeur of this place.
Medina of Marrakech
It is suggested that you stay in one of the bylanes of the medina. Do not shop here, just click pictures and see how locals go about their lives here.
The Medina in Marrakech is an interesting place. Photography by Supriya A.N.
Where to Stay in Marrakech?
Stay in an Airbnb in the medina of Marrakech. Look for good reviews, any accommodation above 4 stars is good enough to book a stay. There are a lot of riads (a traditional ouse in Morocco) in the medina of Marrakech. These are large traditional houses with courtyards. It is a pleasant experience to sit in the courtyard and have your breakfast with the birds chirping to give you company.
Moroccans are very hospitable people. Request them to arrange a cab to pick you up at the airport and at the bus station to avoid any hassles.
Where to Eat in Marrakech?
I will highly recommend the orange juice here. It is priced fair and it is yum! It has no added sugar or water, it tastes fantastic. There are many pushcarts selling it and so it is easy to find.
As the sun sets, the already noisy and bustling Jemaa el-Fna turns raucous. I am not kidding, you have to see it to believe it. A lot of tourists just walk around Jemaa el-Fna and leave the place as it is a sensory overload.
Anyway, if you are still hanging on, Morocco budget travel guide suggests that you do not have your dinner here. It is expensive for no reason. They cook the meat a foot away from you and there is so much smoke and the noise from the nearby street performance is so loud, eating is not peaceful.
Instead, walk into any of those bylanes. You will find other travellers walking in that direction. Find a nice laid-back restaurant and have your lunch/ dinner there. It is not as expensive as Jemaa el-Fna and of course, a much better place to enjoy your meal.
Tajine cooked dishes
Based on my Morocco budget travel guide, I'd suggest that any traveller visiting the region should try to eat dishes cooked in tajines. They are clay pots with a conical lid, which are commonly used in Moroccan kitchens. Chicken/ beef/ lamb along with vegetables like potato and carrot are slow-cooked together. It is served with bread or couscous.
This is my herbal tea at a cafe. Jemaa el Fna can be seen at a distance from here. Photography by Supriya A.N.
Where to have Tea?
Moroccans love drinking tea. It's their favourite beverage. As mentioned earlier, walking through Jemaa el-Fna can be too much to handle. So go to one of the cafes on the 1st or 2nd floor around this square. Get a table, order a pot of mint tea. Sit back, relax, sip your tea and watch the market square from the comforts of your table.
A lot of these establishments run these cafes as they know it offers a good view of the market square. Also, many of them have a one-way entry to the first floor. Pay and enter to drink tea. You are not allowed to go to the top floor, take pictures and leave. You have to pay to enter and that is a rule.
What to Shop in Marrakech?
Shopping in Marrakech completely depends on your budget and the length of your trip. Since I started my journey in Morocco from Marrakech, I did not want to buy anything as carrying souvenirs in my bag was a hassle. Instead, I shopped in Fez.
Also Useful:
How to spend 24 hours in Fez Medina?
But in case you want to buy, here are a few suggestions –
Leather made Babouche shoes
Leather made bags and belts
Decorative tajine
Moroccan musical instruments
Carpets
Tea pots and tea glasses to drink
Jewelry
Lamps
Spices
Where to Shop in Marrakech?
Shopping at a Souq is portrayed glamorously online, especially on Instagram. Well, it is the same in real life as well. It is colourful, there is a wide variety of things on offer and of course, it is an experience in itself.
Walk around these souks on your way from the Medina to Jemaa el-Fna. Ask for prices and compare the prices in at least 5 -6 shops. Do not buy yet.
As per my Morocco budget travel guide, I would recommend that travellers go to Ensemble Artisanal on Avenue Mohammed VI, Marrakech. It is 1 km away from Jemaa el-Fna, the public square. This is an Artists Collective subsidized by the Moroccan Government to give an overview of local handmade products.
The problem with the souqs is that they hike the prices of anything and everything since they know you are an outsider. Bargaining is not easy unless you are very talented. So, have a look at the souk and then go to Ensemble Artisanal where nobody forces you to buy anything. It is serene and you can shop at your own pace.
Jemaa el-Fna is a market place with a lot of hustle and bustle. Photography by Supriya A.N.
Morocco Budget Travel Guide for Exploring AïtBenhaddou
AïtBenhaddou is a small village popular for the centuries-old ksar. The ksar is a fortified castle built of mud by the Berbers ages ago. There are many kasbahs (merchant houses) inside the ksar. You can see the snow-capped mountains of the Atlas range in the horizon when you hike till the top of the hill.
It is perched smugly on a small hilltop. This location is famous because a lot of movies and series have been shot here like Gladiator, Prince of Persia, The Mummy, and also a bit of Season 3 of Game of Thrones.
You can stay in any of the Airbnbs here. There are a handful of restaurants here so you can eat anywhere as you please. All are more or less good and equally priced. Request your host to drop you back or arrange a car to drop you to Ouarzazate. From there you can proceed to Tinghir.
How to Reach AïtBenhaddou?
There might not be direct buses to AïtBenhaddou at all hours. Instead, book a ticket to Ouarzazate which is 30 kms away. Request the bus driver in advance to drop you at the intersection which leads to AïtBenhaddou.
The drive from Marrakech to AïtBenhaddou is full of hairpin curves. The landscape changes from dry barren lands outside Morocco to palm-lined roads and then snow-covered hills. So, take a day journey to appreciate the beauty. The bus takes around 5 hours only.
You can ask a local taxi to drop you to AïtBenhaddou here. These taxi drivers are obviously going to charge a lot. Wait and there will be someone going in that direction. Ask for a lift and they will drop you. It is safe as there are many tourists who are doing the same. This place is good for an overnight stay.
Taking a day journey till AïtBenhaddou helps a traveller witness the rustic towns and villages. Photography by Supriya A.N.
Morocco Budget Travel Guide for Exploring Tinghir
Tinghir is a pretty town to stay overnight and the biggest travel attractions here are the Dades gorge (53 km away) and the Todra Gorge (5 km away). What you choose to visit is up to you!
I visited the Todra gorge in a cab. You pass by villages on your way and a lot of kasbahs (small fortresses) built of red mud camouflaged in the landscape.
Todra Gorge
These deep rock cuts are a delight to watch. You will be dropped at the base of the gorge and you can walk around the place to explore. There is an ice cold stream of water flowing from the Atlas. You can spend 1 – 2 hours here.
Morocco Budget Travel Guide for Exploring Merzouga
This is a desert town on the edge of the Sahara Desert. There are only accommodations, cafes, souvenir shops and businesses selling desert safaris to passing travellers like us.
A desert safari is very much recommended when you are here. You can have a great time in the Sahara with the Berbers, a local tribe. One of the Berbers will be your guide throughout the trip. They are very well informed and humble people that I have ever met in all my travels.
Also Useful:
Merzouga Desert Safari, Camel Trekking and Camping Overnight
The average price for the desert safari is around 700 MAD. Always compare the prices by checking with different vendors around the town before settling down.
Desert Safari location
A town called Merzouga in south-eastern Morocco
Best time to visit
Spring, fall and winter
How to travel?
Bus
Time taken to reach Merzouga
5 – 12 hours, depends on where you are arriving from
Best place to stay in Merzouga
There are a lot of good hotels in Merzouga
Price for desert safari
700 MAD average (5000 INR average)
Where to purchase the desert safari deal?
Best to negotiate in Merzouga itself
Activities in the desert safari
Camel ride, tea, snacks and dinner
Music and dance performance (depends on your organizer)
Camp to rest for the night
Wayfaring through vast stretches of the desert is an experience in itself. Photography by Supriya A.N.
It is an amazing experience to go on a camel ride on the sand dunes. These dunes which look small from a distance are actually at least 20 storeys high. The desert wind is very strong and so cover your face with a stole to avoid sand in your face. Carry a sunscreen at all times, even in winter.
Watch a spectacular sunset at your campsite. Enjoy sand surfing and sip on mint tea here too.
The Berbers will cook mouth-watering dishes for dinner. After eating together, all of you will gather around the fire and the Berbers will sing their folk songs. Interact with them and you will be amazed to know that their fluency in English is picked up from passing travellers and that they never went to school.
Later, you can climb the nearest sand dune and look at the starlit sky. You will find many shooting stars and the Milky Way galaxy definitely looks otherworldly.
One of the beautiful campsites in the middle of Merzouga desert. Photography by Stephanie Rose
Morocco Budget Travel Guide for Exploring Fes
Fes is considered to be the cultural capital of Morocco. There is much to do all within the largest medina in the world called Fes el Bali. This medina is a cobblestoned maze where no cars can enter. It is just people, load-bearing donkeys, a pushcart and the occasional bike which pass through these narrow alleys.
Also Useful:
A complete guide to spending a day in Fes
Where to stay in Fes?
Morocco budget travel guide recommends booking an Airbnb or a hotel accommodation from Booking.com or Agoda in Fes el Bali.  There are a lot of options to choose from. Stay in a riad which is a traditional house in Morocco with the large central courtyard. They give a very authentic Moroccan experience.
As a travel tip, stay on the topmost floor of the riad which can give you a view of the Fes el Bali medina from the comfort of your window. You can hear the early morning prayers from the mosque and when the sun rises, you can see the lights turning off and the city comes alive.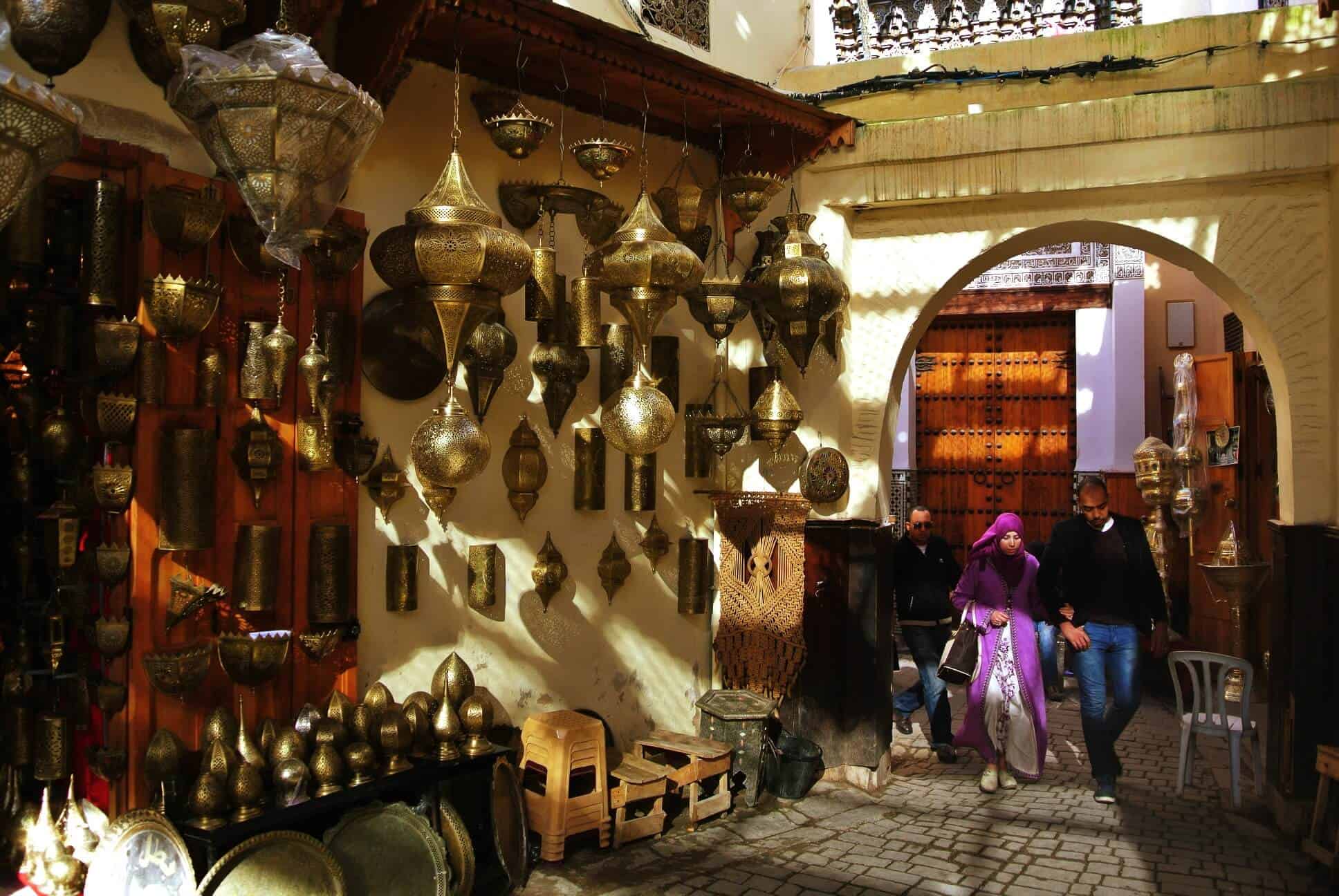 It is amazing to walk through brass and copperware shops at Fez el Bali. Fes el Bali. Photography by Supriya A.N.
Fes el Bali
Hire a tourist guide in advance before exploring Fes el Bali. This place is steeped in so much history that spans hundreds of centuries. Though a lot of backpackers skip hiring a tour guide since they are expensive but it is highly recommended and worth every dirham.
This medina is divided into streets where each section is dedicated to one specific trade. It is amazing to walk through brass and copperware shops through a few lanes and in the next turn, you will find clothes being dyed, perfume shops and spice traders.
Another set of lanes are dedicated to pottery and few are for food. The best part of Fes el Bali is the Chouara Tannery.
The Chouara Tannery
Though I saw this medina is like a maze, there is no quick walking guide to walk past chosen streets. For an authentic experience, it is best to get lost in these streets. As you might have seen in pictures the Chouara Tannery is a great attraction here. As you walk through the medina, the stench of leather starts to fill the air, that is when you realize you are near the tannery.
As you get closer to the tannery, you will find whole streets dedicated to shops selling leather bags and footwear. A lot of shopkeepers will offer you mint leaves to help you fight off the foul smell.
There is an entrance to the Chouara Tannery. Tourists are not allowed here generally. Walk into the shop immediately next to it. To enter the shop to get a good view of the tannery from their terrace is charged for 10 – 15 MAD (75 – 110 INR). This is a business in itself – to let tourists on their terrace to get a view of the tannery.
I think it's a unique experience to see workers toiling while they are dyeing leather pieces under the sun without complaining. The wells look colourful as each well has a natural dye used to dye the leather. You can spend as long as you want but the stink gets to you after a while and you move on.
Buy a leather bag or belt if you wish to but they are expensive. That's a hard fact in Fes at least in the medina.
A view of the Chouara Tannery from a nearby roof top. Photography by Supriya. A.N.
Morocco budget travel guide to eating in Fes?
Orange juice
As you wander around the medina aimlessly, you will find a lot of orange juice shops. Have as many glasses of this juice as you want as they are sweet without any added sugar or water. I drank a lot of them even in winter.
Mint tea
You can have mint tea in any of those cute cafes in the medina and rest your feet for a while.
Tajine Food
Order a chicken/beef/lamb stew cooked in a tajine. Devour it with bread or couscous.
Snail soup
There are a lot of vendors who sell it here. I think it definitely smelt good but I wasn't courageous enough to eat it. Going by the number of shops selling this, I think it's a popular dish and you must try it.
Paprika Aubergine slices
These are deep-fried slices of aubergine to be eaten with garlic-based sauce. Makes for a good snack and its so cheap. For 1 MAD you get at least 10 pieces.
Other delicacies to eat are pastilla, steamed sheep head, spicy sardines, and Zaalouk among many.
Bab Bou Jeloud
This is a decorated city gate to enter the medina Fes el Bali. Since you stay in an accommodation in the medina, you might have to walk out of the medina to see this entrance. It has inlaid artwork made of exquisite purple tiles and it looks like a majestic entrance to the medina where there is so much art that flourishes.
The exquisite Bab Bou Jeloud. Photography by Supriya A.N.
Al-Attarine Madrasa
There is a madrasa built in the 14th century. The outside entrance is peaceful amidst all the chaos you see in the medina. The gate to enter is also ornately decorated but tourists are not allowed inside.
University of Al-Karaouine
The most interesting part is the University of Al-Karaouine in the medina of Fes el Bali. This is the oldest university in the world which continues to operate granting degrees to this day. You will find a lot of well-dressed youngsters in this area, thanks to this university.
Royal Palace of Fes
Take a bus from Bab BouJeloud to the city centre. There is a bus station there, you can see a lot of people waiting for the bus. You can ask someone on the bus for directions to Royal Palace of Fes. This bus ticket costs less than 5 MAD.
Visitors are not allowed inside, unfortunately. You can marvel at the gates which are extremely beautiful and elaborate with brass doors. You can skip this place since there is nothing much to do apart from having a look at the entrance.
Morocco budget travel guide to exploring the local life in Fes
I took the bus ride to see how people in Fes live in general. Though the medina Fes el Bali gives a picture of Moroccan living like the medieval times, the city centre gave me a different outlook. The roads, malls and streets all looked developed, the town planning is neat and the city very clean.
I had the misconception that since it is an Arab country, women would be in hijabs or burqas everywhere. But I was pleasantly surprised to see girls in modern clothing in the city centre just like anywhere else in the world.
I hope this Morocco budget travel guide shared all the necessary info needed for a comfortable 10-day trip across Morocco. I have tried to cover the most important destinations in this Morocco budget travel guide. There are of course, other brilliant cities like Tangier, Casablanca and Agadir which are equally enthralling to visit.
Happy wayfaring.
About the Author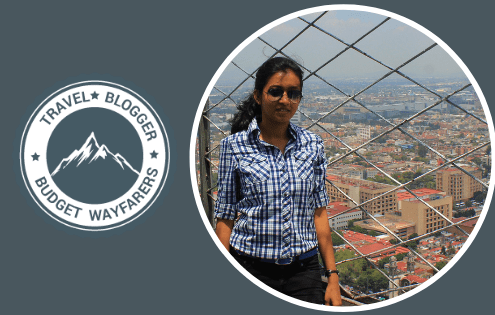 Supriya A N
Supriya hails from the garden city of Bangalore in southern India and is always on the look out for fun experiences across the globe. After scuba diving in the Mediterranean, counted shooting stars in the Sahara, flying in a helicopter over Barcelona, she now aims at horse riding in the Mongolian steppe, pet whales off the coast of Baja California and more. She narrates her travel experiences on her travel blog called Inking Miles. She loves salad over pizza, non-fiction over fantasy, movies over sitcoms. She constantly flips pages of travel books, hugely inspired by Michael Palin and Pico Iyer. She also keen on the arduous journey the snow geese make every year from the Canadian Artic to the Gulf of Mexico every winter.
BUDGET WAYFARERS
https://www.budgetwayfarers.com/wp-content/uploads/2018/09/Morocco-budget-travel-guide-min-2.png
315
560
Budget Wayfarers
https://www.budgetwayfarers.com/wp-content/uploads/2018/04/1200X800.png
Budget Wayfarers
2019-02-05 12:59:04
2019-02-07 10:35:11
Traveling to Morocco on a Budget : The Complete Backpacking Guide