Mexico City 2 day itinerary is essential for a planned trip to this part of the world. Mexico City is the nerve centre of a country which boasts of a variety of landscape, mouthwatering cuisine, warm people, ancient history and modern way of life.
Many centuries ago, the same Mexico City was the seat of the glorious Aztec empire formerly known as Tenochtitlan. The place spells of the ruins of its past, the history of the Spanish Inquisition, the struggle for independence and the spirit of Mexican resilience. In your two days in Mexico City, you should explore its glorious past and the essence of Mexican culture
In my current post on Mexico City 2 Day Itinerary, you can explore through my writing, the best places to cover in this wondrous region. This itinerary covers the major aspects of the city which juxtaposes the new and the old seamlessly.
Also Useful:
Complete guide to paragliding in the lakeside town of Valle de Bravo
Travel Tips for a First Time Visitor to Teotihuacan & its Pyramids   
Spending a Fun Day at Xochimilco on a Boat – The Trajinera   
Mexico City 2 Day Itinerary: Highlights
I'd like to present an overlay of the Mexico City 2 day itinerary for you. This will prove extremely beneficial if you are a first-time visitor here. I've mentioned all the places that I was able to cover in 2 days. I'll be elaborating on all of the following places later in the article.
Day 1
Ángel de la Independencia, Palace of Fine Arts, Torre Latinoamericana, Avenue Cinco de Mayo, Metropolitan Cathedral, Zócalo, Palacio Nacional, Templo Mayor, Bosque de Chapultepec
Day 2
Desierto de los Leones National Park, Coyoacán, Frida Kahlo's Museum
An Overview of Mexico City for First Time Travelers
Before venturing deep into the details of the Mexico City 2 Day Itinerary, you should acquaint yourself with the essentials of the place.
Country
Mexico
Spoken Languages
Predominantly Spanish and English
Climate
Pleasant weather throughout the year
Accessibility
Throughout the year
Safety for Travelers
Moderate
Top Travel Tip
Make a booking in advance. Else, you'll end up spending more.
Currency
Mexican Peso
Symbol for Currency
Mex$, $ (also written as M$)
(Do not confuse the peso symbol with US dollars. A few places which accept USD will display prices as US$ 30, for example, which is mostly accepted in airports).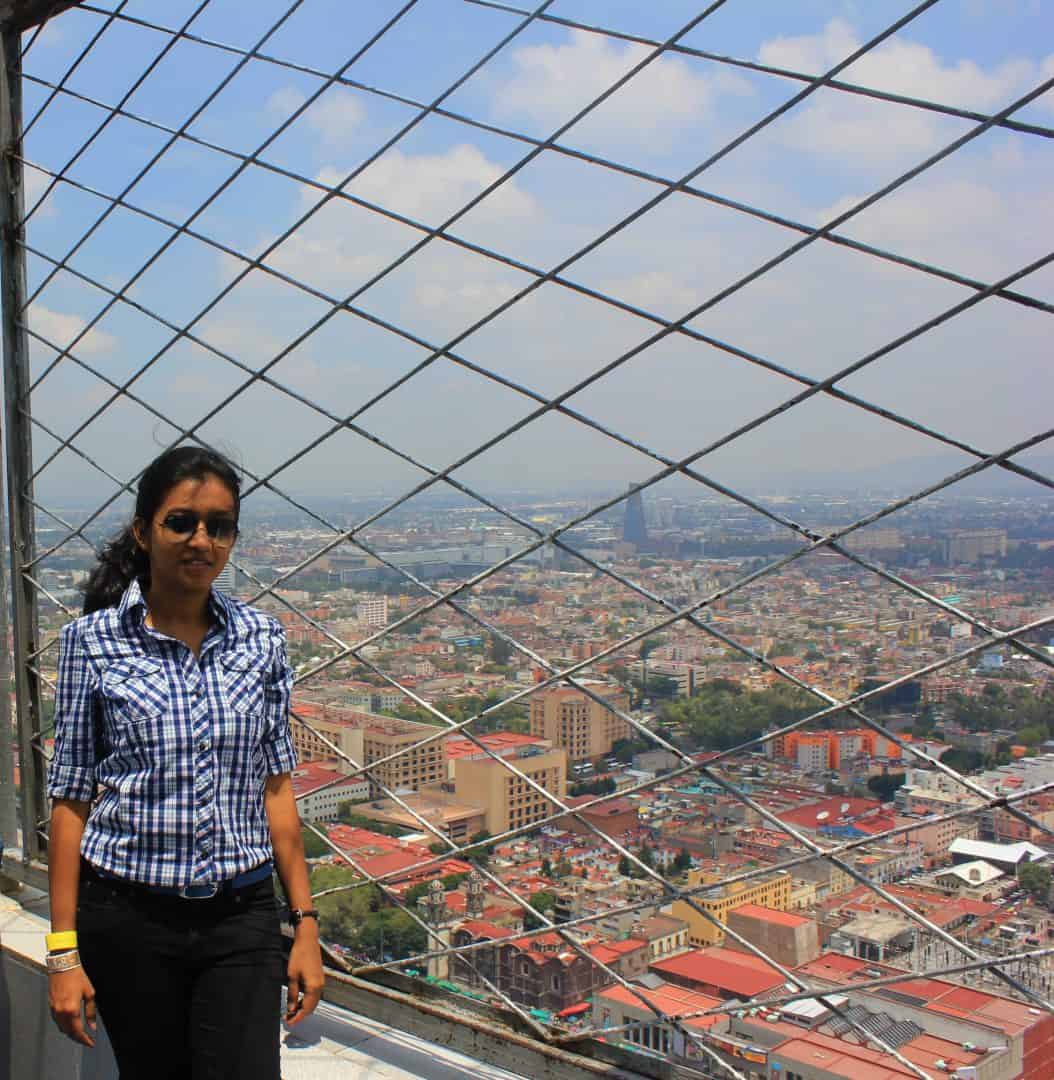 This is me on exploring Mexico city. Location: Torre Latinoamericana
Best Time to Visit Mexico City
The best time to plan a trip to Mexico is from November to April. However, for the sake of your comfort, I'm enlisting the weather conditions for all the other months of the year as well. This will assist you in preparing a well suited Mexico City 2 day itinerary.
November to February
Mild winters with chilly
March to May
Warm spring
June to September
Cool summers accompanied by rains
June to October
Mild autumn with moderate rainfall
Day 1 of Mexico City 2 day Itinerary
The Mexico City 2 Day Itinerary begins with a visit to Ángel de la Independencia. This is in the CBD of Mexico City. This towering structure on a roundabout on Paseo de la Reforma depicts Mexico's 100 years of Independence from the Spanish conquistadores.
The winged angel, a statue made of bronze covered with 24k gold on top of the column glitters under the sunny sky of Mexico City.
Ángel de la Independencia. Photography by Supriya A.N.
There are a few lofty buildings in this place which house some world-renowned banks.
This is a popular spot for Mexicans to organize protests, rallies or any celebration, which only means this is the heart of the city. You can see a lot of tourists buzzing here.
Since Mexico is prone to earthquakes, in the year 1957 the winged angel crashed to the ground after a strong quake. It was restored a year later and subsequent earthquakes haven't damaged the angel again.
After this, you can walk down the road for 3 kms to reach the Palacio de Bellas Artes (Palace of Fine Arts). This place should be the next in line of your Mexico City 2 day itinerary.
Since you have a lot more to explore for the day, you can conserve your energy for now and take the metro from this monument to the Bellas Artes. You can take the green line from El Ángel stop until Hidalgo. Get out of the metro station and walk along Avenue Hidalgo or Avenue Jurez. Feel the fresh air as you walk along the park to find the elegant looking monument, The Palacio de Bellas Artes.
The Palacio de Bellas Artes is a prominent structure that is made of marble. It glows snow white under the bright sun. It has a central dome made of orange coloured tiles.
On top of it is the bronze sculpture of an eagle with a serpent in its mouth, sitting on a cactus. This is the classic symbol of the Aztecs, which is even depicted on the Mexican National Flag.
The monument has a combination of Art Nouveau and Art Deco style of architecture on the outside and the inside respectively. It has a lot of murals in the interiors from some of Mexico's greatest artists like Diego Rivera.
Bellas Artes as the name indicates hosts opera, dance, music, art, and literature.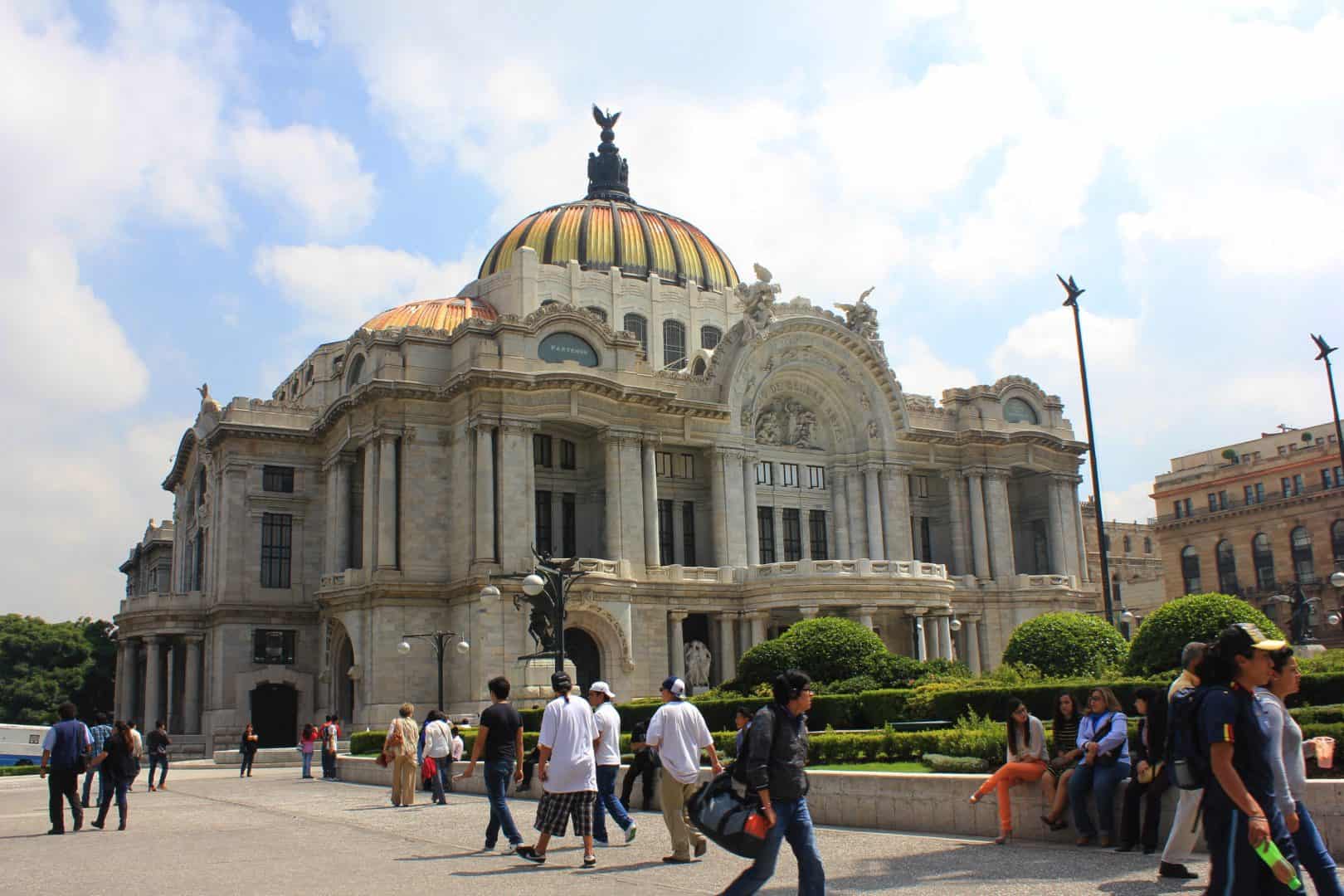 Palacio de Bellas Artes glows snow white under the bright sun. Photography by Supriya A.N.
Right beside the Bellas Artes is the un-missable Torre Latinoamericana. This is considered one of the world's first skyscrapers towering to a height of 204 metres with 44 floors.
It is considered an engineering marvel as it is withstood the 1985 earthquake of a magnitude of 8.1. Do not miss out on panoramic views of Mexico City from the observation deck on the 44th floor.
Buy a ticket which costs MXN 70 and zoom to the top floor in an elevator. From the observation deck, you can see the smug Bellas Artes next to the park.
The town planning in this part of the city is brilliant as there are straight roads with rectangular blocks.
This height provides you a bird's eye view of the old areas of Mexico City versus the new and upcoming neighbourhood which offers a great contrast.
Castillo de Chapultepec on top of a hill. Photography by Supriya A.N.
After the visit to the tower, explore the nearby area if it interests you. There is the Pastelería Ideal, a bakery on the other side of the block and it sells assorted decorated cakes of various shapes, sizes, flavour and color. Have a quick bite and walk towards the historic Avenue Cinco de Mayo. This lane takes you to the Metropolitan Cathedral (Catedral Metropolitana) which stands on the ruins of the old Aztec capital.
On this street, there are people dressed as human statues, aliens from The Predator movie or characters from Loony Toons.
There are bands of Mariachi singers singing to their hearts' content and organ grinders.
Avenue Cinco de Mayo is peppered with a lot of interesting buildings which you need to pay attention to while walking down the street. At the beginning of the street, there is the Casa de los Azulejos or House of Tiles.
The façade of the building has white and blue tiles with intricate designs. This 18th century aristocratic residence now houses a restaurant and a store.
There are a plethora of restaurants in this stretch for you to choose from. My favourite is the El Balcon del Zocalo which is at the end of this street. It is a restaurant overlooking the main square Zócalo, an iconic place which is the political and religious centre of the country since Aztec times. You have a direct view of the Cathedral and all the human activity below you while you relish tasty Mexican or international cuisine. There is another classic Mexican restaurant called Mercaderes which serves mouth-watering local cuisine, has a great ambiance and is slightly on the higher side but worth the money. If you are thirsty and thrifty, pay a visit to Jugos Canada which serve delightful fruit juices from an assortment of tropical fruits.
By now, you have reached the end of Avenue Cinco de Mayo, where a stunning cathedral stands in all its glory. There is so much chaos in this locality, moving traffic, people selling souvenirs, roadside food vendors selling quick bites like tacos and corn cobs, street performers and of course, a lot of tourists.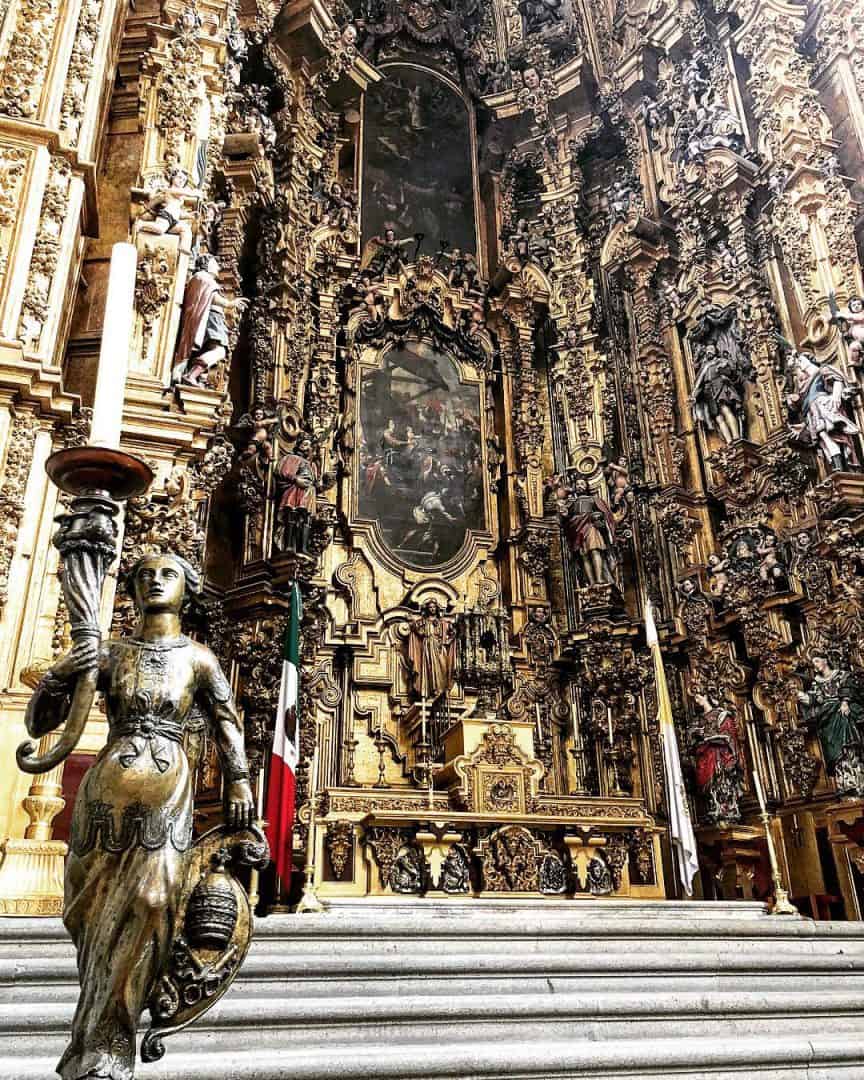 The Cathedral. Photography by Marijana Krokar
This is the site of the historic Metropolitan Cathedral (Catedral Metropolitana), an important Catholic church in Mexico built in 1573 by the Spanish.
The Spanish influence in the architecture of this cathedral is clearly evident. There is an air of peace inside in contrast with the outside, which is noisy with scores of people.
Entry is free and the interiors have lots of gold adorning the walls. There are so many tales associated with this place.
The cathedral today is standing on the site which was previously known as Tenochtitlán, the ancient Aztec city. The stones used to build this Cathedral was taken from Templo Mayor.
Since its construction in the 16th century, the cathedral has been sinking into the ground. The reason being the consumption of underground water from this populous city. This is causing the land to sink in slowly over the years.
Though not evident on the exterior, when you enter the church you will see scaffolding set up to reverse the damage that is being caused by the land caving in slowly beneath your feet.
Right next to the Cathedral is Zócalo, officially known as Palacio de la Constitución.
A very famous urban square with a lot of government buildings. Crowded most of the time. You will find street performers called concheros, traditional Aztec dancers.
They are dressed in colourful clothing and their headgear catches your attention as it is adorned with the brightest feathers. They dance to beating drums and it is enthralling, full of passion and shows their love for their tradition.
If you are interested you can enter the Palacio Nacional, which has the Mexican President's office. The inside walls are adorned with murals from Diego Rivera depicting Aztec life and the Spanish Inquisition.
When you are here, you cannot miss the Templo Mayor, the very soul of this city. This temple which is in ruins after the Spanish conquered the Aztecs was a place of worship.
This site was discovered accidentally in 1978 while laying underground cables in the city, so you can gauge the importance of this site. This place is a culmination of 700 years of Aztec life, followed by Spanish rule and now the modern Mexico which we are witnessing.
There is a museum which has a lot of artefacts from this era like skulls and ceramic figures. Hire a tourist guide as you do not want to miss out on the details of this historic place.
By now it is 3.30 – 4 pm, hire a cab to Chapultepec Castle. If your energy levels are still high, take the metro blue line from Zócalo to Pino Saurez station. Here, change from blue to pink line and get off at the Juanacatlán station. Walk around half a kilometer to reach Chapultepec.
Bosque de Chapultepec is one of the largest parks in the world. It hosts the castle, Castillo de Chapultepec) on top of the hill which provides great views of the city.
People walking on Avenida de Cinco de Mayo towards Catedral Metropolitan. Photography by Supriya A.N.
This park is lush green with a big lake and a zoo is considered the lungs of the city. The park is so huge, there are a lot of people jogging and working out.
Great place to just sit and relax for the day. Eat some local snack, popular being roasted corn cob. It is Mexico after all! Nice place to buy souvenirs beware as they will definitely try to fleece you.
Hike up the hill at your own to visit the Castillo de Chapultepec or take a train ride uphill for just 10 pesos.
The entry fee of MXN 70 is totally worth it as it a place of great pride for the Mexicans. History has it that six young men from the Mexican army fought bravely until their death defending the castle in the American War of 1847.
This castle has a museum and the residential quarter, carefully retaining the charm and décor of those days.
Day 2 of Mexico City 2 Day Itinerary
On the second day of the Mexico City 2 Day Itinerary,you can visit the monastery in the Desierto de los Leones National Park. It is located 30 kms away from the city.
While Mexico City is a fine amalgamation of chaos and beauty, take a break from the city's fast paced life and head to this monastery nestled in the Sierra de las Cruces mountain range outside the city for some quiet time.
There is no public transport that connects downtown Mexico City with the national park. Best option is to book a cab to and fro which will cost you around MXN 300, which can be negotiated.
If you are a slow traveller and love peace and calm and catch up on a book other than a café, this is the place. It is a former convent of the seventeenth century and the park is spread across more than 1500 hectares. This is a great place to hike if you have the time. The park is full of pine and oak trees and the fragrance that fills the air is soothing given the fact that the city is smothered with vehicular pollution.
The only noise in the monastery is the birds chirping and the sweet melody from the church. The monastery is huge and every corner is a pretty sight.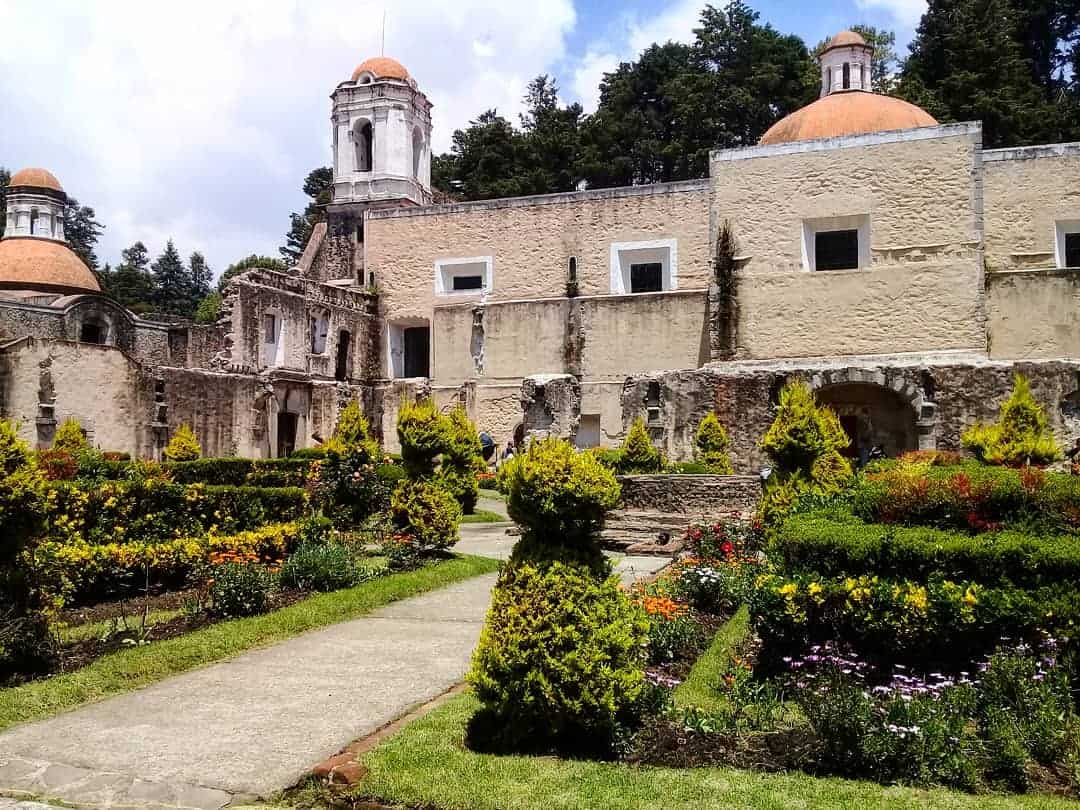 The beautiful monastery in the Desierto de los Leones National Park. Photography by Celina
There are gardens everywhere and a great place to relax and take in the vibes maybe sit in a corner and read a book or just do nothing. There is a restaurant inside the monastery and serves some of the finest dishes.
This trip will take 5 – 6 hours, after that you can head back to the city to go to Coyoacán. Previously a village but retains the old-world charm.
The houses here are brightly painted with different hues and gives you the feeling of a Mexican village right in the middle of a metropolitan. People here are tad different and extend warm smiles not as modern as the ones in the city.
There is a striking cobalt blue building which is the great Mexican artist Frida Kahlo's museum. This is the place which saw Frida Kahlo take birth, grow up, live, get married to Diego Rivera and eventually her death.
The entry fee is MXN 200 and you can see art pieces, photographs, paintings and more.
Explore the neighbourhood at your own pace on foot as every church, park and building seems to be handpicked and artfully placed.
The roads here are not asphalted but cobblestoned and gives the rural charm to it. There is a lot of activity here towards the evening and during weekends, with music concerts and a lot of street vendors selling great food. The smell of taco fills the air and you can walk up to any stall and gorge on local cuisine.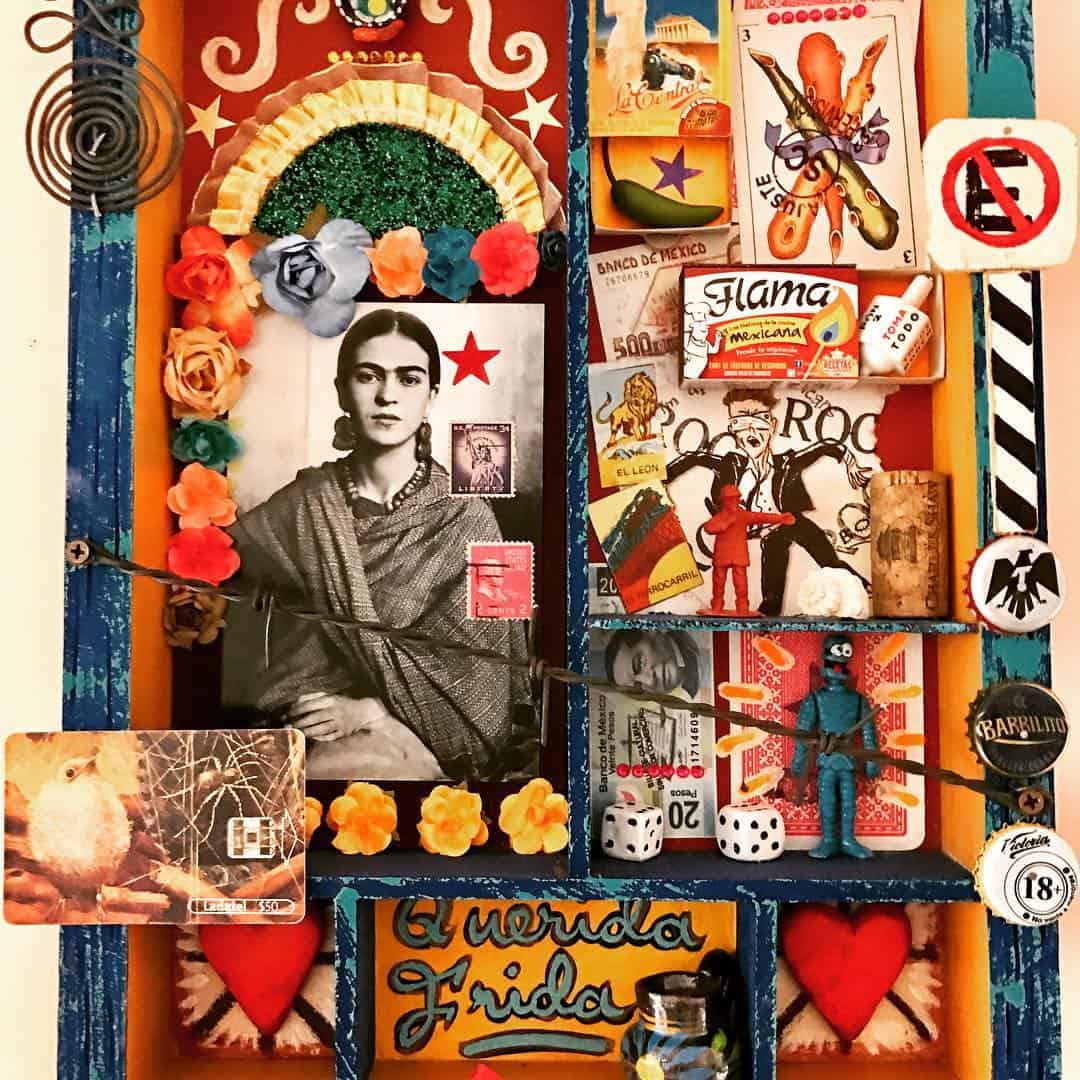 Souvenirs in Coyacan. Photography by Briggite Dhoe
The Coyoacán market is unlike any other marketplaces, where vendors spread out their stalls in a large building. There are so many things on sale which are made by the local people and not mass produced in a factory and the perfect place to pick up souvenirs.
There is so much happening in this market, you will find a painter engrossed in his art, delicate pieces of glass in various shapes and colour on display, leather belts with a dead scorpion in the buckle, mariachi hats in a multitude of bright colours on sale and Aztec headgear with an elegant ensemble of feathers. You can buy wallets made of horse skin or miniature versions of Aztec warriors.
Mexico City 2 Day Itinerary: Breakdown of Budget
The average cost of Mexico City 2 Day itinerary is given below. On average, two days n Mexico City will cost you somewhere between USD 200 for the entire trip. The cost below is given in Mexican  Peso or MXN or M$
Travel Needs & Daily Expenditure
A
verage Daily Cost
M$ 300-400
Accommodation
M$ 150-200
Food
M$ 50-80
Mineral Water
M$ 40-60
Internal Transportation
M$ 30-40
Tips at eating places
M$ 25-35
Where to Stay in Mexico City on a Budget?
Finding budget accommodation that fits well in your Mexico City 2 day itinerary can be difficult. This is true especially if you're a first time visitor. But do not worry because based on personal experience, the best budget stay options are being enlisted below
Mexico City Hostel
Starting price of the stay is MXN$180 per night
Centrally located
Proximity of good eating places
Availability of free wifi
Availability of shared kitchen
Availability of single rooms and dorms
24×7 front desk facility
Hostel Home
Starting price of the stay is MXN$190 per night
Located near the historic Roma and Condesa neighbourhoods
Availability of bunk beds
Availability of free wifi
Availability of 24×7 front desk service
Availability of lounge and dining area
Couple friendly place
Hostel Mundo Joven Cathedral
Starting price of the stay is per night
Centrally located
In house restaurant serving local plus exotic cuisine
Breakfast complimentary
Availability of free wifi
24×7 front desk service
Hospitable staff
Important Aspects of Mexico City 2 Day Itinerary for First Time Travelers
Flight Ticket Price
I visited Mexico from India. So the flight cost me 100,000 INR.
Visa
A tourist visa is needed to travel within Mexico. You do not need a tourist visa if you have a valid visa or a permanent resident of the United States of America, Canada, Japan, United Kingdom or EU.
Cost on the entire trip
Approximately USD 200 for 2 days apart from flight tickets.
What to Expect in Mexico City?
Mexico is a vibrant city with exuberant and energetic people, beautiful town planning and a kaleidoscope of bright colours.
Being one of the most populous cities in the Western hemisphere with a population of a whopping 21 million, you are sure to find places crowded.
Consequently, the sky seems a bit hazy due to vehicular pollution but there are green spaces within the city which are great places to rest after a tiring day of sight-seeing. I've made sure to include the best places to visit on your Mexico city 2-day itinerary.
Safety of Mexico City for backpackers (including women)
There is a lot of presumption that Mexico could be a dangerous choice for a holiday. But in my experience, Mexico is as good as any other destination, if you take the right precautions.
Mexico has invested heavily in tourism and hence the country is generally safe for backpackers especially women. Common sense should prevail while taking decisions.
For all the solo women backpackers, it is best advised to head back to your hotels before 8 pm if you are alone since you might be taking the taxi back alone.
Avoid deserted areas and narrow streets at all times of the day, do not accept free drinks from strangers and do not get inebriated at any cost as you are responsible for your own safety.
Stick to exploring popular areas of the city and if you really want to venture into the core part of the city, then best done with a local friend.
Travel Tips for First Time Visitors
As a first time visitor to Mexico City, here are a few things that you need to be careful about:
Preparation for unexpected weather
Keep a light raincoat handy as you might have unexpected showers in the city sometimes.
Awareness of the original price in shops
When you are in the birthplace of the Aztec civilization, you are itching to buy souvenirs. Be wary of the shopkeepers and try to negotiate a price. They do understand basic English and most of the time they hike the price sensing you are a foreigner.
C

arrying cash
Small businesses selling souvenirs and street food vendors obviously will refuse accepting credit cards, so carry cash all the time. Be careful with your wallets and bags as robbery is quite common. You can withdraw money from the ATM as it gives a good exchange rate
Tip waiters
It is considered polite to tip when you have a meal in a restaurant. Leave 10% of the bill as a tip as it is the standard amount
Potable Water
Carry your own water or buy bottled water for your own safety. Do not drink water from street vendors.
Tips to Minimize Budget on the Trip
The main idea of this Mexico City travel blog is to help visitors cut down cost on their visit without spoiling the experience. These tips will help you do exactly that:
Accommodation
The most expensive part of the trip is the cost of the air tickets. You can make up for it by staying in Airbnbs with good reviews situated close to the downtown area or in a backpacker hostel for US$ 20 a night.
Food
You can make great savings with food as street food is common here. Mexicans love their tacos, so for a quick bite, you can walk into a taqueria which can be found anywhere and they are very cheap which can be bought for a few pesos depending on the location.
It is easy to find generous amounts of avocado spread on tortillas and other vegetables in these food streets. Corn is their beloved carbohydrate, so roasted corn cobs, popcorns, corn tortilla and variations of it are found probably everywhere.
Transport
Travelling within the city shouldn't be a hassle as the metro connectivity to all the major tourist hotspots is great.
As a fair warning, avoid taking the metro during peak hours as a metropolis with 25 million people, it can get very crowded.
For cab rides, hail only the pink and white coloured taxis which have CDMX written on them. They are safe and cheap to travel in. You also have the option to use Uber, the rides are affordable and not really too expensive.
 My Mexico City 2 Day Itinerary covers the significant part of the city which combines its past and present in the right proportion. Like every other city, it is never enough as time doesn't permit us to explore the way locals do. These two days will surely leave an impression on you to visit this country again soon.
Happy wayfaring.
About the Author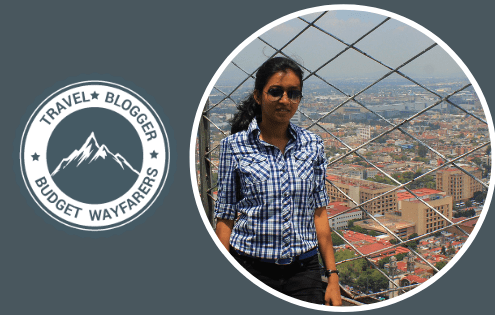 Supriya A.N.
Supriya hails from the garden city of Bangalore in southern India and is always on the lookout for fun experiences across the globe. After scuba diving in the Mediterranean, counted shooting stars in the Sahara, flying in a helicopter over Barcelona, she now aims at horse riding in the Mongolian steppe, pet whales off the coast of Baja California and more. She narrates her travel experiences on her travel blog called Inking Miles. She loves salad over pizza, non-fiction over fantasy, movies over sitcoms. She constantly flips pages of travel books, hugely inspired by Michael Palin and Pico Iyer. She is also keen on the arduous journey the snow geese make every year from the Canadian Arctic to the Gulf of Mexico every winter.
BUDGET WAYFARERS
https://www.budgetwayfarers.com/wp-content/uploads/2018/05/Mexico-City-2-day-itinerary-min.png
315
560
Budget Wayfarers
https://www.budgetwayfarers.com/wp-content/uploads/2018/04/1200X800.png
Budget Wayfarers
2019-02-08 11:02:47
2019-02-09 13:33:48
Two Day Itinerary for Exploring the Ancient Aztec Capital - Mexico City