Merzouga desert travel guide will help any individual who is planning to explore the mighty site with all his heart. It will be even more useful if the trip happens to be a maiden one. A visit to the serene yet capricious Sahara Desert of Africa should be on your travel bucket list as the experience is unmatched. 
The Sahara Desert Safari is the core of anybody's Morocco experience. The best and the most convenient way to enjoy the Sahara Desert is to travel to a desert town called Merzouga. My current blog on Merzouga Desert Travel guide will make you aware of what all to expect on a desert safari and the desert life of the region for travelers in general. On your visit to the Merzouga desert, you will encounter a unique landscape, interact with the Berbers and learn about their culture, meet travellers from around the world and witness the spectacular star-studded night lying on a sand dune.
Merzouga is a small town in southeastern Morocco and very close to the Algerian border. Accessing the Sahara Desert is easy as the town is on the edge of the desert. This town only has hotels, restaurants, souvenir shops and makeshift houses for people who work here. The only thriving trade in Merzouga is travel and hospitality.
The first sight that beckons you as you approach Merzouga are the bright orange sand dunes that loom in the horizon. The sand in the Sahara is orange like the mandarin orange.
As you get closer to the town, when buildings begin to appear, this is when you will realize the scale of the sand dunes with respect to the buildings. The sand dunes can be as high as a 20-storey building or more. This is when it hits you about how untamed the Sahara is by humans.
The Merzouga Desert Travel guide will help you understand all the details that you need for planning your trip to the Sahara Desert when you are in Morocco. Follow this Merzouga Desert Travel guide for an authentic experience with expert local tribal men who were born and raised in the Sahara. I can vouch for the fact that it will help you immensely.
Also Useful:
The complete Backpacking Guide to Morocco
What all to do & what to see in Fes in 24 hours?
Merzouga Desert Travel Guide: An Overview
A trip to Morocco is incomplete without a glimpse of the Sahara desert. Merzouga desert travel guide will help you plan a visit to the vast Sahara. Here are a few details that you must know before visiting.
Desert Safari location
A town called Merzouga in south-eastern Morocco
Best time to visit
Spring, fall and winter
How to travel?
By bus
Time taken to reach Merzouga
5 – 12 hours, depends on where you are arriving from
Best place to stay in Merzouga
There are a lot of good hotels in Merzouga
Price for desert safari
700 MAD average (5000 INR average)
Where to purchase the desert safari deal?
Best to negotiate in Merzouga itself
Activities in the desert safari
Camel ride, tea, snacks and dinner
Music and dance performance (depends on your organizer)
Camp to rest for the night
Merzouga Desert Travel Guide for Most Preferred Time of the Year to Visit
Merzouga weather changes with different seasons. While some seasons are relatively pleasant, others make it impossible to visit. Here's an outline of why and when is the best time to visit Merzouga desert.
Spring: February to May
Best time to visit.
The weather is pleasant all day with 25°C average temperature
Summer: May to October
Very hot and the desert safari is close to impossible at 44°C day time temperature
Fall: September to November
Good time to visit.
The average temperature throughout the day is 30-32°C
Winter: December to February
The days are sunny at 10°C but nights are freezing cold with temperatures hovering around 2-4°C
Visiting and exploring Merzouga Desert will be an experience to remember for you. Photography by Rasim Benzer
As per my Merzouga desert travel guide, the best time to visit is in Spring (between February and April). Visiting Morocco at the right weather is important as the desert safari needs to be a pleasant experience. Fall is also a good time to visit Morocco.
You can also travel during winter between November to January. There are lesser tourists as it is a shoulder season. The temperature drops really low in the night during winter. Do not forget to carry warm clothing including woollen gloves otherwise your hands will feel numb. Holding a warm glass of tea feels like bliss in winter.
The temperatures soar when summer sets in and the heat is unbearable. Try to avoid going at this time.
Seen distantly on the other end of the Horizon is the African country of Algeria. Photography by Supriya A.N.
Merzouga Desert Travel Guide for Transport Options
Based on your itinerary in Morocco, there is a high probability that you would want to visit Merzouga from Marrakesh, Tinerhir or Fes. Booking a ticket online is quite a challenge, unfortunately. You can view the schedule online but cannot book them. So, as a travel tip, please book your bus tickets at the bus station in these cities.
From Marrakesh to Merzouga
*13 hours approx.
From Tinerhir to Merzouga
5 hours approx.
From Fes to Merzouga
9 – 10 hours approx.
*The time taken depends on the route
Merzouga Desert Travel Guide to reach Merzouga at a minimal cost
There are a number of ways in which you can reach Merzouga. Depending on what suits you best, you can pick any of the following. Here's my cost of travel and my opinion on the mode of transport to Merzouga desert.
Mode of transport- Cost of travel for a one-way journey – Opinion
Bus (Supratours or CMT)
200 – 250 MAD (1500 – 2000 INR)
Safe and convenient
Shared or Private cab
60 – 100 MAD (500 – 750 INR)
Unreliable and uncomfortable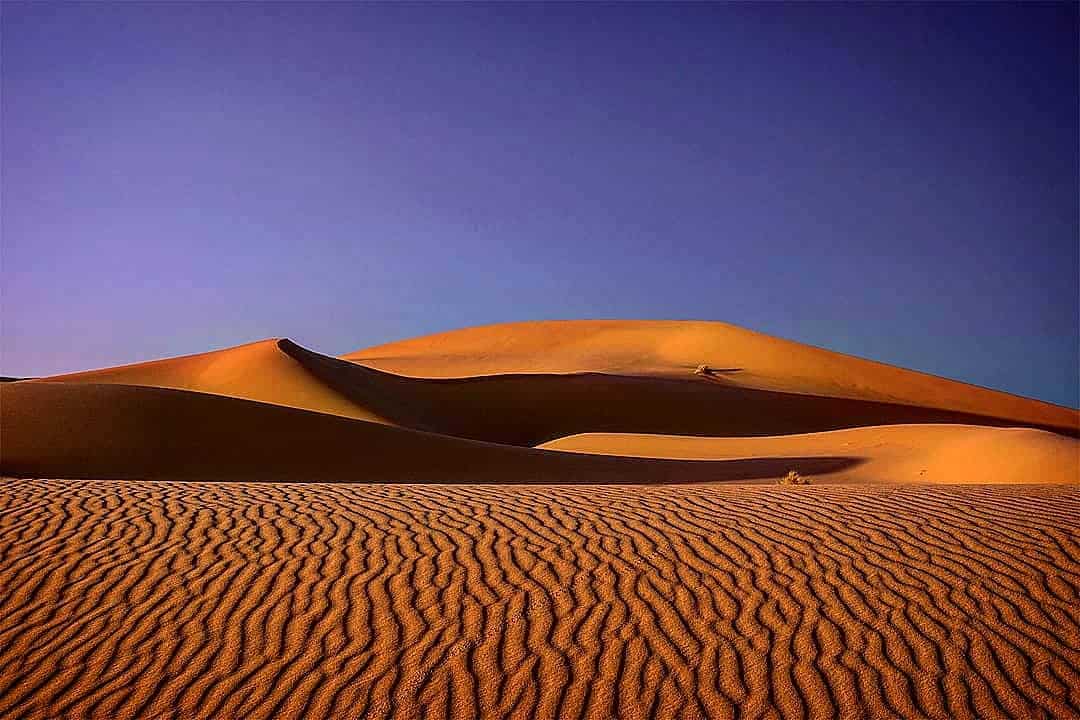 Merzouga desert is majestic, beautiful and even capricious. Photography by Eric Bagne
Bus Ride to Merzouga
The best way to reach Merzouga is on a bus. There are two large bus companies called Supratourand CMT which operate in Morocco. The bus journey is very safe, comfortable and the drivers are very qualified.
I travelled from Tinerhir to Merzouga which I couldn't book online. When I checked at the bus station, they said I should wait for the seat matrix that Supratour had to release to book a ticket. The people at the bus station are very helpful. Do not worry, you will get a seat for sure as the buses are never full.
Shared or Private Cab
As I said, you are most probably coming from Marrakesh, Tinerhir or Fes or returning to these cities after your desert safari. These cities are around 400 km or further from Merzouga.
The privately hired cab is not suggested because the taxi driver might not travel for 500 km. Instead, you might have to change cabs at different locations. Also, your safety is not assured at isolated stretches.
A cemetery just outside Merzouga. Photography by Supriya. A.N
Merzouga Desert Travel Guide Tips for a Comfortable Bus Journey
You can go for night travel if you want to catch up on some sleep, the way I did. This saved time and money in my jam-packed Morocco schedule. Otherwise, you can choose a day journey as the terrain is fantastic, no less.
If you are on a day journey, try to book the front row streets next to the driver and not behind him. You will be able to better appreciate the sights from these seats.
The road infrastructure in Morocco is brilliant and the drivers are very well trained. The smooth ride bears testimony to this statement.
Be conscious of the amount of water you might want to drink before boarding the bus. Though there is a golden rule while travelling to drink lots of water to keep yourself hydrated, this idea might not be a good one while you are on the bus, specifically in Morocco.
The stops are far and few and unfortunately, they stop at small towns which do not have cafés where a girl can just walk in to use the restroom. Bigger cities are liberal and of course, there are a lot of tourists but in these towns where they stop, the scene is slightly different. Try to stay hydrated but do not drink lots of water.
I can narrate an incident. When I was returning from Merzouga to Fes, the bus journey was for 9 hours. The bus stopped mid-way for refreshments and the nearest café was full of men drinking Moroccan tea. This is a very common sight in Morocco. Unfortunately, there was no woman around for me to feel comfortable to walk into that café to use the restroom. It was extremely uncomfortable and had to wait until I reached the hotel to relieve myself.
As a side note, I must say that the rest rooms in bus stations are very clean and tidy. So, make use of them before hopping on to the bus.


Merzouga Desert Travel Guide for Booking a Safari
You can check with your hotel at Merzouga to organize a desert safari for you. Always check for reviews from previous travellers before booking.
What I did was, I asked my hotel owner for the price and he quoted around 700 MAD (5000 INR) per head. I found it slightly expensive. So, I excused myself and went exploring in the town of Merzouga where I spoke to other desert safari organizers. Their prices were higher or the timings did not match my schedule.
I went back and negotiated with my hotel owner for 500 MAD (3500 INR). Bargaining is an important skill to have while travelling and it comes in handy. We both settled for 660 MAD (4780 INR). Yes, the margin is very less but this is the best I could achieve.
Do not buy package deals from Marrakesh as there is no scope for bargaining. Always buy in Merzouga as its cheaper and you can bargain.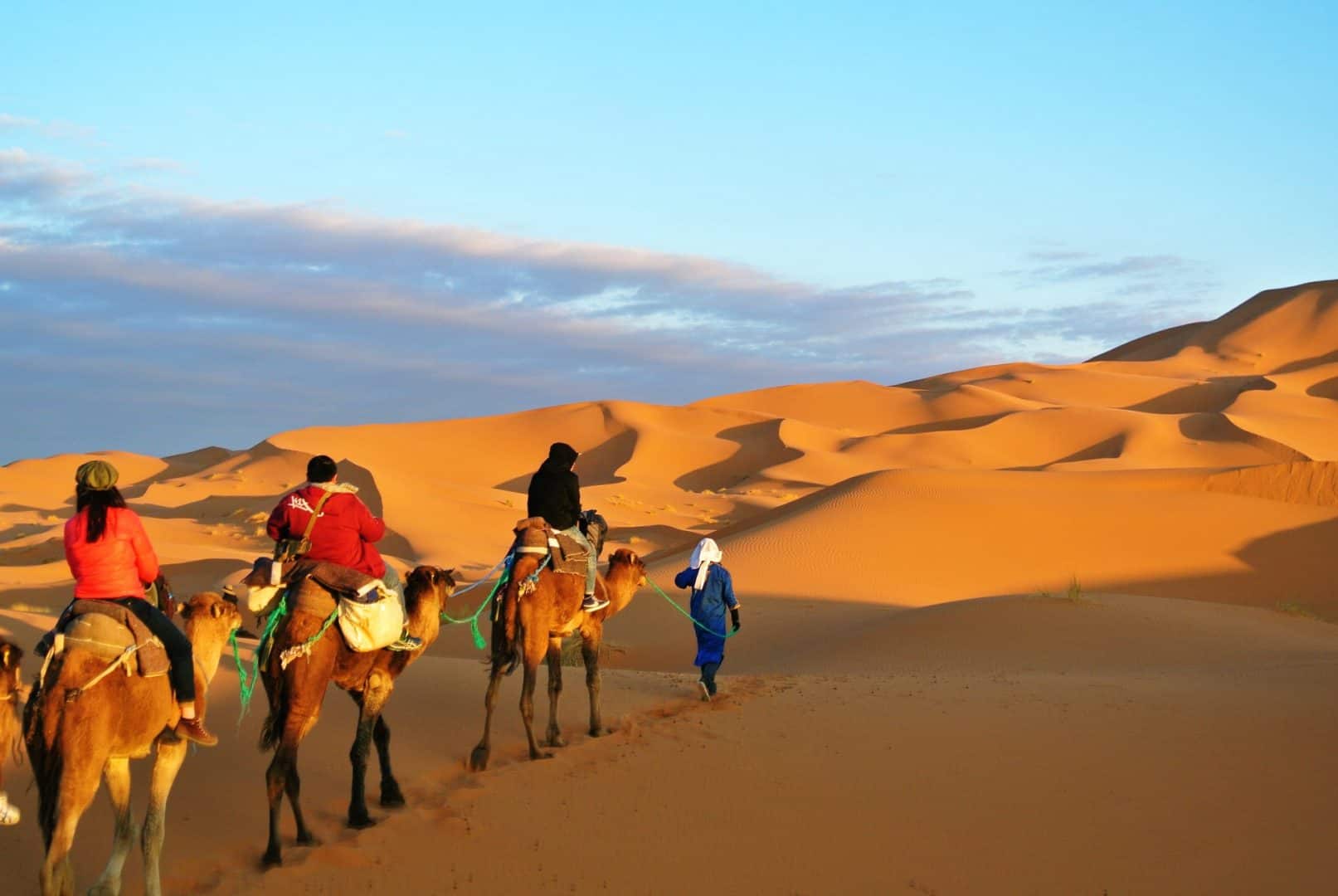 The desert safari is one of the most fascinating aspects of Merzouga. Photography by Supriya. A.N
Merzouga Desert Travel Guide for a Comfortable Stay in Merzouga
There are plenty of hotels in Merzouga. Try to book online before reading the reviews. Most of them are good hotels, so that should not be a problem. People here are very courteous and happy to help.
In the table below, find the recommended budget accommodation and desert campsites –
Hostel Back Home
Excellent service

Superior facilities

Offers numerous on-site facilities 

Unparalleled

sense of comfort
Bivouac Jawhara
Inbuilt

restaurant

Free breakfast for 2

Free shuttle service

Availability of luggage storage
Merzouga Camp
Camping experience in the desert

At a distance of 1 km from the dunes of Erg Chebbi

Availability of Moroccan breakfast

Entertaining performances after dusk
One of the beautiful campsites in the middle of Merzouga desert. Photography by Stephanie Rose
Merzouga Desert Travel guide for Understand Your Hosts
Most people who are employed in the eastern desert or mountainous regions of Morocco are Berbers, a nomadic tribe from North Africa. They have a culture and language of their own though they speak Arabic and French. Quite a few experienced people working in the travel and hospitality sector do speak English.
Hospitality is taken seriously in their community. Most noteworthy is their humility and passion for service is truly commendable. So impressed was I, that I always mention about them while I narrate my desert safari experience. My friends who had travelled separately too had similar feedback about Berbers and Moroccans in general, that they are friendly and down-to-earth.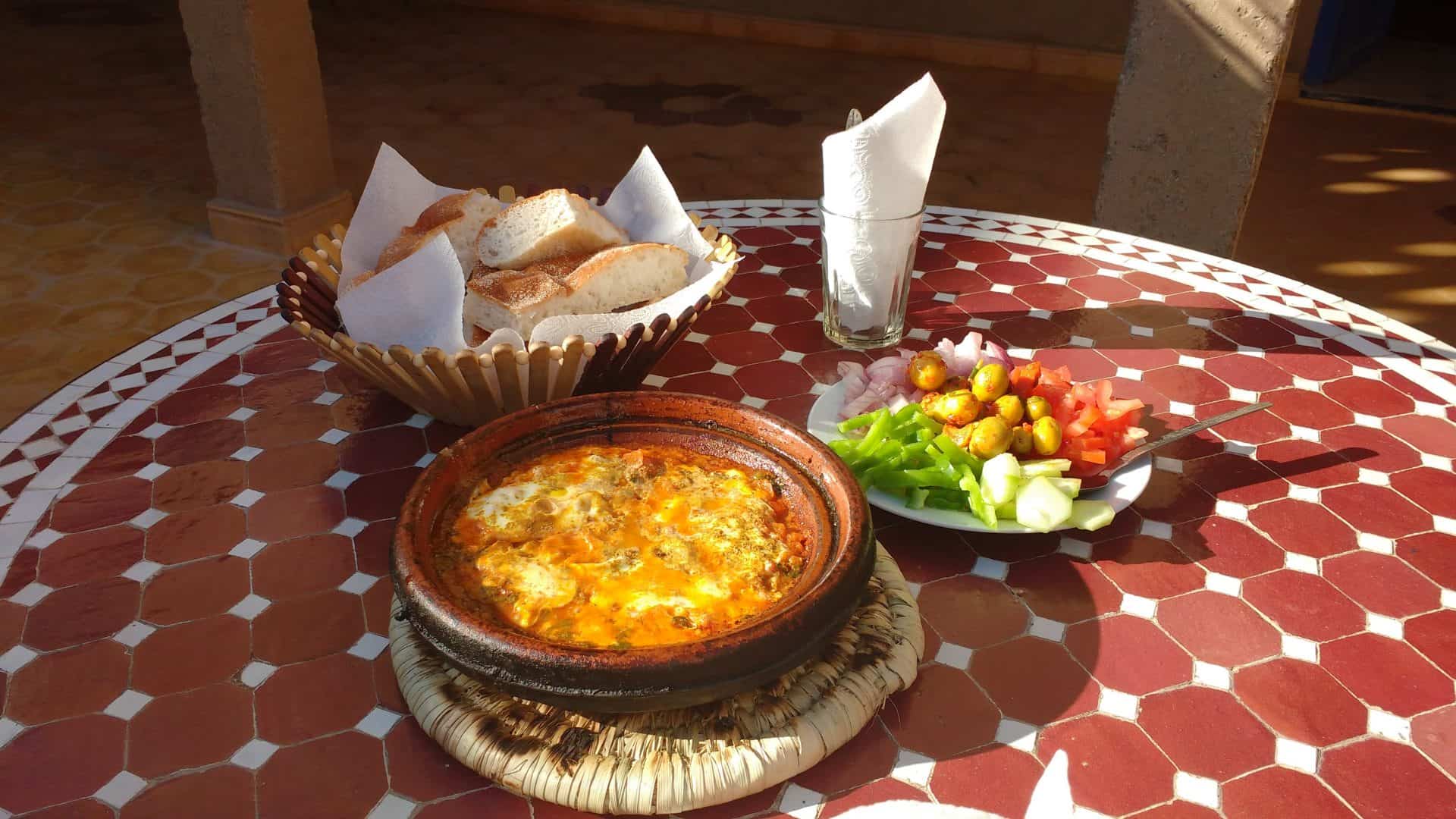 Savouring Shakshuka for lunch. Photography by Supriya. A.N
Merzouga Desert Travel Guide for Essential Items to Carry
You must carry the following things for the Merzouga desert Safari
The beautiful streets of Merzouga. Photography by Supriya A.N.
How to Dress up for the Desert?
First of all, carry cotton stole to cover your face when you are in the desert. No matter how calm the desert looks, there is wind that is raging between these sand dunes. There is sand that literally blows into your face every now and then. A multi-purpose bandanna is also good.
If you really want to get into the mood of the Berbers, then you can purchase one of those full length dark blue or red cotton cloth turbans which are sold in Merzouga. The Berbers will tie it for you and it looks really cool to get into the skin of the locals for a day.
Of course, the heat of the sun is quite harsh. So it is better to keep your face covered though you have dabbed enough sunscreen on your face and limbs.
Warm winter wear for the night. Do not underestimate the temperature drop in the desert during the night. It's biting cold, while your host will give you a blanket, it is advised you carry good warm clothes yourself.
Carry a hand sanitizer if you wish. There is water provided for ablution or to wash hands or brush your teeth in the morning. But it's a desert and it's better to maintain control over the amount of water that is spent.
Finally, carry a flashlight if you want. These days our mobile phones have a built-in flashlight. The necessity for a flashlight exists only if you want to explore the nearby sand dune in the night.



Merzouga Desert Travel Guide for Ride on a Camel
You will be introduced to your guides. The first greeting to exchange is Marhaba, meaning hello in Arabic.
The journey begins around 4 pm when the sun is not too harsh. The ride on camel back is amazing no less. The perspective of the desert and the horizon is good from this height.
The trail of camels walking one behind the other is beautiful. As the sun sets, this camel trail casts a shadow on the ground which makes for a good photography site.
The sand dunes look invincible. They shine bright orange under the sun. As the sun starts to set, there is a different glow to the desert.
You will reach the camp in 1.5 – 2 hours, just in time for the sunset. Appreciate the spectacular sight of the sun slowly setting into the horizon.
Wayfaring through vast stretches of desert is an experience in itself. Photography by Supriya A.N.
Merzouga Desert Travel Guide for Other Fun Stuff to Indulge in the Desert
In the desert
Enjoy sand boarding on the sand dunes in the Sahara. Your host might have a sandboard at the campsite. It is better to ask in advance while you are in Merzouga so that they can arrange one before leaving.
It is so much fun to sand board on such fine sand. It was my first experience and I absolutely loved it. Sliding down hill is thrilling indeed but the walk back up carrying a heavy sand board trudging up in knee deep sand is for another story.
While you are still in Merzouga
If you are interested in dune bashing, then you can request for a 4×4 desert safari. You need to book this in Merzouga itself.
There is also quad biking available. You can rent one for a specific time frame and conquer the sand dunes under supervision.
Merzouga Desert Travel Guide for Understand the Layout of the Camp
Your camp is in a low-lying plain surface surrounded by sand dunes. So these dunes act as barriers against the strong winds in the night.
There is a separate kitchen where your host will cook food. There is a restroom few feet away. Be conscious of the amount of water that is being used. The restrooms might not necessarily be as clean as you would want them to be.
The beds are comfortable and they are laid out on a metal cot. Thick blankets provided to sleep. As mentioned before, I really cannot assure how frequently they are washed. So try to carry your own sleeping bag the way I did. My sleeping bag kept me warm and I had the assurance that it was clean and safe, so I slept well.
The commonplace to sit inside the camp was decorated with the finest Berber rugs. The seating arrangement is such that there is a long table and cots around it. Tea and dinner are placed on this low table and you will eat with your group as a community.
This place is cosy and warm. It is a great place to get to know other travellers. Morocco is such a popular destination and especially the desert safari, that you will find travellers from across the world. I can assure you of a great time here.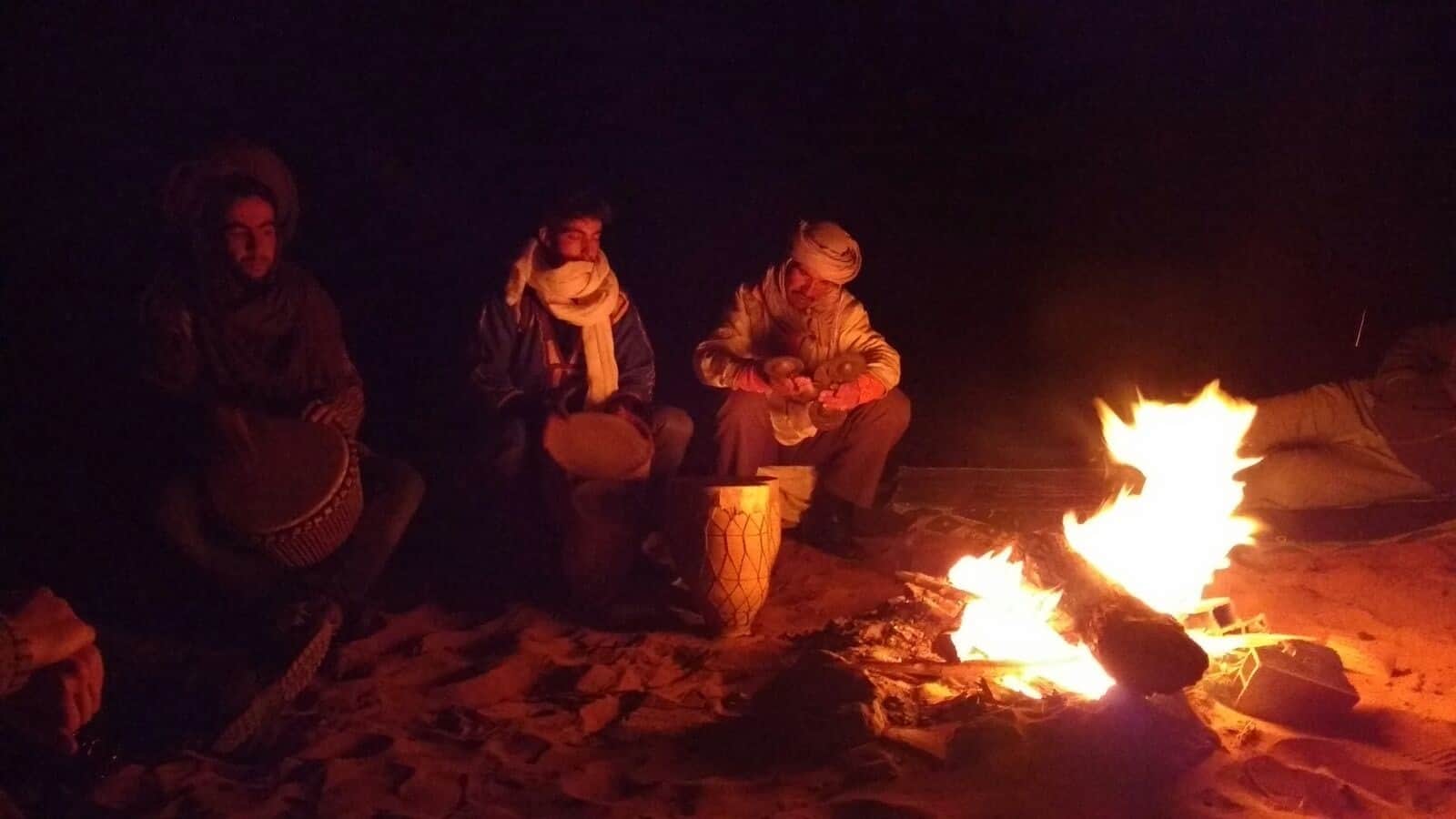 Enjoy camp fire at night in the desert. Photography by Supriya A.N.
Merzouga Desert Travel Guide for Eating Food
You will be dining on sumptuous meals of chicken and potato cooked in a tajine, an earthenware pot typically used to cook in North Africa. Generous amounts of rice and bread are served.
There are olives served on the table to pick and eat. Not to forget, the never-ending stream of Moroccan mint tea in the desert. It feels like a food festival in the middle of nowhere.
My sumptuous breakfast served at the desert camp. Photography by Supriya. A.N
Merzouga Desert Travel guide for Experiencing the Desert Camp to the Fullest
After every feast, there is entertainment. Your host will set up a campfire outside. Gather around the campfire to experience traditional folk songs being sung with so much passion.
Depending on who is your desert safari organizer, there will be song and dance performances as part of your tour. Do check in advance. The musicians sometimes let you play their instruments.
It feels like a party – Moroccan style in the middle of the desert. You can also join them in their dance even if you have two left feet as they have simple moves and nothing complex.
Try to indulge in a conversation with the Berbers. It is certainly a heart-warming experience to listen to their lifestyle. There are unaffected by technology and who still thrive on their cattle for survival. The desert safari is just an additional income. It was a deep conversation which we exchanged with the Berbers.
At around 12 am, they call it a day and you can go continue chatting with them or sleep or indulge in star gazing.
I went around 10 metres away from the camp and scaled the nearest sand dune. This was around 12 or 1 in the night so it was pitch dark. The only source of light was the campfire which is almost dead now. Our hosts had left to sleep and there is nobody to feed the fire.
You might want to lie on the sand dune and look at the star lit sky. The Milky Way looks very beautiful. Any exaggeration of this sight is totally justified. If you observe with keen eyes, you will find shooting stars every now and then. To be honest, it is one of the most surreal moments. Also, I had covered my face with the stole as the wind was stronger and the sand was flying in the air in every direction.
Do not go too far from your campsite. Getting lost here is very easy and tracking a person is not. The desert is untamed like a stormy sea. In that pitch-dark night, I don't think anybody can possibly be able to hunt a missing person. It is also difficult to stay warm with just the winter wear.  So please exercise caution and do not venture too far.
In the midst of night fall, observe the shimmering sky above the desert. Photography by Myriams
Returning from the Desert Camp
Get a good night's sleep in the camp. You will be woken up at 7 am to the sound of a ringing bell, as if it's a school. The sun rises above the horizon on the Algerian side which is just 50 kms from where you are standing.
The air feels fresh and cold. You are offered fresh Moroccan mint tea. Sip on this warm glass of tea and appreciate the final moments in the desert as you have to head back.
The return begins at around 7.30 am. The journey back to Merzouga is silent as everybody is reminiscing about their experience in the desert. Above all, we had a very memorable experience in the Sahara Desert.
We finally reached Merzouga, thanked the Berbers profusely for a great time and bid each other goodbye.
I returned to my hotel, freshened up and had hot and spicy shakshouka for brunch.
Depending on your itinerary and schedule, you can plan your next move. I took a cab to Rissani, a town 42 kms away from Merzouga. I bought a bus ticket on the spot to go to Fes, which was my next destination.
I hope the Merzouga Desert Travel guide gave you enough details to have a hassle-free visit and a great time in the Sahara Desert.
Happy wayfaring.
About the Author
Supriya A.N.
Supriya hails from the garden city of Bangalore in southern India and is always on the look out for fun experiences across the globe. After scuba diving in the Mediterranean, counted shooting stars in the Sahara, flying in a helicopter over Barcelona, she now aims at horse riding in the Mongolian steppe, pet whales off the coast of Baja California and more. She narrates her travel experiences on her travel blog called Inking Miles. She loves salad over pizza, non-fiction over fantasy, movies over sitcoms. She constantly flips pages of travel books, hugely inspired by Michael Palin and Pico Iyer. She also keen on the arduous journey the snow geese make every year from the Canadian Artic to the Gulf of Mexico every winter.
BUDGET WAYFARERS
https://www.budgetwayfarers.com/wp-content/uploads/2018/08/merzouga-desert-travel-guide.png
315
560
Budget Wayfarers
https://www.budgetwayfarers.com/wp-content/uploads/2018/04/1200X800.png
Budget Wayfarers
2019-02-05 10:44:31
2019-02-05 18:12:24
Merzouga Desert Safari, Camel Trekking and Camping Overnight