Some memories are meant to stay with us forever. Hence, capturing them for life as photographs and using memorable trip quotes along with them is a decent thing to do.
My blog gives you 130 unforgettable trip quotes that you should use to embellish your vacation pictures. Come, let's start scrolling some wonderful and memorable travel captions.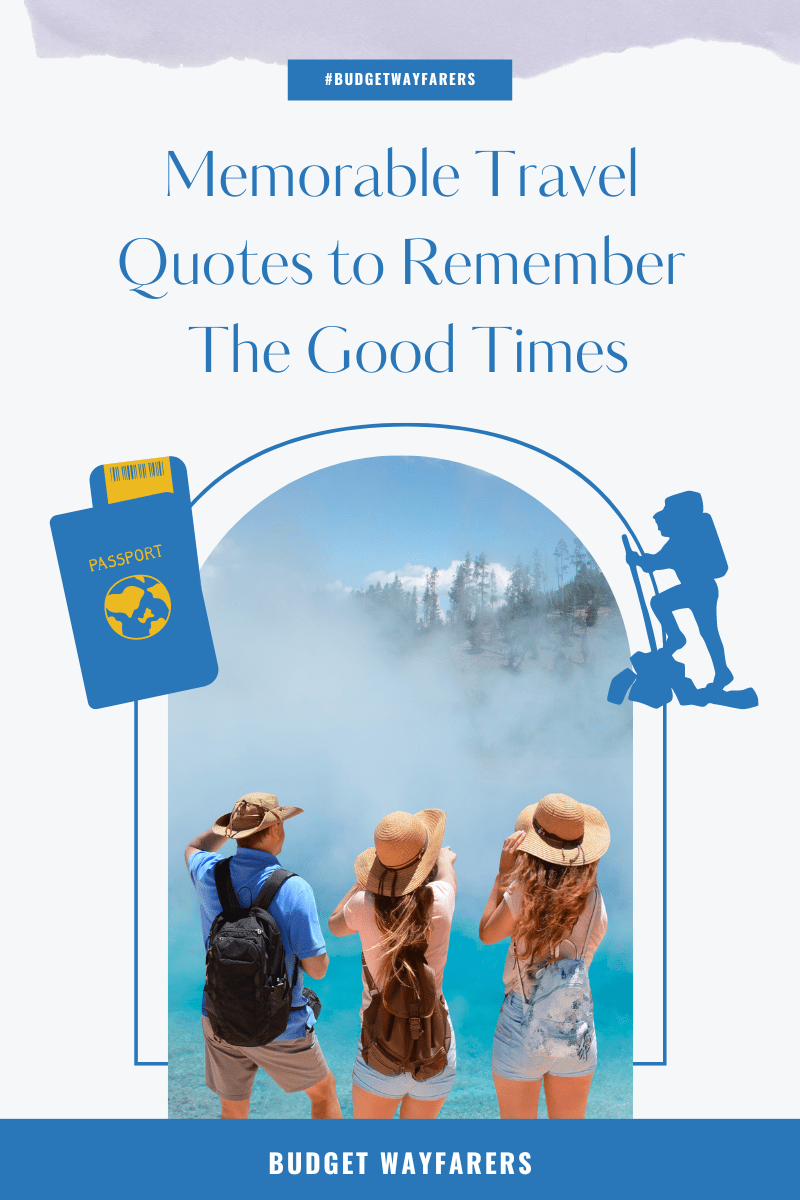 130 Throwback Travel Captions & Memorable Trip Quotes
Let's get started with a beautiful assortment of memorable travel quotes –
Vivid in mind!
✈️🧍‍♂️🧍‍♂️📸
Throwback to the dining with a view!
✈️🧍‍♂️🧍‍♂️📸
Wish I could get back to this bliss!
✈️🧍‍♂️🧍‍♂️📸
 Food tasted yum, surrounded by a strum!
✈️🧍‍♂️🧍‍♂️📸
I had the yum plum with this chum, it should have been  celebrated with drums!
✈️🧍‍♂️🧍‍♂️📸
I paid a huge sum, but it was worth every crumb!
✈️🧍‍♂️🧍‍♂️📸
With rum, we never felt numb!
✈️🧍‍♂️🧍‍♂️📸
I showed my thumb, to say I was not glum!
✈️🧍‍♂️🧍‍♂️📸
One mug, two lips, two sips!
✈️🧍‍♂️🧍‍♂️📸
It is my luck, finally, I got my hug!
✈️🧍‍♂️🧍‍♂️📸
The train chugged, and we relished our coffee mugs!
✈️🧍‍♂️🧍‍♂️📸
I still wonder who left my heart hanging in the flower pot!
✈️🧍‍♂️🧍‍♂️📸
 This spot like art got my heart!
✈️🧍‍♂️🧍‍♂️📸
When in despair, this place gave me care!
✈️🧍‍♂️🧍‍♂️📸
My hair cooperated with the air for the first time!
✈️🧍‍♂️🧍‍♂️📸
We are a pair, not in an affair!
✈️🧍‍♂️🧍‍♂️📸
I still remember going to the fair, with this lovable bear, who glares, just to scare!
✈️🧍‍♂️🧍‍♂️📸
I did this quick click back then because I was sick!
✈️🧍‍♂️🧍‍♂️📸
I spotted a beautiful chick who vanished in a flick!
✈️🧍‍♂️🧍‍♂️📸
I licked my favourite sausage, and these people got sick!
✈️🧍‍♂️🧍‍♂️📸
Look at me sink, because of the stink!
✈️🧍‍♂️🧍‍♂️📸
This clock tower I devoured gave me a superpower!
✈️🧍‍♂️🧍‍♂️📸
Flower shower!
✈️🧍‍♂️🧍‍♂️📸
How beautiful could the earth get?
✈️🧍‍♂️🧍‍♂️📸
At the top of the tower, I got a new power!
✈️🧍‍♂️🧍‍♂️📸
An hour, that got me empowered!
✈️🧍‍♂️🧍‍♂️📸
The water flowed, look at how I glowed!
✈️🧍‍♂️🧍‍♂️📸
Losing track, when black, still gets me aback!
✈️🧍‍♂️🧍‍♂️📸
I wonder who smacked when it was all black!
✈️🧍‍♂️🧍‍♂️📸
Look at me stashing snacks, in a sack!
✈️🧍‍♂️🧍‍♂️📸
Basically, I am not lax, just a bit relaxed!
✈️🧍‍♂️🧍‍♂️📸
I lost my map, yet I posed for a snap!
✈️🧍‍♂️🧍‍♂️📸
Take me back, so I can relish the same snack!
✈️🧍‍♂️🧍‍♂️📸
Through trails, I sailed, like a snail!
✈️🧍‍♂️🧍‍♂️📸
I heard someone wail, so I shouted inhale!
✈️🧍‍♂️🧍‍♂️📸
Trees with lime got me sublime!
✈️🧍‍♂️🧍‍♂️📸
Felt like a slime, after a shot of wine!
✈️🧍‍♂️🧍‍♂️📸
A shrine that still rhymes in my mind!
✈️🧍‍♂️🧍‍♂️📸
Pardon me, I forgot my jargon, after visiting this garden!
✈️🧍‍♂️🧍‍♂️📸
Someone asked if I was a bard, and I gave a nod!
✈️🧍‍♂️🧍‍♂️📸
I lost my address card, and one named Bernard came like a god!
✈️🧍‍♂️🧍‍♂️📸
From scarred to being a bard, I turned into my own guard!
✈️🧍‍♂️🧍‍♂️📸
As I crossed the yard, I struck a bond I had never seen coming in my card!
✈️🧍‍♂️🧍‍♂️📸
Staring at the stars, I walked afar!
✈️🧍‍♂️🧍‍♂️📸
I played the guitar, people thought I was a superstar!
✈️🧍‍♂️🧍‍♂️📸
Is it a crime to stop time?
✈️🧍‍♂️🧍‍♂️📸
I ventured and found it was all splendour!
✈️🧍‍♂️🧍‍♂️📸
An adventure that got my thirst quenched!
✈️🧍‍♂️🧍‍♂️📸
Risks + Clicks = Harddisk!
✈️🧍‍♂️🧍‍♂️📸
I met this person who was talkative, but also positive!
✈️🧍‍♂️🧍‍♂️📸
A surrounding where I found my ground!
✈️🧍‍♂️🧍‍♂️📸
I guess I was too loud because the cloud heard me and started to pound!
✈️🧍‍♂️🧍‍♂️📸
In the gown, I felt crowned in the amazing surroundings!
✈️🧍‍♂️🧍‍♂️📸
I was astounded because bliss abounded!
✈️🧍‍♂️🧍‍♂️📸
The trip with my furred one, got me stirred off my blurred life!
✈️🧍‍♂️🧍‍♂️📸
Though I was sure, I slurred because it was her!
✈️🧍‍♂️🧍‍♂️📸
I yearn to return to this beautiful still by the fern!
✈️🧍‍♂️🧍‍♂️📸
The wind carried away my mind, you see now I belong to a new kind!
✈️🧍‍♂️🧍‍♂️📸
Don't I look like a saint in this painting?
✈️🧍‍♂️🧍‍♂️📸
This gate shaped my fate!
✈️🧍‍♂️🧍‍♂️📸
The taste was great, but also the rate!
✈️🧍‍♂️🧍‍♂️📸
This plate added to my weight!
✈️🧍‍♂️🧍‍♂️📸
I made this space my own because I was acquainted!
✈️🧍‍♂️🧍‍♂️📸
Is there a hack to go back to this lovely lounge?
✈️🧍‍♂️🧍‍♂️📸
This selfie is wealthy because it talks all about my trip to Delhi!
✈️🧍‍♂️🧍‍♂️📸
It is my boon to have visited this lagoon!
✈️🧍‍♂️🧍‍♂️📸
The journey when I had a lot of honey!
✈️🧍‍♂️🧍‍♂️📸
Sand dunes and the moon, I want to get back to, soon!
✈️🧍‍♂️🧍‍♂️📸
An exotic location that got me melodic!
✈️🧍‍♂️🧍‍♂️📸
The ocean gave me the option to let out my emotion!
✈️🧍‍♂️🧍‍♂️📸
I wish I could ride through this road that brought me a glow!
✈️🧍‍♂️🧍‍♂️📸
Together we sported a pinafore, and people assumed we were wearing a school uniform!✈️🧍‍♂️🧍‍♂️📸
✈️🧍‍♂️🧍‍♂️📸
The ride was circular, and we found it peculiar!
✈️🧍‍♂️🧍‍♂️📸
Look at us cherishing the ice cream cone, can someone take us back to the same zone?
✈️🧍‍♂️🧍‍♂️📸
No, we are not clowns, we were just trying to bounce off the ground!
✈️🧍‍♂️🧍‍♂️📸
Thank god, she stopped with a frown, what would have happened to me had she pounced?
✈️🧍‍♂️🧍‍♂️📸
Mr Brown frowned when we asked if he could have our shopping amount in a pending account, after all, we
were new to the town, without a pound!
✈️🧍‍♂️🧍‍♂️📸
I asked for a discount, and he frowned, thank god, he did not attack me with the mound!
✈️🧍‍♂️🧍‍♂️📸
We took so many rounds and our beautiful gowns turned brown!
✈️🧍‍♂️🧍‍♂️📸
People stared at me all around the town, and I wondered if I was so renowned!
✈️🧍‍♂️🧍‍♂️📸
I ended up with a wound when I tried to jump the compound!
✈️🧍‍♂️🧍‍♂️📸
The kiss at Swiss is bliss I will forever reminisce about!
✈️🧍‍♂️🧍‍♂️📸
We exist only when we take risks!
✈️🧍‍♂️🧍‍♂️📸
I was about to hit the miss when she gave a hiss!
✈️🧍‍♂️🧍‍♂️📸
I was alarmed when my mom asked someone on the farm if he would go with her to the ball!
✈️🧍‍♂️🧍‍♂️📸
I was trying to come up with a caption, to convey how magical I found the locals' compassion!
✈️🧍‍♂️🧍‍♂️📸
I am not a warrior, just an explorer!
✈️🧍‍♂️🧍‍♂️📸
Finally, at the border, I met a foreigner, who helped me order food, which brought me back in order!
✈️🧍‍♂️🧍‍♂️📸
Well, I am not here to review, but to show you the view!
✈️🧍‍♂️🧍‍♂️📸
This backwash was a fantastic thing to watch!
✈️🧍‍♂️🧍‍♂️📸
Ferry + Airy = Gory Hair!
✈️🧍‍♂️🧍‍♂️📸
Champagne in the rain made me sane!
✈️🧍‍♂️🧍‍♂️📸
The stream made me dream supreme!
✈️🧍‍♂️🧍‍♂️📸
Viewpoints I count for life!
✈️🧍‍♂️🧍‍♂️📸
A landscape that scraped my bad mindscape!
✈️🧍‍♂️🧍‍♂️📸
Times when I was frantically trying to revive my sanity!
✈️🧍‍♂️🧍‍♂️📸
I generally strategize but this spot made me fantasize!
✈️🧍‍♂️🧍‍♂️📸
Sand dunes made me sing for the moons!
✈️🧍‍♂️🧍‍♂️📸
I forgot my stylish bag, but still, I managed a swag!
✈️🧍‍♂️🧍‍♂️📸
I looked sag because I was under jet lag!
✈️🧍‍♂️🧍‍♂️📸
Someone expressed they loved my tresses!
✈️🧍‍♂️🧍‍♂️📸
I cannot forget this address, can you guess?
✈️🧍‍♂️🧍‍♂️📸
Cutting the cake, by the lake, is a memory nobody can shake!
✈️🧍‍♂️🧍‍♂️📸
I chewed something new, and it got glued, what the heck is this dude?
✈️🧍‍♂️🧍‍♂️📸
I shooed the dog and it moved, thinking I was rude!
✈️🧍‍♂️🧍‍♂️📸
The river is a forgiver because it moves on, can I be like her?
✈️🧍‍♂️🧍‍♂️📸
In the lush garden, I meditated to vegetate!
✈️🧍‍♂️🧍‍♂️📸
I traveled northwest, without any rest, it felt like a fest!
✈️🧍‍♂️🧍‍♂️📸
Once at the crest, I felt all my stress crushed, indeed it was one beautiful quest!
✈️🧍‍♂️🧍‍♂️📸
Zest that brought me out of my nest!
✈️🧍‍♂️🧍‍♂️📸
I understood life is a quest, not a contest!
✈️🧍‍♂️🧍‍♂️📸
At her behest, I went on the quest, now I am completely distressed!
✈️🧍‍♂️🧍‍♂️📸
Goa, a trip that was quickly over, but has been etched in my heart forever!
✈️🧍‍♂️🧍‍♂️📸
One heck of a trip, I have clipped forever!
✈️🧍‍♂️🧍‍♂️📸
One best getaway last birthday!
✈️🧍‍♂️🧍‍♂️📸
A trek when I got a catch on my neck!
✈️🧍‍♂️🧍‍♂️📸
Chuck the sprain, it was a pleasant strain through the plains!
✈️🧍‍♂️🧍‍♂️📸
The stranger I met in the mountain ranges brought me some amazing changes!
✈️🧍‍♂️🧍‍♂️📸
A hike that was all vibes with my wonderful tribe!
✈️🧍‍♂️🧍‍♂️📸
There is always a vibe when we are five!
✈️🧍‍♂️🧍‍♂️📸
 A beautiful friendship struck at the ship, I will always grip!
✈️🧍‍♂️🧍‍♂️📸
Throwback to the beautiful shack that I love to the moon and back!
✈️🧍‍♂️🧍‍♂️📸
It is beautiful to behold the sight of the pleasant crescent!
✈️🧍‍♂️🧍‍♂️📸
A memory that still gives me energy!
✈️🧍‍♂️🧍‍♂️📸
I am no painter, but I adore this beautiful capture of nature!
✈️🧍‍♂️🧍‍♂️📸
Is it queer to steer my gear to this memorable sphere?
✈️🧍‍♂️🧍‍♂️📸
One cheerful year that I hold so dear!
✈️🧍‍♂️🧍‍♂️📸
The trip was wet still I will never forget it because it helped me reset!
✈️🧍‍♂️🧍‍♂️📸
A connection that left a lifetime effect!
✈️🧍‍♂️🧍‍♂️📸
A trek where I realized endurance is the only cure to maturity!
✈️🧍‍♂️🧍‍♂️📸
I hope you will use these memorable vacation quotes to caption your pictures.
MORE FUN SUGGESTIONS 
Happy wayfaring 🙂