Mahim Khau Galli, one of the most popular 'khau gallis' in India is located in Mahim, to the East of Mumbai. A 'khau galli' is interpreted in English as 'an eat street or lane of eateries'. A noisy street crowded with people having food at different stalls.
In Mumbai,  Mahim Khau Galli is a 'must-visit' place for non-vegetarians – both travellers as well as locals. From spicy snacks to sweet preparations, Mahim Khau Galli located at Balamia Road in Mumbai has much to offer to foodies visiting this place.
Popular for its typical Mughlai food items, Mahim Khau Galli brings the savoury recipes upon a platter to the visitors. Most food stalls open by late afternoons and stay so till midnight. 
From Shawarma to Halwa Paranthas, this food street is a dream come true for foodies! The best part about this place is the availability of all food items at rock bottom prices.  
Mahim Khau Galli: An Overview
Before providing the details of the Khau Galli, here are a few things to know about the place
Speciality
Non-vegetarian delicacies and snacks
Best Time to Visit
 During the festive season of Ramzan
Things to Carry
Some money and a hungry Belly – literally
Whom to Go With?
Preferably family or friends
Average Cost of a Food Item
Rs. 40
Precautionary Measures
Take care of your valuables and belongings. A possibility of robbery due to an abundant crowd.
Must Taste Items in Khau Galli in Mahim
There is a wide variety of food items available at the Mahim Khau Galli. Although best known for its non-vegetarian food dishes, vegetarians can also find some lick-smacking dishes here. Some of the best must-have dishes are:
Non-Vegetarian
Shawarma Roll
Seekh Kebab
Seekh Roti
Biryani
Chicken Vada Pav
Baida Roti
Vegetarian
Malpua 
Dahi Chaat
Khichadi
Halwa Parantha
Falooda
Biryani. Photography by Naoya Higurashi
Exact Location of Mahim Khau Galli
This  Khau Galli is located at Balamia Road in Mahim. The street is just opposite the Mahim dargah. 
Mahim Khau Galli, Sindhu Wadi, Ghatkopar East, Mumbai, Maharashtra 400077
How to Reach Mahim Khau Galli?
If you are in Mumbai, reaching Khau Galli in Mahim is not that hard.
Start
Chhatrapati Shivaji Terminus (CST)
Destination
Mahim Khau Galli
Approximate distance
21 kms
Approximate driving time
34 minutes
Best Time to Visit Mahim Khau Galli
It is better to visit the Khau Galli during Ramzan due to the enormous range of non-vegetarian delicacies prepared during this period. One can find a large variety of non-vegetarian snacks like samosas, kebabs and tandoori preparations during this period.
Availability of Food Variety at Mahim Khau Galli
The Khau Galli offers an entire range of Mughlai cuisine that includes non-vegetarian dishes, desserts and some varieties of Italian snacks too.
For vegetarians, a wide variety of chaats and desserts are also available.
Khichadi. Photography by Madhu Bordia Nahata
Non-vegetarian Food Items Available
The place is a paradise for meat lovers. From juicy kebabs to baida rotis, the whole place is full of non-vegetarian dishes 
Shawarma
Shawarma is a meat preparation in which bread/roti normally called (khaboos) is packed with meat, sauces and cabbage.
Kebabs
Kebabs are pieces of meat roasted or grilled in special equipment. They are soft, juicy and full of flavours.

Khichadi
It is a dish made by cooking together meat, pulses and spices. Normally, khichadi is eaten with bread or rotis. At mahim Khau Galli, try it at Hussain Khichadiwala. This is a complete meal in itself.

Biryani
A South-Asian dish made with rice and meat. You can try Biryani if you are looking for just more than a snack. 
Baida Roti
Baida Roti is roti stuffed with minced meat. It is an absolute must try for non-vegetarians.
Chicken Vada Pav
A non-vegetarian version of the regular vada pav, the inside of the pav is stuffed with chicken cutlet and is served along with some onions.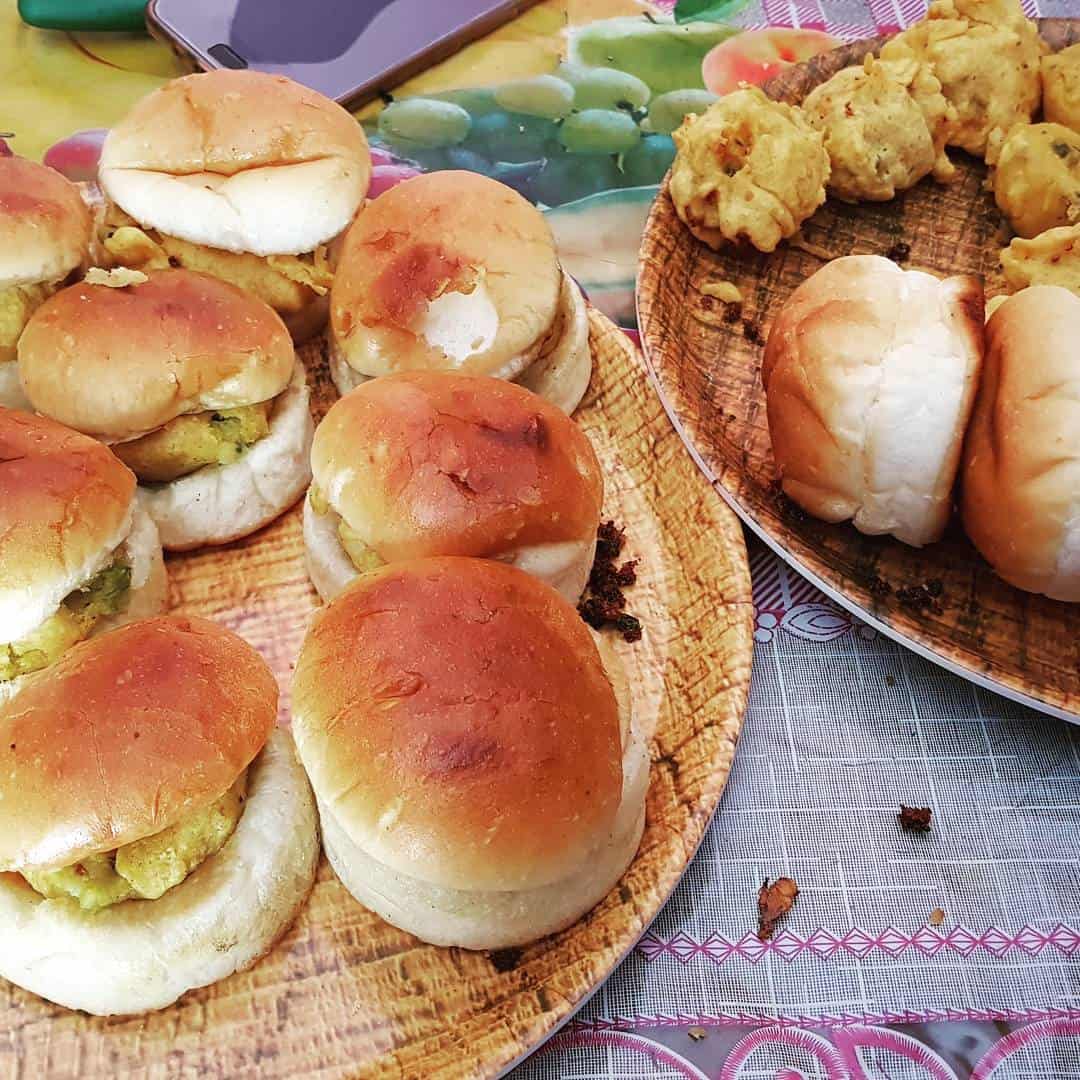 Chicken Vada Pav. Photography by Vishwanath Das
Desserts/Sweet Dishes Available
Other than the non-vegetarian items, the Khau Galli is also known for its sweet delights. Here are some of the best ones.
Falooda
A dessert is prepared using ice cream, syrup, vermicelli, sabja (basil seeds) and milk. 
Halwa Paratha
A sweet dish made by stuffing sooji halwa inside a paratha.
Malpuas
Indian Pancakes are prepared from ghee.
Firni
A sweet dish made using rice and milk.
Rawa Halwa
A dessert made using sooji (semolina) and ghee.
Firni. Photography by Martin Jithu
Chaats
There are a wide variety of tangy and spicy chaats at  Khau Galli. The stalls offer Dahi Vada, Pav Bhaji, Vada Pav, potato and onion bhajis, samosas,  Channa Chaat and more!
Dahi Vada
A chaat item is prepared by soaking and topping vadas with curd and spices.
Chana Chaat
A snack is prepared using chickpeas, tomatoes, onions and some spices as well.
Dahi Vada. Photography by Shweta
Italian cuisine
Pizza
We all love Pizza, don't we? Pizza is a yeasted flatbread with vegetable/cheese or meat topping. Forget all about your diet plan and grab some delicious pizza in Mahim Khau Galli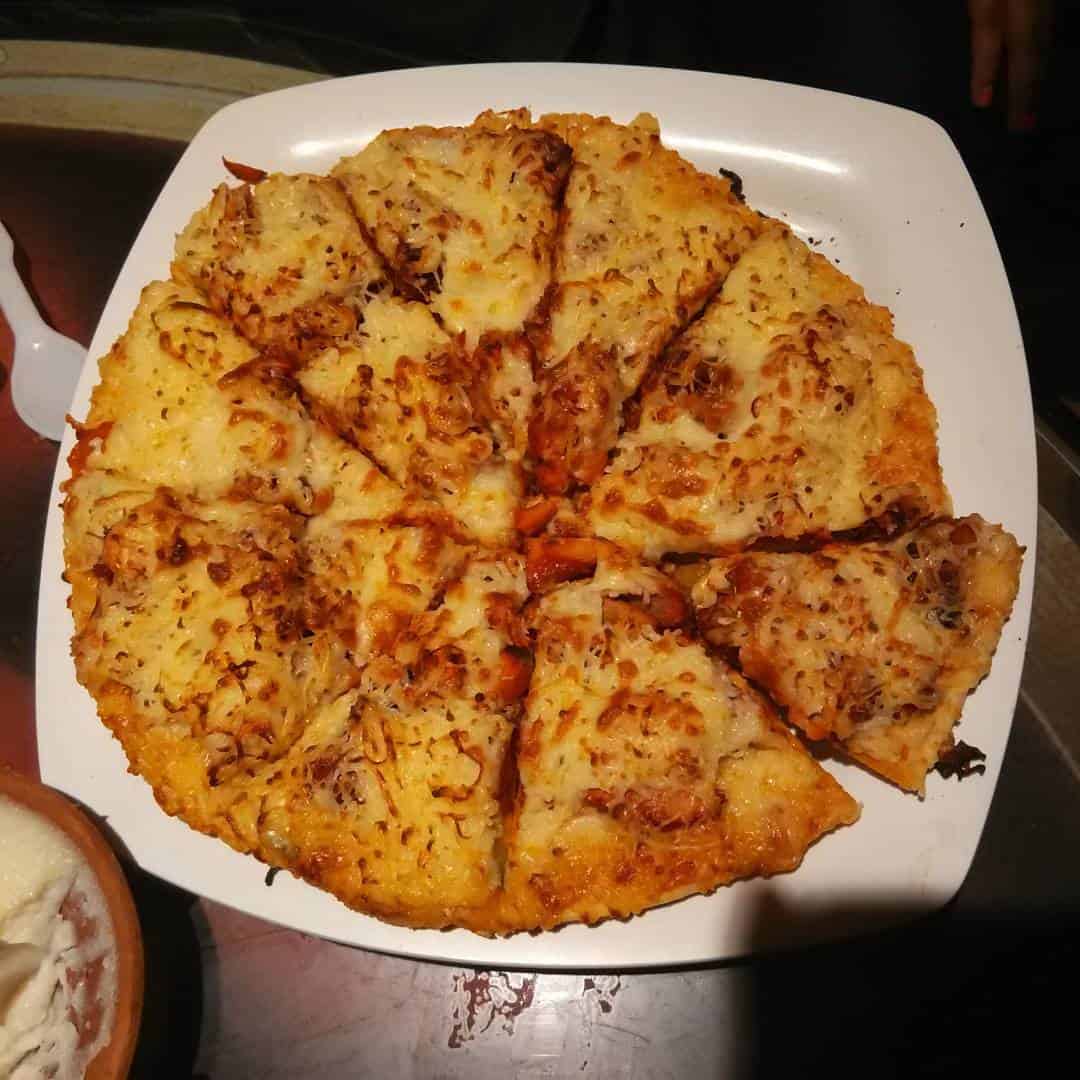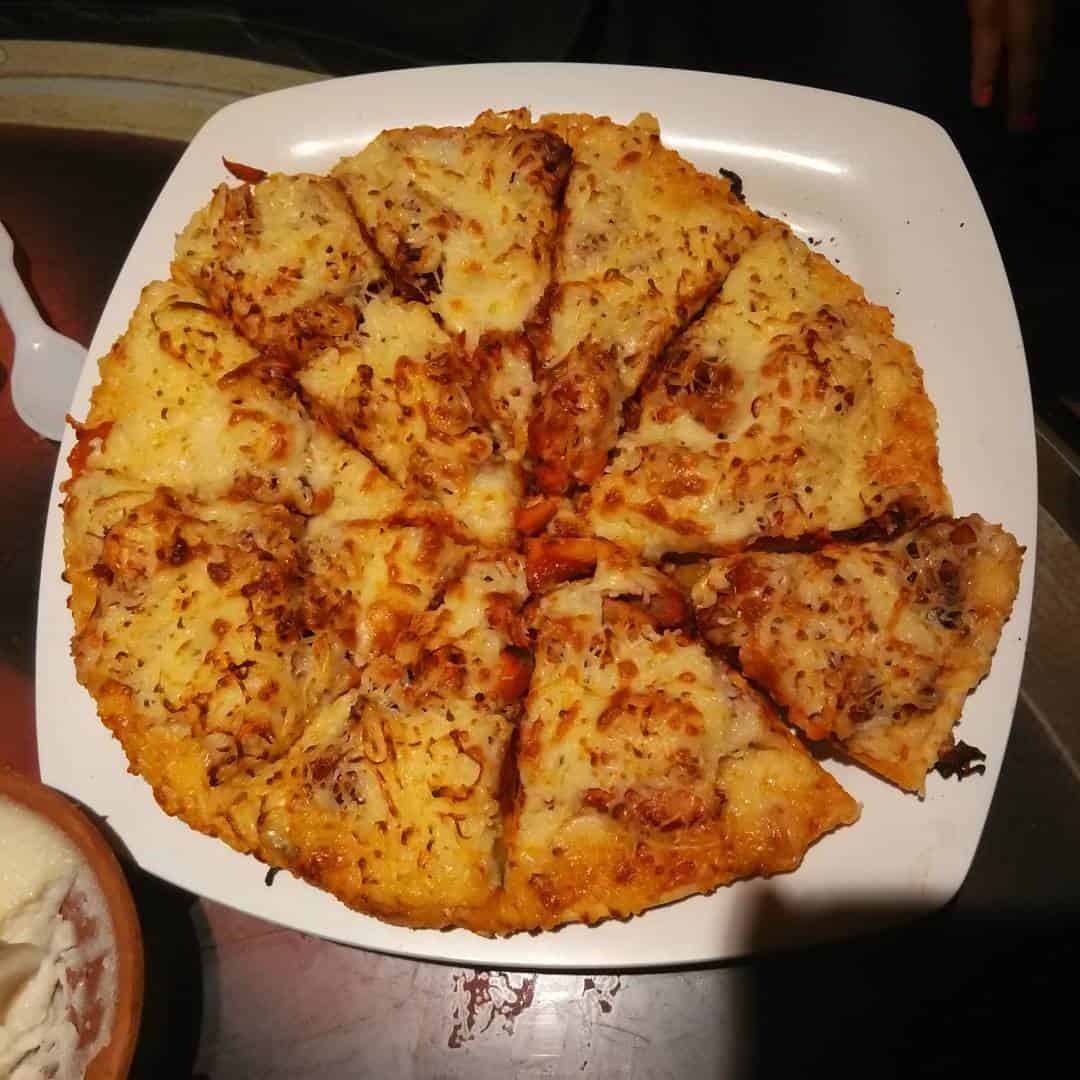 Pizza. Photography by Joswin John Lobo
Must-Try Food Stalls at Mahim Khau Galli
There are plenty of food stalls at the Khau Galli. Here are a few must-try eateries:
Name of the Eatery
Food Specialty
Priti Limca Stall 

Outside St. Michael's Church

Malpua – Rs. 25
Baba Falooda 

To the left of Midland Restaurant & Bar

Dry Kulfi Falooda – Rs. 50
Baba Shawarma & Kebab Corner 

Inside MahimKhau Galli

Chicken Vada Pav – Rs. 20
Salim's Stall 

Just next to Rakesh Chinese Stall

Chicken Vada Pav – Rs. 15
Mafco Farm Fair

Outside Mahim Church

Samosa – Rs. 20
Bismillah Juice Centre 

Inside Mahim Khau Galli

Mango Juice – Rs. 20
Garib Nawaz 

Inside Mahim Khau Galli

Baida Roti – Rs. 40
Leslia's Stall 

Near Bismillah Juice Centre

HalwaParantha – Rs. 30
Hussain Khichdawala

Inside MahimKhau Galli

Khichada – Rs. 30
Raees Kebab Corner 

 Opposite Zaheer Bhai Shawarma Stall

Kebabs – Rs. 80
Zaheer Bhai 

Next to Dahiwala Stall

Shawarma with Khaboos – Rs. 70
Iqbal Subedar Caterers 

In Mahim Khau Galli

Full Chicken Biryani – Rs. 80
Rakesh Chinese

In Mahim Khau Galli, Towards Mahimdargah

Complete  Meal (For 2) – Rs. 250
Shri Krishna

In Mahim Khau Galli, near Shivaji Park Fire Brigade

Complete  Meal (For 2) – Rs. 200
Aslaam's Stall

Outside Rainbow Digital Photo Studio

Rawa Halwa – Rs. 120 (1 kg.)
 Falooda. Photography by Akash B Nair
What Foods to Try for First Time Visitors?
If you happen to visit this Khau Galli for the first time, make sure you don't leave the place without having the following: 
 Chicken Vada Pav
At a reasonable cost of Rs. 20, the chicken vada pavs turn out to be a perfect evening snack! This has been something that I've always had during my visit to Mumbai. You can try it at Baba Shawarma & Kebab Corner or Salim's Stall.
Baida Roti
A perfect combination of roti stuffed with minced meat, baida rotis are apt for a hungry stomach.
 Malpua
Malpua (sweet pancakes) are a healthy yet tasty sweet dish that one can have just before the Khau Galli journey ends.
Halwa Paratha
It is one of the most popular dishes on this street. The halwa parantha is a must try if you aren't already filled up on the sweet.
Shawarma Roll
While at Khau Galli in Mhaim, make sure to try a shawarma roll from Zaheer Bhai Shawarma stall.
Dry Kulfi Falooda
Before you bid adieu to the Khau Galli after a good meal, the last item to try out would be a falooda from Baba Falooda Stall. Loaded with ice cream, kulfi, vermicelli and milk, a dry kulfi falooda would be a perfect dessert that concludes your journey with sweet memories of food, excitement and fun at Khau Galli in Mahim. A visit to this food haven is incomplete without a glass of this falooda.
Shawarma Roll. Photography by Rishabh Gupta
Mumbai's Mahim Khau Galli is a one-stop street haul for non-vegetarians visiting or residing in Mumbai. It offers a wide variety of food items that fit within a common man's budget. If you ever visit Mumbai, make sure you don't leave until you have visited the Khau Galli – A food haven for non-vegetarians in Mumbai.
Happy Wayfaring 🙂