Magnetic Hill is located near Leh in the north Indian state of Jammu and Kashmir.  It is around 30 km away from mainland Leh and it is on the Leh – Kargil national highway. Magnetic Hill is an extremely famous and mysterious destination.  Not only is the uncanny component of the hill a topic of exploration among backpackers but also among people at large.
The mystery is not the only thing that surrounds Magnetic Hill in Leh. Beauty and awe are what inspire travellers to visit here often. In this blog, we will attempt to explore the place in every possible aspect and will try to know what are the mysteries behind the magnetic hill. Is there any or is it just a geographic illusion?
Leh and Ladakh as destinations find a place in every traveller's wish list. The exceptionally beautiful landscapes of both Leh and Ladakh have featured in top lists of places to visit in India. The craze and demand to visit this region has increased exponentially over the years and it has become a hot spot for all kinds of travellers. 
For any visitor to the region, Leh becomes the base to stay and travel around. There is enough transportation to explore the nearby places from Leh.  There are historical palaces and old monasteries which are worth a traveller's visit. Ladakh is a fine example of a perfect blend of nature and culture. Therefore, as travellers, it should be our prerogative to preserve the natural beauty of the place for future generations.
Magnetic Hill: An Overview
Magnetic Hill is a splendid location on the Srinagar- Leh highway and is one of the most loved spots for photography in Leh- Ladakh. Here are some quick facts about visiting Magnetic Hill that you must know before visiting.
Location
North India
Mode of Travel
Magnetic Hill can be reached by road with local transportation available or their own vehicle.
Best time to visit
July to September
Temperature
Varies between 5 degrees to 25 degrees considering sunny days and snowfall in the upper mountains.
Weather condition
The weather is pleasant as long as there's sunlight. It gets quite cold during cloudy days and after dusk.
State
Jammu & Kashmir, North India 
Alternate name
Straightway to Heaven
Accessibility
By road
Nearest place to stay
Leh city
Highlights
Mysterious phenomena of Magnetic Hill. Roads with beautiful mountains on both the sides
Cost of a single visit
Around 500 per person (from Leh)
Nearest Eating Place
Magnetic Hill Café & Restaurant
Magnetic Hill and the Mysterious Phenomena Surrounding it
Many theories and explanations have been advanced to explain the mysterious phenomenon in Magnetic Hill. Here are a few most common ones:
Magnetic Hill: The stairway to Heaven?
The major mythological belief attached to Magnetic Hill is that the locals consider this place as a straight way to heaven. As per the myth, if you are a true person, you will be pulled toward heaven by the mystical forces around you. If you are not a true person, you will not be pulled ever. It is more or less a supernatural concept so some belief it to be true while others don't.
Magnetic Properties of Magnetic Hill?
There are two major theories that are generally discussed around Magnetic hill. Challenging two scientific approaches, one is, of course, the Magnetic force which allows vehicles to move on an upward hill without racing the gear or even not turning it on.
To add some scientific justification of it, Magnetic hill is said to be possessing strong magnetic properties. It is this magnetism which is responsible for pulling the vehicles uphill and aircraft to be shifted to a higher altitude while passing by the area. People experience their vehicles being dragged on the road even when the vehicle is turned off. The vehicle starts to move ahead at a speed of about 20 km.
A few people say that the magnetic phenomena are felt only when the vehicle is big. Small vehicles like bikes do not experience any pull. 
The Optical Illusion at Magnetic Hill?
The second theory is the optical illusion which plays around with people's minds. It is claimed that the hill is actually going down but because of the illusion created by the ambience of the mountains, it works as a natural trick to the eyes. Not defying the rules of gravity but it actually creates an opposite image on the viewer's mind that it looks like the force is pulling you upwards.
Owing to the phenomena of Optical illusion, a downhill slope appears to be an uphill slope. It depends on the horizon lines and we usually take reference of the horizon to mark something as up or down. So it appears to be defying the rules of gravity. 
No one has yet come to a conclusive explanation about exactly is the justification behind Magnetic Hill. But the optical illusion theory does sound logical and is the most accepted one.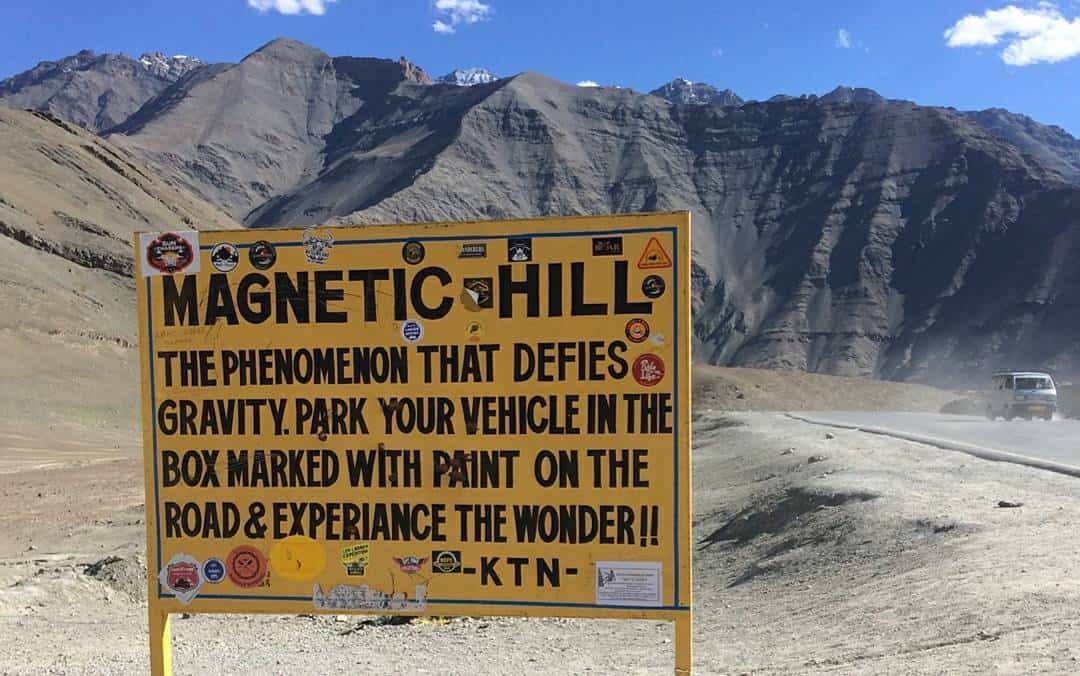 Magnetic Hill is located near Leh in the north Indian state of Jammu and Kashmir. Photography by Rahul Budhania
The Beauty of a Barren Landscape at Magnetic Hill
Apart from the magnetic attraction of the region, the barren land around Magnetic Hill is so beautiful that you would surely want to visit the place to enjoy a good ride. Usually, this place and the highway is not very crowded so spending an hour hanging around the magnetic hill is a good idea. You will get really good angles and backdrops for pictures of your choice here. The unique thing about the mountain ranges here is the various different and enchanting colours. Shades of blue and grey are common. Different colours are visible in different seasons. While in Ladakh, always enjoy the routes because they are splendid. 
Gurudwara Patthar Sahib
On the way to Magnetic Hill from Leh, a Gurudwara is located which goes by the name 'Pattharsahib'. You can halt there and pay your respect. The army personnel guarding this region always stop by here while heading this way.
Also Useful:
A detailed guide to visiting Pangong Lake 
How to utilise your time at Nubra Valley?
The Pattharsaheb Gurudwara. Photography by Aman Malhotra
The Magnetic Hill Café & Quad Bikes
The fact that Magnetic hill falls in a barren region so it is advisable to carry some food with you. There is a newly constructed café named Magnetic hill Café & Restaurant here. It is a good (and only) option to have tea/coffee with some snacks. You can feed yourself with Maggie, omelette, bread items, momo etc. Usually, a lot of Quad Bikes can be observed near the cafe. Many People who visit magnetic hill try this sport and enjoy quad biking. 
Barren yet gorgeous. Photography by Koushik Anandhan
More Places with Similar Traits like Magnetic Hill
Magnetic Hill is not the only place in the world which has reported such a phenomenon. These are referred to as the 'Gravity Hill' spots. These appear to be going uphill while the slant is actually downhill. There are more to the list reported from various cities across the globe. Here are a few of them:
Tulsishyam, Gujarat, India
Magnetic Hill, Moncton, Canada
Santa Mystery Spot – California
Cosmos Mystery Area, California
Confusion Hill, California
Mysterious Road, South Korea
Mystery Spot, California. Photography by Kelsa
Confusion Hill, California. Photography by Nikky
Next time you visit Leh, don't forget to stop at the magnetic hill and experience yourself whether it is magnetism or your eyes are tricked by optical illusion and be amazed by the magical spell of the colourful mountains casting a stunningly peculiar beauty.
Happy wayfaring 🙂