Lake Tana is the largest Lake of the African nation of Ethiopia and is the source of the mighty Blue Nile. This Blue Nile meets the White Nile at Khartoum, Sudan to form World's longest river- Nile. The lake supports some distinct fauna like endemic fish, wetland birds and Hippos. 
A boat ride across Lake Tana is something that travellers should most certainly pursue. The various islands on the lake plus the monasteries on its shores are worth seeing.
A lot of travellers feel that Blue Nile Falls are the only attraction of Lake Tana.  But that is incorrect. There are 37 dotted islands on the surface of Ethiopia's largest water body and the number varies depending on the level of the lake. Out of 37 islands, 20 of these islands have churches and monasteries carrying the historical and cultural aspects of Ethiopia. Travellers can get glimpses of many paintings decorated in the churches during their visit.
In this lake tana blog, I will take you through the journey over Lake Tana which will act as a guide for your visit. 
Also Useful:
Visit Blue Nile Falls: Ethiopia's 'Smoky Water' Incarnate     
Lake Tana and its Floating Islands: An Overview
Here are a few things that will help you understand Lake Tana better. These details are important in planning your trip.
Location
Amhara
Country
Ethiopia
Currency
Ethiopian Birr
1 USD = 28.29 Ethiopian Birr
1 Euro = 31.98 Ethiopian Birr
1 INR = 0.40 Ethiopian Birr
Accessibility
Throughout the year
Best time to visit
October
Day temperature
17 degree to 26 degree Celsius
Mode of Transportation
Boat ride
Availability of Accommodation
Hotels in Bahir Dar
Boating fee
2500 Birr
Total cost of the Trip
2500 to 3000 Birr



Main attractions of Lake Tana
Lake Tana is very important to Ethiopia. It is the largest source of fresh water and is also is an important source of animal feed, and food etc. for local communities.
Nature & Wildlife 
Lake Tana is part of a Biosphere reserve that provides important ecosystem services. A hotspot of biodiversity, it is known for its bird population, endemic species of fish and plants. The Wetlands around the lake are also important as they form important breeding grounds for many bird species. Over 200 bird species have been recorded in the area.  common crane, giant pelicans, Northern shoveller, Black-tailed godwit, etc are some of the most sighted birds on the lake.
Cultural & Historical 
There are 37 islands scattered around Lake Tana. Twenty of these have churches and monasteries that have immense historical and cultural and historical significance. Some of the monasteries and churches on the Island date back to the 13th century. These churches and monasteries belong to the Ethiopian Orthodox Tewahedo Church. These hold valuable treasures of the Ethiopian Christian faith.
How to Reach the Islands on Lake Tana?
Travellers can visit the islands on Lake Tana and peninsulas by hiring a boat from either of the following –
Port of Bahir Dar
This is the southern shore of Lake Tana
Port of Gorgora
This is the northern shore of Lake Tana
 You need a half day to travel and to stroll past the islands. On your our ride you will be able to catch glimpses of fishermen catching fishes, Hippos bathing in water and eagles flying high above the lake.
Lake Tana is the largest Lake of the African nation of Ethiopia and is the source of the river Nle. Photography by Betty Alex
Interesting Places Around Lake Tana
There are many historic churches and monasteries found on the islands of Lake Tana. These monasteries have remained hidden for centuries, protecting their resources. The visitors can find the hidden treasures of these beautiful islands by having a short boat trip from Bahir Dar.
Major Islands on Lake Tana (Also Famous for Coffee)
As I had pointed earlier, there are around 37 islands on Lake Tana. Some of these islands are important historically and culturaly. Some of the most important Islands are:
Birgida Maryam
Debre
Dek
Tana Cherkos
Narga
Mitsele Fasilidas
Kebran
Dega
Estefanos
In addition to the islands, the peninsulas of Gorgora, Mandaba, and Zeghe are also famous for their coffee. The island churches, monasteries and a boat cruise on Lake Tana are some interesting aspects of travel in this region.
Are the Islands of Lake Tana Prohibited for Women?
Most of the islands are prohibited for women. Though they are allowed to land on the banks of the islands but are not allowed to continue further. However, women travellers can visit churches on the Zeghe peninsula, the church of Ura Kidane Mehret, and Narga Selassie. 
Monastic Churches on the Islands of Lake Tana
The scattered islands and peninsulas of Lake Tana collectively house more than twenty monastic churches. The most important monastic churches in the region are –
Debre Maryam
One of the newest monastery. Ancient manuscripts can be accessed here.
Kebran Gabriel
One of the grandest monasteries. It has now been shut down for visitors.
Daga Estefanos
It is built on a hill and the only way to reach here is by a short trek.
Tana Cherkos
A small island monastery whose shores are covered with a forest strip that is the habitat to majestic fish eagles.
Narga Selassi
One of the most beautiful of all monasteries of the region.
These monasteries serve as the custodians of both religious and royal treasures such as crowns of royalty, ancient bible scripts, historical art, relics, etc. If you are keen on knowing more about the cultural facets of the region, these are a must visit.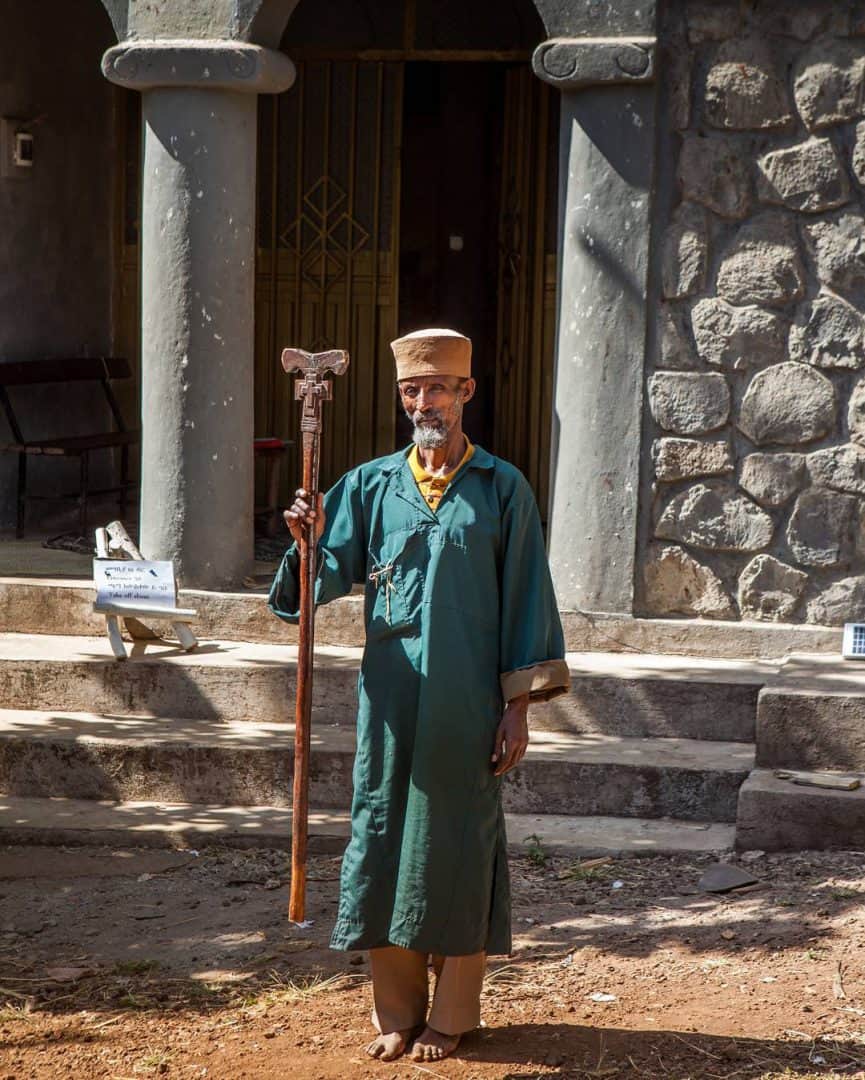 A priest with his cross at the Kebran Gabriel monastery. Photography by Magnus Gommers
Beautiful murals at Narga Selassi monastery. Photography by Marisa Ho
Zege Peninsula
Located on the southern side of Lake Tana, the Zege Peninsula is home to some ancient but ravishing monasteries. Also, the region has a thick lush forest. Most of the travellers take a day trip here but if you want, do stay overnight. There are a few lodges in Afaf village at the west end of the Zege peninsula.
Frescoes on the walls of Ura Kidane Mehret on Zege Peninsula. Photography by Hejmick
Monasteries on Zege Peninsula
Zege Peninsula will particularly interest you if you are interested in history, art and culture. The monasteries in the peninsula that you should visit are:
Bete Maryam
Oldest monastery on the peninsula comprising attractive murals.
Ura Kidane Mehret
The Zege Satekela Museum is located inside this monastery.
Azuwa Maryam
Different but attractive rooftop of this monastery makes it interesting to visitors.
Bete Selassie & Tekla Haimanot
These are 2 monasteries with beautiful frescoes inside painted by the same artist.
If you wish to cover all of these monasteries, you might have to stay the night here. Accomodation options are available at the west end of the peninsula.
Ura Kidane Mehret from outside. Photography by Emad Aljumah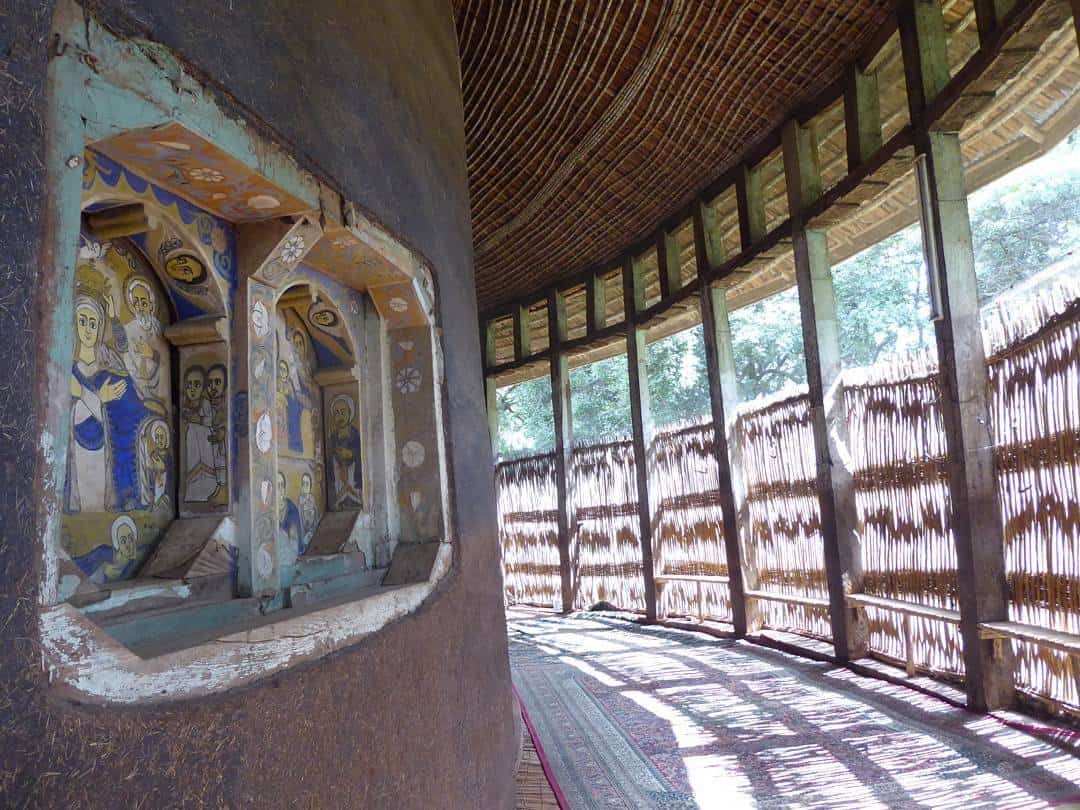 Ura Kidane Mehret from inside. Photography by Monste Pujadas
Wildlife in and Around Lake Tana & Zege Peninsula
Lake Tana mostly known for its monasteries and islands also offers some divers wildlife. Your boat ride will make sure that you have a glimpse of various animals and birds. Hippopotamuses are one of the most attractive species of the region.
On moving a little further inside the forest on the islands, you will be able to see black and white Coloured monkeys. The long Nile Monitors are also inhabitants of these forests. Other animals easily observable in the region are hyenas, prickly Crested Porcupine and Duikers.
The rarely spotted African Rock Python which is Africa's largest snake is also native to the forests of Lake Tana. It lives in swampy areas along the shores of Lake Tana and can grow up to seven metres in length.
The Zege Peninsula which carries the major remaining tract of natural forest on Lake Tana harbours monkeys and different wild birds. Majority of the monastic islands remain extremely undisturbed in ecological terms.
Prickly Crested Porcupine. Photography by Paul Rushworth
African Rock Python. Photography by Kiah Hall
Accommodation

 Options Near Lake Tana
Usually, travellers stay in the hotels in Bahir Dar city – the edge of Lake Tana. Bahir Dar is a beautiful and clean city. Here you can find many affordable hotels. These are located right on the banks of Lake Tana.
The lakeside hotels have beautiful sightseeing and the travellers can enjoy fantastic lake views, good ambience and pleasant weather. Most of the lakeside hotels have their own boats and they offer a good package of boat services to visit the islands in lake Tana.
The hotels having boat service are Blue Nile Resorts, Grand Resorts and Spa, Kuriftu Hotel and Spa. You can stay in affordable hotels like the Jacaranda Hotel, Addis Amba Hotel, Ranile hotel, Tana Hotel.  
You need to negotiate to hire a boat and a good English speaking guide.  Travellers can be benefited by hiring a boat in groups. Generally, the boat costs up to 3000 Birr for 2 hours.
Kuriftu Hotel and Spa. Picture credits: Kuriftu Hotel and Spa
A view of Lake Tana from a room at Kuriftu Hotel and Spa. Photography by Mauro Demony
Fresh watermelon and its juice for breakfast at Photography by Steven Roelofsen
Important Things to Carry on your Trip to Lake Tana
The trip to Lake Tana is generally half day but you will need certain things. Here are a few things that you must carry:
Woollen clothes
Extra pair of clothing.
Drinking water and some snacks
A fisherman rowing his boat near the shores of Lake Tana. Photography by Martin Mihaylov
Lake Tana is a place where ancient culture meets the modern era. Abrupt in secrecy and legend, the old churches of Lake Tana appear as quiet retreats for their monastic inhabitants and visiting travellers alike. Plan a trip to this African paradise soon and experience the antiquity.
Happy Wayfaring 🙂
https://www.budgetwayfarers.com/wp-content/uploads/2019/03/Lake-Tana-min.png
315
560
Budget Wayfarers
http://34.67.82.155/wp-content/uploads/2019/07/Logo-135X90.png
Budget Wayfarers
2019-03-07 11:35:02
2019-03-13 19:25:05
Lake Tana: The African Wonder with 37 Floating Islands