Krabi – a name that is not well known to the regular traveller – belongs to the southern part of Thailand. When one thinks of Thailand, one immediately associates it with Bangkok, Phuket, and Pattaya with it. But, these places are extremely commercial and would appeal to the shopper in you.
For someone looking to find paradise (like the ones shown in movies), you can find it in Krabi. In fact, most movies that include a beach have been shot at Krabi.
The beaches are serene, it isn't very commercial, and the best, it isn't crowded at all. Krabi Island is also home to some of the highest peaks, calm rivers, hot springs, clear water beaches and adventure water sports.
Krabi Island: An Overview
Population
52,867
Preferred mode of travel
Road (bike/car)
Main attractions
Beaches, Weekend Night Market
Best time to visit
June – February
Ao Nang
Ao Nang is one of the primary regions in Krabi. It is relatively commercial and almost all of the popular 5-star resorts can be found in this locality. It has an entire road by the beach that is lined with stores of all kinds. From stores that let you explore Krabi and rent vehicles to tasting a scorpion, this road has it all. However, this particular locality is known to be comparatively pricey due to its popularity. As much as the resorts may claim that they have 5-star or 7-star ratings, I found the lesser-known resorts to be much, much better.
I remember a particular instance where when I had to check out of a hotel from one end of Ao Nang to Vogue Resort, a 5-star resort, the hotel guys were impressed that I was staying at Vogue and told me instantly that they couldn't compete with anyone like Vogue. The truth is, if you're looking for a typical commercial place where rooms are right next to each other with a huge luxurious bed and no further privacy, then a place like Vogue is fine. But, that's what you find anywhere in the world as a hotel. There's nothing special about it being a resort. I would suggest staying going by ratings by travellers for places you haven't heard of. Not only is it a lot easier on the pocket, but it's also worth the experience. Also, I found the people in lesser-known resorts to be extremely down to-earth. Vogue didn't even offer to help with our bags.
I recommend hiring a car or bike from Ao Nang. The rates are reasonable and to be fair, it's one of the only populous areas where you can actually hire anything. Most of Krabi is connected by expansive roads and greenery on both sides of the road and no sign of any humans. I managed to hire a Honda CRV – which is an SUV – for just THB 1000 a day. The main road in Ao Nang is lined with restaurants that serve food from food side cuisine to top-class food. I actively avoided Indian food restaurants simply out of prior experience: never eat Indian food outside India. Most of the ingredients are not commonly used in Thai food and you never know how old the ingredients are. Having previously suffered after eating Indian food in a foreign country, I decided never to repeat it. When in Thailand, be Thai. Having said that, I recommend eating at literally any restaurant that has a crowd even if it's a street-side stall. Most Thai people eat out and the food will be hygienic if the stall has a decent crowd.
I also recommend the beachside shack at the far end of Ao Nang's beach called Rimlay Cafe. It's hard to find but they have an amazing view and they serve freshly made burgers. In Ao Nang, I recommend staying at Bliss Resort. Their rooms are cosy and are right by the beach. Poonsiri resort isn't a bad option either if you're willing to spend a little more and if you like staying by the side of a river.
Koh Lanta
Koh Lanta is a peaceful spot to be and is filled with fun beach activities that one can indulge in. Supposedly with the best coral reef and beach line in the entirety of Thailand itself, Koh Lanta is best known for its scuba diving activity. While I didn't scuba dive this time, people can literally walk into the beach with scuba gear and get started.
Another attraction in Koh Lanta as part of Krabi Island is its national park. It's a sprawling park that is home to several small islands! You can also find the typical and scenic pool within a cave where you can swim – The Khao Mai Kaew Caves.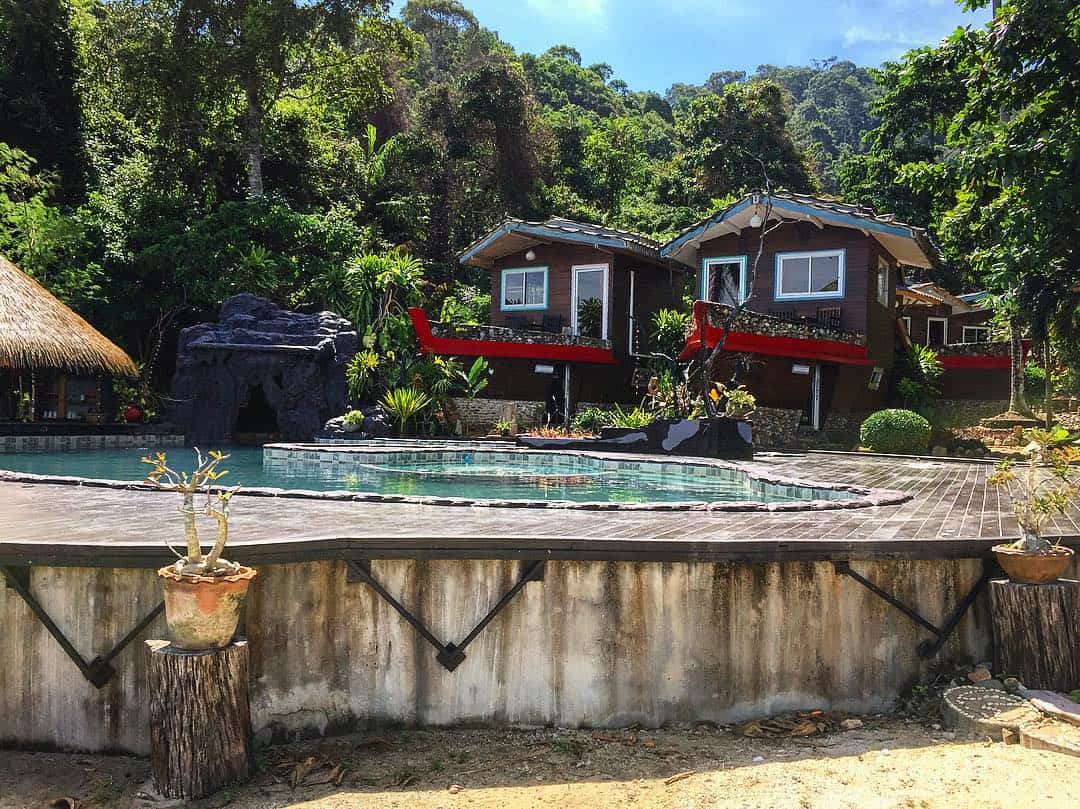 Phang Nga Bay
Phang Nga is one of the main tourist attractions of Krabi Island. Most travel packages take tourists here and so it tends to get quite crowded. Phang Nga is a huge bay; typical packages and activities include taking a speed boat to the main bay area and then letting you kayak around the waters as huge rocks hills and mountains loom above you. A distinctive feature of this famous bay is the number of limestone karsts that vertically jut out of the emerald-green water.
Phang Nga is home to several small islands, one of which is the famous James Bond Island. This iconic limestone formation is famous for have been featured in an old James Bond movie called The Man With The Golden Gun. I signed up for a tour that would take me kayaking through caves and to James Bond Island where you can swim in the clear waters and pose for a ton of photos. But, be prepared to wait if you're expecting to get a photo without anyone else in the scene. It's an extremely popular hotspot and the stalls that sell accessories and other small trinkets are quite expensive. You would find better stuff at the Weekend Night Market of Krabi itself.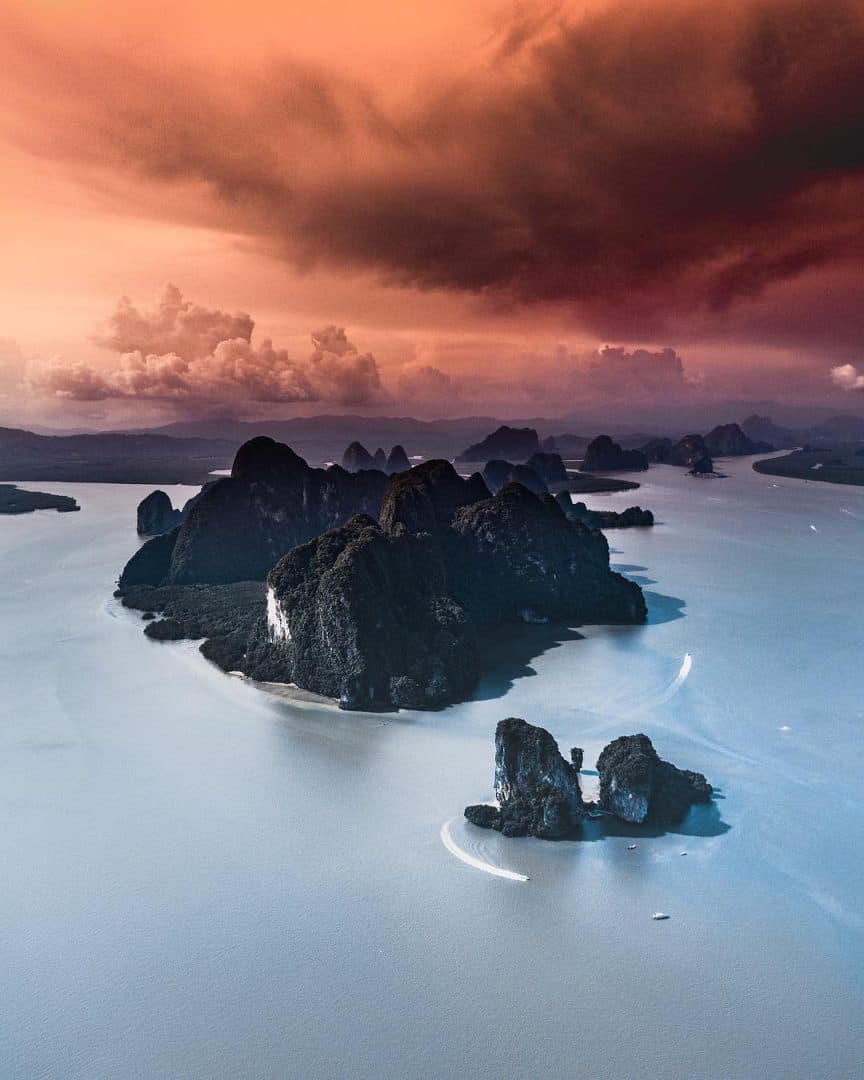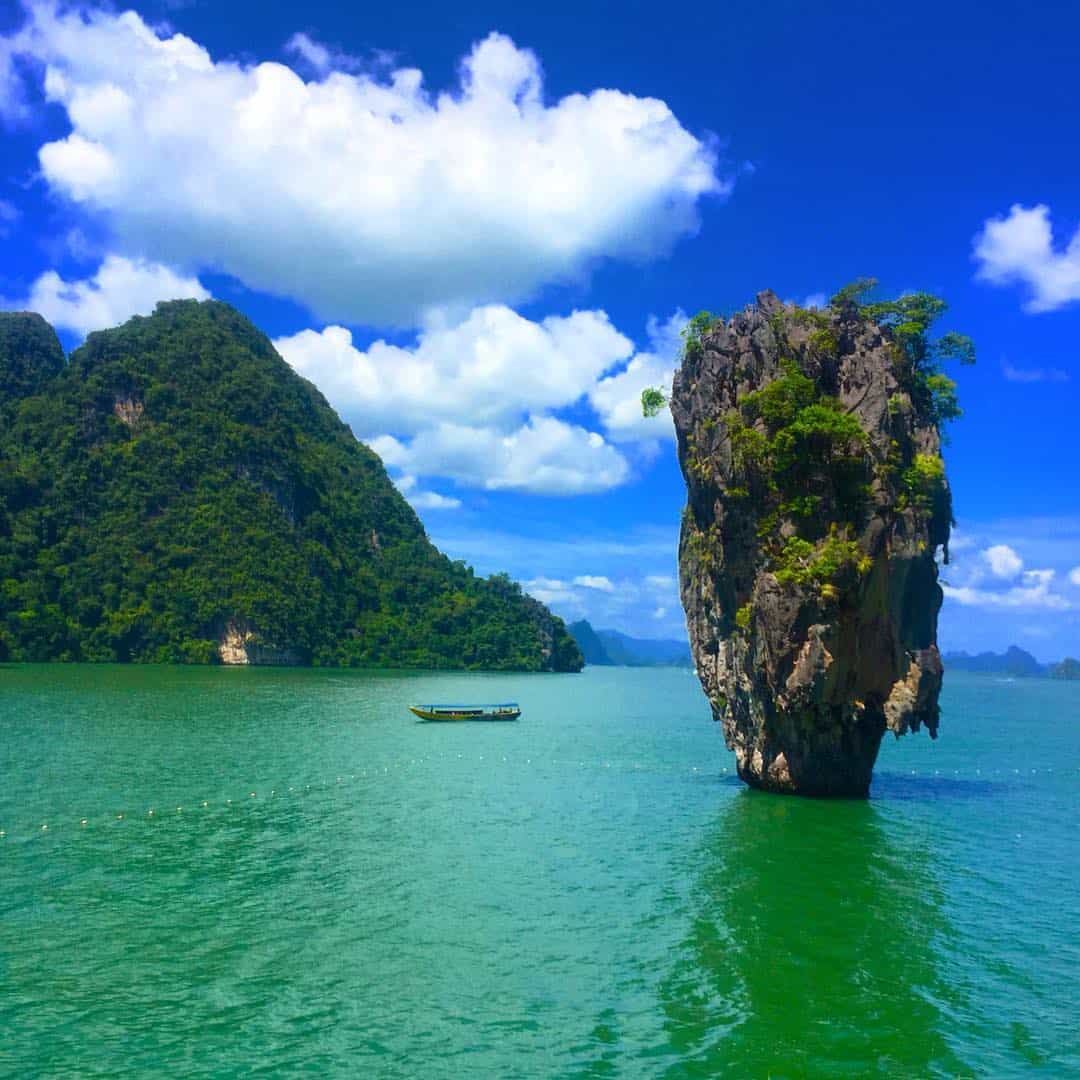 Khlong Thom
Khlong Thom is a district in Krabi Island that is for the natural hot spring that draws out many tourists. As you drive from Ao Nang towards Krabi's main town, you will spot countless signboards that point to a hot spring, waterfall, or river. It goes by many names but it's all in the same place. There are timings to the hot spring though and from what I remember, the hot spring closes by 530 PM sharp. The hot spring river – which is a few kilometres away – is part of an eco-park that sources the hot water from the stream and provides hot water pools for anyone to relax in. In fact, the hot spring river itself is semi-naturally designed to hold small pools of water for anyone to jump into and relax.
You'd think, "Hey, how hot can a river be?" Take my word for it: you cannot stay in the waters for more than 15-20 minutes. I was sweating by the time my 15 minutes was done!
When travelling around Krabi, it is recommended to hire your own vehicle (a two-wheeler will suffice) since it works out more conveniently. The roads are wide and mostly empty and it paves the way for an enjoyable ride. If you can drive, then I highly recommend hiring a car itself. Public transport is infrequent and let's not even start talking about tuk-tuks. They always charge you with a bomb.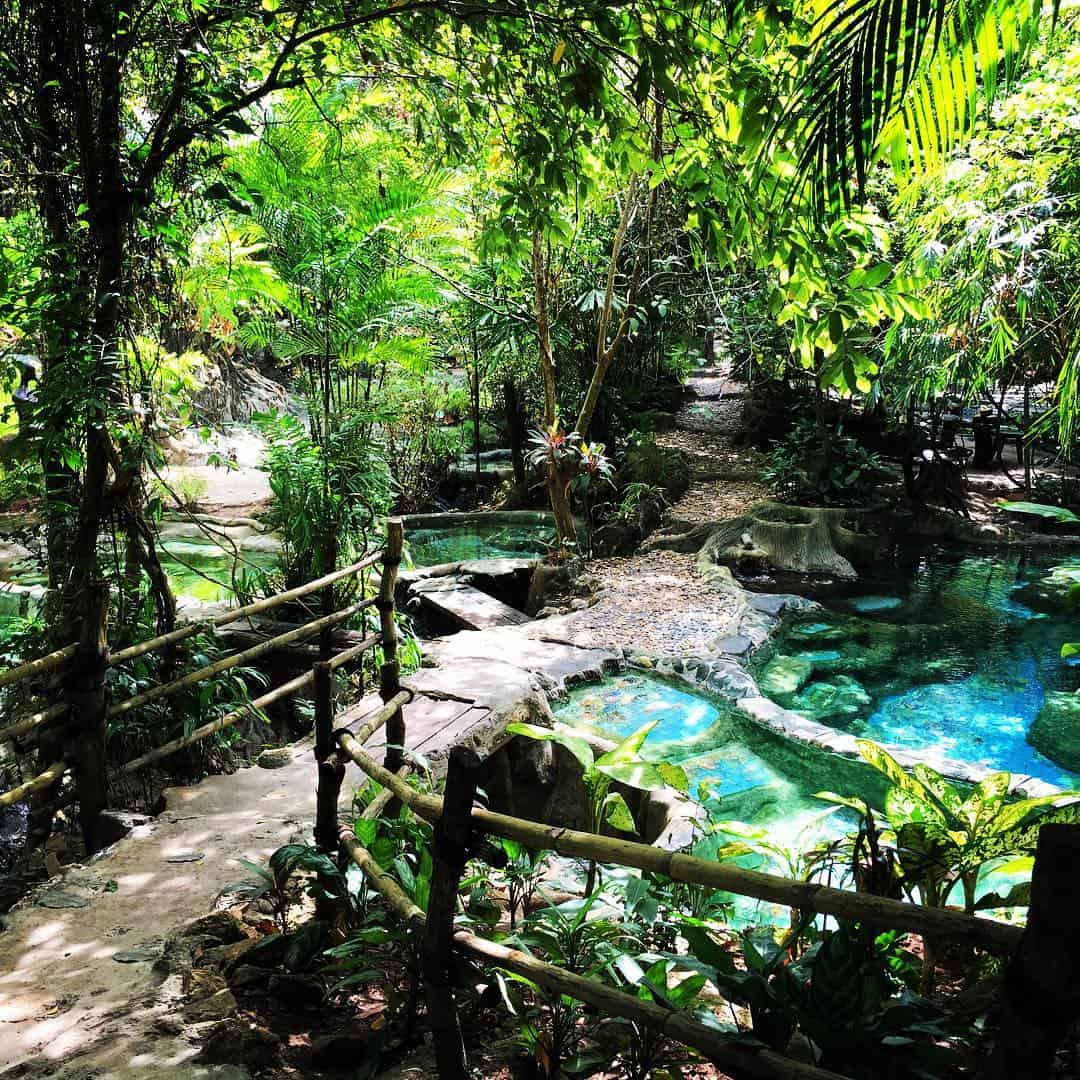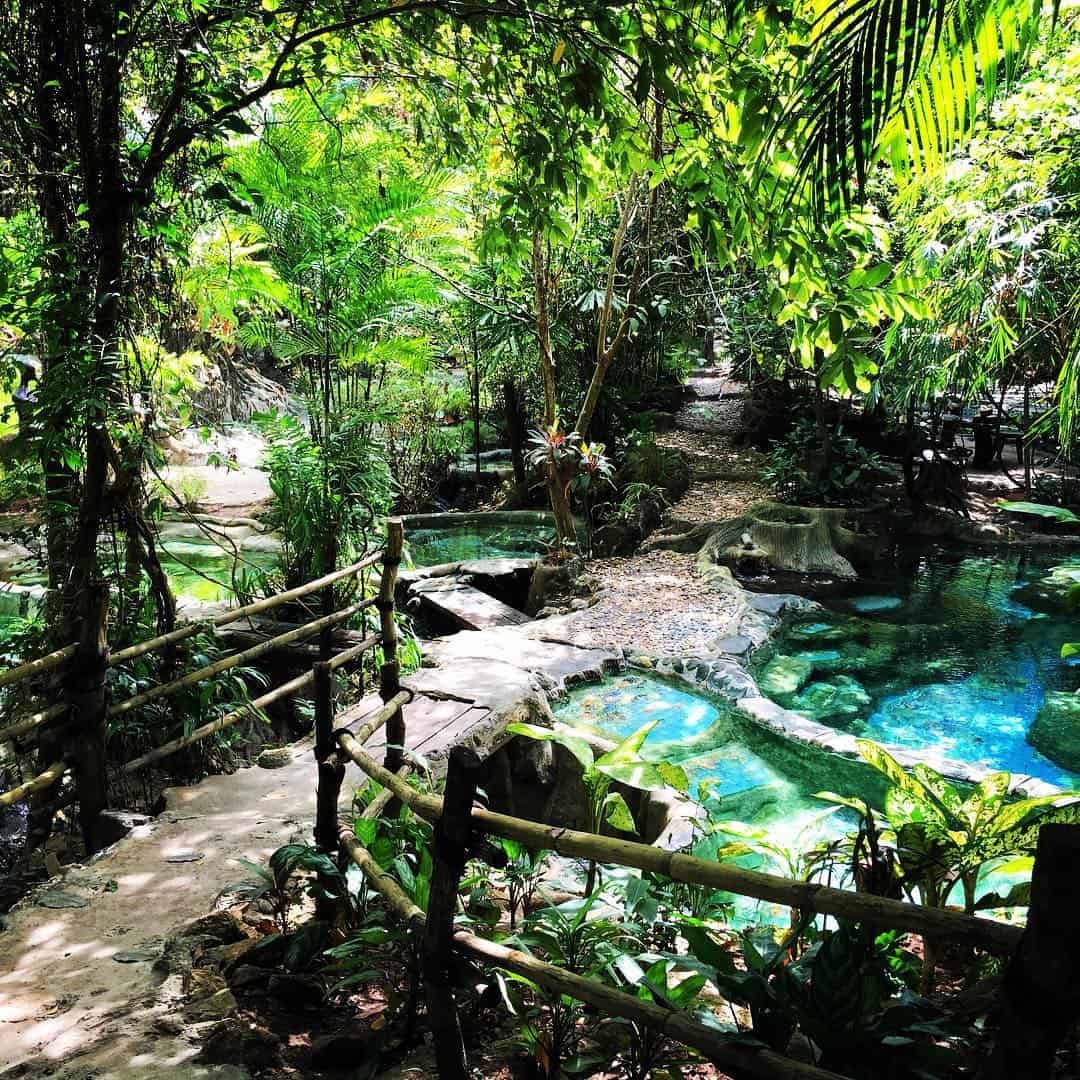 Weekend Night Market at Krabi
I bumped into the weekend night market at Krabi Island by mistake. While riding back from the hot spring, we rode past Krabi Town and suddenly went past a crowded junction that was teeming with people. A huge stage had also been set up in the middle of the field where some guys were playing the guitar and singing some songs. At first, I thought it was a Thai version of Wicked Game but as I walked through the market, I realized it was the Thai accent-English version of Wicked Game!
In many ways, I liked the weekend night market over Bangkok's Chatuchak market. Chatuchak has the most extensive collection, no doubt, but I found that the prices of similar items at the weekend market were way cheaper than what I found in Bangkok. I managed to buy a pair of ripped jeans shorts for THB 50 which is roughly just Rs 100! It's an amazing place to buy clothes such as T-shirts, jeans, simple dresses, and a lot of accessories. Watches, shades, bracelets, and earrings were being sold at throwaway prices. I even found undergarments being sold for as little as THB 20 and they looked like good quality!
There are countless food stalls around this market and one can find anything from chicken shawarma to fried scorpions. While I didn't sample the food except for the shawarma, the sticky mango rice is a delicacy and a must-try at the market. A word of advice: make sure you come with a vehicle large enough to leave with the bags you're going to have on your way out!
Krabi Island is filled with fun activities of all kinds. From water sports and sightseeing to shopping, Krabi can prove to be your one-stop destination for everything. The best part is that you'll have all the fun without a crowd. The prices are nominal and the place is a huge treasure-landmine for people willing to explore on their own. All you need is a medium of transport and a map and you're good to go. Keep in mind that most road signs are not in English and are inconsistent as well. Asking the locals won't help much because not many speak English. The ones who do are very helpful. But, it helps to have a map.