Kasol itinerary for 6 days is for travellers who want to spend some good quality time in the Parvati valley. My itinerary will cover Kasol, Tosh, Malana, Kheerganga and a few other places in the Parvati Valley.
Located in the Parvati valley, Kasol was just another quaint little hamlet tucked away deep in Himachal Pradesh that no one knew about. Off late it has become popular with backpackers.
This has been mainly because of two main reasons, one being the easy availability of high-quality hashish (Possession and consumption of Hashish are illegal in India, you can be even arrested if you happen to have it), and second due to beautiful hiking and trekking trails all around Kasol.
It can be a little confusing as to what places should one cover during the visit as there is no dearth of picturesque places in and around Kasol, I am hoping that my detailed Kasol itinerary for 6 days will help you plan your travel without any hassle.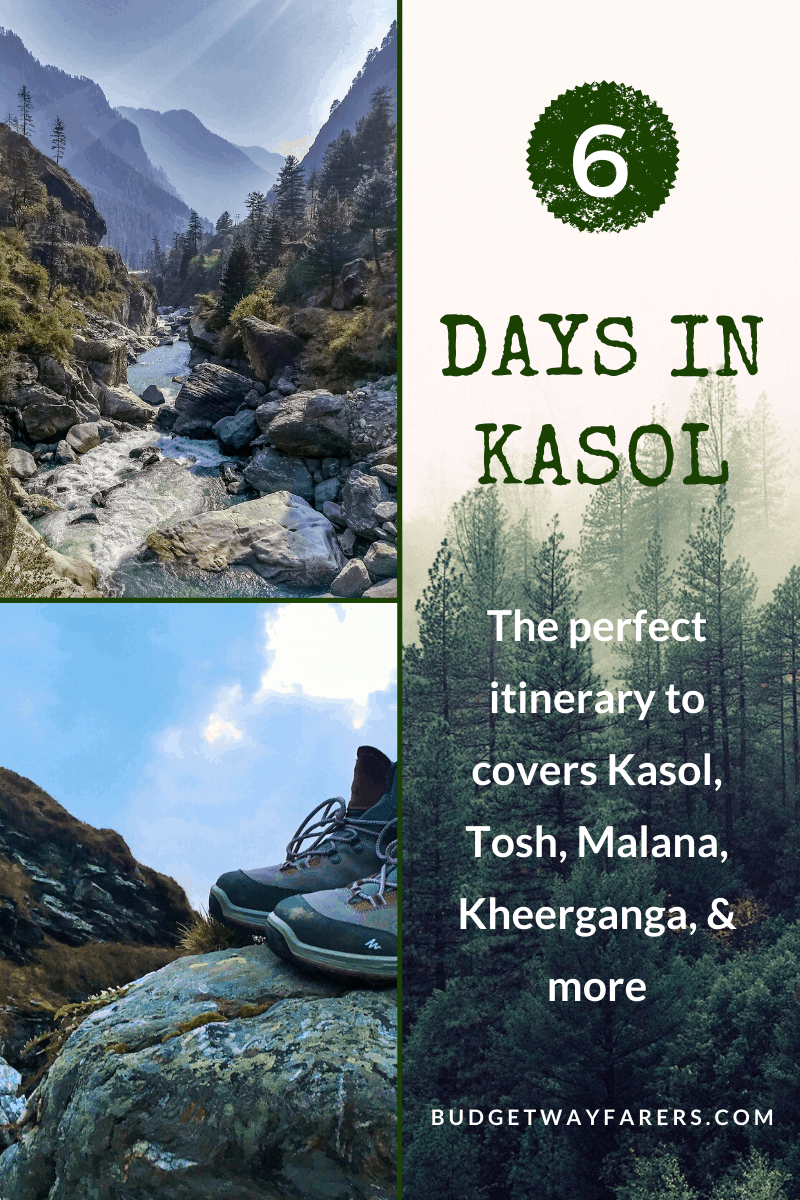 Kasol Itinerary for 6 Days: What to cover When?
If you are visiting Kasol and Parvati valley for the first time I would suggest spending around 4 -7 days in and around Kasol. If you don't have thee many days, it is also possible to plan a weekend trip of 2 days Kasol.
A pre-defined Kasol itinerary for 6 days and 5 nights can help you explore Kasol in a more efficient manner. With a defined plan, you will be able to accommodate the most wonderful places and experiences in and around Kasol.
Before I proceed, here is a quick look at my Kasol Itinerary for 6 days:
Day 1
Reach Bhuntar & head to Jari
Visit Malana & spend the night there
Day 2
Reach Kasol
Explore & go to Café Hopping in Kasol
enjoy your evening near the bank of river Parvati or spend some time in the woods near Kasol.
Day 3
Hike to Chalal or/& Rasol
Spend the night in Chalal/Katagla/Rasol.
Day 4
Reach Barshaini
Reach & explore Tosh
Spend the night in Tosh
Day 5
Trek to Kheerganga or visit Kutla village
Spend the night at Kheerganga/ Kutla/ Kalga.
Day 6
Visit Manikaran
Board an overnight bus to the next destination
Spending 6 days in Kasol can be one of your best travel experiences and you can include some wonderful places around Kasol in your Kasol itinerary for 6 days.
Start your trip by visiting World's Oldest democracy in Malana on Day 1
Reach early morning to Bhuntar. Board local buses and head towards Jari. From Jari go to Malana gate in cabs and explore the Malana village.
Malana is a remote village located in Parvati Valley. Dubbed the oldest democracy in the world, people in Malana expect visitors to abide by some rather strange rules.
Spend the night in Malana at one of the guest houses.
On Day 2 explore Kasol & Go Café Hopping
In the morning, come back to Jari and board local buses or shared cabs going towards Kasol. Check into a hostel/hotel/guesthouse. Get ready to explore Kasol and go café hopping.
There are a ton of different Cafes in Kasol and you probably require 2 days to cover all of them. I visited quite a few of them and the food was extremely delicious. Bhoj Café, Evergreen Café, Freedom Café, Moondance Café, Jim Morrisons Café, Little Italy and Panj Tara Café are amongst the popular ones in Kasol.
Though cafes predominantly serve Italian and Israeli food, most of them offer multi-cuisine including Indian food in some cafés. Israeli food like hummus, falafel platter, etc. will be readily available and is a must-try when you are in Kasol.
Italian food served in most of the cafes is extremely delectable. Apart from Italian and Israeli food, traditional Indian food is also readily available in and around Kasol.
Kasol is also famous for its mouth-watering desserts like cakes, pie, croissants, etc. There are quite a few bakeries here which serve these kinds of deserts. Germany bakery is the most popular one out there with its apple pie and cheesecakes being a must-try.
In my opinion, Evergreen Café, Jim Morrisons Café and Little Italy are a must-visit as they serve lip-smacking food. Personally, my favourite is Jim Morrisons café as the café was inspired by Jim Morrison the lead singer of the classic rock band "The doors", classic rock numbers are played during the day.
The café has a very chill vibe to it and is heaven for vegetarians as the café serves only vegetarian food. To reach this café you would have to hike uphill for 10 minutes from Hotel Sandhya.
In the evening spend some time on the bank of river Parvati or in the woods near Kasol.
Spend Day 3 hiking on short hiking trails near Kasol
Head to Chalal which is just 30 mins from Kasol. It is one of the shortest and easiest hiking trails around Kasol.
If you are into trekking then you can head to Rasol which is deep in the valley. Rasol is another unexplored village in Parvati Valley. You can easily trek from Kasol to Rasol village in about 4 hours. Spend the night in Chalal/Katagla/Rasol.
On Day 4, visit the beautiful and untouched Tosh Village
If you are in Rasol then come back to Kasol via Chalal and head towards Barshaini. From Barshaini you head to Tosh. Tosh is the last motorable village in Parvati Valley.
Surrounded by lush green mountains with pine, deodar and oak trees, it offers a magnificent view of these mountains.  Relax and spend the evening exploring the village. I had a wonderful time backpacking in Tosh village, you can read all about my experience here.
Trek to the beginner's favourite, Kheerganga on Day 5
Head to Kheerganga today and stay there for the night. If you are not into long treks, then head to Kutla village which is just a short trek or you can even come back to Barshaini and head to Kalga.
Kheerganga is one of the most sought after treks in Kasol. This trek takes about 2 days to finish and can be completed even by beginners.
Spend the night at Kheerganga/ Kutla/ Kalga. Kalga is another lesser-known village of Parvati valley. You can find a few accommodations here.
Relax for a while in Manikaran before you head back on Day 6
Come back to Barshaini from Kheerganga/ Kutla /Kalga and head towards Manikaran. Manikaran is a Sikh and Hindu pilgrimage centre that attracts many visitors.
Take a dip in the hot water springs here and visit the temples and the Gurudwara. There is an evening bus from Manikaran at 6.30 pm. Or else you can take an overnight bus of your choice from Kasol or Bhuntar.
Cost Breakdown for 4 Day Kasol Budget Trip
One of the main reasons why people head to Kasol and nearby places is because it is light on the pocket.
Accommodation is fairly inexpensive in and around Kasol (except peak season prices are high to due the high tourist influx) and will cost around 500-800 INR per day depending on what you choose. If you choose Backpackers hostel that it can come down to around 300-350 INR per dorm bed and guest house and will cost anywhere between 500-800 INR.
If you have someone to share a room with, then guesthouses and hotels can be a decent option as well. You can opt for Luxury hotels, and guesthouses in Kasol but your cost will go up. Kasol also has a lot of campsites around the bank of the river Parvati. But they tend to be a little bit more expensive than Hostels, guesthouses, and hotels.
The only thing that is a little bit expensive is the food. If you are going to visit the famous cafés in Kasol then it will cost you a bit but trust me it is worth it since the food is just amazing here.
Food is going to be a bit expensive here, So I would say it will be around 500-700 INR per day depending on how many cafes you visit. Though it is a little bit on the expensive side, trust me, you will love all the Multi-cuisine delicacies that Cafés in Kasol offer.
I will again assume Delhi as your starting point. based on that the costs you will incur are
 Accommodation cost = 2000 INR
Food cost for 6 days = 3500 INR 
Bus fare to and fro = 2000 INR
Internal Transport* = 1500 INR
Therefore, the approximate cost of a 6-day Kasol itinerary would be around 10000-12000 INR. The cost includes the bus fare to and from Kasol.
Choosing Accommodation in Kasol that is super affordable
The accommodation shouldn't be a problem as there is plenty of budget hostels, hotel, and guest houses. As soon as you enter Kasol, you will spot clusters of Budget hotels and guesthouses the rooms there are not fancy but are decent enough.
They can be priced anywhere between 500 – 800 INR. The prices can be exorbitantly high during the peak season even for even basic rooms. I stayed in a couple of hotels in that area that were decent and were priced at INR 500, but it was in February which can be considered off-season and it did feel like off-season as the foreign travellers were almost absent.
Though sometimes Kasol is swarmed by tourists during the summer months and the new year, accommodation can be easily available in the nearby villages Chalal, Katagla, Choj. Chalal is just 30 mins hike from Kasol with plenty of budget options around. 
For all you backpackers and solo travellers, backpacker hostels will come to your rescue as there a couple of popular hostel chains in Kasol. Some of the best hostels here are:
The Hosteller, Kasol 
The hostel s located above the main market in Kasol. You can reach the place by walking for 10 minutes from the Kasol bus stop.
Prices start at 400 INR per person
Nomads hostel, Kasol 
This hostel is located near Choj village which is a walkable distance from Kasol Market.
Prices start at 400 INR per person
Whoppers hostel, Katagla 
This one is located in Katagla village, another beautiful village located at about 2.5 km from Kasol.
Prices start at 300 INR per person
11: 11 bunker house, Tosh 
It is a hostel which is secluded and a little bit far off from other Hotels and Guesthouses which is exactly what makes it great.
Prices start at 350 INR per person
Reaching Kasol – the convenient & Pocket-Friendly Way
There is no direct bus for Kasol from either Delhi or Chandigarh. Therefore, for a first time visitor, reaching Kasol can be a  bit confusing.
Kasol can be only reached by road. For those making a solo trip to Kasol or are on a tight budget, Volvo buses will be your best bet. First, you need to board buses going towards Manali. There are a lot of Ordinary Volvo buses of both private operators and HRTC plying on the Delhi – Manali route from ISBT Kashmere gate.
Then you need to get down at Bhuntar since this is where the road to Kasol in Parvati valley diverts. From Bhuntar you need to take to local buses or shared cabs going towards Kasol.
There are a couple of HRTC buses from Delhi in the evening that directly go towards Manikaran. In case you don't want to do a break journey and save time then is the perfect option (Kasol comes before Manikaran). Of course, there are only two buses so it might not be convenient for everybody.
Assuming you are coming from Delhi this would be the route.

Delhi – Chandigarh – Bilaspur – Pandoh – Mandi – Bhuntar – Kasol
If have self-driven cars or private vehicles, then just make sure you take the diversion at Bhuntar. On average Delhi to Kasol bus journey would take around 13-15 hours.
Choosing the best Season to visit Kasol 
This is very subjective as this would depend on what kind of colours and landscapes one wants to see. But one thing is for sure the weather remains very comfortable throughout the year except for cold winters which start from late November to early March.
Winters for snowfall 
If you want to experience snowfall, then the best time to visit is the months of December and January. The spring season can be one of the best times to visit as it's not too cold as compared to winter but there is lots of snow on the mountains.
Summers for Hiking 
Summers months are usually the best time for hiking and trekking as the snow melts completely in the upper reaches.
Monsoons for the Greenery
Monsoon is when everything seems to be lush green due to rains but be careful while trekking trails become slippery and sometimes Landslides can block a lot of roads in Himachal. September is when the monsoon withdraws and makes way for beautiful clear skies.
Autumn for the landscapes
Autumn is also a wonderful time to be around, as the landscapes would start turning golden brown as the winter approaches.
If you time your visit to Kasol during off-season months like January, February, and March in winter, or in September, October and November during Autumn, then you would enjoy it a lot more. This is because there would be no crazy tourist rush when compared to the Summer months or the period of Christmas and new year.
How Safe is Kasol for travellers?
Kasol is very safe irrespective of gender. In fact, all of the Himachal is very safe and you will find lots of solo travellers backpacking around Kasol and Parvati valley.
As you might already know Kasol is infamous for people looking for high-quality hashish called 'Malana Cream', so please make sure you don't engage in such illicit activities as possession of Hashish is illegal and you can even be arrested.
Apart from this, locals are very amiable and approachable, and they will help you out in any situation, so don't hesitate and approach them if you need help. While hiking and trekking around this pristine valley avoid taking shortcuts unless accompanied by a professional guide. 
I hope my Kasol Itinerary for 6 days will help you plan a lovely stay in Kasol. With this itinerary, you will be able to incorporate most of the wonderful places in and around Kasol. In case you have any other questions, please drop them down below in the comment section. I will try to answer them to the best of my abilities.
Happy Wayfaring 🙂