Jim Corbett National Park, also known simply as the Corbett National park lies in the Nainital district of the north Indian state of Uttarakhand. It was here that the prestigious 'Project Tiger' was launched in the year 1973. 
Jim Corbett National Park is a treat for nature and wildlife lovers. Its territory the land ranges over  500 square kilometres, and the entire terrain is beautiful. From marshy swamps to overarching hills, from riverine belts to lakes, every geographical component is present here. Love for nature is explored here via an open four-wheeler Jeep and on an elephant's back. 
Jim Corbett National Park is not just home to the tiger but also other wildlife species and birds. In fact, some of the most established bird watchers visit Corbett to observe different varieties of birds.
In this travel blog, I will be sharing with you my experience at the national park and all the other details you need to know before you visit the place. 
Jim Corbett National Park – An Overview
Jim Corbett National Park is the oldest national park in India. The park has a large number of animal species including Bengal tigers, and the leopard cat. Himalayan black bears, Indian grey mongoose, otters,  Indian pangolins, etc. Here are a few things you need to know before planning a visit to the park.
Location
Ramnagar, Uttarakhand, North India
Mode of Travel
By road
Main Attraction
Tiger spotting, wildlife
Best Time to Visit
November to February
Nearby Places to Visit
Lansdowne, Nainital
Travel Zones in Corbett
Six (6)
Accommodation Options
Inside the park
Near the park
About Jim Corbett National Park
Jim Corbett National was established in 1936 as Hailey National Park with the aim to protect the endangered Bengal tiger. The park was later named Jim Corbett after Edward James Corbett who played a key role in the establishment of this park.
Jim Corbett was a hunter who killed many man-eating tigers in India. He was called upon by British officials to kill man-eating tigers and leopards in the nearby villages of the Garhwal and Kumaon regions.
Corbett killed many man-eating tigers and leopards in the region. He found that the big cats turning man-eaters were either injured or incapable of normal hunting. He later persuaded the government to form a protected area so as to minimise man-animal conflict.
Jim Corbett National Park's terrain spread over 500 sq km is beautiful. From marshy swamps to hills, from riverine belts to lakes, every geographical component is present here. There is a wide variety of flora and fauna in the park. 
Did you Know? Corbett National Park has the largest tiger population in India i.e. 200+
How to Reach Jim Corbett National Park?
To reach Jim Corbett National Park, you will have to first visit Ramnagar – the nearest town to the Tiger reserve. Ramnagar is connected by both road and train to major Indian cities.
Travel Distance from some Popular Visitor Locations to Jim Corbett National Park
Corbett National Park is very popular among travellers from nearby towns, mainly because of the ease of travel and the distance.
Nainital – 66 km
Delhi – 260 km
Lucknow – 145 km
Ranikhet – 112 km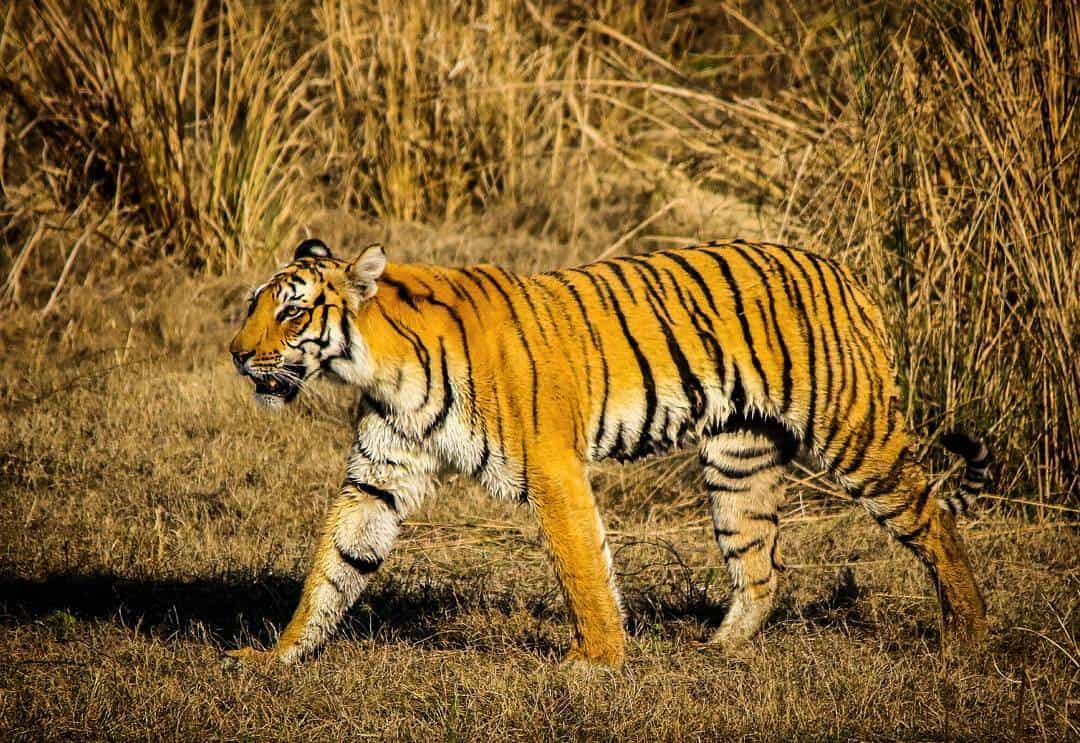 Jim Corbett is one of the oldest abodes to the Indian tiger. Photography by Tanuj Kumar
 

What Way did I Take to Reach Jim Corbett National Park?
Well from Chandigarh (located at a 4 to 6-hour distance from New Delhi)  there are mainly two ways from which you can travel to Jim Corbett National Park –
1. The first way is via Haridwar and it goes like: Chandigarh – Saharanpur – Roorkee – Haridwar – Corbett

2. The second way is via Rishikesh and it goes like: Chandigarh – Dehradun – Rishikesh – Corbett.
The second path to the Jim Corbett National park was chosen by us because of the good road conditions. The roads from the first path are in a bit of bad shape as told by the driver.
When on the bus, we had only one rule. No one will sleep during the entire journey folks. The driver did the job of driving around and we did the job of keeping everyone up. The trip started with enthusiasm and dance music and we all danced like there is no tomorrow.
Known as one of the biggest tiger reserves in India, Jim Corbett National Park is also home to other rich flora and fauna. Photography by Muhammad Sujath
Official Travel Zones Inside Jim Corbett National Park
Jim Corbett National Park is divided into the five ecotourism zones for the proper management of the tourism activities in the tiger reserve area. These zones are
Durga Devi Zone
Recommended for bird watching
Sitabani Buffer Zone
Beautiful but lies a little outside the reserve
Bijrani Safari Zone 
Closest to the reserve and green.
Dhikala Zone
Excellent for overnight halt inside
Jhirna Safari Zone
Easy wildlife spotting
Dhela Safari Zone
The only area in the buffer zone open to visitors
How to book a Corbett National Park Safari?
The safari booking at Jim Corbett National Park can be done well in advance online. While Indians can book a safari 45 days in advance, foreign nationals can do so up to 90 days in advance. 
There are several other operators in Ramnagara and the hotels also book it for you, though they add a service charge on the government rate.
You can choose between a jeep safari and a canter safari. The Jeep safari will go to any of the zones mentioned above, while the canter will only go to the Dhikala zone. 
A beautiful tiger spotted at Dikhala zone. Photography by Chetan Pardeshi
Jim Corbett National Park: A Place Unknown to Me at First
What does it feel like when you are travelling to a place completely unknown to you? The excitement trumps any other feeling like the day for the journey comes closer. Visiting Jim Corbett National Park was my first college trip. 
I am a 'hostel boy' so that place was my home and my friends and the students from the college were the people I was going to travel with. The Adventure Club of the college was the organizer of the trip. I was also a part of the club and my duty was to call and inform every student going on the trip about the info meeting that had to take place before going.
Jim Corbett National Park and its Bollywood Connection
The Jim Corbett  National Park was where we were going, the same place where the movie KAAL was shot. We knew this was going to be epic. There were some things mandatory for every person to carry and the rest was a personal choice.
Anyhow, we gathered at a meeting point early in the morning (still dark), loaded our luggage, and attended the roll call to make sure everybody was present and off we go!
We had already hired a bus from local tours and travel company.
Budget Accommodation

 Options Near Jim Corbett National Park
We stayed at The Den. This hotel is located in Kumeria Reserve Forest, Kumeriya, Chilkiya Range, Uttarakhand. The jungle safari to Jim Corbett is a 30-40 minute drive from there.
The place overall is a nice place. We were 4 guys and were allocated a room where there were two beds one on the ground floor and one on the first, which was accessible from the inside only. It was a nice room, and had a nice tv but who comes on a trip to watch television right?
Some Nominal Stay Options
Forest Rest House
Great view, Nominal prices. Try booking in advance.
Camp Riverwild
Decent place to stay. Close to the river. The staff is trained well to serve guests.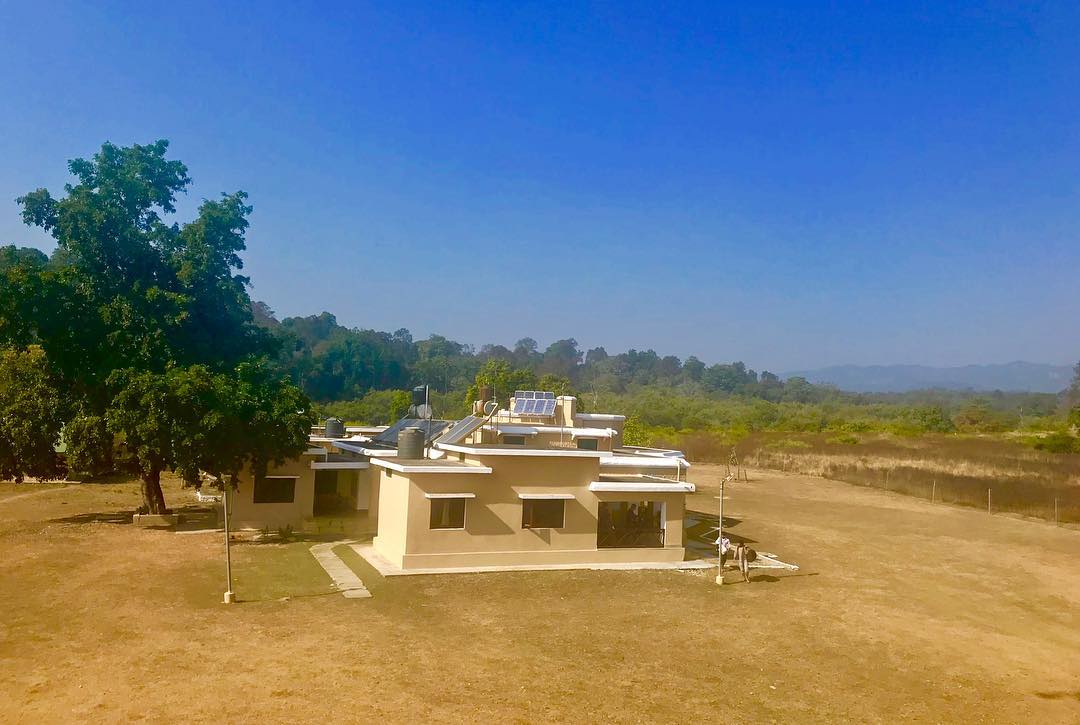 The Forest Rest House at Bijrani. Photography by Saim Ahmed
Accommodation Options Inside Jim Corbett National Park
Accommodating yourself inside the Jim Corbett National park will not be easy because there aren't many stay options inside the reserve. However, the good news is that this is one of the few tiger reserves in the world that offer you options to stay within its boundaries. You can halt at night, live amidst the wildlife and then venture out into the reserve the next morning.
The accommodation options inside Jim Corbett Tiger Reserve are located at 3 places – 
Dhikala
Gairal
Bijrani 
All of the stay options available at the above mentioned 3 places have been provided by the reserve officials themselves and should be booked in advance.
Note: Out of the 3 places mentioned, the most spacious accommodation is available at Dhikala.
Permits for Accommodation Inside Jim Corbett National Park
Prior reservation booking will have to be done online. You'll have to pay the requisite tariff and book your spot. Once the reservation is done, collect your 'in-reserve' permit can from the Ramnagar Reception Office before entering the Park. It needs to be mentioned here that visitors from India can make bookings up to 45 days in advance, while foreign nationals can make bookings up to 90 days in advance.
Me having fun at the poolside of the Den. Credits by Sahil Rana
The Den. Photography by Sahil Rana
The Premises of Forest Rest House. Photography by Shubhankar
Camp Riverwild. Photography by Rimli Baruah
A Visit to Kosi River
We stayed up playing cards and socializing and talking and finally taking a nap at 4 A.M. We were woken up at 6 by our 'new friends' who were just as excited to go to the Kosi river which flows right next to the hotel.
We went down and found this place to be amazing! Chilling with our feet in the water and just looking at the landscape was truly amazing.
Kosi flows peacefully through the national park. Photography by Rishi Sharma
The Complete Safari Experience inside Jim Corbett National Park
Breakfast was ready as we barged in hungry after having fun at the river. After that we assembled and sat in the bus which took us to the Safari Site, which was almost 35 minutes from the hotel.
We were divided into groups and given our jeeps (with driver) to explore in. It was morning time and the locals there told us that the best time to spot a tiger was around evening. All set in our jeeps, we started the journey as it took us into the footsteps of the forest reserve.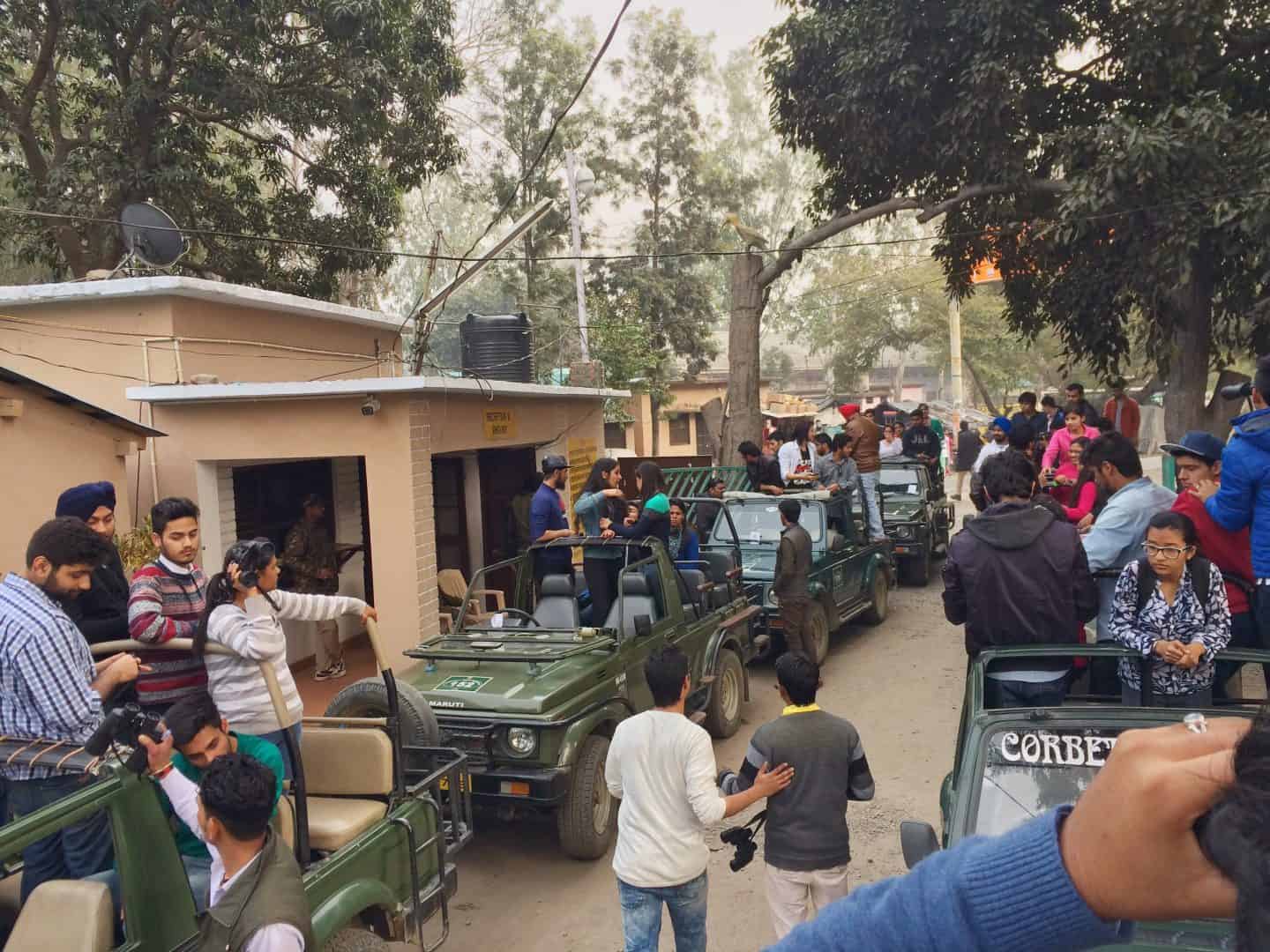 Preparing for Safari. Photography by Sahil Rana
The Safari begins. Photography by Sahil Rana
Wildlife Spotting at Jim Corbett National Park
As we were going more and more into the forest, we saw the wildlife emerging from the scene. The Jim Corbett National Park as we were told was coming to life. Initially, we saw –
Monkeys

Langur

Parrots

Wild chickn

Moose

Peacocks

Elephants

Fox

Deers

Birds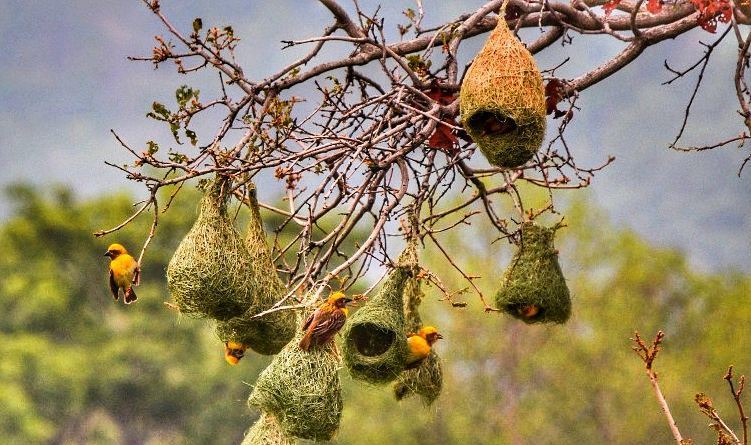 Beautiful nests. Photography by Sahsrash Singhal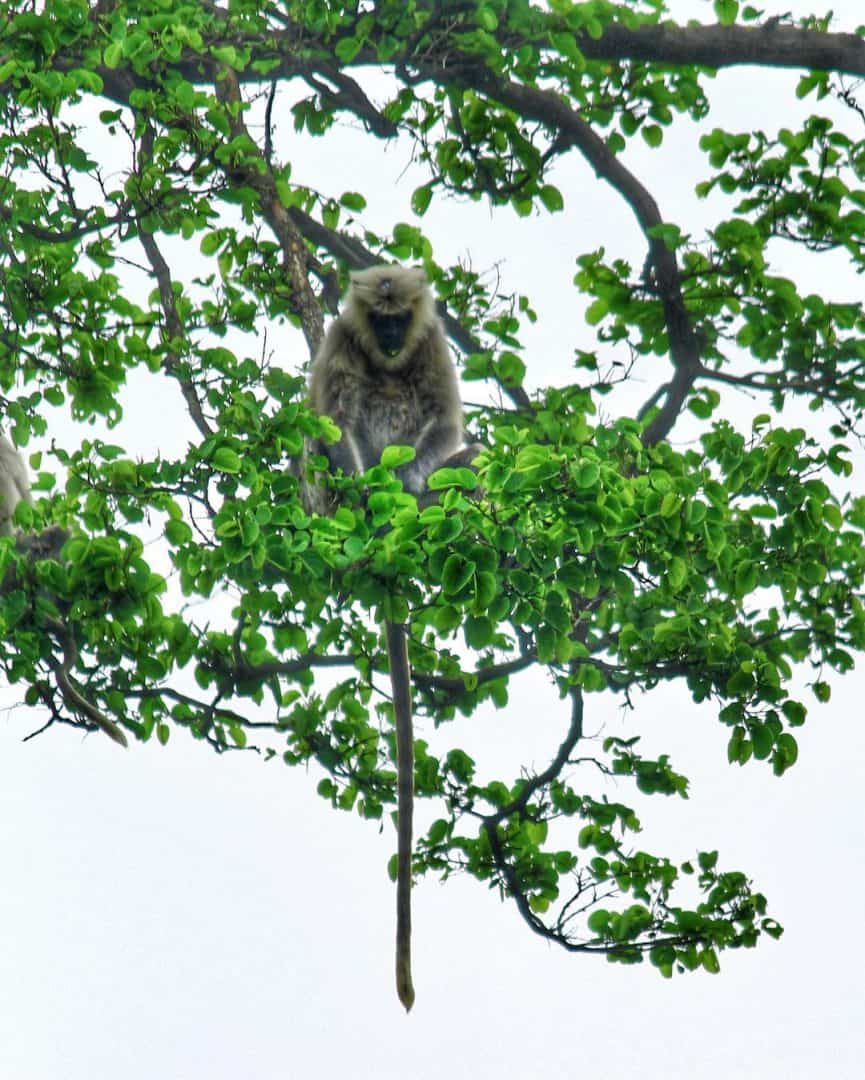 The Langur. Photography by Nilotpal Sinha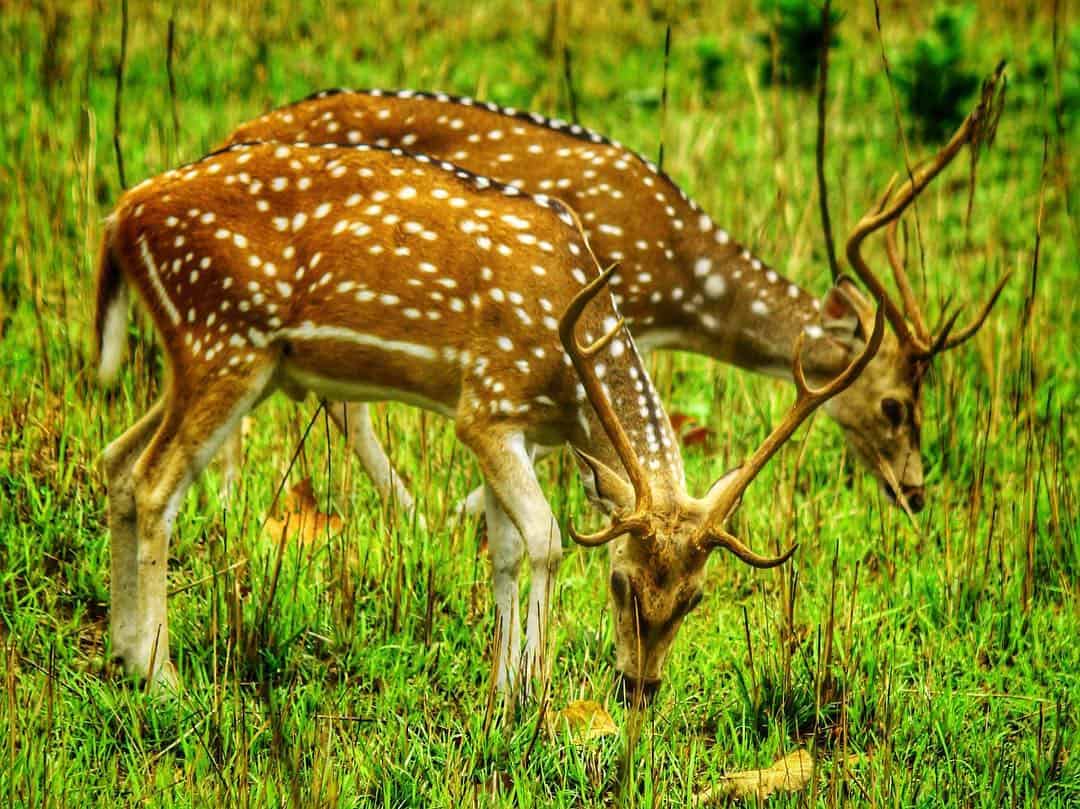 Spotted deers at Corbett. Photography by Nilotpal Sinha
The Watch Tower at Jim Corbett National Park
There is a spot in the Jim Corbett National Park where the jeeps stop by turns. It is a watch tower which gives the whole view of the forest and is a very good place to capture wildlife if you are lucky enough.
What the drivers did is that they turned off the ignition as we were climbing the tower and as soon as we reached the top it was so peaceful. By maintaining the quiet there was a chance that we would get to see some of the nature in action but we couldn't spot anything. We saw a weaver bird's nest which was an amazing work of art.
The driver as we drove along was telling us all about the wildlife there.
We came back around 2-2:30 without spotting the Tiger but we were not disappointed. The jungle safari definitely introduced us to the wild and by experiencing that a feeling is introduced into you, a feeling of respect, for nature and the animals.
The Amazing End to our Experience at Jim Corbett National Park
All journeys must come to an end and so did this one.  I'd like to conclude by mentioning the dive in the pool. Just before we had to leave we took a quick dip or say dive into the pool and were doing it continuously till we were called up because we were getting late. Typical college kids right? It looked like we could never have enough of this Jim Corbett experience.
Jim Corbett National Park is a place for everyone! From the explorers curious to know about the unseen of the wildlife to the people who find serenity in nature. I've seen kids being excited to see the forest and animals around them and I can say with confidence that you will too. Definitely, an experience worth having because one truly indulges when nature hypnotizes. 
What's to share is that going out so far for the first time, enjoying and making our own moments, playing like kids in the hotel room, on a jungle safari and making new friends was an experience that I will never forget.
A lonesome tiger behind the bushes. Look at those powerful big eyes. Photography by Varun Chopra
A deer was spotted at Corbett. Photography by Nilotpal Sinha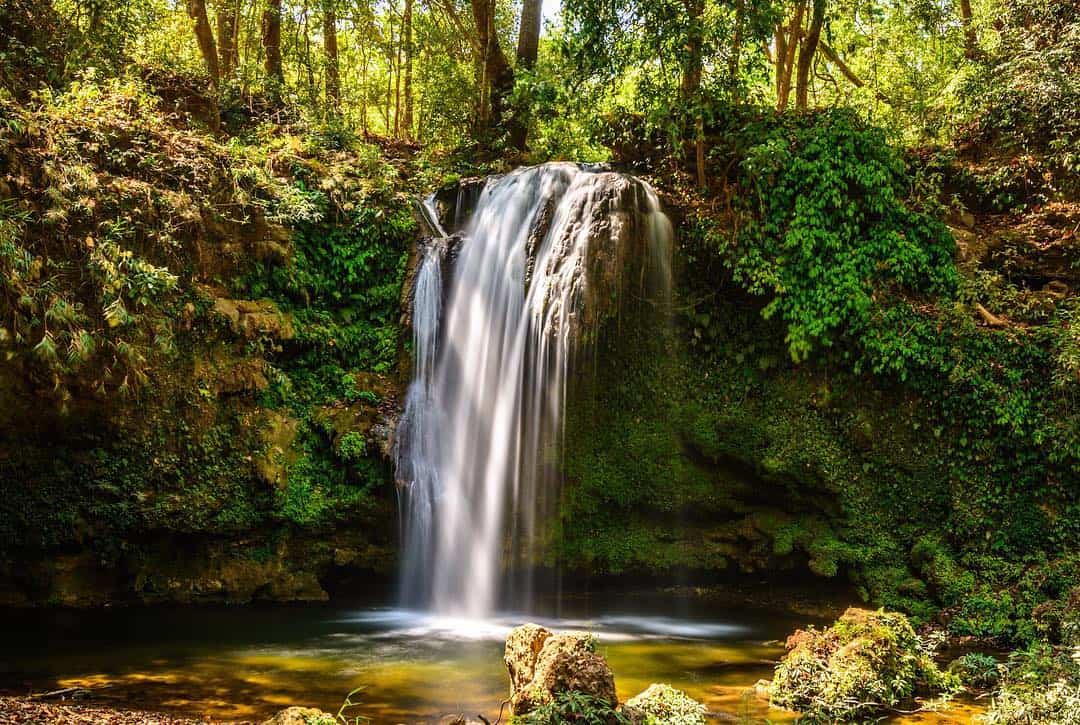 A beautiful waterfall inside Jim Corbett. Photography by Sumit Kumar
Frequently Asked Questions (FAQs) on Jim Corbett National Park?
Here are a few questions that are commonly asked questions about Jim Corbett National Park. In case you have more questions, drop them in the comment section and I will try to answer them as soon as possible.
Is Jim Corbett National Park accessible throughout the year?
No. It remains closed from July to October
How to book a ticket for Park Safari at Jim Corbett National Park?
Book online
How many vehicles are allowed inside the Jim Corbett National Park per day?
180 vehicles divided zone wise
How many visitors are allowed per jeep?
Maximum six people
Can permits to the Safari be rescheduled?
No
Are accommodation options available inside the Jim Corbett National Park?
Yes
If you're a nature and wildlife lover, take some time out from your busy schedule and plan a trip to Jim Corbett National Park. Witness the big cats as well as other wildlife. Try staying overnight inside the reserve and most important be in sync with nature at all times.