Itinerary for Petra is strongly recommended if you plan to visit this amazing destination. In a traveller's wish list, Petra holds a spot at the top. It is like visiting another world which was constructed by ancient human beings. 
You need to make an itinerary for Petra to see and believe the engineering marvel that has been made possible by the ancient Nabateans. The mystery of the place will leave you awestruck and civilization within the beautiful rocky mountains will leave you amazed. Sometimes when you travel and witness a wonder, you are compelled to believe that it was built by some divine touch or some magical charm. Only human effort is not enough to make it possible. Petra is one such place!
Petra is an ancient city which had been probably established in the 4th century B.C. by the Nabateans and inhabited by them since much before that. The Nabateans were nomadic Arabs who had established Petra as their capital and lived on the business routes around. With the progress of time, their kingdom flourished and an unbelievable city gradually developed. In the modern era, the city remained hidden until a traveller rediscovered it in the early seventeenth century.   
Petra Travel: An Overview
Before I elaborate on the detailed travel plan and itinerary for Petra in this blog, here are a few things that a traveller must know about this old city.
Destination
Petra
Country
Jordan
Currency
Jordanian Dinar (JOD)
Travel Options
Flight to Amman and then a road trip to Petra
or
Travel through Israel by border crossing at Arava (near Eilat)
Visa requirements
Tourists from most countries are given Visa on arrival while visiting Jordan.
Find out more information here.
Best time to visit
Avoid travelling in summer as temperatures soar pretty high. I travelled in early March and the crowd was also reasonable.
Food options
Arab food (Pitta, falafel, kebabs), other options like Mediterranean and other popular cuisines available. Vegetarian-friendly restaurants available.
Where to stay in Petra?
Hostels and hotels at Wadi Musa have grown surrounding the old city of Petra. Various options are available for all budgets.
Cost of Day Trip to Petra
50 JOD per person
How to Reach Petra?
Petra is a fairly connected city. The two best options to reach Petra are via road from Amman and Aqaba. You can also chalk out an itinerary for Petra if you are in Israel. You can cross the Israel-Jordan border at Arava (near Eilat) with the normal procedures. A single-entry travelling visa to Jordan would cost 40 JOD (56 USD).
How to Reach from Amman to Petra?
Travellers can easily reach from Amman to Petra to by public transport, taxis or Car Rentals.
By Bus
Travelling by bus is the cheapest way to travel from amman to petra. Two types of buses are available from Amman to Petra.
Jett Bus: This is an AC bus. It leaves  Amman at 6.30am and reaches Petra in 4 hours. If you wish to return the same day, you can take the return bus at 5.00pm. You can book it online or at the Jett Bus Office located in Amman.
Cost one way-  11 JOD (16 USD).
Local Bus- These run from Amman between 9 am and 4 pm.
Cost one way-  5 JOD (7USD).
By Rented Car
You can also get a car rental in Amman if you wish to drive yourself.. You can get a car rental from the Queen Alia International Airport in Amman.
Cost per day- 25-30JOD (35-40 USD)
By Taxi
Amman to Petra taxi is easily available but it is an expensive affair.
Cost one way- 85 JOD (120 USD)
How to Reach from Aqaba to Petra?
The city of Petra can be also reached from the southern tip of Aqaba. It takes approximately three hours to reach Petra from Amman; from Aqaba, you will need about two hours. The three travel options from Aqaba to Petra are
By Bus
Travelling by bus is the cheapest way to travel from Aqaba to Petra. Two types of buses are available from Amman to Petra.
Jett Bus: This is an AC bus. It leaves Amman at 8.30am. If you wish to return the same day, you can take the return bus at 4.00pm. You can book it at the JETT Bus Office located in Aqaba.
Cost one way- 12 JOD (17 USD)
Local Bus: These run from Aqaba to Petra regularly.
By Rented Car
You can also get a car rental in Amman if you wish to drive yourself. You can get a car rental from Aqaba Airport.
Cost per day- 25-30JOD (35-40 USD)
By Taxi
Amman to Petra taxi is easily available but it is an expensive affair.
Cost one way- 60 JOD (85 USD)
Where to Stay in Petra?
The place just outside the old city of Petra is known as Wadi Musa. There are a number of hotels and hostels of all kinds of budget at Wadi Musa surrounding the old city. There are a few popular hotels within walking distance of the old city.
We stayed at the Rocky Mountains hotel, which is 10 min drive away from the old city. The people are friendly and extremely helpful in guiding you for the tour. There are plenty of other accommodation options available. Some of the highly recommended are: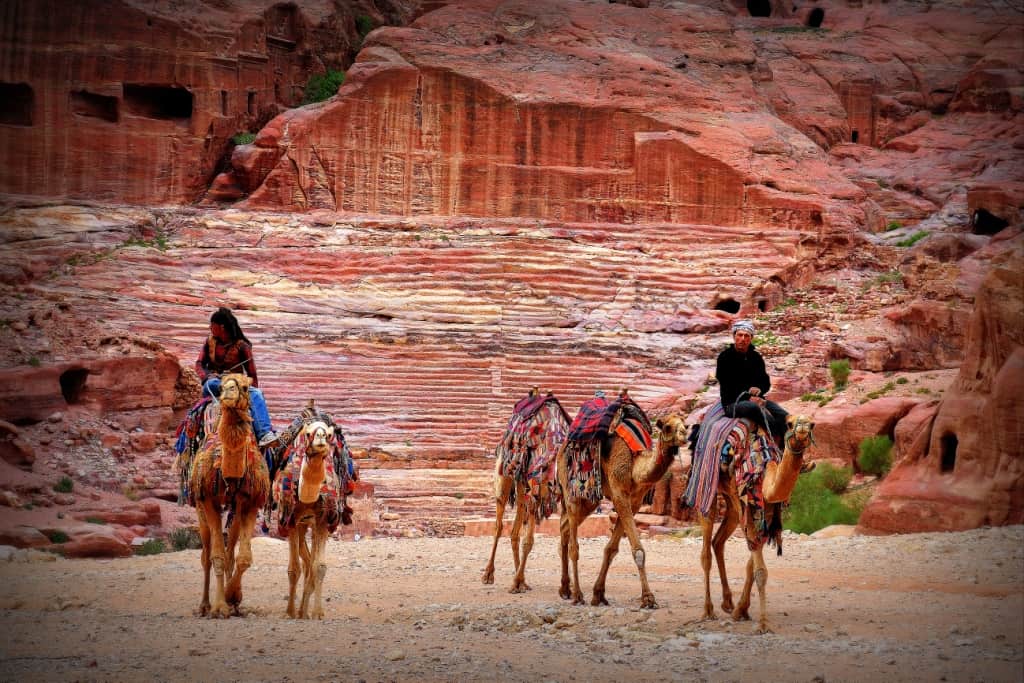 Commuting camels in the old city. Photo Credits: Sounak Dutta
Is Petra safe to travel?
With the increasing political unrest, the whole of the Middle East has suffered badly in terms of tourism. Similar concerns might be raised for visiting Petra. With thousands of tourists visiting this place, Petra is quite safe to travel. The old city is well under the vigilance of Jordan police. During my tour, I noticed a number of solo travellers and groups from various countries. If you are a traveller, and enjoy going out and interacting with people from different cultures, you can travel solo. If you are hesitant, the best way is to prepare an itinerary for Petra with a tour agency.
Itinerary for Petra: What to see in the old city?
The most obvious reason you want to be in Petra is to explore the old city built by the early Nabateans. You can take a walking tour which gives you enough time and flexibility to look around the places. The Siq or the gorge with high walls is the entrance to the old city. Walking through the tall looming structures is quite an experience and you will feel the mystery of the place.
The most impeccable engineering marvels are the rocky structures known as The Treasury and The Monastery. Inside the old city, these two places are a must visit for any traveller. Both of them are believed to be built out from a single rock with unparallel perfection. The high places of Sacrifice and royal tombs are other important sites that can be visited within the old city. The Amphitheatre is also worth spending some time.
Siq, the entrance to the old city. Photo Credits: Sounak Dutta
Itinerary for Petra:

Important things to remember 
Before discussing the itinerary for Petra, there are a few things that you must remember. These are
Touring Petra during the day
One-Day ticket JOD 50
Two-day ticket JOD 55
Three-day ticket JOD 60
(The above rates are applicable if you are visiting Petra by staying in Petra. You will need to retain the hotel booking slips as an evidence that you are staying overnight)
If you are doing a Petra tour for a day by crossing the border and not staying overnight
Tickets cost JOD 90
Petra by the night tour
Tickets cost JOD 17 for two hours Petra by night tour
Is guide available?
Guides are available at the visitor's centre, but the rates vary according to the time and the size of the group. It can range from JOD 50-100 
Timings
The ticket office is open from 6 am to 6 pm
Horse Carts at Siq. Photo Credits: Sounak Dutta
Day-Wise itinerary for Petra
A day-wise itinerary for Petra is given below. It might be used as a guide to prepare for your trip
Day 1
Reach Petra by evening, and go for 'Petra by Night'
Day 2
Whole day tour of Petra
Day 3
Checkout in the morning and head towards your next destination
Itinerary for Petra: Day 1
On day one on the itinerary for Petra, you should reach the city and experience the famous Petra by Night tour.
Reaching Petra
If you are travelling from Amman to Petra, there are a few options that you can take
Jett Bus
Costs around 11 JOD per person, convenient and punctual
Mini Bus
Costs around 5 JOD per person, it is a less convenient option. The bus leaves only when it is full and makes more stops
Taxi
The cost should be 75 to 80 JOD
The most convenient option is to take the Jett Bus. One must remember that only one bus leaves for Petra at 6.30 am in a day (please check the website before you travel). Another less convenient option is to take a local minibus, but it will take longer. Alternatively, one can hire a taxi or a car rental. Although it is an expensive option, a long drive through the desert might often be pleasing.
If you are travelling from Israel, then border crossing needs to be done at Arava for coming to the Jordanian side. This might take time because it involves security checks and interviews. If you are travelling in a group, the best way is to have a travel agent assigned in the Jordanian side that you can refer to during the interview. If he can be present as a host, nothing better!
The best way to get to Petra from the border is to take a taxi. The official cost should be around 54 JOD, although you might need some bargaining skills to get a reasonable deal.
Enjoy the view of Petra in candle lights. Photo Credits: Sounak Dutta
Exploring 'Petra by Night'
Once you reach Petra and get to the hotel/hostel, you should take all the necessary information. It is recommended that on the first evening, go for the mesmerizing trip that Petra offers during the night. It is known as "Petra by night" and occurs thrice every week (Monday, Wednesday and Thursday). So, it is a good plan to reach Petra on any of these days so that you can take the tour. The tickets cost 17 JOD and it starts at 8.30 pm and you should be back by 11 in the night.
The tour offers a unique landscape of the mountainous region, at night when a major area is lit by candles. It looks more beautiful if you are tripping during the full moon. For landscape photographers, it is a wonderful experience to capture the Siq in candlelight. The final spectacle unfolds as one reaches the Treasury. Thousands of candles are lit in front of this exemplary building and visitors sit in front of it when some local performers enact stories about Petra.
An itinerary for Petra is absolutely incomplete without experiencing Petra by night. The light and shadow throughout the rocky structures augment the mystery of the place and will surely leave a lasting impression. It is highly recommended that when you are planning Petra, include one evening when you can take this trip.
Itinerary for Petra: Day 2
The second day on the itinerary for Petra should be spent in exploring the city of Petra. This will be the most eventful and hectic day in your itinerary for Petra. You must start early after breakfast. The hotel often takes care of the local transportation against a nominal charge. They will also prepare a packed lunch for the trip on request.
The day trip to Petra costs 50 JOD per person. (However, if you are staying for more days go for the more economical two-day or three-day tickets). At the visitor's centre, you should get a Petra guide map and a booklet for your knowledge. There will be a guide or agents who can voluntarily come forward to guide your trip, but this is not complimentary. Ensure that if you do not need a guide, you are going by yourself.
Spiral mountainous road to the Treasury. Photo Credits: Sounak Dutta
Walk to the Treasury
Till the Treasury, it is a pleasant downhill walk through the Siq. It is the same path that you travelled the previous night during the night tour. You will be able to see the Siq and the treasury in the daylight. Walking through the Siq, you gradually appreciate the light and shadow effect and the different colours of the rocks.
The Treasury is a giant artistic monolithic piece and is the hub of all activities in Petra. The artistic work on the entrance of the building is exquisite; although the sculptures have suffered erosion over the ages even what remains to speak a volume about the perfection of the early Nabateans.
However, as the name suggests, it is not the place where the Nabateans kept their treasure. This misconception was prevalent among people which attracted dacoits from around. There are bullet marks on the building which are evidence that it was attacked in the past.
Walkthrough the Amphitheatre & Old City
From the treasury, you carry on your walk through the old city and gradually cross the amphitheatre and site for burials of the priest. As you go deep into the old city, you become disconnected from the modern world. You will find a lot of camels, donkeys and horse carts. Rides are available inside the old city for either, but you should negotiate well before taking a ride.
The Monastery, Petra. Photo Credits: Sounak Dutta
Reaching the Monastery
Finally, you arrive at a site where the path starts elevating through the mountains. This is the place from where you begin your journey towards the Monastery (the second marvellous structure (other than the Treasury). It is a tough hike from the basin. There are about 800 rock-cut steps and at a reasonable pace, you will reach the Monastery in less than two hours. There are small restaurants and juice centres on the way, so the journey can be done with halts.
Alternatively, if you do not like walking, you can hire a donkey to take you up to the monastery. But you might feel scared when the donkeys climb up the uneven stairs. Also, you should negotiate well before the deal. Although the monastery is a hectic walk, it is worth taking the trip. The monastery is in better shape as compared to the Treasury. It is quieter and free from the commotion. The excellent masterpiece at the backdrop of a blue sky would make you sit and feel the ambience for some time.
As you return in the same path, you can do some shopping in the local stalls, and grab a drink or a glass of Bedouin tea. Now, you have time for yourself and you can enjoy it as you feel. You can explore the other sites, or take a camel ride. A horsecart ride through the Siq is a fascinating experience. However, you should be careful to make a good negotiation before the ride with the person in charge, or you might feel robbed!
Stay comfortable during the hike
It is often hot and dry in the mountains. So, make sure that you wear comfortable clothing. It is advisable to wear light garments made of cotton. Ensure that you carry a sunscreen. There are almost no places that have a shade, so carry a hat or scarf for convenience. Have your own water bottle, although you will get a chance to have a drink during the trip. Wear comfortable shoes since there will be a lot of walking.
Exploring the markets in the evening
The evening time is a good time to hang out in the local market and have something local in the restaurant. You can, of course, relax in the cafeteria of your hostel and keep looking at the old city as the night sets in. You can also buy souvenirs and jewellery to take back as memories from Petra. It is up to you how you will spend this time.

Itinerary for Petra: Essential Things to Carry
Here are a few things that you must carry when you are out exploring Petra.
Documents
1. Passport
2. Another photo ID of your country
3. Hotel booking slips
4. Contact details of your hotel manager
For the old city tour
1. Sunglasses    
2. Sunscreen  
3. Water bottle    
4. Hat or scarf   
5. Camera (or a good mobile phone) for capturing stunning images 
Total Cost of a backpacking trip in Petra
The trip would cost you depending on the number of days in your itinerary for Petra.  Although a lot of people take day tours from Amman or Aqaba to this old city, I would suggest you stay at least one night here. Here is the breakdown of the cost for the Petra travel plan.
Visa Cost
40 JOD
Hotel/Hostel (for two nights)
50-70 JOD
Petra tour (per Day)s
50 JOD
Petra by night
17 JOD
Transportation from Amman
80 JOD (by Taxi)
11 JOD (by JETT Bus) 
Food options
5-7 JOD for a reasonable full meal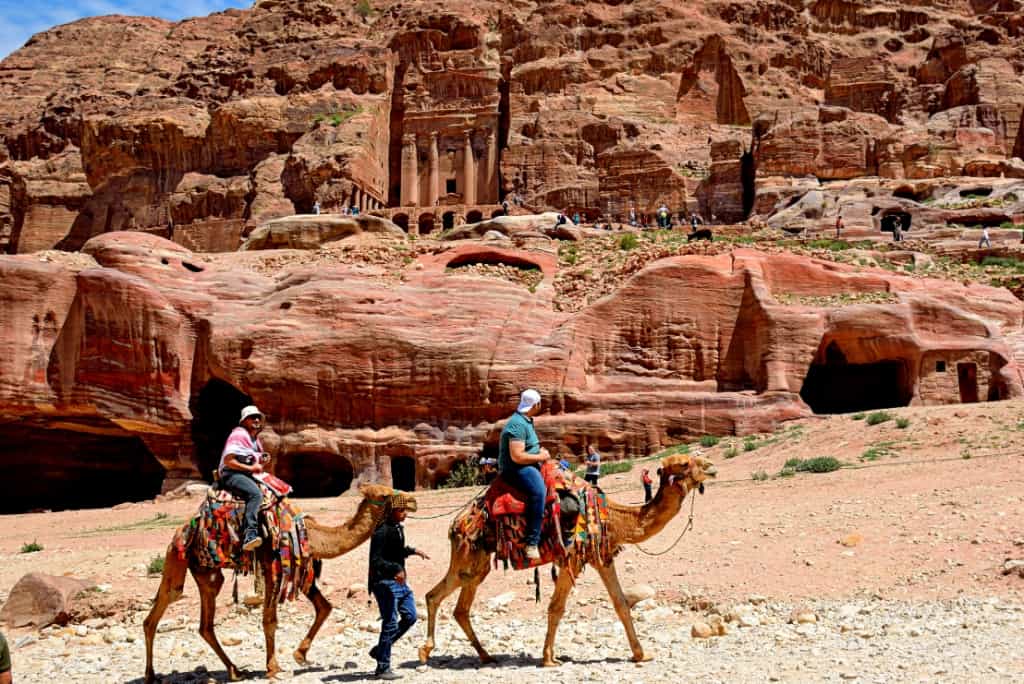 Tourists taking a camel ride. Photo Credits: Sounak Dutta
Petra happens to be a magical travel destination. The astounding old city was also listed as one of the wonders of the world. The city's carved red rose colours, the mysterious Siq, the tombs and the magnificent temples will leave a lasting impression on your mind. You will also witness a typical Middle Eastern culture that has attracted Westerners for ages.
It will not take long to fall in love with the place; the more you explore, the more you will feel involved. As you leave the city you will thank the ancient Nabateans; for what impressive civilization they had built in the dry deserts of Jordan. What magical powers did they have? What technology did they learn? The questions will be unending and will keep coming back.