Istanbul top buying things can easily be purchased at a decent price at markets sprawling throughout this beautiful city. Istanbul is one of the most enticing cities in Turkey for travellers. It surely is a paradise for crazy shopaholics like me. Also, for people who like to shop on a budget.
Istanbul is probably that one rare city where you can find everything that is available all over Turkey. So in case you're in Istanbul for a short visit, you will easily be able to find the essence of Turkish markets and all the Istanbul top buying things to shop in just one place.

The kind of merchandise, apparels, accessories, antiques, and even food items that are available at Istanbul will make you ecstatic as a visitor. You can also shop for souvenirs that can be taken back home and will be cherished by your near and dear ones.
As a traveler, you will find Istanbul's bazaars (markets) unique is so many ways. Your heart will skip a beat at the delicate prints, fine artistry and the delectable edibles. In my current blog on Istanbul top buying things, I will share my experience as a budget shopper and guide you through for your future trip.
Istanbul Top Buying Things – What should be your Best Picks ?
Every market in Istanbul has its own unique set of things that you can buy. However, there are certain items that are available in markets throughout the city. Here's a list for anybody who wants to shop the best of Istanbul.
Ask Chai
Ottoman spice
Turkish Lokum
Vegetable spice
Turkish chocolates
Nar Eksisi
Pul Biber
Yeni Bahar
Saffron
Hibiscus Tea
Fish spice
Baklava
Apple tea
Sun dried fruits
Herbal products
As a visitor to the popular markets in Istanbul, you most certainly should know about the items that are most popular. I'm writing about them below along with their average price (in Turkish Lira – TL) over different seasons.
Ask chai (200-400 TL per Kg)
Ask chai stands for love tea. It's a mixture of pomegranate flower, hibiscus, carnation, lemon granules, dried orange and apple chunks, rosebuds, rose hips and cinnamon. It smells so fruity and flowery that you just cannot resist buying it.
It contains all types of tea that you might want to buy individually. Hence love tea is a one stop solution that will save you a lot of time in trying and testing other varieties. I highly recommend you buying this.
You can buy this from any shop inside the dome or covered area at Spice Bazaar.
Ottoman Spice (around 30 TL per Kg)
Let me tell you this is one of the best cooking ingredients that has the capacity to change the way your food tastes. The shopkeepers in Istanbul also call it as the magic spice owing to its versatility of uses. The Ottoman spice should be one your Istanbul top buying things.
It can be used to add flavor to anything be it rice, pulses, omelets, meat, sea food, soups, pizza, vegetable or pasta. This reddish-brown spice gives a kick to everything you put it into. Some of the ingredients it is made up of are sumac, pepper, cumin seeds, salt, oregano and red chili flakes.
Turkish Lokum (around 60 TL per Kg)
It's a sweet Turkish sweet that you will find at almost all the shops at the Spice Bazaar. It's made up of citric acid, starch and sugar.
Varieties of lokum include – pomegranate lokum, hazelnut lokum, almond lokum, pistachio lokum, fruity lokum, chocolate lokum, rose petal lokum, creamy lokum and many more colorful and flavorsome varieties.

It is sold all over Turkey either in rolls or dice shaped mini cubes. These cannot be missed while you are in Turkey. They should surely be amidst your the Istanbul top buying things. Buy Turkish Lokum from Istanbul's Spice Bazaar. They sell the best quality and the widest variety of flavors.
Buy it from the shop right next to the end of the main gate of the domed building. Walk straight from the entrance and you will find it when the closed compound ends. They give you huge discounts if you buy in bulk.
Lokum, the Turkish delicacy being cut into smaller pieces. Picture credits: Emir Pilav Taz
Vegetable spice ( around 30 TL per Kg)
Although I prefer buying the packaged vegetable spice sold under the brand name Hurrem by the name Sebzili Bahrateli Cesni which costs around 7-9 Turkish liras,  you can always buy the loose spices from the Spice Bazaar of Istanbul.
It consists of a lot of salt and dried vegetable mixed along with other spices like pepper and chilli. So use it in a lesser quantity owing to the great amount of salt content in it.
Turkish chocolates (50-70 TL per Kg)
Turkish chocolates are merely milk chocolates but one can find many different flavours in them. It really is a tedious task to choose from them. Hence instead of buying just one type, I would suggest you buy a small quantity of all of them and get them vacuumed by the shopkeeper.
These are dried strawberries, blueberries, pomegranate seeds, coffee beans and dates coated generously with chocolates. Blueberry, strawberry and pomegranate chocolates are my personal favourites.
Buy them from the shops outside the main domed market; they sell it at better prices.
Nar Eksisi (10-20 TL)
This is a pomegranate sauce you will find being served at every restaurant especially along with salads. This viscous syrup tastes slightly sweet and tangy and is a Turkish kitchen essential.
You get these in small bottles made up either of glass or plastic. Avoid buying the glass bottled ones as they have more chances of breaking while travelling.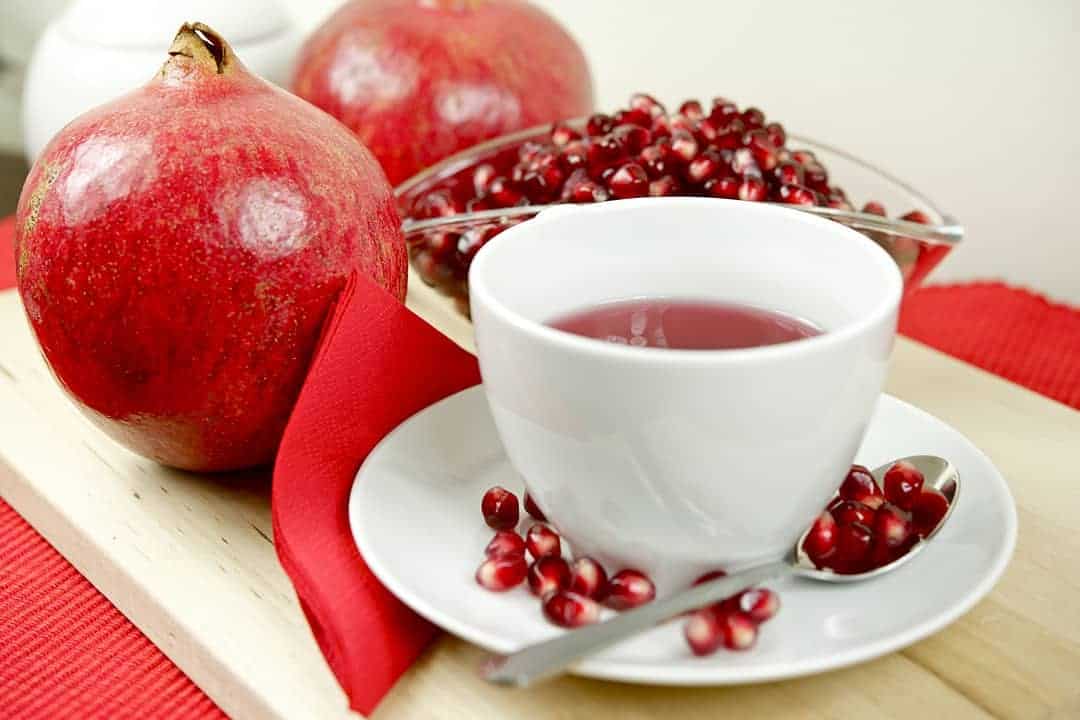 Nar Eksisi is the commonly used pomegranate sauce in eateries throughout Istanbul.  Picture credits: Yerli Taze
Pul Biber (30-50 TL depending on spiciness)
This is another Turkish kitchen essential that comes in almost 10 varieties and degrees of spiciness. It is a dried form of red pepper and is a must-buy for those who love spicy and hot flavour in their food.
Pul Biber is burgundy in colour and can be easily found at every shop in Istanbul's spice market.
Be careful while tasting it, as it is extremely hot. The shopkeeper, however, will provide you with Lokum to eat after each tasting of this spice.
Yeni Bahar( around 40 TL per Kg)
This literally translates to "New Spice" in Turkish but means "Allspice". These are also sold in packages under the brand name Ozum Gurme and Bagodat at all supermarkets.
You can also buy them from the spice market. Just like the Ottoman spice, this is one of those spices you can add to almost every dish you prepare to enhance its taste.
Saffron (30-40 TL for a gram)
While strolling around the spice market you will notice that two qualities of saffron are being widely sold at all the shops. One the Turkish Saffron and the other being the Iranian saffron.
Buy the real Iranian saffron which is in a real sense the actual saffron as it has a darker colour and flavour over the Turkish saffron which is made up of dried safflower and isn't really considered to be good quality saffron.
 The Spice Market offers visitors super flavoursome varieties of saffron. Picture credits: Ulleo
Hibiscus tea (around 200 TL per Kg)
This deep magenta-coloured tea is a type of herbal tea that can be consumed both hot and cold.  Turkey's Spice Bazaar is exactly the place to get all varieties of tea under one roof.
Fish spice ( around 40 TL per Kg)
This is sold by the name of Balik Baharat meaning "fish spice". You can grind this spice which is a mixture of coriander spices, cumin, saffron and black pepper on your fish fillets.
Baklava (around 200 TL per Kg)
It's a layered pastry filled with finely chopped nuts and has a flaky texture. It's a rich Turkish dessert that melts in your mouth just as you bite into it. It is available in numerous sizes, shapes and flavours.
Baklava is a delectable layered pastry prepared throughout Turkey. Picture credits: Berladelphia
Apple tea (20-45 TL for a pack of 20-30 tea bags)
Apple tea tastes best when served cold although it can be consumed hot as well. These are available either in tea bags or loose chunks of dried apple tea.
I suggest buying the tea bags as you will save time by not having to strain the apple chunks unlike in the loose tea. It is loved by all travellers and is quite refreshing especially when you are having a hot flash during summers.
Sun-dried fruits (50-70 TL per Kg)
Every shop inside the Spice Bazaar will have a vibrant display of sun-dried fruits lined up to attract the customers. The good part is they let you taste as much as you want to relish.
I personally loved sun-dried strawberries, apricots and kiwi.
Herbal products (totally depends on what you buy)
All the stalls in the Spice bazaar display an array of herbal products or herbal remedies. These include oils to prevent hair loss, argan oil, handmade soaps, natural honey, hair oils to boost hair growth, hand creams made up of white rose & red rose and various essential oils all systematically arranged on glass shelves.
Don't get wooed by the shopkeeper into buying the Turkish Viagra even when he says, "make love various times." I just didn't find that to be true. It's better to buy from trusted medical stores.
Markets in Istanbul offer you an array of herbal products. Picture credits: Monicore
The 6 Best Markets for Shopping Istanbul Top Buying Things
As a traveler, I got the opportunity to explore Istanbul's markets to the fullest. The footfalls are high and the variety huge.
Some of the best markets I came across as a visitor for shopping Istanbul top buying things are being mentioned below along with their location.
Grand Bazaar
Grand Bazaar is situated in the Fatih district. You can take the metro named T1 Kabatas and get down at Beyazit station. There will be an announcement in English about the same. You can easily walk to the main entrance of Grand bazaar from here.
Timings: Open all days except Sundays from 9 a.m. to 8 p.m.
Spice Bazaar
You can take the metro named T1 Kabatas and get down at Eminonu station. There will be an announcement in English about the same. It is also walking distance from the Grand bazaar.
Timings: Open all days except on religious and public holidays from 9 a.m. to 7 p.m.
Taksim Square
You can take the metro named T1 Kabatas and get down at Kabatas station which is the last stop. Then change to the F1 Funicular line to reach the Taksim Square.
Taksim Square is located in the new city named Beygolu.
Flower Market
You can take the metro named T1 Kabatas and get down at Kabatas station which is the last stop. Then change to the F1 Funicular line to reach the Taksim Square.
Walk towards the Istiklal Street from the Taksim Square station where you will spot all the shops and exhibitions and the flower market as well. It is open till midnight.
Prince Islands
You can take the metro named T1 Kabatas and get down at the Eminonu station. There will be an announcement in English about the same. Walk to the Bosphorus riverside where you can easily spot or ask about the ferry station.
Reach the ferry station and swipe you Istanbul kart just for 3.85 TL. Get onto the ferry which will take you to all the islands across the Prince islands and get off at the Buyukada island (It will take approximately an hour for the ferry to stop at all locations. You will reach Buyukada islands within 45-50 minutes).
Take the same route ferry while returning to Eminonu.
Street near the Galata Tower
You can take the M2 metro line and get off at the Sishane metro station. There will be an announcement in English about the same. It's a 5-minute walk from there to the Galata Tower.
Another way to reach there is to get off at the Karakoy Tram Station– it is a 5-minute walk from there as well. You can take up the stairs that lead you to the back end of the Galata Tower or the uphill walk that will land you right in front of the monument.
The shops, however, are below the Galata Tower and you will find them in between your route. Stroll around in the area to look out for hidden boutiques and cafes).
An important tip from my side would be too wear comfortable shoes as there a lot of steep stairs and pebbles uphill pavements in the way. Wearing heels is not advisable. I would recommend elderly people to avoid this area for it involves a little bit of rough climbing.
If you happen to have just one day at hand to see the city of Istanbul, you can skip all the places mentioned above and directly head to the Grand Bazaar alone. Here, you will find all the Istanbul top buying things at just one place.
It is very near to the other tourist's attractions like the Sultan Ahmet Mosque. So if you get done early with this lovely place for shopping in Istanbul, you can visit the beautiful monuments and Bosphorus River nearby.
What do the Best Markets in Istanbul have in Store for you?
Istanbul top buying things can be found in markets spread across the city. The most important ones should certainly be visited by one and all.
Grand Bazaar
Boasting around more than 4000 shops under a covered area is the famous Grand Bazaar of Istanbul city. You will be easily able to find all the Istanbul top buying things here.
Owing to the fact that it has all the things you can name or think of at a single place, it certainly is humongous and henceforth it's name Grand Bazaar.
A shopping haven bustling with large crowds
At first, this place seems to be very luring and it surely is that way. However, if it's your first time here, you might get intimidated as you step inside this huge market. But there is nothing to worry about. Just enjoy your experience.
Grand Bazaar is bustling with people from all around the world. The footfalls are quite high and so is the haggling with the shopkeepers. You will definitely find yourself captivated in a never-ending shopping spree here.
Getting lost in the Grand Bazaar is easy especially for first-time visitors. If you don't return to the same shop again, then probably you haven't seen the entire market. So ensure that you see this place in its totality.
Also useful:
Read more about Grand Bazaar along with tips for travelers to bargain well
What All to Buy in Istanbul's Grand Bazaar?
There are a lot of things that can buy at Grand Bazaar in Istanbul, both as a native resident or a traveller. But the most important Istanbul top buying things that I'd suggest have been mentioned as follows.
Spices
Turkish handmade soaps
Turkish lamps
Lokum (Turkish delight)
Ceramic
Magnets
Turkish chai (tea)
Turkish Kahve (coffee)
Jewellery
Leather
Antique items
Scarves and neck ties
Carpets and rugs
Cool and quirky lighters
Istanbul embroidered caps, hoodies and sweatshirts
All the things mentioned above are items that comprise Istanbul top buying things.
There are several lanes outside the covered area in the Grand Bazaar of Istanbul city that are dedicated specifically to a particular category of items. Some of these lanes that are a must-visit are the lanes selling leather, jewellery and scarves.
Important tip: The Grand Bazaar is like a confusing maze. So it is advisable to carry a map of the Grand Bazaar along with you.
Spice Bazaar
The Spice Bazaar is comparatively smaller than the Grand Bazaar. It is also known as the Egyptian Market and has 6 entrances to it. Unlike the Grand Bazaar, the spice market is not fully inside a covered area. However, the majority of the shops come under the covered area.
The most amazing aspect of Spice Bazaar is the fragrance of spices and the aroma of the different varieties of tea being sold there. Not to forget the eye-catching vibrant colours of spices and Lokum.
What all to Buy in Istanbul's Spice Bazaar ?
There is a huge variety of edible items that you can buy from the Spice Bazaar. The most famous spices amidst all of Istanbul top buying things are as follows.
Sun-dried fruits
Fish spice
Baklava
Nuts
Apple tea
Hibiscus tea
Ask chai (Love tea)
Turkish tea
Turkish coffee
Herbal products
Cheese
Yeni Bahar
Ottoman spice
Nar Eksisi
Vegetable spice
Saffron
Pul Biber
Turkish lokum
Chocolates
A shop at Spice Bazaar selling sun-dried fruits and other items: Picture credits: Jenny Tan
Taksim Square
Taksim Square is the perfect place to experience modern Istanbul culture. Happening pubs, clubs, posh hotels and some of the city's best restaurants are present here.
Taksim Square is a decent place to experience the art and culture of the city. A lot of exhibitions and concerts are held here, right next to the monument of the Republic.
If you are lucky enough as a visitor (as I was at the time of my visit), you would even find a flea market at times with various stalls showcasing the best of their products.
I found one such market in Taksim Square on my birthday. I even got to attend a Turkish band's concert on the very same day. So well, cheers!
Out of the two heritage tramways that the city of Istanbul has, one happens to be in the Taksim square. This belongs to the European side of the city. If you happen to visit the Taksim square, a ride in the vintage red tram is a must.
Flower Market
The Flower Market is situated at the Taksim Square with various small stalls selling fresh flowers and bouquets. The fragrance of this place cannot be ignored even from far.
Apart from fresh flowers, one can find floral headbands made up of artificial flowers and fake flowers for home décor.
Important: The flea market of Taksim Square is not permanent. Hence, what one traveler might find one month, another traveller might not find the same in another month.
Paintings being sold near Taksim Square. Picture credits: Nimisha Modi
Prince Islands
Prince Islands are a chain of nine small islands. The most famous islands out of these are four in number- Buyukada, Burgazada, Heybeliada and Kinaliada islands. These are often a part of the itinerary of any traveller planning to visit the Prince Islands.
These islands are called Adalar in Turkish and form an optimum get away from the chaotic and busy life of Istanbul.
The Buyukada Island
Amongst the four islands,  the Buyukada island is the largest and the most beautiful one. It is also one of my personal favourites owing to the fact that you get to shop amazing Boho stuff here.
Apart from these, the island boasts some beautiful streets and quaint cafes at every corner with a tinge of Greek touch.
In short Buyukada island is dream come true for those who are fond of bohemian style and undoubtedly a paradise for women shoppers.
Buyukada island is one of the best places in Turkey to shop for bohemian items. You can find all sorts of dream catchers, bohemian accessories, headbands, quirky scarves and fancy boho-chic beachwear and kaftans here.
Shops at the Buyukada Island. Picture credits: Nimisha Modi
Street near the Galata Tower
Galata Tower stands in the heart of the city of Istanbul and is famous for its picturesque view from its top. However, there's a lot more to explore in this area than just the Galata tower.
Galata is home to various boutiques and hence many popular Turkish designers reside in this area. It has a lot of quaint cafes where one can shop for some delicious macaroons and cupcakes.
The street has a slightly French touch to it. You can notice that from the design of the boutiques and cafes.
Galata is not the place to shop if you are looking for affordable and budget-friendly items. The boutiques here are extremely expensive since they showcase the best collections of the famous designers of Turkey.
Tips for Budget-Friendly Shopping of Istanbul Top Buying Things
Out of all the markets in Istanbul, the Grand Bazaar and the Spice Bazaar are the most visited. So it is really important that you stay aware of some of the shopping tips at both these places.
The tips that I will mention here are applicable to all the other markets in Istanbul as well but hold true especially for the two markets of Grand Bazaar and Spice Bazaar.
Dedicate one full day to visiting the Grand bazaar
 The market is undoubtedly a huge one. One cannot discover the entire market unless and until one complete day is dedicated to it. There's a lot to be seen and to be explored.
Never look too interested/ willing to buy any product
The best way to shop around in Istanbul's markets is to not show a keen interest in buying the product. The moment the shopkeeper notice how convinced you are for buying his product,  he will charge you a higher price.
So the trick is to not to let your facial expressions be read by the shopkeeper.
Never let the shopkeeper guess your home country
As soon as you enter the market you will be amused to see how good the shopkeepers are at guessing your home country.  Be it from your eyes or your hair colour. They will even try to ask you questions like "Hello, where are you from?" or "You look very pretty, are you from India?"
The moment you answer the shopkeepers, they will take a mental note of your capacity to pay for the products and charge you accordingly.
My friend was charged double the price for the lokum than what I had paid, only because they could make out that I was an Indian and she was from Dubai.
Never let the shopkeeper know the price you are willing to pay
One common thing we always do is verbally mention in our conversations to our co-travellers statements that indicate how inexpensive we find a product. This holds especially true when American and European travellers try to convert the prices into their currency.
Since they find most things in Istanbul to be quite affordable, they exclaim it loudly. But I insist that you never do that. Just don't.
One of my friends from Mexico was buying a sweatshirt and the shopkeeper quoted its price as 70 TL and he instantly heard my friend converse with me saying "that's so cheap" and the shopkeeper refused to lessen the price. The next shop we went to we did not state any such thing and bargained for the same sweatshirt and got it for 40 TL.
Buy in bulk for better discounts
A common phrase that you will hear the shopkeeper whispering in your ear is "If you buy more, I will give you big discount." This holds true in Istanbul.
I suggest that if you are travelling as a group of 2 or even 3 people, try buying different things from the same shop and get a combined discounted price for the same. Then divide accordingly among yourselves later.
If you are travelling solo, buy teas, spices and lokum from the same shop to get a discount.
Avoid buying too many gifts.
If you want to travel on a budget, the best way is not to buy unnecessary gifts for everyone. Buy light souvenirs, if at all.
The only reason why I ended up spending a lot of money on shopping was that I bought a number of gifts for my friends and family.
Stroll the market thoroughly before you start shopping.
As you enter the bazaars you will notice that most of them sell the same stuff.  So go around the market for at least 20 to 30 minutes and look out for things you want to buy. Inquire about their prices and walk away uninterested.
Doing so will give you a better insight into the shopping prices around Istanbul. This way the shopkeeper will call you back saying I will give you discounts and also you will be better off at haggling.
Avoid buying from the shops inside the covered area
The shops in the Spice Bazaar and Grand bazaar under the dome sell great quality products. However, if you want to buy them at affordable prices, look out for the shops outside the covered area.
They don't receive that many tourists and will give you a better price than those expensive ones inside the covered area.
Don't indulge in long conversations
Owing to their over-friendly nature, all the shopkeeper in the two bazaars will make you feel as if you have known them for ages. They will unknowingly start talking to you on the lines of, "Hi, I love your dress where did you buy it from?", "I can speak Spanish, I will give you a discount".
Avoid indulging into long conversations with these shopkeepers by simply ignoring and walking past them or giving them replies like "oh then you should come to my country to buy it" or"Oh, then I would love to have those 5 scarves hanging at your shop for free."
Try the art of walking away – Always works
If the shopkeeper tries to convince you or pester you to buy something that you do not wish to, simply reply with a strict, "no."
If he happens to charge you exorbitant prices- just walk away and say you will buy it from somewhere else. I bet he will call you back and offer a more reasonable price.
Be patient and cool
Exploring the markets in Istanbul is an exhausting experience altogether. With people hustling here and there and shopkeepers from every corner calling out for you to see their products, it can really become a tedious task to shop.
Therefore, try to remain as cool as you can. You will find everything just under one roof as long as you patiently explore.
Be aware of pick-pockets
Owing to the fact that the markets in Istanbul are a paradise for tourists from all over the world, they are bound to be crowded and pick-pockets sprawl all over.
It is advisable to carry your backpacks in the front instead of hanging them at the back. Also, do not keep your wallet, phone or cameras right on the top where someone can easily open the chain while you are busy shopping.
Take the shopkeeper's sugary words and flirtatious nature in a lighter way, if you are a woman
The shopkeepers try to flirt with women to lure them into coming to their shops to buy the products. They might say things like "hey pretty lady, why don't you come and see my shop" or "do you have a boyfriend?
They do this to grab the attention of the customers. Just don't fall into their trap or get annoyed by this. Simply laugh it off as a joke.
Know that if you miss out on something you will find it again at the very next shop
If you really want to buy something but the shopkeeper isn't willing to reduce the price, leave the shop. Do not worry about not finding the same thing elsewhere.
You will find pretty much the same thing or even better than the previous one at the very next shop. These bazaars have similar items being sold at every shop here and there at different prices. Hence you will have a better idea about the shopping prices.
Always carry a shopping bag
Carrying a shopping bag is highly recommended.
During my visit, the backpack I was carrying was not enough to hold all the things I shopped. Hence I had to visit the market again.
Reach the markets by 10 am
If you really want to explore the markets to the core and get the real essence of the Turkish culture, head there by 10 am.
This is the time when they're about to open. Reaching the markets this early will save you a lot of time since the markets are not crowded at that time.
Always bargain
The key to have a satisfying shopping experience is to never settle for the price the shopkeeper quotes you. Always haggle.
Bargain till you feel you are convinced of the price.  There's a great scope for good at bargaining and negotiating the prices. It always works in these markets.
Explore the markets of Istanbul and buy things that will remind you of this wonderful place. Carry the ones you really love and share them with your closest people. 
Once you visit Istanbul, you would want to go back again only for the lovely things you get to shop here.
Happy wayfaring.
About the Author
THIS POST ENTITLED, "THE COMPLETE SHOPPING GUIDE FOR ISTANBUL TOP BUYING THINGS" IS AN EXCLUSIVE PROPERTY OF BUDGET WAYFARERS. ANY INDIVIDUAL OR ASSOCIATION INDULGING IN PLAGIARISM WILL BE DEALT WITH STRICTLY WITH. IF YOU WANT TO USE INFORMATION FROM THE ARTICLE ABOVE, KINDLY QUOTE THE SOURCE.