I recently travelled to Honnavar, my hometown and have learnt many travel lessons. In my Honnavar travel guide, I will share with you these lessons along with some travel hacks and safety tips.
A small paradise situated in coastal Karnataka, the port town of Honnavar blossoms with its fresh, exotic rivers, sea beaches, gleaming waterfalls, and lush green forests. 
Honnavar can be a perfect destination to chill, away from the chaotic city life. It is well-known for its coconut farms, paddy fields, and delightful seafood cuisines. So, let us explore this town in my Honnavar travel blog.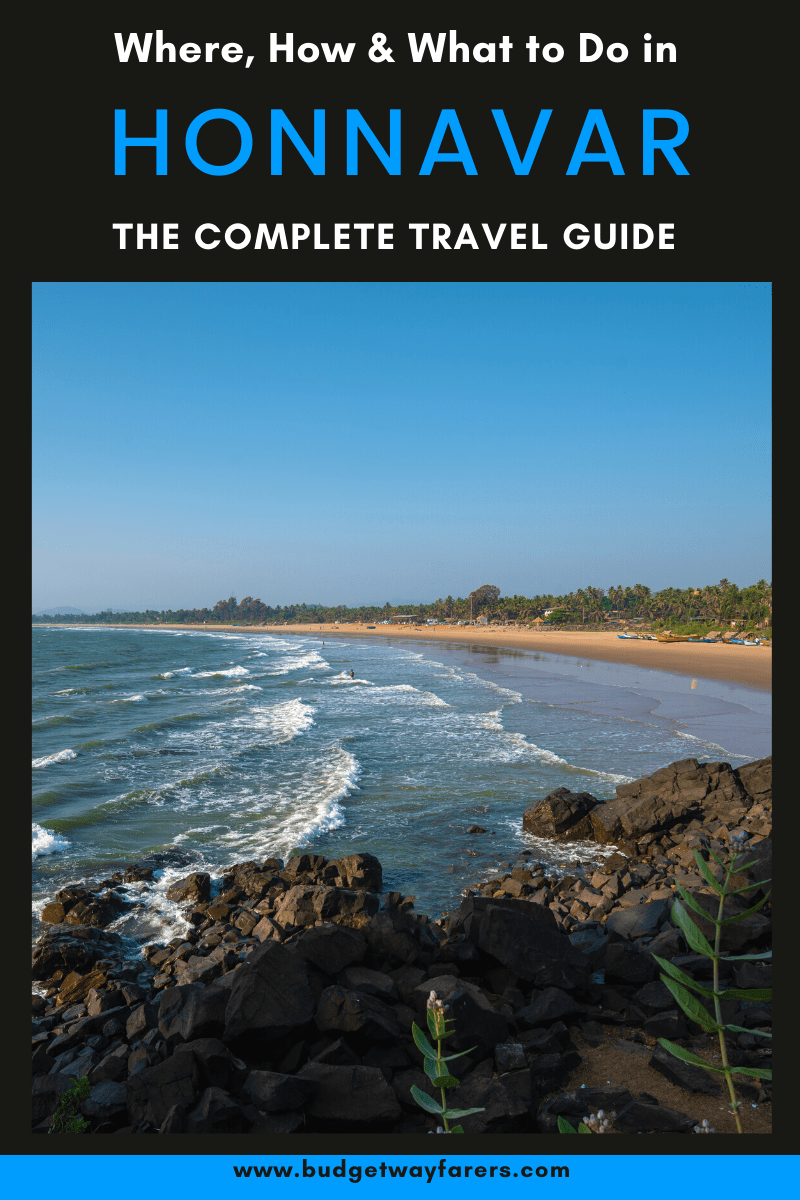 Honnavar Travel Guide: Knowing Honnavar as a Travel Destination
Welcome to "Namma Uru Honnavara!"(means 'our town Honnavar' in Kannada). You will get to witness beautiful weather and a serene atmosphere here.
As I write about my hometown, Honnavar my mind wanders through sweet memories, and my heart drenches in a pool of soft emotions. Nothing can ever replace the bliss of time spent with your dear and loved ones in the charm of the viridescent vegetation. There is no better therapy to watch the sunset with your feet soaked in the golden sand. Honnavar is my small heavenly nest always close to my heart.
Here is a quick look at my beautiful town before we proceed to the details of my Honnavar travel guide –
Location 
Honnavar, Uttara Kannada, Karnataka
Nearest Cities   
Kumta, Gokarna, Murdeshwar,  Mangalore, Madgaon, Udupi
Nearest Airport     
Panjim, Banglore and Mangalore
Best Time to Visit
Between October and February
Accessibility     
Public/private buses, auto-rickshaw, private mini-vans and cars
Safety level for Travellers
High
Food Options
South-Indian delicacies and Seafood
Ideal Number of Days for Visiting  
7 to 15 days
Cost of 3-4 day trip
8000 -15000 INR
Accommodation Options  
Hotels and Lodges, private villas
What's the Best Time to Visit Honnavar?
Since Honnavar is a coastal town, the best time to visit is during the winter season.
Summers can get really hot and humid,  while the monsoon season is colder but the rains can be very inconvenient to explore the town.
How to Reach Honnavar?
Railways, Roadways and airways are the three options to reach Honnavar.  Based on travelling duration and comfort, you can decide which route suits you the best –
How to Reach from Bangalore/Any other cities in Karnataka?
If you are travelling from within Karnataka, you have two options-
By Road
There are many private and public buses available for Honnavar from Bangalore.
By Train
Direct Express trains and local trains can also be considered to travel to Honnavar from Bangalore.
How to Reach from Mumbai/Any other cities out of Karnataka?
If you are travelling from outside Karnataka, choose between the three options-
By Road
There are private and public Buses running from Mumbai to Honnavar
By Train
Direct Express trains to Honnavar or any of the nearest cities as mentioned in the above table are available from Mumbai.
By Air
You can take a flight from Mumbai to the nearest airport and then travel to Honnavar via road taking a private cab or bus
The best mode to travel as per my experience is via train because it is not just cheaper but also hassle-free.  Also, travelling via travel train takes comparatively lesser time than roadways.
Another important reason is that there are many trains that halt at Honnavar Railway station itself. In this manner, you are directly connected to your destination and don't have to keep switching your modes of travel. This saves your money as well as energy.
14 Best Places to Visit in Honnavar | Regular & Offbeat 
For someone visiting the town for the first time, a Honnavar travel guide must tell you what are the best places to explore. So, here are some of the best places to visit in Honnnavar, which are my personal favourite –
1. Samshi Bridge/Hanging Bridge
The Hanging bridge in Samshi is constructed beautifully over the Badagini river. You can watch the sunset and spend time enjoying the flowing river water beneath.
You can even enjoy thrilling motorboat rides in the river below. The ride costs INR 100 per head. Food and refreshment stalls are also available nearby. The bridge is a boon to local people for cutting down long distances between villages.
2. Apsarkonda Waterfall
The Apsarkonda Waterfall is the gem of attractions situated in Kasarkod near Honnavar. Surrounded by conifers and beautiful gardens, the slope to Apsarkonda waterfall has many more things to offer for sightseeing.
The waterfall is gorgeous, surrounded by lush green nature. The cacophony of the birds and the flowing stream will soothe your ears. The best time to visit this waterfall is near the end of the rainy season since the water gets murky during the other seasons.
3. Eco Beach and Park
Want to get mesmerized in the lap of nature? Then not visiting this sea beach will be a great miss. Eco Beach is a pristine and clean destination to enjoy the sea.
Also, do not forget to visit the adjacent park and do some sightseeing. It is a suitable site for kids to enjoy the see-saws, slides, and swings. Please note that the beach closes at sharp 6 pm.
4. Kandla Pool, Kasarkod
The 'Kandla pool' is within a walking distance of Eco beach. It is a bridge built beautifully with wooden planks amidst the mangroves for amusement.
While taking a walk on the wooden bridge, please be careful with your phones and personal belongings. The marshy areas and the bushes bordering the bridge make the trail adventurous.
5. Sharavati Railway Bridge
The Sharavati Railway bridge is a beautiful creation in the south of Honnavar. It carries the Konkan railway line over the Sharavati river. It is a magnificent scenic beauty surrounded by greenery and a glistening water body underneath.
The gigantic pillars found in the river water support the bridge and serve as a linkage for countless express trains. You can also take a long walk on the bridge and enjoy the open sky and scenery from the heights.
6. Hadinbal village
Hadinbal is a small village that consists of hamlets within itself. Located at around 9 km away from Honnavar, one can commute to this village via public transport buses.
There is nothing more therapeutic than the green fields and the roaring river. You can even go kayaking in the backwaters and will be surprised to discover secluded mini islands surrounded by fresh vegetation. Make sure to have your camera ready to capture the vibrant kingfishers and egrets in the rivers.
7. Molkod village
Molkod is a beautiful island situated around 7kms from Honnavar. You will find beautiful villas and cottages bordering your way. The nearest bus stop is Idgunji. Do not miss to take a walk through the narrow paths of this village.
The beautiful shrine of Lady Fatima Church is famous here. Magnificent paddy fields, coconut farms, lotus ponds, and marvellous home gardens are the major attractions of Molkod. The salty breeze will leave your senses awakened.
8. Murdeshwar
Murdeshwar near Honnavar is the town of Lord Shiva. You can reach the town in less than an hour from Honnavar. Erected beside the roaring magnificent Murdeshwar beach, the mighty statue of Eshwar is visible even from a long distance. It stands for the world's second-tallest Shiva statue.
The Bhukailasa cave museum below it is beautiful, with so many mythological figurines carved inside. Entry ticket is just INR 10 per head and INR 5 for a child. You can also pay a visit to the Murdeshwar temple and offer worship to the deities. Lastly, the Murdeshwar beach is an attractive spot with adventurous boat rides in the sea available.
9. Honnavar Port
The Honnavar port is home to countless boatmen. You can get sundry freshly caught fishes, prawns, and crabs at reasonable and cheap rates here.
Dried seafood is also available that can be preserved and consumed throughout the year.
10. Camping at Donihalla, Sirsi
How does it sound to camp near the riverside amidst the trees and mountains? Exciting and awesome! Isn't it? Donihalla near Sirsi is the best place to have a peaceful time camping with your gang.
We even cooked our simple meal with just fire and some twigs and no stove. You can enjoy the serene and shallow river, dipping your feet inside the waters.
11. Devaramote Island
This is a beautiful yet little-known island near Honnavar. If you are in the mood to explore something totally offbeat in Honnavar, head over to this green and pristine island.
You can pack a few things for your trip since you won't find any eateries or outlets here. You have to take a boat n order to reach the island.
12. Mavinakurva Village
Mavinkurve Island is another lesser-known place in Honnavar. You can enjoy the serenity and natural beauty of the island.
You can reach the island by boat.
13. Sharavati Kandla Mangrove Boardwalk
Another beautiful and totally insta-worthy place to visit near Honnavar is Sharavati Kandla Mangrove Boardwalk. The beautiful pathway takes you around the mangroves and is a perfect spot for nature lovers.
It is maintained by the Karnataka Forest Department and helps conserve the mangroves and also educates the public about the same. However, if you are travelling with kids, you need to be careful.
14. Basavaraj Durga Island
Located at a distance of around 7 km from the main town, the Basavaraj Durga Island is another beautiful island to explore near Honnavar.
You can reach the island by boat. The best spots to see here are the 16th century Basavaraj Durga fort and Hindu temple.
Honnavar Travel Guide for Places to Stay 
Some of the best hotels in Honnavar are,
Hotel Sagar Residency
Cost Per Night for Two – Starts at 1100 INR
Prameela Palace
Cost Per Night for Two – Starts at 1000 INR
Apart from this, there are several budget homestays and expensive resorts in and around Honnavar. You can choose the ones that suit your budget.
It is advisable to stay in Honnavar town as it is nearer and more convenient to travel from here. The hospitals are also nearby. If you find a private villa for accommodation, make sure it is nearer to Honnavar.
Places to Eat in Honnavar | Where & What to Eat in Honnavar?
An essential part of the Honnavar Travel Guide is knowing the places to eat. Honnavar is a hub for delicious fresh seafood. The staple food of every household is fish and rice.
Vegetarian options are also available.  From south Indian dishes to seafood cuisines, some of the must-try delicacies are as follows-
Non-Vegetarian food
Chicken curry and Kori roti, Chicken dry gravy, Fish fry, Fish curry, Crab curry, Crab dry gravy, Prawns fry, Prawns curry and Prawns dry gravy.
Vegetarian food
Golibajje, Buns Bhaji, Veg Bonda
Drinks and refreshments
Fresh Coconut water
Best Restaurants to try in Honnavar – 
Some of the best places to eat in Honnavar, I would recommend are –
Green Park
Highly recommended not only for good food but it also has a beautiful riverside view and a small animal zoo
Romansiah Family Restaurant
A good place to serve a variety of foods and flowers.
Honnavar Travel Guide Tips for Safety & Budget Travel
With these tips, you can relish a budget-friendly trip to Honnavar and enjoy your stay without sparing hefty amounts from your pockets.
Make use of public transport and buses wherever possible.
Always carry essentials. This includes a water bottle, sanitiser spray, a bottle of sanitiser and handwash while travelling.
Carry light and homemade food during a train journey.
Do not shop for unnecessary items like showpieces, dresses or jewellery. It is expensive in Honnavar.
Carry emergency medicines and mosquito repellant creams for safety.
Make sure you don't move around too much in the hot sun. Always make most of your visits early during the daytime. It is much safer. Carry sunscreen to avoid tanning.
Public Toilets are not available everywhere. Hygiene is also a concern. Female travelers can carry disposable FUDs (Female urination devices) and toilet seat sanitisers.
Without any further delay, fasten your backpacks and get ready to swirl in nature's groove. Honnavar's mesmerizing greenery and rejuvenating fresh air will fill you with vigour and life. May this journey leave with you countless memories to cherish for a lifetime. I hope you enjoyed reading this Honnavar travel guide and soon plan to visit my hometown in Honnavar.