Want to express your thrill and excitement with hiking captions for Instagram? 
In my current blog, I've come up with mind-blowing captions for hiking.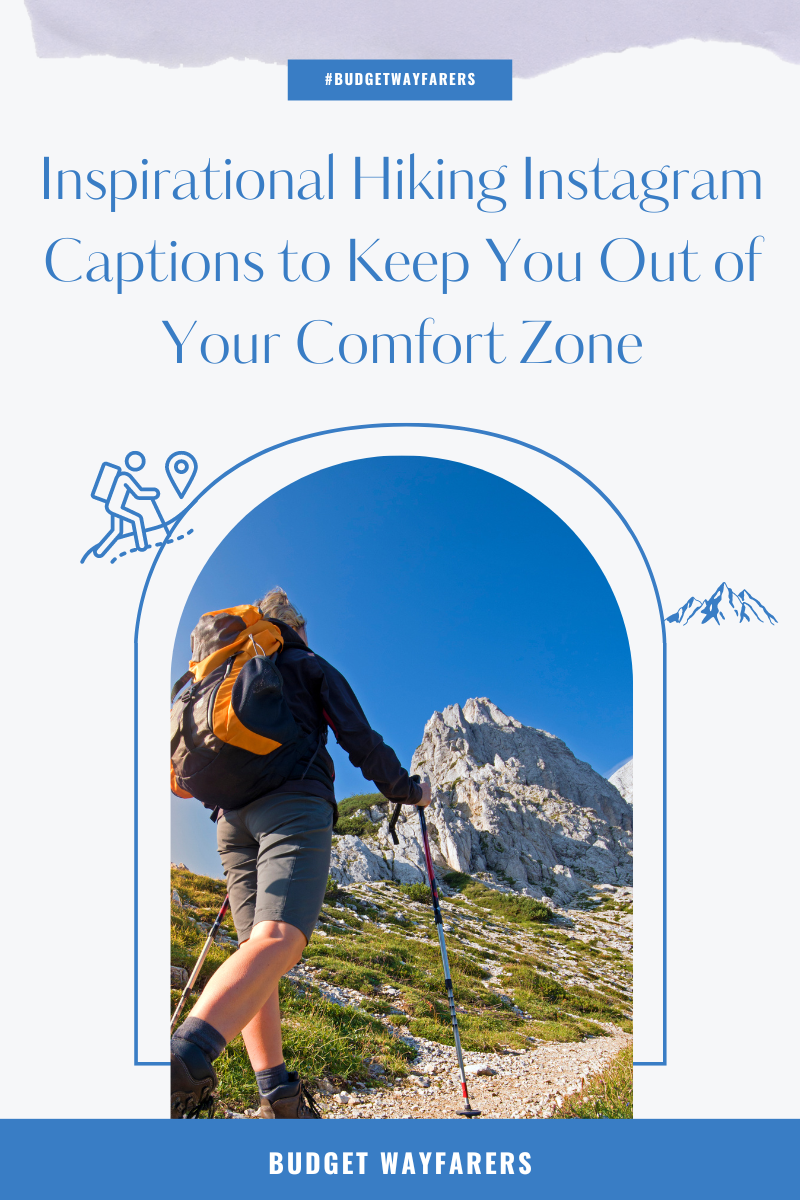 115 Stunning Hiking Captions for Instagram
Flaunt your adventurous hiking journey by choosing perfectly suitable hiking Instagram captions-
Trekking Quotes for Instagram
Trekking does not tire; It ignites my fire
 The path is rough, I'm tough; For trekking, my willpower is enough
Rucksack on my back; Trekking is back
Today I'm a king of trekking
Trekking challenges my boundary to make me extraordinary
Sole and pole play an active role
Taking a break to trek
Choosing a rough road to reload
Hoodie; woodie; Trekking goodie
Weather check and trek
Nature is miraculous, trekking is joyous
Trekking hack; Rucksack
Trekking makes my life extraordinary by crossing a new boundary
Trekking point; Warming up my joints
Feeling the thrill; Trekking is my skill
Good Hiking Captions for Instagram
Hiking boots; Exploring unknown routes
It's grassy; Hiking makes me sassy
My likes = Hike + Bike
Hiking is my passion for rejuvenation
Hiking is crazy I never become lazy
Hiking a hill is a thrill and chill
I hike like a king and sing
The land is uneven still hiking feels like heaven
Raw land, hiking is grand
Under the blue sky; Hiking with my guy
Hiking is my craze; Feeling the breeze
Hike and Nike; No bike 😉
Happy face, hiking at my own pace
Feel the hill with thrill
On my way, I hike and sway
Best Trekking Captions for Instagram
Trekking gives me freedom plus wisdom
Trekking ignites mindful living
Trekking queen in the green
The journey begins at the zero; Trekking like a confident hero
Footprints on the mud; Trekking feels good
Trekking on the weekends with my chirpy friends
Trekking with my soulmate is kind of our date 😉
Hiker's attitude; Exploring new altitude
Hiking enhances life's charm; the Mind becomes calm
When everything goes wrong, hiking keeps my mind fresh and young
Funny Quotes About Hiking
Couch potato is thinking about hiking moto
Lazy people's plan, "Instead of hiking can I book a plane?"
When lazy people hike for the first time they take a pledge that it's their last time!
Snacks in the bag; Hiking with my swag
Follow pieces of chips, if I get lost on the hiking trip
Tired legs, I need some pegs
If you can't find a way, follow other hikes without delay
If you want to get lost forever then at your own risk hike alone without your phone
In between don't sit, carry your toilet kit
Go hiking with your girlfriend only if she can walk till the end
Hiking Adventure Captions
Hiking is adventurous; I'm feeling joyous
Tied hair; Thrill is in the air
The rawness of the roads, adventure reloads
Rough path whispered in my ear, "You have the guts dear!"
 Walking on the adventurous routes, with swag and hiking boots
The adventure begins with the Nike and hike
Blending myself on the adventurous path with sunbath
The adventure begins with my grin
Adventurous kingdom, hiking with freedom
Adventure in the pure nature
​​Funny Quotes About Hiking with Friends
My friend farts when adventure starts 😀
With lazy friends hiking ends
Within 5 minutes hiking ends with overweighted friends 😉
For hiking, never take your lazy friend because you have to carry him on your back at the end 😀
When hiking with a large group of friends; Count 1,2,3… at the end 😀
When there is an annoying friend, the hiking pole plays an important role 😀
Right and left; Tired friends slept
After hiking for a few minutes, the lazy friend begs, "Please stop for the sake of my legs"
All my friends are in need of a leg piece; To get energy and hike with peace
Hiking with strong friends so that when I get tired they can carry me on their shoulders
Trail Captions
Hiking trail; Living adventurous tale
Hiking with my fairy to create a new tale along with the trail
Getting a kick by trail without cocktail
You forget cocktails when there is such an adventurous trail
Away from work and emails; Exploring adventurous trails
When life gets boring by sail; It's time for a woodie trail
Life becomes pale without an adventurous trail
On my quest, trail in the forest
Trails in nature, full of adventure
Trails in the green; I'm an adventurous queen
This week, the trail leading me to the peak
The trail is zigzag; Exploring with my swag
Hiker's row; Trail is narrow
Discovering hidden trails in nature for adventure
The unknown trail is waiting, I'm ready for hiking
Nature Hike Instagram Caption
Hiking in the greenery, the Scene is extraordinary
Muddy path, Sunbath
Calm environment, total contentment
The shadow of trees, and soothing breeze make hiking ease
Forget the past and future, blend in the beauty of nature
Leave worries about future, hike in the nature
I'm healed by nature's embrace, hiking with a pace
Endure in the nature
Nature is super fine, here I shine
Nature is colourful, hiking is blissful
Good Quotes for Hiking Pictures
Adventurous men who hike now and then
Hiking makes me sweat and life reset
In the hidden nature, going forward; Far Away from the noisy world
Hiking with relish, living my wish
Hiking day, finding my way
Hiking rejuvenates; Beautiful nature communicates
Hiking = Fun + Stun
Hiking with an attitude; In nature, feeling gratitude
Hiking adventure is worthwhile as it makes me smile
Hiking pictures in the scenic nature
Clever Hiking Captions
Hikers trips with a grip
Leave pole prints before footprints
Have a lot of sips while reaching the tip
To make your hiking day good, your bag must have food
Check whether to make the hiking experience better
Before hiking train your mind to face barriers of different kinds
Hike with friends who can walk till the end
I always hike safely to experience nature's beauty
The journey is long, hiking makes me strong
Hiking length = Mental strength + Physical strength
I hope you have enjoyed reading these stunning hiking captions for Instagram. Let me know which one you liked the most.
MORE FUN SUGGESTIONS 
Refreshing Captions for your Rejuvenating Camping Trip 
Happy wayfaring!