Craving a beach vacation but confused between Hawaii vs Maldives?  While both destinations boast beautiful beaches and underwater activities, this is where the similarity ends.
We help you pick the best destination based on an in-depth comparison of Hawaii and Maldives. With this information as the basis, you can go ahead and pick the one that matches your travel preferences.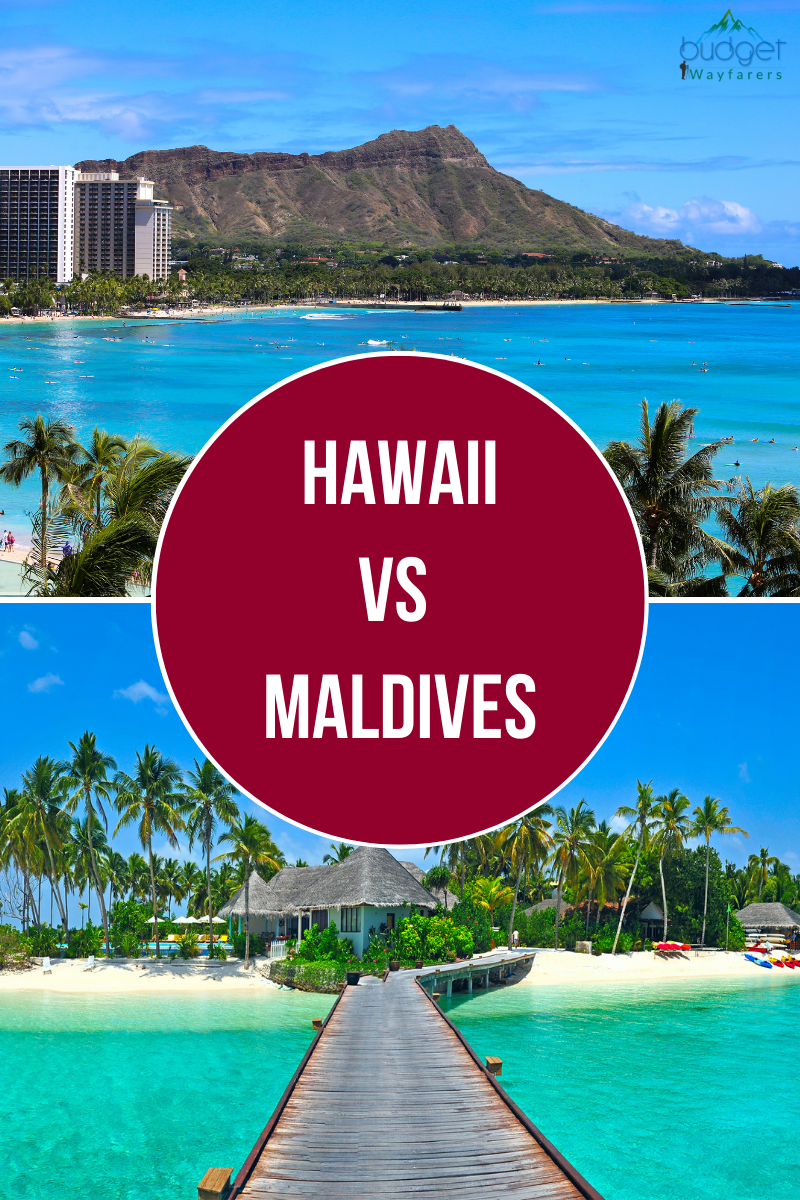 Also Useful:
What to Choose Between Hawaii And Tahiti?
Hawaii Vs Maldives – Choose Your Next Beach Destination
Let's take a quick comparative look at these island destinations before we delve into the details :
LOCATION
Hawaii

USA, North America

Maldives

Indian Ocean, Asia

BEST TIME TO VISIT
Hawaii

Mar- Oct

Maldives

Nov-Apr

IDEAL LENGTH OF STAY
Hawaii

7-14 Days

Maldives

4-5 Days

BEST SUITED FOR
Hawaii

Families, Couples & Backpackers

Maldives

Couples & Families 

7-DAY TRIP COST (2 People)
Hawaii

3900 USD

Maldives

4500 USD

BEACHES
Hawaii

Very Good

Maldives

Very Good

SIGHTSEEING & ACTIVITIES
Hawaii

Excellent

Maldives

Good

FOOD CULTURE
Hawaii

Hawaiian & Fusion

Maldives

Dhivehi cuisine

NIGHTLIFE
Hawaii

Excellent

Maldives

Good

ACCOMMODATION 
Hawaii

Budget-Friendly to Luxurious

Maldives

Luxurious to Very Luxurious

CULTURAL EXPERIENCE
Hawaii

Good

Maldives

Average

SAFETY LEVEL
Hawaii

Very Good

Maldives

Very Good

FOR FAMILY VACATION
Hawaii

Excellent

Maldives

Good

FOR HONEYMOON 
Hawaii

Excellent

Maldives

Excellent
Now that we are aware of the basic differences between Hawaii and Maldives, let us take a closer look at each of these aspects.
Comparing the Location & Geographical Setting of Hawaii Vs Maldives
Hawaii is a state of the United States, located in the Pacific ocean. Hawaii is divided into 8 main islands, 6 of which are open to visitors.
Hawaii is blessed with geographical diversity and you can visit waterfalls, volcanoes, coffee plantations, plateaus and coastal areas all within a few kilometres of each other.
The Maldives is an archipelagic country located in the Indian Ocean in Southern Asia. It is composed of around 1,192 coral islands that are grouped into 26 coral atolls.
Only 200 of the islands are inhabited and most of the Maldives are covered with water.
Exploring The Weather & Best Time To Visit Hawaii Vs Maldives
Hawaii experiences warm weather conditions throughout the year. However, since the landscape is so diverse, you get to witness several microclimates, within small distances from desert-like areas to snow-clad mountains, which is quite fascinating
If you're planning your trip to Hawaii, we would recommend March to October. This is because, during this time, the temperature remains between 23°C and 32 °C and the islands see the least rainfall.  October to December is less crowded, so this is also a good time to visit the islands. 
The Maldives experiences tropical weather with temperatures remaining between 26°C to 35°C  throughout the year. Between June to  November, the islands witness the maximum rainfall due to the monsoon season.
November to April is considered to be the best time to visit the Maldives but it is also the busiest a so, most expensive. So, it is wise to book your tickets and accommodation well in advance.
How Much Time is Needed to Explore Hawaii Versus Maldives
Hawaii is pretty large when you compare it to the Maldives. Also, there are many things that can be explored on the islands of Hawaii. Therefore,  you would need a minimum of one week to see at least major attractions. Ideally, we would recommend 10-14 days, if you really wish to explore the islands.
Maldives is a small country with limited attractions. Therefore, 4 to 5 days are enough to explore the islands.
VERDICT:  If you have more time, go to Hawaii, if you have limited time, Maldives is better. 
Hawaii Vs Maldives: What Kind of Travellers Are They Suited For?
Hawaii welcomes all kinds of travellers including backpackers, honeymooners ad families. Here you get to enjoy adventurous activities, underwater dives, rocking nightlife, shopping and endless places to venture out. 
The Maldives offers a relaxing and romantic getaway. This makes it the perfect choice for couples and also for families looking for a chilled out vacation by the sea. Enjoy gorgeous beaches, delicious seafood, scuba diving, snorkelling with coral reefs, overwater villas, musical nights, spa, and the list goes on. 
Hawaii Versus Maldives Cost
Hawaii will cost you anywhere between 2800 – 6000 USD  for a week for 2 people. The overall cost depends on the season you plan to visit. Sometimes prices may spike due to peak seasons like December and New year. 
Here's a breakdown of the costs you incur in Hawaii:
Food, travel & sightseeing (Per Day)
150 – 300 USD
Accommodation (Per Night)
30 – 350 USD
Internal Transportation (Per Day)
50-200 USD
The Maldives is considered to be a luxury travel destination.  One week trip for two people here can cost around 2000- 8000 USD. This includes the cost of food, accommodation,  meals, transportation costs, etc. 
Here's a breakdown of the costs you incur in the Maldives:
Food, travel & sightseeing (Per Day)
200 – 400 USD
Accommodation (Per Night)
190 –500 USD
Internal Transportation (Per Day)
70- 110 USD
VERDICT:  Not considering the fight tickets, Maldives is definitely more expensive when compared to Hawaii
Hawaii Or Maldives: Which Islands Have Better Beaches?
Hawaii is known for its beautiful white, black, yellow and pink sandy beaches with crystal clear warm waters. Therefore in terms of diversity, you will surely have no complaints.
The majority of beaches here are open to the public and are packed with visitors that offer a variety of water sporting activities. However, you can also find several remote beaches if you are looking for some quiet time.
Maldives on the other hand has white sandy beaches with crystal clear, clean and shallow waters with rich marine life. Since most islands are privately owned and have only one resort, you will get complete privacy here.
One of the most beautiful experiences in Maldives is visiting the beach in Mudhdhoo, also called Vaadhoo Island in Maldives which glows at night.
VERDICT:  Both Hawaii & Maldives has excellent beaches. While Hawaii beaches offer diversity, Maldives beaches are known for their privacy. 
Which One's Better for Sightseeing Opportunities, Hawaii Or Maldives?
Hawaii has a lot of places that travellers can explore. Apart from the beautiful beaches, you can visit historical museums, cultural centres, national parks, lighthouses, botanical gardens, coffee plantations, waterfalls, explore underwater life, etc.
Maldives is more of a relaxing getaway and lags behind when it comes to places to see. Most of the visitors come to the Maldives to enjoy the luxury of the resorts, spend some time around the beautiful beaches and explore the colourful underwater life that includes different kinds of fish, sting rays, octopus, squid, whales, and dolphins and turtles.
VERDICT:  Hawaii offers a more diverse platter when it comes to attractions 
Adventure & Entertainment Options In Hawaii Vs Maldives
Hawaii has some exhilarating options for adventure spots. These include such as snorkel tours, scuba diving, surfing, skydiving, surfing, helicopter tours, whale watching, sunset cruises, hiking, ziplining, windsurfing and camping, among several other options. 
When not looking for adventure, you can explore different entertainment options like witnessing festivals, cultural performances and other traditional events
Popular Things to Do in Hawaii
Enjoy Luau Feasts
Visiting National Parks
Hawaii Tropical Botanical Garden
Hiking in Kalalau Trail  
Waimea Canyon driving tour
Horseback Riding Tours
Helicopter Tour in Maui
Snorkelling
Scuba Diving 
What Watching 
Surfing
Stand Up Paddle Boarding
Ziplining
Since most of Maldives is covered by the sea, the majority of the adventure sports here are centered around watersports like snorkelling, scuba diving, and catamaran sailing.
Apart from the water activities, you can also witness big drum performance at Boduberu, enjoy sessions at the incredible spa centers visit northern atolls- Utheemu in Male.
Popular Things to Do in Maldives
City Tours from Male
Diving and snorkelling
Surfing

Catamaran Sailing

Dolphin Watching
Surfing
Stand Up Paddle Boarding
Flight over Maldives Islands
Parsailing
VERDICT:   Hawaii is more suited for adventure lovers as it has much more to offer
Get to Know the Food Culture Of Hawaii and Maldives 
Food culture in Hawaii is heavily influenced by Polynesian, American, and European cuisines. It is famous for "Plate Lunch", seafood tacos, Japanese inspired Poke Bowl, and farm-grown fresh fruits from local markets. The staple food in Hawaii is taro poi, breadfruit, sweet potatoes, leafy vegetables, pork, and taro tops. 
Suggested Food Spots in Hawaii:  Rainbow dive-in, Jawz Tacos and Da Poke Shack in Kailua Kona, the Big Island, Helena Hawaiian Food, Senia, The Original's Roy in Hawaii Kai
Maldives will delight you with exquisite cuisine with a fusion of Sri Lanka and India. Fish is the main staple food here and offers one of the most popular delicious food and drinks like coconut cake, fish curry, Garudhiya (Fish soup), Masroshi, Bis Keemiya, fried Yams, Maldivian live lobster, Sago Pudding and the list is endless. 
Suggested Food Spots in Maldives: Reethi restaurant, Maaniya Restaurant, The Spice, Hot Rock, Conrad Maldives Rangali Island, Sea House Maldives, Ithaa Undersea restaurant
VERDICT:  Hawaii offers a much more diverse food scene when compared to the Maldives, which lacks variety.
Nightlife in Hawaii Vs Nightlife in Maldives 
Hawaii is a big party destination. Right from dance clubs, local bars to lounges, you will have everything you need for a good time. Oahu is the most popular Island to experience the island's part culture along with Waikiki, Honolulu, and Chinatown.  Apart from these, you can also visit various restaurants and bars to enjoy cocktails, live music, and dance programs. 
Maldives does not compare to Hawaii when it comes to nightlife. Most of the nightclubs and bars are only located within the premises of the private island resorts.
VERDICT:  Hawaii has excellent nightlife, while the Maldives lacks behind in this aspect.
Accommodation Choices in Hawaii Versus The Maldives 
Hawaii offers a wide range of accommodation options that are suited for all kinds of travellers. From budget-friendly hostels & motels , to vintage hotels and ultra-luxurious resorts, there is no dearth of options in Hawaii. 
Accommodation costs in Hawaii range from 96 USD-450 USD per night and vacation rentals cost around 250 USD- 850 USD per night. 
Maldives is synonymous with luxury and therefore most of the accommodation options are on the expensive side. Most islands are privately owned and one island has one resort. Water villas and overwater bungalows are among the world-famous accommodations available in the Maldives. Therefore, the islands offer a much more serene and private experience.
The cost of staying in Maldives depends on your choice of accommodation. The cost of overwater bungalows starts at around 300 USD per night.
VERDICT:  Hawaii has a wider range of accommodation options than Maldives.
Cultural Experience in Hawaii Versus Maldives 
Hawaiian culture is known for its Aloha spirit which is a true essence of peace, compassion, responsibility and kindness. Hawaii offers numerous opportunities to explore its culture.
You can get a glimpse of Hawaiian culture and tradition with  Mele Music, Hula Dance, Kapalua Wine food festival at Maui, Luau – The Hawaiian feast, traditional food, King Kamehameha day celebration, welcoming Lei flowers to tourists, and celebration of sashimi new year. 
Maldives has a beautiful culture influenced by Indian, African, Arab and Sri Lankan cultures. However, it is more challenging to explore the island's history and culture. If you stay on the private islands, you will have to move out to meet the locals and learn about their traditions. 
You can witness the cultural glimpses of Maldives in Dhivehi, their local language, Boduberu drum music, Maldivian crafts, Maldivian handcrafted fishing boats, exquisite cuisine and celebration of the major festivals of Maldives. 
VERDICT:  In Hawaii, it is much easier to explore the cultural aspects in comparison to Hawaii.
Comparing the Ease of Travel in Hawaii Vs Bahamas
In Hawaii, most beaches and popular attractions are easily accessible and most of them have free parking, restrooms and showers.
The internal transportation system is fairly strong in Hawaii and travelling between islands is easy via cheap and regular flights. For shorter distances, there are cabs, ferries, buses, rental taxis and much more. 
Maldives you will have a plethora of options to indulge in island hopping.
Public ferries are cheap and easily accessible. You can also book boat transfers or seaplanes to visit resort islands and you can even rent a bike to explore the islands. 
VERDICT:  Both Hawaii and Maldives are well connected.
Safety of Travellers in Hawaii Vs Maldives
Hawaii is generally considered safe for travellers but one needs to take extra precautions in secluded areas or travelling alone at night. There is a risk of pickpockets, especially if you are in Honolulu. 
 The Maldives has received a "Safe Travel Stamp" granted by World Travel Tourism which is proof of the fact that the Maldives is one of the safest travel destinations. Moreover, the criminal activities are quite low and perfect for all kinds of travellers.
VERDICT:  Both Hawaii and Maldives are quite safe for travellers but the Maldives has an edge over Hawaii.
 Is Hawaii better than Maldives for A Family Vacation?
Hawaii is an excellent family vacation spot. This is because there are plenty of things to do and see on the islands. You can indulge in a range of family-friendly activities including exploration of serene beaches, cruises, snorkelling, hiking and watching sea turtles, whales and dolphins, and the list goes on and on.  
On the other hand, Maldives is one of the most beautiful tropical islands that has plenty of beautiful beaches and breathtaking underwater life. However, when it comes to activities, the offerings are limited. If you are travelling with young children who are constantly looking to get entertained, Maldives offers little other than the beach, cruises, water sports and resort-centric activities.
VERDICT:  Hawaii is better suited for family vacations with young children than the Maldives
How Good are the Honeymoon Spots Hawaii Vs Maldives? 
Hawaii and Maldives are both lovely destinations for a Honeymoon but if I compare them, Maldives is a better and in fact, popular place for newlyweds due to its mesmerising beaches, water villas, overwater bungalows and private resorts. For adventurous couples there is no dearth of exciting activities. 
Recommended Places For Honeymooners in Hawaii: Andaz Maui at Wailea Resort, The Ritz Carlton Kapalua in Maui, Koa Kea Resort in Kaui, Tunnels Beach, Poipu Beach, Kiahuna beach, Hanalei Bay, and Mahaulepu beach. 
Maldives is an ideal and popular honeymoon vacation spot for couples with so many luxurious overwater bungalows, serene beaches, spas, crystalline lagoons and luxurious hideaways. The resorts offer you with the private and romantic experiences that allows ou to spend unforgettable time with your partner.
Recommended Places For Honeymooners in Maldives: Adaaran Prestige water villas, Anantara Veli Maldives Resort, Hurawalhi Island Resort, Lily Beach Resort & Spa, Baros Maldives, Soneva Fushi, Intercontinental Maldives Maamunagau Resort, Como Cocoa Island
Verdict: The choice of honeymoon destination depends on what are you looking forward to in your vacation. For adventurous couples, Hawaii is better, but if you want a serene and private honeymoon experience, Maldives is the best bet.  
Hawaii Vs Maldives: Making That Final Call
In a nutshell, I would say that if you are someone who loves adventure – Hawaii is surely your best bet.
On the other hand, if you are looking for pure relaxation, romance, privacy and underwater beauty diving then Maldives is a perfect holiday destination for you.
Both are astonishingly gorgeous places to visit at least once in your lifetime. We are eager to know which one will you be choosing – Hawaii or Maldives? Share your valuable thoughts in the comments. 
Happy Wayfaring!