Looking for your next dream tropical vacation but confused between Hawaii Versus Fiji? Boasting beautiful beaches, breathtaking trails, and all-inclusive holiday experiences, both these destinations are extremely gorgeous, to say the least.
So, how do you make a pick between Hawaii & Fiji? Let us help you evaluate the differences between the two destinations that can help you choose the one that will be perfect for your next vacation.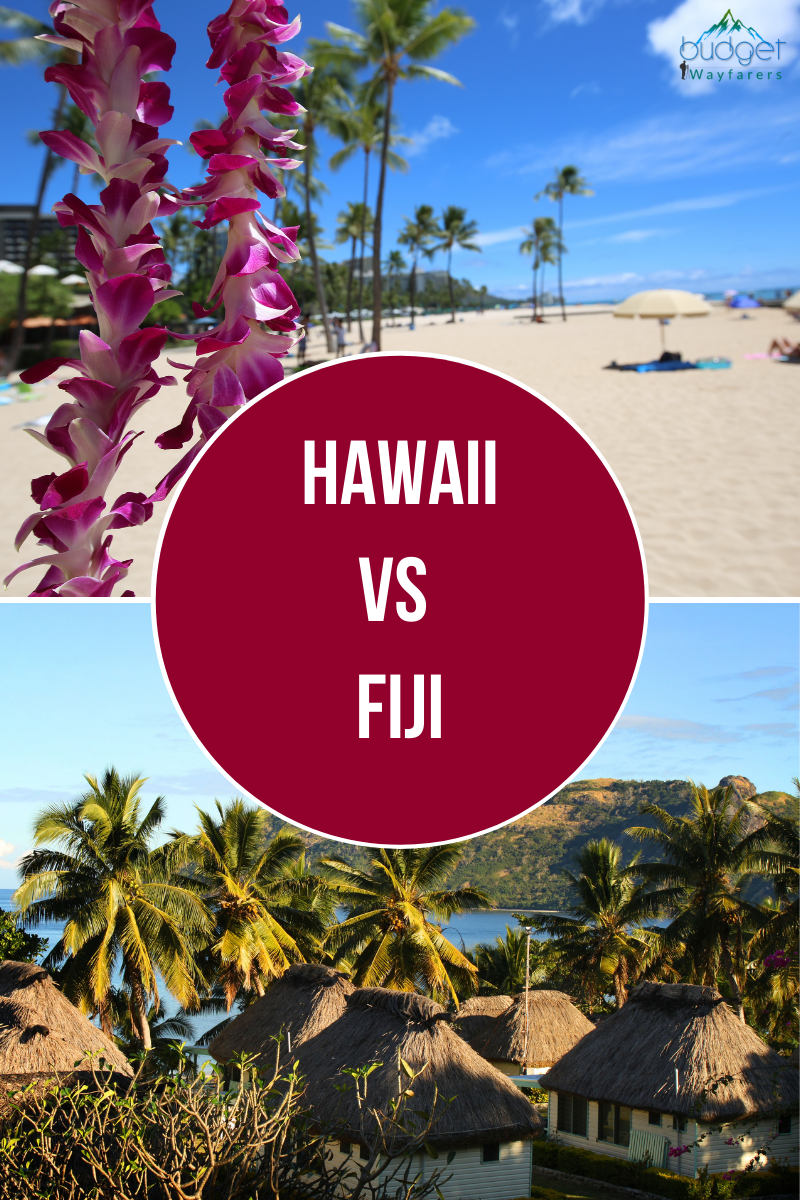 Also Useful:
What to Choose Between Hawaii And Puerto Rico?
Hawaii Versus Fiji
Here's a quick look at Fiji and Hawaii based on important travel-related metrics:
LOCATION
Hawaii

USA

Fiji

Oceania

BEST TIME TO VISIT
Hawaii

Mar- Oct

Fiji

May-Sept

7-DAY TRIP COST (2 People)
Hawaii

2800 – 6000 USD

Fiji

2000-4500 USD

BEACHES
Hawaii

Very Good

Fiji

Excellent

SIGHTSEEING & ACTIVITIES
Hawaii

Excellent

Fiji

Excellent

FOOD CULTURE
Hawaii

Hawaiian & Fusion

Fiji

 Traditional Fijian

NIGHTLIFE
Hawaii

Excellent

Fiji

Very Good

ACCOMMODATION 
Hawaii

Budget-Friendly to Luxurious

Fiji

Budget-Friendly to Luxurious

CULTURAL EXPERIENCE
Hawaii

Good

Fiji

Very Good

EASE OF TRAVEL
Hawaii

Very Good

Fiji

Good

SAFETY LEVEL
Hawaii

Very Good

Fiji

Good

FOR FAMILY VACATION
Hawaii

Excellent

Fiji

Very Good

FOR HONEYMOON 
Hawaii

Excellent

Fiji

Excellent
Hope the table above gave you a brief idea about what each island has to offer. Let us take a look at each of these attributes and more below to help you make a pick.
Comparing the Location & Size of Hawaii And Fiji 
Hawaii, popularly known as "The Aloha State" is a part of the United States. Although Hawaii has over 137 big and small islands, the main ones are only eight.
The main Islands in Hawaii are  Hawaii Island, Kauai, Lanai, Maui, Molokai,  Oahu, Niihau and Kahoolawe. Niihau and Kahoolawe are forbidden to regular tourists, the other six remain open for all tourism activities.
Fiji or the Republic of Fiji is located in the South Pacific Ocean. The Fiji islands comprise over 300 islands. Comparing Fiji vs Hawaii size, Hawaii is bigger.
The Fiji islands are divided broadly into nine island groups -Viti Levu, Vanua Levu, Taveuni, Kadavu, Yasawa, Mamanuca, Lomaiviti, Rotuma and Lau. Viti Levu and Vanua Levu are the two main islands that attract the maximum travellers.
Weather And Best Time to Visit Hawaii Vs Fiji
Hawaii has fairly stable weather all year round. Throughout the year the weather remains almost the same, which makes it a perfect spot for a vacation.
March to October is considered to be the best time to visit Hawaii. This is the perfect time to enjoy the beaches and explore the outdoors. If you are looking for a less crowded time, October to November is the best time to do so.
Fiji also experiences a pleasant and mild temperature throughout the year. However, there are distinct dry and wet seasons.
The best time to visit Fiji is from May till September. Mid-October to Mid-November is also pleasant and experiences dry weather and fewer crowds. Avoid the hurricane season which is from November to April.
Overall Cost for Travellers Visiting Hawaii Versus Fiji
An average trip cost for two people in Hawaii is around 2800 to 6000 USD for a week which includes flight booking, food, sightseeing, and lodging in a 2 or 3-star hotel. 
Here's a breakdown of major costs you incur in Hawaii:
Food, travel & sightseeing (Per Day)
150 – 300 USD
Accommodation (Per Night)
30 – 350 USD
Internal Transportation (Per Day)
30 USD
The cost of one week trip to Fiji can cost up to 4500 USD for two people which is way higher than Hawaii. If you are a budget-savvy traveller, go to bigger islands like Viet Levu where the room bed charges start from 22 USD, or in Nadi in a dorm room where the bed charges 20 USD. 
Food, travel & sightseeing (Per Day)
100-200 USD
Accommodation (Per Night)
20-180 USD
Internal Transportation (Per Day)
10 USD
VERDICT:  Not considering flight tickets, Hawaii is relatively more expensive than Fiji
Islands With Better Beaches- Hawaii or Fiji?
Hawaii will excite you with its mesmerizing beaches.  There are over 100 beaches across Hawaii that have beautiful red, white, black, and green sand. 
Best beaches in Hawai:
Punalu'u
Kahaluu
Kahaluu
Kaanapali
Waikiki
Ko Olina Beach Park
Kalapaki
Waimea Bay
Fiji is blessed you withsome of the most beautiful beaches with crystal clear waters. You can easily find tranquil and less crowded beaches in Fiji, where you can spend some quite time.
Best beaches in Fiji:
Monuriki
Natadola
Long Beach
Blue Lagoon
Lavena Beach
Honeymoon
Musket Cove
Botaira
Namale 
VERDICT:  Both Hawaii & Fiji are blessed with beautiful beaches, but beaches in Hawaii are generally busier than those in Fiji. 
Diversity in Places To Visit In Hawaii Vs Fiji 
Hawaii offers plenty of exploration opportunities for travellers. Apart from visiting the beautiful beaches, you can also visit its museums, active volcanoes and national parks.
Major attractions in Hawaii:
Haleakala National Park
Honolulu Museum of Art
Na-Pali Coast
Pearl Harbour
Waimea Canyon
Diamond Head
Waikiki Aquarium
Nahuku- Thurston Lava Tube
Spouting Horn
If you want to enjoy the scenic beauty, nature, and wildlife of Fiji,has some of the best picks for you. You can e
Major attractions in Fiji:
Civa Pearl Farms
Robinson Cruisoe Island
Momi Battery Historical Park
Tavuni Hillfort
Baouma National Heritage Park
Sawai- I- Lau Caves
Navala Village
Cannibals Cave
Sri Siva Subrmanayam temple
VERDICT: There are plenty of places to explore and visit in both Hawaii and Fiji 
Better for Outdoor Adventure- Hawaii Or Fiji 
Hawaii is synonymous with adventure. With beautiful forest-covered mountains, deep gorges and rainforests, Hawaii will not disappoint a thrill seeker.
Best activities in Hawaii:
Hiking in Kalalau Trail and Waikiki Island
Visiting National Parks
Hawaii Tropical Botanical Garden
Helicopter Tour in Maui
Waimea Canyon driving tour
Horseback Riding Tours
Fiji gives a tough fight to Hawaii when it comes to offering adventure activities. There are mountains, hills and rainforests that give you immense opportunities for getting that adrenaline rush.
Best activities in Hawaii:
Rafting The Upper Navua River
Hiking at Colo-I-Suva Forest Park
Sigatoka River Safari
Skydiving
VERDICT: Although there are a wider range of activities in Hawaii, Fiji gives a tough fight.
Watersports & Activities in Hawaii Vs Fiji 
Hawaii is one of the best places for indulging n watersports and other water-related activities. Hawaii is one of the best spots for indulging in surfing between November and February.
Hawaii offers other fascinating water experiences of deep-sea fishing, parasailing, scuba diving, snorkelling, sailing trips, stand-up paddleboarding, kitesurfing, and kayaking. 
Fiji, with its clear blue waters and thinner crowds, offers some of the most amazing water experiences.  Fiji is considered the soft coral capital of the world, giving the diver an unforgettable experience as they're immersed in a colourful underwater seascape.
Other amazing activities you can enjoy in Fiji are Surfing,  parasailing, swimming with stingrays Jesnorkeling, windsurfing, banana boat rides, and kayaking.
VERDICT: Hawaii and Fiji are both amazing for water activities. While surfing is best in Hawaii, scuba diving is the best in Fiji
Comparing the Food Culture in Hawaii Vs Fiji
Hawaii is a pretty amazing place for foodies. The food culture here has a strong influence on mainland America and cuisines from around the world. Therefore, you will be able to try out a variety of cuisines in Hawaii.
Food to Try in Hawaii:
Poke Bowl
Fresh tropical fruits
Hawaiian Plate Lunch
Manapua
Huli Huli Chicken
Spam Musubi
Saimin
Fiji, has relatively less to offer when it comes to diversity of cuisines. Apart from Polynesian cuisine, you can also try Indian, South East Asian, and Chinese food here.
Food to Try in Fiji:
Tavioka
Ika Tovu
Kokoda
Yaqona (kava) drink
Fiji Bitter and Fiji Gold – beers
Purini
Vakalolo
Palusami
VERDICT: Hawaii offers a much diverse when it comes to food.
Which Group of Islands Has the Best Nightlife: Hawaii or Fiji?
Hawaii has some amazing nightlife. You can enjoy karaoke, live music, restaurants, and bards performing at some of the best bars and clubs. Honolulu and Oahu are the best places to enjoy traditional nightlife.  Apart from the clubs, you can also explore other activities such as sunset sailing, fireworks at Waikiki, stargazing, and Luaus performances.
Popular Nightclubs in Hawaii: Mai Tai Bai, SKY Waikiki, Fusion Wakiki. Bar 35, Hula's Bar and Lei Stand, Rumors Night Club, Tapa Bar, Kelley O' Neil's. etc.
Fiji, offers a completely different experience when it comes to nightlife. There is not a party scene per se, but you can spend some quiet time at the beachside restaurants and clubs. Nadi in Viti Levu is the hub of the most popular clubs in Fiji.
Popular Nightclubs in Fiji: Beachcomber Island Resort, Cloud9, Ed's Bar, Ice Bar, Sundowner Bar, and Grill, Down Under Pub Fiji, Club Feenix, White House, and O'Relly's
VERDICT: When compared to Fiji, Hawaii has a more thrilling nightlife. 
Affordability of Accommodation In Hawaii Versus Fiji.
If you are looking for affordable accommodations in Hawaii, there are plenty depending on your budget and preference. In fact, hotels in Hawaii are cheaper compared to Airbnb. You can choose to stay in hostels, lodges, guest houses, resorts or hotels, depending on your needs.
Average Cost Per Night In Hawaii
Hotel
100 USD – 300 USD
Guesthouse
75 USD – 95 USD
Resort
170 USD – 500 USD
 Fiji has the most visited and affordable hotels, lodges and resort to stay in that have excellent reviews. Moreover, you'll enjoy the magnificent views and peaceful location for a much lesser cost.
Average Cost Per Night In Fiji
Hotel
75-150 USD
Lodge
37 USD – 50 USD
Resort
100 USD – 275 USD
VERDICT:  While both Hawaii & Fii offer a range of budget and luxury accommodations, Fiji is much cheaper.
Hawaii or Fiji for A More Authentic Cultural Experience
Hawaii although has Polynesian roots,  being part of the US, has impacted its cultural authenticity. It is estimated that only 10 per cent of the residents in Hawaii are native inhabitants.
If you want to understand and experience the true Hawaiian culture, you will have a visit to the Polynesian Cultural Centre on Oahu.
In Fiji, on the other hand, the Polynesian ancestry is very much evident. Half of the population is Fijian or mixed Melanesian and Polynesian descent. This makes it relatively easier for visitors to experience their authentic traditions and customs
You can visit Fijian villages to witness for yourself the true lifestyle of the ancestral people. People in Fiji are known for their hospitality and will welcome you with open arms.
VERDICT:  Fiji offers a much more authentic Polynesian cultural experience when compared with Hawaii.
Island Hopping & Ease of Travel in Hawaii Vs Fiji
Hawaii, is easy to explore and all its islands are very well connected to each other. This makes island hopping relatively cheaper and convenient for those who want to go beyond one locale.
There are regular flights between the islands. The public transport is also very well established and frequent. You can choose to hire a car, take taxis, buses, ferries, etc. to move easily and quickly from one spot to another.
Fiji, can get a little more difficult and expensive when it comes to island hopping.
For travelling between the islands, flights are irregular and expensive. Internal public transportation too is not something not that you can rely on completely.
VERDICT:  Hawaii is much easier and cheaper to explore especially when it comes to island hopping
Cleanliness & Safety of Travellers in Hawaii Versus Fiji
Most of the places visited by travellers are quite clean in Hawaii. However, some places might seem to have a trash problem.
When it comes to the safety of travellers, Hawaii is considered safe. However, just take general precautions you would take in any other place like avoiding poorly lit areas at night. 
Fiji is quite clean and boasts of some of the best and cleanest beaches with crystal clear waters.
Talking about safety, Fiji is generally safe for tourists but you need to be careful about certain crimes like theft and ATM skimming. Furthermore, avoid walking alone at night in areas like Suva and Nadi.   
VERDICT:  Although both Hawaii and Fiji are safe, Hawaii can be considered safer.
Shopping Experience Better in Hawaii or Fiji
Hawaii is a truly incredible spot for shopaholics. From high-end shopping malls to flea markets, Hawaii has them all. Honolulu's open-air Ala Moana shopping centre, Aloha Stadium Swap Meet and the Maui Crafts Guild are a must-visit.
Some souvenirs you can get from Hawaii:
Macadamia nuts
Hawaiian quilts
Hawaiian fruits
Aloha shirts
Kona coffee
Tropical fruit jams
Fiji has an array of enchanting souvenirs you can buy for your loved ones. Some of the best spots that you can visit include  Municipal Handicraft Centre, Baravi Handicrafts, Lawai Pottery Village and Nadi Produce Markets
Some souvenirs you can get from Fiji:
Handcrafted wooden cannibal forks
Kava products
Coconut shells
Fiji shells
Turtle carvings
Tapa paintings
Woven Basket
Fijian pottery
Mako Mask
VERDICT: Hawaii and the Bahamas both offer great shopping experiences, but Hawaii fares better.
Better for a Family Vacation: Hawaii or Fiji?
Hawaii is good for a family vacation to enjoy the serene beaches, outdoor activities, cruises, snorkelling, and wildlife. You and your little ones will never have a dull moment in Fiji
Fiji is also an ideal family vacation spot to enjoy the breathtaking beaches and water activities. There are also some wonderful outdoor activities that you and your family can enjoy in Fiji. 
VERDICT:  Hawaii is better than Fiji for a memorable family vacation, as it offers a wider range of activities. 
Fiji or Hawaii, The More Romantic Destination for Honeymooners? 
Hawaii is the perfect place for newlyweds. As a couple in Hawaii, you can experience romantic sunset cruises, go deep-sea diving, and Kayaking in the Wailua River. For fun-loving couples, a hike or adventure sports are around the corner.
Recommended Honeymoon Spots in Hawaii: Maui, Honolulu, and Waikiki are perfect honeymoon spots for newlyweds
Fiji offers a more serene and private experience for honeymoon couples. Away from the hustle-bustle of cities, you can just relax by the beaches and occasionally go for a hike or deep-sea diving.
Recommended Honeymoon Spots in Fiji: Koro Levu Island is the world's famous beach with the bluest water and is perfect for honeymooners
VERDICT:  Hawaii is better suited for an adventure loving couple while Fiji is best for couples looking to have a relaxing experience.
COVID Quarantine Conditions and Travel Restrictions in Hawaii Vs Bahamas
Hawaii has eased travel restrictions after a huge dip in COVID cases. However, it is highly recommended to follow precautions. There are no test or quarantine requirements for domestic travellers, but international travellers must comply with US requirements
Fiji has also opened up for fully-vaccinated travellers. All travellers aged 16 and above need to display proof of complete COVID19 vaccination.
So, let's circle back to the question- Is Hawaii or Fiji better for travellers? Well, both have their own sets of advantages and you need to evaluate carefully the metrics we discussed above before taking a final call. 
Hawaii is more convenient but commercialised and offers a wide range of activities for adventure junkies. Fiji, on the other hand, is less crowded, has a more relaxing vibe, and is suited for a chilled out vacation.
Do let us know in the comment section which one you finally decide to visit.
Happy Wayfaring 🙂