Are you confused between Hawaii versus Caribbean? Well, you're not alone in this dilemma! Thousands of travellers are stuck choosing between these tropical paradises for their vacation. 
Hawaii and Caribbean both offer exquisite beaches, water sporting activities, good food, plenty of exploring possibilities and more. But if you had to pick one, you need to evaluate their major differences. In this blog, we pit them against each other to help you pick the one that suits you the best.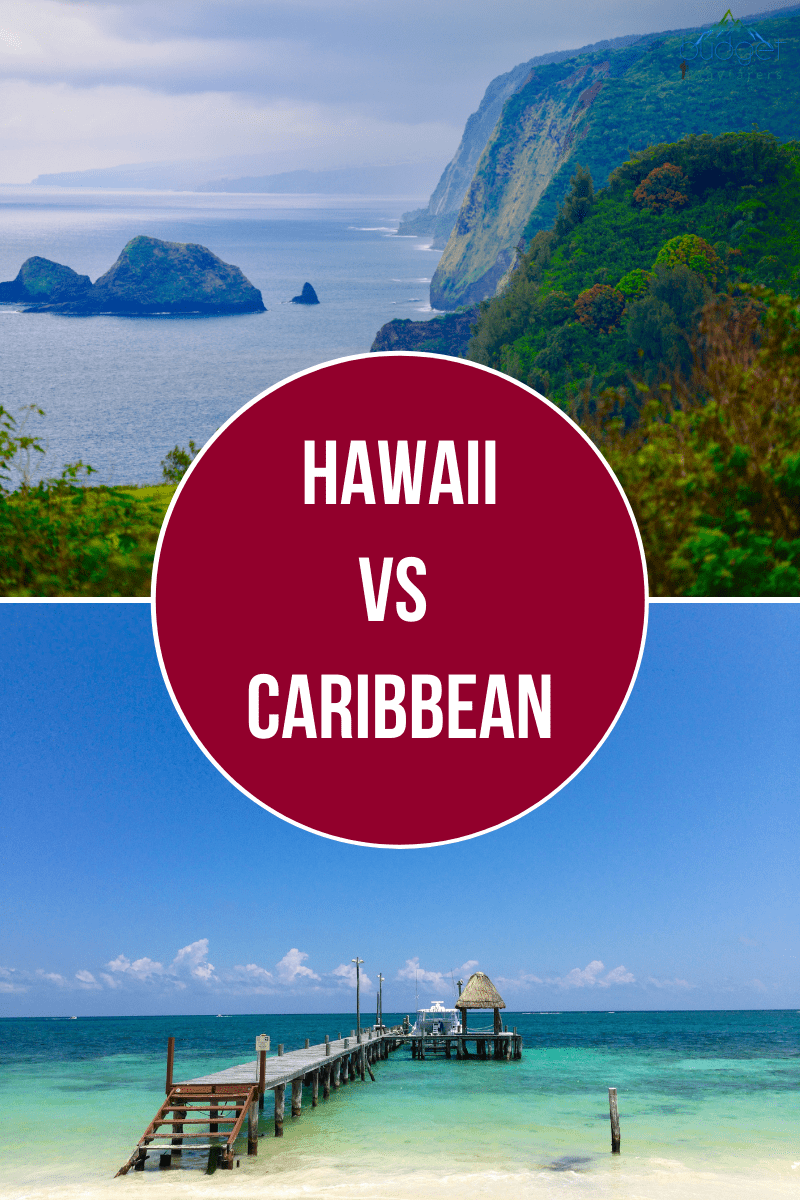 Also Useful:
What to Choose Between Hawaii And Bahamas?
Hawaii Versus Caribbean: Choosing the Better Vacation Destination 
Let us begin by analyzing the major differences between the two islands – 
LOCATION
Hawaii

United States

Caribbean

Caribbean Sea

BEST TIME TO VISIT
Hawaii

Mar-Oct

Caribbean

Dec-Feb

7-DAY TRIP COST (2 People)
Hawaii

2800-6000 USD

Caribbean

2000-5000 USD

ISLAND EXPERIENCE
Hawaii

Very Good 

Caribbean

Good

BEACHES
Hawaii

Very Good

Caribbean

Excellent

SIGHTSEEING & ACTIVITIES
Hawaii

Excellent

Caribbean

Excellent

FOOD CULTURE
Hawaii

Traditional Hawaiian

Caribbean

Diverse & Fusion

NIGHTLIFE
Hawaii

Excellent

Caribbean

Very Good

ACCOMMODATION 
Hawaii

Budget-Friendly to Luxurious

Caribbean

Budget-Friendly to Luxurious

TRAVEL FRIENDLINESS 
Hawaii

Very Good

Caribbean

Very Good

CLEANLINESS
Hawaii

Good

Caribbean

Average

SAFETY LEVEL
Hawaii

Very Good

Caribbean

Good

FOR FAMILY VACATION
Hawaii

Excellent

Caribbean

Excellent

FOR HONEYMOON 
Hawaii

Excellent

Caribbean

Excellent
Hawaii and Caribbean are separate regions located thousands oclf miles away. While Hawaii is a part of the US, Caribbean Islands are a group of Islands located southeast of Central America, and north of South America.
So, how do you choose between the two vacations? Let's find out by comparing Hawaii and Caribbean on the metrics in the table above and more-
Comparing the Weather And Best Time to Visit Between Hawaii & Caribbean
Hawaii is stable throughout the year. You can experience a warm and sunny climate all year round making it perfect for a vacation.
The best time to visit Hawaii is between March to October.  During this time, Hawaii witnesses the least rain. However, to beat the crowds, you can also plan a trip between October and December. 
The Caribbean region has fluctuating weather, one reason for which is the sheer size of the islands covering around 30 nations. Most islands are warm and sunny throughout the year. 
The ideal time to plan your visit to Caribbeans is the winter months i.e December to February when you will get a chance to enjoy the cruises. Alternatively, if you are looking for the cheapest travel option and don't mind the rains then choose May to August. You can even avail of special budget travel deals during these months. The hurricane season in the Caribbean lasts from June until November, and during these months prices are the lowest and crowds thinner.
VERDICT: Hawaii has more stable weather. But if you are wondering Is the Caribbean warmer than Hawaii, then the answer is Yes! 
Is Caribbean Cheaper than Hawaii for Travellers?
If you're travelling to Hawaiin islands, the average cost ranges from 2800 to 6000 USD including flight booking, food, travel, sightseeing, and lodging in a 2-3 star hotel for a 1 bedroom vacation rental. 
Most Affordable Places in Hawaii:
The overall travel cost for a couple to the Caribbean island is about 2000-5000 USD for a week. Remember this is the average cost and may vary with the island/ country you are planning to visit. 
Most Affordable Places in the Caribbean:
Trinidad & Tobago
Barbados
Turks & Caicos
Puerto Rico
Jamaica
Dominican Republic
VERDICT: The Caribbean is slightly cheaper than Hawaii based on the overall travel cost.
The Island Experience in Hawaii Versus the Caribbean
Hawaii comprises 8 major island islands – Hawai'i, Maui, Koho'olawe, Moloka'i, Lana'i, O'ahu, Kaua'i and Ni'ihau. One of the best parts about Hawaii is the landscape variation it offers.
In tiny Hawaii, you get to see the deserts, tropical rainforests, sprawling beaches and snow-peaked mountains. Travelling between these islands or island hopping is quite easy.
The Caribbean region consists of 700 islands divided into more than 20 sovereign states. Cuba and the Dominican Republic are the largest countries in the region.
Since the Caribbean is divided into separate countries, travelling between them will be an effort. Even travelling between the islands in the same country can turn out to be a hassle and expensive.
VERDICT: Although Hawaii is much smaller than the Caribbean, it offers a unique island experience with Island hopping made easier. 
Hawaii Vs Caribbean: The Battle of The Beaches
The magnificent Hawaiian islands consist of beautiful white, black, red and green sandy beaches.
Best beaches in Hawaii:
Punalu'u 
Keauhou 
Waikiki 
Ko Olina 
Kalapaki 
Kahaluu 
The Caribbean islands are known for their warm waters with the clearest water and shimmering white and pink sandy beaches. 
Best beaches in the Caribbean region:
Exuma, Bahamas
Shoal Bay, Anguilla
Brown, Barbados
Bavaro, Dominican Republic
Grace Bay, Turks and Caicos
Flamenco, Puerto Rico
Negril, Jamaica
Eagle Beach, Aruba
VERDICT:  If beaches are your main priority, The Caribbean is a better choice. 
Hawaii or Caribbean, For the Explorer In You
Hawaii is well-known for volcanoes, beaches, museums, active volcanoes and national parks. As a explorer, there are plenty of things you can see in Hawaii.
Popular Places To Visit in Hawaii:
Haleakala National Park
Honolulu Museum of Art
Na-Pali Coast
Pearl Harbour
Waimea Canyon
Diamond Head
Waikiki Aquarium
Nahuku- Thurston Lava Tube
Spouting Horn
The Caribbean region is popular for its beautiful beaches, turquoise waters,a plethora of colonial cities, all-inclusive resorts and pleasant weather.  Depending on the place you are visiting, you will also find historic forts, plantations, volcanoes and more. 
Popular Places to Visit in The Caribbean:
San Juan, Puerto Rico
Blue Mountains, Jamaica
National Bridge Ruins,  Aruba
Havana, Cuba
Nassau, Bahamas
Santo Domingo, Dominican Republic
Virgin Gorda, British Virgin Islands
Brimstone Hill Fortress, St. Kitts
VERDICT: There are plenty of places to explore and visit in both Hawaii and the Caribbean
More Exciting Option for Adventurers: Hawaii or Caribbean?
Hawaii is a dream come true for thrill-seeking travellers. The islands will intrigue you with hiking, trekking, snorkelling, surfing, and other outdoor activities. It is the perfect spot for an active vacation.
Best activities in Hawaii:
Hawaii Tropical Botanical Garden
Helicopter Tour in Maui
Hiking in Kalalau Trail and Waikiki Island 
Waimea Canyon driving tour
Horseback Riding Tours
Witnessing eruptions at Volcano National Park
Snorkelling and Scuba
Mountain Tubing
Whale Watching
The Caribbean region has a laid-back vibe but it does offer a diverse platter of activities for travellers. However, since the region is quite large, unlike Hawaii one island or country may not offer all the experiences. So, make sure you first check what you want and then decide the destination.
Best activities in the Caribbean:
Hike Waitukubuli National trail, Dominica
Swimming with pigs, Bahamas
Swim with stingrays, Cayman Islands,
Whale watching, Dominican Republic
Dunns River Falls, Jamaica
Hike Gros Piton, St Lucia
Hike El Yunque Rainforest, Puerto Rico
Water Sports Activities
VERDICT: Hawaii is a better choice if you are looking for an array of activities. They offer better water sporting activities and other adventures all in one place
Comparing the Unique Food Culture of Hawaii and the Caribbean
Hawaii is famous for its fresh tropical fruits that can be bought from local farmer's markets. Apart from that "Plate Lunch" is something you must try when in Hawaii.
Local Food to Try in Hawaii:
Haupia
Loco Moco
Poi
Laulau
Poke Bowl
Manapua
Hawaiian Cocktails
The Caribbean region has numerous islands that are famous for their seafood cuisine, rum drinks, spice rubs, marinades and mouth-watering hot sauces. 
Local Food to Try in the Caribbean:
Martinican cuisines

(like Lambis, Boudin, Accra), Martinique

Coucou and Flying fish,

 

Barbados
Conch fritters, Bahama
Jerk Chicken and Rum Punch, Jamaica
Mofongo, Puerto Rico
La Bandera, Dominican Republic
Creole Bread, St. Lucia
VERDICT: Both Hawaii and the Caribbean specialize in their own kind of food.
What's Better Hawaii or Caribbean for Experiencing An Amazing Nightlife?
Hawaii will give you a completely thrilling nightlife experience. The best clubs in Hawaii are located in Honolulu, Waikiki, and Chinatown. Apart from the clubs, there are many 
Best Nightlife Spots in Hawaii:
Rumtar
Zanzabar
Mai Tai 
Wang Chung
Honolulu city lights trolley tour 
Trolley tour
Fireworks at Hilton Hawaiian Village
The Caribbean, has some of the best islands for experiencing nightlife. With all night clubs, beach partes, 
Best Nightlife Spots in the Caribbean:
San Juan, Puerto Rico
Jost Van Dyke, British Virgin Islands
Negril, Jamaica
Punta Cana,  Dominican Republic
St. Barts
Barbados
Aruba
St. Lucia
VERDICT: Hawaii and Caribbean both have excellent Nightlife. Some of the islands in Caribbean are world-famous for their nightlife.
Accommodation Options & Costs in Hawaii Vs Caribbean
Hawaii offers a wide range of accommodation options for travellers. You can choose to stay in budget hotels, guesthouses, hostels and all-inclusive resorts with prices ranging from 75 USD to 500 USD per night. 
Average Price Per Person in Hawaii:
Hotels: 150 USD – 350 USD
Hostels: 30-40 USD
Guesthouse: 75 – 95 USD
Resort: 170 – 500 USD
The cost and options of staying Carribean vary with the island you are going. In the Caribbean the average cost of hotels, guesthouses and all-inclusive resorts ranges from 20 USD to 800 USD. 
Average Price Per Person in Hawaii:
Hotels: 50 USD – 500 USD
Hostels: 30-50 USD
Guesthouse: 20-120 USD
Resort: 100– 850 USD
VERDICT: The Caribbean offers more reasonable stays in comparison to Hawaii. 
Comparing the Travel Friendliness & Culture of Hawaii & the Caribbean 
Hawaii is very travel-friendly for all kinds of travellers- families, friends or solo. Internal transport is easily available which makes it easy to get around.
People in Hawaii ar  heartwarming and truly embibe the "Aloha Spirit" embibing their Polynesian ancestory. The culture is a blend of eastern and western influences. This beautiful and unique culture can be withessed in the Laua Feasts,  Hula Dance performances, Polynesian Culture centre at Oahu, Hapa-Haole music, and Native Hawaiian Cuisine. 
In most Caribbean countries, experiences are dominated by resort experiences. As a traveller you are more likely to be limited to your resort offering all-inclusive trip with food, wine & dining options.
When it comes to hosptality, the people of the Caribbean region are bright and friendly. You will experience the diverse cultures, and languages like Dutch, French, Spanish in different Islands but English is the common language spoken by locals  making it easier for tourists to communicate and visit the islands.  Carribean region is well-known for its food (African, European, Indian, and Chinese Food), Caribbean Rum, fascinating carnival festivals and more.
VERDICT: Both Hawaii and Carribean are travel friendly offer different travel experiences and cultures.
Hawaii or Caribbean: Better Destination if You Have Cleanliness Concerns
Hawaii is quite clean in most visited areas.  Some of the cleanest areas in Hawaii to visit are Honolulu and Kahului-Wailuku-Lahaina. 
Since the Caribbean is a large region, the cleaniliness varies from island to island. Aruba is the cleanest  in the Caribbean region. Other clean iislands include St. Vincent, The British Virgin Islands, Saint Lucia, Turks & Caicos, St. Barks, Barbados, Antigua.
VERDICT: Hawaii is comparatively cleaener than majority of the Caribbean islands.
Hawaii or The Caribbean: The Safer Destination
Hawaii is one of the safest places in the US but there is a concern about car theft and unattended items. Moreover, it is also a safe place for solo travellers.
Focus on general safety like you would do in any other place.
Carribean region is generally a safe destination for travellers. However, beware of leaving your valuables unattended at the beaches, hotels or rental cars as they are vulnerable to thefts in places like Jamaica and The Dominican Republic.  
The safest islands in Caribbean include St. Barts, Anguilla, The Virgin Islands, Martinique, Turks and Caicos, St. LuciaThe Cayman Islands.
VERDICT: Hawaii is safer for travellers than the Caribbean
Is Hawaii or Caribbean Good for A Memorable Family Vacation?
Hawaii is an excellent destination for planning a family vacation. It offers many kid-friendly and family friedly adventure activities.
You can enjoy some relaxing time by the beaches, go on hikes, enjoy cruises, go snorkeling or surfing, swim with sea turtles, try zip lining and more.
Caribbean too offers several options that are suited for families. Depending on the islands you plan to visit, you can enjoy kid-friendly resort experience, hikes, watersports, etc. among other things.
Barbados, The Bahamas, The Dominican Republic, Puerto Rico, St. Lucia, Dominica, and the Virgin Islands are the best Caribbean Islands for a family vacation.   
VERDICT: Hawaii is better for family vacation than the Caribbean dies to the range of activities being provided in a small place. 
Better for A Romantic Honeymoon- Hawaii or Caribbean Islands?
Hawaii is an amazing place for married couples to enjoy the sandy beaches, clear fresh waters, Aloha spirit, and enjoy beautiful resorts in Maui, Oahu, Lanai in Hawaii. 
Experience the romantic sunset cruise, go for deep-sea diving, Kayaking in the Wailua River, and a must-visit to Honolulu – one of the most popular cities for honeymoon couples. 
The Caribbean region comprises the most romantic islands for honeymooners. You can spend some quality time  with your loved ones at the beaches and resorts.
Sone of the best romantic spots for newly-weds are  St. Lucia's stunning beaches,Green Turtle Cay at the Bahamas, Anguilla, Aruba, Grand Turk, Turks and Caicos Islands.
VERDICT: Hawaii is a better optionif you are looking for an adventurous honeymoon. Caribbean is suited for couples who want to relax.
COVID Restrictions & Quarantine conditions in Hawaii Vs Caribbean
Hawaii has recently eased travel restrictions. However, we would recommended to take all precutions. There are no test or quarantine requirements for domestic travellers. However, international travellers must check with US requirements.

Most islands in the Caribbean have lifted their travel restrictions. However, you must check with the country's official guidelines regarding the need for vaccination or COVID tests.
Before we end the blog, let's answer a very popular question – Which Caribbean Island is Most like Hawaii? Saint Lucia is quite similar to Hawaii. However, there are more islands that have similar beautiful beaches, majestic waterfalls, and amazing volcanoes. These include Turks & Caicos, Jamaica, Barbados, Grenada, Antigua, and the Bahamas.
We hope you are now in a better decison to choose between Hawaii and the Caribbean. In case you have ay firther questions, we would love to help. Drop your query in the comment section below.
Happy Wayfaring!