Gokarna and its beaches comprise the ideal sunset treat. It is the go-to destination for people who don't need the pressure of an itinerary. A more "chilled-out" version of Goa, Gokarna has the beauty of Goa without the hustle and bustle of it.
The temple town has something to offer for every traveller. From Mahabaleshwara temple to the pristine beaches, Gokarna is the epitome of beauty, spirituality and tranquillity. 
Every year thousands of devotees travel to this small town to pay obeisance to Lord Shiva. However, lately, Gokarna has become popular among backpackers and travellers too. Looking to spend some quiet quality time by the sea and quite honestly, tired of the loud and crowded Goa, travellers who come here fall in love with the rustic and laid-back nature of this beach town.
There are a number of things you can do in Gokarna. Trek from one beach to another, practice yoga by the beach, visit a nearby temple, or simply sit and stare at the beautiful blue waters in Gokarna. Gokarna is a perfect place to unwind in the lap of nature.
In this Gokarna travel blog, I will share with you some tips on visiting this place and also help you form a budget Gokarna travel plan based on my recent travel experience.
Gokarna: The Planning Stage
Before planning a vacation here, there are a few things you should know. Here's a brief overview of the same.
Location
State
Karnataka
Best time to Visit
October to May
Best mode of transport
Deluxe Buses, Cars and trains (not direct)
Best mode of internal transport
City buses and Autos
Budget Accommodation
Shacks and homestays
Recommended food places
Namaste Cafe (Om Beach)
Cost of a 3-day trip
Moderate
How to reach Gokarna?
Gokarna is a very well-connected town and can be reached easily from any part of India or the world. Here is how to reach this town by train, road or by air.
How to reach Gokarna by Air?
The nearest airport to Gokarna is the Goa Dabolim airport. The airport is connected to all the major cities of India and is also connected to several international cities like Sharjah (UAE), Kuwait, Doha, Manchester, etc.)
From here, you can take a cab, bus or a train to reach the town.
How to reach Gokarna by Road?
Gokarna is well- connected to the nearby cities by road. Direct buses run from Goa, Bangalore and Mangalore at regular intervals. You can find direct buses from the nearest cities Goa, Bangalore and Mangalore. You can also hire a cab from these cities to reach Gokarna.
I chose to travel to Gokarna from Bangalore. Bangalore is very well connected to Gokarna. Bangalore to Gokarna bus can be easily booked from KSRTC website. Both normal and Volvo buses ply on this route.
How to reach Gokarna by Train?
Gokarna Road is the nearest railway station (about 8 km away) to the main Gokarna town. However, the station is not that well- connected with other cities. Another station called Ankola which is about 20 km away from Gokarna is a relatively more well-connected railway station.
Travelling by road to Gokarna is the most convenient and budget-friendly travel option. No matter where you take the bus/cab, the whole route is very picturesque.
Gokarna: An Introduction to the Small Town
Gokarna is a small town situated in the state of Karnataka, known for its temples and its beaches. Once a centre of pilgrimage, due to the increasing numbers of tourists the tone and character of this place have now changed to that of a serene and peaceful getaway where people can relax and enjoy all that is good in life. With such a reputation it is no wonder that people from all over the world visit this travel- friendly place. 
In recent years, the temple town has also emerged as the centre for Yoga practices. You can find many Yoga ashrams teaching and practicing yoga, especially near the Kudle beach.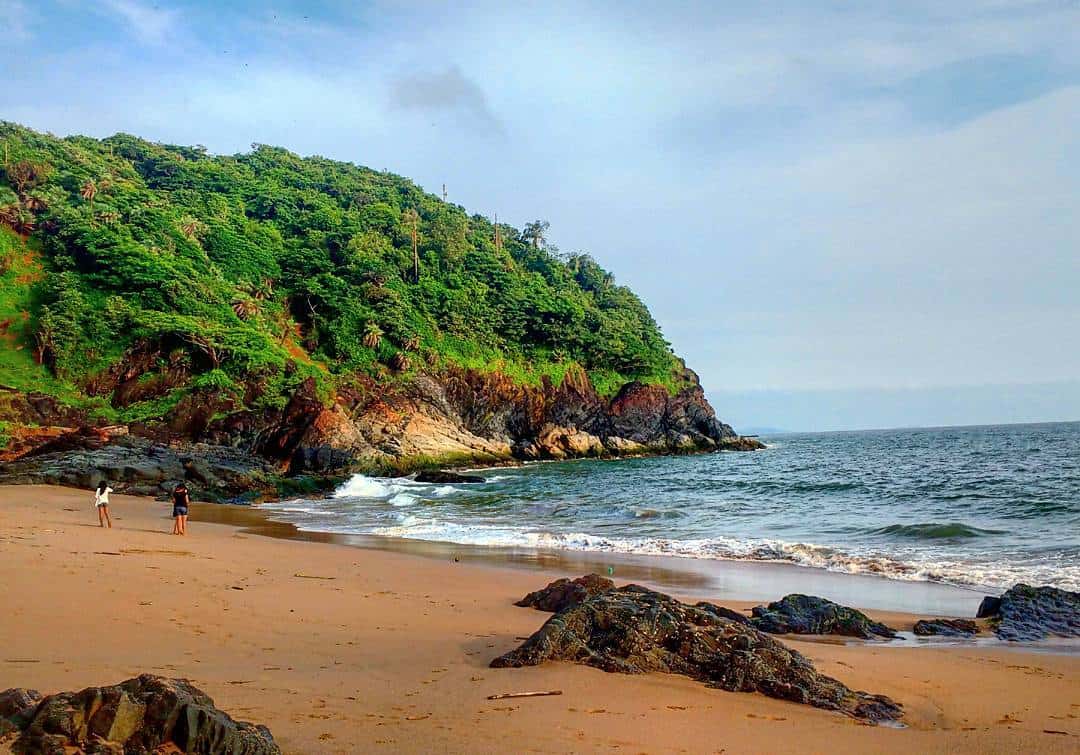 Beaches at Gokarna are perfect examples of serenity personified. Photography by Avishek Dasgupta
 Gokarna: Accommodation Options
Stay in Gokarna is a debate especially during tourist season. To actually immerse yourself in the (now) prominent "hippie" vibe of this place it is always better to stay close to the Gokarna beach. You will get to meet the other tourists and join in impromptu JAM sessions across the beach. To facilitate this atmosphere various eateries throughout the beaches have opened up shacks/rooms, the most famous of which is Namaste Cafe in Om Beach. However, if you are travelling during peak tourist season it is very likely that Namaste Cafe will be booked but with a little adjusting, you can join the "shack" dwellers and stay in one of the other eateries. If however, you would prefer to have your own space you can always check in town for inns or if nothing works out you can check out homestays in nearby places such as Kumta
The entrance to Namaste Cafe. Photography by Gopal Sharma
Great food and a great view equals to a beautiful moment at Namaste Cafe. Photography by Praveen Kumar
Gokarna Beach: The Four
Gokarna has some of the loveliest beaches you have ever seen. Since not many people travel here, the beaches are relatively less crowded and much cleaner when you compare them to other popular beach destinations
While there are many beaches in and around Gokarna the four main ones that you should definitely visit are the Kudle, Om, Half-moon and Paradise; the best thing about these four are the fact that they can all be visited in one trek. The order of the trek goes Kudle to Om to Half-moon to Paradise and then back. If you get tired you can find shacks on Half-moon, Om and Kudle to spend the night.
Kudle to Om beach is the longest to trek so it's best to wait out the sun before starting or else you can take an auto from Kudle to Om and then trek towards Half-moon and Paradise. Another cool thing that you can do is take the boat from Kudle or Om to Half-moon and depending on the time either trek to Paradise and back or trek back towards Om.
The Four: Character Review
Kudle Beach
West facing; lots of cafes and resorts with shacks
Om Beach
South facing; enough cafes and eateries with shacks
Half-Moon Beach
South facing; a couple of eateries with shacks; shaped like a perfect half-moon
Paradise Beach
South facing; secluded and peaceful; no shacks or eateries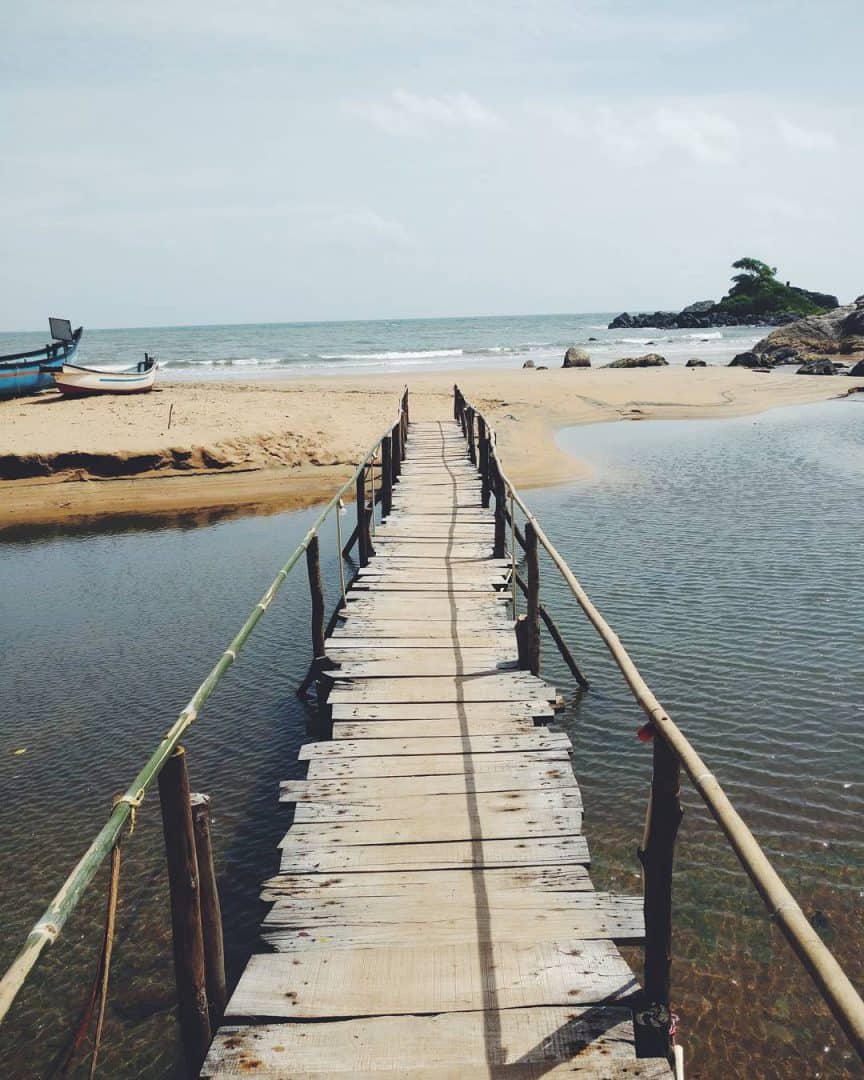 Om Beach. Photography by Mayank Bhushan
Half Moon Beach. Photography by Madhu CM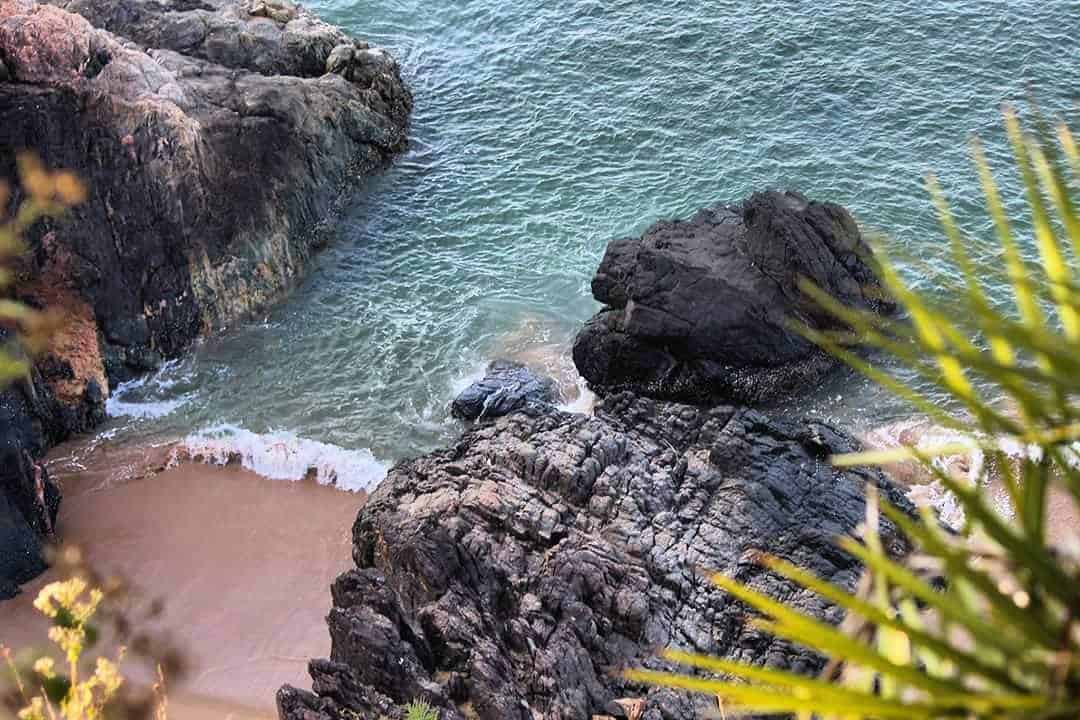 Paradise Beach. Photography by Lino Jac
Gokarna: Boat Ride
Picture this: The sun is dipping slowly beyond the horizon where it meets the sea, the gentle hum of the motor of the boat and the perfect song in your ear. You feel the waves of the sea underneath slowly rocking the boat and you see the beach slowly blend into rock and then melt back into the beach. It is a relaxing and freeing experience. Once you reach Half-moon beach, at the far end of the beach, there are a couple of eateries in front of which there is a pile of rocks, sitting on it watching the sunset with a slow song playing on your speakers you will feel alive, glad and content.
Gokarna: Trek Back
The trek back should be done carefully if it is done after sunset. While the climb itself isn't too treacherous there are some narrow pathways on the trek back from Half-moon to Om. Carry torches and make sure not to do the trek alone. The trek path leads you over hill, then to its side and after quite a bit of walking right before you reach Om, you come across a cleared area that looks over Om and if it is dark the cafes will be lit and the lighthouse light slowly swinging back and forth. It is a beautiful sight and like everything here, calming.
Gokarna: Afterwards
A trip to Gokarna can be as long or as short as you want. The beaches and the people never get old or lose their effect on you and you can always discover nooks and crannies along the trek path or the beach which will always alter the view. You might even be able to spot dolphins. The morning yoga with the people you meet, the songs around a campfire and the spectacular sunrises and sunsets, will always stay with you even as you get back to the demands and responsibilities of life.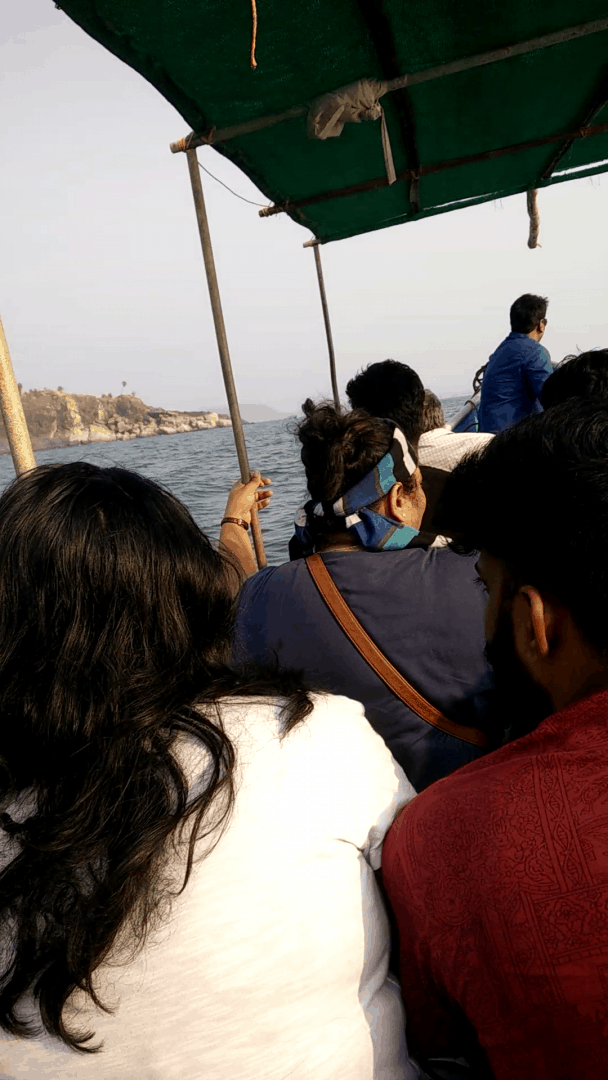 This is me returning from the boat ride
Other Gokarna Places to Visit
Other than the beaches, there are a few other well known and other unexplored places in Gokarna, you must explore on your trip. Some of the best ones are:
Gokarna Mahabaleswara Temple
This highly revered temple is located at a distance of 1.6 kms from Kudle Beach. Gokarna Mahabaleshwar temple is the reason why a lot of Pilgrims visit this town. It is the only Atma-lingam in the world that can be touched by the devotees. If you visit the temple, do read about history beforehand. It is a must-visit for a Shiva Devotee
Timings:
6 am to 2 pm
4 pm  onwards
Tip: Choose the afternoon timings to avoid the heavy rush
Dress code:
Men – without shirt/ banian and either dhoti/ trousers can be worn.
Women – Indian wear
Maha Ganapati Temple
It is located at a distance of 1.6 kms from Kudle Beach and very close to the Mahabaleshwara Temple. This is an ancient temple built in honour of Balal Ganesh who saved the 'Atma Linga' from Ravana. Visit it before visiting the Mahabaleshwara temple.
Shiva Cave Gokarna
Located at a distance of 0.7 kms from Kudle beach, the Shiva Cave is exactly opposite to Kudle Beach View Resort. This is one of the offbeat places in Gokarna not many people know about. The cave has a Shiva linga which is said to be built in 195 BC.
If you are scared of Bats, you should probably avoid as the caves. The caves are dark, so carry a torch but don't shine them directly on the Bats as it distresses them.
 Tip: If possible ask a localite to accompany.
Mirjan Fort
The fort is located at a distance of about 12 km from Kudle Beach, off NH 66, between Gokarna and Kumta. If you have your own transport, you can stop on your way to Kudle Beach or Gokarna or on your way back. This is one of the unexplored places in Gokarna.
You can also hire autos from the town to reach the Mirjan Fort. This 17th-century fort signals the splendid military and commercial past. The views from the fort are amazing.
The place is secluded and you can spend a couple of hours here. Photographers would love the place.
Tip: Best time to visit is during the rainy season
Gokarna as a travel destination will win over your hearts. You can stay here for as short or as long as you want. Once you are here, you will fall in love with everything about this place -the beaches, the vibe and the serenity. This is one of those places where you can spend countless hours just sitting or meditating by the sea, reflecting on your thoughts.
Plan a trip to Gokarna soon and soak yourself in the pure bliss of unperturbed nature. 
Happy Wayfaring 🙂