Gangtok, the capital of the beautiful northeastern state of Sikkim is one of the must-see destinations in India. Nestled away in the Himalayas, it is an ideal spot for experiencing Tibetan Buddhism, taking hiking adventures or just to lay back and enjoying the pristine nature. The most optimum Gangtok budget travel plan will ensure that you are able to cover the maximum locations in minimum bucks spent. Your aim is not to spend precious travel time inside hotels but to go out and explore nature in this gorgeous hill town.

Gangtok budget travel plan for first-time backpackers or groupies can prove beneficial. It will not only help extend your stay but also save huge bucks. Being a safe destination, you can easily crash in nominal bed and breakfast places, inns, guest houses and even hotels.  Gangtok is also one of the safest places for solo female backpackers so even women can cut down travel cost and spend as much time as possible amidst greenery and quietude.
In the current blog, I will be taking you through the details of my budget visit to Gangtok. I will also share with you some budget tips, insights on places you must see, accommodation options and adventurous things to do, based on my Gangtok trip experience.     
Gangtok Budget Travel: An Overview
Gangtok is a beautiful destination and there are many things to explore in and around the town. Before going into those details, here are a few things that will help you to efficiently plan your Gangtok budget travel trip.
Saving on accommodation
Book in advance and stay in a guest house or a good 'bed and breakfast' place.
Saving on food
Eat the local cuisine 
Saving on travel internally 
If solo, speak with fellow travellers and share cabs with them or use local transport.
Saving on travel externally
Travel by train
Top Gangtok budget travel tip
Travel offseason.
Introduction to the Town of Gangtok
Gangtok, located in the northeastern state of Sikkim,  isn't just a beautiful place, it is pure enchantment. The first three things that come to a traveller's mind are food, culture and nature's beauty. Gangtok as a travel destination personifies all three. The culture, the people, the richness of the ancient museums and the endless stories across town are all magical.
Gangtok is popular as a major Buddhist pilgrimage site.  There are many prominent monasteries in and around Gangtok. The Enchey Monastery, for instance, was built in 1840 and is an important seat of the Nyingmapa order of Vajrayana school of Buddhism. The Monastery is also famous for its Chaam Dance Festival.
Here are a few things that you should know about Gangtok, before planning a visit.
Location
Sikkim, North East India
Mode of Travel
By Road (nearest bus station: New Jalpaiguri
By Train (nearest railway station: Siliguri)
Best time to visit
April
Accessibility
Throughout the year
Nearby places to visit
Darjeeling, Kalimpong
The beautiful mountains glitter at night with the lights shining brightly from hundreds of cottages. It is a sight to cherish. Whether it is a family outing you are looking for or a backpacking adventure, Gangtok won't disappoint you.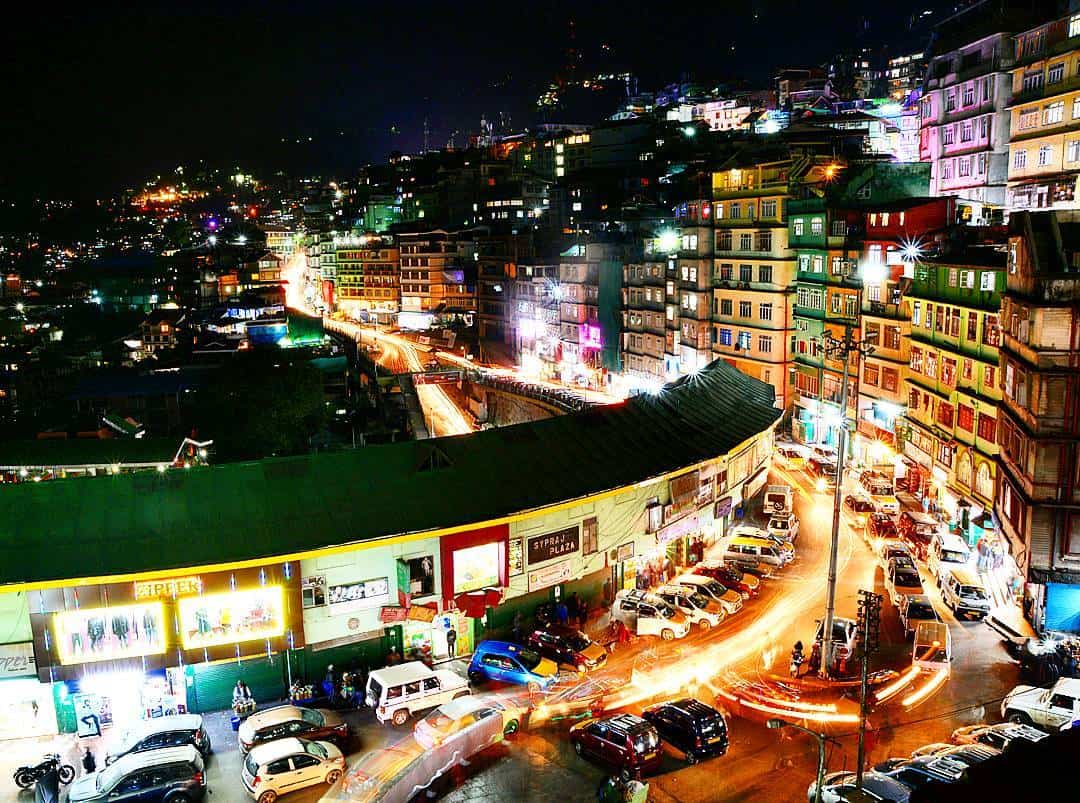 The hill town of Gangtok sparkling during the night. Photography by Pranay Pariyar
Gangtok Budget Travel for Popular Routes
Gangtok is easily accessible from different cities of India. The most popular routes are:
Gangtok from Kolkata
Travel via train till Siliguri
From Siliguri, take a bus to Gangtok
Gangtok from Darjeeling
Travel by bus till Gangtok
Gangtok from New Delhi
Travel via train till Siliguri
From Siliguri, take a bus to Gangtok
If you wish to travel by air, then the closest and well-connected airport to Gangtok is Bagdogra Airport in Darjeeling. The airport is about 16 km from Siliguri.  From Siliguri, you can take a cab, or a bus till Gangtok.
Gangtok is a lovely hill station located in the northeastern part of India. Photography by Pranab Paul
Gangtok Budget Travel Plan: Top 5 Destinations for First Timers
If you are visiting this for the very first time, these must find a place in your Gangtok budget travel plan:
Temi Tea Gardens
Pemayangste monastery
Namgyal Institute
Buddha Park
Bakthang Falls
Gangtok is a kind of place where you can spend a lot of time. However, if you have limited time, these are the must visit. places. Apart from these, there are many other places that can be explored around the town of Gangtok. If time allows, you should visit those too. I have mentioned other major attractions that you can cover, below.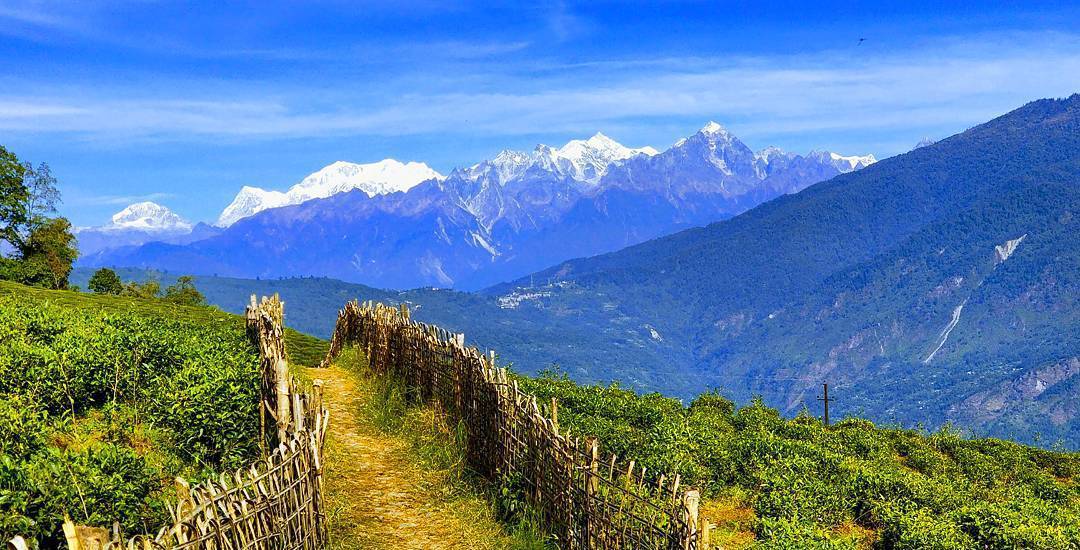 Temi Tea Garden is one of the best tea gardens in India & the world. Photography by Ankit Pradhan
Temi Tea Garden
The lush tea gardens, filled with a wide variety of naturally grown tea is a sight to behold. If there is one thing that one cannot get enough in Gangtok is its tea gardens. Temi tea garden is one of the largest tea gardens with an area of 440 acres.
Established in 1969, this tea estate produces one of the healthiest organic and delectable tea varieties in Asia. The highlight of this estate is the freedom it provides to the visitors to roam around in the garden and breath in the fresh aroma of the wide variety of tea they grow. 
Another feature which makes the experience even better is the freshly prepared tea they offer to the visitors. Majority of the stalls also offer delicious momos, a speciality of Gangtok. The fresh hot tea, along with the cool wind of Gangtok makes the entire experience memorable.
Distance from Gangtok Centre
47 km
Optimum Visiting Time
Day visit or 1-night stay
Major Attractions
Tea Estate
Tea Factory
Zip Flying and Paragliding 
Other than the beautiful gardens are the serenity, adventure junkies can also try some adventure activities here. Paragliding and zip lining are some of the exciting adventure sports that you can try.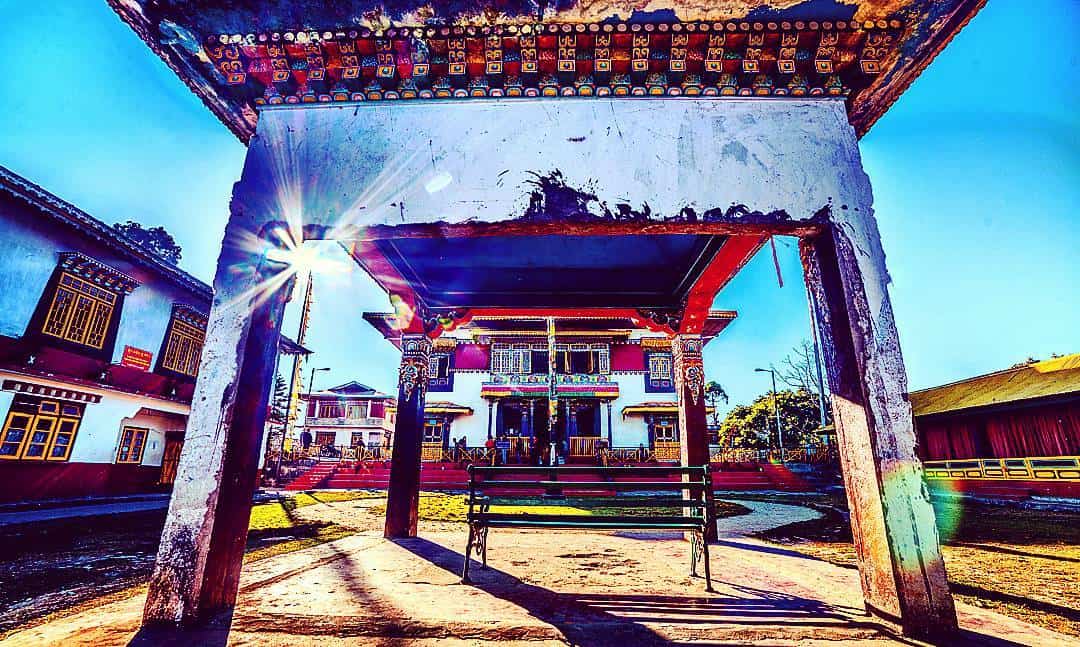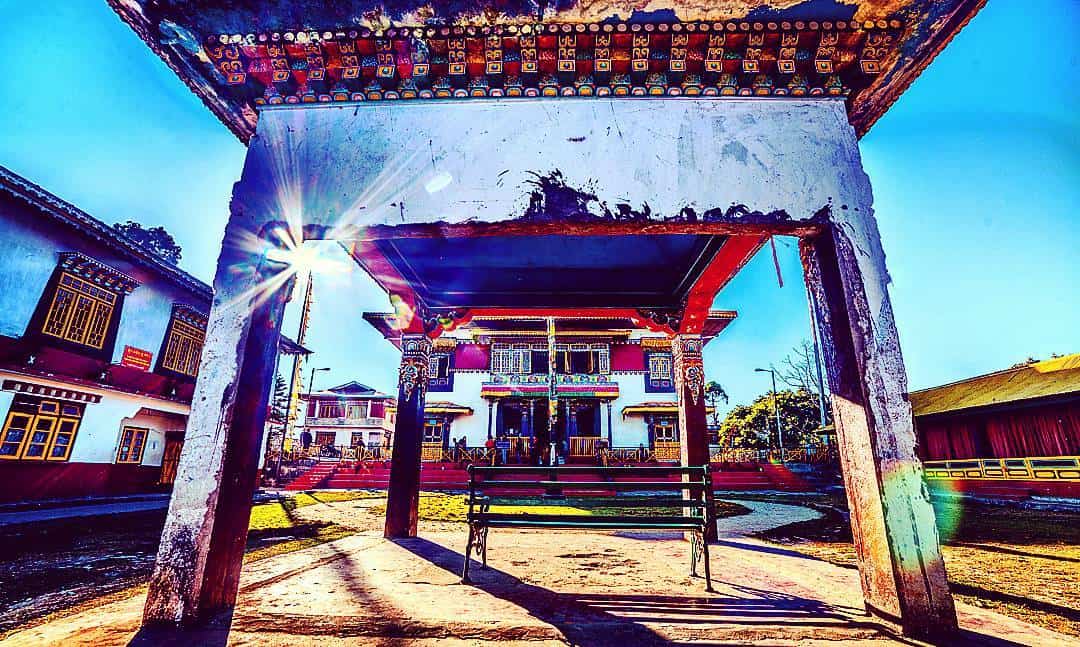 Established in 1705, Pemayangtse Monastery is one of the oldest monasteries of Sikkim. Photography by Arash Mehdi
Pemayangtse Monastery
If you are a wanderer looking for peace of mind, or a writer looking for inspiration, the Pemayangste monastery will provide you with both. Located at an elevation of 2 km, the magnificent structure is surrounded by snow-covered mountains on both sides.
The authenticity of this place attracts a lot of footfalls and gives an enchanting aura and experience. Divided into three floors, the old walls are beautifully covered with different kind of traditional art and paintings, along with statues of saints and Rinpoche.
Distance from Gangtok Centre
111 km
Optimum Visiting Time
Day visit
Major Attractions
Buddhist Artwork
Aura
The monastery has a heavy Tibetan designed structure along with very less renovation. Visitors can sit in the prayer hall and interact with the locals or write or paint peacefully in a corner, as art in any form is appreciated in Pemayangstse. 
Namgyal Institute of Tibetology encourages the research on history, religion, language, and art of the Tibetan culture. Photography by NIT
Namgyal Institute of Tibetology
Famous for the names associated with its establishment, Namgyal Institute encourages the research on history, religion, language, and art of the Tibetan culture. Dalai Lama himself laid the foundation stone for this institution which was officially opened by the Prime Minister of India Pandit Jawaharlal Nehru and hence holds a great essence of importance and history.
The institute holds wide information on different aspects of Tibetan history. One of the most interesting place in this institution is the museum, located on the ground floor. For all those who find history fascinating will love the well informative museum as it contains some really rare statues and artefacts which leaves everyone in awe. 
Distance from Gangtok Centre
5 km
Optimum Visiting Time
Few Hours
Major Attractions
Museum
Artwork
Ranging from years old knives, parchments, inks, weapons to manuscripts in Chinese, Sanskrit, Tibetan, and Lepcha. Visitors can dwell on the rich history by reading the descriptions attached to every ancient artefact in the museum. Namgyal Institute is a wonderful place with a perfect combination of history and culture. 
Buddha Park
Buddha Park is a place where religion meets nature and beautifies every aspect of the park. Situated near Ravangla, Sikkim, the park is famous for its eco-friendly ways and intricate architecture. The prime attraction of this park is the centrally located, magnificent 130- foot high structure of the Buddha itself which towers the entire park and glows with its own alluring aura.
Under this statue is the museum which consists of different fictions and forms of Buddhas along with ancient artefacts. 
Distance from Gangtok Centre
70 km
Optimum Visiting Time
Few Hours
Major Attractions
Tall Buddha Statue
Natural Beauty
The park can be explored on foot or by the eco-friendly E-autos, that pick up and drop off the visitors. Outside the museum, there are four to five fountains that are often treated as wish- fountains by the tourists and has become a popular trend.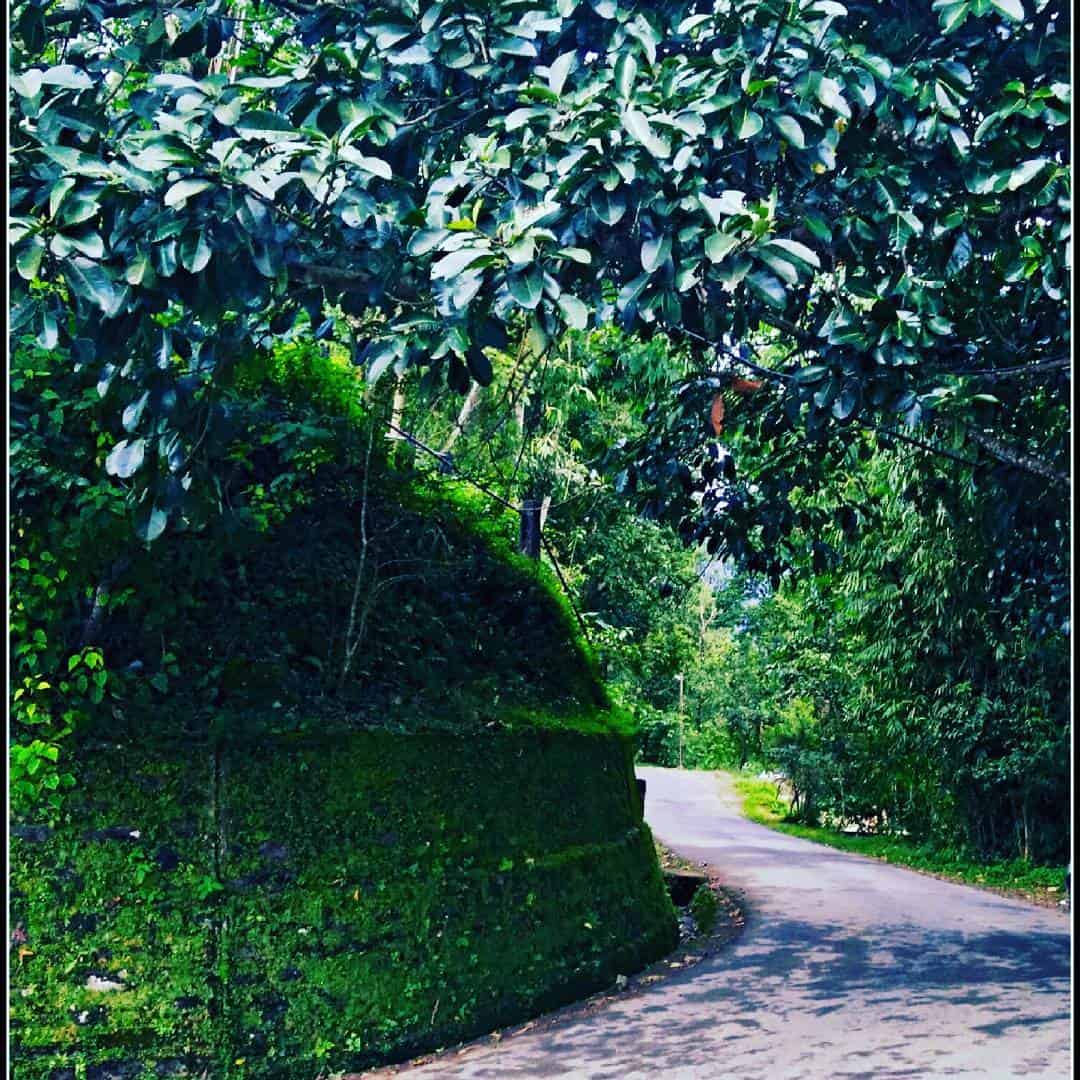 Bakthang Waterfalls s only a few minutes away from Gangtok. Photography by Anusha Pradhan
Bakthang Waterfall
This is a paradise for all nature lovers. Situated 20 mins away from Gangtok, Bakthang falls are one of the most popular spots for all the tourists. A glorious view with a glittering waterfall gushing down the majestic rocks and forming a pool at the foot makes them a perfect spot for relaxing.
Bakthang Falls is an offbeat place for all the travellers to explore and even contains a small, old creaky hut which works as a cafeteria. Sipping hot coffee while enjoying the waterfall is a common activity at Bakthang. The cafeteria owner is full of interesting stories about the waterfall and its origin.
Distance from Gangtok Centre
7  km
Optimum Visiting Time
Few Hours
Major Attractions
Natural beauty
Gangtok Budget Travel: Other Places to see in & near Gangtok
If you are planning to stay in Gangtok for more days, there are plenty of other things to explore. Here are a few places that you can add to your list of things to do in Gangtok.
Hanuman Tok
Hanuman Tok is an old Hanuman Temple located at a height of 7,500 ft. Apart from its spiritual value, the temple offers an exquisite view of Khangchendzonga. It is located at a distance of 11 km from Gangtok, on the way to Nathula Pass. Legend has it that Lord Hanuman rested here while flying with Sanjeevani Mountain to Lanka to save Lakshman.
Rumtek Monastery
This beautiful monastery is located at about 25 km from Gangtok. It is one of the oldest Buddhist centres in the region. The monastery complex is large and the architecture is exquisite. Make sure to carry your ID proof.  The area is monitored and managed through Indo-Tibetan Border Police (ITBP), if you don't have an ID, you cannot visit.
You could also visit Lingdum monastery and Bhanjhakri falls on your way back to Gangtok.
Namchi
Namchi is located at about 78 km from Gangtok. Namchi has the world's largest (135 feet high) statue of  Guru Padmasambhava is installed atop Sampruptse. There are also a few monasteries and the place offers a breathtaking view of the Khangchendzonga. 
Recently, Siddhesvara Dhaam was also unveiled here. It is a pilgrimage-tourism venture with replicas of  4 Dhaams and an 87 feet statue of Lord Shiva.
The Temi tea gardens discussed above are located near Namchi.
Nathu La Pass
Nathu La pass connects Sikkim to Tibet and was once a part of the Silk Route. However only Indian citizens can visit the pass after obtaining a permit from Gangtok. The ride to Nathu La also covers Tsomgo lake, Baba Mandir.
Also Useful: 
A complete guide to travelling solo to Nathula Pass
Yumthang Valley
Also known as Himalayan Valley of Flowers, the gorgeous Yumthang Valley houses a unique fusion of flora, fauna and nature's various spectacles. This mountainous region is rare and exotic in nature. Its a place where the tree line ends. It is one of the favourite tourist spots for those who prefer a serene surrounding in the lap of snow clad mountains and serenity.
Also Useful: 
All these places are easily accessible from Gangtok. If you have more time, you should definitely try to include them in your Itinerary.
Gangtok Budget Travel: Best Accommodation Options for Backpackers
There is no dearth of budget and luxury accommodation options in and near Gangtok. I would recommend the following stay for solo backpackers.
If you are on a solo adventure trip and in search of new people, energy, and experiences, this is the place to stay in. Make sure to put this place in your Gangtok budget travel planner. Gohills hostel is a Bed and Breakfast destination which provides individual as well as dormitories to the guests. This is the best place to stay in if you are on a budget fixed holiday as it is rated for its best value in Gangtok.
The owners are extremely friendly and provide a very homely vibe to the visitors. Though the food is not prepared by professional chefs, it tastes equally good if not better, with a touch of home spices. Additionally, it has also been rated as a safe and welcoming place for solo woman travellers exploring Gangtok budget travel. It is a perfect place to enjoy Gangtok as it provides an insight into the beautiful and simple ways of Gangtok life and its people.
Price: 800- 1000/ Per day
Additional features: Nightclub, karaoke, board games, gift shop.
Gangtok Budget Travel: Best Accommodation Options for Groups
Travelling in a group is always fun and if you are looking for a place for your group, the following stays check all boxes. You can choose the one that best suits your budget.
This Bed and Breakfast is another pleasant holiday home to stay in but has an additional perk of being pet-friendly. Pet lovers, make this place a part of your Gangtok budget travel planner and keep your pets along.  Situated at a comfortable distance from the main market of Gangtok, this B&B provides comfortable rooms along with a beautiful view.
 The rooms are equipped with all the required amenities and the owners are extremely helpful and friendly. The environment here is filled with energy and love and gives a homely touch to everything. A hot cup of cocoa, a bonfire and karaoke sums up a perfect night at the mountain eclipse.
Price: 2000-3000/ Per night
Additional features: Garden area, pet-friendly zone, board games and fun activities for children
Famous for its Sikkimese hospitality, Hotel Sikkim delight is in real words, a delight to stay in. With just a ten minutes drive from the famous MG Marg, this hotel covers all the requirements of the travellers. One of the best group stay options for Gangtok budget travel. Equipped with all the necessary amenities, the hotel has its own restaurant and provides a specially prepared breakfast buffet to all its guests. It also provides cab service and has a 24 hours active help desk. The hotel specializes in making guests feel at home and has an extremely helpful staff.
Price:  3000-6000/ Per day
Additional features: Arranges for tour guide and cab service. 
If you are on holiday with your family, this is the best resort to stay in. Marked by its beautiful architecture and interior, Mayfair resorts are famous for their comfortable environment and helpful staff. With a large area spread across 48 acres of forested land, Mayfair provides an excellent opportunity to enjoy the nature and comforts of the resort at the same time. One of the best family stay options for Gangtok budget travel.
This resort provides all kinds of rooms along with individual cottages which are equipped with Wifi, fireplace, television, fridge, and all other important amenities. Mayfair also has an excellent spa facility for the guests. The food here is prepared by professionals who provide a wide variety buffet for breakfast and dinners. The best feature of this resort is the peaceful evenings where one can sit with family and friends and enjoy live music and bonfires along with delicious food.
Price: Rs. 8000-15000/Per day
Additional features: A functional Casino (Entry fee: Rs. 5000/per person ; Age- 21 & above)
Gangtok Budget Travel: Best Eating Places
Gangtok has some of the finest cafes and eating joints. When here you must try the following places:
Baker's Cafe
Cafe Fiction
Cafe Live and Loud
Taste of Tibet
If you have visited Gangtok and know of any other wonderful eating joints, do let me know in the comment section. I would love your recommendations.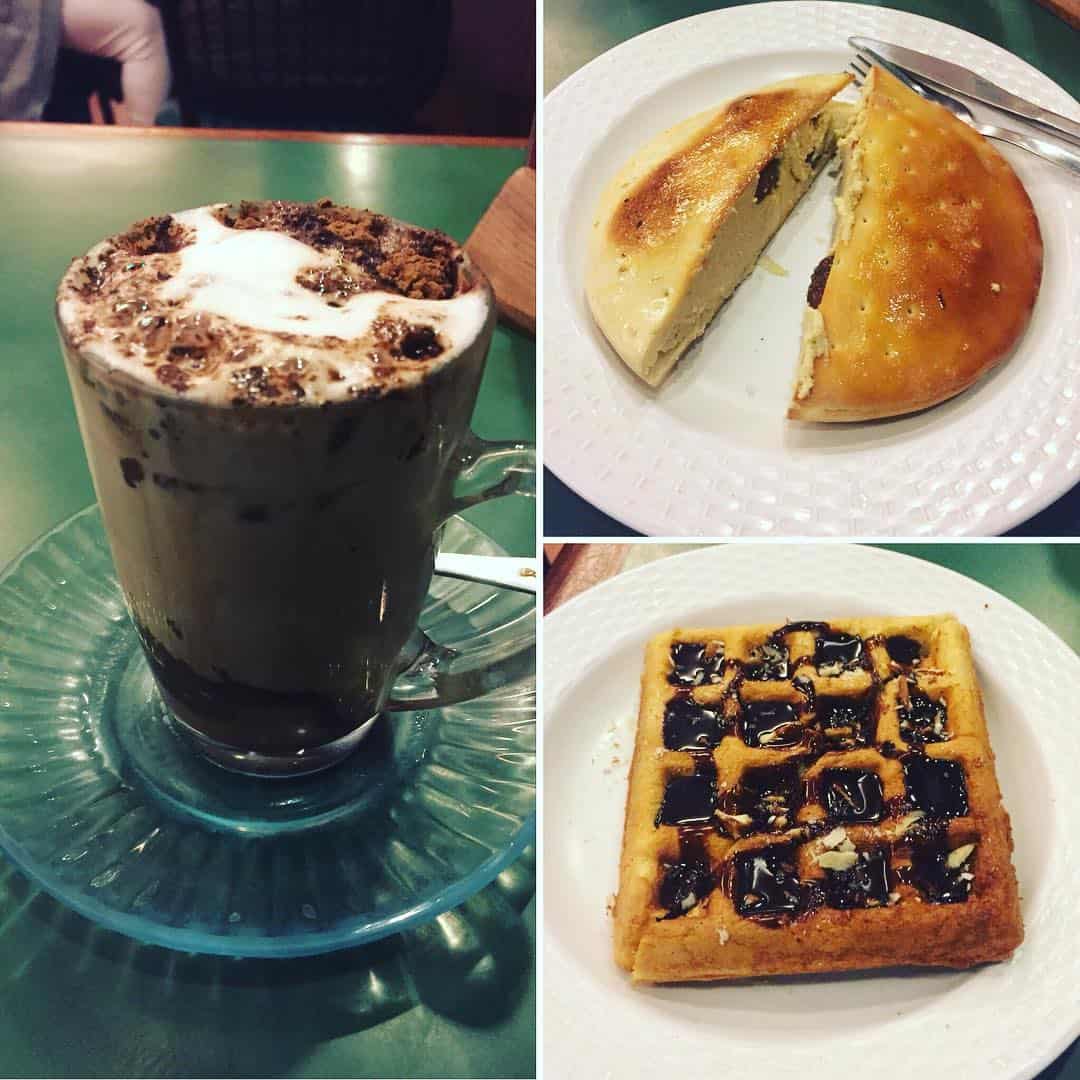 Try desserts at Baker's Cafe. Photography by Akshay Seth
Bakers Cafe
Located on the MG Marg, Bakers café is a cozy little place and will fir well in your Gangtok budget travel plan. One can enjoy a nice meal along with some of the bakers specially prepared desserts. Popular for its ambience, the café also serves amazing food and drinks which are served by a really friendly staff. It is a nice eatery for Gangtok budget travel.
The music choice of this café is another popular feature as it takes request from the guests. Bakers café is one of the busiest cafes and hence required pre-booking at times.
Price: Rs. 500 for two.
Popular for: Burgers, lasagna, pastries, hot chocolate, and cappuccino.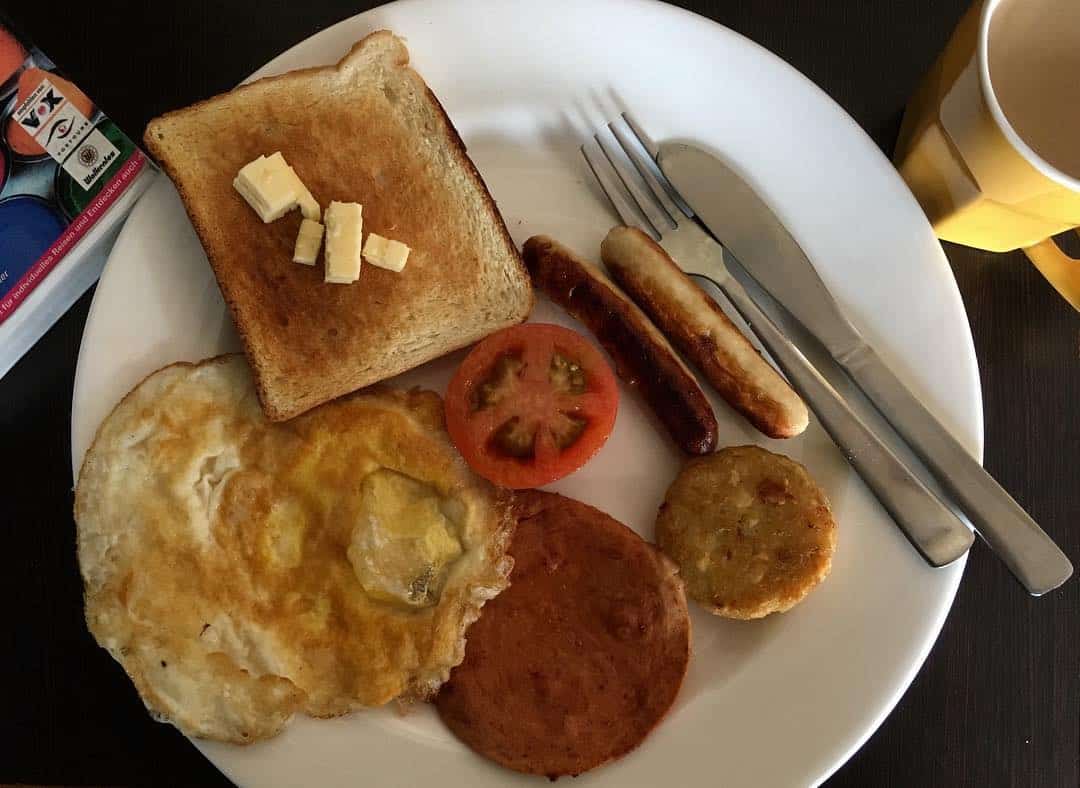 Cafe Fiction is a lovely place for both food and books. Photography by Manish Jhawar
Cafe Fiction
Cafe Fiction is also located on the MG Marg. If your idea of a perfect day is freshly brewed coffee and a great book, this café is the ideal place for you. Known for its authentic English breakfast, café fiction is one of the few places in Gangtok which offers a wide range of options to choose from, for both food and books.
The café has a peaceful vibe as it is not situated in the middle of the market area but 10 mins away from MG Marg.  A popular tag line for this place is that it's a perfect place for coffee, cakes, and conversations.
Price: Rs. 300 for two.
Popular for: Homemade cakes, coffee, English breakfast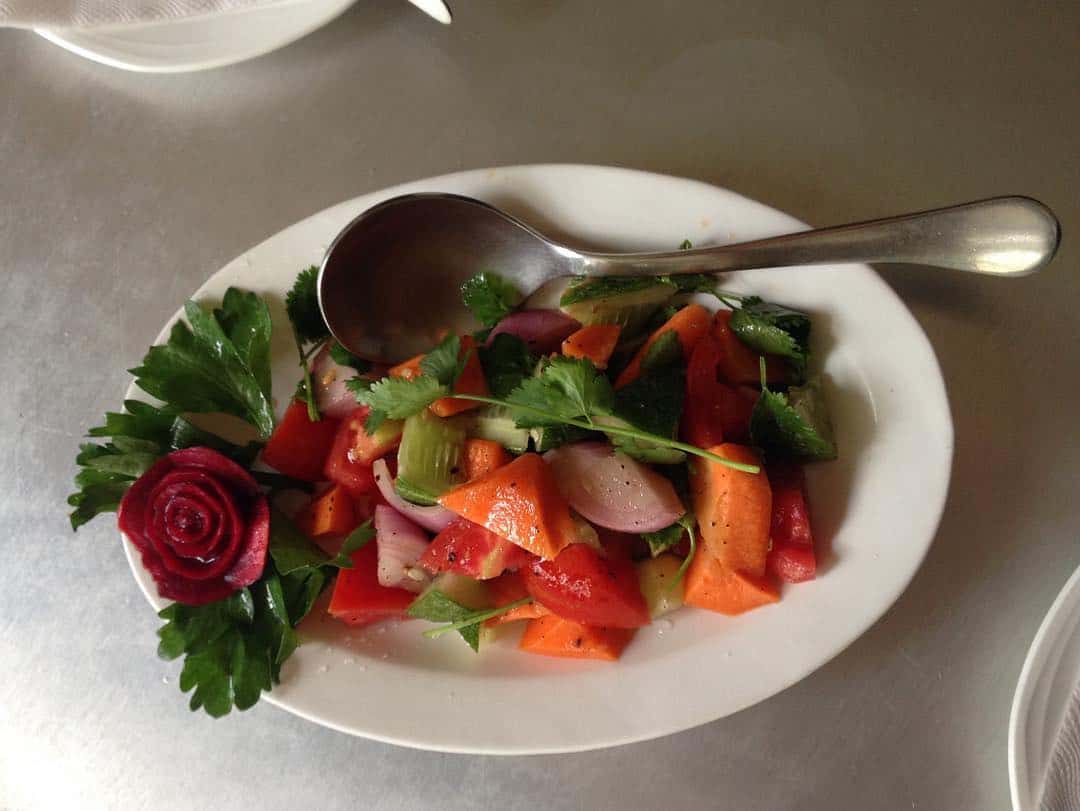 Enjoy good food and music at Cafe Live and Loud. Photography by Charley Fraser Annand
Cafe Live and Loud
This cafe is an ideal place for starters and beer. Café live & loud is an upbeat café with good music, food, and drinks. Situated on the popular Tibet road, it is a perfect place to hang out with friends. This café has live music performances on alternating days and a DJ on the weekends.
Café live & loud is a hub for backpackers and hence gives a chance to interact with different travellers. Its artistic vibes are evident from its walls as they are filled with different posters of bands and shows. 
Price: Rs. 500 for two
Popular for: Chinese, Indian, Asian and cocktails. (also served gluten-free food)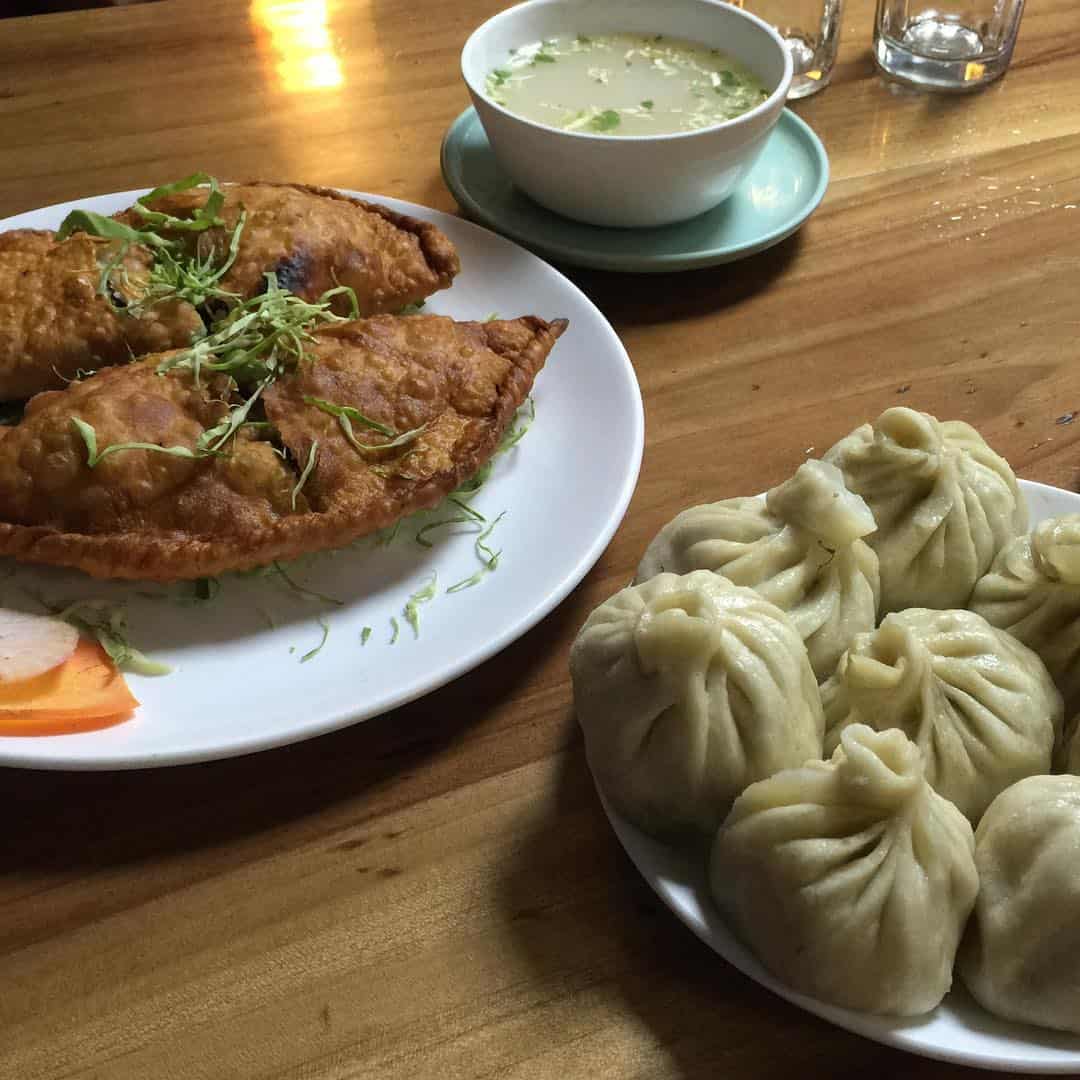 Try delicious Tibetan food at 'Taste of Tibet' Photography by Tosh Aggarwal
Taste of Tibet
For all the Tibetan food lovers opting for Gangtok budget travel, this is your dig. Ranging from a variety of item to choose from, Taste of Tibet is one of the most popular cafes in Gangtok. Located on the MG Marg, it is generally crowded and hence booking is required.
The taste of Tibet has a mundane ambience, but due to its authentic food, it becomes difficult to notice anything else. It is very easy to spot this café as it has statues of two dragons on the front portion, towering the café. 
Price: Rs. 800 for two.
Popular for: Fried momos, thupka, fried rice, pork fried
Frequently Asked Questions on Gangtok Budget Travel 
Here are the answers to some of the most asked questions about Gangtok budget travel. If you have any more questo=ions, feel free to ask them in the comment section below. I will try to answer them to the best of my knowledge.
For Gangtok budget travel, are flights a viable option?
Not viable
Is it advisable to contact private agents for Gangtok budget travel?
Not advisable
If travelling during peak season, how to cut down accommodation cost for Gangtok budget travel?
Avail discounts from sites like makemytrip.com
Is shopping recommended for Gangtok budget travel?
No
What is the minimum fare in a shared cab?
Rs. 10 only
Any special Gangtok budget travel tip for women backpackers?
Yes. Converse with fellow women travellers and pool a cab to see around.
Gangtok is a place which should be thoroughly explored. So do visit all the small lanes and cozy cafes, enjoy the local music and definitely interact with the local people. Take a walk on MG Marg and taste the local tea, enjoy every moment because Gangtok is a place you will never be able to let go off. I hope that my experience will assist you with your Gangtok budget travel plan.
Happy wayfaring 🙂